Vogue
Singapore attempts to evolve the fashion industry by launching a 360-degree virtual reality dreamscape environment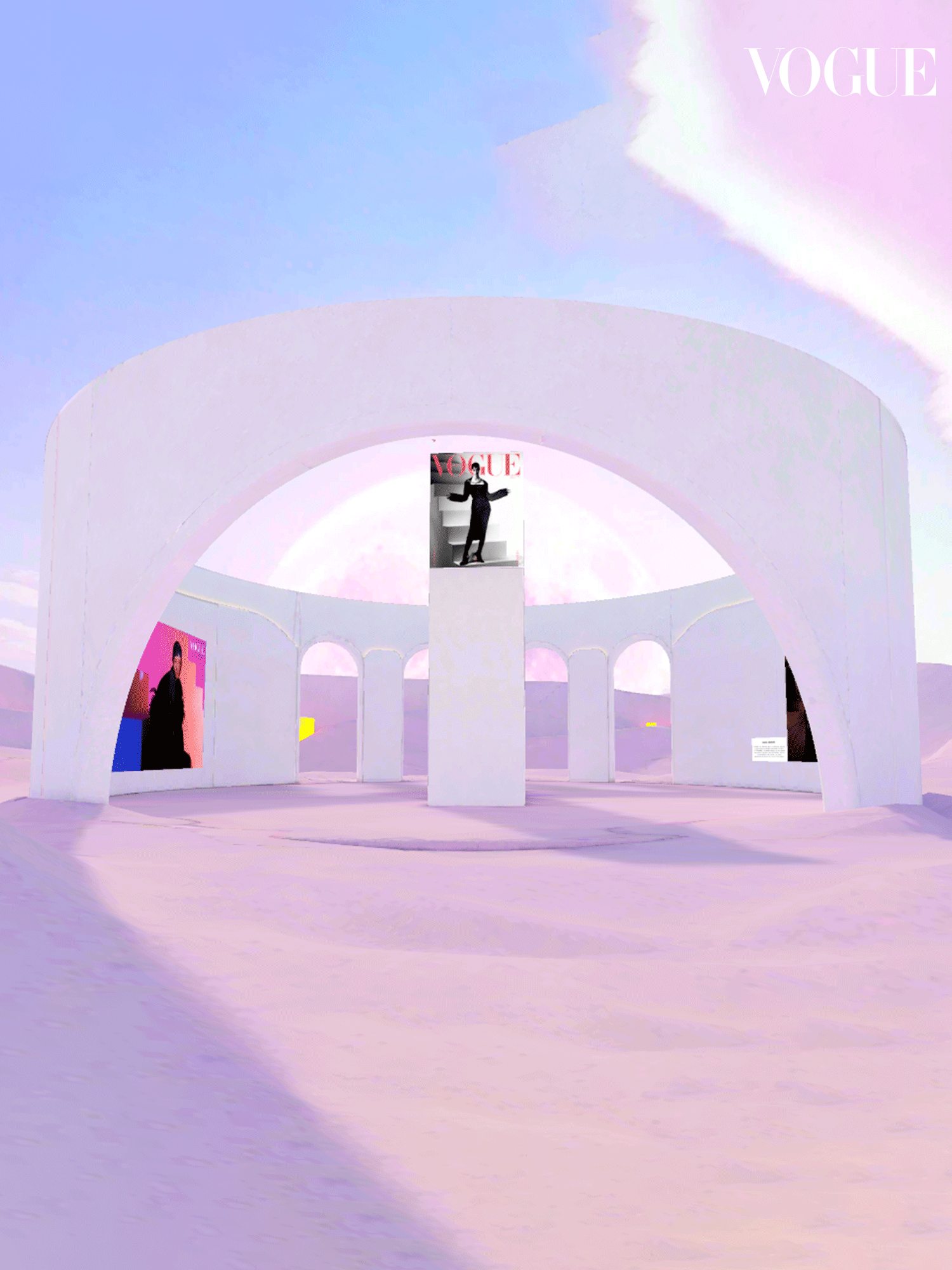 From featuring NFT art collections on magazines via QR codes to unveiling AR filters, Vogue Singapore has never been one to shy away from avant-garde endeavours, and their latest project is proof of that; a virtual experience titled 'Vogue's New World'. It sees Vogue Singapore partnering with VR platform, Spatial.io, and 3D design agency Polycount.io to launch a 360-degree virtual space set in a dreamscape inspired by Vogue's September 2022 cover story.
"With the theme of 'Fashion's New World', it was an organic next step for us to explore a space in the metaverse through the Vogue Singapore lens that would set the stage to showcase the talent and immersive content in digital fashion and wearables", says Norman Tan, the editor-in-chief. "With another Vogue-first virtual experience, we hope our readers will continue to revel in the limitless creativity of Vogue."
Inside 'Vogue's New World'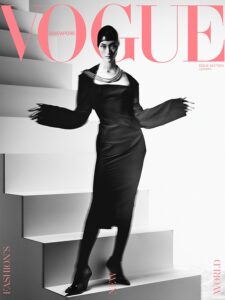 Upon entry into the space, three clickable points are presented. The first being a video welcome featuring Vogue Singapore's September 2022 issue cover star Lina Zhang where users are able to alter the pose and landscape of the cover using simple swipe gestures with their finger or mouse.
The second point of interest is a photo series of AI-generated images Bio Resonance by fashion and beauty artist Terry Gates. The beauty images features AI metahumans with CGI faces that fuses primordial, spawn-like elements with uncut minerals—prompting an examination of what the rush towards the metaverse means for the tangible, elemental self.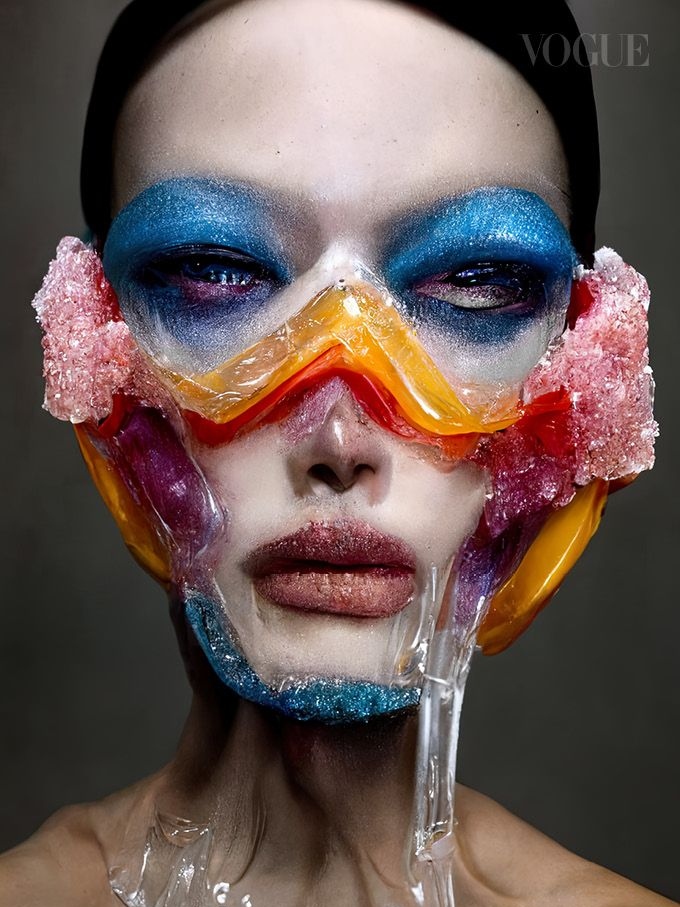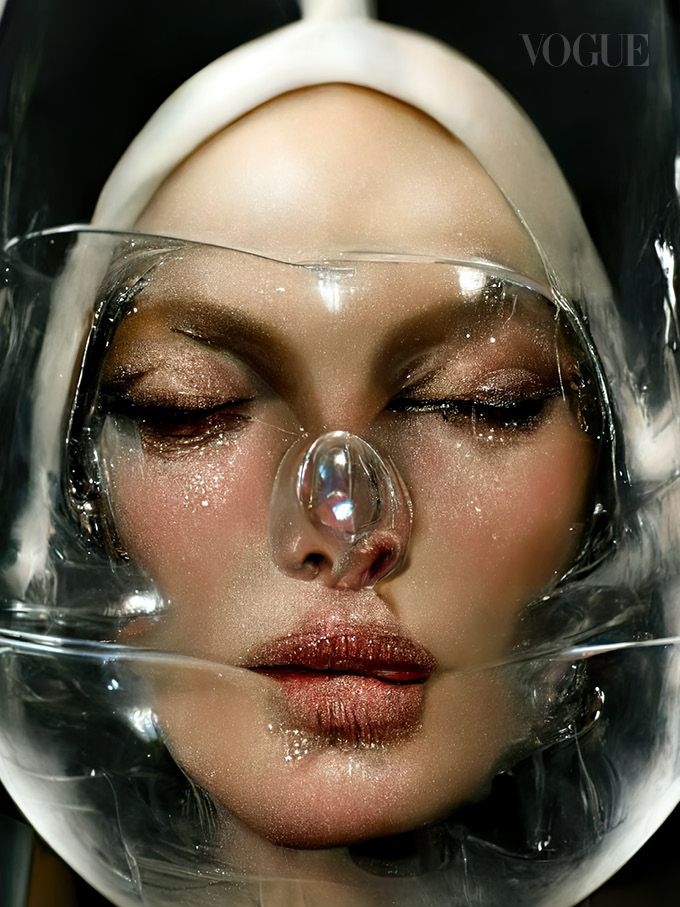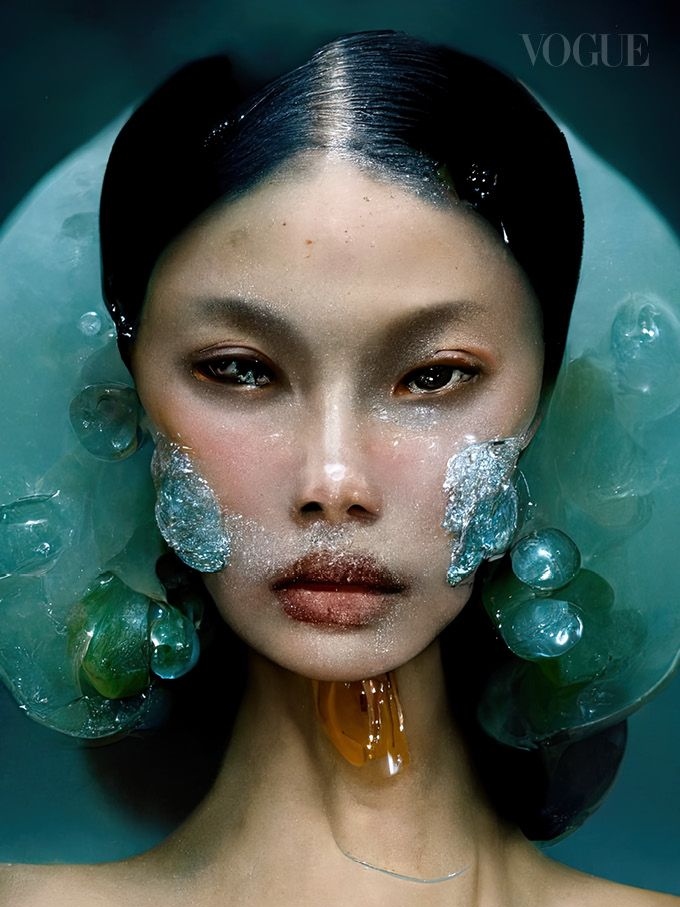 The images are produced by MidJourney, a programme that runs through a Discord server and produces images based on text prompts uploaded by Gates. The programme produced over 1,000 images, all of which, only nine were selected to be featured in the virtual space.
"I was looking for beautiful images rather than beautiful faces," shares Gates. "I hope people will find some beauty in the strangeness of these images, and if that translates into self-acceptance in any way, then the machines have taught us something valuable."
Another designer who shares Gates' vision of integrating immersive technologies into the fashion industry is Yimeng Yu. To showcase dressmaking in a new paradigm of digital couture, the Chinese-born designer crafted three virtual dresses exclusively for Vogue. Users will be able to dress their avatars in any of the three idiosyncratic garbs, which are in every sense of the word, otherworldly. Inspired by an imaginary world found somewhere deep into the cosmos, Yu was able to pay homage to the arbitrary nature of surrealism by tapping into fabrics and silhouettes that are a challenge to achieve in the real world using multiple softwares and algorithm-assisted generative processes.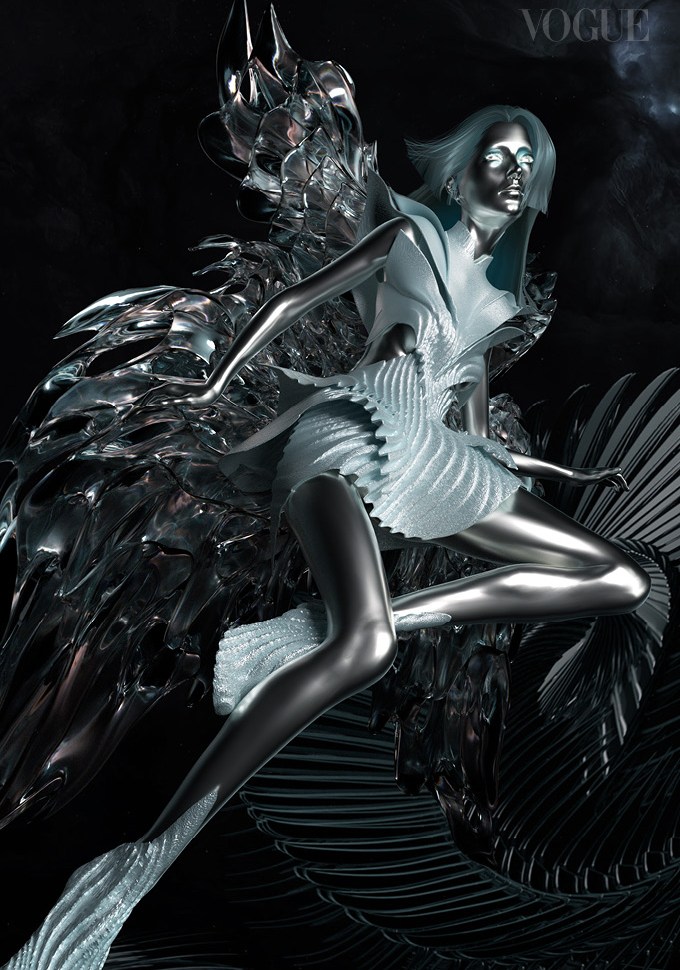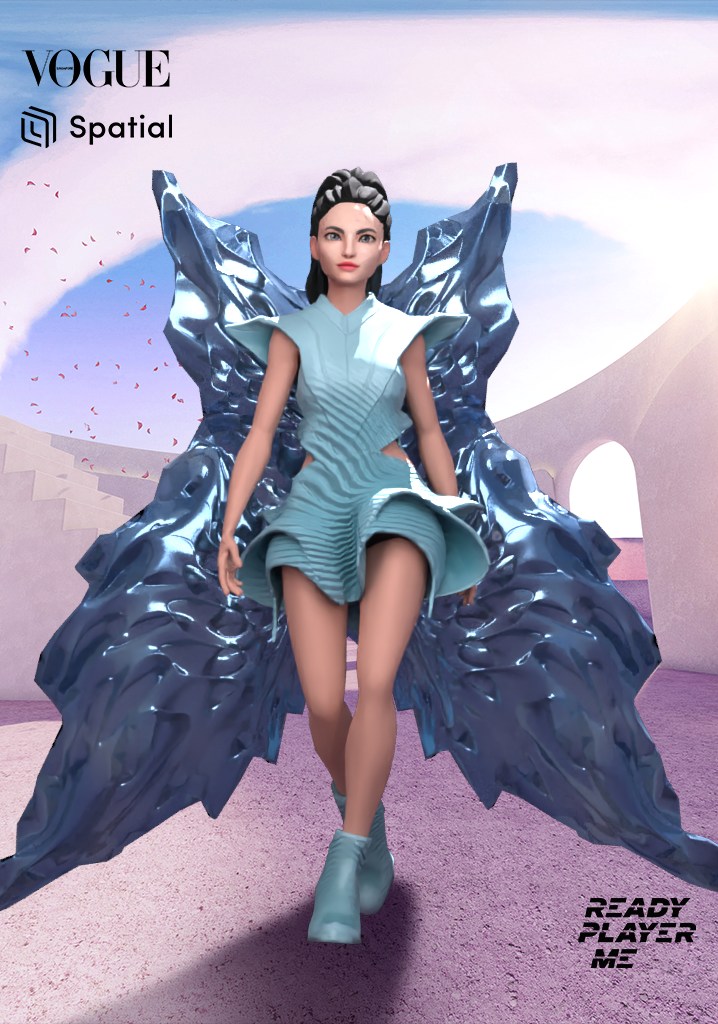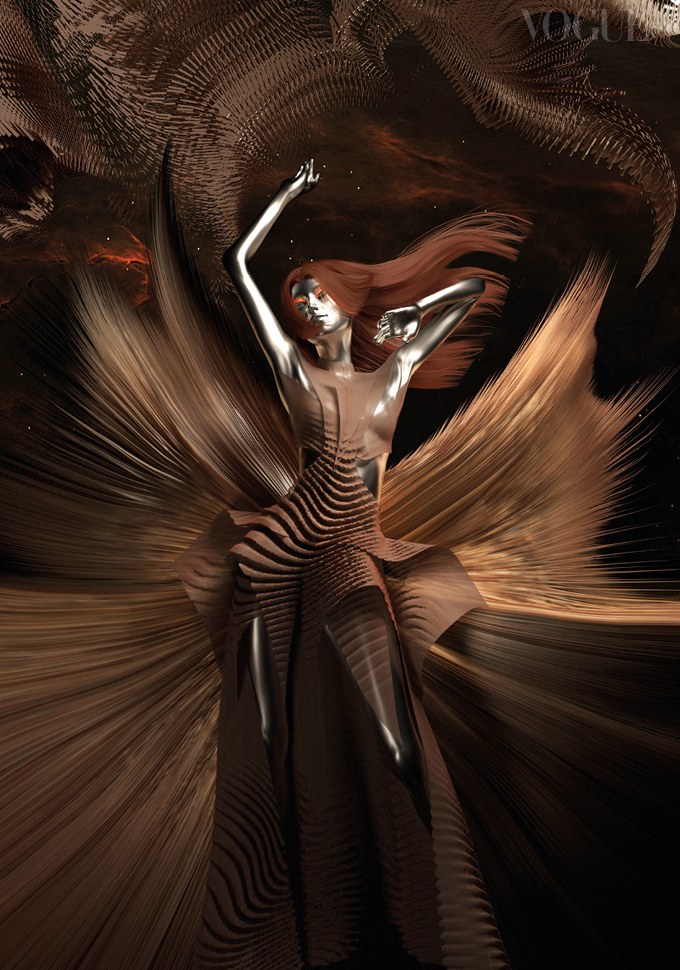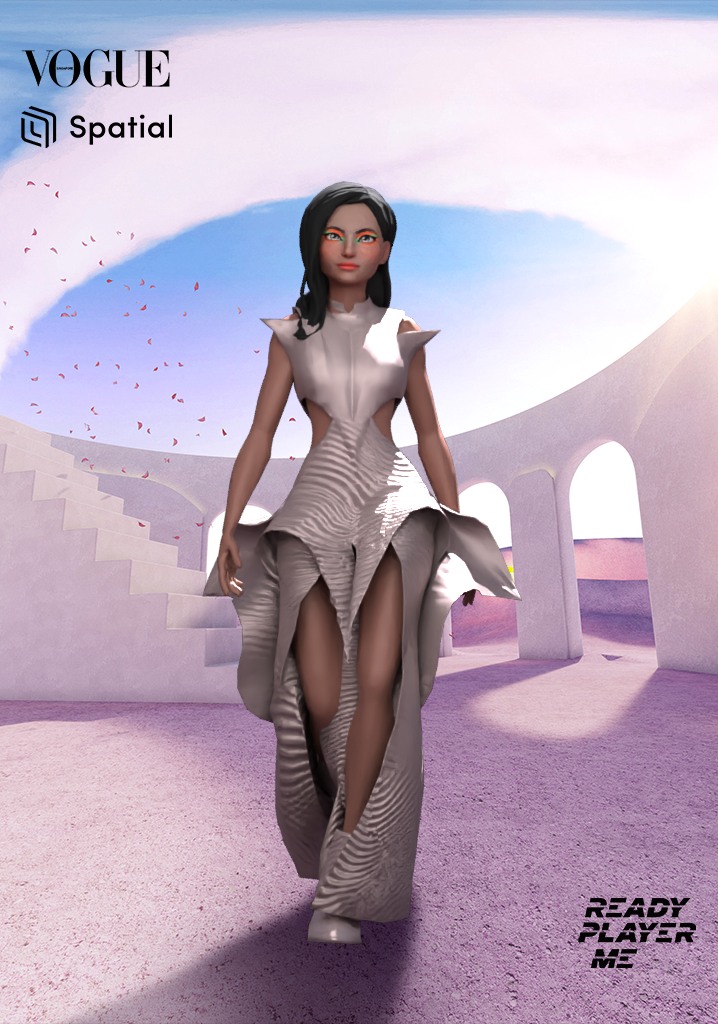 "Virtual materials that completely break through the limitations of the physical world give me full creative freedom," shares Yu. "My hope is that innovation in this space will breed new technology, new culture and new consciousness into the fashion industry." 
Through a partnership between Spatial.io and Ready Player Me, a more diverse and realistic avatar builder is made possible for users to visit the space and try on Yu's digital dresses. Rebirth and Nirvana from Yu's collection for Vogue is now available here at no cost.
Vogue's New World will be launched in two separate phases, the first of which has just been launched here, and can be accessed via oculus, mobile or desktop. The second installation will be rolled out in tandem with Vogue's second anniversary issue in October 2022.