The ancient town of Hoi An is all set to welcome guests back to its fold. Its latest luxury resort, Hoiana Resort & Golf, is determined to make a success of it
It's easy to fall in love with Hoi An's myriad charms. Bright, warm smiles are plentiful here and the UNESCO World Heritage Site's post-pandemic recovery is nothing short of remarkable. Already, its famous night market is heaving once again with visitors, both local and international, who explore the many colourful stores that line its meandering, lantern-festooned streets. Potentially cacophonic scenes are tampered with Bach playing through invisible speakers and there is a general sense of laid back cool. By day, laughter and Vietnamese techno music have returned to the bowl boat rides helmed by affable fishermen looking to supplement their income, their spinning skills on the boats on full display and recorded on the many mobile phones whipped out for the occasion.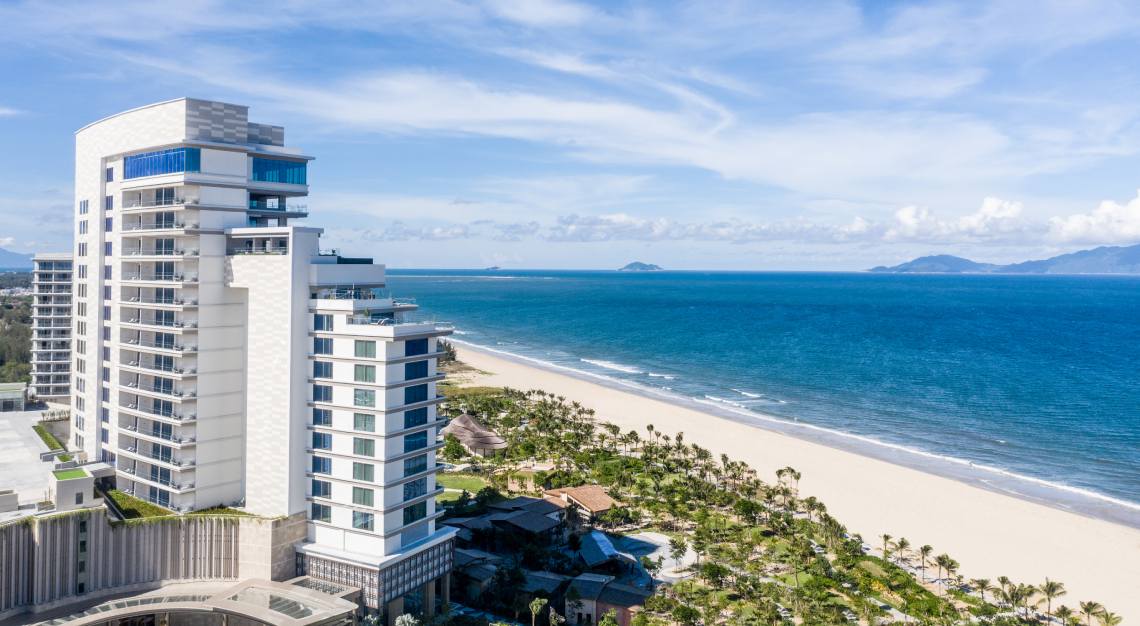 At Hoiana Hotel and Suites—the first in a series of luxury resorts under the Hoiana Resorts & Golf banner to welcome its discerning guests—a traditional lantern-making session is underway. Its attendants, locked in friendly but intense competition, are all set on winning the coveted hand-painted masks from the master lantern maker present. A surprise win comes from this writer who has painted a simple mother-and-daughter motif that the lantern maker finds heartfelt while a clever participant's use of silk scraps sees a three-dimensional creation post-modernists may well appreciate. 
The lantern-making session is part of an extensive Made In Hoiana moment showcasing the hotel's many offerings and encouraging guests to live the moment while celebrating the return of travel to Hoi An. It is this delicate balancing act between local heritage and modern finesse that the resort intends to uphold and the lantern, Hoiana's chosen motif, is symbolic of this.
As Vietnam's first fully integrated luxury resort, the beachfront complex itself spans four kilometres and features four luxury hotels managed by Rosewood Hotel Group including the upcoming Rosewood Hoi An, KHOS Hoiana and New World Hoiana Hotel. Hoiana Residences, scheduled to launch in September, lies adjacent to the resorts as does Hoiana Shores Golf Club where eager golfers are already concentrating on their game, fuelled by the course's magnificent stretch. Adding to this are world-class restaurants serving authentic dining experiences, chic bars, cutting edge gaming facilities and exciting entertainment—the well-heeled traveller would be hard-pressed to even leave the premises.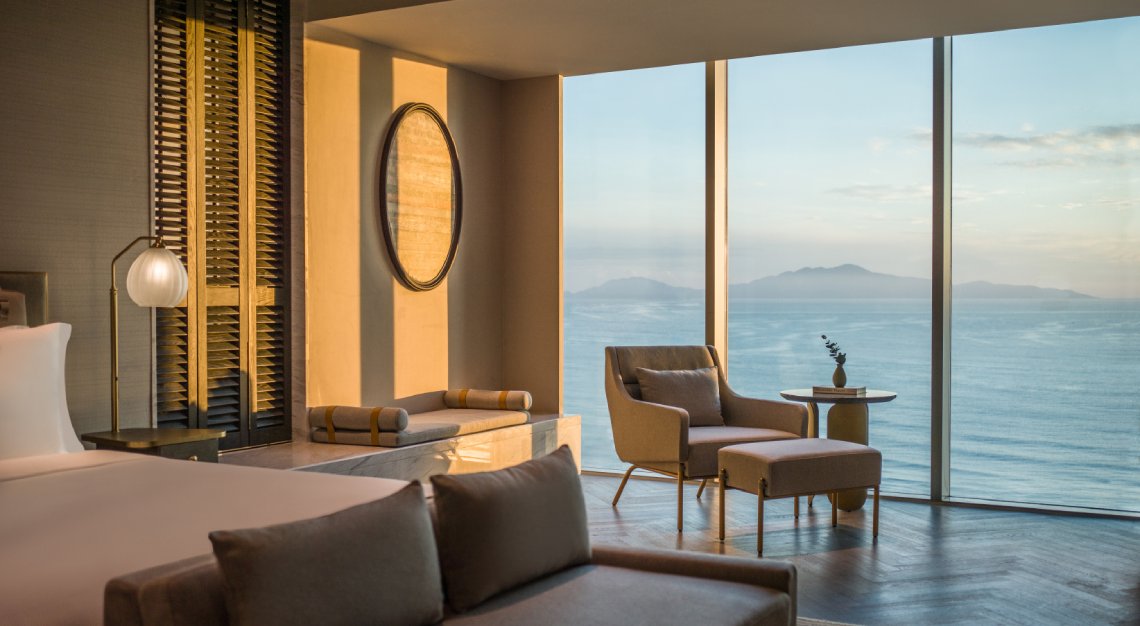 For now, our luxury vacation begins at Hoiana Hotel & Suites with a hundred and forty-one all-suite spaces promising sheer indulgence, starting with a spectacular Norwegian art installation of LED lights referencing the Northern Lights floating over a wishing tree at the entrance of the resort. Its brilliance is best appreciated at night when the colours become more vibrant, and the shifting colour gradients are more vivid. 
Inside of the suite, floor-to-ceiling windows open up to an impressive vista of the South China Sea with traditional fishing boats sailing calmly in open water, Cham Island in the distance. Directly below, a collection of cool blue swimming pools beckon. The hideout pool with its maisonette and luxurious cabanas provide a space to lounge and laze while another sports two massive water slides for the young and young at heart. On the beach, supersized installations await and there is a dash for the giant deck chairs, a beach ball and Hoiana sunnies, all providing great props for the social media savvy.
Evenings are leisurely for lounging on spacious terraces, coupled with whisky highballs and champagne in hand, overlooking spectacular sunsets awash with a breathtaking palette of watercolours. We eventually elevate the experience, quite literally, at the hotel's sky bar The Edge where handcrafted sundowners are enjoyed by the adults-only infinity pool, swinging insouciantly from a lounge swing.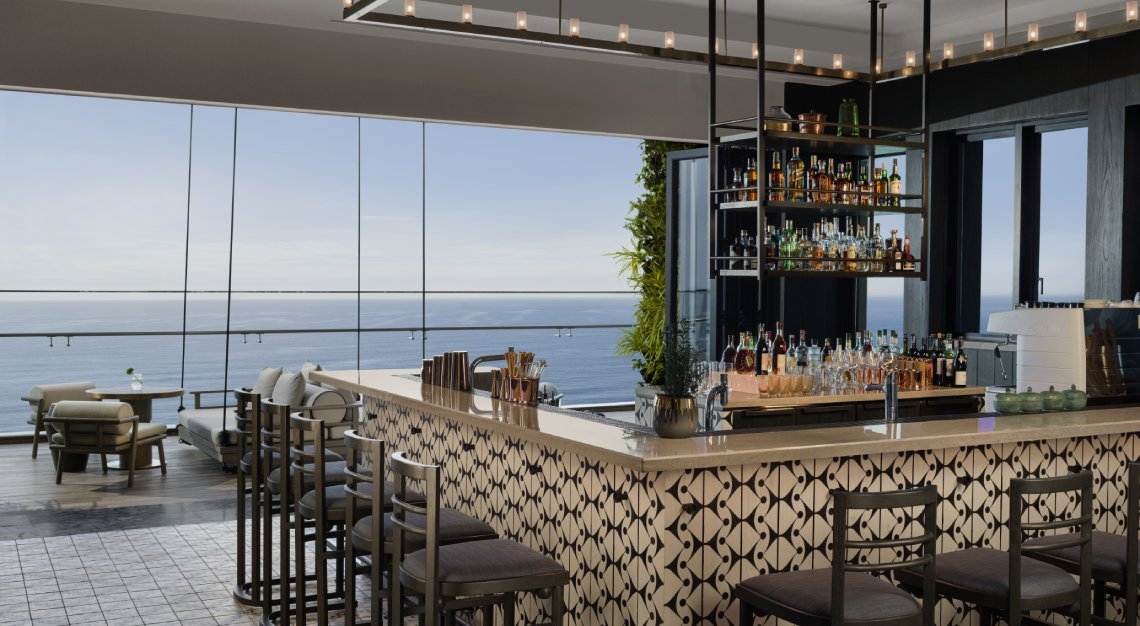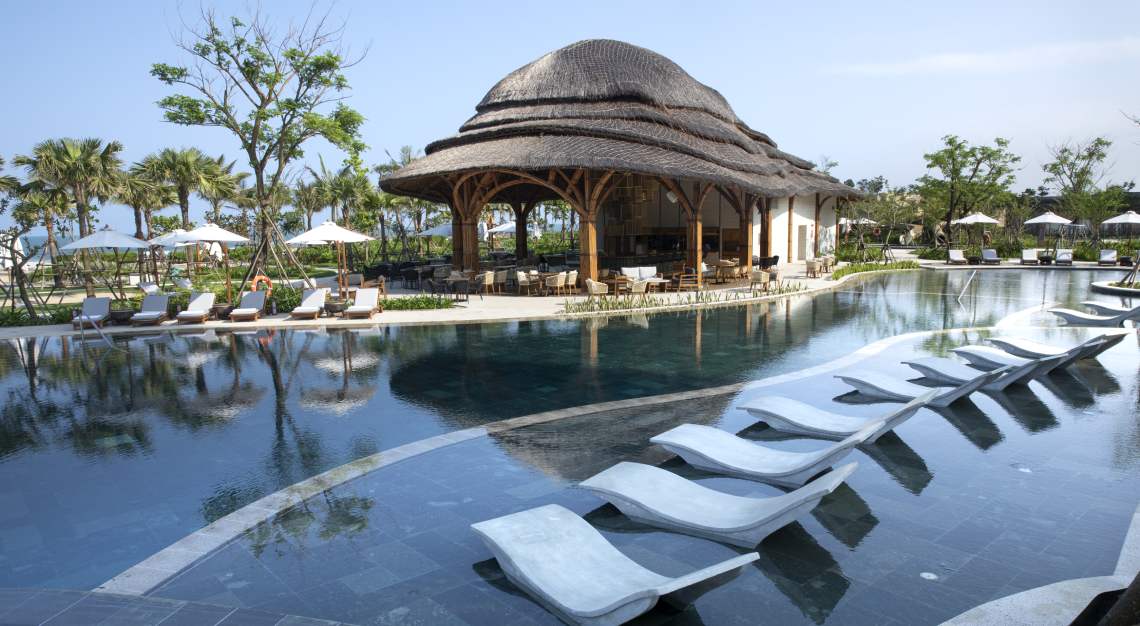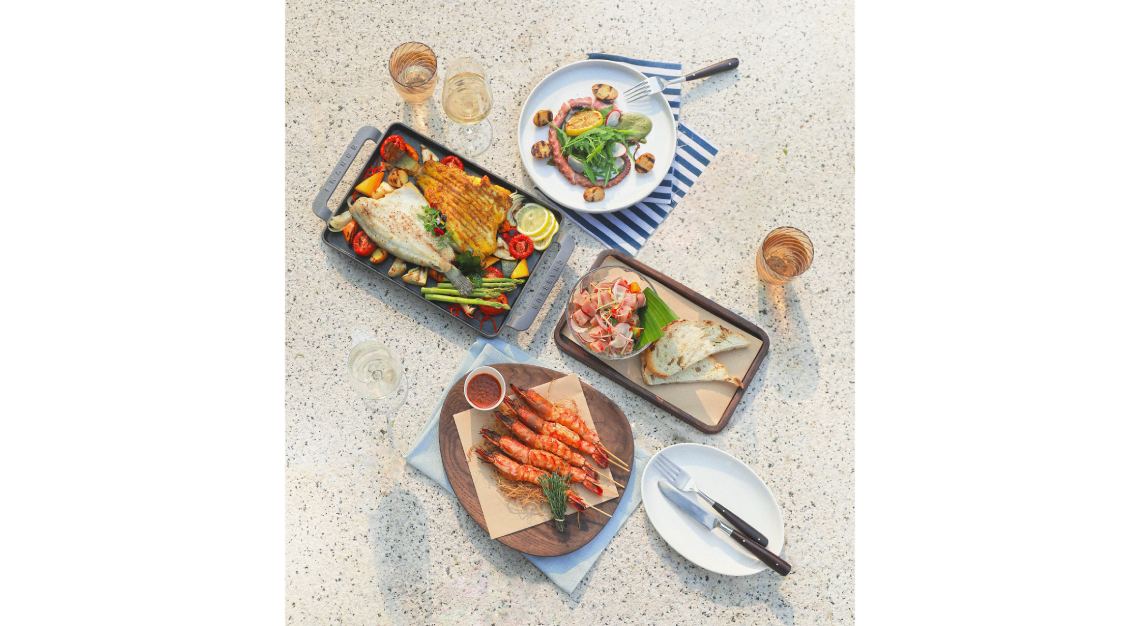 One beautiful sunset sees the resort's waterside restaurant, Cove Bar & Grill hosting the Cove White Party that is thrown for Hoiana's invited guests who have all come dressed to theme. Flutes of champagne in hand, they mingle and sway to Hoiana's resident DJ Saramapa's excellent playlist of lounge and house tunes. We sample a selection of handcrafted cocktails including the EdgXperience signature cocktail, created from Hoiana's collaboration with award-winning local Vietnamese rum brand, Sampan Rhum, produced by the local Distillerie d'Indochine. The rum is made from traditionally aged, locally sourced sugar canes infused with other local flavours from the region, lending a wholly original and local flavour to the novel cocktail.
The party is also a brilliant opportunity to highlight a smorgasbord of the freshest seafood in the area including oysters, prawns and clams from HaLong Bay, tiger prawns, an entire tuna and tiger prawns from Cửa Đại' and horn scallops from Cham Island. The lavish buffet is also a chance to highlight the resort's mainstay, dining, underscoring its wide number of restaurants catering to every palate. Hao Viet, for example, explores the many subtleties of Vietnamese cuisine while Obaltan serves authentic Korean barbeque.
Guests are also spoiled for choice with the many dining showcases on offer and in the time we are there, manage to savour a selection of delicious gourmet burgers, seared to perfection, including the burger topped with 24-karat gold leaf. Juicy lobster is the pièce de résistance for Summer at Hoiana, found in abundance in the neighbouring Cham Island and Lobster Mania has gripped each Hoiana restaurant with characteristically bespoke lobster dishes. These include a decadent butter-poached lobster from their staple breakfast and brunch restaurant, The Terrace, as well as a fiery Sichuan-style lobster from their Chinese restaurant, Lucky Court.
A particularly inspired full moon party, too, sees an entire menu curated to reflect the occasion with creations such as Footprint on The Moon featuring the top two wagyu from the Matsusaka region lightly marinated with bamboo salt and baked in bamboo pith to the draw the beef's exquisite flavours, accompanied with Iberico ham and crabmeat and paired with 2016 Paul Jaboulet Aine Les Cedres Chateauneuf-du-Pape.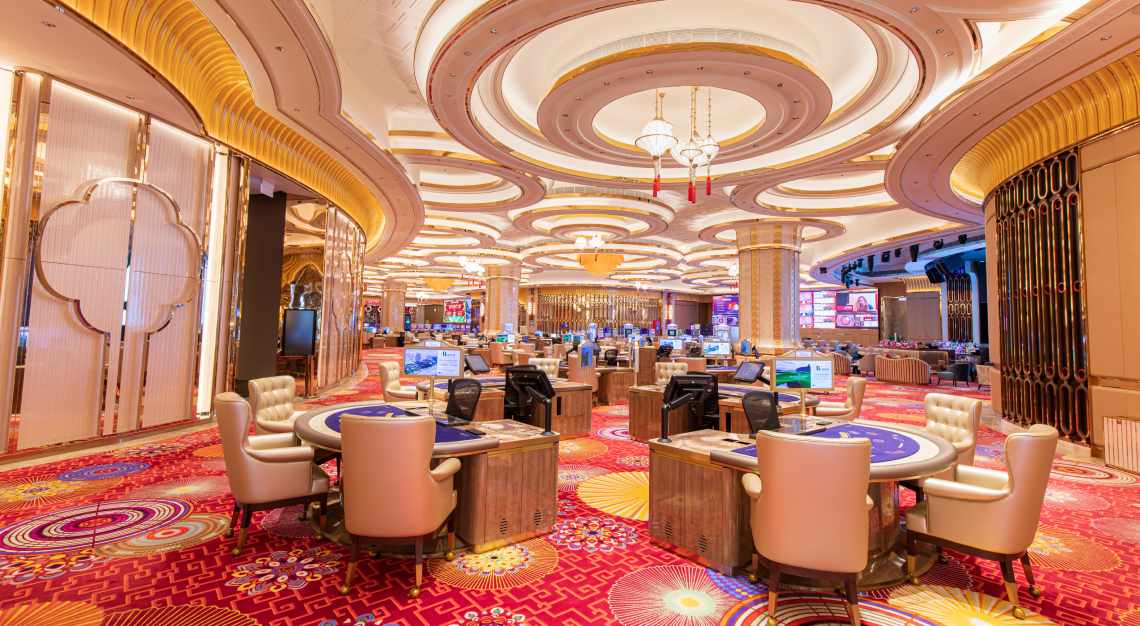 Doubtless, there's plenty to explore at the resort. Past the main lobby, a gilded casino awaits, its grand signage and sweeping halls reminiscent of the '70s glitz and glamour of casinos in Macau or Hong Kong. The casino's retro elegance is matched by the enticing dinging and ringing echoing from the new-age digital slot machines and computerised baccarat scoreboards that advertise the odds at each table, optimising our bets as we sip on our martinis hailed from the in-casino Một-Hai-Bar. 
The Hoiana Shores Golf Club is a core focus during our stay, a mere two-minute car journey away from the resort. Poised as one of the best in the world, it stands to reason that Hoiana Shores is the number one ranking golf course in Vietnam. It is the first in the country to be designed by Robert Trent Jones II Golf Course Architects, the iconic golf course company established by English-American course architect Robert Trent Jones Sr., himself responsible for the construction and re-design of over 500 golf courses around the world. 
Not only does the course boast a sweeping 1,012 hectares of arresting greenery and sand dunes by the sea, its attention to detail for an impeccable game is also exacting. The tees and fairways at Hoiana Shores feature Zeon Zoysia, a popular choice of grass for fairways and teeing areas, while the putting greens are grassed with TifEagle Bermuda greens, the new standard of golfing greens that provide a great run to the ball for that perfect putt. The course build itself has preserved the existing dune and pine terrain that is consistent with the coastal area, allowing golfers to play through a few holes that run through native Casuarina trees and bush areas. Other holes are right beside the sea and play inside the coastal dunes.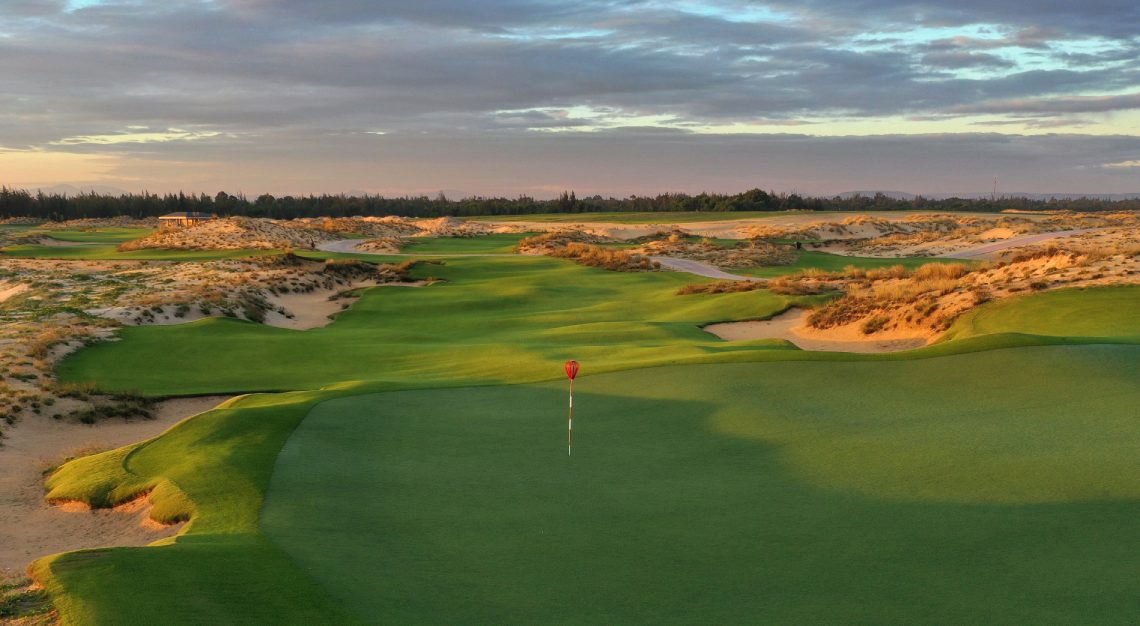 The course exhibits many game-playing characteristics found on a links layout familiar to those in the British Isles—of course, with a tropical twist. We tee off a round on the inward nine, early in the afternoon when the sun is brightest, immediately sensing an elevated difference in the gameplay compared to both regular courses and traditional links courses. The fairways are so incredibly smooth, and well-manicured, that the run of the ball offers a greater distance for every shot to make up for its uneven terrain. The pot bunkers are one and plenty on every hole, offering players an opportunity to practice their swings with a sand wedge. However, the real challenge of the course is the sandy and bush-filled rough that frames each fairway (we, unfortunately, lose a ball to it). The greens are also an interesting play with uneven intricate dips and turns that would have pros revising their short game. 
The winds get progressively stronger, presenting a larger obstacle for players as the day goes on and reaching a climax on the back nine especially at Holes 16 to 18 where they sweep right off the sea and blow across the fairways and greens. This proves a playful test of one's sense of control in both direction and distance. The reward for completing the course, however, is a breathtaking panoramic view of the pristine sandy beach, persistent ocean tides, the regal Cham Island across the sea as well as the grand Hoiana resort in the distance on the course's signature Hole 18 and we are suitably awe struck.
Equally complex is the 19th or gambler's hole (golf jargon for a challenging but unique hole designed for a fun swing), with a gaping water feature between the tee boxes and the green. This we score with a solid par. 
The golf experience is inarguably first-class with facilities and services befitting its five-star status. Both seasoned and casual golfers will find the course, particularly the putting greens, an exciting and welcomed challenge that makes Hoiana Shores a must-play. For those needing a refresher or wanting to learn in the midst of a striking landscape, Hoiana Shores also houses its own Golf Academy complete with 26 hitting bays and bunker practice areas and open to all levels. With a location as stunning as this, event spaces overlooking the golf course are requisite and the course is able to accommodate up to a hundred and eighty people at any given time.
For all the resort's ambitions, its steadfast commitment to their community is laudable. Caddies at Hoiana Shores are qualified locals with a healthy female representation, while the resort is almost entirely run by Hoi An inhabitants. The resort's interior design, too, sees fixtures and materials sourced locally and, as witnessed earlier, its fresh produce comes from farms and shores in the area. It certainly sets Hoiana a cut above the rest, adding the right kind of contemporary sophistication to Hoi An's ancient legacy. The only thing for you to do now, is to experience the revival firsthand.
This was written by Mindy Teh and Bibienne Yeoh