Revenge travelling shouldn't be a revenge on the environment
The masks are off, lockdowns have ceased and travel restrictions have lightened. We are free to travel again, and collectively doing so with a vengeance.
According to the latest numbers from the International Air Transport Association (IATA), international air traffic measured in revenue passenger kilometres (RPK), which calculates the distance travelled by paying passengers, is up 229.5 per cent compared to June last year. Clearly, we can't wait to get out of the house.
But while we get back to jetsetting like before, it comes with a shift in attitudes and a hesitance about going back to our old ways. If there's anything the past two years have taught us, it's that health – both ours and the planet's – has to come first.
That's probably why, post-pandemic, green initiatives have become ubiquitous at hotels. Here are five properties that have stepped up their sustainability game during the travel lull, just in time to welcome new visitors now.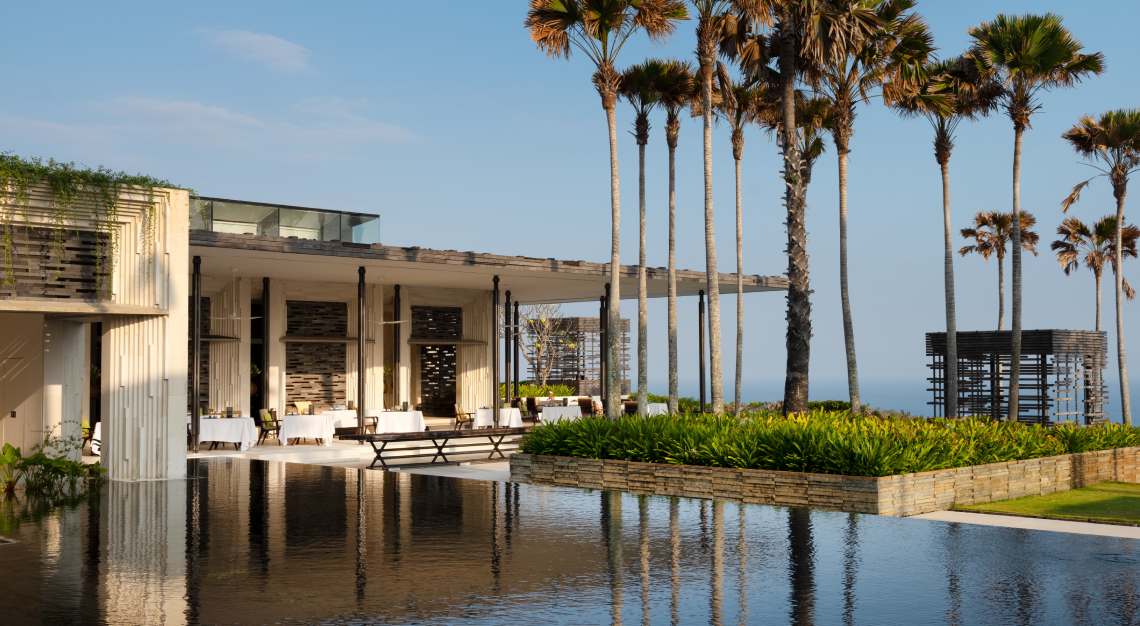 Alila Villas Uluwatu, Bali, Indonesia
Simply choosing to stay at Alila Villas Uluwatu is already choosing to align with a resort that does more than most. The property bottles its own water, grows some of the produce used in its restaurants, and has a waste management facility that sorts waste for reuse, recycling, or upcycling.
But for those who wish to do more, the hotel has introduced a Positive Footprint option. Launched in May this year, it gives guests a chance to opt for a stay that incorporates the highest level of sustainability practices available at the property, as well as unique opportunities to explore the resort's environmental initiatives.
Under this option, even your butler will cooperate to deliver services in a way that is mindful to minimise waste as well as energy and water usage. The minibar will be stocked with all-local products, and you'd get a pair of high quality sandals from local ethical footwear brand Indosole to wear around the resort (and take home, if you wish). The sandals are made from recycled tyres from the resort's buggies.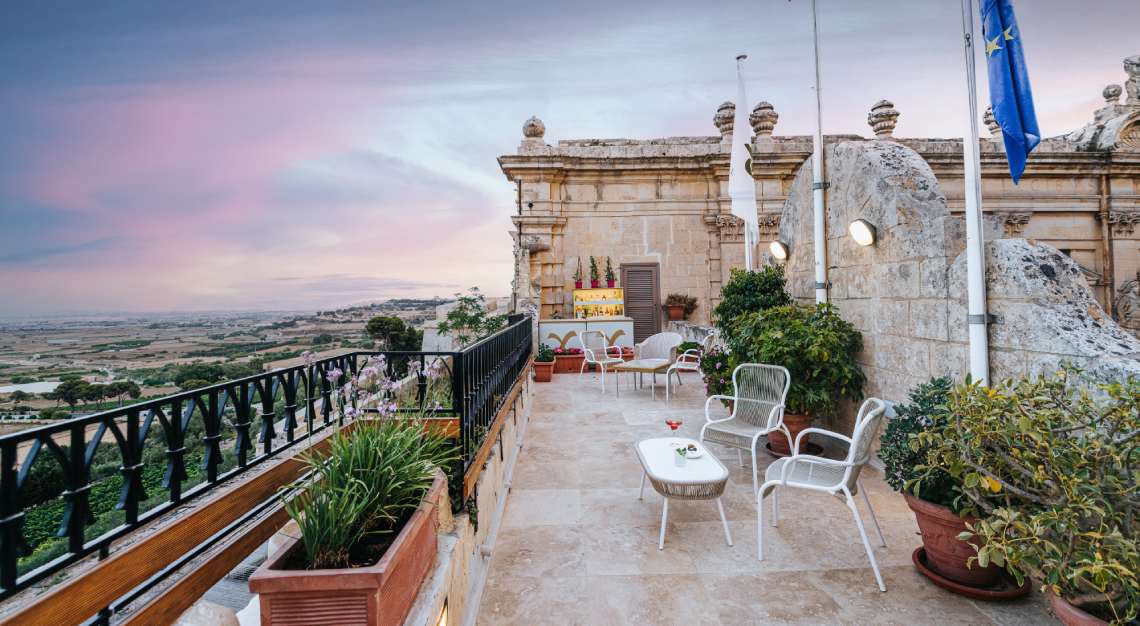 The Xara Palace Relais & Chateaux, Mdina, Malta
When it comes to closing the loop, perhaps no hotel has done better than The Xara Palace Relais & Châteaux. Housed in a former 17th century palace in the medieval city of Mdina, Malta's old capital, the property boasts an award-winning aquaponics system launched this year.
The system allows 40 per cent of the food waste from restaurants under the Xara Collection to be reused as feed for insects, which are in turn, feed for the fish that's raised on the rooftop of the group's luxury event venue, The Xara Lodge. Waste produced by the fish, which is exceptionally nutrient-rich, is then used as fertiliser for the produce that the hotel grows for its Michelin-starred restaurant, De Mondion and Trattoria AD 1530.
Not only does this closed loop system allow the hotel to put the trendy farm to fork label on its restaurant, it also reduces the carbon footprint from food importation, and, according to the property, keeps any greenhouse gases emitted in the foot chain and out of the atmosphere.
The Xara Palace Relais & Châteaux
The Hari Hong Kong, Hong Kong, China
Opened at the height of the pandemic in December 2020, The Hari Hong Kong's sustainability drive was more a dive into the deep end than a cautious dip.
Drinking water at the hotel is purified and filtered on-site, and then bottled in glass, capped, sealed, and date-labelled – also on-site – using a cutting-edge water filtration and bottling system. Using this method, the property successfully saved on the usage of more than 180,000 500ml plastic bottles in 2021. Coffee capsules and grounds are collected and transformed into compost or upcycled into body scrubs and plant pots.
Sustainability doesn't end with the beverages. Food waste is put through an innovative process that mimics the digestion process in humans to turn the waste into an environmentally safe liquid. This liquid is then repurposed at a waste water treatment plant, reducing emissions that result from conventional truck-and-bin waste collection.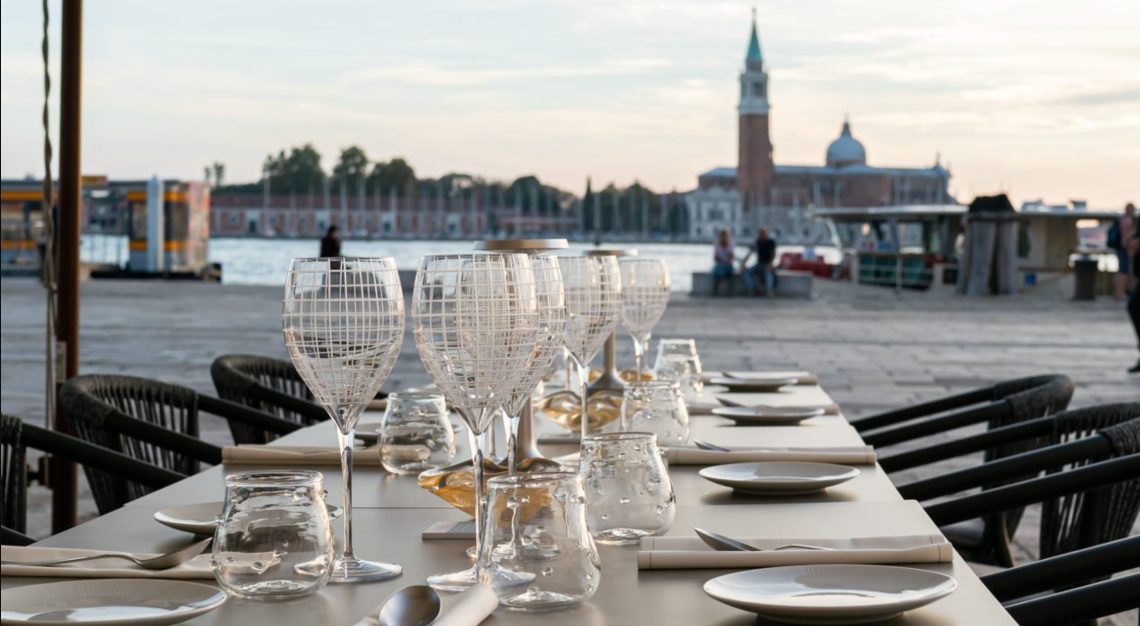 Ca' di Dio, Venice, Italy
You wouldn't be able to tell just by looking at it, housed as it is in a heritage building with parts that date as far back as 1272, but Ca' di Dio is one of Venice's newest five-star offering. Opened in May last year, it boasts green infrastructure that is wholly 21st-century.
Taking advantage of its location in the floating city, the hotel uses hydro power from Venice's lagoon to power its heat exchanger and cooling system. Its restaurant serves filtered tap water in glass bottles and herbs harvested from the property's vegetable garden. Sold in the boutique are items made from reclaimed materials from the hotel's construction, such as notebooks with covers of recycled wallpaper.
The green initiatives continue even outside the walls of the property; should guests wish to explore the lagoon, they are encouraged to do so in row boats or hybrid electrical water taxis.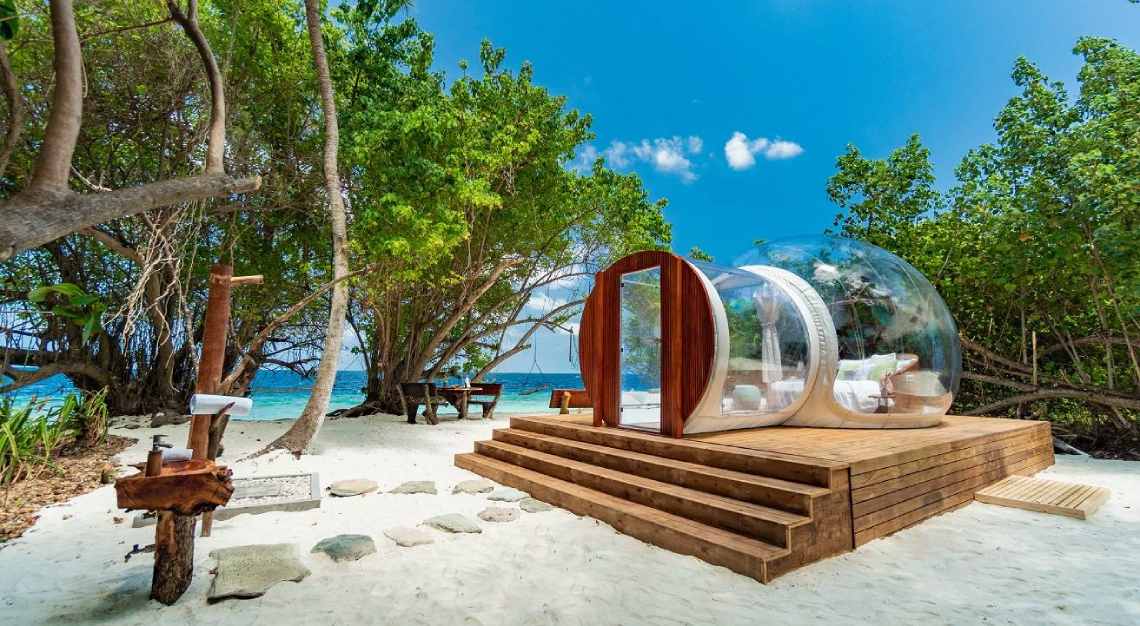 Amilla Maldives Resorts and Residences, Baa Atoll, Maldives
Amilla Maldives Resorts and Residences became a new member of Small Luxury Hotels of the World (SLH) in June this year, taking its spot in the group's Considerate Collection. The membership may mark a recognition of the resort's green efforts, but sustainability certainly isn't new to the property.
The island boasts a UNESCO-recognised biosphere, which it keeps pristine by retaining 70 per cent of its natural vegetation, including more than 2,500 coconut trees. The resort has a dedicated coconut processing facility on site, that ensures none of the fruits ever go to waste, turning them into oil, vinegar, milk, cream, and peat for gardening and crafting.
Located near Hanifaru Bay, which has a healthy population of manta rays, the island's waters are just as abundant as its grounds. As a member of the Manta Trust network, which runs the Maldivian Manta Ray Project (MMRP), the resort is involved in collecting data that tracks Maldives' manta population, movements, and the impact of tourism on the rays' environment. In addition, the property has a coral propagation and preservation project.