An enduring classic for mariners and movie stars alike, here's why the peacoat is a winter outerwear hero
At first glance, the peacoat looks incomplete. Where's the rest of it? Not quite sexily cropped, certainly not full-length, cut close to the body with a slight hip flare, the proportions are a little perplexing if you think about it. But just like other initially baffling designs that have become enduring classics, the peacoat's silhouette is now something close to archetypal. These days, the best peacoats don't stray too far from the original.
The leading men of Hollywood helped cement its status. Brooding archetypes themselves, big-screen stars who wore the best peacoats brought them to the masses. Robert Redford as Joe Turner, a bookish CIA analyst turned unwitting conspiracy revealer, peeked from behind his peacoat's wide lapels in 1975's Three Days of the Condor. Johnny Depp fended off the chilly Chicago winds in a particularly sharp peacoat as drug smuggler George Jung in 2001's Blow (those stiff naval-grade shoulders maintained their shape even with his hands cuffed behind his back). And in what may be the peacoat's most enduring star turn, Daniel Craig took his out for some spy action as 007 himself in Skyfall. With each performance, another step toward icon status.
A brief history on peacoats
Maybe the peacoat's rise isn't so surprising. Its origin story, which is deeply rooted in military history, is ripe for the Sydney Pollack or Sam Mendes treatment. The style was first made for Dutch navy men in the 1800s who were called "pijjekkers," or "pijes" for short. (Since I'm not exactly fluent in Dutch, I'll assume that the pronunciation of the "j" took an obvious etymological journey to wind up at "peacoat") They needed a warm, sturdy wool coat that allowed them the mobility to climb ropes at sea and worked well on windy, wet decks, and docks—hence the short length. Although the Dutch invented it, peacoats made their way into the British navy and eventually across the pond to America. Civilians picked up on the functionality and the dapper form, and it's been a staple of outerwear ever since.
The anatomy of peacoats
At the most basic level, there are a few characteristics that comprise a peacoat. Its definable traits can be traced back to its worthiness on the high seas: double-breasted and form-fitting to keep the wind out; a high ulster collar (those deep-notched lapels that can be folded over when the coat is buttoned up); a bottom hem that hits just below the waist with a subtle flare; and side slit pockets to easily access a compass, pocket knife or whatever implement an aspiring mariner might need in their own climax scene from The Perfect Storm. The best peacoats are made from a heavyweight wool—often Melton wool to wick away moisture—while some luxed versions are blended with cashmere or other softer, more malleable fibres. Navy (of course) and grey are the standard-issue colours, but some designers produce their own takes in other patterns and hues. Generally, we recommend hewing closely to the classics.
Which brings us to the reason we're all here: to check out the best peacoats out there right now, the ones that'll give you leading-man swagger, keep you toasty warm, and offer a big arse collar to shield you from whipping winds and rain.
Best classic peacoat
Mackintosh Dalton wool blend peacoat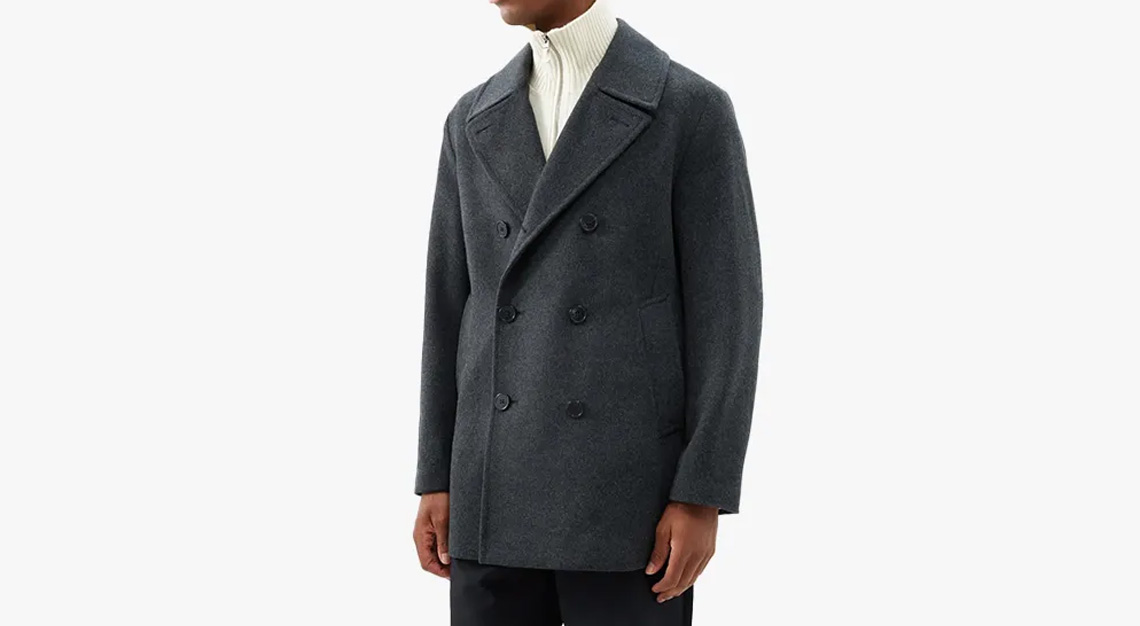 Mackintosh may be most well-known for its raincoats—an innately British boast given the perpetually drizzly conditions there. In the early 19th century, Scottish chemist Charles Mackintosh invented a new method of waterproofing cotton, and the company's commitment to reliable and thoughtful outerwear was born. Its Dalton peacoat is warm and insulating, spun from wool and cashmere. This peacoat foregoes formal structured shoulders for softer, forgiving ones that elevate it to an elegant place. You may not be scaling a mast in this one, but it will look damn smart on your commute.
Date of Brand Origin: 1824.
Material: Wool and cashmere.
Colours Available: 5.
Best cinematic peacoat
Billy Reid Bond peacoat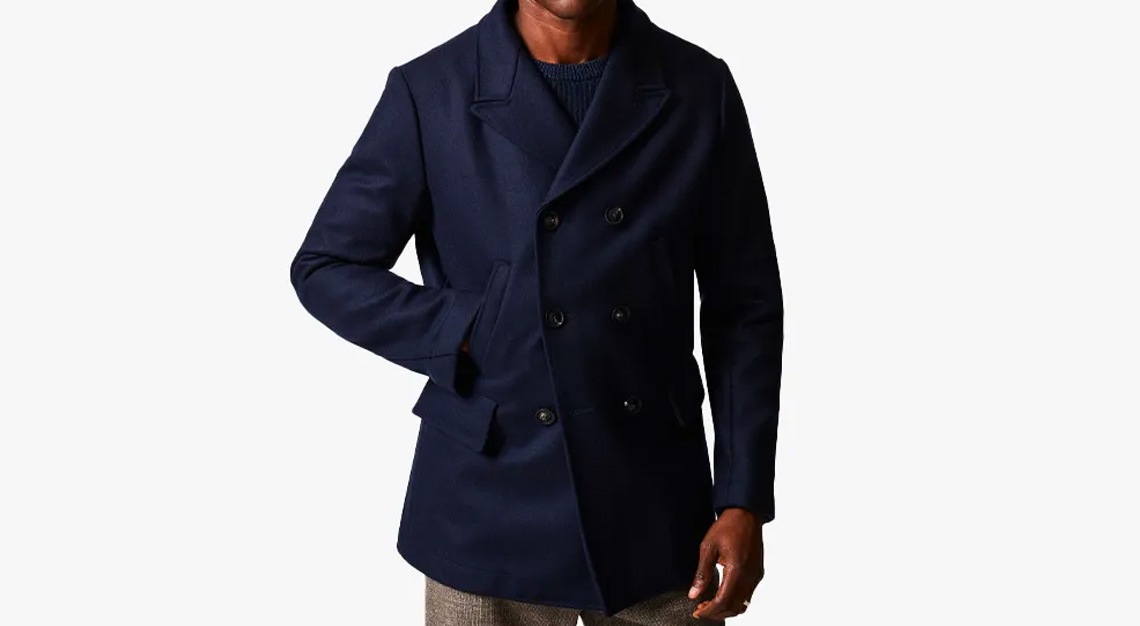 Arguably an icon even before its big debut in a 007 joint. In fact, Billy Reid's Bond peacoat was named after the brand's Bond Street flagship in New York when it was just a beautifully designed piece of outerwear. Then Daniel Craig came along. The actor, already a fan of Billy Reid's rugged-but-refined clothing, suggested the peacoat first for the opening sequence of Casino Royale and famously for Skyfall, where it practically has a starring role. Given James Bond's naval background, it was a logical choice. Fun tidbit: Costume designer Jany Temime ordered 15 of them in medium size and five in large. For the hero shots, aiming for a trimmer look, Craig wore the mediums and for the scenes in which he's kicking someone's arse and requires freedom of movement, he wore a large. Whatever size your lifestyle warrants, you'll find Billy Reid's signature heirloom ribbon stripe embossed on luxe calfskin leather under the collar, handwarmer chest pockets, and genuine horn button.
Date of Brand Origin: 1998.
Material: Melton wool.
Colours Available: 2.
Best shearling-trimmed peacoat
Belstaff Ashridge double-breasted shearling-trimmed wool blend peacoat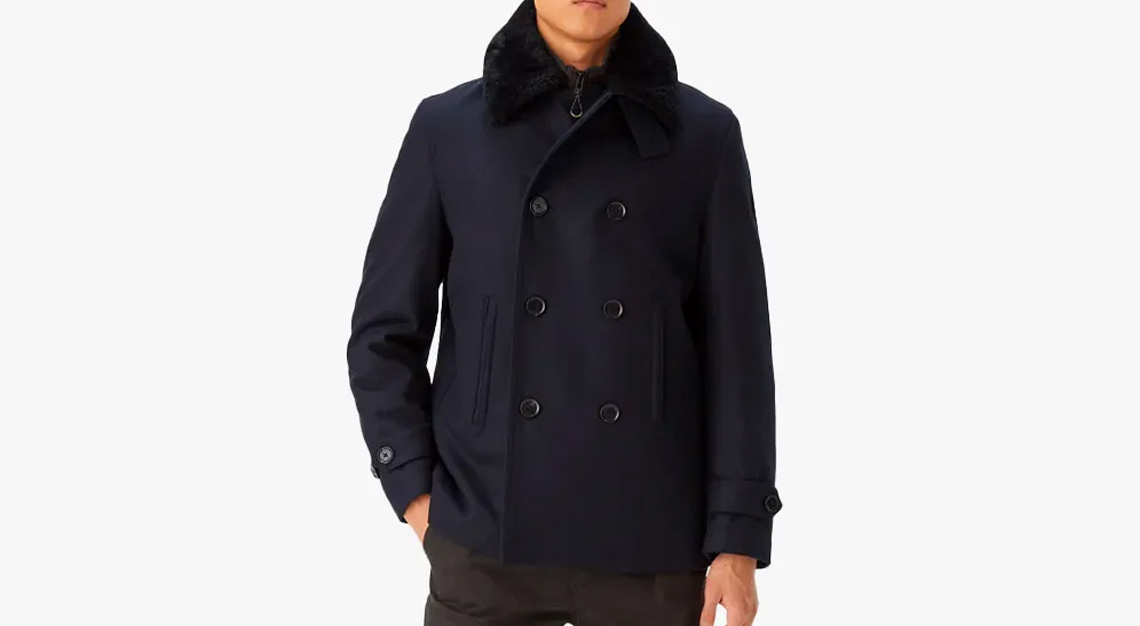 In another Bond-adjacent sphere, Belstaff began in Stoke-on-Trent, Staffordshire (doesn't get much more British than that name) with a mission to create waterproof jackets for motorcyclists. One of the founders, Eli Belovitch, mashed up his last name with Staffordshire, and Belstaff was born. The brand's jackets, specifically its Trialmaster style, became popular with motorcyclists, aviators, and adventure seekers at large. It also got the leading man bump with the likes of Steve McQueen, Brad Pitt, George Clooney, and Johnny Depp all wearing Belstaff jackets. There's no argument Belstaff is synonymous with daring dudes, and that spirit comes through in its shearling-trimmed peacoat. All the classic attributes are present and accounted for, but they've upped the ante with a detachable shearling collar and lightly padded lining that will really keep the heat in.
Date of Brand Origin: 1924.
Material: Wool, polyamide, and shearling.
Colours Available: 1.
Best British heritage peacoat
Burberry wool blend peacoat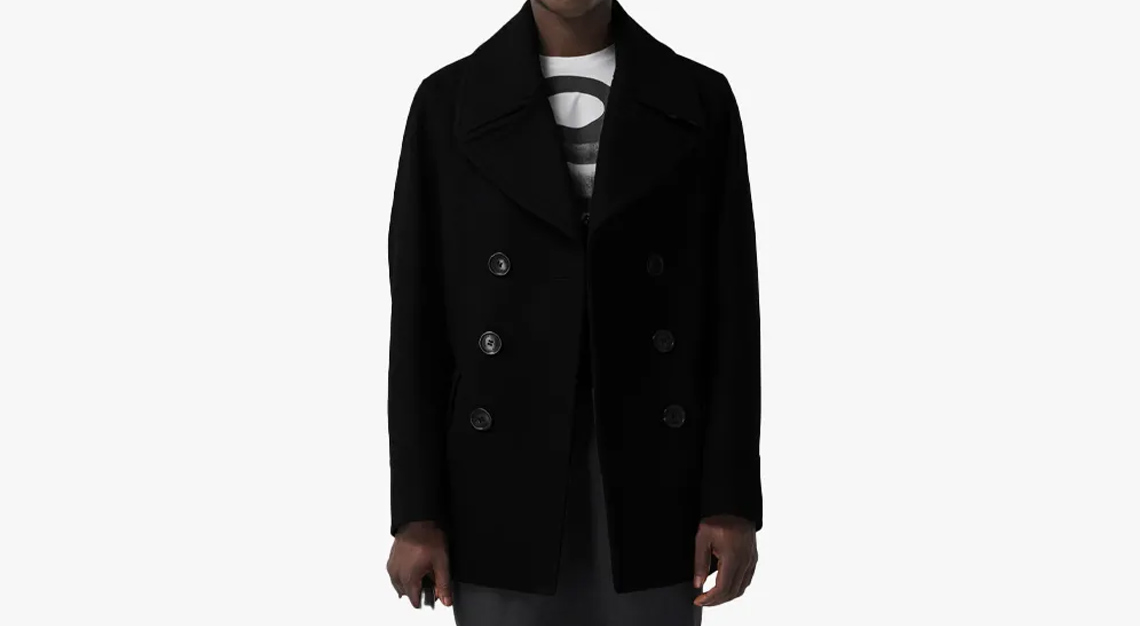 These Brits sure are prolific when it comes to functional and fashionable outerwear. You're probably familiar with Thomas Burberry's innovation of gabardine, a breathable waterproof fabric that begat the brand's renowned trench coat. Though the origins come from land (rain-soaked battle trenches) rather than sea, the trench shares the peacoat's military adoption and subsequent popularity. Burberry simply makes a damn good coat. The latest iteration departs ever so slightly from the paradigm with flap pockets, but you're essentially getting a sharp, timeless classic here.
Date of Brand Origin: 1914-18.
Material: Wool, polyamide, and cashmere.
Colours available: 1.
Best all-American peacoat
Schott NYC Melton wool blend peacoat
Now we pivot to a brand starting on this side of the pond—real American Dream stuff. In 1913, Irving and Jack Schott, sons of a Russian immigrant, started making raincoats in a basement on the Lower East Side of Manhattan. By the mid-twenties, the bros turned their attention to the motorcycle and designed the first leather motorcycle jacket—the Perfecto. Yet another round of brooding testosterone-filled endorsements, this time from enfants terribles like Marlon Brando, James Dean, and the Ramones, gave shape to the icon. Meanwhile, Schott NYC widened its outerwear offering from duffle coats to flight jackets, and, of course, a signature peacoat, all of which carry the "Made in America" stamp, as well as a bit of bad-boy persona. The brand's Melton wool peacoat has all those things and sports one of the style's emblems: anchor motifs on every big button.
Date of Brand Origin: 1913.
Material: Wool and nylon.
Colours Available: 1.
Best patterned peacoat
Todd Snyder Italian wool peacoat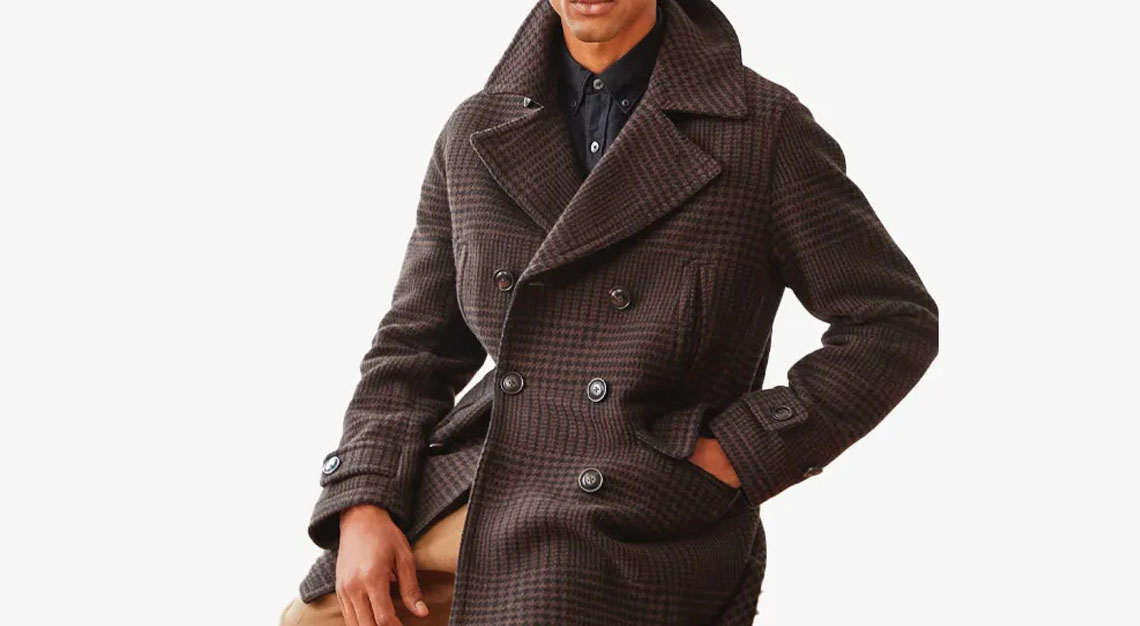 Todd Snyder is something of an alchemist, combining refined tailoring gestures with classic sportswear to create something greater than its parts. He does it with knitwear, he does it with suiting, and he definitely does it with outerwear. Here, he's taken the peacoat (he opts for the synonymous term "reefer jacket," referring to the British sailors who worked midships wearing the style) and rendered it in a brown glen plaid Italian wool. Softly tailored, it has the confident drape of a tweed blazer with that characteristic enveloping collar. Snyder says it has "sartorial woodsman" vibes, and we agree that's pretty spot on. If the plaid is feeling slightly too bugles and beagles, he's got some nice navy and grey cashmere blend options, too.
Date of Brand Origin: 2011.
Material: Wool and nylon.
Colours Available: 4.
Best high-fashion peacoat
Bottega Veneta double-breasted wool coat
There's always much much more than meets the eye with Matthieu Blazy at Bottega Veneta—and a lot actually meets the eye. With coats alone, he shifts shapes and materials in ways that are both wearable and inspired. Just looking at his recent fall collection, there's outsize boucle, double lapels, ostrich and croc-effect leather, and ribbed knit topcoats. One of his silhouettes that immediately became an outerwear signature is a rounded cocoon-like backside sculpted from wool with curved seams, giving the wearer a shadow of a sort of chic armadillo. The construction is on full display here in Bottega Veneta's oversize grain de poudre peacoat. While it falls firmly on the side of "statement jacket" rather than a piece to protect you from winter's unpredictable weather patterns, it's a worthwhile investment for its place in fashion history.
Date of Brand Origin: 1966.
Material: Grain de poudre.
Colours Available: 1.
Best insulated peacoat
Herno brushed wool and cashmere blend peacoat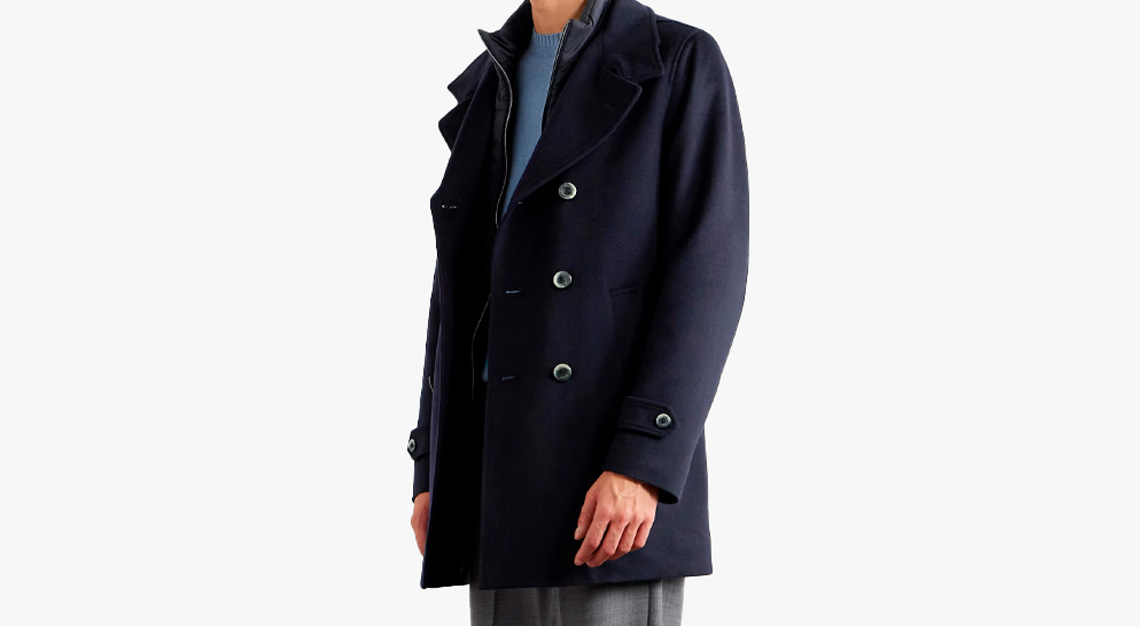 When you're looking for some insulation that doesn't mess around, Herno's a good, sleek place to land. Picture it: 1948. Post-war. Lake Maggiore in northern Italy. Humidity, rain, and fog compelled a young Giuseppe Marenzi and his wife Alessandra Diana to create a high-performance raincoat treated with the castor oil from planes abandoned by the war. Herno, named for the nearby Erno river, quickly expanded in Japan and continued innovating with a major production overhaul in the early 2000s. These days, it's the go-to for warm, streamlined outerwear that offers discreet insulation. Case in point: This cashmere blend peacoat with subtle padding and a removable bib to break out when the Alpine winds start to blow.
Date of Brand Origin: 1948.
Material: Wool, cashmere, and polyester.
Colours Available: 1.
Best cult-classic peacoat
Umit Benan B+ wool and cashmere blend peacoat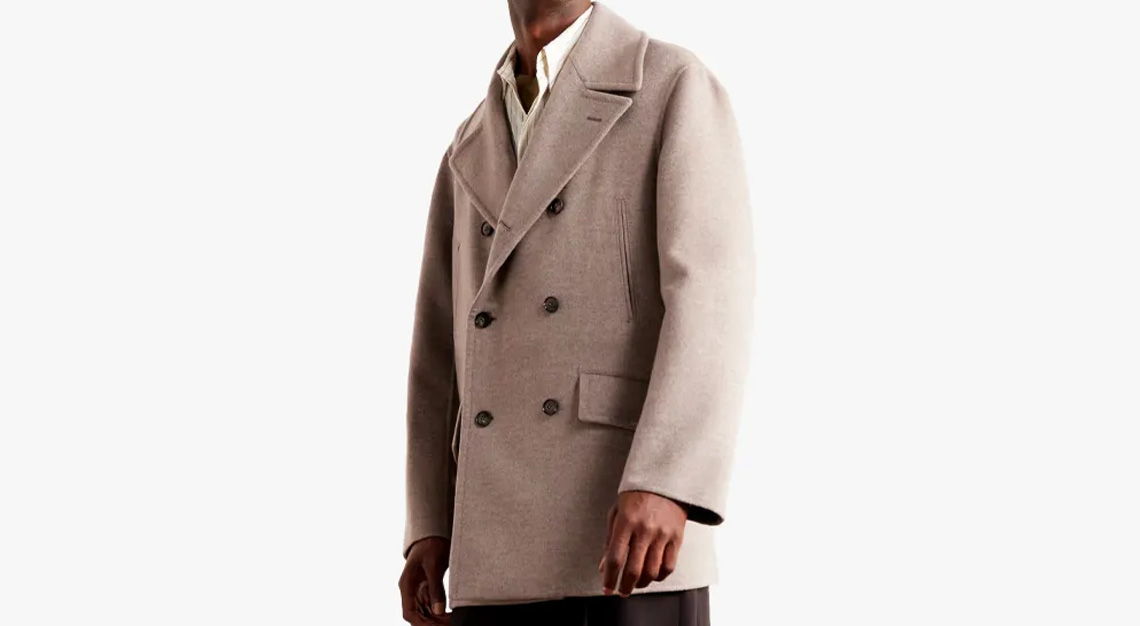 Umit Benan is quietly producing some of the most exceptional clothing on the planet. With his B+ line, the designer approaches Italian sartorial tradition with his own offbeat flair. Whiffs of the '80s run through the tightly edited timeless collection. The scale is small and special. He's only using the best materials; every piece has a certain fluidity to it. His peacoat is gently oversized, cut from a wildly soft wool and cashmere blend with wide notch lapels and a soothing heathered mushroom hue. Clocking in at over US$5,000, it's an investment, but know that the quality is 100 percent there.
Date of Brand Origin: 2009.
Material: Wool and cashmere.
Colours Available: 1.
Best oversized peacoat
Lemaire green maxi peacoat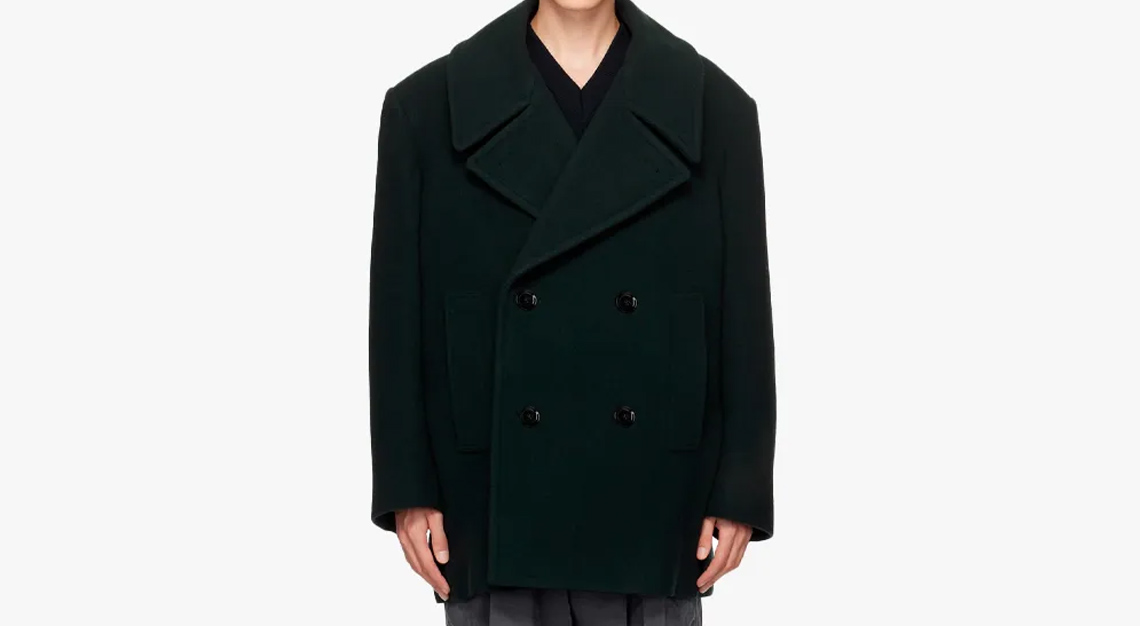 Somehow, everything designers Christophe Lemaire and Sarah-Linh Tran produce simultaneously looks familiar and new. Maybe it's their just left-of-centre sensibility or laissez-faire Parisian style that makes the clothes so appealing. Maybe it's their languid shapes with expertly deployed structure that's only where it's needed most. Or maybe it's the mostly neutral palette that improbably possesses depth. Whatever it is, they've applied it to a peacoat, rendering it in a midnight green with wide shoulders and a roomy fit. The best way to study it and decipher their tricks? Cop it for the winter.
Date of Brand Origin: 1991.
Material: Melton wool.
Colours Available: 2.
This story was first published on Robb Report USA