In One For The Road, we speak with the best bartenders and spirit guides to get to know them better.
In the name of Mother Nature,
the president of Champagne Telmont calls upon others to join the sustainability movement
Champagne Telmont recently achieved a remarkable feat even its president, Ludovic du Plessis, wasn't expecting—winning the Global Wine Master 2023 gold medal for packaging. And the best part? The winning expression of bubbly didn't even have packaging. As it turns out, the jury particularly appreciated the Champagne's eco-responsible character; the pure elegance of the bottle and the transparent information displayed on the main label. Spearheading sustainability innovation in Champagne production, the house was the first to forgo gift boxes and this is just one of Telmont's six groundbreaking initiatives. 
Operating by three core values—humility, courage and loyalty—Telmont knows the value of walking the talk. Since its inception in 2021, Telmont's project, In the Name of Mother Nature, has explored every conceivable avenue to preserve the precious terroir that their Champagne comes from. 
With a clear sustainability mission toward milestones, Telmont is committed to gradually adopting the lightest Champagne bottle ever, progressively reducing weight from 900 grams to just 800. Champagnes held in lighter bottles will significantly reduce carbon emissions during transportation, but Telmont takes it up a notch by stopping air freight completely. All bottles will board wind-powered maritime vessels instead, benefitting from lower CO2 emissions. Production-wise, an impressive 72 per cent of Telmont's 24.5-hectare estate is dedicated to organic agriculture or is in the midst of transitioning towards it. To foster biodiversity in their vineyards, Telmont plans to plant 2,500 shrubs as insect hotels, bolstering ecological balance. Compiling the house's practices into a comprehensive guide, Telmont calls upon others to join the sustainability movement. 
In conjunction with the 'Telmont—In the Name of Mother Nature' collective, we had the opportunity to get to know Ludovic du Plessis, the leader behind this pioneering movement. In an intimate conversation, we delved into his perspective on sustainability, discovered his favourite Telmont expression and more.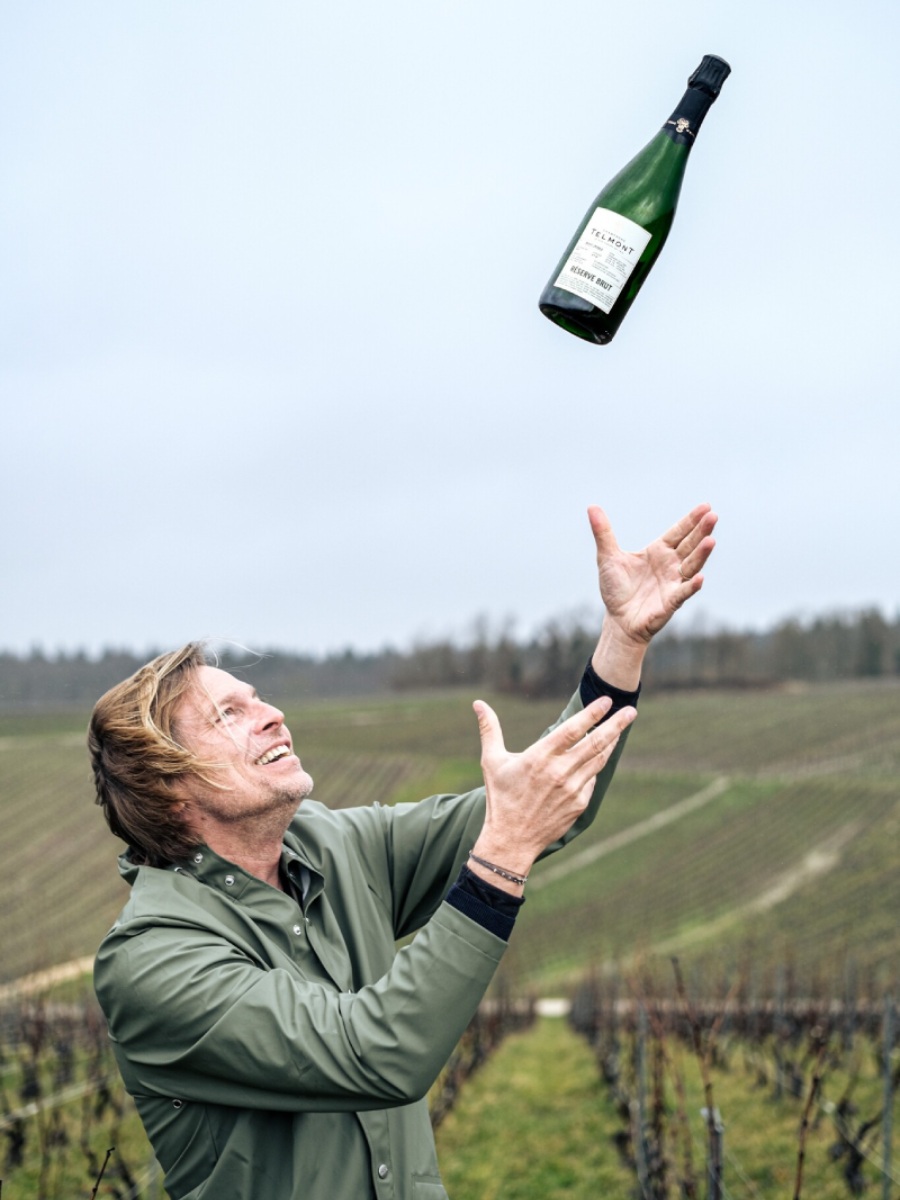 What do you want people to know Champagne Telmont as?
We are the proposer of new solutions, and thus drivers of positive and unprecedented change in the Champagne industry to contribute to helping protect our planet. I see ourselves as changemakers, promoting new rules. 
Which of the House's sustainability initiatives are you most proud of?
It is not an easy question… because it's a whole. We are embracing a comprehensive, systemic approach of our impact on the environment. And maybe this is what I am most proud of, to have formalised our commitment to Mother Nature, and to have established this comprehensive roadmap. Our objective is to become, as of 2030, a Climate Positive Champagne house, and to be Net Positive by 2050, which means a reduction of our carbon footprint by at least 90 per cent. 
What strides have Telmont taken toward achieving this goal?
We have moved into organic agriculture, because "the wine is good if the Earth is beautiful", as we say here in Champagne. We have also stopped the production of bespoke bottles—which may be beautiful but are extra heavy—banned all gift boxes and useless packaging, and stopped airfreight, even for distant destinations… We work with professionals of all trades, who share our philosophy, and we have also crafted the lightest Champagne bottle ever made; it weighs only 800 grams, which is 35 grams lighter than today's standard bottles. These are not easy changes, but necessary ones that we must make.
What is your personal take on sustainability? How did it play a part in the House's strong commitment to reducing its carbon footprint?
My take is that every action counts, like Antonio Guterres rightfully said. So we must all get involved and come together for a bigger impact. In my view, sustainability can never be the work of one person, it rather refers to collective actions that we all must take in our respective ecosystems. At Telmont, we aim to help fight climate change to [lessen] the need of adapting our wine making, and to ensure that our great-grandchildren, in 100 years, will enjoy the same lifestyle as we do… and be able to drink the same Champagne!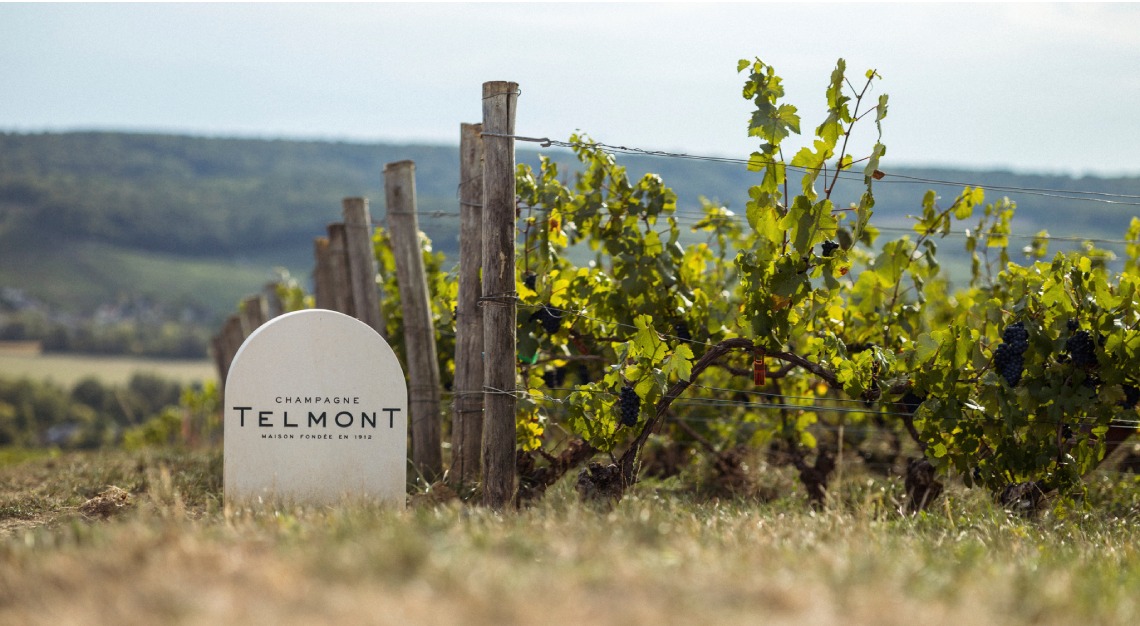 Have any of the wines produced changed since the House has been repositioned?
We are a century-old Champagne house, with its traditions especially in the importance given to our terroirs. We are very careful not to change or compromise the quality of our wines. Bertrand Lhôpital, the great-grandson of the creator of the house, is Telmont's cellar master and the 'Grapefather'… I mean the head of viticulture. Working closely with him has bee a great honour and he is in a way the guarantor of the identity of our wines.
You have been in the luxury wine and spirits industry for nearly 20 years. Where should one venture outside of Champagne?
Château Smith Haut Lafitte in Bordeaux has tremendous wine, and in the heart of it is Les Sources of Caudalie, an amazing complex (luxury hotel) built in harmony with nature. 
Are there any other areas that pique your interest for future endeavours?
Gastronomy! In France, we are lucky to have a new generation of chefs doing amazing things: Glenn Viel, Florent Pietravalle and Jean-Marie Josselin. They are all extremely engaged in sustainable gastronomy-changing mentalities, while maintaining the same level of excellence à la française.
Which of Telmont's expressions would you recommend to someone trying for the first time?
The Blanc de Blancs vintages that we have, such as the 2012, 2006 and 2005, are made from a selection of the best chardonnay grapes. These grapes give fresh and finessed notes that are signature to Telmont. What you get is an exceptional flavour profile, and you can appreciate the vivid aromas and taste the exquisite quality of the expression.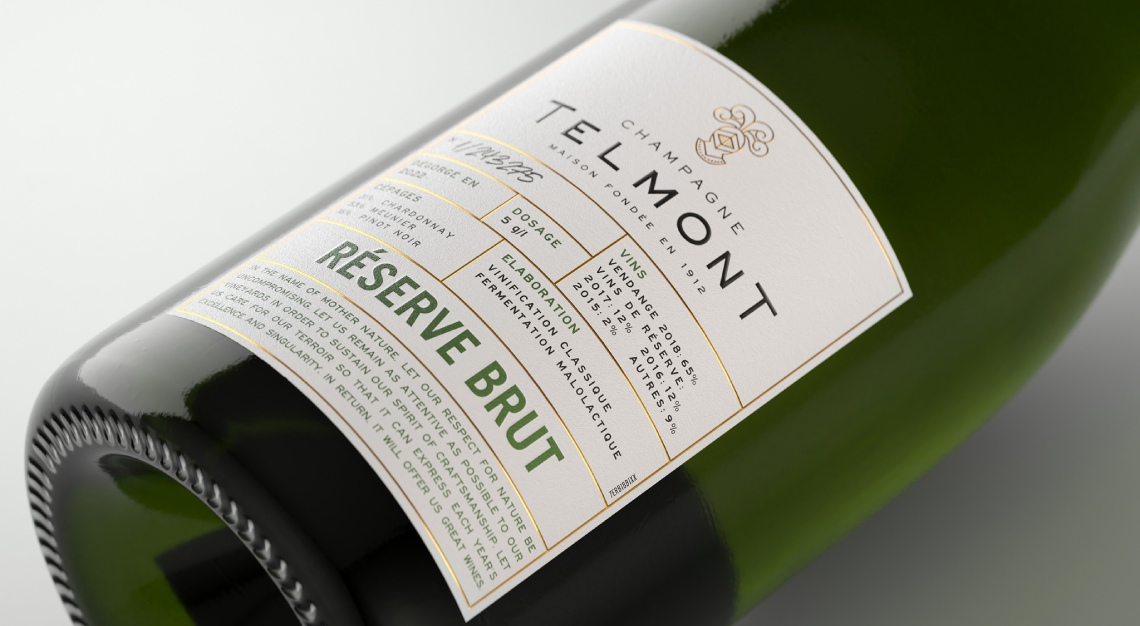 Which expression of Telmont is your favourite and why?
I love the Reserve Brut. It's so elegant, fresh and ethereal with a long-lasting finish and low dosage. I also love the Blanc de Noirs 2014, which expresses a paradox between freshness and maturity.
What food pairing do you enjoy best with the Reserve Brut?
With oysters or scallops; in particular those fished sustainably by our friend Mathieu Chapel, the founder of Côté Fish. Like Champagne, great food tastes even better when it is sustainable.
What's your favourite bar in the world?
The Floating Bar on the Hudson River. Michael Fortenbaugh, my friend and the Manhattan Yacht Club's commodore, built it 20 years ago. It is the best place to enjoy a glass of Telmont in New York. 
Recommend a good movie for the Champagne lover.
If you're in the mood for an ironic satire of reality, watch Don't Look Up. The movie is a wakeup call for all of us to face the threat of climate change, to step up to the challenge and change. Leonardo DiCaprio, a star in the movie, is an environmental activist and a dear friend of Telmont. We share the same convictions and commitment to protecting the environment. For a more positive, optimistic view of how we can face environmental challenges, I recommend the documentary Kiss the Ground. Narrated and featuring Woody Harrelson, it is an inspiring description of how we can actively regenerate damaged ecosystems. Last, but not least, Tu seras mon fils by Gilles Legrand is a beautiful and complex story about the transmission across generations of the passion for wine and for the terroir.
It's late at night and you need one last drink for the road. What are you pouring yourself?
I assume I would be in the passenger seat for this one. My last drink would be a glass of Mount Gay Rum. It reminds me of my grandfather who created the first restaurant on Saint Martin Island, in the Caribbean. I spent many of my summers there when I was a teenager, and Mount Gay always evokes many beautiful memories.