Welcome to On The Table, where we feature recipes by Singapore's best chefs and bartenders. In part three of this series, we discuss Champagne, knowledge and a gnocchi-friendly cocktail with Celia Schoonraad of Barbary Coast
"We fell into each other," Celia Schoonraad says with a laugh, describing her love affair with bartending. 'Life is a series of never-ending rabbit holes' is what I wished she had said instead – such was her life's journey, leading to her present mantle as proprietor and creative director of Barbary Coast, which she co-founded with Michael Callahan of 28 HongKong Street fame. And that's not counting her role as creative director for The Compound Collective, a beverage experience consulting firm.
The New Zealander (her family moved from South Africa when she was a teen) fell into her first rabbit hole pouring wine and making gin and tonic at Christmas parties in a cafe she worked at, marking the start of a lifelong relationship.
At university, bartending was seemingly a marriage of convenience; it was a gig that made the most sense, schedule-wise, (no) thanks to her double degree in business and journalism. By the time Schoonraad was done with school, she was earning more than she would behind the bar than as a budding journalist, and she stuck with it. It was a job option that made the most sense, given her then semi-nomadic ways.
But it was in London where she took a lifelong career in bartending seriously. Happenstance perhaps, as times were a-changing in an industry that had started to operate very differently. "By the time I got to London, this whole approach of not sharing your knowledge with other people had dissipated. It was suddenly this world of pure knowledge, pure education, and for someone who loves learning, it was wonderfully overstimulating," she muses.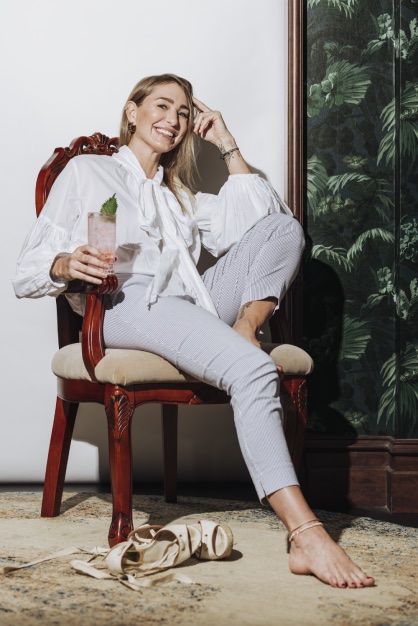 It was also during her time in London that she started to think about flavour pairing and manipulation. Her obsession included the mechanics of how saliva breaks down proteins at different rates, as well as learning the nous to fine-tune flavour pairings to that degree of attention. For Schoonraad, her career-long journey in exploring flavour development was the one thing she enjoyed the most.
So much so that, somewhat unsurprisingly, she took up a postgraduate degree in food science to supplement her learning behind the bar. Now she's busy burrowing into another rabbit hole: studying for a master's degree in distilling from the London-based Institute of Brewing & Distilling. "If you're interested in something, learning about it becomes very rewarding," she reasons.
For all of Schoonraad's eclectic journeys across the world, the common denominator in her life has been the pursuit of knowledge. And Champagne; and anything with Champagne. "I love, love, love Champagne. Sidecars are amazing because I love Cognac. Sidecar Royales are great because they are Cognac and Champagne."
And if you visit the Ballroom at Barbary Coast, you'll find a button curiously labelled 'press for Champagne'. It's one of Schoonraad's many ideas – and her favourite of the lot – that along with Callahan's, which makes up the two-storey concept bar inspired by the bustling red-light district in San Francisco that prospered during the Gold Rush. They were a collection of ideas that they dreamt up for their clients but weren't used for one reason or another.
"We kind of ended up with this mental catalogue of cool ideas that would work in a bar. And then one day we said, why don't we open a bar? And here we are," she muses.
10 years ago, Schoonraad would never have imagined herself where she is today, and she certainly has no idea where she'd be 10 years in the future. But you can bet your last golden nugget that she'd be reading something along the lines of Greek mythological figures or the history of coffee.
For now at least, she's dreaming up a new menu concept for the bar. She's understandably tight-lipped, though the Cherry Blossom cocktail is the closest thing we have to a teaser. "It'll be an aesthetically interesting menu. It'll be very visual, and from a production side, geeky too," she promises.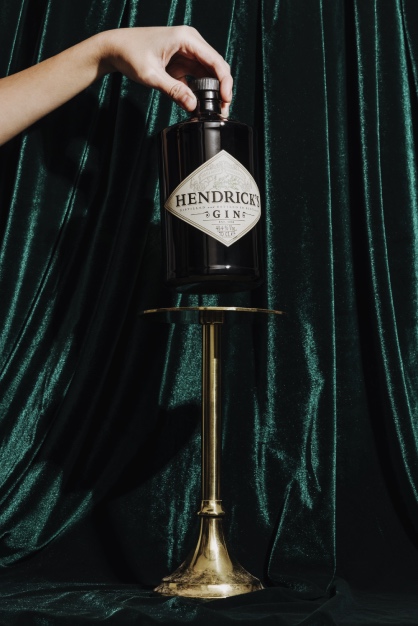 Cherry Blossom
By Celia Schoonraad, Barbary Coast
A variation of a drink from the Barbary's Coast upcoming menu, Schoonraad hit upon the idea of using salt-pickled flowers to balance and round off the earthy, heavier flavours of Denis Lucchi's gnocchi. "The saline from the sakura adds a nice little bit of umami that will still bring out some of those umami flavours from the dish itself. The sakura blossom itself is delicate, but it's punchy enough to break through the squid ink flavours. And so you have this well-rounded, visceral kind of taste experience in your mouth."
45ml salt-pickled cherry blossom gin (1)
15ml Mancino Sakura Vermouth
20ml lemon
10ml rich simple syrup
60ml soda
1 shiso leaf
1 sakura lollipop (2)
Fill a highball glass with ice. Add the gin, vermouth, lemon and simple syrup, then top with soda. Garnish with the shiso leaf and lollipop.
(1) Salt-pickled Cherry Blossom Gin
20g salt-pickled cherry blossom
1 litre Hendrick's Gin
Infuse the mixture with an ultrasonic homogeniser for 15 minutes on 75 per cent output capacity and a constant output. Use a 50-micron Superbag to strain the mixture.
(2) Sakura Lollipop
250g rich simple syrup
125g butter
Pinch of salt (1g to be precise)
15g sakura powder
24 lollipop sticks, 3.5cm
2 lollipop moulds
Bring all ingredients to a boil, until the thermometer reaches 155 degrees Celsius. Remove from heat and carefully pour into the moulds with the sticks inserted. Let cool, then store in the freezer.
Barbary Coast
16 North Canal Road
Singapore 048828
Tel: +65 8869 4798
This is a Robb Report Singapore x William Grant & Sons initiative that first appeared in the September 2021 issue. Purchase it as a hard or digital copy, or consider subscribing to us here