You can't go to the bar now, but you can bring the bar home. Here's how you can get Singapore's best cocktails delivered straight to you
We're only halfway through our lockdown and God knows we all need a drink. Need a cocktail, stat? We recommend either making your own or ordering a bunch of bottled cocktails in. Here's a quick guide to Singapore's best bars offering boozy takeout and deliveries.
PS: Want to bring fine dining home as well? Click here.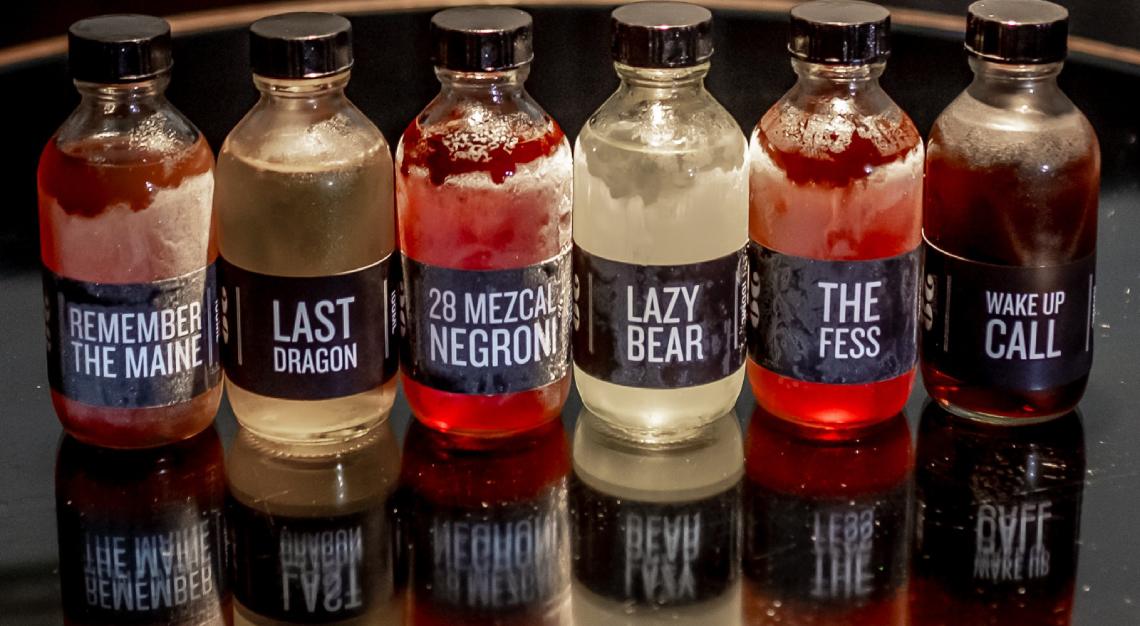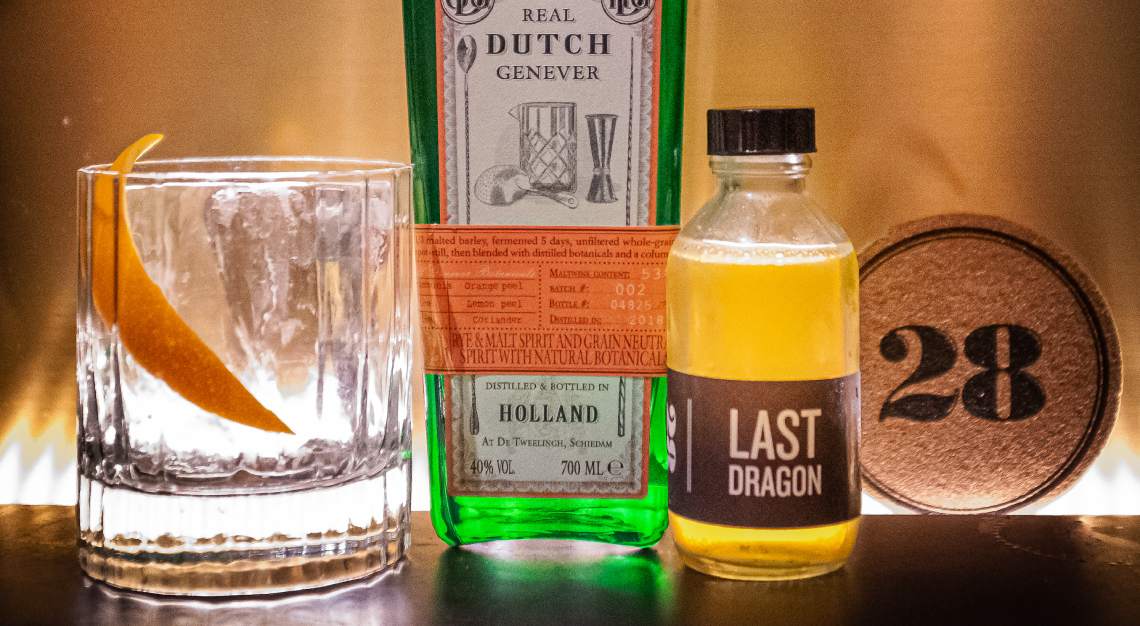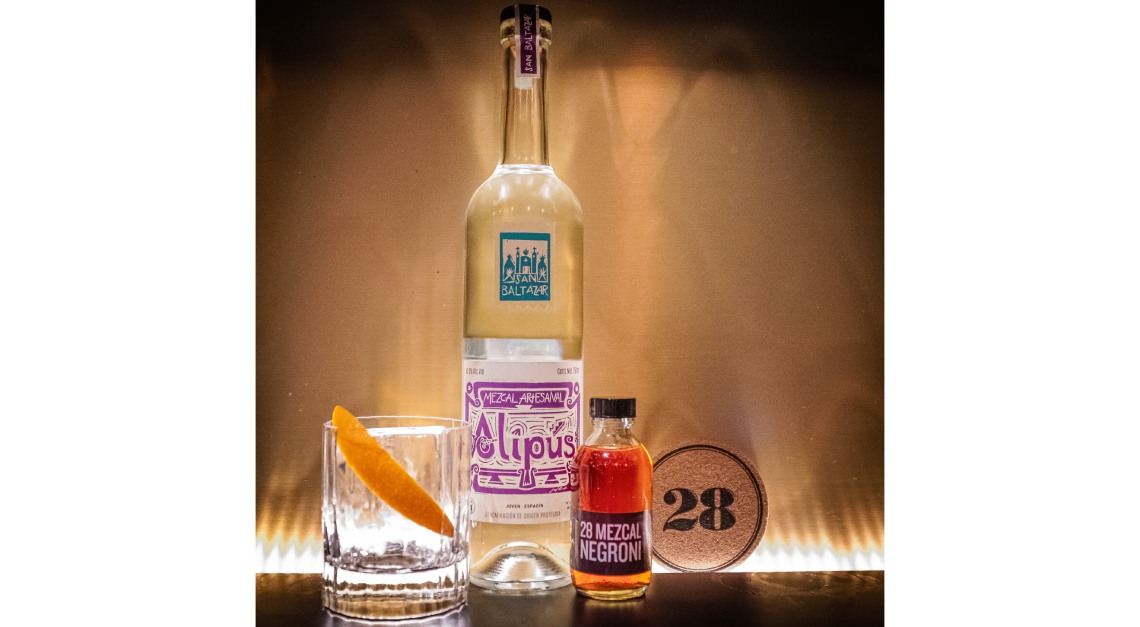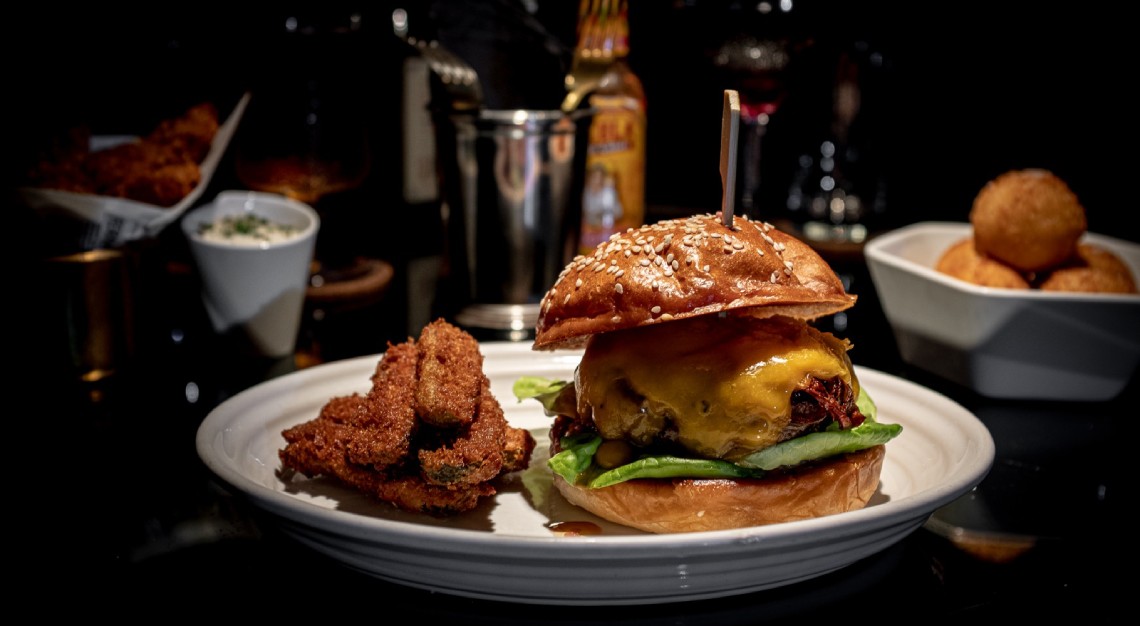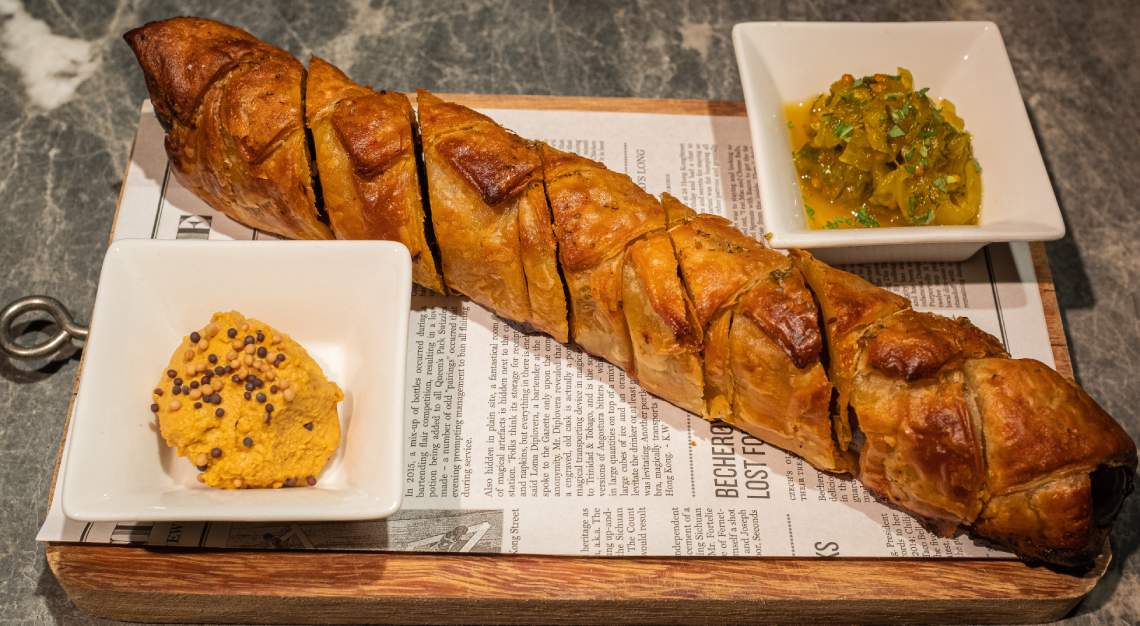 28 HongKong Street
Best known for: Remarkable cocktails made behind an unremarkable shophouse exterior. This laid-back speakeasy, left in the hands of head bartender Ronan Keilthy and general manager Justin Pallack, is dark, sultry and comfy for dates and a tête-á-tête.
What to order: If you need something strong like we do, order the 28 Mezcal Negroni, a smoky and bittersweet take on the classic. But if you're up for something a little less heady and a tad less mainstream, the tart and complex Last Dragon is pretty something. It is made with the good stuff, like Old Duff Genever (of malt wine and grain spirit), Italian bitters, masala chai, lemon and Demerara sugar, and is a sure way to make your day.
For something a little more ambitious, get the 28HKS House Party Experience. Best for groups of four or more, whatever you need for a virtual party will be delivered to you, complete with a special Spotify playlist and 28 HongKong Street member to play host. Amp it up with some bar grub as well. The menu includes favourites like The Burger, Hot Chicken Tenders and Sausage in a Sweater.
Opt for pickup or delivery. Full menu here.
28 HongKong Street
28 Hongkong Street
Singapore 059667
Tel: +65 8318 0328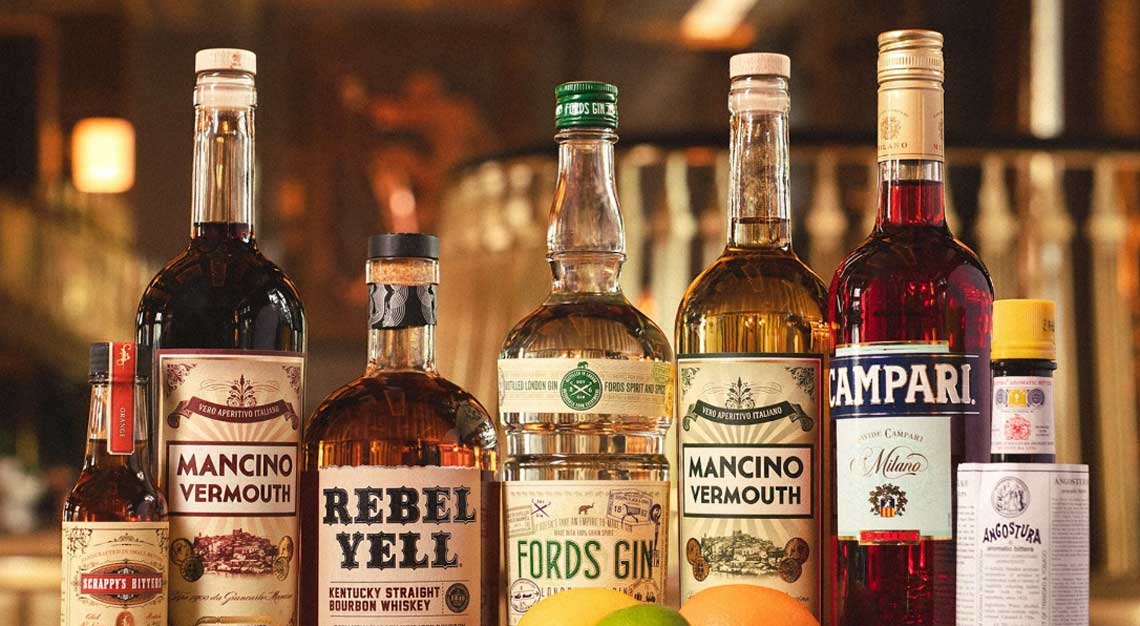 Atlas Bar
Best known for: Its beautiful gin collection, which is also billed as the world's largest.
What to order: The bar is offering a selection of home cocktail sets, handcrafted bottled cocktails and a range of gin, including the exclusive St. George Atlas Orange Gin, for delivery. Those who relish the art of making fine tipple can opt for the cocktail sets, including those for gin and whisky, all complete with the necessary premium bar tools. An extensive selection of gin, wine and Champagne are available, too – we recommend the Charles Heidsieck Brut Réserve Magnum NV (S$190) for date night.
Only available for delivery. Full menu here.
Atlas
Parkview Square
600 North Bridge Road
Singapore 188778
Tel: +65 6396 4466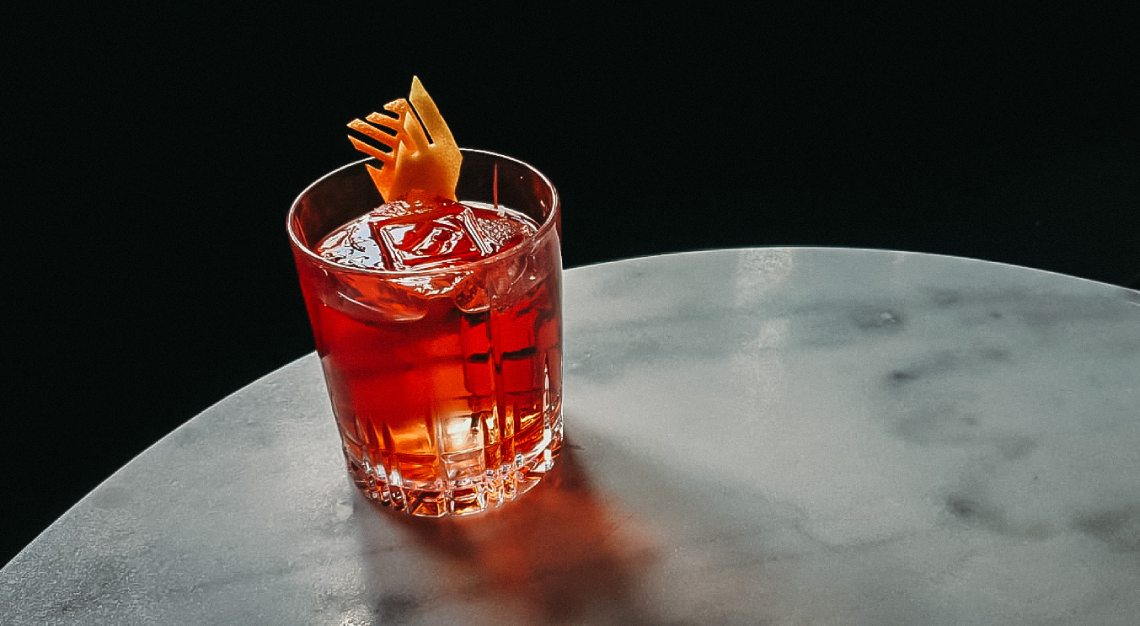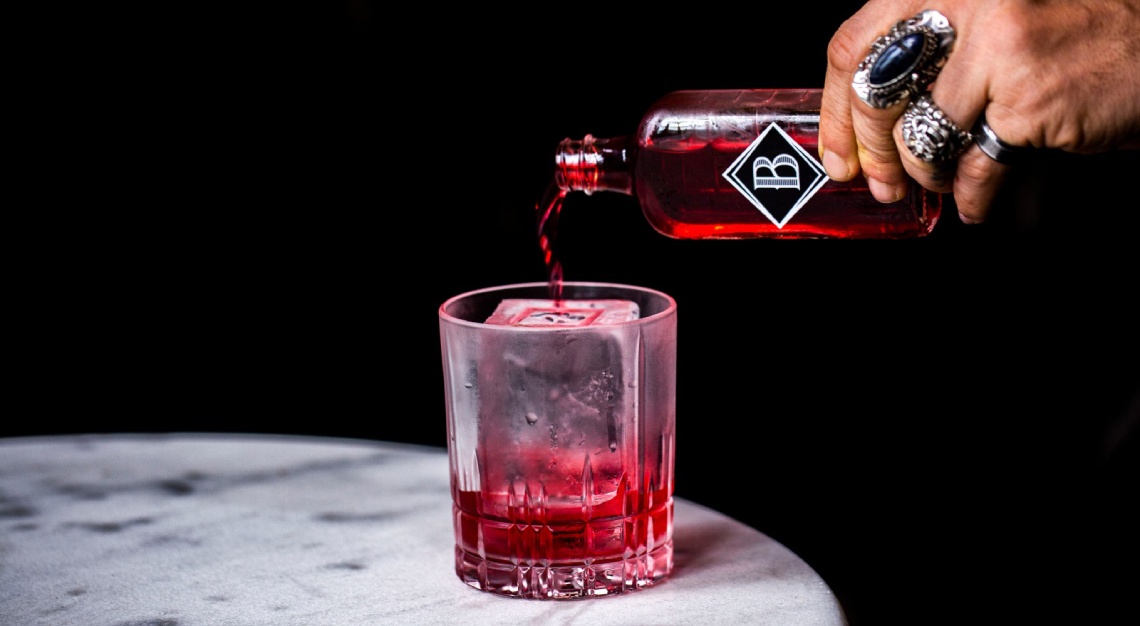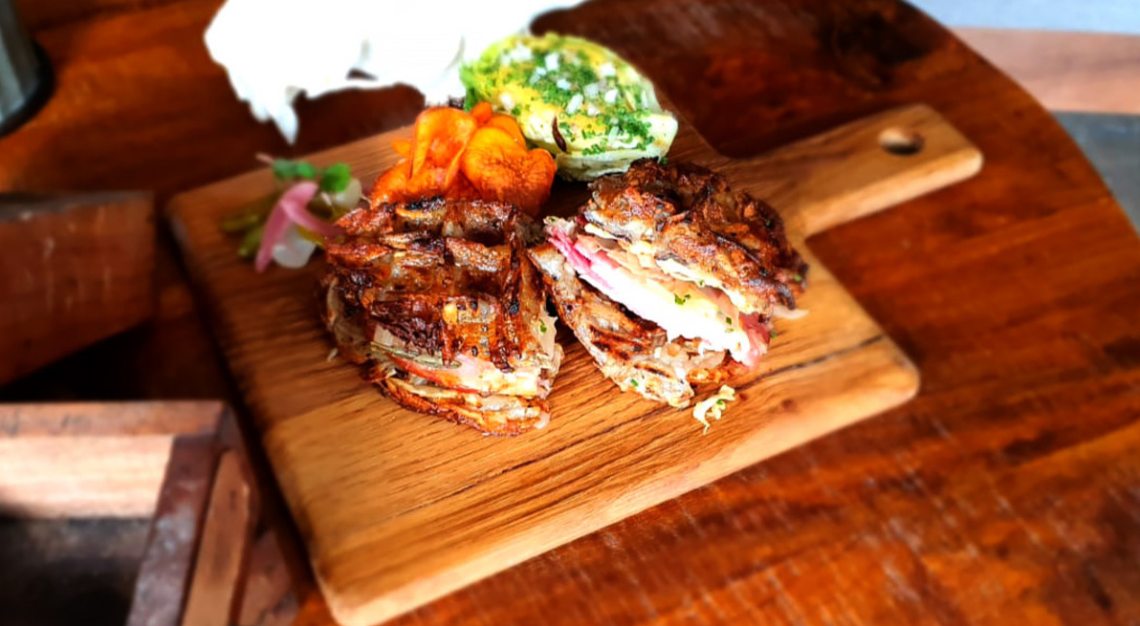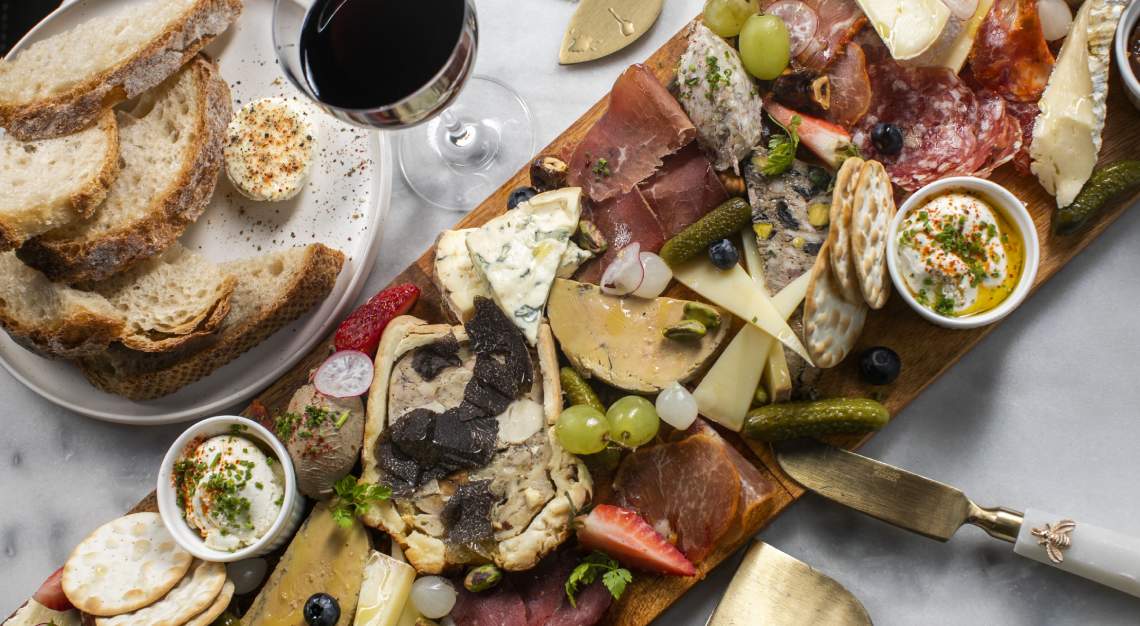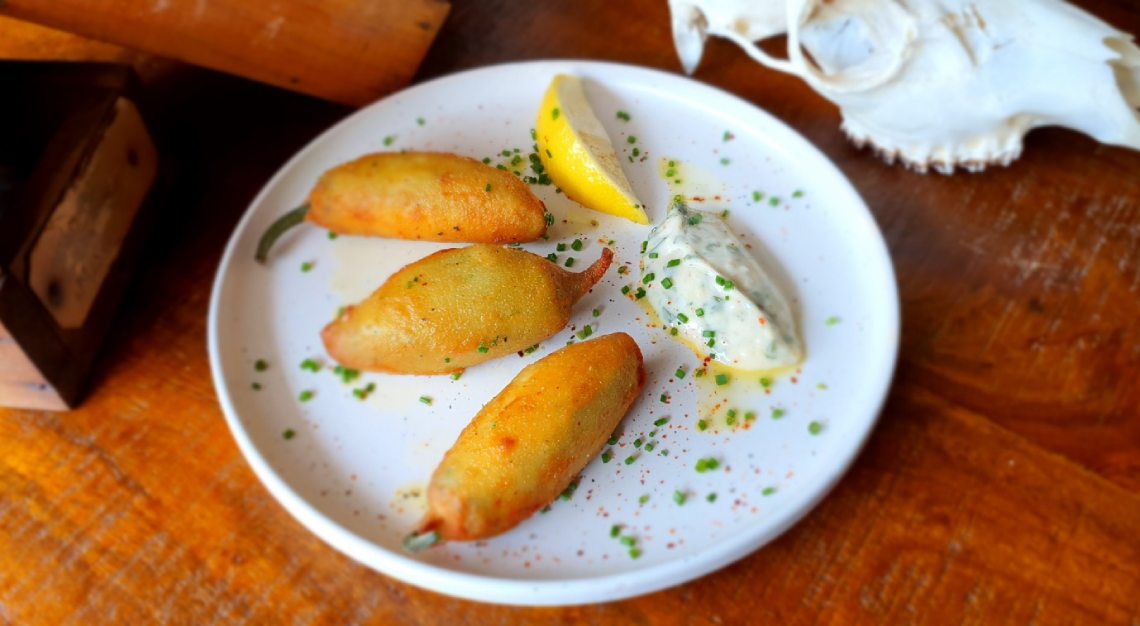 Barbary Coast
Best known for: Deadfall, its version of the San Franciscan gritty dive bar, and The Ballroom, its more lavish and intimate watering hole that sits above the former. Run by industry veterans Celia Schoonraad and Michael Callahan, the rather chatty founding bartender of 28 HongKong Street.
What to order: The agave-strong No Sleep Coast or Tea & Raspberry with Cream, a gin- and rum-based tipple made with red raspberry leaf clarified cream. Each cocktail comes in a 375ml bottle, which is good for three or four serves, depending on how thirsty you are. We also highly recommend the Charcuterie & Cheese Board, which is part of this special Robb Report delivery package.
Opt for pickup or delivery. Full menu here.
Barbary Coast
16 North Canal Road
Singapore 048828
Tel: +65 8869 4798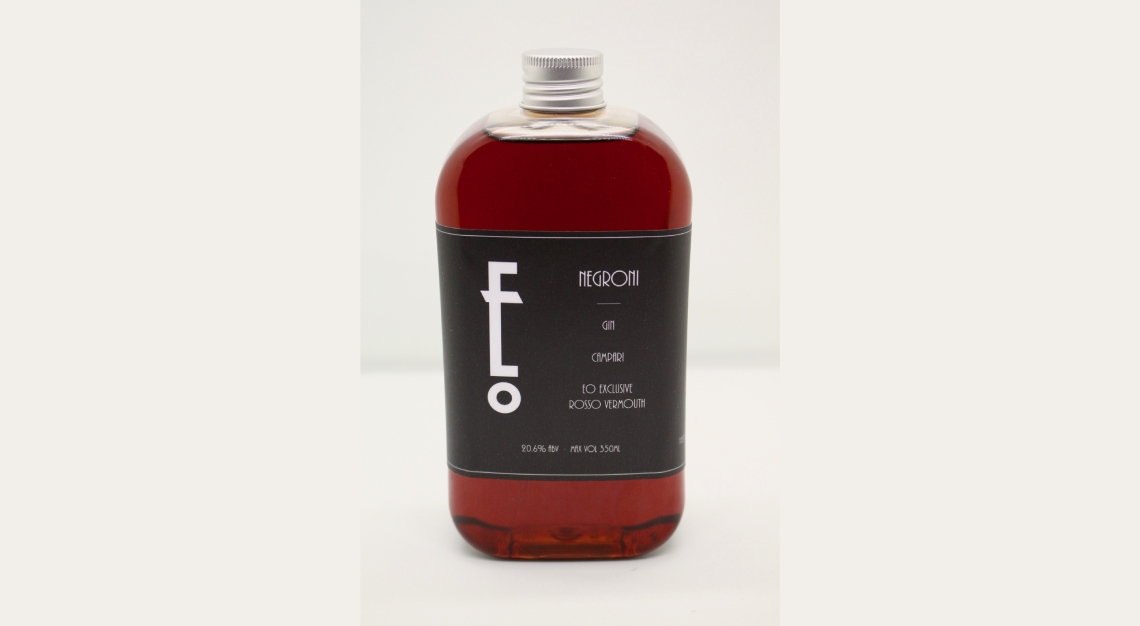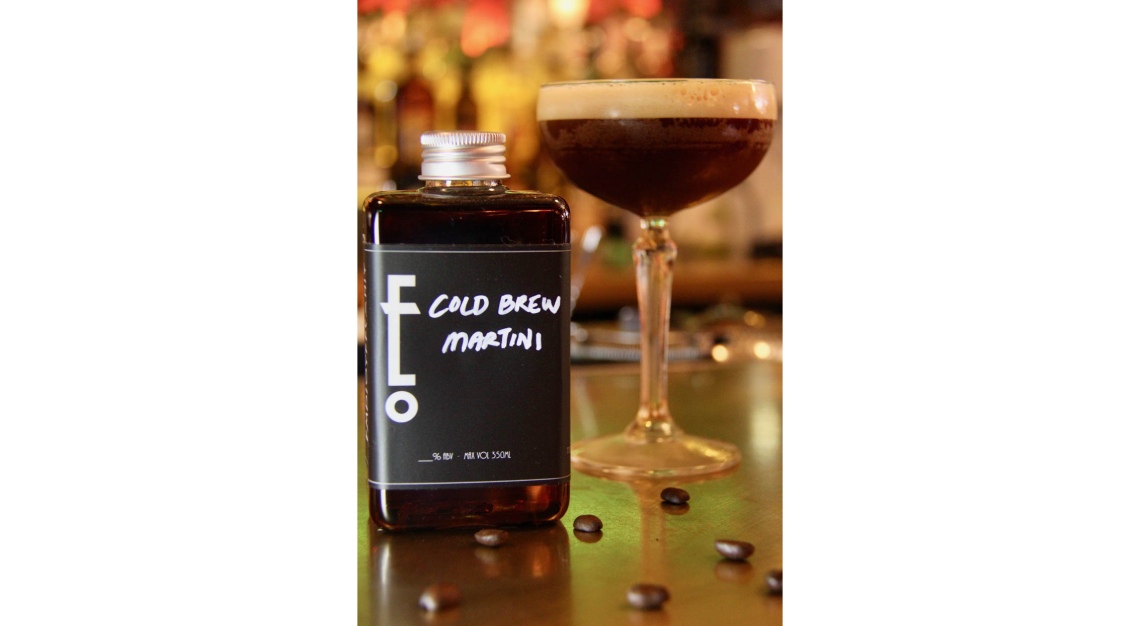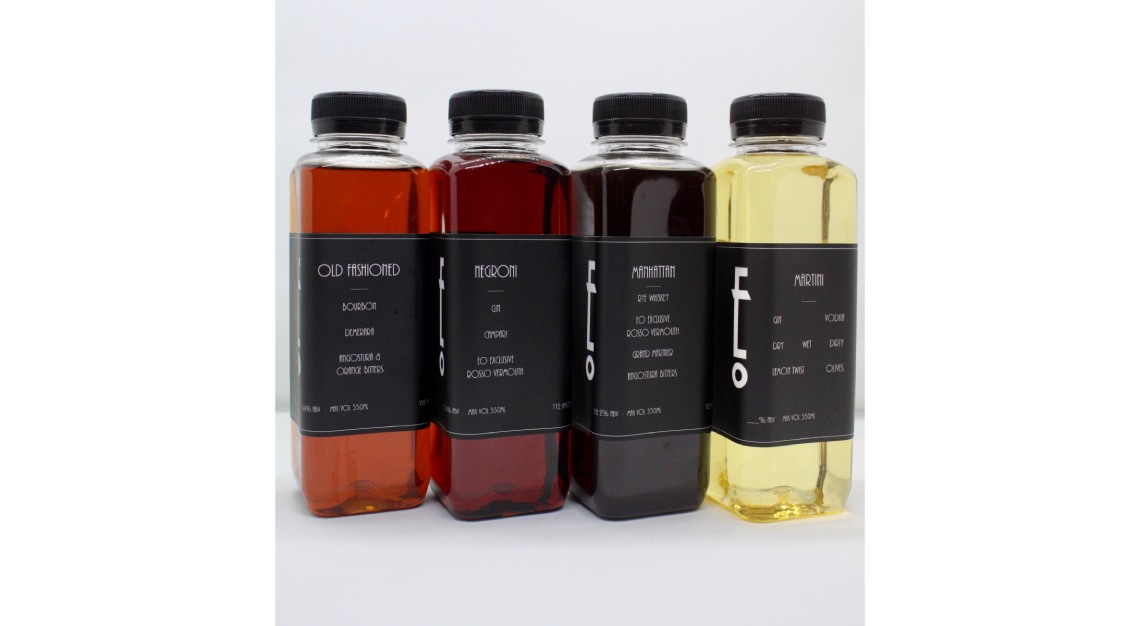 Employees Only
Best known for: Its uppity New York speakeasy attitude. That means a room full of Old World charm and Art Deco accents, bartenders with anachronistic parted hair and Golden Age renditions of the classics.
What to order: A flight of five 350ml bottled cocktails, which ranges from a Negroni to a Cold Brew Martini, or the Aperol Spritz, which will come with 70ml of house prosecco, 350ml of Aperol and two cans of soda. Don't miss out on the food either. We highly recommend Employees Only's Smash Burger, Homemade Chicken Soup and Cavatelli.
Opt for pickup or delivery. Full menu here.
Employees Only
112 Amoy Street
Singapore 069932
Tel: +65 6221 7357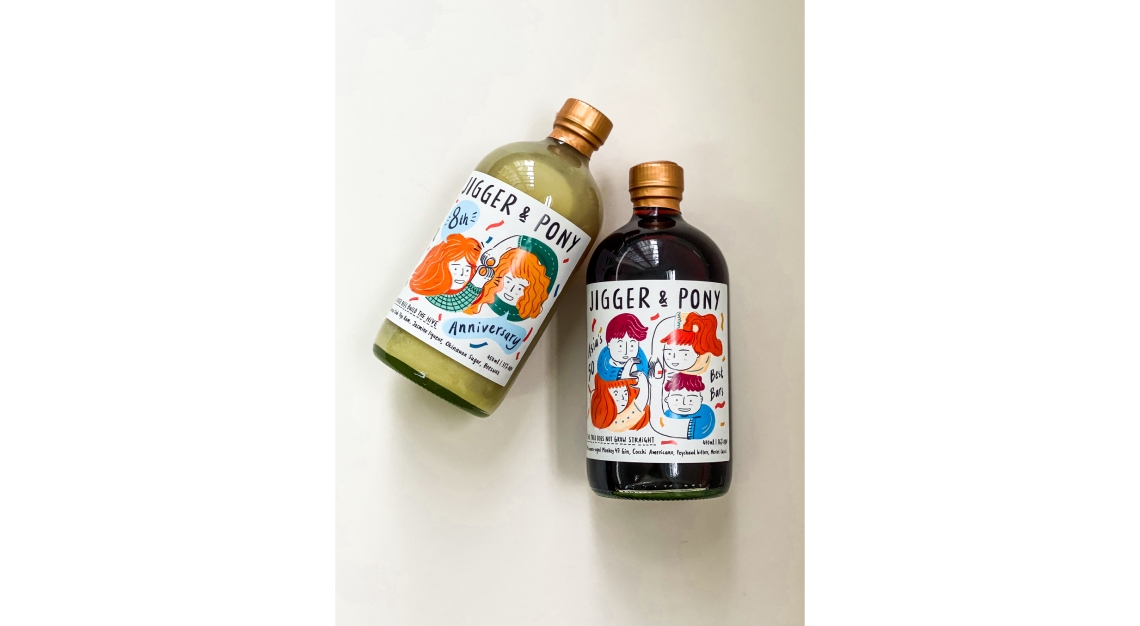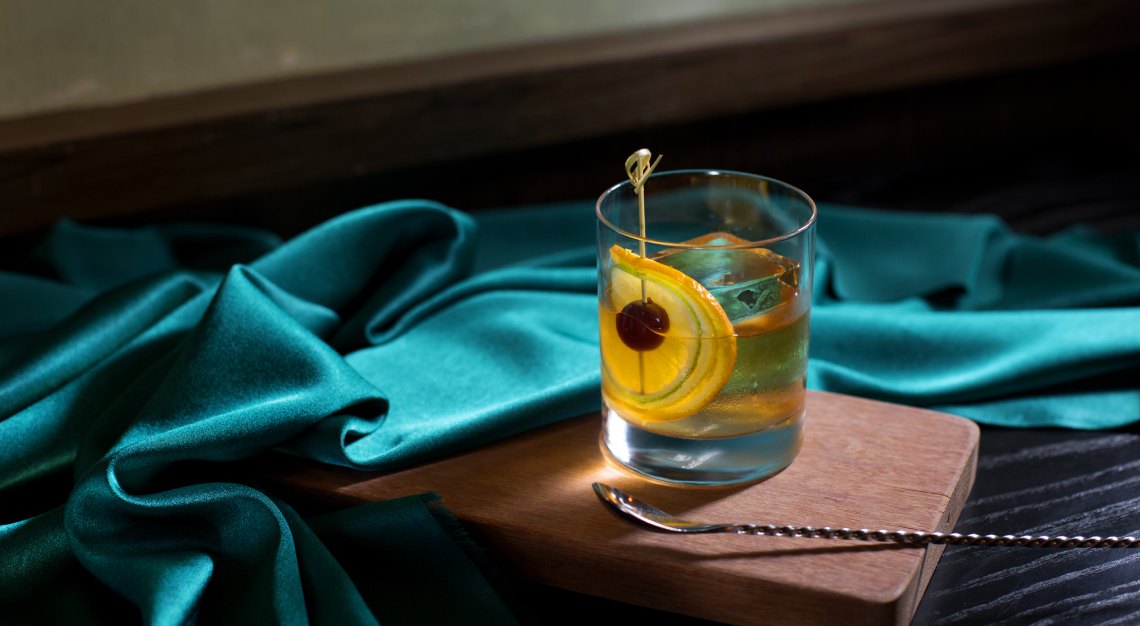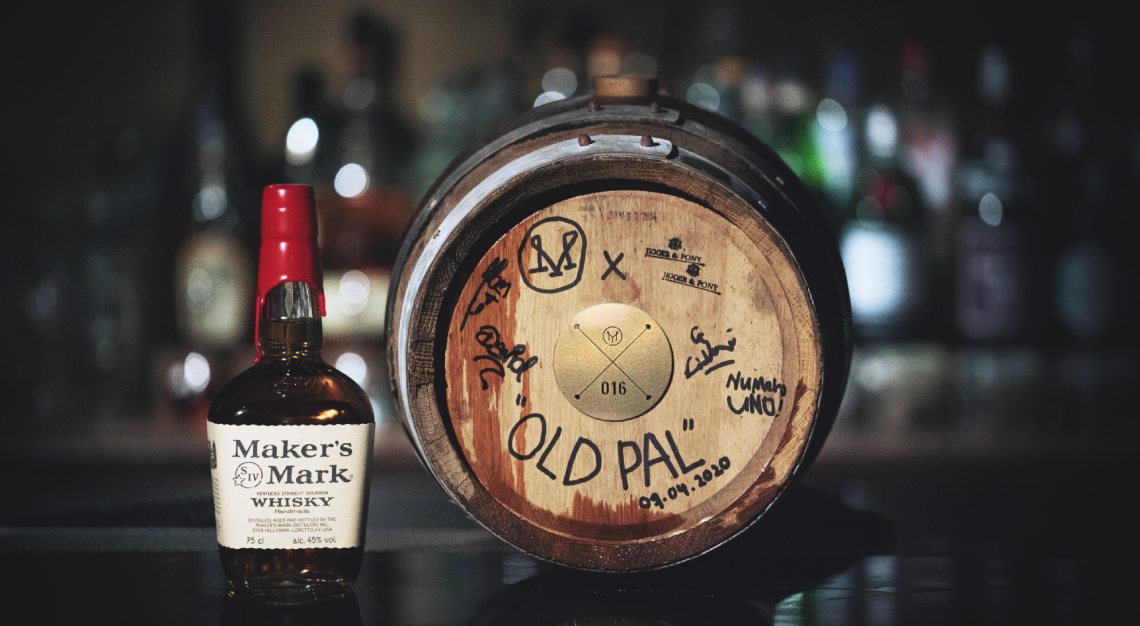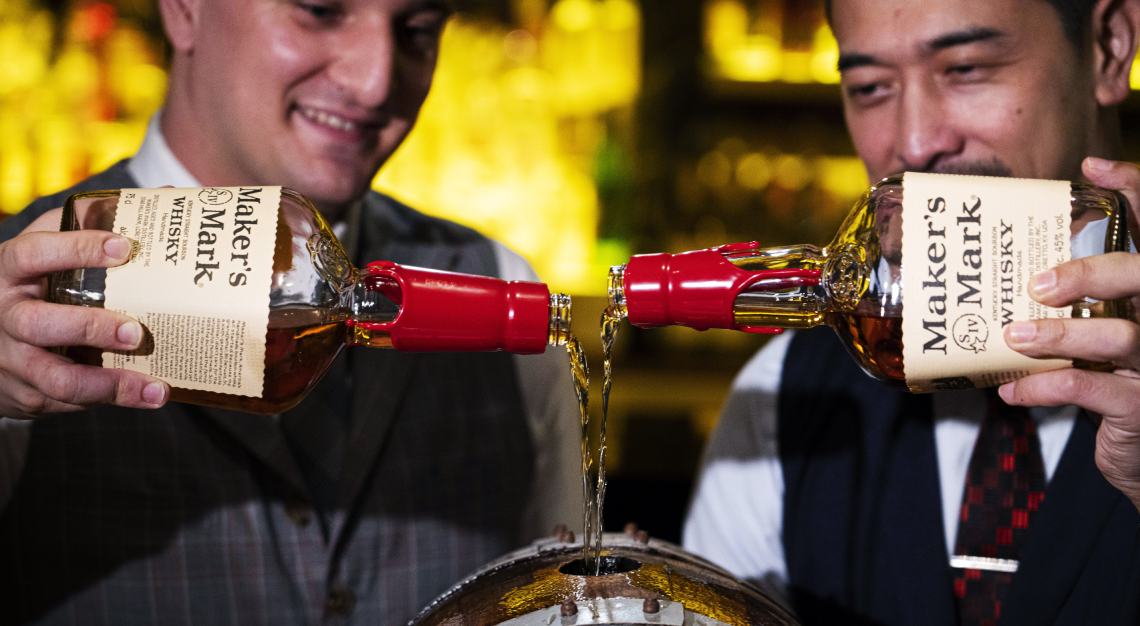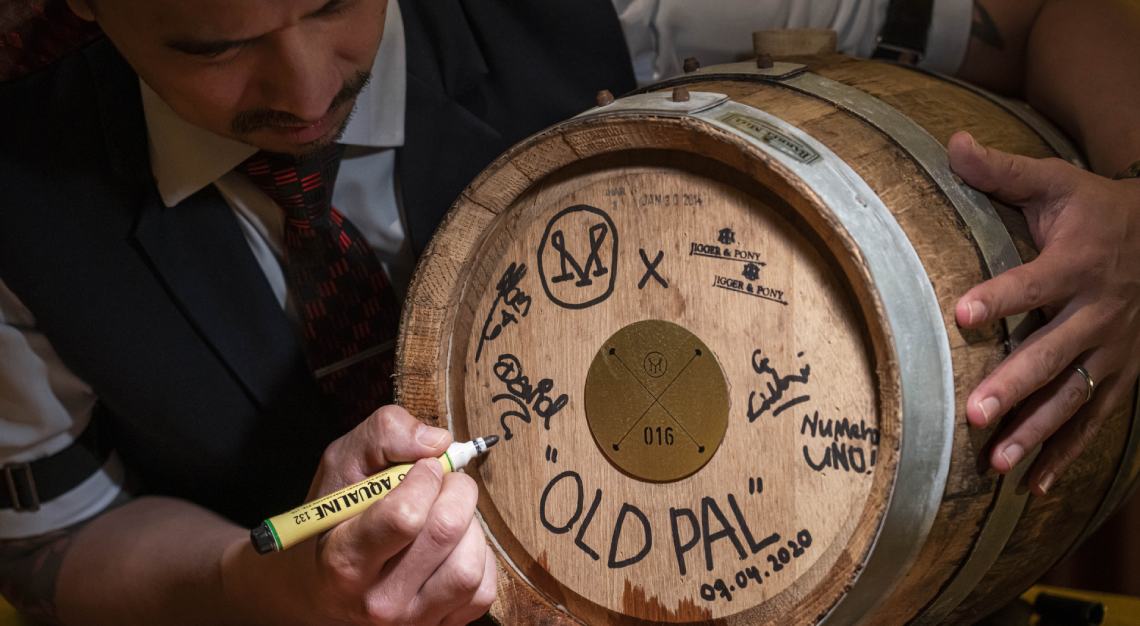 Jigger & Pony
Best known for: Its homage to the 19th century. With an immersive atmosphere, welcoming service and classic drinks, Jigger & Pony is the place to be for a laid-back aperitif or two.
What to order: The bar, which just placed number one at the Asia's 50 Best Bars awards, has rolled out two bottles of celebratory cocktails at S$85 each. Limited to 100 bottles each, you have either Worker Bees Build the Hive – a staff tribute of rum, jasmine liqueur and Okinawan sugar – or The Tree Does Not Grow Straight, which is made with spicy Mizunara-aged Monkey 47, dry white vermouth, bitters and créme de cassis.
Also available is a special barrel-aged cocktail done in collaboration with Maker's Mark and Regent Singapore's Manhattan, and based on the classic Old Pal, the cocktail is made with Maker's Mark, dry vermouth, Cocchi Americano, Lillet Blanc and Campari. As soon as the bar reopens, it will be bottled and sold at a premium, with a portion of the proceeds to go to its employees. The price is to be announced, but those who are keen may register their interest here.
Opt for pickup or delivery. Full menu here.
Jigger & Pony
165 Tanjong Pagar Road
Amara Hotel
Singapore 088539
Tel: +65 9621 1074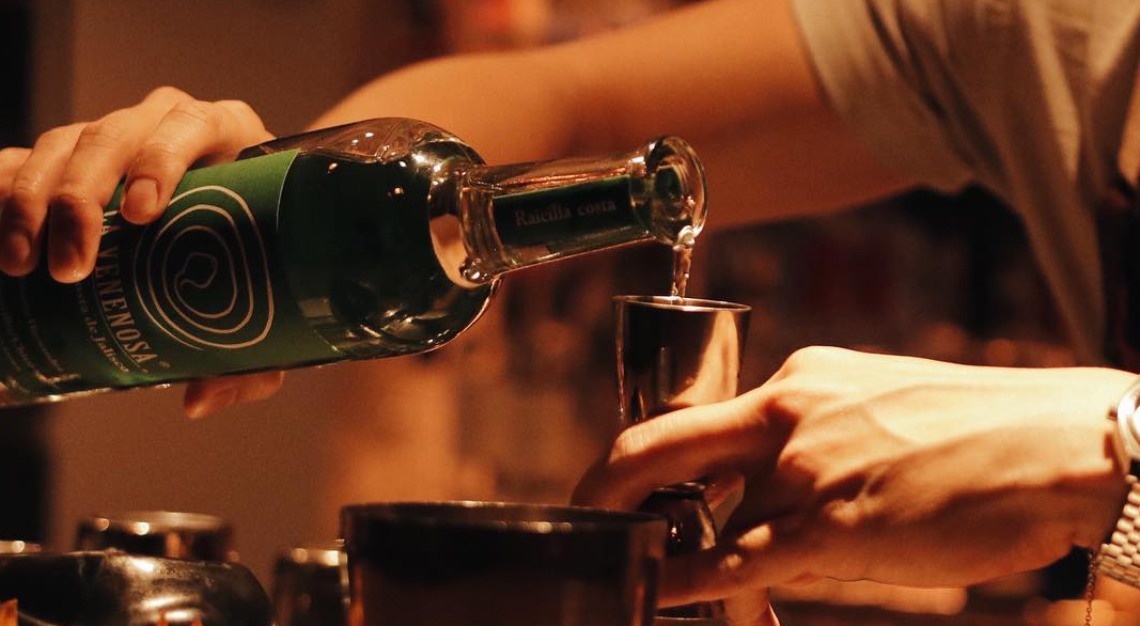 Junior the Pocket Bar
Best known for: Tanjong Pagar's pocket-sized cocktail bar, as its name suggests. Fit for only about 10 guests, this bar by Proof & Company revises its menu every six months (sometimes tiki and sometimes, Asian), and always strives to serve in good faith.
What to order: The current Junior at Home menu features 700ml bottled cocktails, including the Mountaineer's Moustache, which uses wild mushroom mezcal, and Swiss Miss Kit, a hot concoction of dark rum, Hokkaido milk and whipped coconut cream, amongst others. A DIY Taco kit is also up for grabs. Available as a six- or 12-pack, you have the choice of grilled skirt steak, pork belly or grilled shrimp. Simply drop them a line at +65 8121 1462 with your order and contact information.
Opt for pickup or delivery. Full menu here.
Junior the Pocket Bar
43 Tanjong Pagar Road
Singapore 088464
Tel: +65 8121 1462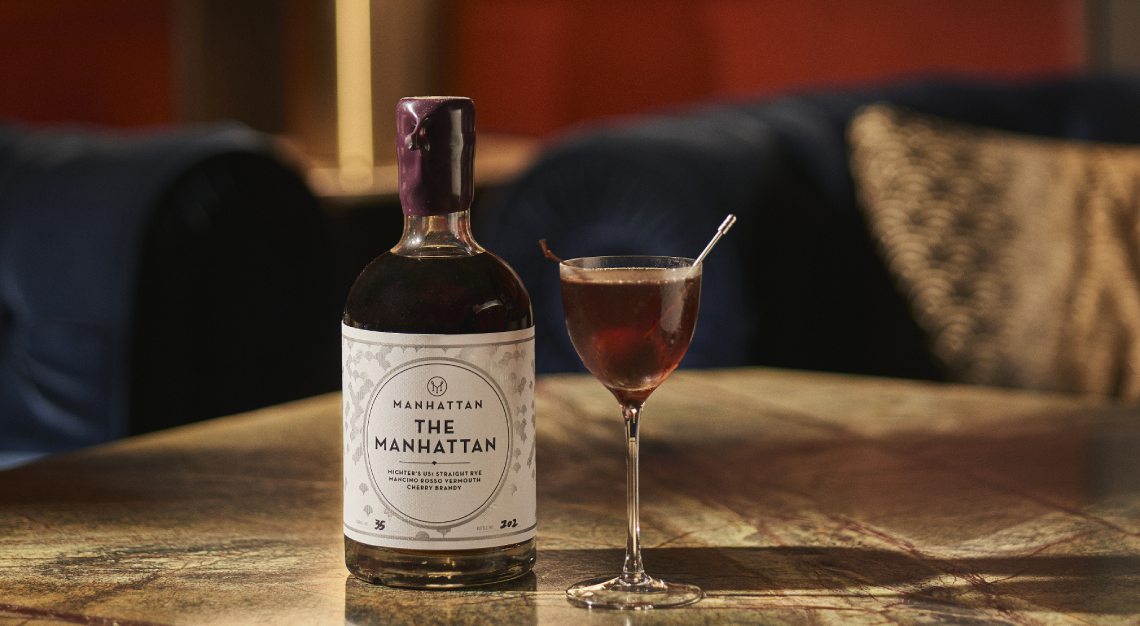 Manhattan
Best known for: Its 19th-century speakeasy inspiration, which can be seen from the decor to the drinks. It offers a seductive Great Gatsby-eque version of that era and a vast drinks menu that tours its namesake neighbourhood. Each drink is expertly mixed with barrel-aged spirits from the bar's very own rickhouse and topped with hand-carved ice.
What to order: A bottle of Manhattan or Chocolate Negroni that should go well with the Barrel-Aged Whiskey Pulled Pork Burgers and Dachshund Coney Island Hot Dogs. There's also a specially launched Manhattan x Marker's Mark custom-aged whiskey that can be yours for S$288.
Opt for pickup or delivery. Full menu here.
Manhattan
21 Cuscaden Road
Level 2, Regent Singapore
Singapore 249720
Tel: +65 6725 3377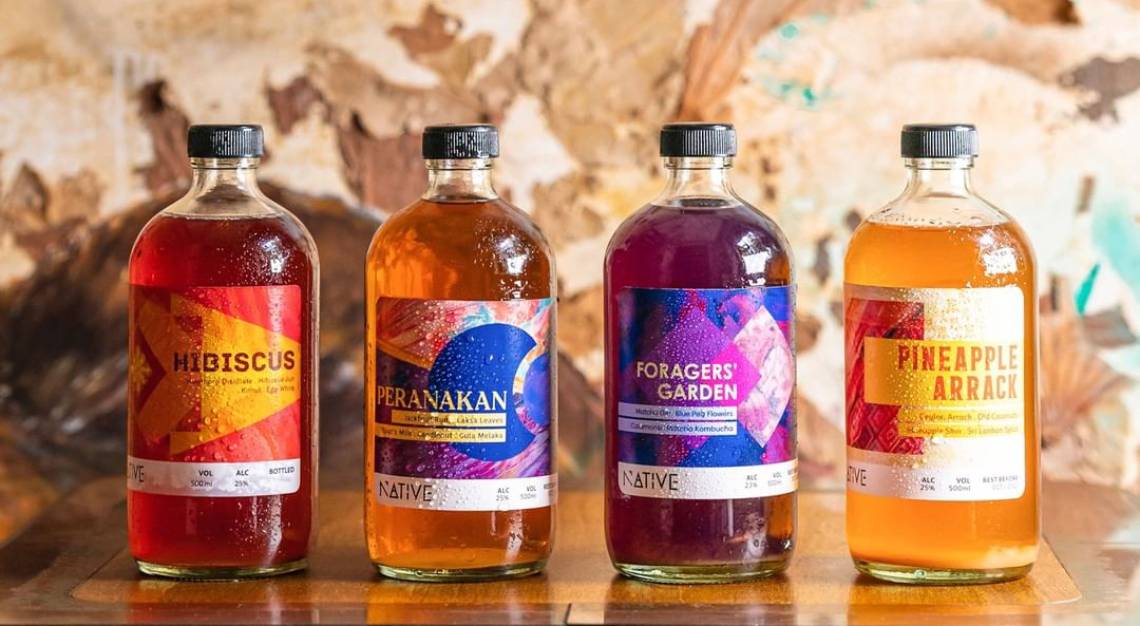 Native
Best known for: Sustainability. One of the world's best bars (12th, to be exact), Native takes inspiration from all around us and forages for authentic ingredients locally.
What to order: Any of Native's top six cocktails. That includes the famous Pineapple Arrack, a sweet and sour concoction of Ceylon Arrack (read: a Sri Lankan spirit distilled from the sap of the coconut flower), pineapple skin, old coconuts and Sri Lankan Spices. The bar also recently added Chasing The Dragon and Tree of Life to its delivery menu – the former a Thai basil gin cocktail, and the latter a coconut-based concoction. Each bottled cocktail is good for six to eight serves over ice.
Opt for pickup or delivery. Full menu here.
Native
52A Amoy Street
Singapore 069878
Tel: +65 8869 6520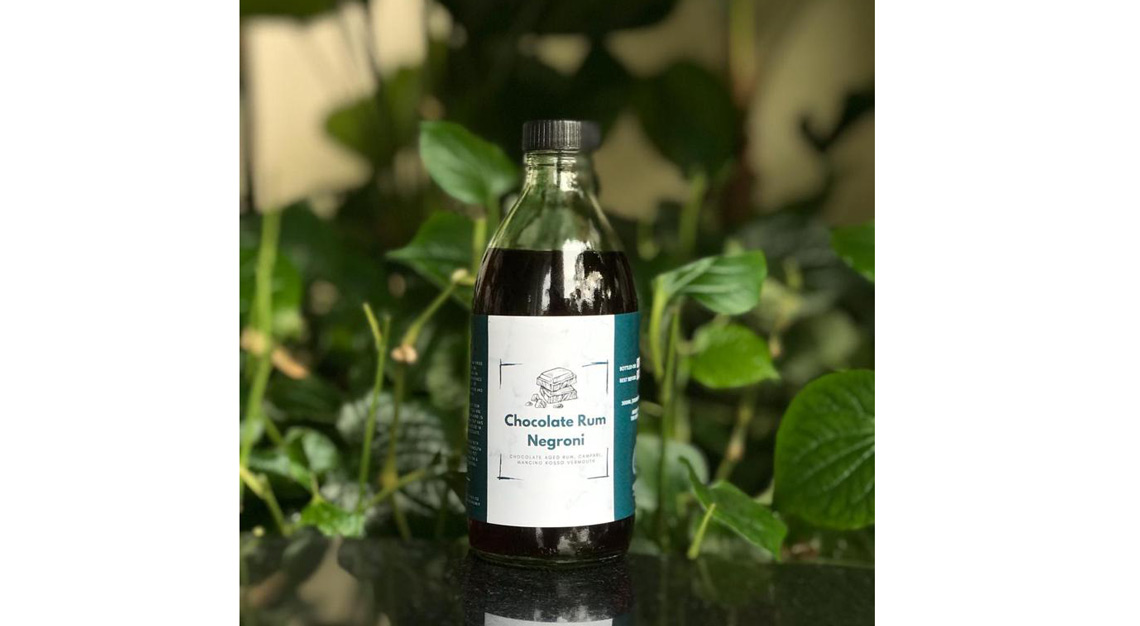 Origin Bar
Best known for: Creative cocktails that are inspired by six key districts in Singapore: Orchard Road, Balestier, Chinatown, Little India, Boat Quay and Marina Bay.
What to order: Choose from a range of five bottled cocktails, which includes both signature drinks and new concoctions. We recommend the iconic Pacifiano, where kaffir lime is infused with Mancino Bianco, vermouth, Campari and natural Umeshu. But if you'd rather have something bold, opt for the Chocolate Rum Negroni, a mix of chocolate aged dark rum, Campari and vermouth. Bar manager Adam Bursik even shared a recipe for a delicious chocolate rum recently.
Opt for pickup or delivery. Full menu here.
Origin Bar
Shangri-La Hotel Singapore
Lobby Level
Tower Wing
22 Orange Grove Rd
Singapore 258350
Tel: +65 6213 4595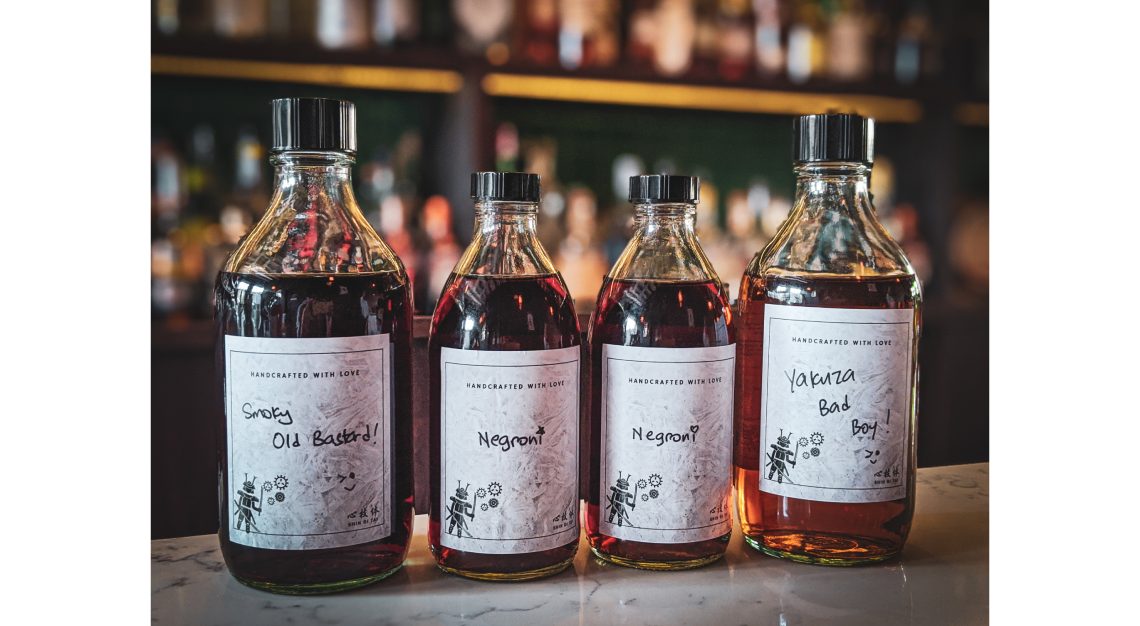 Shin Gi Tai
Best known for: Being the Japanese-inspired cocktail bar that will whip you up whatever you want, whether it's a classic Negroni, something extra fancy or something weird. Run by Anthony Zhong, a former Jigger & Pony bartender.
What to order: A Negroni, Jungle Bird or bespoke cocktail, shaken or stirred; available in 300ml (four serves) or 500ml bottles (seven serves), with blocks of ice at a dollar each on request. Do also make the trip worthwhile with some Spicy Sichuan-Style Dumplings and Uni-Ikura Pasta.
Opt for pickup or delivery. Full menu here.
Shin Gi Tai
179A Telok Ayer Street
Singapore 068627
Tel: +65 9477 8755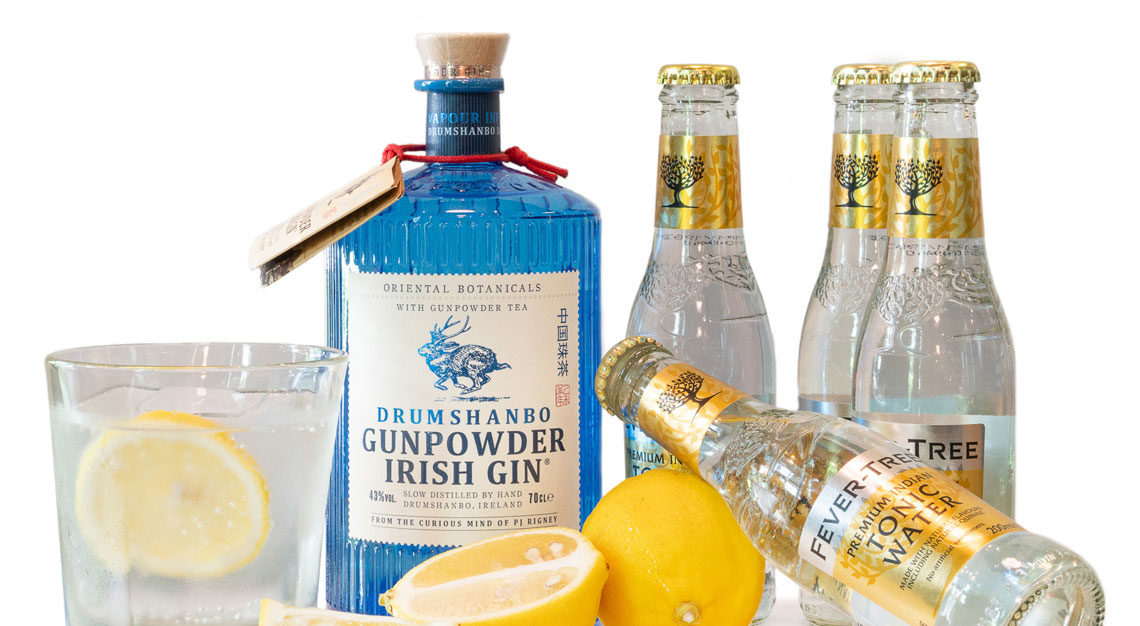 Sipsy
Best known for: Its wine and gin menu, we reckon. Sipsy is the very first wine and gin delivery service launched by PS. Cafe's parent company, PS. Gourmet.
What to order: The cocktail bundles for Aperol Spritzes and Negronis, which come with all the fixings you'd need to concoct your own tipples at home. You can also choose from a selection of wines, gin and Champagne. Planning a pizza party with the family? Refer to Sipsy's pizza- and wine-pairing guide.
Opt for pickup or delivery. Full menu here.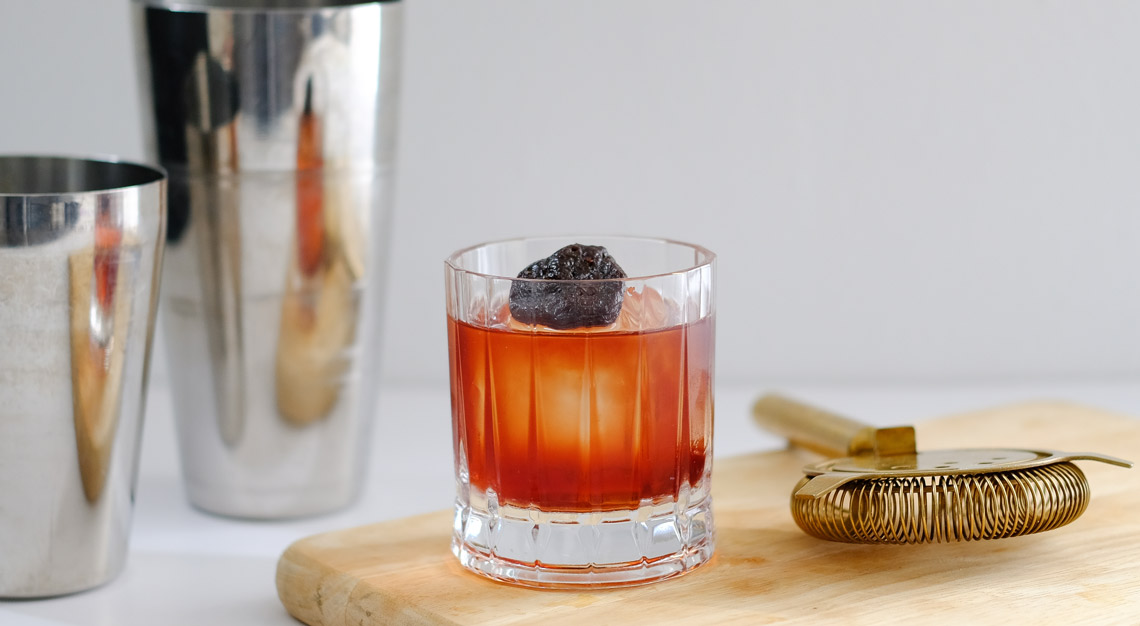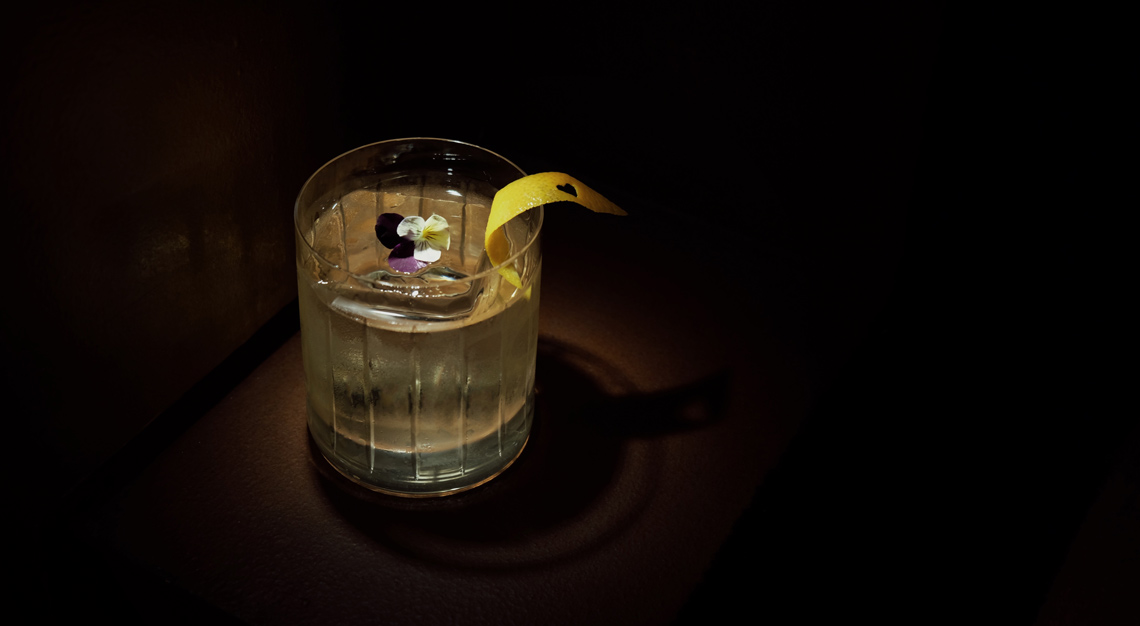 The NCO Club: Madame Fan Bar and Cool Cats
Best known for: Its tasteful dining ambience, complete with live entertainment, which we sorely miss.
What to order: Tipples from Cool Cats inspired by key milestones in jazz history, or East-meets-West cocktails whipped up by the good folks of Madame Fan Bar. On warm days like these, you can't go wrong with Passion De-light, a refreshing mix of cucumber infused vodka, lime, green apple, passionfruit and stevia syrup. Sip away while listening to this playlist specially curated by the bars.
Opt for pickup or delivery. Full menu here.
The NCO Club
32 Beach Road
Singapore 189764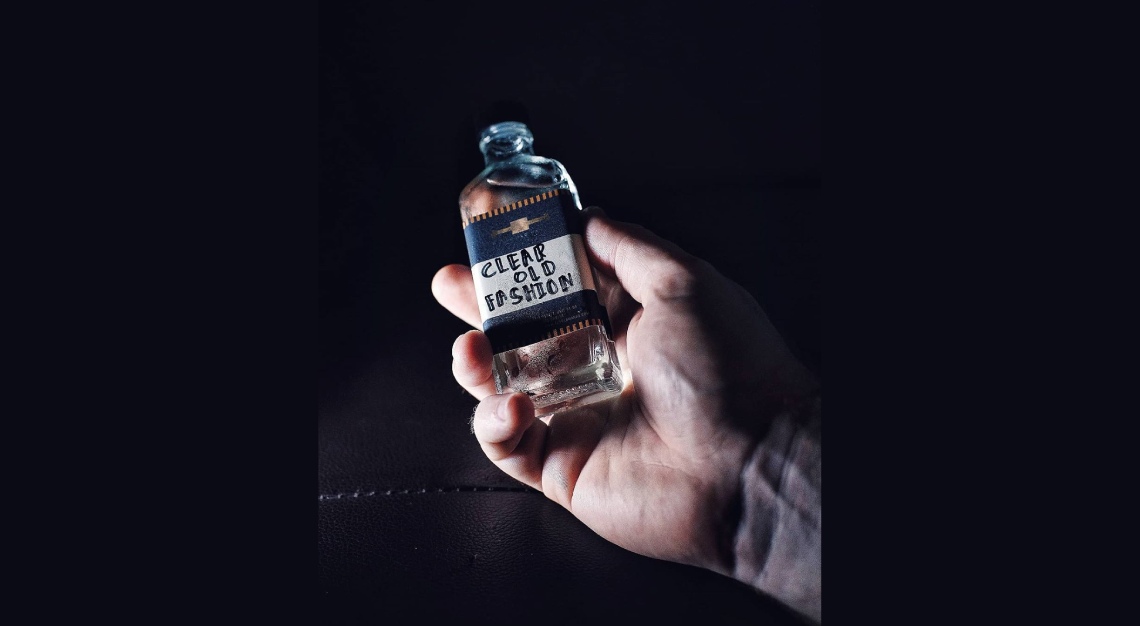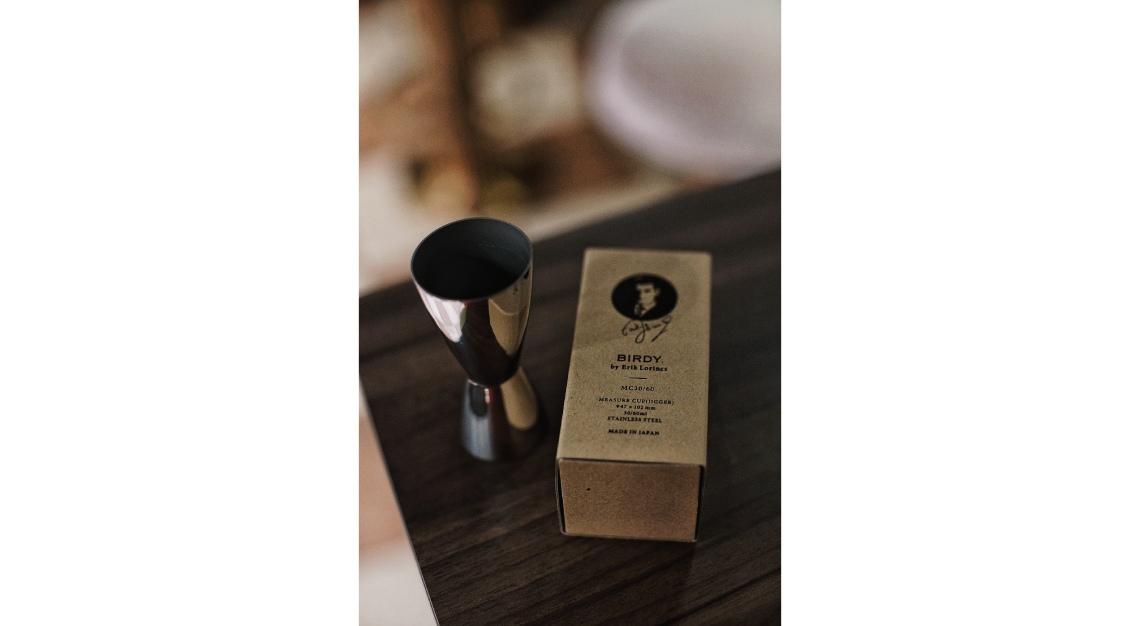 The Old Man
Best known for: Being inspired by literature classic, Ernest Hemingway's Old Man and the Sea. The Old Man, a Hong Kong import, offers cocktails that reflect Hemingway's best work, but not without that distinct Asian touch. With techniques such as fat-washing, sous vide and rotary evaporation used, the cocktails are technically complex but warm you up like a giant hug.
What to order: Get the Clear Old Fashioned, a modern classic that combines whisky, bitters and grapefruit zest. Smoggy Old Fashioned is a new option on the menu, where Belevdere Single Estate Rye Vodka Smogóry Forest is stirred over ice with Gula Melaka, Angostura bitters and saline solution.
Opt for pickup or delivery. Full menu here.
The Old Man
55 Keong Saik Road
01-04
Singapore 089158
Tel: +65 6909 5505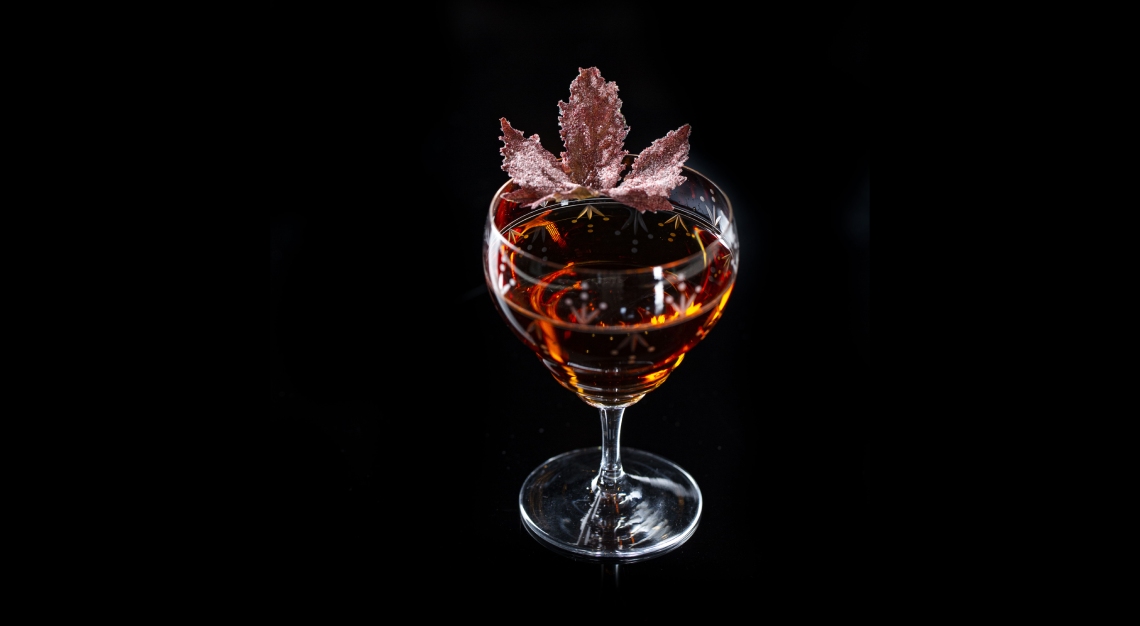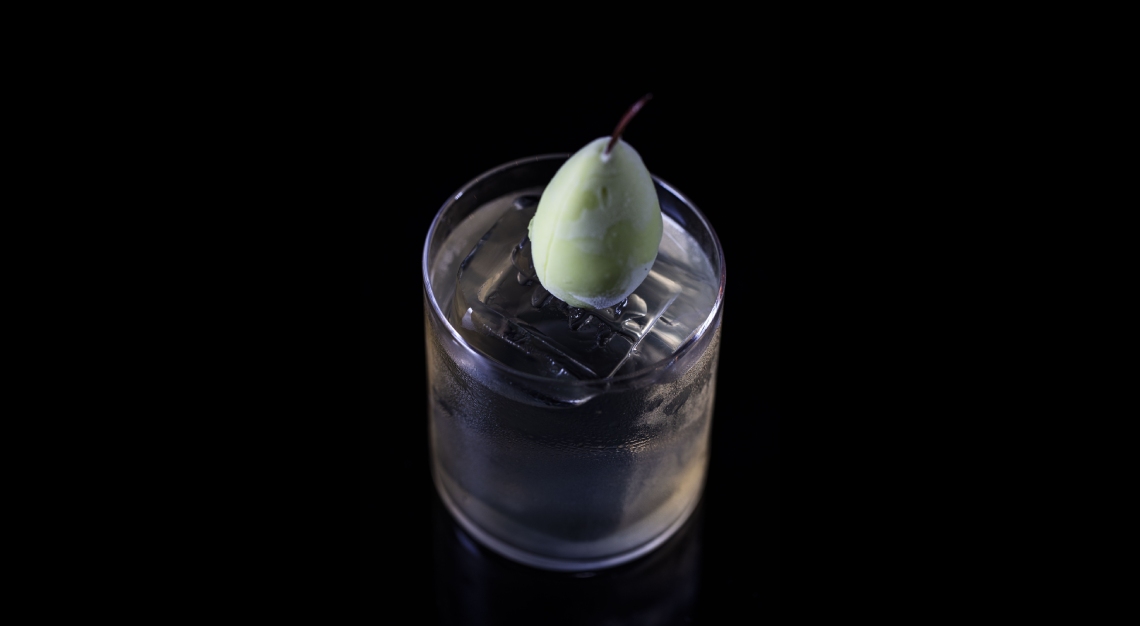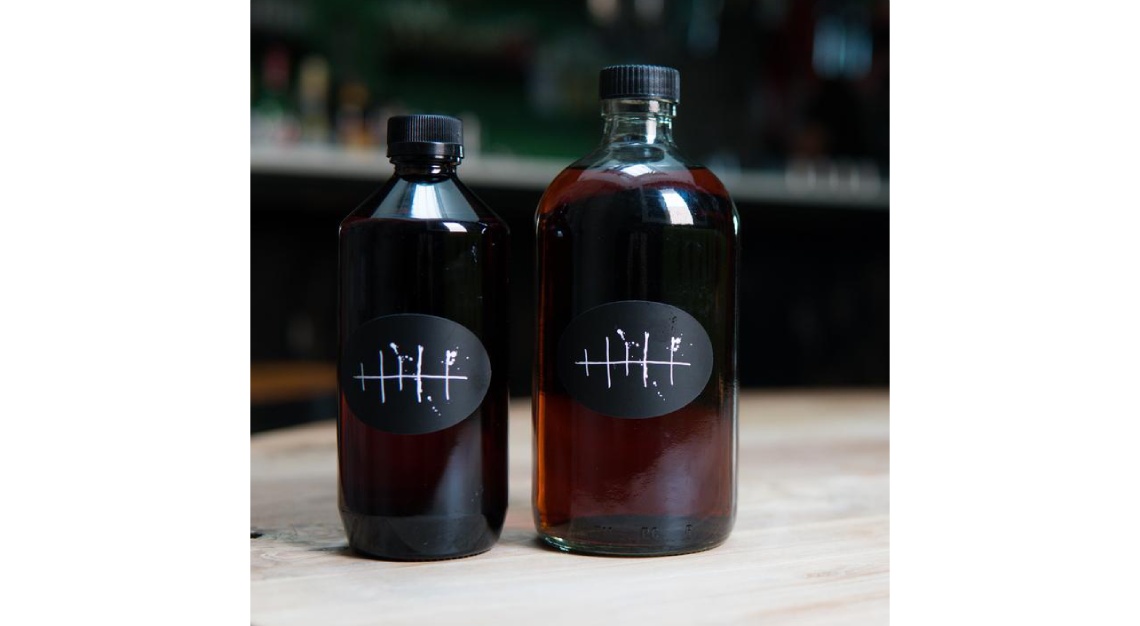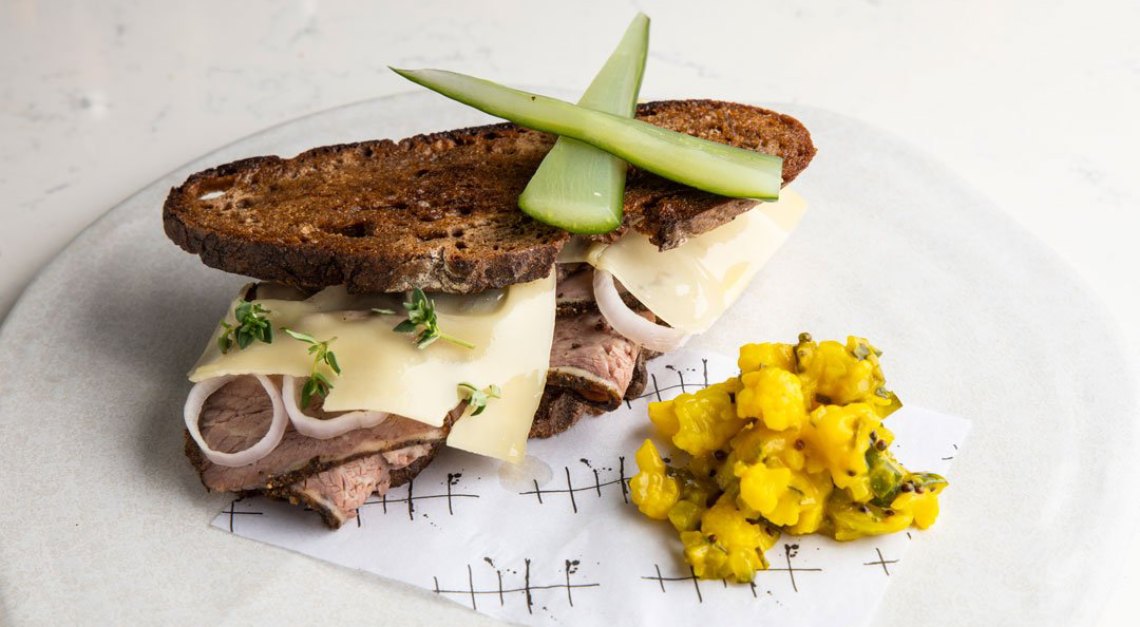 Tippling Club
Best known for: Fun, progressive cuisine by Ryan Clift, and world-class cocktails by Andrew Loudon, who took the reigns over from Joe Schofield in 2018.
What to order: The Cherries Jubilee – a stirred cocktail of tuberose, Cognac, cherry stone distillate, Sauternes and Suze – or the Titanic, which comprises marsala, scotch, white port and vermouth. Available in quantities of 200ml (enough for two serves) or 400ml, at S$38 and S$70 respectively.
A good range of wine, sake and food (read: Beef Pastrami) is on menu as well, so go knock yourself out.
Opt for pickup or delivery. Full menu here.
Tippling Club
38 Tanjong Pagar Road
Singapore 088461
Tel: +65 6475 2217
Staying home during this period of time isn't easy, we get it! But we'll be keeping you company. Subscribe to our digital magazines for free, and check out what ideas we have for you. #StayHomeWithRobb #LoveYourLocalSG