Eastern or western, scones, crepes, or dim sum – whichever you favour for afternoon tea, there's a restaurant we can recommend
Singapore prides itself on efficiency in everything, including its food experiences. But sometimes, a change of pace is just what we need to recharge before diving back into the hustle and bustle of life. A relaxing afternoon tea session combines both the need to take a break and our national pastime of eating, making it arguably the best way for anyone in this city to slow down.
We've taken the liberty of compiling a selection of interesting experiences to choose from. Whether it's a classic English afternoon tea, Chinese yum cha, or a beautiful setting that sways your vote, we have found them all. So sit back, relax, and enjoy an afternoon tea just the way you like it.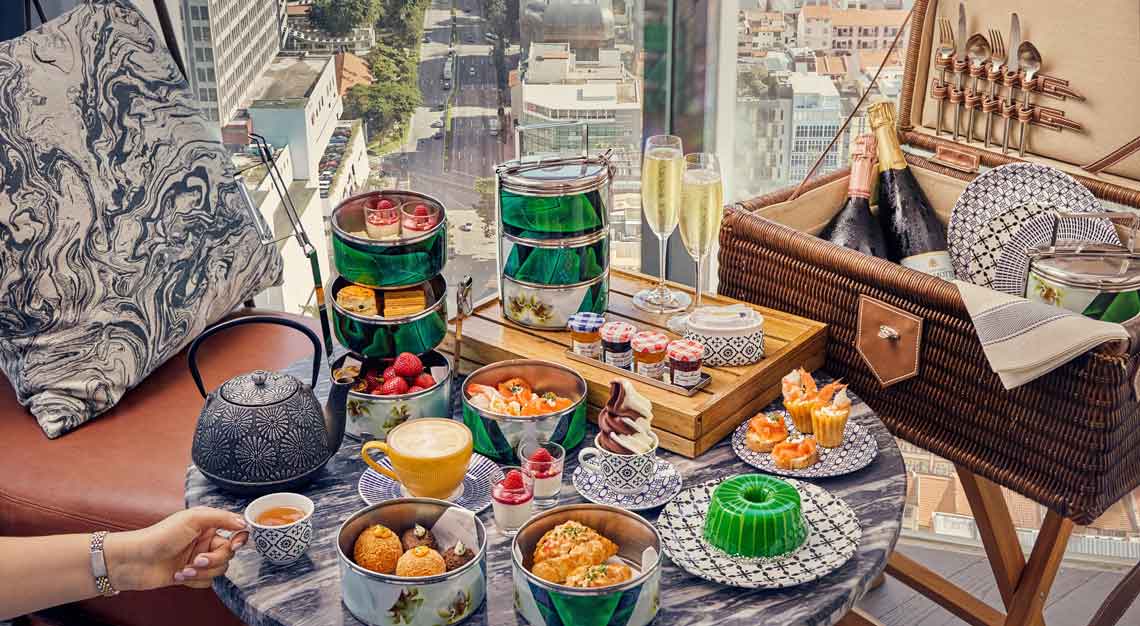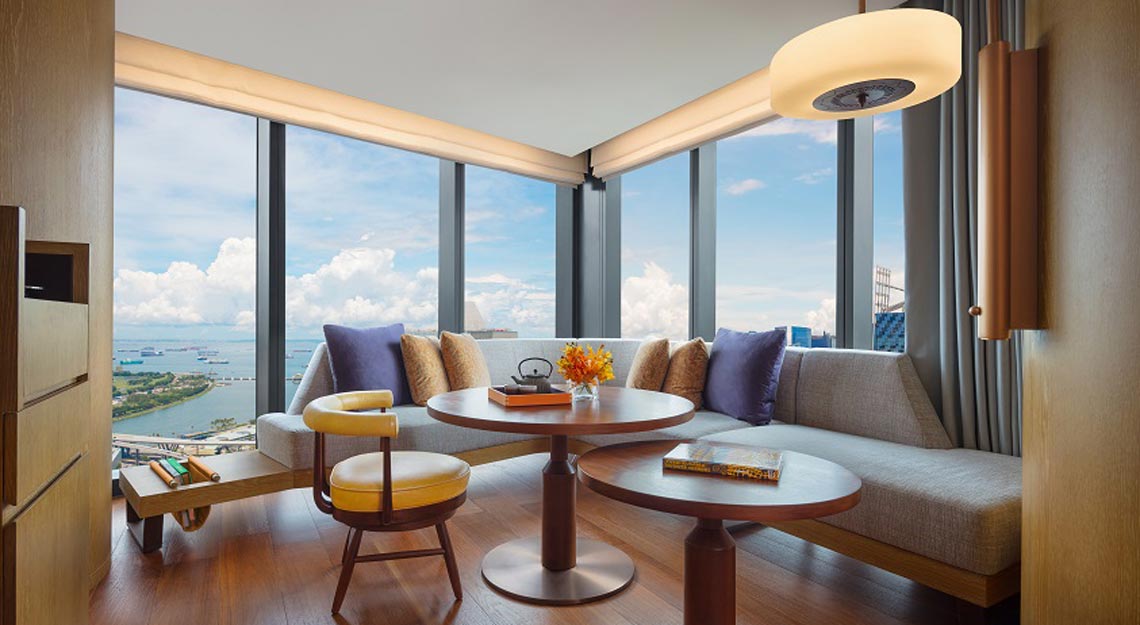 Alley on 25
It's time to revisit Andaz Singapore but not for a hotel stay or a steak feast at 665°F but for a Singapore-inspired afternoon tea picnic at Alley on 25. You and your group of friends can enjoying unpacking a playfully quaint picnic basket that comprises of two tingkats (tiffin carriers) filled with locally inspired savoury and sweet treats such as Kueh Pie Tee, Kueh Lapis and Andaz's Pandan Chiffon Cake.
Set on the 25th level of Andaz, bask amidst panoramic view of the city as you sample Andaz's interpretation of our favourite local cuisine. Apart from the locally inspired delights, indulge in crowd favourites such as Smoked Salmon Tartine, Lobster Croissant, ImpossibleTM Cheese Balls and Valrhona Chocolate Bon Bons. End your afternoon tea with either a chocolate or vanilla creamy soft serve.
Andaz Afternoon Tea Picnic Set
Time: 3pm – 5pm (Mon to Sun)
Price: From $38++ per person (Add $40++ to enjoy free-flow of wines, beers and Prosecco.
Andaz
5 Fraser Street
Singapore 189354
Tel: +65 6408 1288
Anti:dote
Anti:dote is proud to present its finest morsels as precious jewels. Served in a white jewellery drawer-chest, each creation is dainty and delectable. With a fine selection of finger sandwiches and desserts, let's not forget the uniquely flavoured scones that pair beautifully with jam and clotted cream. Each set comes with a free-flow of TWG Teas from the menu. If you feel like letting loose, all-you-can-drink Prosecco is also available for an additional cost. You can also select whatever tickles your fancy at the award-winning bar.
For the month of June, Anti:dote has partnered with German brand Thomas Sabo to bring all of us the Fashion Afternoon Tea. With daily draws and a grand draw at the end of the month, it just gives an extra incentive to drop by sooner rather than later
Afternoon Tea
Time: 3pm – 5pm (Mon to Thu); 12pm – 2pm and 3pm – 5pm (Fri to Sun, eve of and on public holidays)
Prices: From $48++ per adult, $18++ per child
Anti:dote
Level 1
Fairmont Singapore
80 Bras Basah Road
Singapore 189560
Tel: +65 6431 5315
Atlas
Atrium
If you and your group of friends can't decide between going for a Western or Eastern afternoon tea, we'd recommend heading to Pan Pacific. The hotel has recently revamped its English and Peranakan its menus. Chocolate lovers should go for the English Afternoon Tea set, it features a dizzying array of chocolatey sweet treats. The Chilled Earl Grey Chocolate is especially delightful to have, its slight malty flavour resting on the tongue without being overly cloying. Those who lean towards the savoury side however, like I did, would prefer the Peranakan Afternoon Tea. Start with the Muar Otah Kueh Pie Tee, for the juice from turnip turned my cup slightly soggy. Each set also comes with two beverages of choice, including an appetising Earl Grey infused with Orange and Cinnamon.  
Weekday Afternoon Tea from East to West
Time: 2.30pm – 5.30pm, Mon – Fri
Price: $42++ per person, S$80++ for two
Atrium
Pan Pacific Singapore
7 Raffles Boulevard
Singapore 039595
Tel: +65 6336 8111
Brasserie Les Saveurs
Wonder what the French have for their afternoon tea? Turns out, it's not too different from their counterparts across the channel – at least, according to the spread here. On top of the typical scones and sandwiches, the live crepe station, mille-feuille, and quiches give a subtle nod to the restaurant's otherwise contemporary French cuisine. Then, there are not-to-be-missed savouries like Alaskan King Crab Salad with Chilli Padi Mary Emulsion, Bayonne Ham with Black and Green Olives and Smoked Salmon with Capers, Horseradish Sauce and Lemon Wedges
Serving from a curated list of TWG Tea offerings and a special The St. Regis Singapore tea blend, enjoy a warm cuppa while a resident pianist tickles the ivories, or a glass or two of the St. Regis Bloody Mary. Yep, it's definitely something Caroline Astor would have approved of.
Afternoon Tea Experience
Time: 3pm – 5pm (Mon – Sat); 4pm – 6pm (Sun)
Prices: $49++ per adult, 24++ per child (four to 12) (Mon – Fri); $53++ per adult, $29++ per child (Sat – Sun)
Brasserie Les Saveurs
The St. Regis Singapore
Lobby Level
29 Tanglin Road
Singapore 247811
Tel: +65 6506 6887
Chef's Table
Think of this as a luxurious all-day affair if you will. Journey to Sentosa Island, disconnect with mainland Singapore, and find your spot on the restaurant's terrace that overlooks the turquoise pool and South China Sea. Fresh Mediterranean flavours and classically indulgent afternoon tea delights await at this luxurious locale. The restaurant has updated its high tea spread and switched out some older items for newer creations. You'll enjoy Pickled Winter Melon with Salmon Mousse and Yuzu Pearls, French Foie Gras Sandwich and Chicken Satay Croque Monsieur. Then, there's the teatime mainstay – cranberry scones, along with a selection of sweets like a popping praline and a meringue tartlet. An interesting selection of Gryphon tea rounds out the rich items on the menu for a satisfying experience.
Capella Tea Experience at Chef's Table
Time: 3pm – 5pm (Mon – Fri, with the tea experience happening at The Knolls every Friday)
Price: $45++ per person
The Knolls
Capella Singapore
1 The Knolls
Sentosa Island
Singapore 098297
Tel: +65 6377 8888
Colony
Embark on a journey with Colony's afternoon tea menu to get a true taste of Singapore. Served in a five-tiered ceramic tiffin, The Journey Afternoon Tea features Charcoal Xiao Long Baos filled with Bak Kut Teh broth, Timbale Butter Chicken and Cheese Naan, among a selection of savouries. You'll also enjoy an unlimited serving of desserts, meaning that everyone can binge on scones, mini tarts and pastries. Other a la carte items are also available for tea at a separate rate. The afternoon tea escapade includes a flute of Moet & Chandon Imperial Brut Champagne or fruit-flavoured Prosecco and Colony's custom tea blend with a personalised tea syrup enhancement such as ginger or lavender.
The Journey Afternoon Tea
Time: 3.30pm – 5.30pm (Mon to Sat)
Price: $49++ per person
Colony
The Ritz-Carlton, Millenia Singapore
7 Raffles Avenue
Singapore 039799
Tel: +65 6434 5288
Flutes Restaurant & Bar
Housed in a charming old colonial black-and-white bungalow, the restaurant has decked out two main halls and an alfresco area with stylish combination of contemporary and Old World furnishings. Bespoke tea menus are available for parties with 10 or more guests. Bookings should be made at least three days in advance, as it doesn't do regular afternoon tea sessions. There are English tearoom classics like scones with cream and jam, cucumber sandwiches and bite-sized desserts along with Duck Rillette Crostinis and Smoked Salmon Roulade.
English Afternoon Tea
Price: $50++ per person
Flutes Restaurant & Bar
#01-02
National Museum of Singapore
93 Stamford Road
Singapore 178897
Tel: +65 6338 8770
L'Espresso
Since its establishment, L'Espresso has earned its reputation for being one of the best spots in Singapore for a well-rounded afternoon tea experience. Whether seated in indoors on cosy armchairs or dining alfresco, you will have your pick of the generous (and delicious) buffet spread. The menu goes through seasonal alterations, so expect small changes with each visit. From now until 22 July, guests will be treated to a Victorian English Afternoon tea.
Home to what some might say are the best buttery scones in Singapore and bread and butter pudding to die for, L'Espresso has perfected a modest number of dishes in its line up. Apart from teatime classics, the Turkey Pinwheel with Cranberry is also a winning item on the menu. There are some gluten-free options available as well.
Pair the comforting casseroles, savoury sandwiches, and dainty desserts with a coffee or TWG Tea of your choice from the impressive drink menu and enjoy a relaxing afternoon at this restaurant.
Victorian English Afternoon Tea
Time: 2pm – 5.30pm (Mon – Thu); 12pm- 5.30pm (Fri – Sun, eve of, and on PH)
Price: $48++ per adult, $24++ per child (six to 11)
L'Espresso
Goodwood Park Hotel
Lobby Level
22 Scotts Road
Singapore 228221
Tel: +65 6730 1743
Lobby Lounge
Take pleasure in an enchanted afternoon tea experience with Lobby Lounge. Themed after the children's classic, The Secret Garden, pastry Chef Ben Goh seeks to capture hearts with a three-tiered showcase of dainty morsels inspired by the tale. Encased in a simple box, items like Raspberry-Rose lemon pound cake and Earl Grey chocolate mousse with apricot compote will be a feast for both the eyes and the stomach. If the sweet treats aren't already enough, the live stations that serve crepes and ice cream may do the trick. For just a little extra, you can wash it down with a flute of Taittinger Brut Champagne.
Classic Afternoon Tea: Secret Garden
Time: 2pm – 5pm daily
Price: $78++ for two, inclusive of tea and coffee; $108++ for two, inclusive of two flutes of Taittinger Brut Champagne
Lobby Lounge
InterContinental Singapore
80 Middle Road
Singapore 188966
Tel: +65 6338 7600
Pollen
First up: Don't let the walk to the Flower Dome deter you from paying Pollen a visit. The restaurant provides a personalised buggy service from the Gardens by the Bay arrival plaza. Checking all the boxes of a great afternoon tea menu, this restaurant ups the ante with an Andalusian twist to several of its menu items. Go for the Almond and Grape Gazpacho, a cold vegetable stew and Beetroot Hummus with Feta and Sesame on Squid Ink Crackers.
The former isn't something you'll get every day, while the latter, well, the squid ink is fairly mild, but the pairing makes quite the #instashot. Savour exquisite culinary creations amid the beautiful blooms surrounding the restaurant, and Marina Bay skyline and waterfront beyond. After your meal, enjoy complimentary access to the Flower Dome's temperature-controlled Mediterranean garden for a cool stroll. And going on a weekday doesn't seem too bad. You'll have the gardens pretty much to yourself.
Afternoon Tea
Time: 3pm – 5pm (Wed to Mon)
Price: $43++ per person with a free-flow of tea and coffee; $50++ per person with a glass of White Peach Bellini); $78++ per person with two hours of free-flow Prosecco
Pollen
#01-09
Flower Dome
Gardens by the Bay
18 Marina Gardens Drive
Singapore 018953
Tel: +65 6604 9988
Si Chuan Dou Hua Restaurant
Sky high dining takes a traditional turn some 60 floors above UOB Plaza. The Sichuan/Cantonese restaurant serves a delightful menu and caters more for those with a savoury tooth. And while it may not have the largest variety of dishes available, you'll keep coming back for more given that the menu changes each month. Aside from promising seven dim sum items, you'll also enjoy a noodle dish and two desserts. It doesn't sound like much, but all dishes were well portioned, leaving us satisfied, and not wanting more.
Of course, if you're a tiny eater, or had a heavy lunch, make a mental note and save space for the restaurant's signature dessert: Silken Beancurd with Wolfberries. The afternoon tea menu also includes complimentary tea pairing by Tian Fu Tea Room, with two types of tea along with a crafted cocktail.
Imperial High Tea (with craft cocktail)
Time: 2.30pm – 6.30pm (Daily)
Price: From $43++ per person
Si Chuan Dou Hua Restaurant
#60-01
UOB Plaza 1
80 Raffles Place
Singapore 048624
Tel: +65 6535 6006
The Clifford Pier
No other restaurant on the list demonstrates the nation's love and legacy of for quality nosh better than The Clifford Pier. The Singapore Heritage Afternoon Tea here honours the heritage of its namesake with the preservation of the pier's original arches in its ceiling and the tasty local bites. The menu boasts hot Singaporean favourites and innovative takes on regional flavours.
With items like Nyonya-style Chicken Curry wrapped in a lacy mesh of Roti Jala, and fried Mantous stuffed with the ever-popular Chilli Crab, the restaurant understands the importance of authenticity in replicating these well-loved classics. The tradition and skill employed are certainly noteworthy, while chefs tread the fine line or tradition and innovation with Tropical Fruit Scones and Bandung Macarons. Round everything off with a frothy Teh Tarik, a pot of Early Grey, or anything in between, and we're sure any self-proclaimed connoisseur of local food would leave more than satisfied.
Singapore Heritage Afternoon Tea
Time: 3.30pm – 5.30pm (Mon to Fri); 3.00pm – 5.00pm (Sat, Sun and public holidays)
Price: From $45++ per adult, $22++ per child
The Clifford Pier
The Fullerton Bay Hotel Singapore
80 Collyer Quay
Singapore 049326
Tel: +65 6333 8388
The Landing Point
The Fullerton Bay Hotel has thoughtfully covered both local and English tastes with its afternoon tea offerings. If it's the quintessential English afternoon tea experience you're looking for, look no further than The Landing Point. Boasting an unobstructed view of the Marina Bay area through its floor-to-ceiling windows along with delicious morsels, recline in comfortable an oversized sofa and enjoy a well-deserved afternoon off.
Serving a mix of traditional teatime favourites like scones with jam and trendier salted caramel chocolate tarts, allow your eyes savour delicately assembled pastries and desserts served on modern, geometric stands a moment before your mouth does. If you fancy a tipple, a resident mixologist is on hand to prepare a bespoke cocktail.
Afternoon Tea
Time: 3pm – 5pm (Mon to Fri); 12pm – 2pm and 3pm – 5pm (Sat and Sun)
Price: From $45++ per person
The Landing Point
The Fullerton Bay Hotel Singapore
80 Collyer Quay
Singapore 049326
Tel: +65 6333 8388