This 10-day event tells the complete story of Chopard's iconic free-moving diamonds, and unveils four special edition watches, one of which gives back to society in a most adorable fashion
Whoever said money cannot buy happiness obviously doesn't wear a Chopard Happy Sport. How does one feel anything other than elation with this watch when there are diamonds swivelling, dancing, spinning, twirling and whirling all around the dial? If we didn't know better, we might suspect that those shimmering gemstones are actually alive—why else would they sparkle with such magnificence?
Well, only Chopard would know the real answer to this question, but why not discover it for yourself at this joyful showcase staged by Cortina Watch in celebration of its longstanding partnership with the Genevan Maison.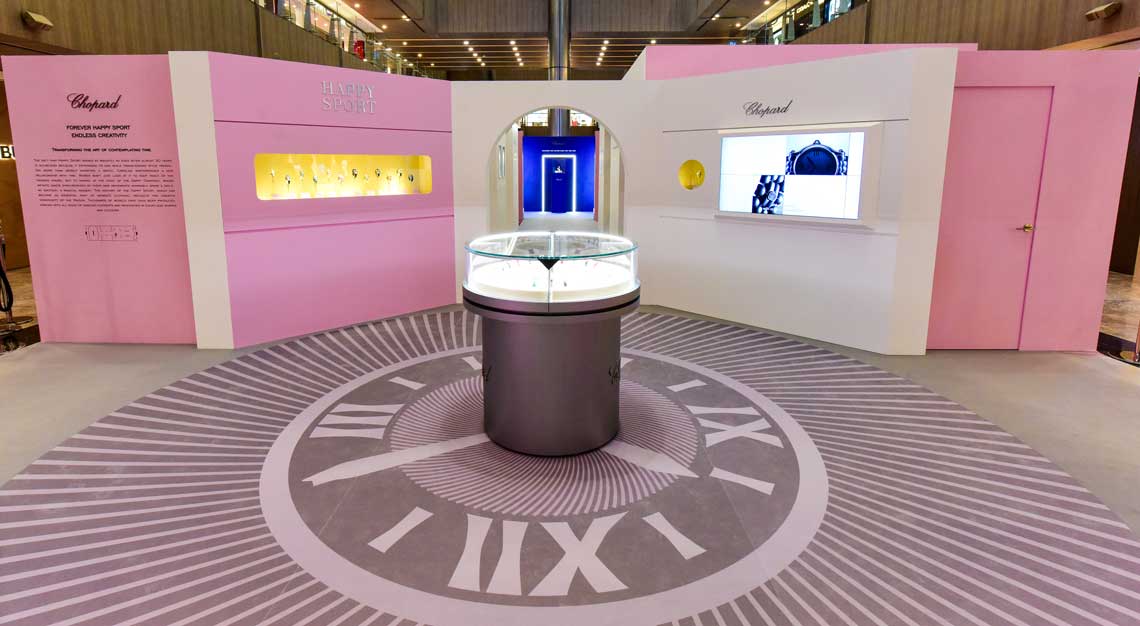 The Happy Sport—Tale of an Icon exhibition invites you to step into a world where happiness is at the heart of everything. Chopard's world-unique Happy Sport is the only timepiece collection featuring diamonds that move freely around the dial, and it all began with this statement: "Diamonds are happier when they are free."
First introduced in 1993, the Happy Sport now exists in countless iterations, each one more exuberant than the last.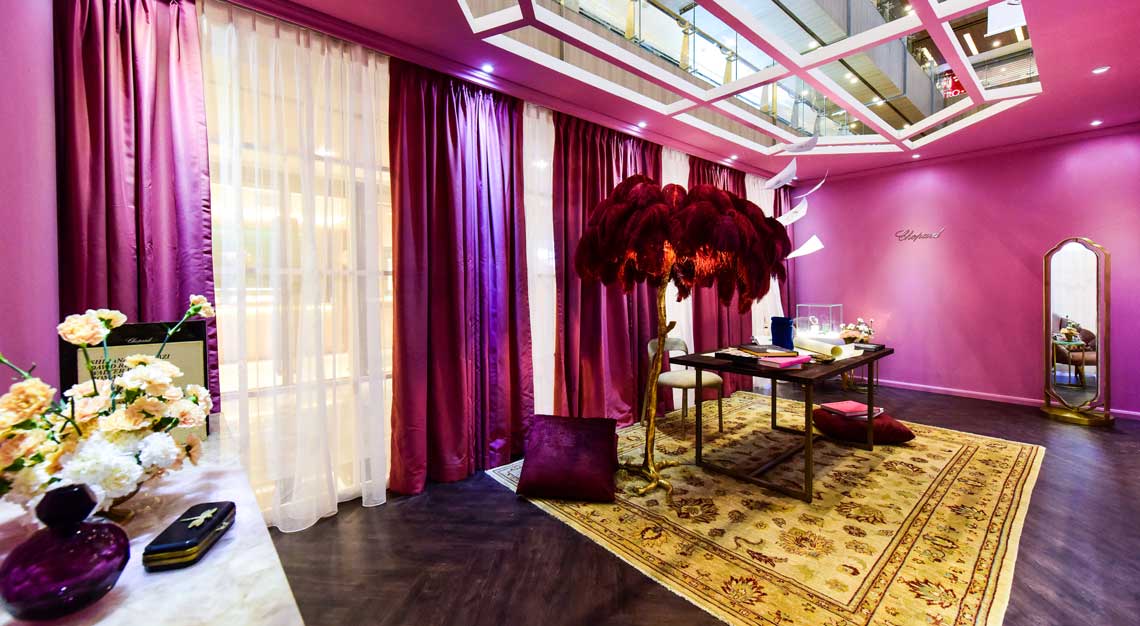 Chopard co-president Caroline Scheufele personally oversees the creative process for all Happy Sport timepieces, including some of the most memorable designs featuring stars and moon, moving fishes, a palm leaf for the Cannes Film Festival, even flip flops for that ultimate touch of joie de vivre, and of course hearts—a motif dear to Scheufele and the Maison.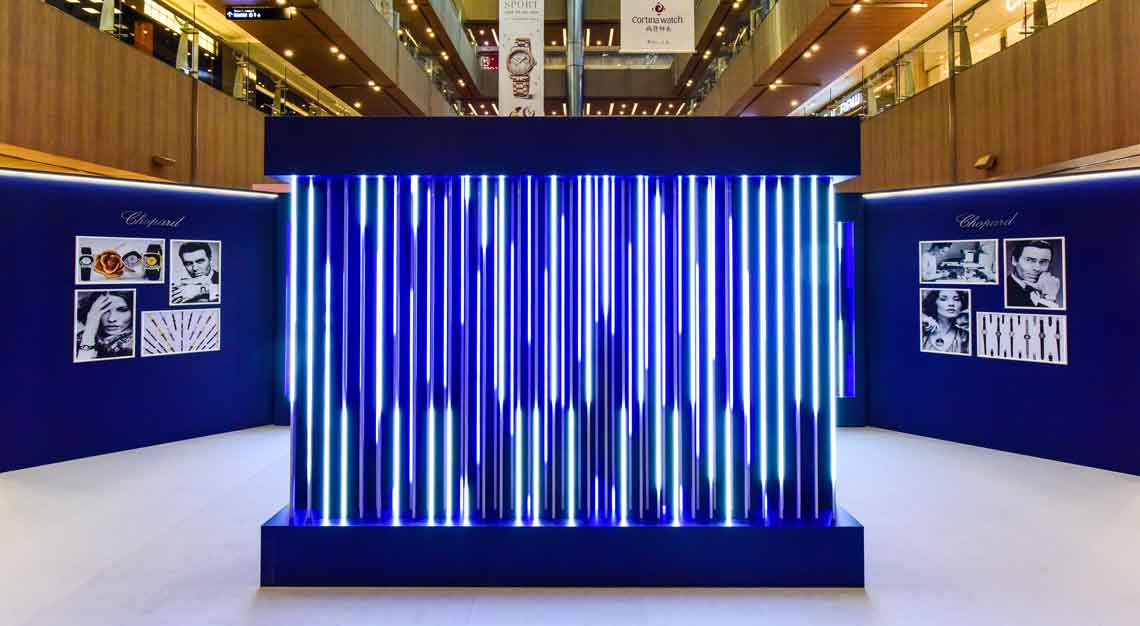 Enjoy thematic digital art displays created expressly for this event and delve deeply into the creative universe behind the Chopard Happy Sport collection. Chopard flew in its three archival Happy Diamonds watches made in the 1970s specially for this exhibition—did you know that the Happy Diamonds watch was originally intended as a men's watch?
Today, however, it is Chopard's leading collection of ladies timepieces, and you can see most of them past and present in a dedicated vitrine.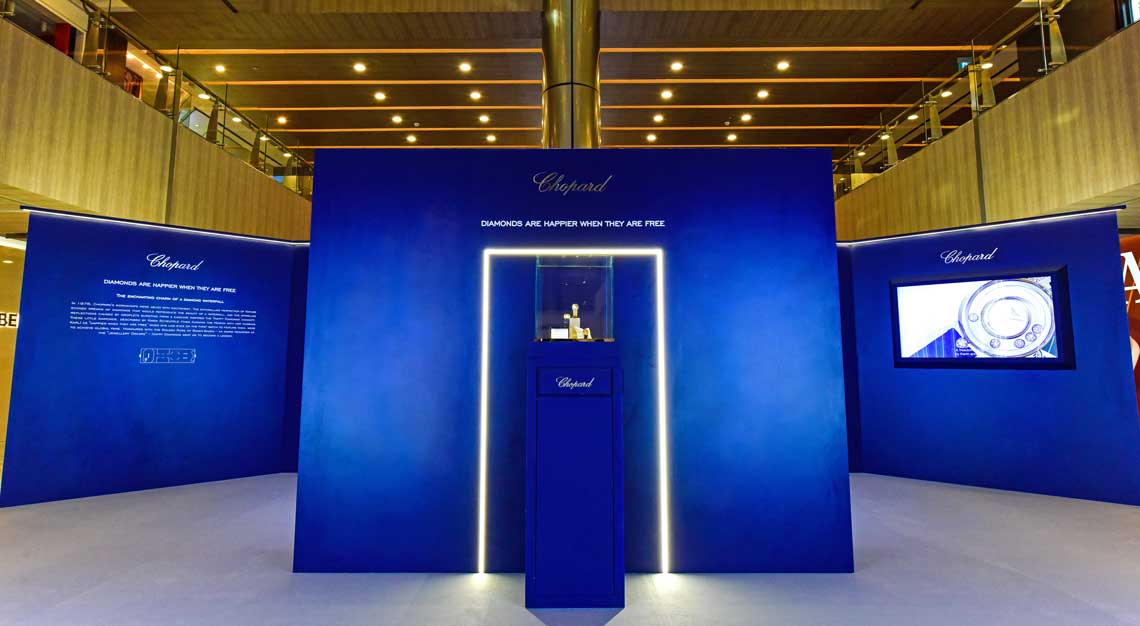 Another highlight you should not miss is the exquisite Happy Diamonds Clown which gets its own room because this chipper little guy was what started it all for Scheufele. Introduced in 1985, it was one of Scheufele's first designs and originated from her desire to create jewellery that makes people happy.
On display are some of the earliest examples made in that era, along with larger-than-life specimen for your Instagramming pleasure.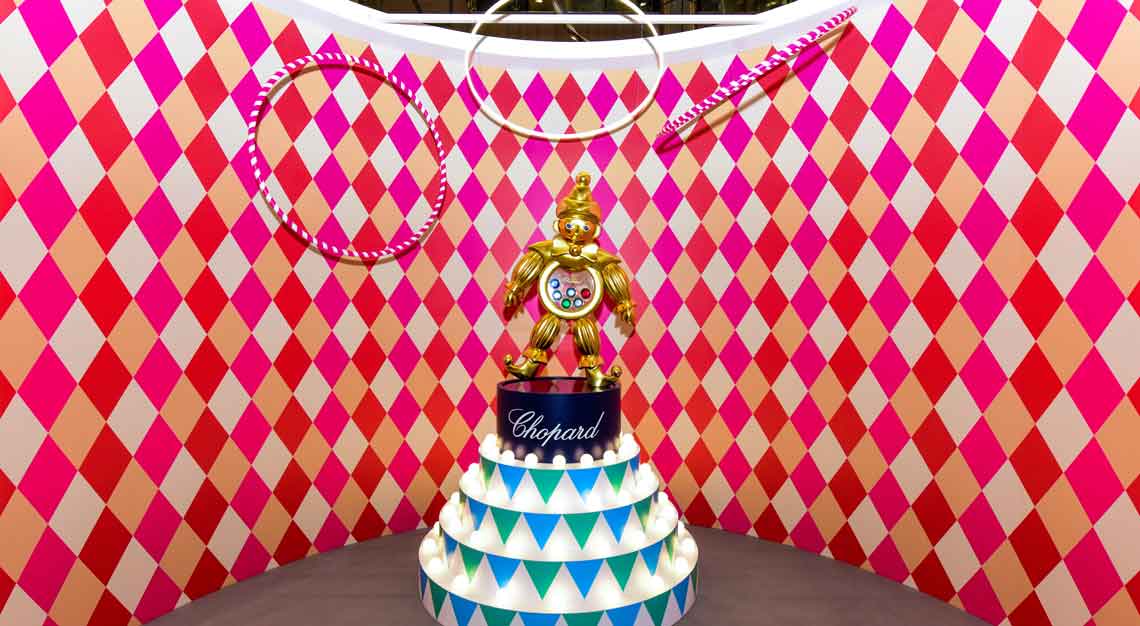 Passing through Chopard's Happy Sport wall of fame, you will discover the Maison's latest brand campaign starring the one and only Julia Roberts, also known as the woman with the 30-million-dollar smile.
When considering new personalities to be the face of Happy Sport, Scheufele said, "It was her and nobody else! Julia Roberts was the only person I felt could convey the spirit that I see in Happy Sport."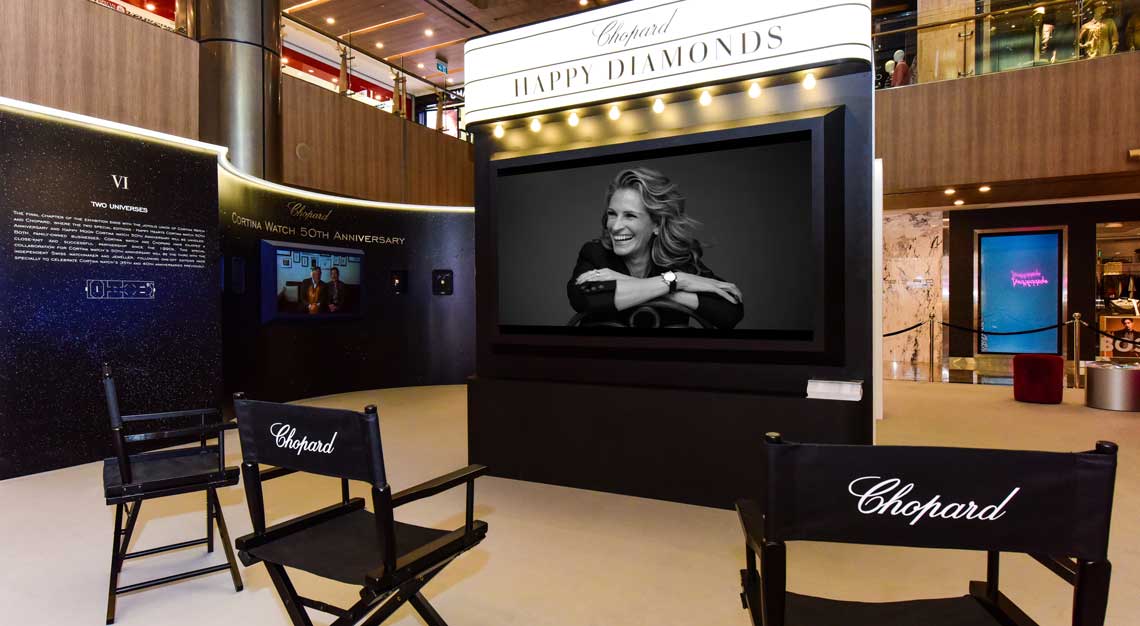 Finally, the exhibition rounds off with special wishes to Cortina Watch by Caroline and Karl-Friedrich Scheufele, along with new special edition Happy Sport models created exclusively for the retailer. Both family-owned businesses, Chopard and Cortina Watch have been partners since 1992.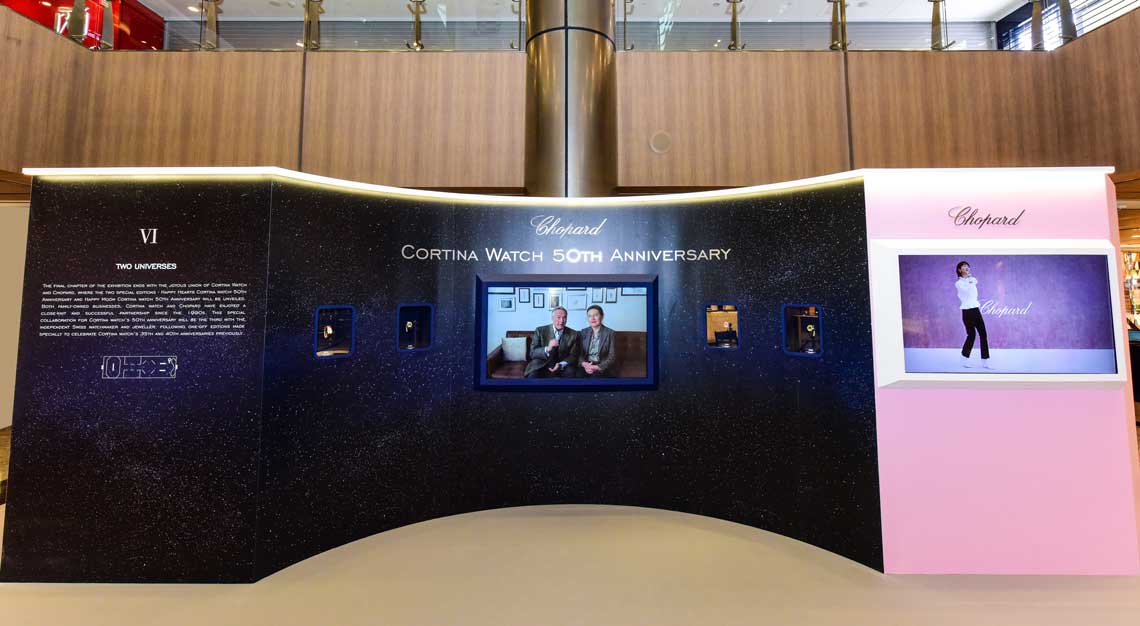 Happy Hearts Cortina 50th Anniversary combines the spirit of joie de vivre with blessed intentions, as sales proceeds of this 50-piece limited edition priced at S$11,900 will benefit the Singapore Heart Foundation.
Marking this great gesture with a moving heart motif adopted from the Chopard Happy Hearts jewellery line, this 36mm stainless steel timepiece also includes five moving diamonds—one for every decade of Cortina Watch's Golden Jubilee.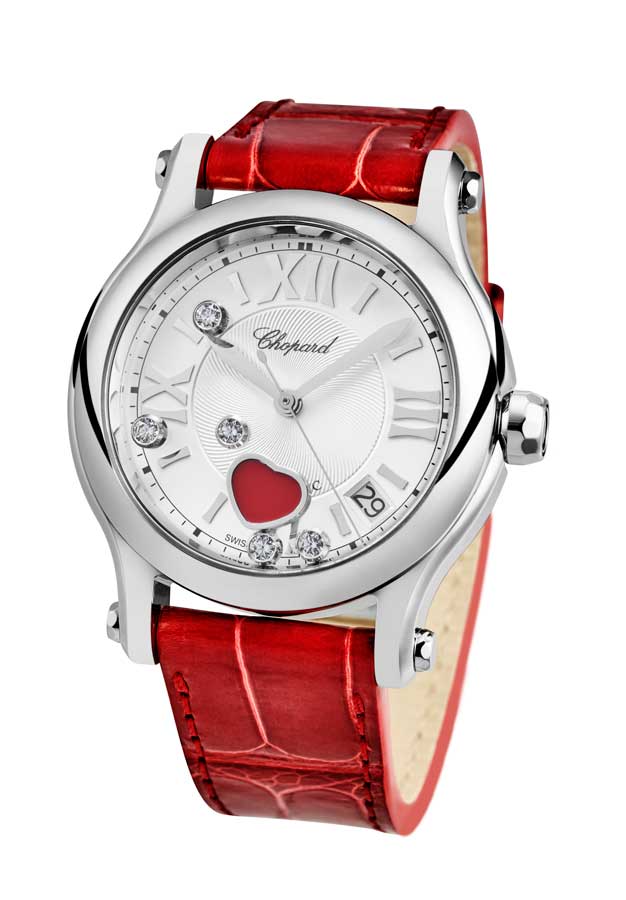 Next up, a trio of haute horlogerie timepieces designed to enchant lovers of feminine complications. The Happy Moon Cortina 50th Anniversary marries gem-setting tradition with fine watchmaking know-how and it features the moon phase complication along with a sky map as seen from the Northern hemisphere.
Cased in 18K white, rose or yellow Fairmined gold, each timepiece is frosted with diamonds snow-set around the bezel. A further seven brilliant cut diamonds move freely around the dial, made of either green or dark blue aventurine, as well as red mother-of-pearl, priced at S$74,100.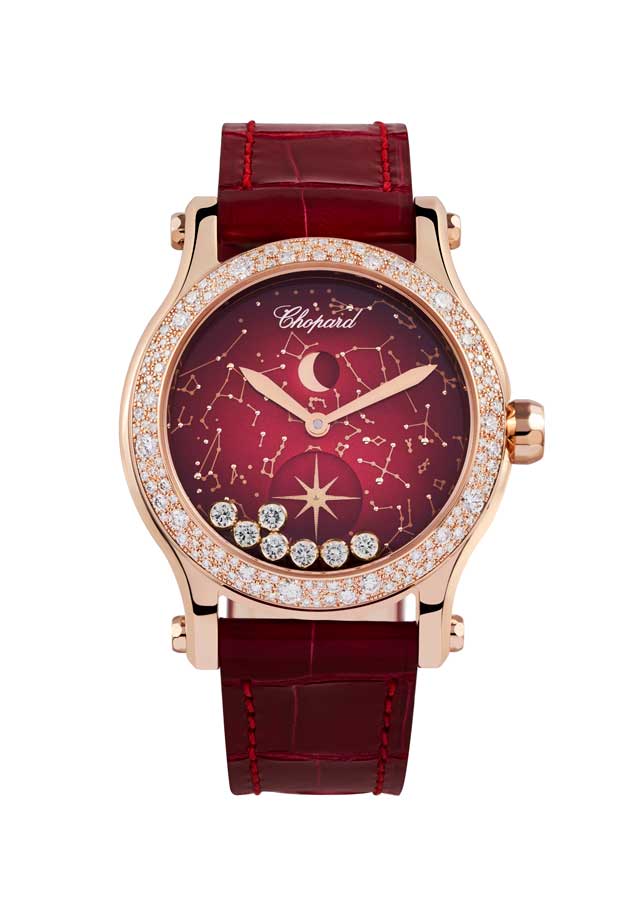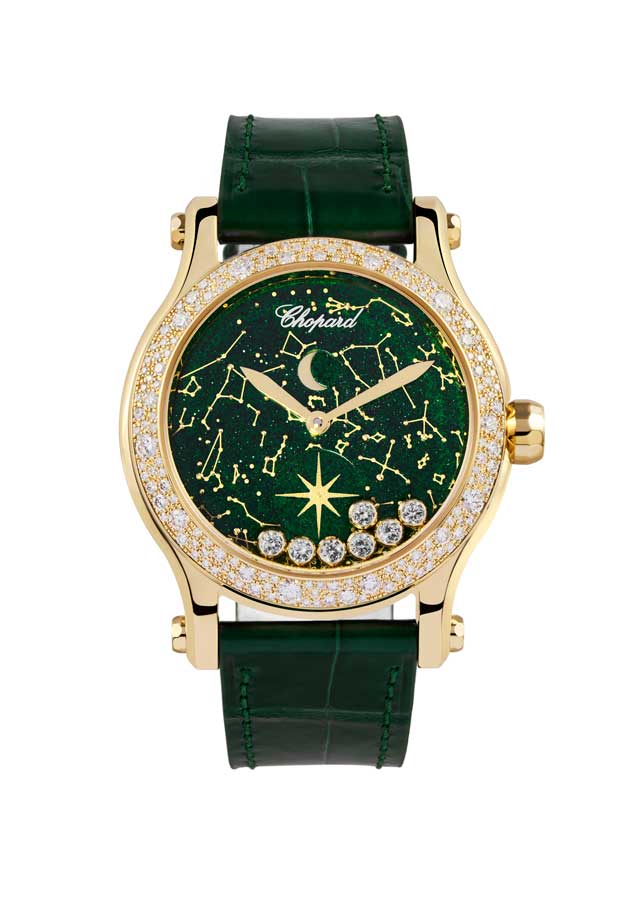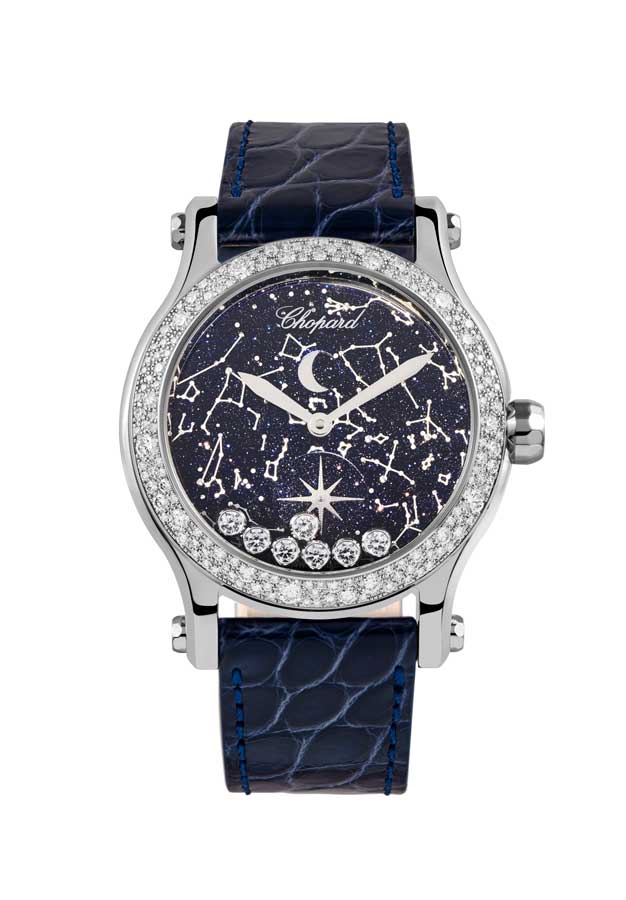 Meanwhile, one particular star sparkles with extra fervour. Located at 6 o'clock is the small seconds display which takes the form of the North Star, each version a five-piece limited edition. Finished using a classic textured goldsmithing technique, its eight-point silhouette rotates once every minute, twinkling just like its namesake in the sky. Its movement, Calibre 96.25-C, is of course produced in-house by Chopard.
The Happy Sport—Tale of an Icon exhibition is on from 3 to 13 March, 2022, at the Paragon main atrium. It is accessible to the public daily from 11am to 8pm. Pre-register a timeslot here for you and your best watch-loving friends.