In the Adrenaline issue, the Robb Report Singapore editors explore empowerment, thrill-seeking and hair-raising drives
Trust those who have had the opportunity to live rich lives, to comment on how best to extract interest from life itself. This advice is perhaps especially welcome in an existence rendered dreary by repetitive lockdowns and an endless news loop of case numbers and glum statistics. The Brazilian lyricist-turned-author Paulo Coelho, who once undertook an 800-plus kilometre walk of Santiago de Compostela in northwestern Spain, wrote: "The adrenaline and stress of an adventure are better than a thousand peaceful days."
Thrill seekers reference that soothing 'reptilian' sensation in the brain where our body's vital functions often take over in moments of extreme stress. To appreciate and unlock this unique reward within yourself, start with an understanding of the why. In '(Way) Out Of Office', Robb Report examines the motivation of those who defy death by staring into the literal and metaphorical abyss, such as a four-kilometre drop from K2. Mountain climbing, BASE jumping or an Ironman become the methods in which these personalities summon courage to surmount fear. And in this, adrenaline becomes the advantage and vehicle to power them through the wall.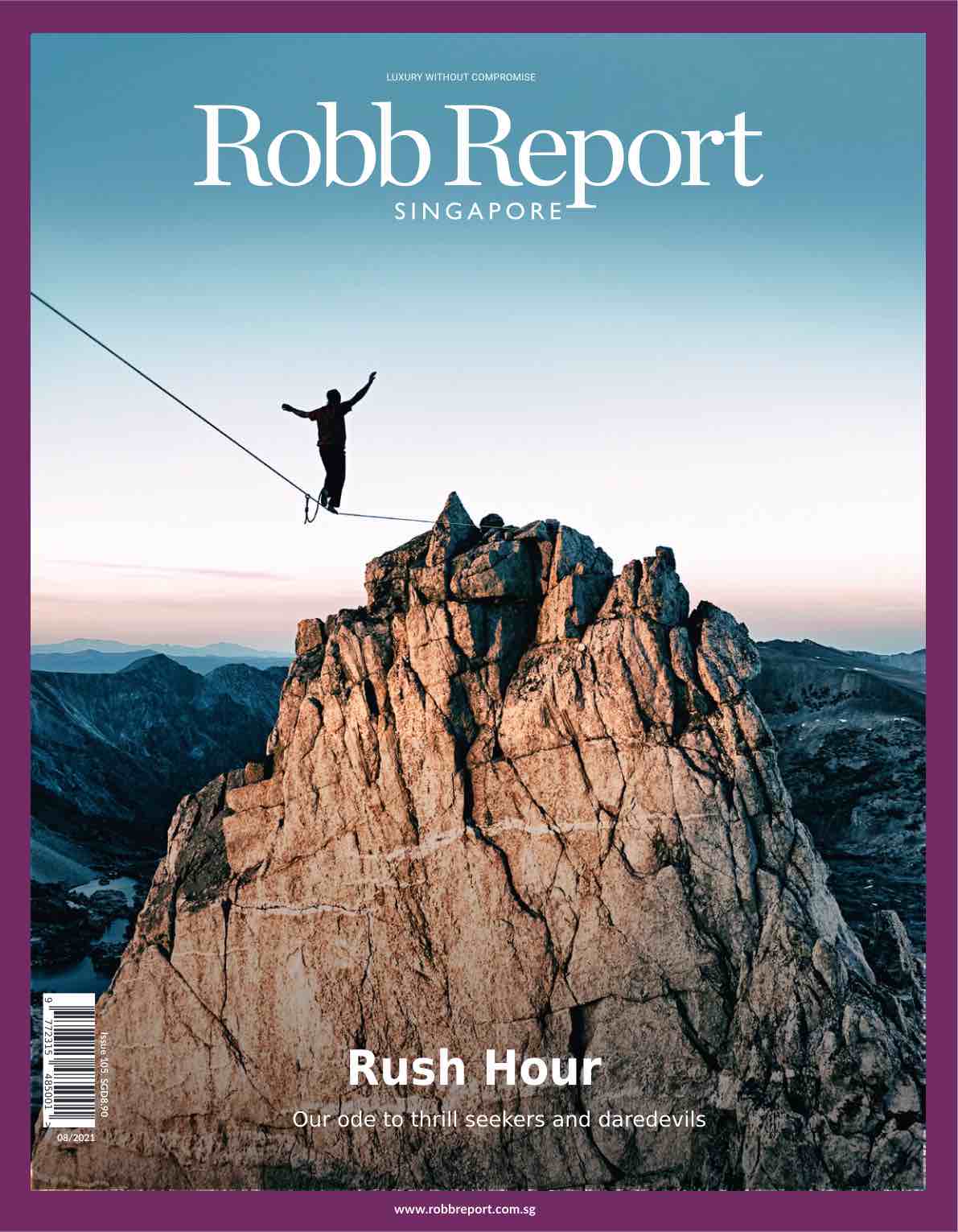 This Adrenaline issue becomes most apt when taken in context of this highly disruptive time, when the belief and empowerment of one's agency to overcome becomes necessary. In 'Scare Tactics', you can find the activity that suits your need to dominate externalities, be it tackling sheer ice walls, surviving as our Neolithic forbears did or duking it out in white-collar boxing.
We also return to Robb Report's roots with our tribute to some of the recent hair-raising drives ever devised from the minds of automotive geniuses, the sort who see it fit to build an eight-litre, 16-cylinder engine with four turbos and 10 radiators to circulate 800 litres of water per minute to keep it cool. 'Embrace The Rush' is a tribute to the legends of automotive wizardry and we even manage to doff our hat to the one all-electric entry, the Tesla Model S. Incidentally, Tesla's founder has placed a US$10,000 (S$13,520) deposit for a Virgin Galactic suborbital flight in the future, a real adrenaline rush that takes you into space for the handsome fee of US$250,000 (S$337,990). How's that for a trip?
Enjoy the issue.
Robb Report Singapore editors
You may purchase the August 2021 issue as a hard or digital copy, or consider subscribing to us here