Les Amis Group's modern French restaurant élan offers all the pleasures of fine dining
with none of the formality
Editor's note: For more Date Night stories, click here.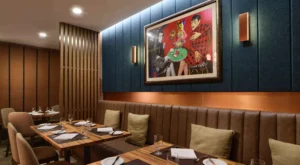 Les Amis Group's modern French restaurant élan offers all the pleasures of fine dining with none of the formality. The warm, convivial 48-seater (including a semi-private dining room for four) sets the table for Chef de Cuisine Peter Teo's approachable Asian-inflected French cuisine. 
"Diners today are looking for experiences that are less formal and a lot more fun. With Chef Peter at the helm of élan's kitchen, the menu clearly reflects his capabilities of infusing little touches of Asian flavours that harmoniously compliment an unashamedly approachable French cuisine. We are confident and excited for our guests to experience our different take of a cuisine that they've grown so familiar with," shared Restaurant Director Philippe Pau.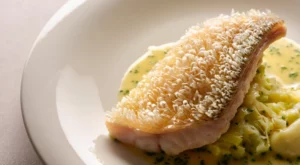 A deceptively simple Frog Leg proved unexpectedly winning; the delicately battered tempura frog legs, served on a bed of sunshine yellow mangetsu scrambled eggs, elicited murmurs of approval with its elegant flavours. It was a creative reframing of a protein that's celebrated in its own way in both French and Singaporean cooking. Recommended wine pairing: a crisp Pinot Blanc with gentle minerality from Domaine Josmeyer. Also a highlight was the aptly named Tilefish, accompanied by silky potato mousseline, melted leeks and bonito velouté. Scalding hot oil was poured over the scales of the fresh amadai fillet, giving them a tile-like appearance, as well as an ASMR-worthy crunch—a pleasing contrast to the tender buttery flesh of the fish.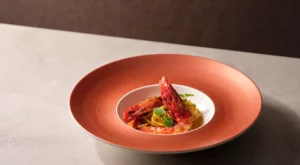 Carabinero Prawns served with al dente tagliolini pasta, sea urchin and yuzu sauce was a seamless blend of Mediterranean and Japanese flavours, but the true highlight of the meal has to be the signature Aqina "Pineapple" Chicken. The succulent organic kampong chicken, sourced from Malaysia's Aqina Farm, was carefully roasted until golden brown, and served with fragrant jasmine rice cooked in lemongrass, ginger, coriander, pandan leaves and chicken fats. A familiar icon, elevated.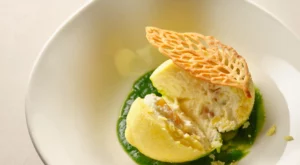 Even if you don't have a sweet tooth, it's worth finishing with the zesty Lemon, a refreshing, palette-cleansing lemon & kaffir lime cream 'frozen' in a charmingly realistic white chocolate shell. A basil gel provides a lifting vegetal foil to the sweetness. If you prefer something a little more classic, élan's Chocolate, an entremet of milk chocolate mousse, passionfruit jelly and caramel, is the clear choice.
élan
1 Scotts Rd
Shaw Centre
01-13
Singapore 228208
Tel: +65 6735 6656