The ultra-rare, limited-edition Royal Salute release is
as pure as the driven snow on a remote, pristine Scottish highland
If you feel as though your fine, rare whisky collection is complete, you may need to think again. And if you're convinced that you don't have a gap in the said collection, here's some advice. Make one. 
Once you've made it, find a way of getting your hands on a bottle of Royal Salute's Time Series Collection 51 Year Old 2021 Release (51YO). It will involve a great deal of money being exceptionally well spent, and there will be no regrets. 
Relatively fresh from the release of the sprightly 52 Year Old 2020 Release, the 51YO is the second in the series, and a quite exceptional blend of ultra-rare whiskies, with many having been sourced from 'ghost' distilleries. Serious whisky aficionados will be aware that such distilleries (sometimes legendary) are those no longer in production, but where the spirit lives on with a finessed inventory that's been maturing for decades. The scenario presents endless possibilities.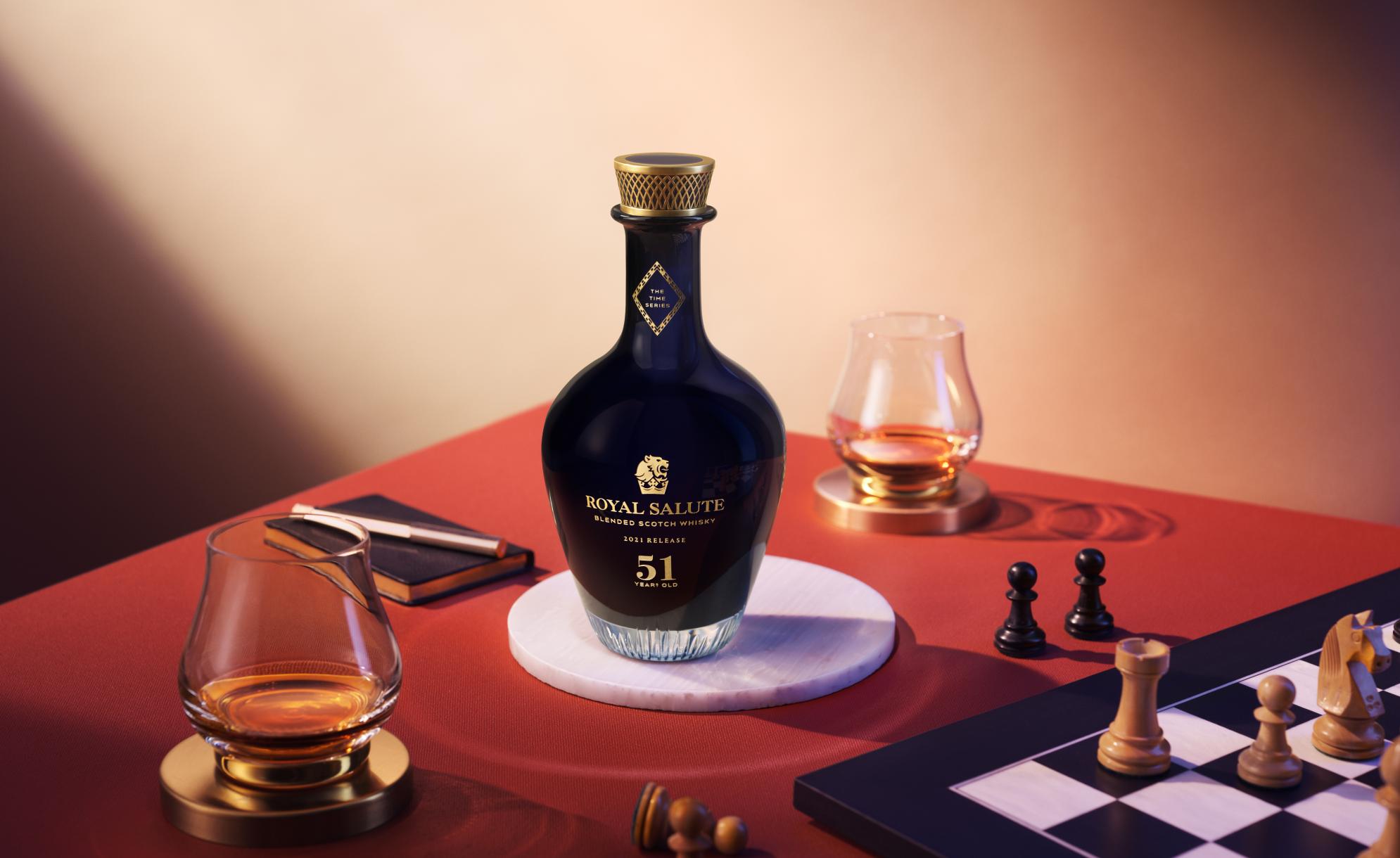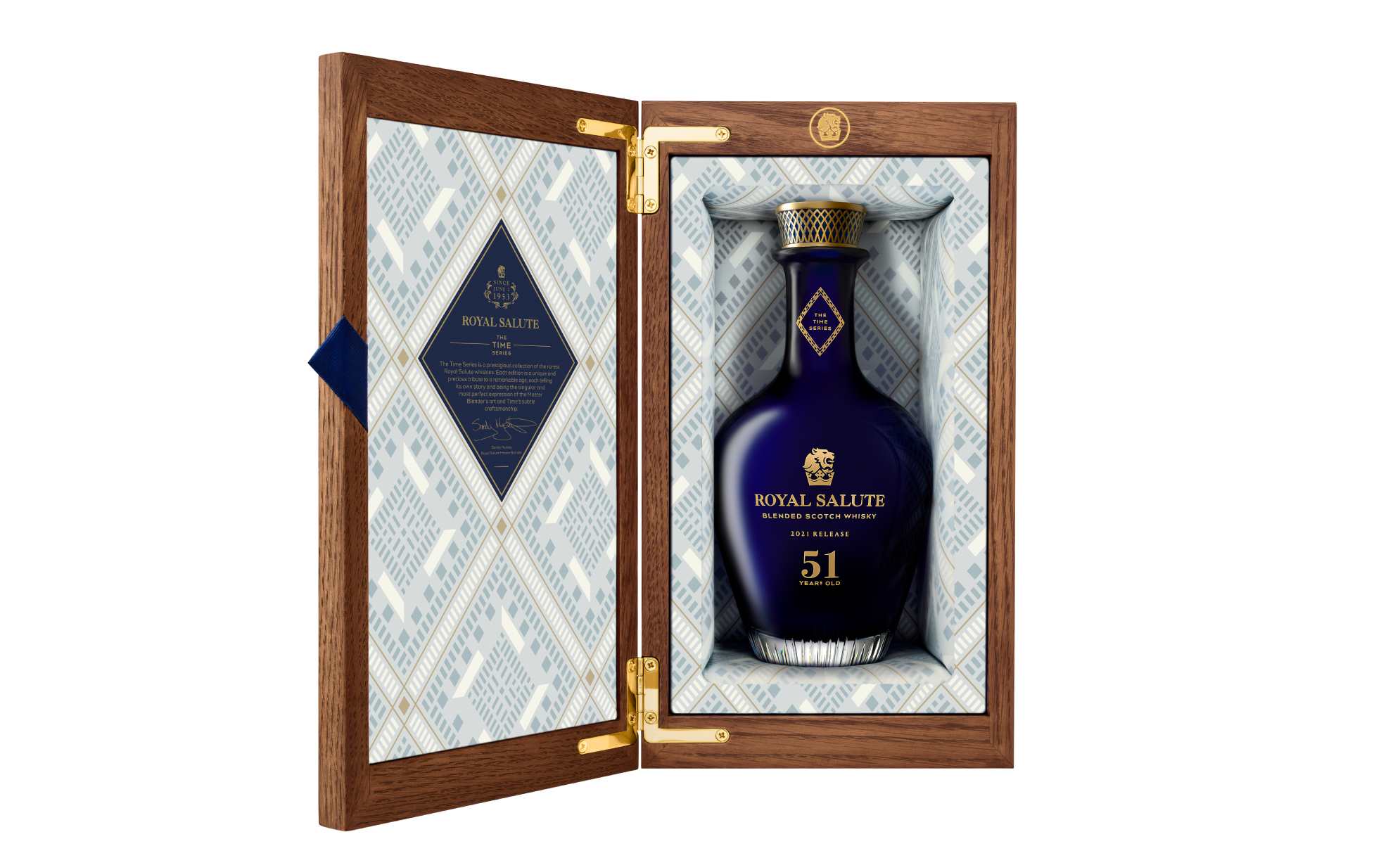 The job of putting everything together to create such an extraordinary expression has fallen to Royal Salute's master blender, Sandy Hyslop, whose knowledge, expertise and experience produces an almost spiritual alchemy of alchemical spirits. 
"The moment I tested the final blend will stay with me forever," says Hyslop, before adding that he was simply blown away by the "masterful role that time has played over a minimum of five decades of slow maturation.
"This release," he continues, "is a one-of-a-kind expression, and I am honoured to contribute to the legacy that the outstanding Royal Salute Time Series Collection is making in the world of rare and collectable whisky."
The ultra-rare, limited-edition 51YO (there are only 101 hand-blown, Dartington Crystal decanters into which the nectar has been poured) comes bottled at cask strength and is non-chill filtered. It is as pure as the driven snow on a remote, pristine Scottish highland. The nose has distinctive and powerful notes of blood orange and mild spice – suggesting a Speyside-dominant blend – tempered with the sweetness of aged oak. A secondary wave of salted caramel, and rich Manuka honey is followed by wisps of sweet hickory smoke and subtle peach and bergamot accents. 
On the palate, this magnificent rendition has notes of ripe plums and both orange and lemon zests. There are gentle licks of cinnamon, ginger and sandalwood, with hints of milk chocolate. The finish is almost outrageously lengthy and velvety smooth, and while it won't live quite as long in the memory as the whisky took to produce, it may not be far off. 
What is most remarkable about the 51YO is that it has a freshness that is almost impossible to find in a whisky of its age. More than 50 years may be a long time to wait for a dram or two, but it also represents a powerful statement from Royal Salute. As a famous and much-lauded brand – steeped in tradition and with royal lineage -it's keen to point out that time is the most precious ingredient in all of its creations.  
The Time Series Collection 51 Year Old 2021 Release represents a brand, a blender, and the finest ingredients working together in perfect harmony, aided and abetted by the most precious commodity known to mankind – time. 
Available via Pernod Ricard's LeCercle programme. Email [email protected] for product and price enquiries