Naviva, a Four Seasons Resort, in Punta Mita offers a plush, naturalistic take on a luxury getaway
Mexico has no shortage of resorts, but forget Cancun and Tulum for a moment. Consider instead the Riviera Nayarit on the country's western coast, where the private peninsula of Punta Mita lies. Surrounded by green mountains and pristine beaches, the luxury resort town is a veritable idyll of restful retreat.
It's in Punta Mita that the Four Seasons has just unveiled its latest property: the Naviva, a luxury tented resort. Surrounded by 19.5 hectares of forested land, the Naviva is pitched as an idyllic sanctuary of nature. Compared to the Four Seasons Resort just five minutes away, this new adult-only property is intended to provide an even more private and personalised experience with a total of just 15 tents.
It's the first of its kind for the brand in the Americas, and is designed from the ground up with an au courant approach of harmonising local heritage and nature with a luxury hospitality experience. On arrival, for example, guests are greeted on a cocoon-inspired bamboo bridge that overlooks a forest ravine—a dramatic and mesmeric way to set the tone.
Here, five things to know about the Naviva before booking a stay.
Experiences abound
The activities available to you at the Naviva tap on the resort's untamed natural setting. Daily experiences like hikes to ancient Aztatlán ruins, 'seacuterie' tastings of local seafood and cultural lessons on Aztec mythology offer some insightful and relaxing entertainment. There's a range of signature experiences too, like nocturnal stargazing, private visits to the home studio of a local artist, and shamanic sound rituals, that feel more uniquely Punta Mita. But leave yourself open to some surprises—what the Naviva dubs Unscripted moments. These are spontaneous, and may include picnics in the jungle, or exploring obscure, small-batch Mexican wines. The spirit of mystery is in the name, so don't guess too hard.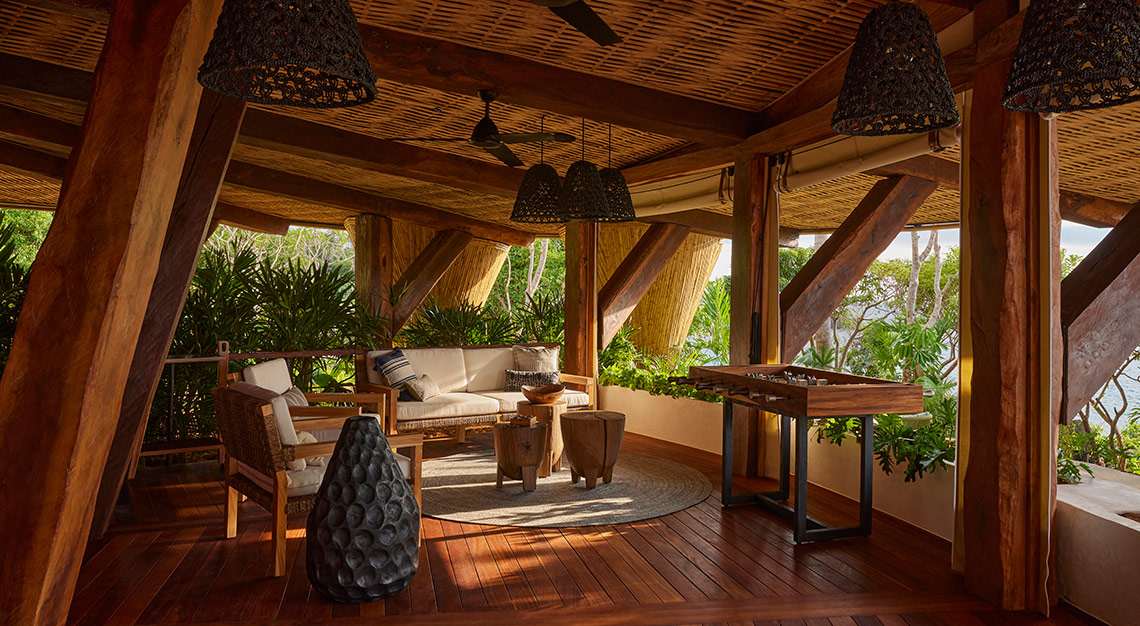 Biophilic design is at its core
The architecture of the Naviva is directly inspired by the world around it. Award-winning firm Luxury Frontiers was roped in for their expertise in sustainable and immersive design. All 15 tents, for example, are designed to seamlessly merge the verdant sights and sounds of the environment with the creature comforts of a luxury experience. Many elements of the Naviva are also made in collaboration with Mexican artists, craftsmen and manufacturers. Custom furniture, for example, from Mexican companies Taracea and Baufaktory; artwork by Mexico-based artist Emma Boomkamp; handcrafted wooden games made from reclaimed materials by Rasttro; and textiles by design studio Anora Casa.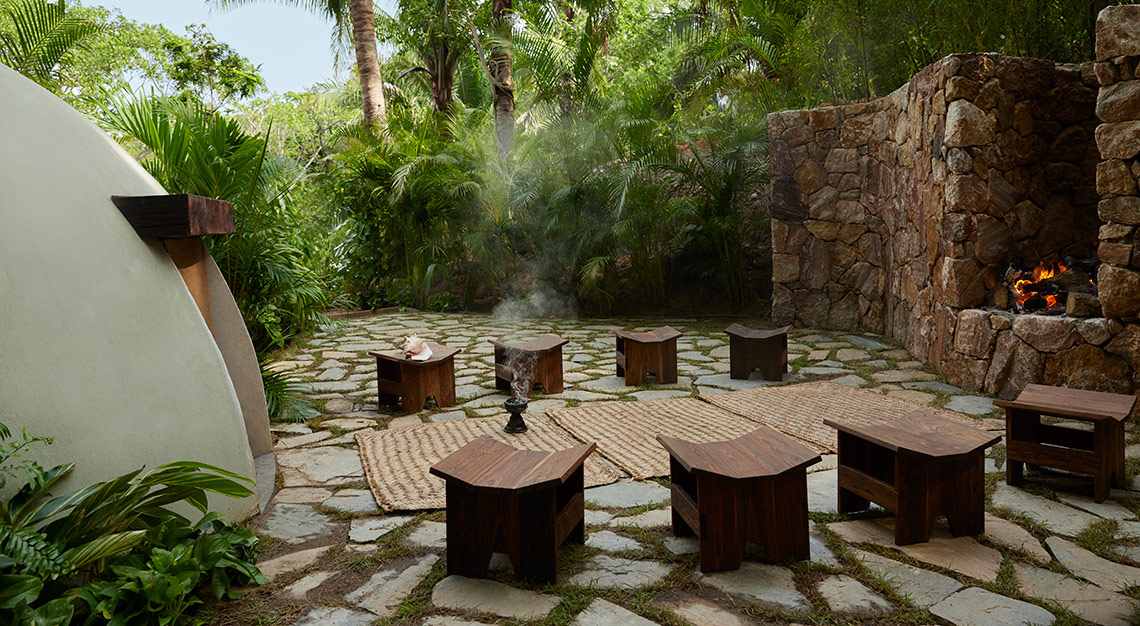 Heal the soul through heat
As you might expect from a retreat-style destination, the Naviva's spa and wellness menu is no slouch. Private spa pods, with a cocoon-like design inspired by the seeds of local Ceiba trees, offer a plush experience with personal gardens, outdoor showers and timber soaking tubs. There's even an open-air gym and Vinyasa yoga sessions held on the resort's outdoor Risco terrace—the former with strength training programs that incorporate boulders and trees.
Most interesting, though, is the Naviva's specially designed House of Heat—a traditional Mexican temazcal, or sweat lodge. It's a piece of Mexican culture and history, a kind of steam room ritual said to improve mental and spiritual well-being. The resort offers its own versions of temazcal ceremonies, grounded in gratitude, devotion and rebirth, all at customisable levels of intensity.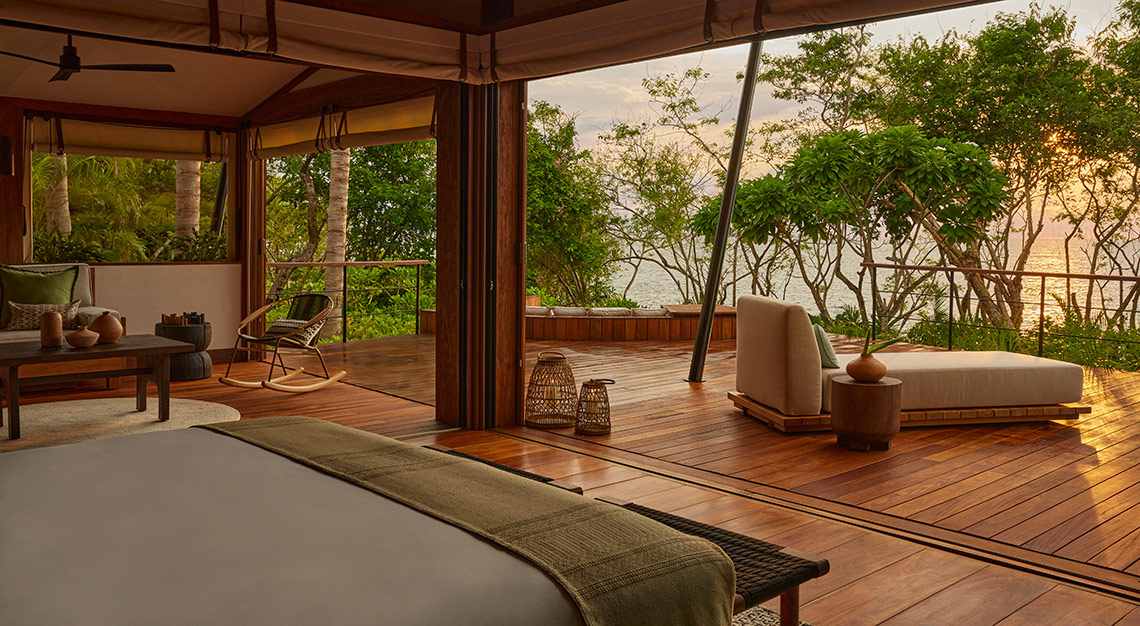 Sustainable through and through
The bar for sustainability is set high with a concept like connection to nature. The Naviva is, happily, designed from the ground up with the principle in mind. It was built around existing trees so as to preserve as much of the vegetation as possible; and details such as the preservation of local animal life and light population were also considered. Trees and stones that had to be moved, meanwhile, were either relocated or repurposed into furniture for the resort.
The whole property is also constructed using low-impact materials such as reclaimed wood, local stone, copper, bamboo and concrete, with natural ventilation reducing the need for air conditioning. The Naviva has also partnered with renewable water company SOURCE to bottle all of its drinking water onsite using hydropanel technology.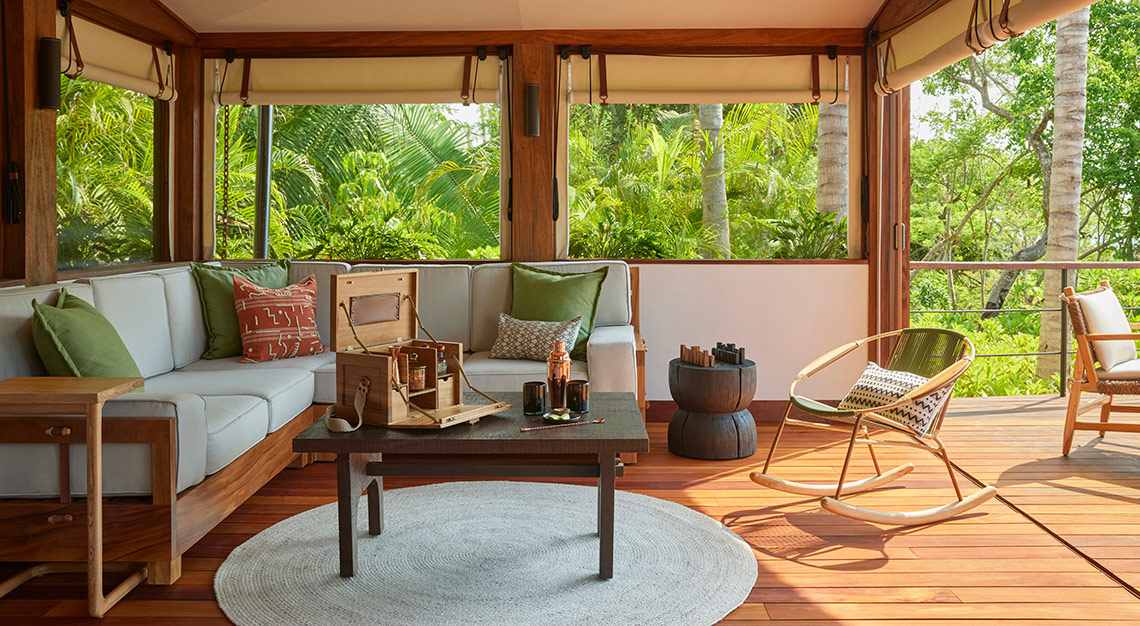 All-inclusive
The Naviva's approach to pricing is all-inclusive, intended to serve the feeling of relaxed intimacy. That includes all meals, snacks, drinks and speciality meals—prepared by the Copal Cocina restaurant—which can be enjoyed anywhere throughout the property; a spa treatment, and daily rituals and experiences.
The nearby Four Seasons resort, just five minutes away to the south, is also fully accessible to Naviva guests should you want to tap on its wider range of amenities: ten restaurants and bars, two golf courses, three pools, two beaches and even more spa and fitness facilities.