The DB11's successor has a V-8 that produces 671 hp and 590 ft lbs of torque
Why stop at 11 when you can turn things up to 12? 
Aston Martin has unveiled the brand-new DB12, a model that isn't just another grand tourer in the mould of its immediate predecessor, the DB11. Instead, it's being billed as the world's first super tourer. 
The DB12's design is more of a refinement than a full-on reimagining of the outgoing DB11. Aston Martin has taken the low-slung grand tourer's general shape and combined it with elements from the more commanding DBS. The new model has a larger grille, revised splitter, more dramatically sculpted lines, frameless side mirrors and flush door handles. By themselves, none of these changes would amount to much, but together they result in a fierce coupé that is sleeker and sportier than its predecessor. The DB12 is also the first car to wear the marque's redesigned winged logo. 
Just as much attention has been paid to the vehicle's interior. The driver-centric space is cleaner and more comfortable than before. The centre console features a new 10.3-inch infotainment system developed entirely in-house by Aston Martin that features Apple CarPlay and Android Auto. The system will pair nicely with the brand's new smartphone app and, as is increasingly common throughout the industry, can be updated via over-the-air updates. The cabin comes covered in Alcantara leather, but owners will be able to work with the automaker's Q bespoke division to further customise the space. 
Unlike the DB11, the DB12 will not be available with a V-12. While the decision may elicit groans from some corners of the enthusiast world it shouldn't. That's because the sole powertrain option available at launch, a revised twin-turbocharged 4.0-litre V-8, is more than potent enough. Thanks in part to larger turbos and a slew of other modifications, the hand-built mill, which is again sourced form Mercedes-AMG, can generate 671 horses and 590 ft lbs of twist. That makes the engine more powerful than DB11's V-8 (528 hp and 513 ft lbs of torque) and its V-12 (630 hp and 516 ft lbs of torque). The driver will be able to put that extra might to good use, too. Aston Martin says the DB12 can sprint from zero to 100 km/hr in about 3.5 seconds and hit a top speed of just over 321 km/hr. That's why the brand is referring to the car as a super tourer.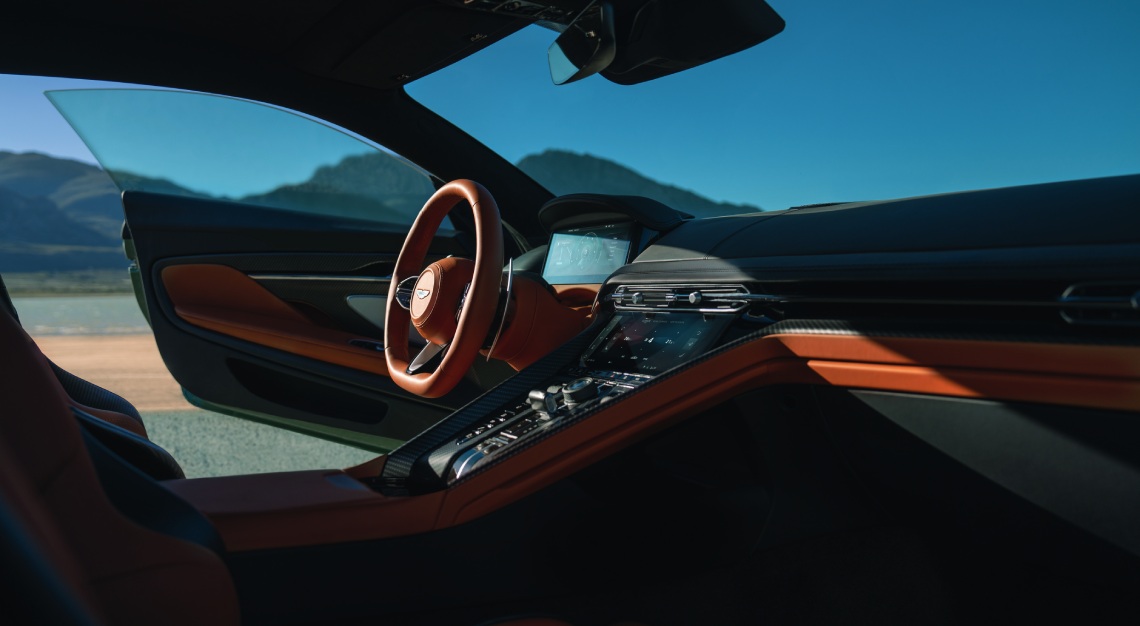 To cope with the extra power, the DB12 will ride on a new suspension with next-generation adaptive dampers and firmer anti-roll bars. There are also three drive modes to choose from—GT, Sport and Sport+. Each mode is more responsive and stiffer than the one before it, giving drivers better control even as they push the vehicle closer to its limits. 
Deliveries of the DB12 are expected to begin in the third quarter of this year. We'll have to wait until closer to then for pricing information, but Car and Driver reports that it could start at around US$245,000, which is around US$40,000 more than the V-8 DB11. The car will only be available as a coupé at launch, but a convertible Volante variant is expected to follow.