With 1,940 Nm of torque and the ability to reach 100 km/hr in 1.89 seconds, this sedan can also travel an approximate 690 km per full charge
The Lucid Air launched to supernumerary acclaim, boasting nearly four-figure horsepower and over 805 km of range. While more attainable models, better suited to grocery-getting than barnstorming, are critical to the future of the brand, dreamers gotta dream—which is why Lucid Motors started planning an even larger-than-life flagship from the get-go.
"We always knew there was going to be a super-duper performance version of the car," says Derek Jenkins, Lucid's senior vice president of Design and Brand, "so over the last two years we went all-in on Sapphire development and leaned much heavier on the performance side."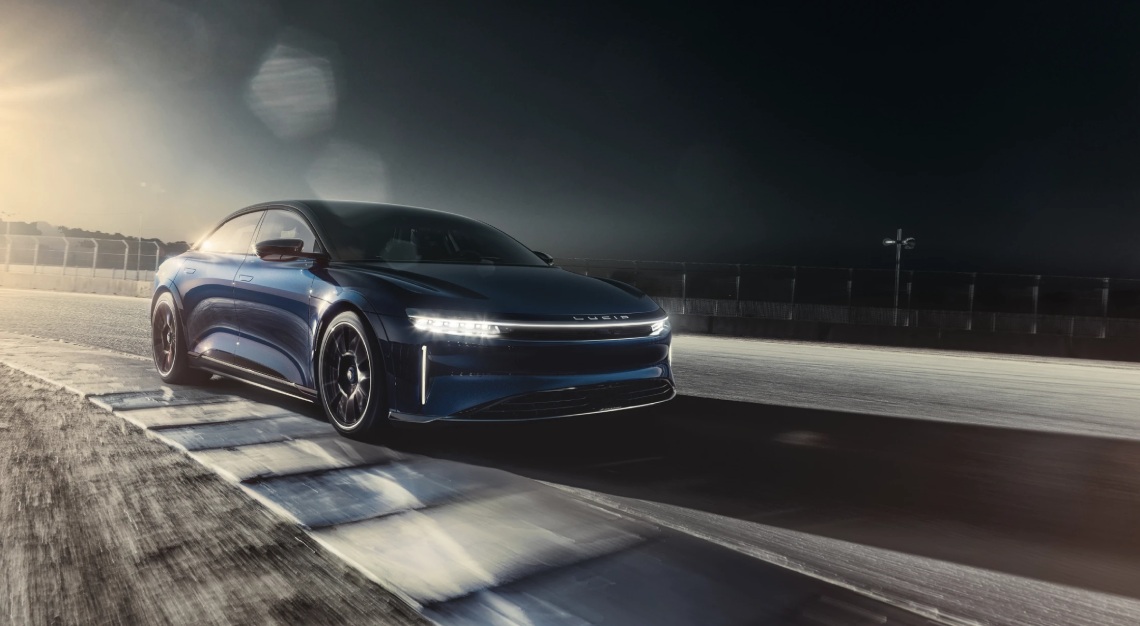 The Sapphire is, to put it mildly, unlike any Lucid Air before it, even surpassing the Grand Touring Performance version that stole the show at the 2022 Goodwood Festival of Speed. Sure, the new range-topper sits hunkered down with flared shoulders, menacing wheels, and a naughty upturned spoiler—all the obligatory visual signifiers of an ultra-powerful cruiser. But the quantum leap in capability forms some startling numbers: 1,234 hp and 1,940 Nm of torque from three motors and a 118 kWh battery. The power-train configuration hurtles the 2,420-kg sedan to 100 km/hr in 1.89 seconds and gives it a top speed of 330 km/hr. Oh, and it'll drive 687 km before it runs out of charge (depending on the nature of the driving, of course).
This genetic spinoff is so extreme, it might warrant its own sub-brand. "I would consider it like a [Mercedes-Benz] AMG or a [BMW] M category within Lucid," suggests Jenkins, an assertion that plays well with thematic blue-tinged details that hint at American racing liveries, and California-centric nods like grizzly-bear logos.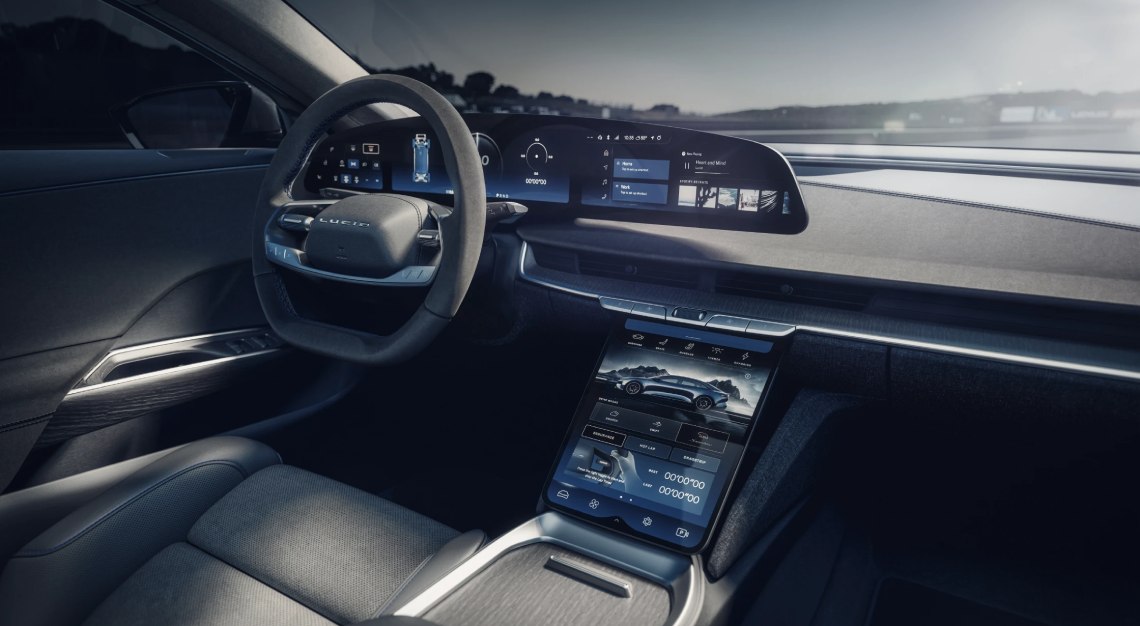 As lofty as the number soup sounds, nothing quite prepares you for the gut punch that comes with a throttle dump in this hopped up four-door. Drop the hammer, and the Sapphire bursts ahead with such gusto that it's difficult for the brain to process the exponential gains in velocity. Unlike the visceral pleasures of accelerating a gas-burning sports car forward—the mellifluous exhaust note, the undulating dips in G forces between gearshifts, the sine-wave nature of it all—this single-speed drivetrain is brutally efficient at relentlessly linear forward motion. Brace your skull against the headrest, dip into the throttle once more, and the experience of full-tilt launches is no less heady than it was the first time you broke highway speeds in under two seconds. Aiding the efforts are bespoke, two-compound Michelin tires with stickier edges designed to enhance cornering. Stopping the sedan are 10-piston carbon-ceramic brakes from a firm called Surface Transforms.
The danger of going overboard with rocket-like thrust is the potential that its handling capabilities might pale in comparison to its straight-line prowess (see: 1960s muscle cars). Chassis guru Dave Lickfold says that the Sapphire's dynamic target was a big-engined V-8 sedan equipped with a limited-slip differential. That level of specificity meant benchmarking two worthy internal-combustion vehicles: the BMW M5 CS and the Cadillac CT-5 V Blackwing.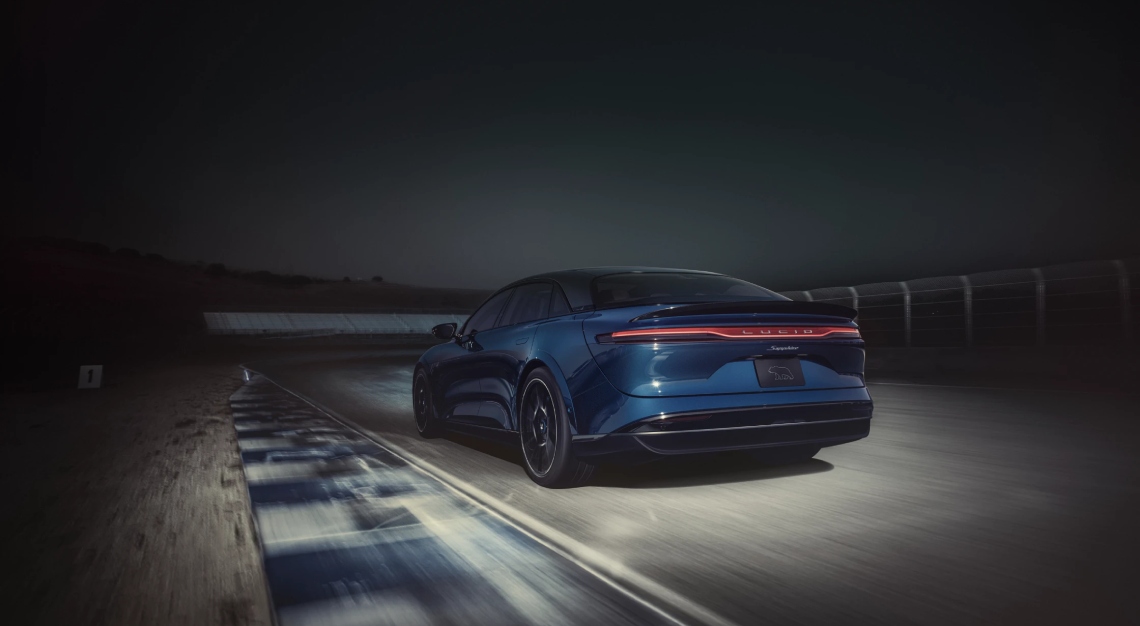 There's a bit of electronic witchcraft involved in emulating those burbly sedans, and it draws on the more-is-more philosophy of using three electric motors to vector torque. By overdriving the outside wheel and decelerating the inner one, the Sapphire can turn into corners more sharply and rotate more acutely. Similarly, that agility can be switched into stability when you apply the inverse to that torque tactic.
My hot date with the Sapphire happened to fall during a sweltering afternoon in Los Angeles, unfortunate timing that hampered the opportunity for unfettered driving. While a few corners on Mulholland Boulevard revealed solid chassis stability and tenacious grip, I'd personally prefer a more comprehensive drive, ideally on a racetrack, to explore the outer edges of this Air's capabilities.
The Lucid Air Sapphire marks a monumental achievement that manages to combine two seemingly irreconcilable elements: outstanding performance and extended range. All of that helps explain its price of US$249,000. And while I've largely come away impressed with the several thousand miles I've spent in various Lucid Air models, that's not to say they haven't been peppered with a few glitches here and there. Growing pains aside, Lucid is reaching for greatness, and that's most explicitly tangible in the Air Sapphire, a vibrant hue we hope to see a lot more of in the brand's emerging line-up.