This retreat takes pampering sessions seriously and provides everything you expect for an afternoon of disconnecting and unwinding
How does one relax? While short weekend vacations to neighbouring countries beckon, sometimes, as I recently discovered, all you need is an afternoon to unplug and recharge. The next question is: What should I do, and where should I go? To that, I highly recommend paying Auriga Spa, at Sentosa Island's Capella Singapore a visit.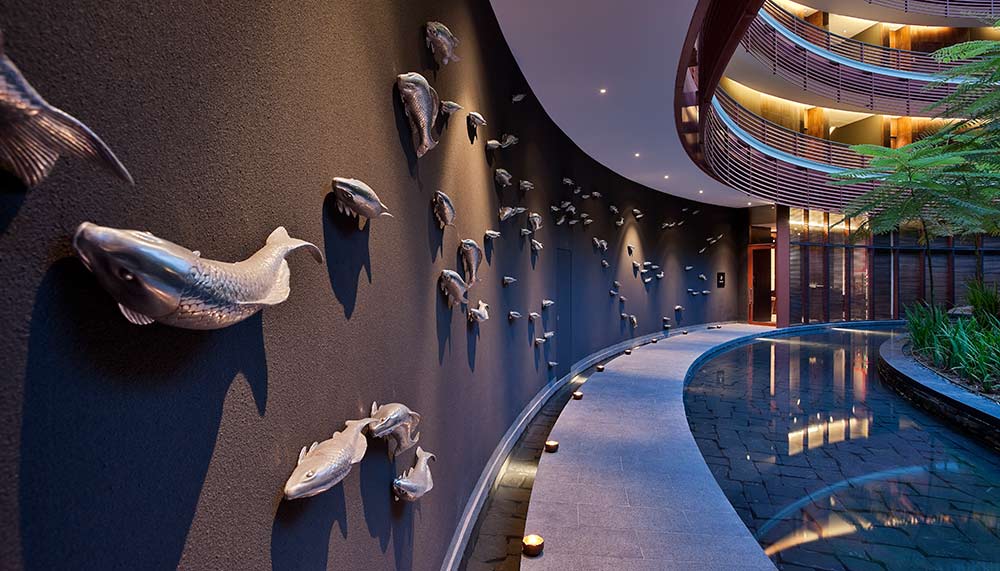 Like travelling, the art of relaxation isn't the destination; it's a journey. And here, it's one that starts way before your treatment begins. As your car pulls up in the private driveway of Capella Singapore, the magic begins. The leaves rustle, birds chirp, and the soothing burble of water in the reflection pond put you into a trance-like state before you even step foot into Auriga. A treat for the senses, indeed.
I arrive an hour before my treatment, which gives me enough time to make full use of the spa's facilities. For optimum post-treatment results (also known as attaining nirvana in this instance), Auriga recommends putting your body through a series of 'shocks' involving drastic temperature changes. It's 3pm on a Tuesday, and I'm the lone soul there. Auriga has become my personal haven.
The wellness centre comes with a herbal steam room (which unfortunately lacks an hourglass so you've to make do with counting down on your own), an ice fountain, a vitality pool with a swan neck shower to massage your shoulders, as well as cool and warm shower experiences, both infused with fruity aromas. Here's a tip: Don't skip on the swan neck shower or the cool shower mist.
At the end of my DIY spa where I hop back and forth between stations, I'm fully relaxed and am ready for a nap. While Auriga is most known for its luna-themed treatments, I'm here for the new 90-min Kundalini treatment that includes crystal stone therapy and a facial. My therapist, Lee Wai Mun, talks me through the session prior to beginning.
If you've yet to pay a visit to Auriga, be prepared to expect an atypical massage room. The suite comes with an outdoor garden patio (perfect for lounging post treatment), but that also means the room will be lit with natural light, making it a tad brighter compared to what you're used to.
The Kundalini treatment doesn't start with the usual welcome footbath ritual. Instead, I'm taught breathing techniques. Keeping a steady breathing pace is key to gaining the most out of the session. Lee rings the Tibetan singing bowl and hovers it across my body; its ringing puts me into a hypnotic state. She then starts on the pressure points on my feet before expertly gliding her hands to my calves with slow, steady strokes.
I weave in and out of consciousness and do my best to stay awake, aware that should I fall asleep, this review would end up being a one-liner disaster: Best massage ever, but don't ask me what went on because I knocked out for the entire duration.
Two warm moonstone globes are then rolled over my body, from my lower back to the neck, and then my arms. The heat is fairly soothing, but nothing can replace Lee's deft palm strokes that are gentle, yet firm. It's said that moonstones help release deep tissue tension, but I'd pick Lee's skills over a moonstone's healing properties any day.
The massage slowly draws to a close as Lee pampers my face and decollete with a Carrot Butter cleanser and Double Rose Cream from The Organic Pharmacy. She goes on to tap my lymph nodes rhythmically to activate them and drain toxins. Aiding the process are two chilled rose quartz wands that are rolled over my shoulders, neck and face.
If my earlier DIY spa treatment was a prediction of what's to come, it's that the Kundalini massage also goes back and forth with temperature changes. Lee drips warm oil over the crown of my head — a similar to Shirodhara, a form of Ayurveda therapy — before gently massaging my scalp.
I'm told that the session is meant to increase positive energy and awaken my chakra. While I'm skeptical of how Kundalini treatments and the use of crystals can awaken positive energies and aid in removing toxins, I've to say I enjoyed every single minute of my session. Well, except when I heard the Tingsha bells to signal the end of the session.
The Kundalini massage is available at a special rate at $230++ per person from now until 31 August, after which it'll be on the spa menu at $260++. In line with this experience, Capella Singapore is also organising a three-day Yogic Beauty Secrets Weekend with Guru Jagat from 10 to 12 August.
Auriga Spa
Capella Singapore
1 The Knolls
Sentosa Gateway
Singapore 098297
Tel: +65 6591 5023