Welcome to On The Table, where we feature recipes by Singapore's best chefs and bartenders. In part four of this series, we speak with the founder of Sushi Masaaki about his recipe for being a great chef and a Japanese egg roll
The food I get at an omakase is typically very good. The experience on the whole though, not quite so. It's not because the service is bad, but when you're paying top dollar for a meal and front-row seat, it's fair to expect more than just an artist slicing exotic fish.
Things are different at Sushi Masaaki. Its chef-owner is 47-year-old Masaaki Sakashita, who hails from Kyoto and Singapore's Hashida and Ishi Sushi. Besides providing an antidote to omakases and their institutional shortcomings, he is also an entertainer. Never too serious to have fun, he will gladly welcome you into a room that's full of banter, fancy washi paper, a rustic stone hearth and a milk-washed hinoki wooden counter.
It's a pretty space that identifies with the importance of good taste. Sushi rice goes against the grain by getting cooked in two kinds of vinegar, so as to yield a soft core and chewy exterior, and sashimi is exclusively supplied by a guy who kills fish relaxed, so the flesh is deliciously tender. Looks are also secondary. Food is rarely constructed for Instagram, but still elegant, complex and layered.
Here, Sakashita shares more on tradition, honesty and a deceptively simple recipe for tamagoyaki, a squat pillow formed by layers of savoury, sweet egg. It's the perfect way to bring a little Sushi Masaaki to the home.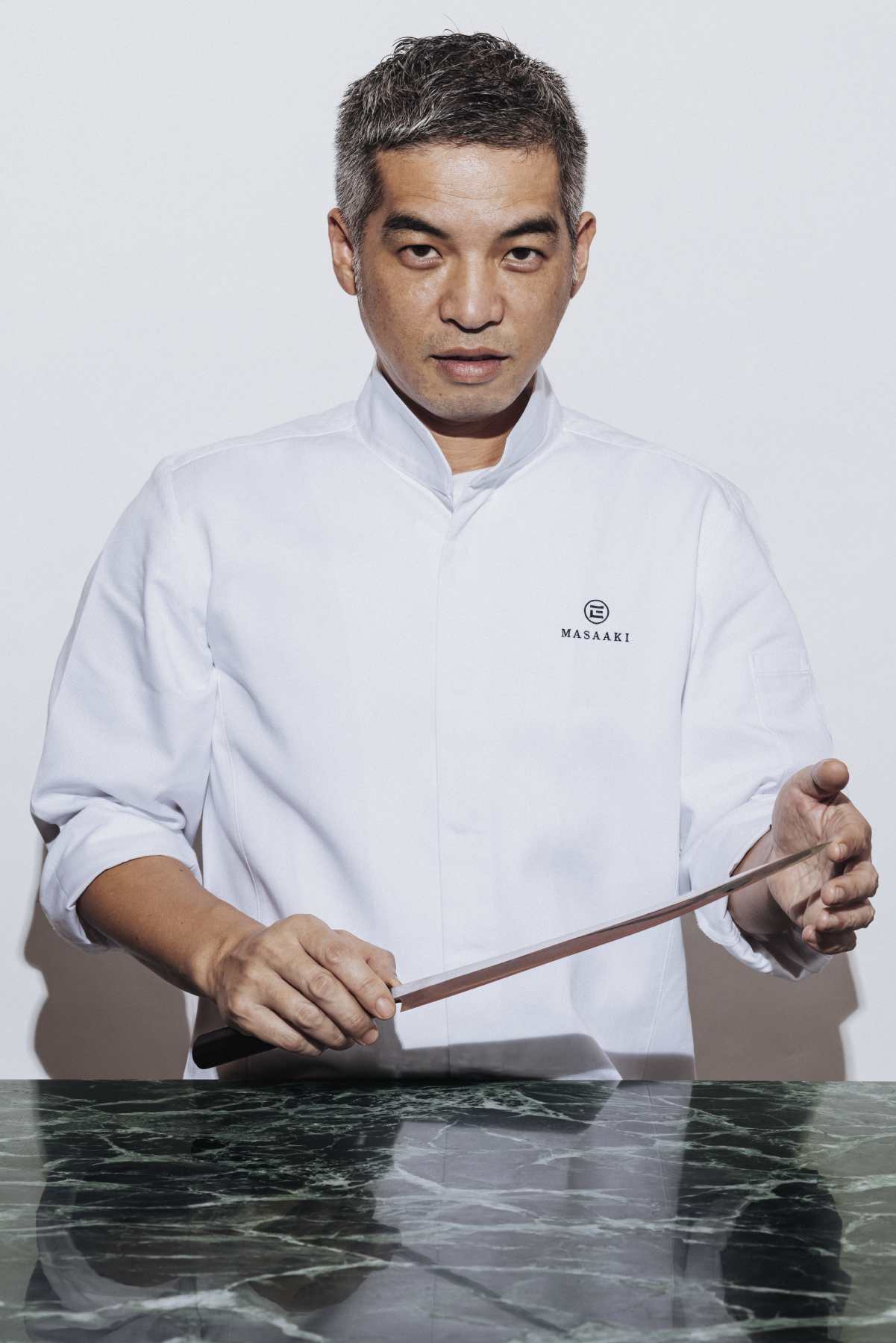 What is your recipe for being a great chef?
The key is to not think too much. I'm a father and I know that, to a child, a father is like a superhero. But it is important to portray the fact that not all superheroes are perfect. There are times when they're down or feeling lazy. So I bring this to the kitchen and I don't shy from who I really am.
What made you you?
I have older siblings who would take care of our parents, and that allowed me the freedom to be the curious child of the family. To be happy at all times.
What recent learning experiences have come along with age?
During the lockdown, I learnt to meditate for 10 minutes every morning. It helped me to be more realistic about the days that followed. 
What else are you curious about?
Stocks and investments (laughs). I'm not particularly keen on finding new ways to make money, but it is interesting to listen to my customers talk about it.
Are you a risk-taker?
Not at all. I'll go for the safest bet. But these days, not doing anything is the biggest risk. The more you move and the more you challenge the status quo, you're actually avoiding risk. I get bored easily, but hey, do note that I've been married nine years to the same woman. That's important. 
Do you consider yourself to be a traditional Japanese man?
No. I've been working for over 20 years and I'm always questioning tradition. I'm always trying to improve or improvise, even if it comes back full circle to tradition. Also, I like to keep things real. At the restaurant, everyone is on a level playing field, even the back- end staff. It's like a television show – everybody has a role for the whole picture to be together.
You cook not for the camera, but for the palate. Why do you think there is such a thing as being too obsessed with looks?
Taste is most important for me, but sometimes when food is the only way for me to communicate with the guest, I'd work in a little extra pizzazz. It's a small gesture that tells the customer, 'you can trust me'.
How do you bring this honesty to your food?
It's not about us. I am always thinking about what the customer wants, whether it's a situation that calls for me to shapeshift, to add more cheer to the atmosphere, or the way the food is prepared. That said, there are boundaries, like requesting for chilli padi to go with your sushi.
Do you remember the moment you tried sushi for the first time?
Honestly, no. It's a regular thing in Japan; you can eat raw fish at the age of two. However, I do remember trying uni the first time I ate at a fine-dining restaurant and I was blown away.
If you can live life again, but as a fish, what would it be and why?
A tuna. It's a fish that can't stop swimming because once it does, it will die, and that's what I like about it. I never want to stop.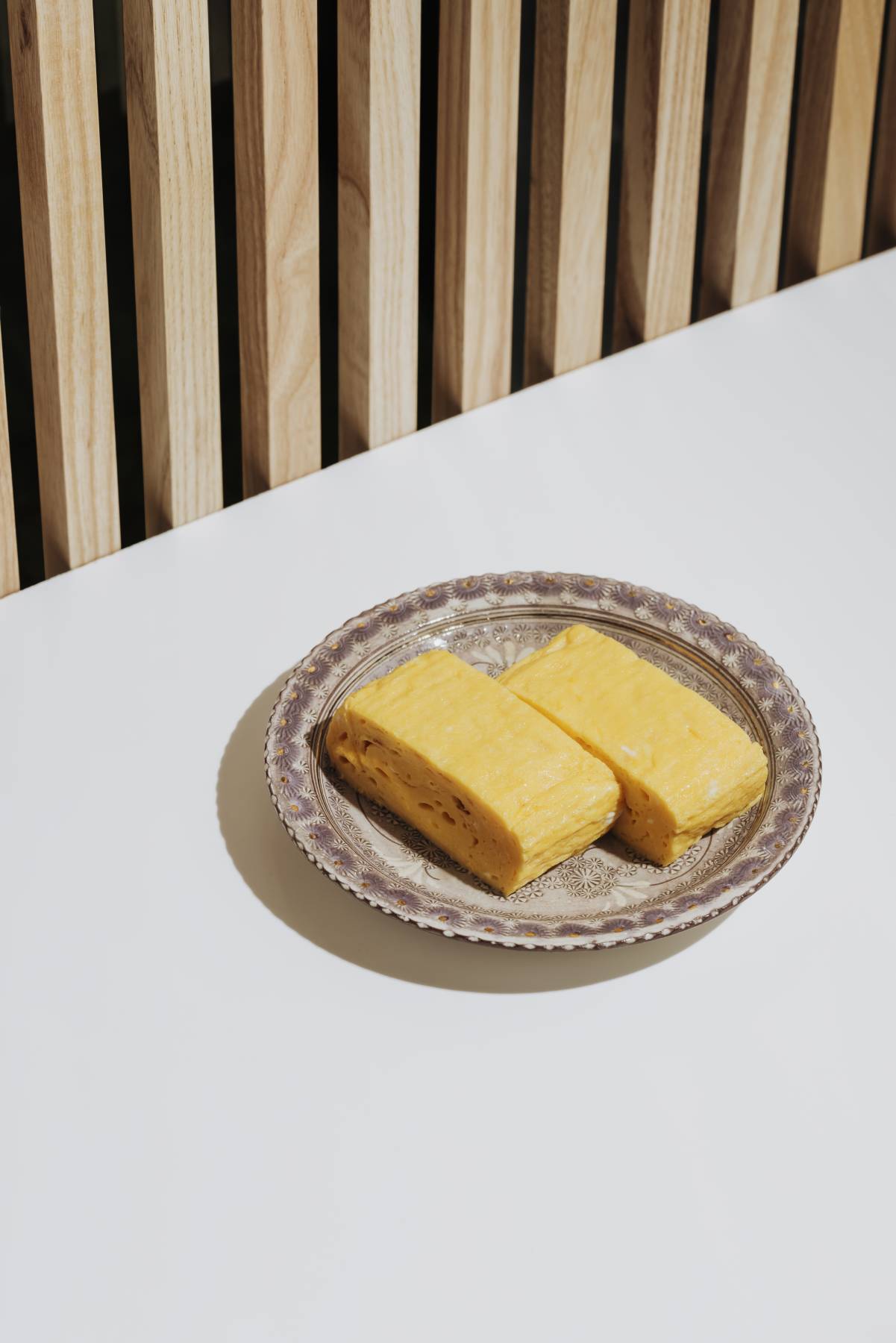 Japanese Egg Roll
By Masaaki Sakashita
90ml dashi (1)
10ml light soy sauce
4ml mirin
3 eggs
A little Japanese salad oil
Grated daikon
Put dashi, light soy sauce and mirin in a bowl. Crack an egg in it and loosely mix it using a pair of chopsticks (do not whisk). Stir and filter through a colander two to three times for a smooth texture. Pour oil into a small square egg pan, heat oil and use the tip of your chopstick to drip drops of egg mix into the pan. The right temperature is attained when you hear a sizzling squeak from the pan.
Now pour in a portion of the egg mixture until you have a thin layer on the bottom of the pan. Allow it to cook halfway before rolling it away from you to the other end of the pan. Pour in another layer and repeat. When done, wrap it in kitchen paper to shape before serving it with grated daikon.
(1) Dashi
15g kelp
1 litre water
25g dried bonito flakes
Let the kelp sit in the water for 30 minutes before heating it to 60°C. Remove the kelp and continue to heat the stock till it comes to a boil. Add the dried bonito flakes. Turn off the heat after a minute and filter the stock with a colander. 
Sushi Masaaki
26 Beach Road
South Beach
B1-17
Singapore 189768
Tel: +65 6388 1555
This is a Robb Report Singapore x William Grant & Sons initiative that first appeared in the October 2021 issue. Purchase it as a hard or digital copy, or consider subscribing to us here