With case materials leading the trend in today's watchmaking landscape, these Omega-exclusive materials will make you rethink the classic precious metals
In the past couple of years, the watchmaking industry has seen an increased amount of experimentation when it comes to case materials. Today, there are plenty of options ranging from titanium to bronze. And thanks to the advancement of manufacturing technology, brands like Omega have also been able to work with incredibly tricky materials like ceramic to offer customers highly innovative timepieces. 
However, if you are a massive brand like Omega, producing close to half a million watches a year, you don't have to stop there. The industrial might behind this Swiss watchmaker means they not only can experiment with new materials, but also take existing metals like gold and create better versions of its alloys. Names like Sedna, Canopus and Moonshine gold are not so common in metallurgy or even conventional watchmaking, but a closer look will reveal what makes them highly unique.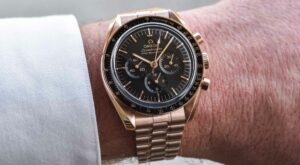 Sedna Gold
Gold on its own is a soft material and so other elements are usually added to create an alloy that can be used in the watchmaking and jewellery industry. In order to qualify as 18K gold, at least 75 per cent of the alloy has to be pure gold. Around 20 per cent of copper is added giving Sedna gold its distinguishing reddish colour and trace amounts of palladium are added for stability. Unlike other red or rose golds, Sedna Gold, named after an orbiting planetoid described as one of the reddest in the solar system, doesn't lose its colour and lustre over time.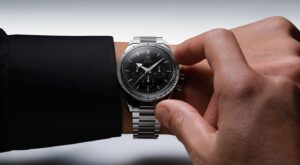 Canopus Gold
This alloy, created in 2015, is Omega's replacement for white gold. Named after the bright star Canopus, which is 71 times bigger and 10,000 times brighter than the sun, it represents a combination of gold, palladium, platinum and rhodium giving it a high brilliance. The alloy is also classified as a noble metal meaning it offers outstanding resistance to oxidation.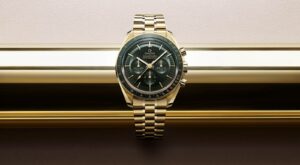 Moonshine Gold
In 2019, Moonshine Gold was created and unveiled on a very special Speedmaster made to commemorate the Apollo 11 mission. The space flight that ultimately put the first man on the moon was the perfect anniversary to debut a material inspired by the colour of the moon against a dark blue sky. Gold, silver, copper and palladium were combined to create an alloy with a distinctively paler hue compared to traditional yellow gold.  
Bronze Gold
Unlike traditional bronze which commonly comprises copper and tin, Omega gives their version of this metal a touch of gold. Along with the addition of silver, gallium and palladium, Bronze Gold will still slowly oxidise over time developing a gorgeous patina but will not succumb to Verdigris oxidation which is the turquoise-coloured residue you see on older bronze statues. 
Ceragold
Ceragold is not actually an alloy but rather a process that Omega developed to fuse gold and ceramic on the Seamaster bezels. This process bonds liquid gold to the cavities in the ceramic bezel through an electroforming process. The excess gold is then slowly polished away to reveal the original ceramic surface with gold filled into its numerals. Due to the difference in hardness between ceramic and gold, the numerals can be brushed-finished while the ceramic bezel retains its polished sheen.