There's good reason why this limited PasirPanjangBoy x The Lounge at Riviera menu, happening for four weekends only, is a must-try
The local duo synonymous with Peranakan fare, Tinoq Russel Goh and Dylan Chan of PasirPanjangBoy, have recently joined chefs Rémy Carmignani and Nicolas Vergnole in the kitchen at The Lounge at Riviera. And this, undoubtedly, is great news for gourmands who haven't had the chance to taste PasirPanjangBoy's unique private dining concept – a highly in-demand experience which typically has to be booked two years in advance.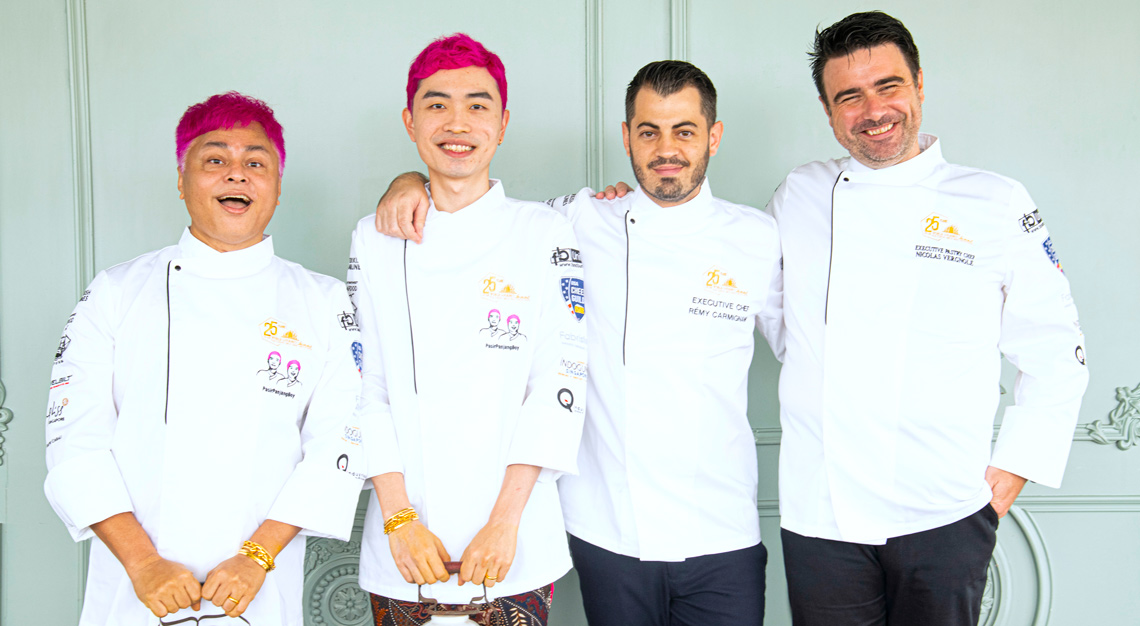 The collaboration forms part of the extensive line up of World Gourmet Summit, serving up a series of champagne brunches that bring together Mediterranean delights with Peranakan flavours. Your five-course brunch here kicks off with a delicious array of small bites: the Kueh Pie Tee; Baba Ghanoush, a dollop of nasu eggplant, muhammara and pomegranate served in a crisp house-made tarlet shell; Ngoh Hiang, where tender minced pork, prawn and water chestnut are encased within beancurd skin; and Tang Marrakchia, a cromesquis filled with Moroccan Tangia-style lamb shoulder. Worth a mention were the juicy bursts of of lamb slivers as I sank my teeth into the cromesquis.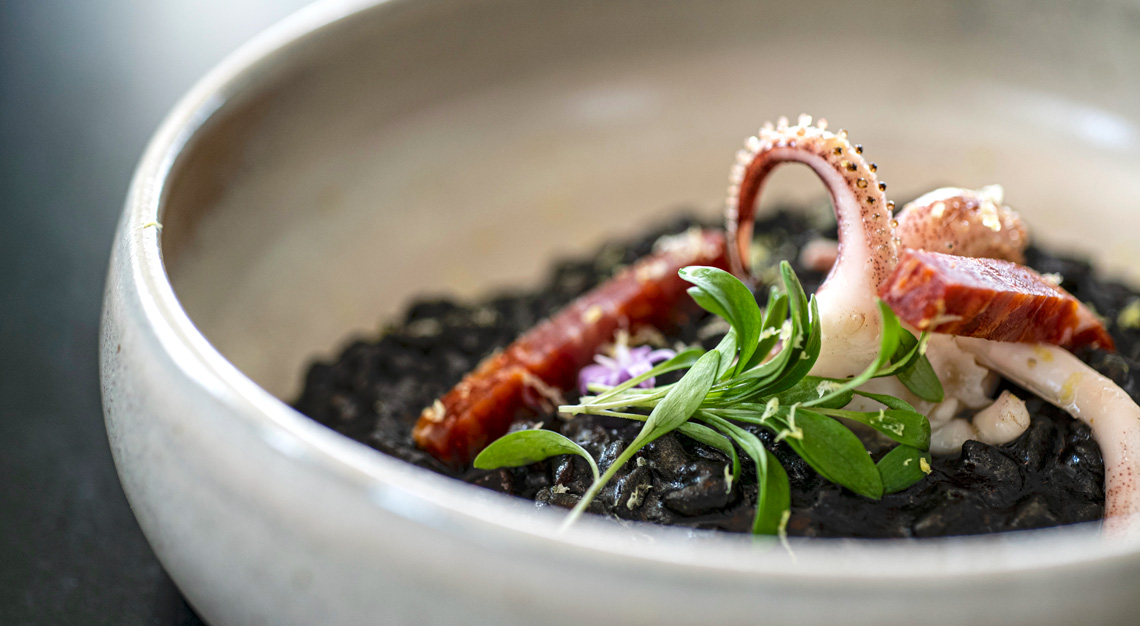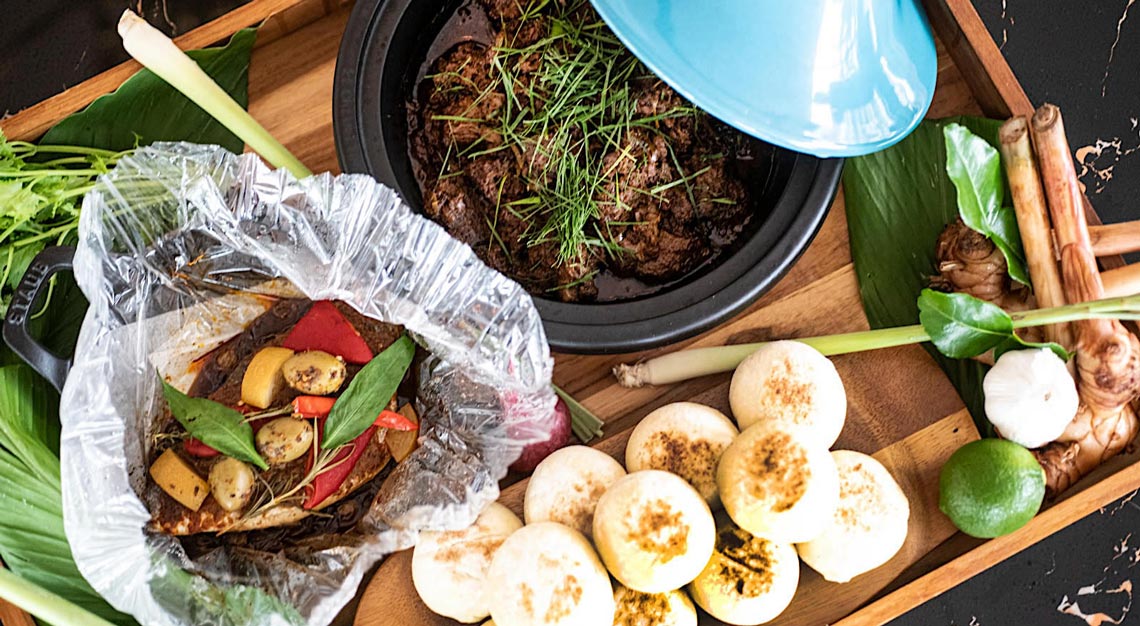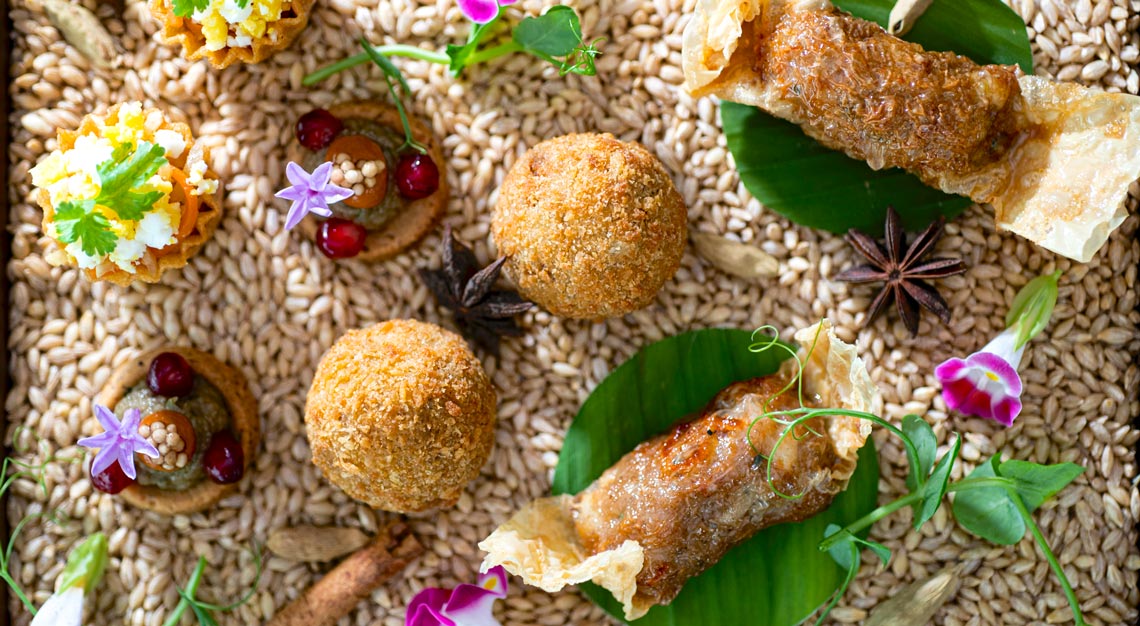 Squid ink, recognised for its heavy and cloying flavour, was given a light yet delicious treatment with the Sotong Hitam Risotto (squid ink risotto). Here, acquerello risotto rice was cooked in sweet and slow-roasted garlic, peppered with small portions of grilled squid and iberico pork chorizo. And although I had opted for chorizo to be removed from my dishes, the amalgamation of squid 'umami', rice and garlic did an excellent job on its own, enough to leave me hankering for seconds.
What followed was a common dish found in Malay and Peranakan fare: Assam Pedas. But you might want to toss all presumptions you'd have on how the delicacy should look like out the window. The Assam Pedas En Papillote, instead, will have you tuck into a Greek Dorade that was marinated in a mix of spicy tamarind paste, ginger flowers and laksa leaves before steamed in a parchment parcel. Little wonder, then, the fish packed a memorable, flavourful punch, and this complemented incredibly well with the Beef Rendang. The latter is a dish of tender, collagen-filled beef shin that was slow-braised in a blend of 21 herbs and spices, which gives rise to a rather sharp hit of saltiness as you take your first bite. But all is well when you pair it with the Moroccan Batbout Bread, which, to me, felt like the chefs' version of the mantou bread – except that it's dangerously a lot more addictive.
The menu can be enjoyed at $98++ per person. Reservations for 4 and 11 September and 2 October 2021, 12pm to 2pm, can be made at here. Bookings for 25 September 2021, 12pm to 2pm, are available at @worldgourmetsummit's Facebook and Instagram, direct messenger.