A one-of-a-kind escape to France's quiet town
It is just after sunrise, and all of Normandy appears to be fast asleep as I wander through the misty gardens of Le Domaine d'Ablon. I stroll past turnips and plump cabbages, rounding the resort's stables, where a tawny-coloured pony peers out from behind a pair of Dutch doors. Beyond the garden's iron gates, the estate's 16th-century timber cottage – fronted by a blossoming crab-apple tree and topped with a mushroom-shaped roof – appears straight from the pages of a fairy tale. 
The fantasy continues when I return to my suite to find Christophe Delaune, Le Domaine's owner, waiting with a basket full of breakfast delights: fresh-squeezed orange juice, croissants, pain au chocolat, and mouth-puckering white-peach-and-apricot jam made with fruits from the orchard. The former president of a major print marketing company, Delaune gave up his Parisian penthouse in 2011 for 5 acres of countryside in the heart of the Pays d'Auge region. He has spent the ensuing years developing Le Domaine d'Ablon, which opened last September with just two suites and a cottage. Though he plans to add three more cottages, a spa, and a swimming pool by next year, Delaune is adamant about keeping his property personal.
"If people want to eat duck or special fish, we can do it," he says. "If they want to organise a special private activity, we can do it." Still, the thought of a CEO bringing coffee and croissants to his guests strikes me as odd. I wonder, does he provide this service for every visitor? "Absolutely," he says cheerfully, "I love meeting my guests."
Delaune's familiar style is typical of Normandy. With its dramatic coastlines and vivid green hills, the region is no less beautiful than the more popular Côte d'Azur. Yet while the French Riviera's coasts are lined with luxury resorts and superyachts, on Normandy's shores you're more likely to encounter the ghostly detritus of World War II – reminders of the D-day arrival of more than 150,000 Allied soldiers in 1944. Inland, dairies and apple orchards anchor the region's home-grown and unpretentious air.
That's not to say Normandy hasn't found favour with the fashionable crowds. In the early 1900s, Deauville, a seaside resort on the region's Côte Fleurie, was the consummate weekend getaway – so much so that Parisians dubbed it the 21st arrondissement. Grand hotel-casinos like the Hôtel Normandy (today the Hôtel Barrière Le Normandy Deauville), with its traditional Norman architecture and golden beachfront, welcomed celebrities and socialites. In 1913, Coco Chanel opened a boutique in Deauville – her first store outside of Paris. The nearby town of Honfleur, meanwhile, was an epicentre of French impressionism, drawing Eugène Boudin, Claude Monet, and other artists intent on portraying its picturesque vistas.
With Le Domaine d'Ablon, Delaune has managed to capture Normandy's glittering past and humble present in one place. The resort, which is located just a few miles south of Honfleur, is bespoke at every turn, from the intricate gardens planted only with white and blue flowers such as narcissus and crocus (Delaune is an avid gardener) to the eclectic interiors that combine reclaimed-timber beams, French art, and custom and antique furnishings.
Delaune is not the only one attempting to bring back a bit of Normandy's glamour. Last year, Honfleur's 17th-century farmhouse retreat Ferme Saint Siméon – whose cosy lounge still counts as the best purlieu for a glass of local Calvados – unveiled two newly renovated luxury suites. The larger rooms offer such modern touches as Bang & Olufsen speakers and aromatherapy showers in addition to panoramic views of the Seine estuary. Farther south in the Côte d'Émeraude, Hotel Castelbrac opened in June 2015. Though technically in Brittany, the resort is located just 20 miles from the Normandy border – and closer to the northern region's famed island-city of Mont Saint-Michel than Deauville or Honfleur is. The 19th-century seaside villa turned hotel overlooks the Baie du Prieuré and features 25 guest rooms, a swimming pool, a spa, and an art deco–inspired bar with porthole windows framing the sea views.
Normandy's grandes dames are also making attempts to modernise. Last year, MGallery, the boutique branch of the French hotel chain Sofitel, debuted Les Cures Marines de Trouville, a 103-room spa retreat in Trouville-sur-Mer, near Deauville. The property is a renaissance of the seaside town's original palace hotel, Casino Municipal de Trouville, which, when it opened in 1912, was Europe's largest casino. Following a renovation by the French architect Jean-Philippe Nuel, the neoclassical structure is once again the centre of the Côte Fleurie's social scene, with slick black-and-white interiors, impressionist paintings, and double-height windows overlooking the Reine des Plages. Most impressive, however, is the restoration of the historical monument's seawater spa. Spread over nearly 27,000 square feet and decorated with black-and-white photos of 1930s-era bathing beauties, the Thalassa Sea & Spa honours Normandy's long-held ritual of seawater bathing with its saltwater swimming pools and seawater body-scrub treatments.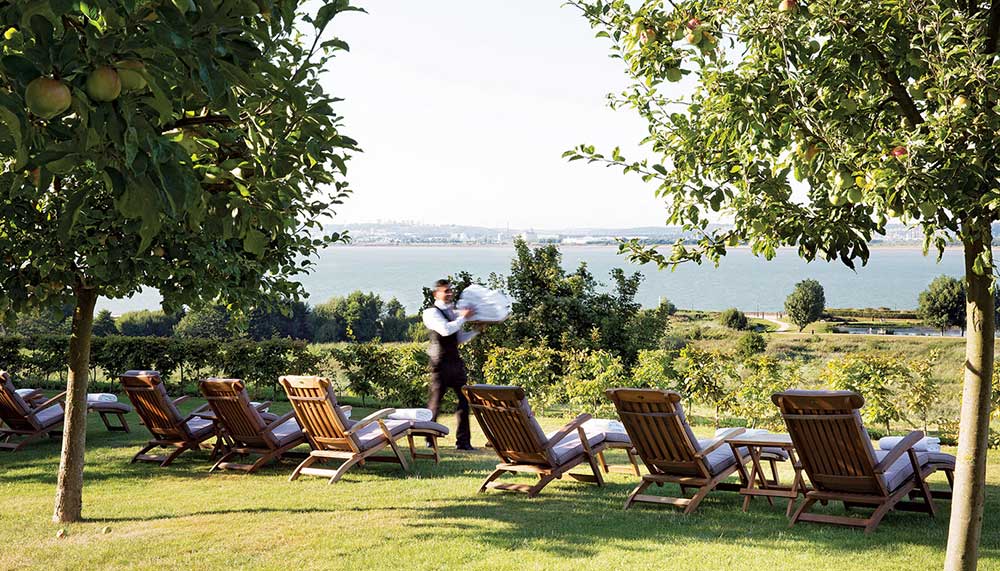 In Deauville, the circa-1913 Hôtel Barrière Le Royal Deauville recently debuted refurbished guest rooms with white-marble bathrooms and canopy beds. Its sister property, Hôtel Barrière Le Normandy, reopened in April after a 6-month renovation that updated the guest rooms and public areas and added a sepia-hued suite inspired by the 1966 French film A Man and a Woman (part of which was shot at the hotel). Le Normandy's restaurant, Belle Epoque, remains traditional to its core – a bit old-fashioned, even – featuring local turbot and John Dory and the region's famed cheeses, including Camembert, Pont l'Évêque, and Livarot.
For a different taste of old Normandy, Cyril Casabo, Le Royal's general manager, points me beyond his hotel's half-timbered walls to the cliffs of L'Étretat. Driving north from Deauville on my last day in the region, I pass through miles of farmland and sleepy villages before stopping at a stretch of vacant coastline where vistas of chalky white cliffs and arches and brilliant blue-green seas have been depicted by artists for centuries. But this quiet moment with the scenery is even more serene than a Monet. Waves crash into the craggy formations, and pebbles shift beneath my shoes as I wander up and down the coast alone.
Ferme Saint Siméon | Hotel Castelbrac | Hôtels Barrière | Le Domaine d'Ablon | Les Cures Marines de Trouville