Edomae sushi is the order of the day at this modest but tasteful dining outfit
For a little more than a year, Sushi Chiharu by Tamaya Dining has stayed under the radar, quietly serving patrons behind sliding wooden slatted doors away from the public eye. Currently headed by 21-year-old Issei Taba and 28-year-old Nakahara Saya, the 12-seater Japanese restaurant — hidden within Tamaya Dining at the far end of Cuppage Terrace (approaching from the Cuppage Road entrance) — casts the spotlight on Edomae sushi, which has earned its Osaka flagship a coveted mention in Michelin's Bib Gourmand for three consecutive years.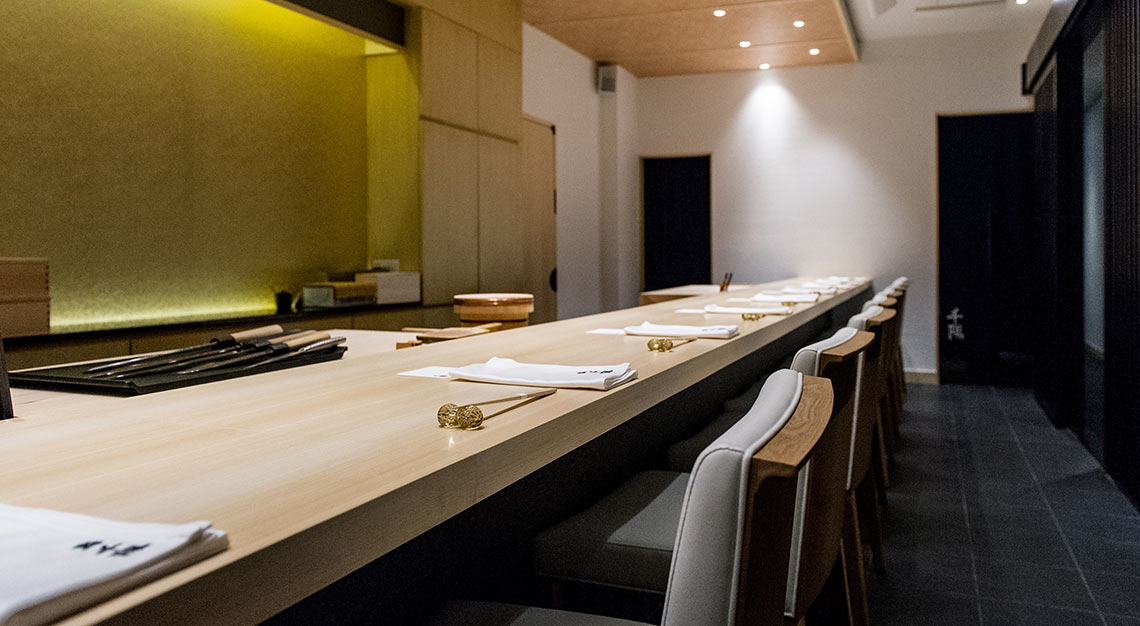 Chiharu, whose name means "a thousand suns", occupies a space so functional and minimal, the simplicity is almost austere, yet one barely feels uncomfortable, thanks to the warm, efficient, and courteous service offered by the chefs and sole hostess and floor staff Ami. They may not have the slickness or savoir faire of seasoned chefs and restaurateurs, but it is precisely this unadorned demeanour, bare and free of all affectation, that we find so refreshing and endearing.
Only open for dinner, the outfit offers an 18-course omakase menu, which, for its price of $140++, is considerably good value. But the meal is not as daunting as it sounds, given that a little starter or a piece of sushi counts as a course. And since Edomae sushi is the focus here, expect a fair bit of pickling, curing, and brining in the offerings.
My starter came in the form of a thoroughly likeable Satsuma-Imo, prepared by boiling and grating Japanese sweet potato to yield a puree, to which dashi is then added to lend greater flavour. This was quickly followed up with Shime Saba, a dish comprising slivers of mackerel cured in vinegar, whose firm and meaty texture and flavour is complimented by a topping of enoki mushroom, diced radish, and salmon roe, dressed with soy sauce and vinegar.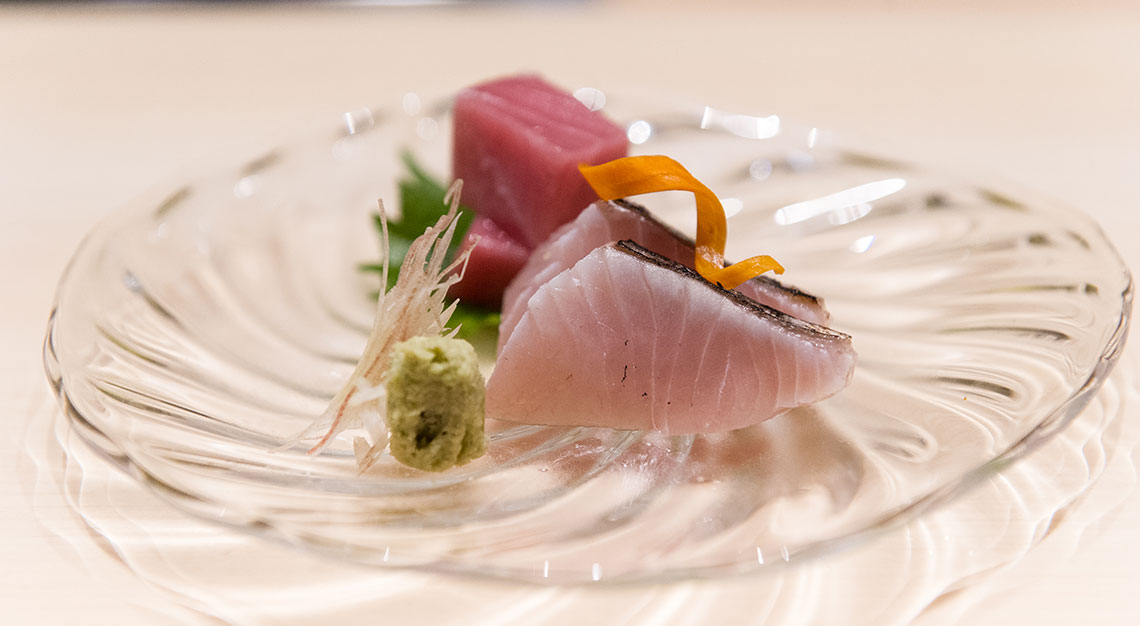 Awabi, which sees a piece of abalone cooked in its own stock perfumed with sake, was somewhat more forgettable, especially after we tucked into a platter of maguro and isaki — tuna and threeline grunt respectively — sided by wasabi, salt, and sudachi, a green citrus fruit that looks like a lime. The dish featured two cuts of grunt, one taken from the belly and another from the back, both torched to heighten its flavour. Tuna came in two variants, one raw and the other seared.
Next on the list is ayu. Sweetfish is best enjoyed this time of the year – during spawning season, its belly is packed full of roe. While ayu is commercially farmed, Chiharu opts for wild caught fish for better meat quality and flavour. In the kitchen, little is done to the fish in order to showcase its natural sweetness (hence its name) — the ayu is simply grilled with a generous amount of salt, especially around the fins to prevent them from charring (a technique called kesho-jio, which translates to cosmetic salt).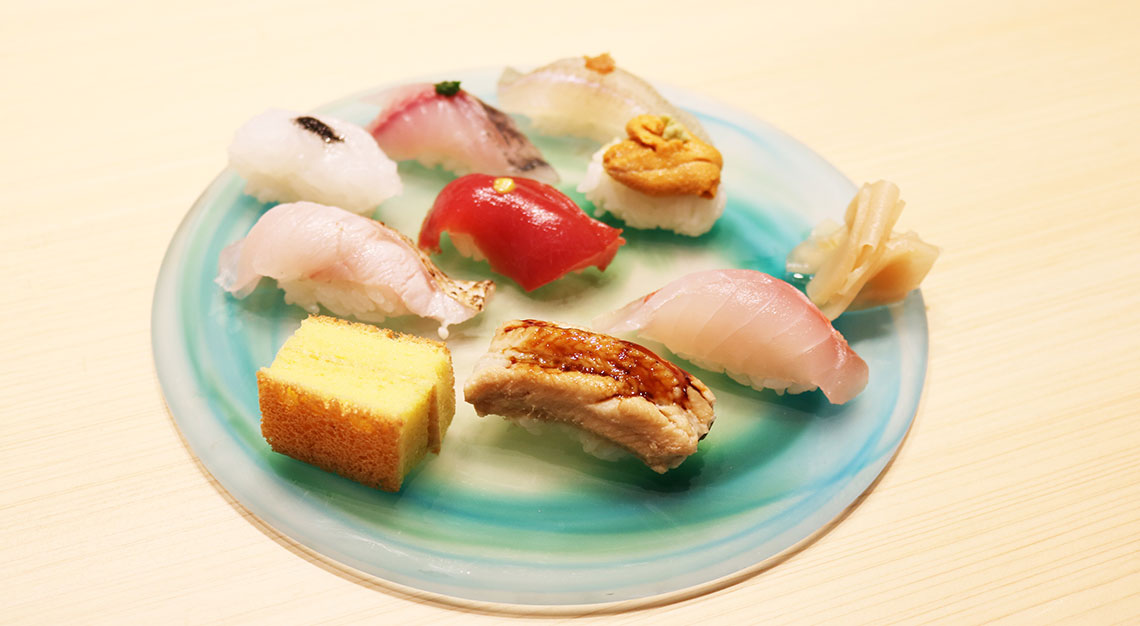 An assortment of sushi constitutes a major segment of the omakase meal, where the chefs push out varying offerings that typically begins with lighter-flavoured options before progressing on to richer ones. Highlights include Ika Somen, which sees very thinly sliced squid sushi topped with black squid ink salt; Konoshiro, comprising Japanese gizzard shad cured in vinegar and crowned with yuzu peel; and Kinmedai, consisting of red snapper torched to release its natural fats and flavour, then lightly salted and accentuated with a squeeze of sudachi.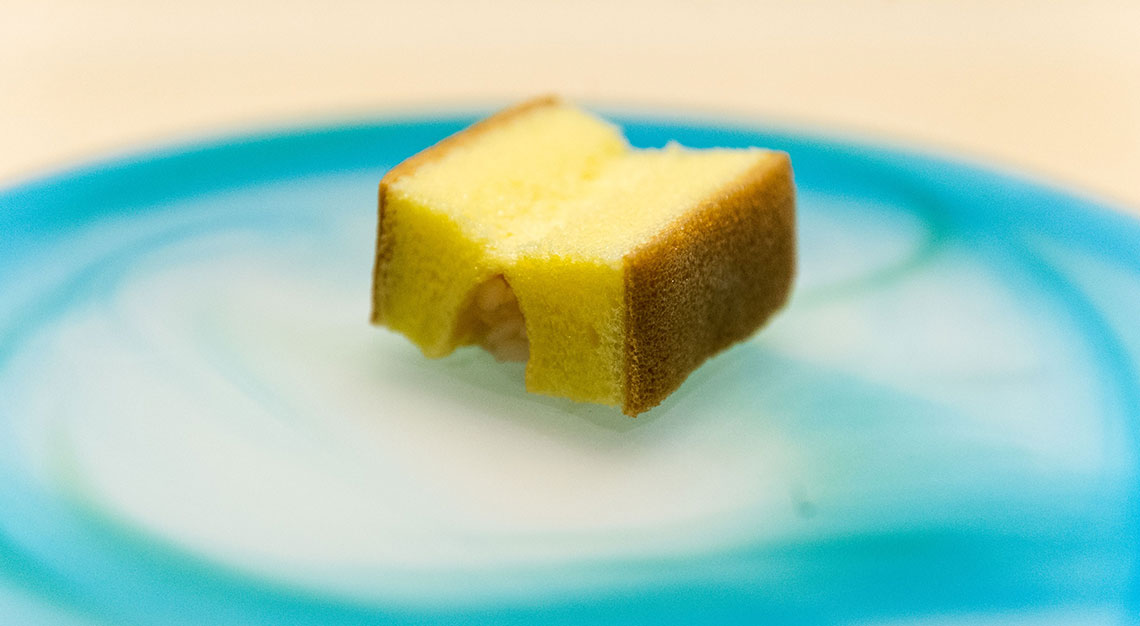 The conclusion of the meal brings its own highlights. Deserving of a special mention is the Kerayaki — made from locally sourced eggs, it's a fun and remarkably ingenious spin on the traditional tamago, but with the texture of a super fluffy sponge cake. Sometimes, a little bit of rice is sandwiched in between the kerayaki, presumably just to say, "Hey, look what I can do with this."
Dessert was a matcha pudding sweetened with rock sugar and generously laced with a house-made kuromitsu (black sugar), all of which was perfectly pleasant to the very last bite.
One thing you should know before making a reservation at Sushi Chiharu: Don't expect the best sushi or omakase in town. But where it lacks in the severe elegance and finesse that's characteristic of certain calibres of Japanese restaurants, Chiharu makes up for in its earnestness and honest-to-goodness dishes. That, perhaps, is where this restaurant of "a thousand suns" really shines.
Sushi Chiharu by Tamaya Dining
45A Cuppage Road
Singapore 229464
Tel: +65 9101 3407