Sample up to eight Japanese beef cuts here and have your meat seared in front of you by skilled chefs
Opened by the same folks behind one-Michelin star restaurant Sushi Kimura, The Gyu Bar sits amongst other numerous dining spots situated around the Mercure and Novotel hotels on Stevens Road. It has grown to become the go-to place for beef enthusiasts to indulge in an authentic yakinaku (grilled meat) experience, and with its new six-course ($68++) and ten-course ($138++) beef-centric omakase menus, we're expecting a lot more guests to flock the restaurant to satiate some serious meat cravings.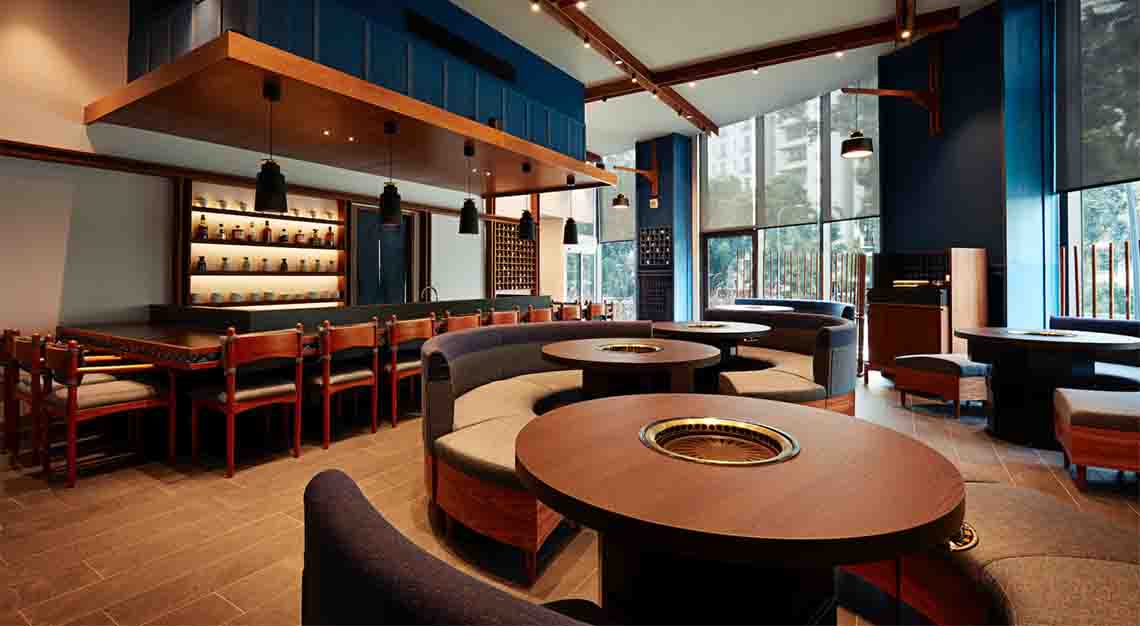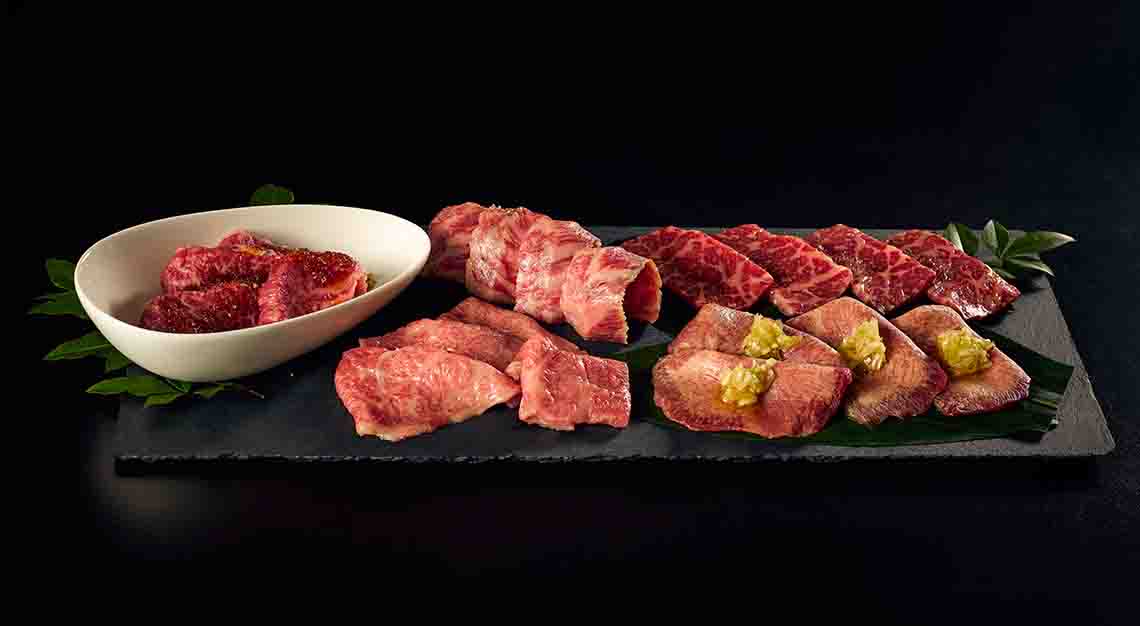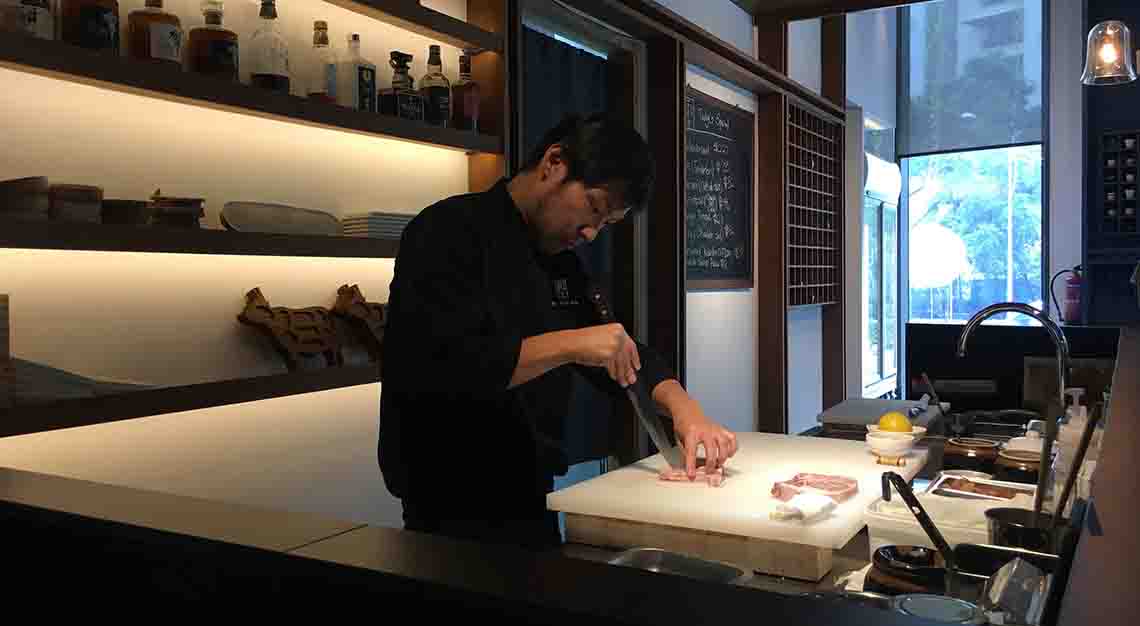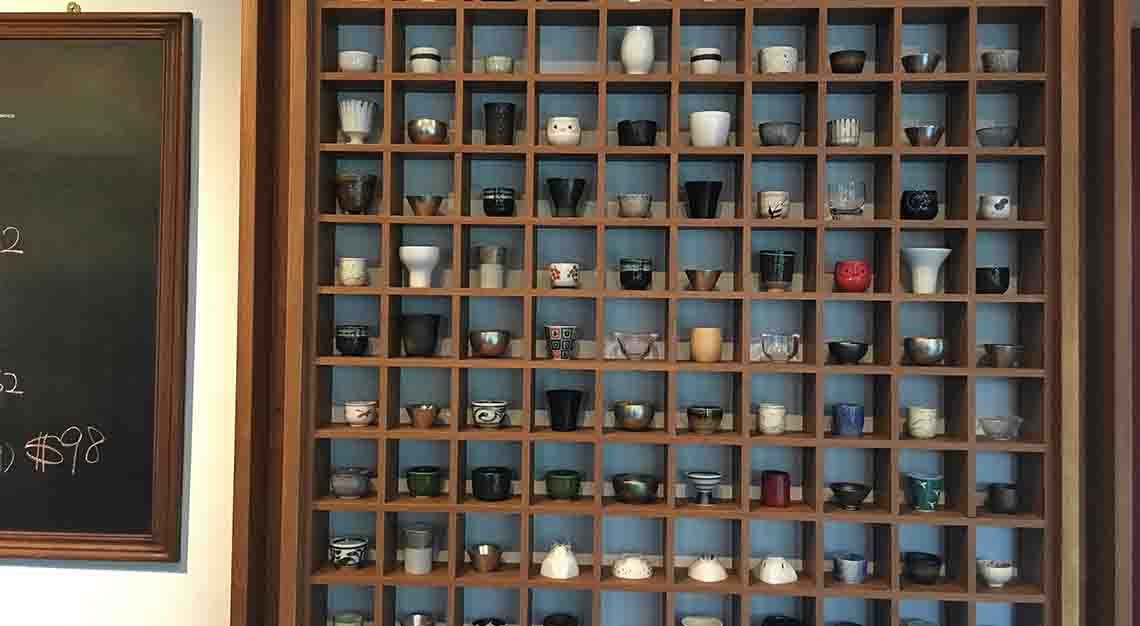 The Gyu Bar bears minimal yet modern interiors, where warm hues of blue add life to mellow wooden tables and sofas. No, you won't feel as though you've been transported to a typical Japanese street-side eatery, but the atmosphere here is inviting and unpretentious. As soon as you step into the restaurant, you'll be treated to a complimentary cup of organic sake, but not before you pick your own cup from a collection of 136 unique sake glasses – nostalgic collectibles amassed by founder Karen Cheng from her travels to Japan.
My dining companions and I were presented with a ten-course omakase menu. We didn't get to craft it, but this was for good reason: it left us no room to make poor culinary decisions and we sampled five the best cuts and dishes executive head chef Yamasaki Kenichiro had to offer. It must also be noted that the restaurant purchases only whole cows of the Kumamoto Wa-oh breed from Japan which are flown into Singapore chilled instead of frozen to preserve the flavours and textures of the meat. You can also grill your own meat, or leave the hard work to the chef.
Of the five cuts – wagyu tongue, top round, shoulder clod, rib eye and chuck rib – my favourite was the chuck rib. Cooked medium well, the slice of meat was juicy and tender – benefits of its deep marbling. The only correction it needed was a quick dash of salt from me.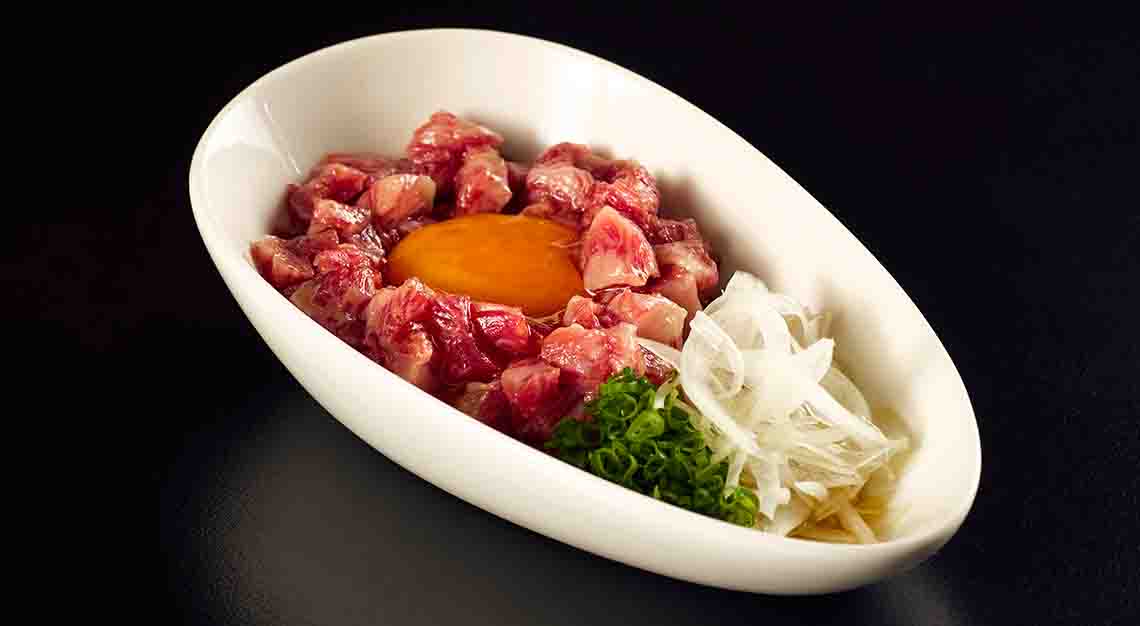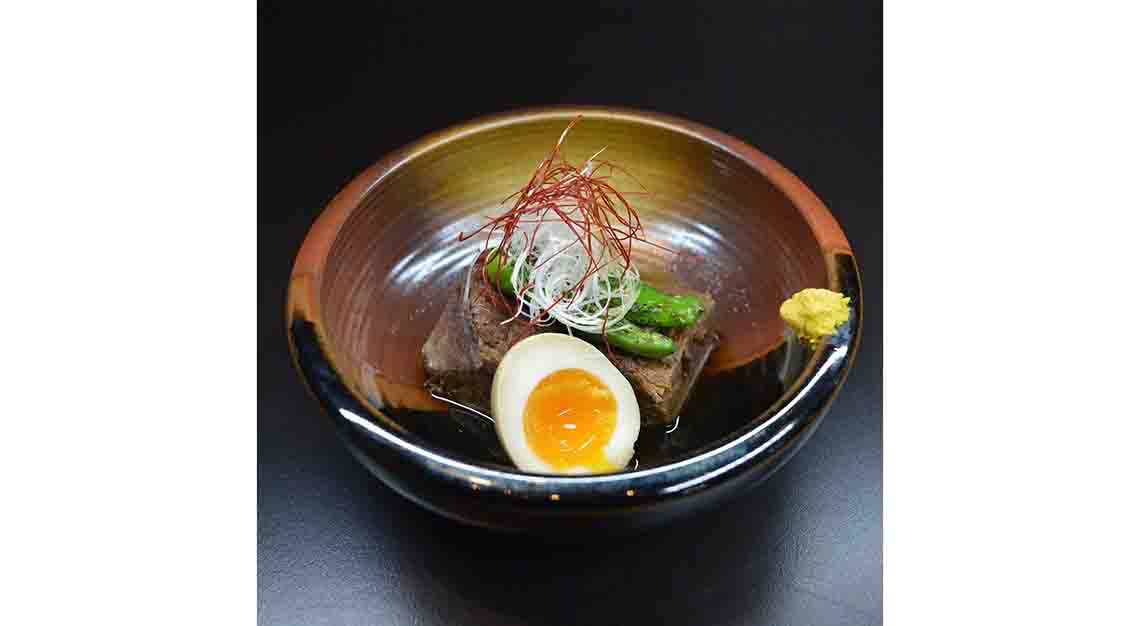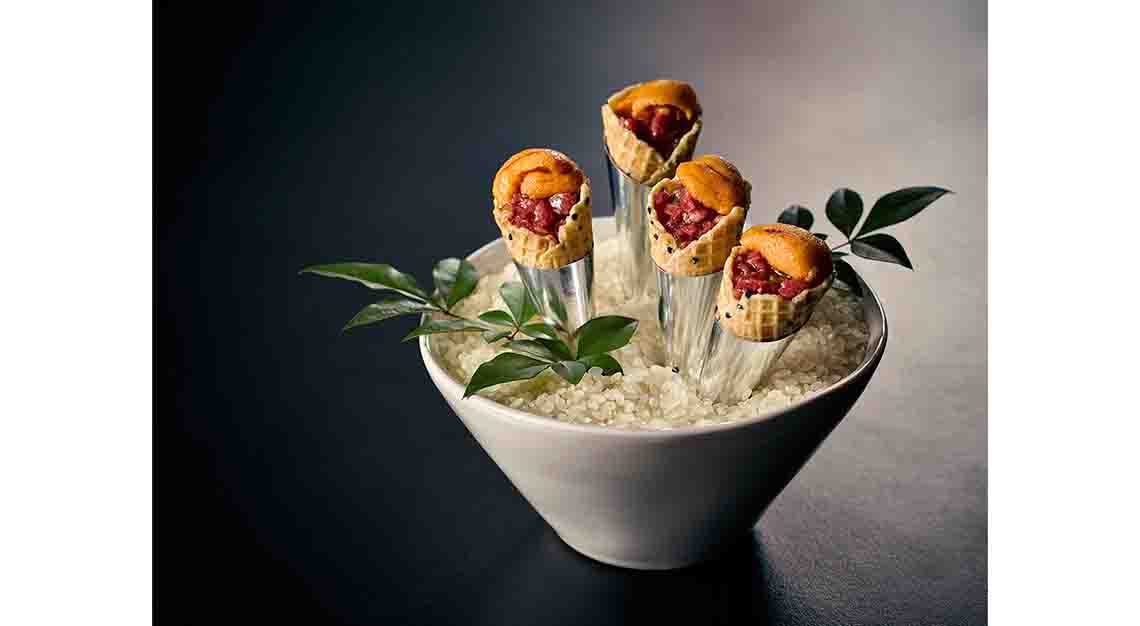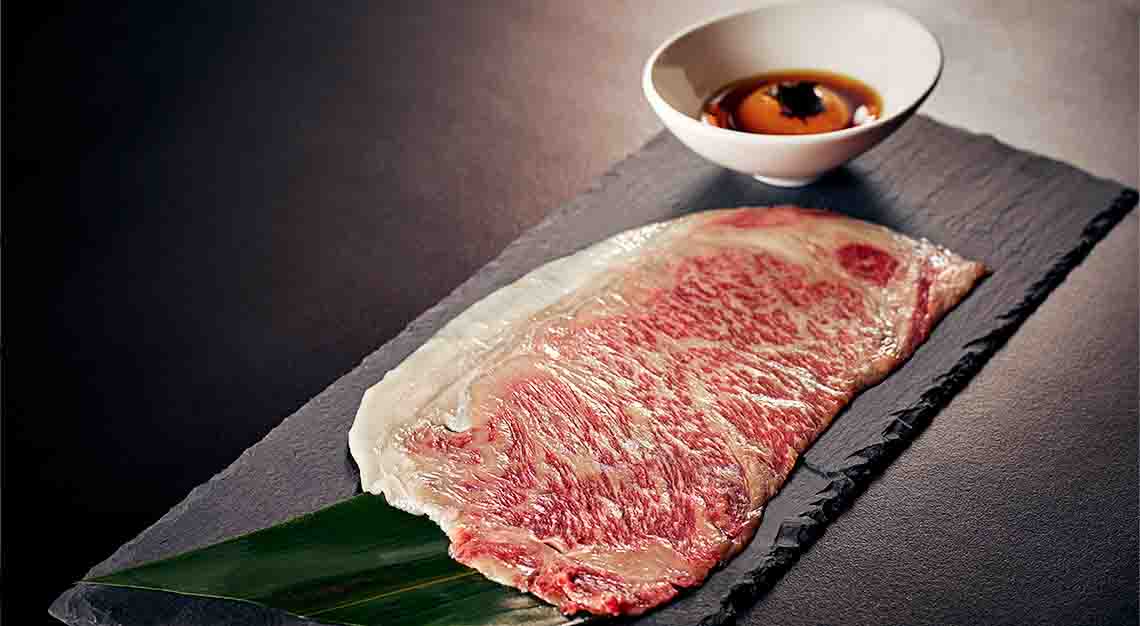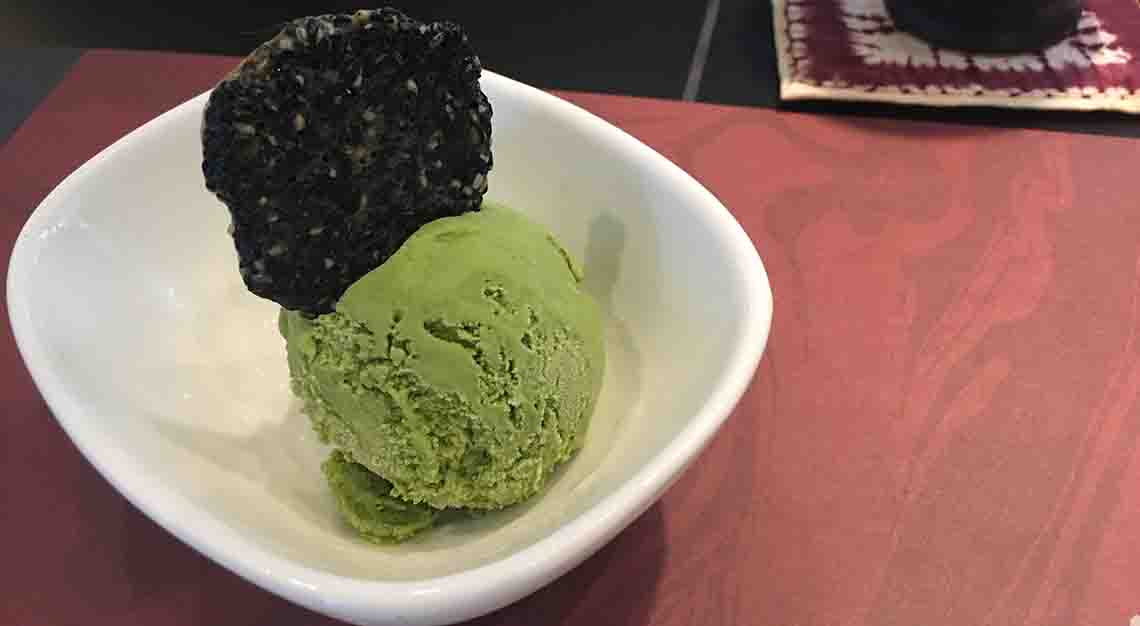 The wagyu tongue had a tough texture that I didn't particularly enjoy, but the sesame, soy-based sauce it was marinated is worth a mention, thanks to its sweet, smoky punch. Offering a much gentler chew was the top round, retrieved from the rear leg of the cow. The meat was coated in a spicy sweet garlic chili sauce, but this, thankfully, didn't end up muffling the natural flavours of the meat.
What got our taste buds crackling was the Uni Yukke Cone, the house signature that packs fresh Japanese Uni and beef tartare into a crispy waffle cone. The idea of melding two raw ingredients into a cone didn't excite me initially, but the rawness of the uni and beef was pleasantly mellowed by the crumbliness of the cone. The uni was also delicate and almost creamy on the palate.
Ultimately stealing the show was the Yaki Shabu, where a thin slice of sirloin was served alongside a truffle egg yolk dip and rolled sushi rice. For maximum gratification, stir the truffle and egg yolk well before drenching the meat into the rich, creamy mixture. I thoroughly enjoyed the little bursts of flavours here, well complemented by the sirloin's buttery effect on my palate. Tip: don't leave your little morsel of sushi rice unattended – soak it in the remaining gooey egg sauce before devouring it.
The beef marathon ended with a much-needed palate cleanser: a refreshing matcha ice cream sprinkled with shavings of Japanese brown sugar and a thin piece of black sesame cracker. For sure, I walked out of The Gyu Bar knowing that most of my meat cravings had been satiated. It won't be long before I make a return trip, perhaps this time with my other meat-loving pals, firing the evening away at our own grill.
The Gyu Bar
#01-08
30 Stevens Road
Singapore 257840