The launch of our Thought Leaders community in 2019 is a continuation of Robb Report's raison d'etre, defining an audience composed of individuals with an appreciation for life's many facets. Our role as a luxury resource affords us the privilege of curating unique luxury lifestyle spheres for our Thought Leaders, whose worldly outlook marks them as true connoisseurs.
We have come to recognise and value the profound depth of wisdom – and the boundless well of optimism – that emanates from these personalities. Most heartening of all is the sense of camaraderie and important life lessons shared by members of this select grouping. Even in the pale light of precipitous lockdowns and social distancing, our regular communiques with the Thought Leaders have enabled a continual loop of positive updates, including career breakthroughs and business insights by fellow Thought Leaders, a most welcome break from the endless news cycle of global events.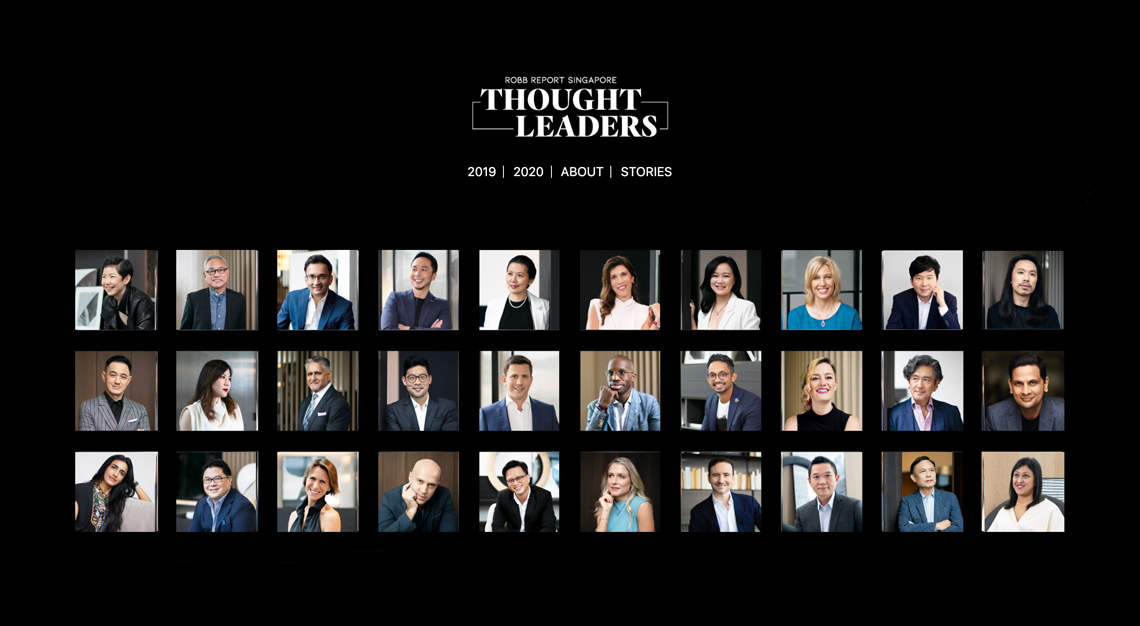 This year, we are proud to add 30 luminaries to the list, all of whom are introduced on the pages to come. Our Thought Leaders are bona fide successes in the roles they have defined for themselves, be it leading regional businesses in a time of adversity (Katerina Giannouka), driving positive results in climate issues (Koh Lian Pin) or tapping into a reservoir of strength to rebuild an entire business (Iqbal Jumabhoy).
They are a representation of triumph in their respective journeys, eschewing mediocrity and comfort in pursuit of the extraordinary, and focused on solving the problems of the present and future. Some are fairly grandiose, as in the case of David Wang's Helicap that aims to serve the underbanked and unbanked 300 million individuals in Southeast Asia, while others serve as a microcosm of legacy building, such as Michael Lints' fight against racism that will result in his co-produced documentary Broken Chains, which exposes systemic flaws and addresses policy gaps. Perhaps most poignantly, all of their journeys are personal, nurtured from a desire to do and be better even in the face of great odds. For 31-year-old Thought Leader Melissa Ng, a brush with cancer didn't stop her from pushing ahead with the launch of her app Bravely, which aims to help users manage their mental health. "I was so excited about the vision. Even with my life on the line, I couldn't let it go," she says.
Enjoy the great compilation of inspirational stories from our Thought Leaders because, as Howard Schultz, two-time chairman and CEO of Starbucks who turned it into the largest coffee-house chain in the world, aptly said: "Success is best when it is shared."