This unique piece has been launched at the very first Shanghai Watches & Wonders, happening until 13 September 2020
Here are the five stages of excitation you'll go through upon laying eyes on the Roger Dubuis Excalibur Superbia: shock, awe, disbelief, acceptance and desire. Indeed, it is the epitome of excess, and we can't help wondering if the manufacture was mad or possessed to launch such a timepiece? Not just during a pandemic, but at all.
But then again, if you knew anything about Roger Dubuis, it's always been on an obsessive quest for pleasure, freedom and hedonism. 'Dare to be rare', the brand's motto, has inspired it to rethink countless boundaries in the creation of timepieces that push our senses into overdrive mode.
So it is that the manufacture created the Excalibur Superbia. A piece-unique watch named after the most serious of the seven deadly sins. 'Superbia' is the Latin word for pride, which is connected to notions of vanity and risk-taking. An obsessive addiction to adrenaline. A firm belief in living larger than life and even laughing in the face of death.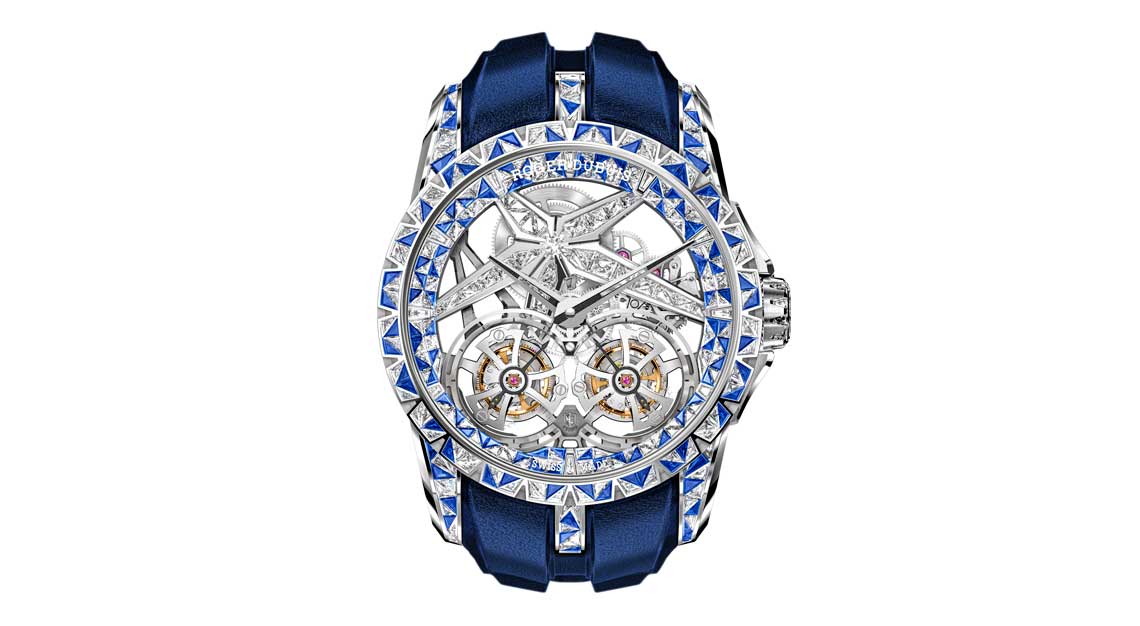 Sounds exactly like what watchmaking by Roger Dubuis is all about. And the Excalibur Superbia is a fitting tribute to the man who trusts that life is but a game that is for making the most of.
Ruled by pride
Likewise, Roger Dubuis is all about testing the limits and raising the stakes. Amazingly, the Excalibur Superbia is fully studded with tetrahedron-shaped white diamonds and blue sapphires. All over the case, bezel and lugs. The stones cover the entire watch in an invisible setting so you couldn't find a single claw even if you tried.
Most impressively, the watch's surfaces are not flat but curved, which makes this type of gem-setting a feat one might describe as impossible. Which means Roger Dubuis has achieved the impossible.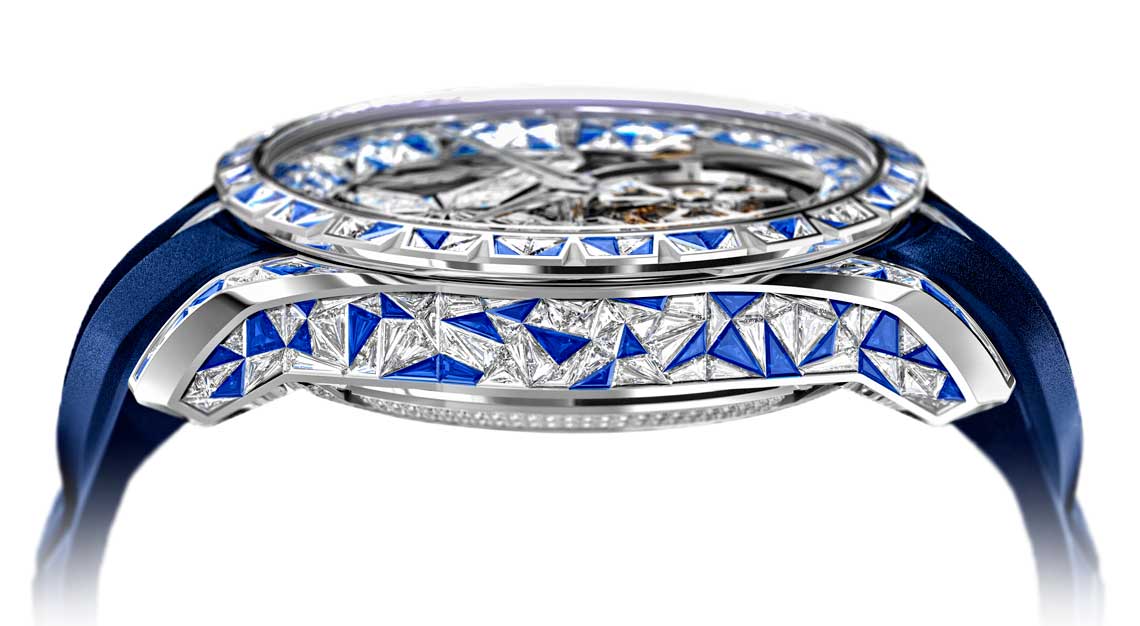 And which brings us back to our earlier question. Whether the manufacture was mad or possessed to design such an audacious case. For a masculine watch to boot. In fact, we imagine the Roger Dubuis product development team would have to be a little sadistic as well.
Because not only were the tetrahedron stones double challenging to invisible-set on a curved surface, each of the 238 diamonds and sapphire covering the case has a different shape. So the gem-setter needs to cut, shape and set all of them individually. Like doing the same thing but slightly differently 238 times.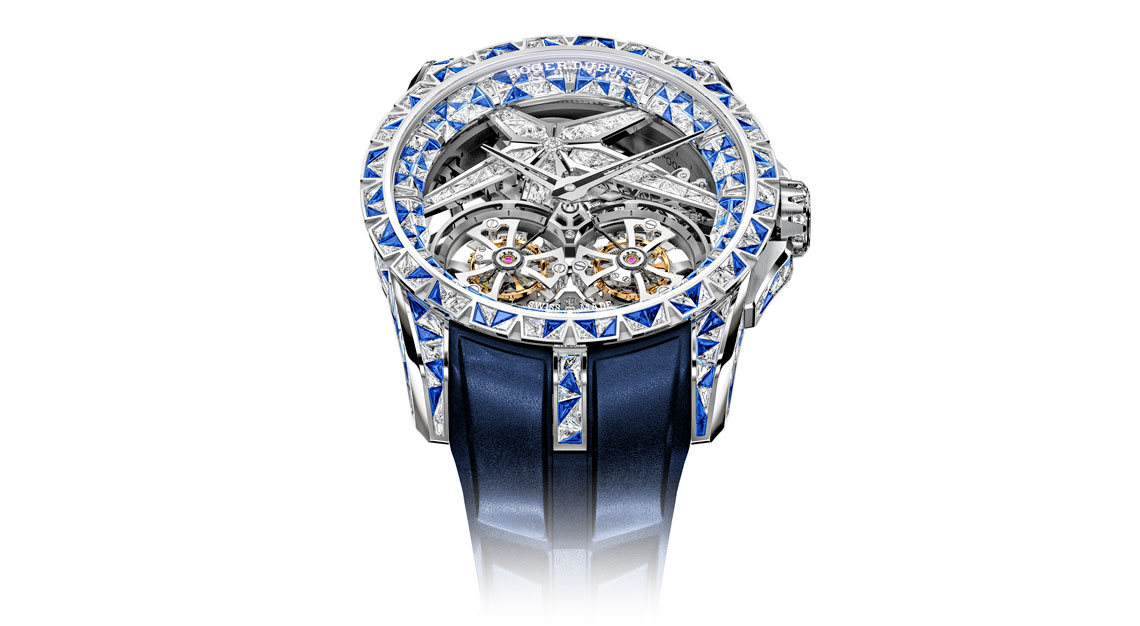 Each stone also has to be cut with groove lines in order to slide into the rails for the invisible setting. Regular baguette stones need two grooves on opposite sides of the stones. Tetrahedron stones, however, need two or three. And the irregularity of each stone makes the job exponentially harder than usual.
An obsessive quest
According to Roger Dubuis, each gem setter took an average of 30 minutes to carve a single groove. This corresponds to 900 hours for this operation alone on all three sides of the 600 diamonds, plus a further 420 hours to set the case and bezel. And that's excluding the time spent on stone-cutting.
Then there's the hair-pulling issue of meeting the tips of six or seven stones at one point, which cannot be anything other than a torture for the gem-setters. But they accomplished it nonetheless.
Product strategy director of Roger Dubuis, Gregory Bruttin, reveals to Robb Report Singapore that the gem setters, while not craftsmen of Roger Dubuis, work closely with the manufacture to create the Excalibur Superbia.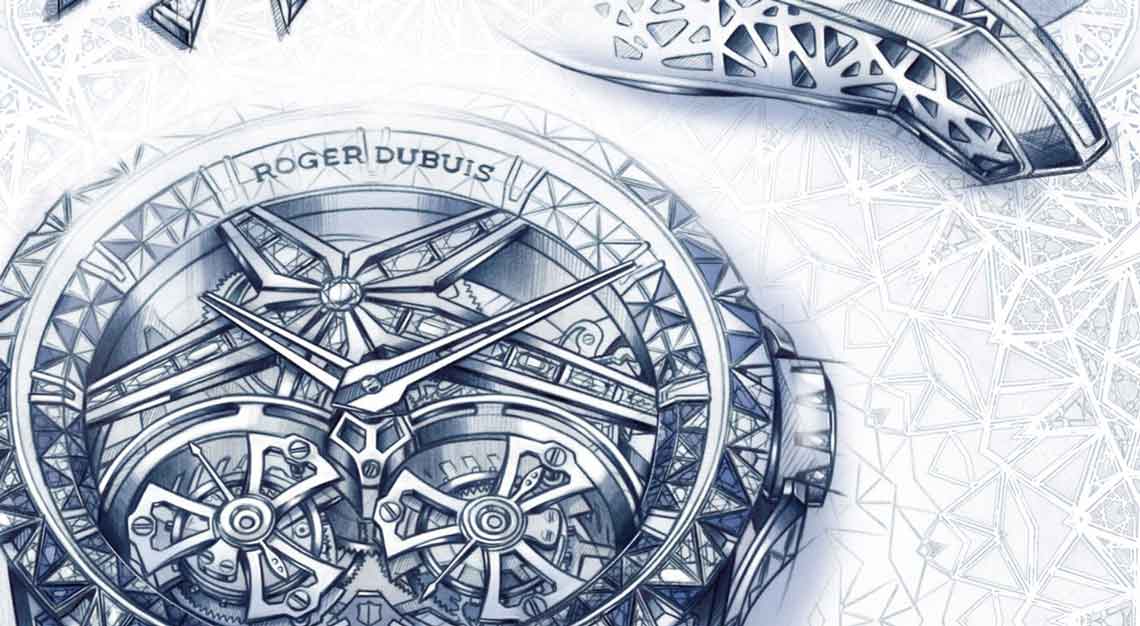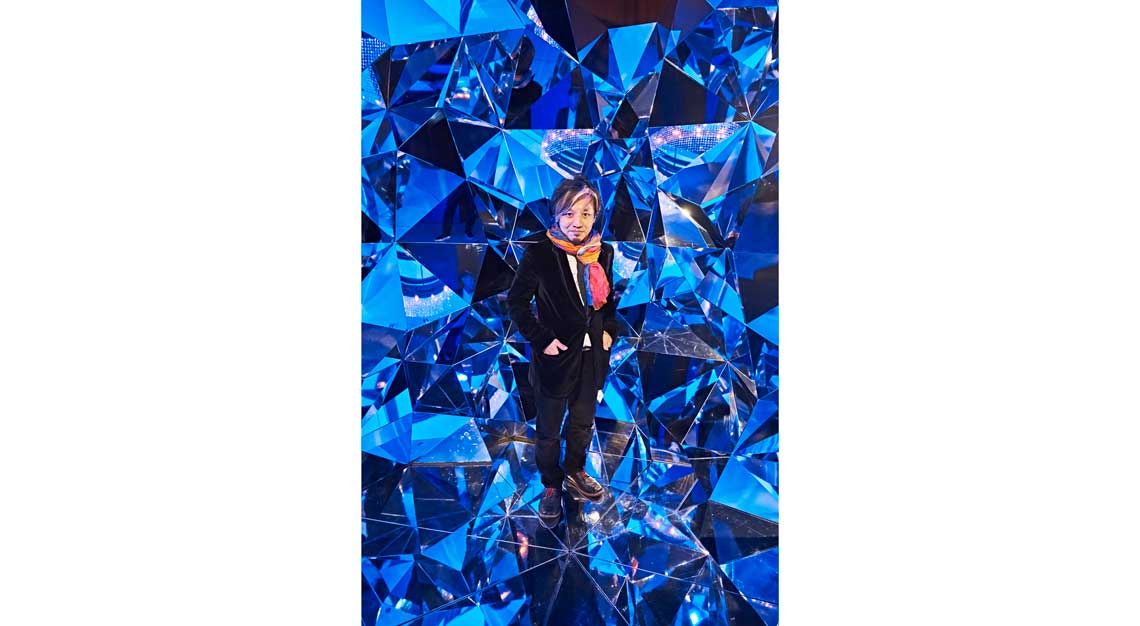 "We approached a number of Genevan gem specialists on this project and only one took up the challenge. You can imagine such a project requires not just incredible skillset but also a non-conformist mindset. The atelier is located no more than 10 kilometres from our manufacture in Geneva," says Bruttin.
Priced at S$1,255,000, it's an incredible feat of haute horlogerie. One that reflects the mad ambition within Roger Dubuis and how far it'll go to achieve it. After all, life is short. So why not fill it with pleasure, freedom and hedonism?
Adopting the grand tradition of memento mori pocket watches, the movement Calibre RD108SQ has a secret inscription of the words memento mori. It's a fitting message because to remember you must die is to remember you must live.