American artist Jan Larsen's art reflects the state of play in his native US, as Pandemic: What's Going On? picks at the frayed fabric of modern society
I'm trying to spend less time in front of a computer screen these days. But I am failing, abysmally.
Why then did I agree to spend an hour attending a virtual exhibition by an artist with whom I am not at all familiar, and that involved… staring into a computer screen?
Bottom line: because it was interesting. Not very rewarding, and kind of annoying at certain points, but interesting, nevertheless.
Jan Larsen could be accused of being a centrist activist, and yes, that does sound oxymoronic. He's clearly not comfortable with extremes, but his heart appears to be in the right place and he's clearly not a fan of Donald Trump or the current state of his native United States, so that automatically earns him a few brownie points.
So disgruntled does he appear to have become in fact, that he's upped sticks and moved to Singapore, where he finds the entrepreneurial spirit and the fact that most of us speak English important factors in his relocation brief at this juncture in his life and career.
Singapore's aspirational ethos, suggests Larsen, reminds him of the purity and spirit of the 'American Dream' – you remember, the one that helped put together the 'greatest country on Earth', but that has now turned into a series of anxiety-fuelled spectral nightmares as the country wrestles with several issues that threaten to tear it apart.
Is Larsen's turning his back on his country of origin a political statement? Clearly not, as it's obvious that he's still keen to have a poke and express his disaffection even from a remote location, albeit a comfortable one with great weather and some excellent dining experiences to be had.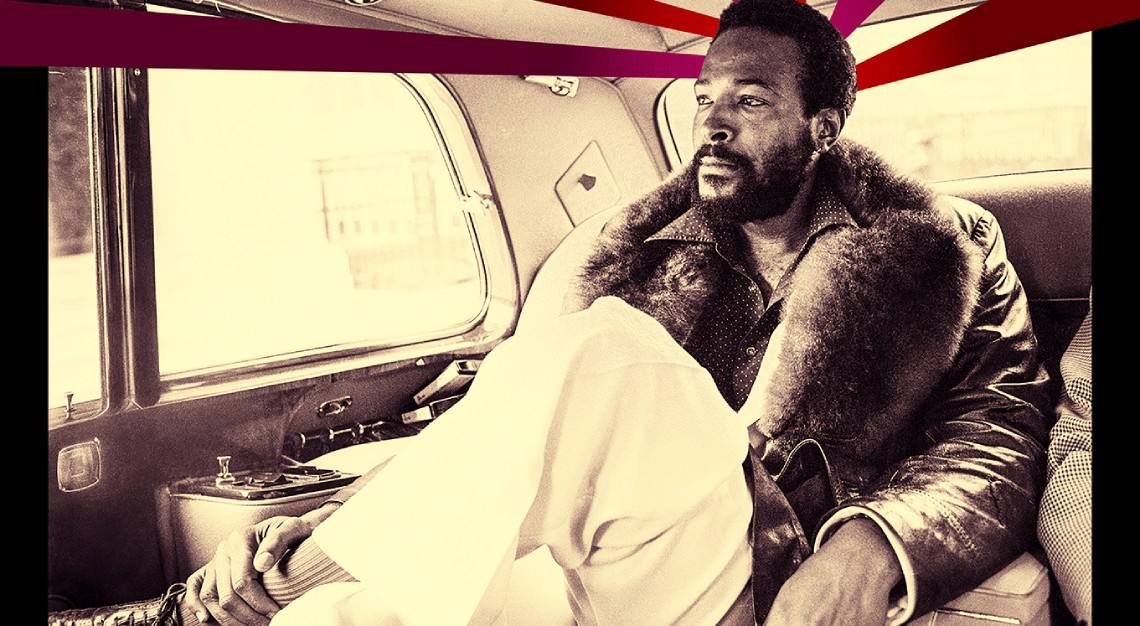 Zoom attendees were welcomed to the call with strains of Marvin Gaye's What's Going On, before meeting the moderator who explained the song's significance. It would be self-explanatory were it not for the fact that the story behind the song is more complex, nuanced and 'zeitgeist' than a simple interpretation would initially suggest.
One of Larsen's pieces, the 'beatification' of Gaye (same title as the song, What's Going On) is splendid – the 'dye-infused ultrasuede' treatment lending it both an earthy and other-earthly feel. Rays emanating from the singer-songwriter's neat coiffure give the image a messianic connotation that seems to resonate – both Marvin and Jesus died far too young.
Gaye has a slightly 'far off' look, as though in deep thought, contemplating his surroundings and raging (quietly) at the unfairness of it all. It's worth bearing in mind that Gaye changed as a person after the civil rights movement started having an impact in the late '60s, and following his brother's return (as another changed person) from the Vietnam War. That he is in the back of a chauffeur-driven limousine and dressed to the nines makes the image that much more interesting, and I'll let you know why as soon as I've figured it out.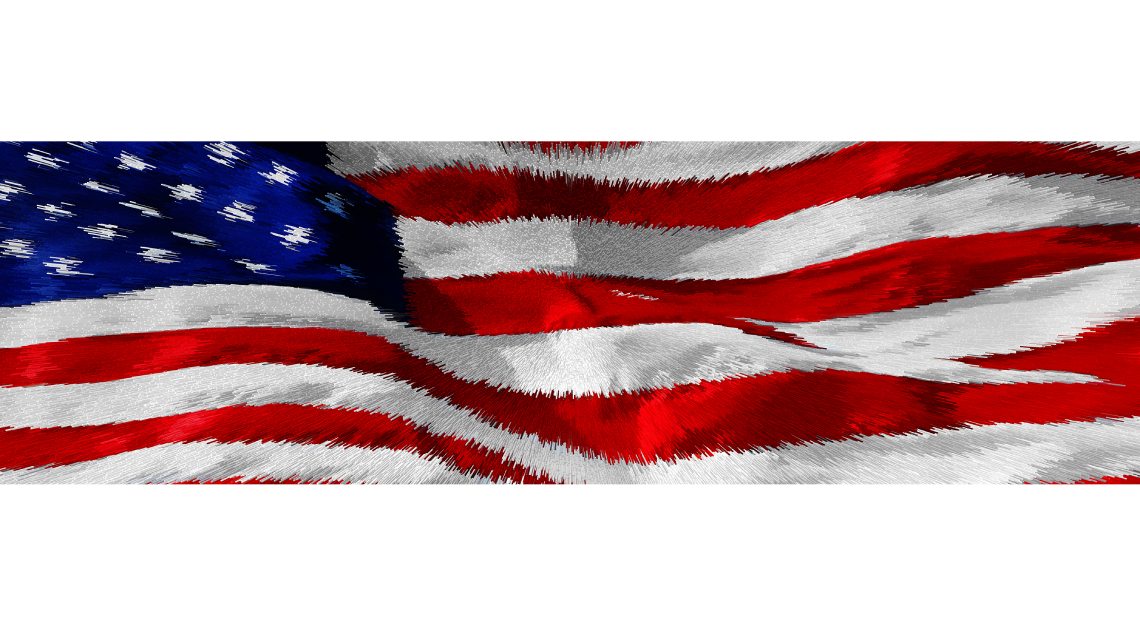 United Bytes (2017) also captivates, even if the tropes are a tad trite. Try saying that three times quickly. Executed in the immediate aftermath of the 2016 US elections, the chromogenic print under plexiglass has a texture that you can feel, even on a Zoom call. Part of Larsen's Pixelated Fabric series, the US flag has been extruded to reflect 'echo chambers' and 'feedback loops' facilitated by social media. Perhaps the suggestion here is that we see what we want to see; read what we want to read, and subject ourselves to opinions and mindsets that validate our own, and it's this lack of inclusivity and rejection of alternative viewpoints that Larsen seems to be railing against.
Taking the plaudits on the day though – and it's a work that I would dearly love to view in person – would have to be Synchrony 12 (Starry Night). It is Jackson Pollock-inspired, I would suggest, with a nod to Vincent van Gogh in the title and 'brush strokes', with touches of a Gustave Courbet sky or a Paul Cézanne landscape.
Larsen's Synchrony series bears witness to 'meditations on our interconnected world', and while connectivity is generally perceived as a good thing, there is a turbulence to this piece that suggests both a lack of control and the absence of understanding in terms of how it affects our lives. It's a maelstrom, and this is one of Larsen's more positive works.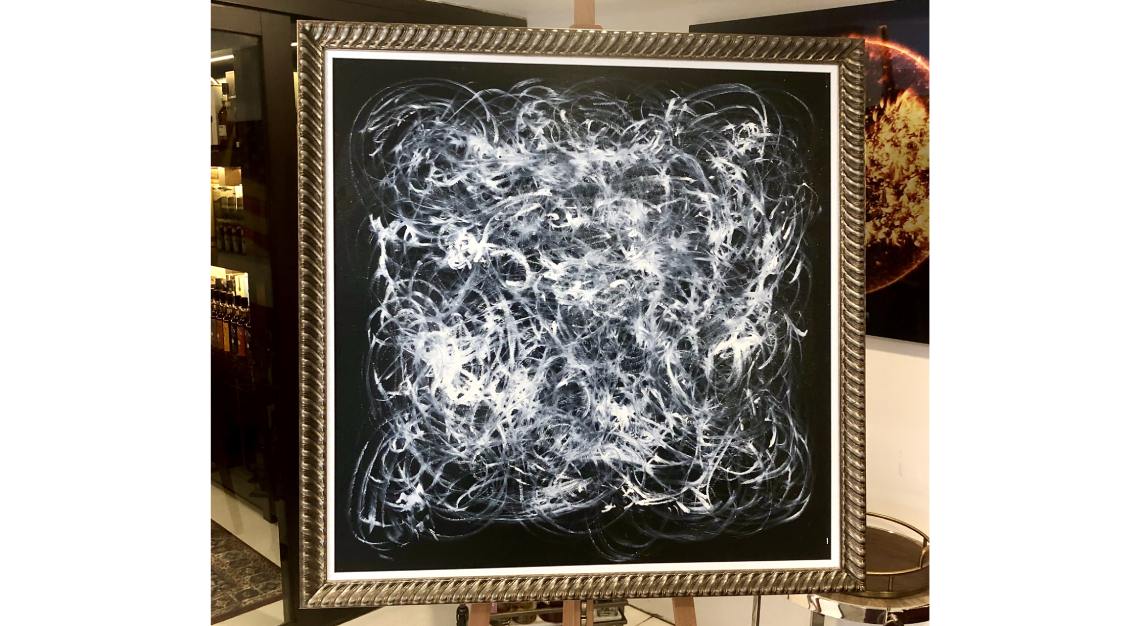 Mankind has always striven to create order out of chaos, and it's been a constant struggle. Technology has helped in so many aspects of our lives, but worked to the detriment of others. Perhaps Larsen is trying to suggest that we need to unravel a little bit of that in which we have become entwined (like reluctant flies in a worldwide spider's web) in order to understand the complexity of the connectedness that we now accept as part and parcel of our existences.
Focus (2017) – also part of the Pixelated Fabric series – features a wonderful gradation of colour and light to reflect the political divide in the US. The colours are Democratic blue and Republican red, with a lighter middle band of what appears to be gold-white. I may edit this once I visit the gallery.
This is all about polarisation, and a political system that is deliberately separating people on ideological grounds, negating the concept (and indeed the prospect) of moderation. In essence, it is Trump's political tactic – has been for almost four years – and is almost certain to be for the run up to the November 2020 election.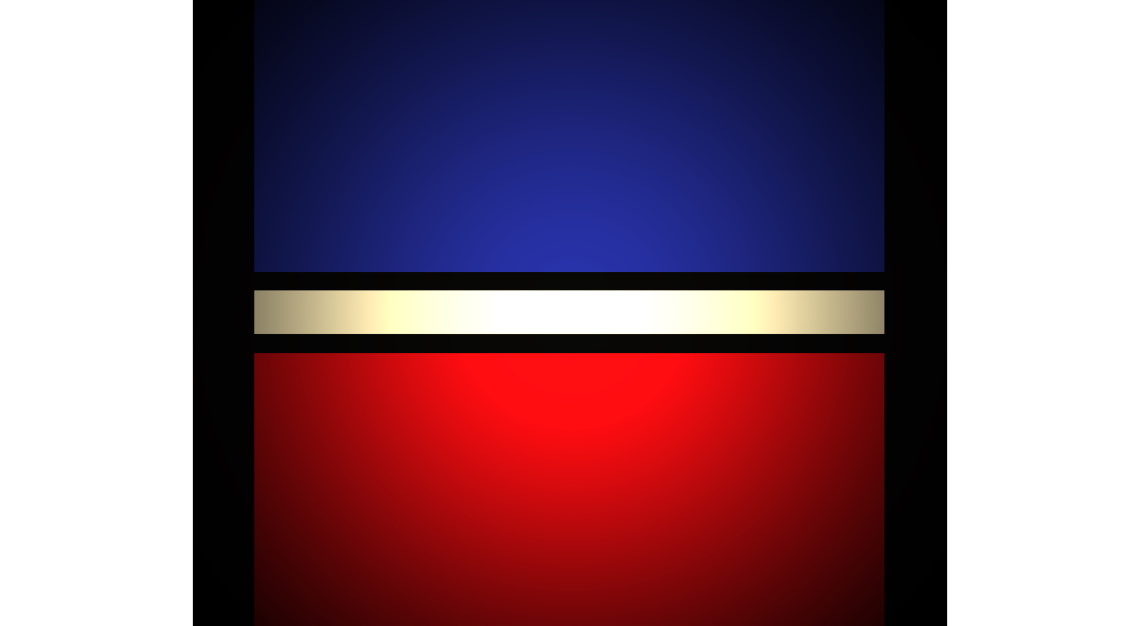 He's moved further to the 'right' than recent Republican presidents, while intimating that his counterparts across the aisle have been hurtling down the path towards the 'looney left'. His posturing has succeeded – at least among his loyal supporters (and even people who have teeth) – in turning the word 'socialism' into insidious invective; never to be spoken; a swear word; the 'reds under the beds' over and undertone.  

Larsen creates the abstract expression to suggest that the middle ground is where we need to be – a place of light, and maybe even enlightenment – because the further we deviate from that middle (common) ground, the darker everything becomes. As I said earlier, interesting.
Larsen's art may be a tad middlebrow, middle of the road and middle management, but then art doesn't absolutely have to be about angst, suffering and self-harm. I'm sure there were moments in which Pablo Picasso enjoyed his work on Guernica (1937) and Van Gogh must have been pretty proud of The Starry Night (1889) when the paint eventually dried.
Marvin Gaye's song changed the 'national conversation' in the US in the early '70s. I'm not entirely sure what conversations may be changed by Jan Larsen's current oeuvre, but it will certainly be good to chat about and well worth a proper viewing.
Until the gallery is open to the public, you can view the works online.