Robb Report's first annual ranking of the restaurant industry's most influential figures, as chosen by their peers
In the world of fine dining, where creativity and commerce intermingle heavily, power is fluid. The ability to influence others may come from economic might, but for many, vision and innovation are what imbue people with power. While there are numerous lists trying to pinpoint who in the industry holds sway over others, we felt the best way to truly understand influence in American fine dining was to go directly to professionals throughout the industry and ask them what they thought.
So we called on more than 100 people from across the restaurant world—from Michelin-starred chefs to James Beard Award-winning restaurateurs to prominent investors to media members to CEOs of restaurant tech platforms—to tell us who they believed were the most powerful among their peers. We asked voters to not define fine dining too narrowly—as just tasting menus and overly formal service—because for us fine dining is about ambition in the kitchen paired with attentive hospitality in the dining room. And we encouraged voters to be expansive in how they thought about who held power: Perhaps it's the chefs who most influence others creatively; the restaurateurs growing dining empires; the investors working behind the scenes to fund top talent; the real estate developers that can attract great restaurant groups; or the media figures who can drive or deter business with their opinions. Ultimately, we wanted to know who moves the needle creatively and economically.
With those parameters in mind, each voter was allowed to select 10 people they thought held the most power in the industry. In the instance of a voter believing a duo or trio's influence was inextricably linked, they were allowed to group them as one entry on their ballot. We sought gender, racial, age, and geographic diversity in our voting body to give the best possible snapshot of the restaurant world right now.
As ballots began to roll in, we saw that the old guard of the industry was still holding strong in the minds of many people, with the first few slots of numerous ballots looking surprisingly similar. And despite gender parity in our voting body, perceptions of who holds power in the industry still skews male, with the number of men on the list greatly outnumbering the women. But as voting continued, we could also see a new class of young, diverse leaders emerge, showing a bright future for fine dining.
Here are the 50 most powerful people in American fine dining for 2023.
50. Masa Takayama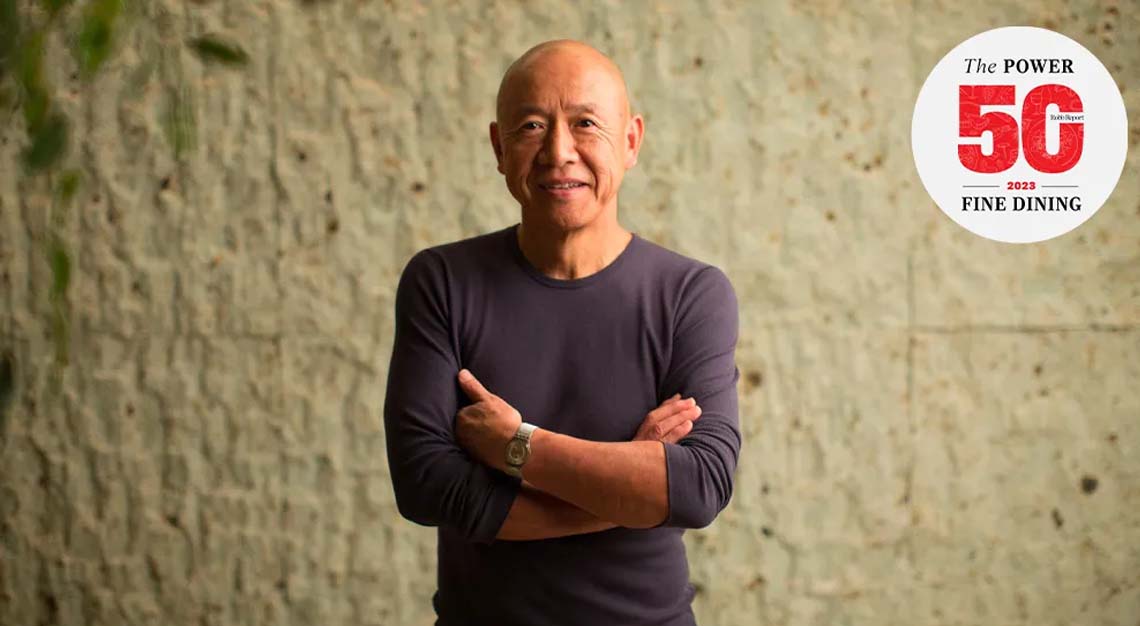 The only Michelin three-starred sushi chef in America, Masa Takayama is also serving one of America's most expensive tasting menus—his eponymous Masa charges US$750 per person for its omakase and US$950 per person for the Hinoki Counter Experience. Takayama made his name in Los Angeles, gaining a reputation for the exquisite meals he prepared with fish flown in straight from the Tsukiji fish market in Tokyo. In 2004, with the encouragement of Thomas Keller, he moved to New York City to create a new restaurant just off the southwest corner of Central Park. Masa became the ultimate sushi destination in the city and remains that way for many. He also oversees little sister Bar Masa and Kappo Masa alongside the gallerist Larry Gagosian. And now, throughout the city, alums of his restaurant have gone on to open some of best sushi experiences New York has to offer.
49. Missy Robbins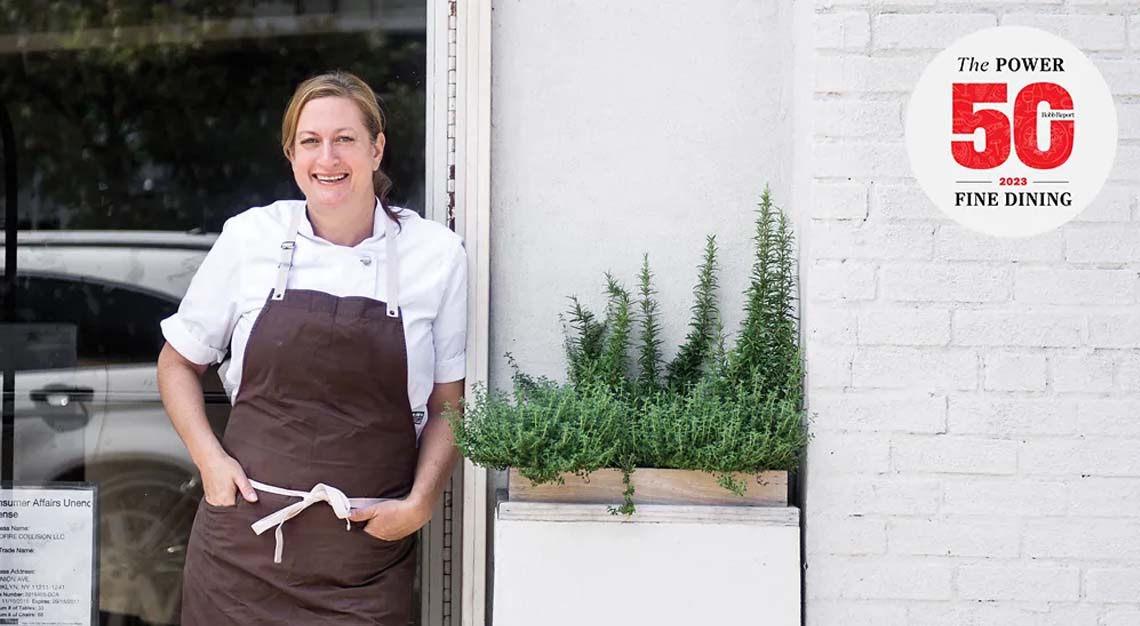 Missy Robbins's Misi and Lilia are frequently regarded as two of the best pasta joints in New York City, so good luck snagging a table at either. The winner of the James Beard Award for Best Chef: New York City in 2018, Robbins also appeared on the fourth season of Top Chef Masters (although her time on the show was cut short thanks to a badly injured finger). Her version of Italian cooking, honed under chef Tony Mantuano at Spiaggia in Chicago, has drawn all sorts of accolades for its focus on fresh, seasonal ingredients. And her empire continues to grow with the opening of Misi Pasta, a new restaurant and pasta shop—so you can take Robbins's influence into your own kitchen.
48. Ellen Yin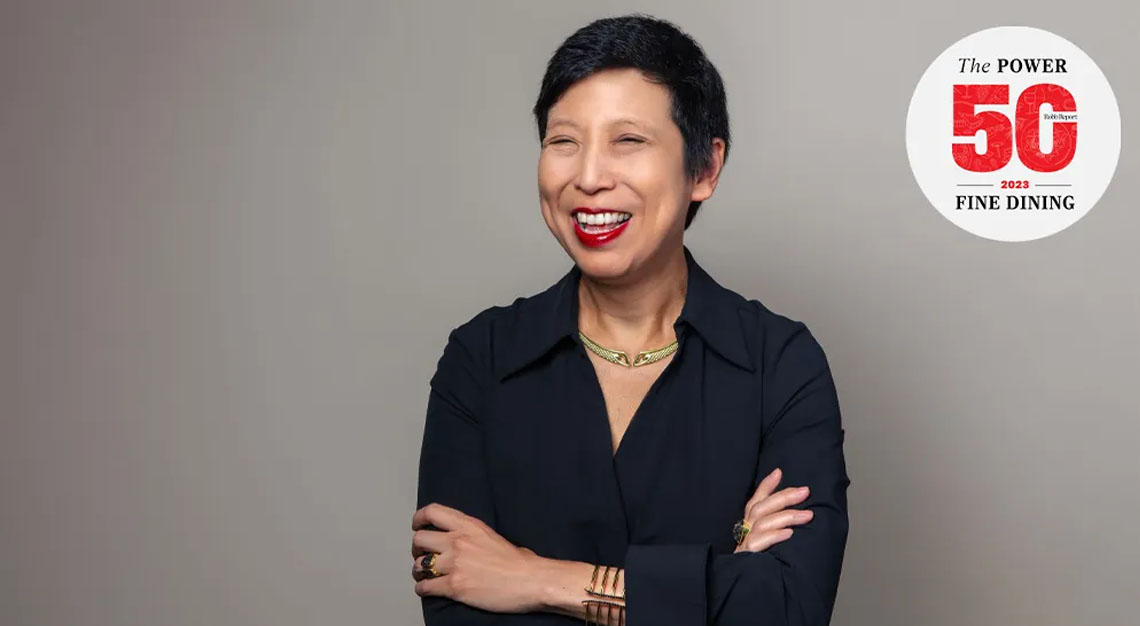 Ellen Yin is one of the most important names in Philly's restaurant scene. The woman behind High Street Hospitality Group has been a finalist for the Outstanding Restaurateur James Beard Award an impressive four times, and she finally won the honour this year. While perhaps best known as the owner and operator of spots such as Fork and High Street, Yin also spends her time giving back to the Philadelphia community. She's on the board of several local organisations and is a founding member of the Sisterly Love Collective, which works to highlight women in the food and beverage industry. Yin is perhaps one of the best examples of a person who embodies both eating good and doing good.
47. Jon Yao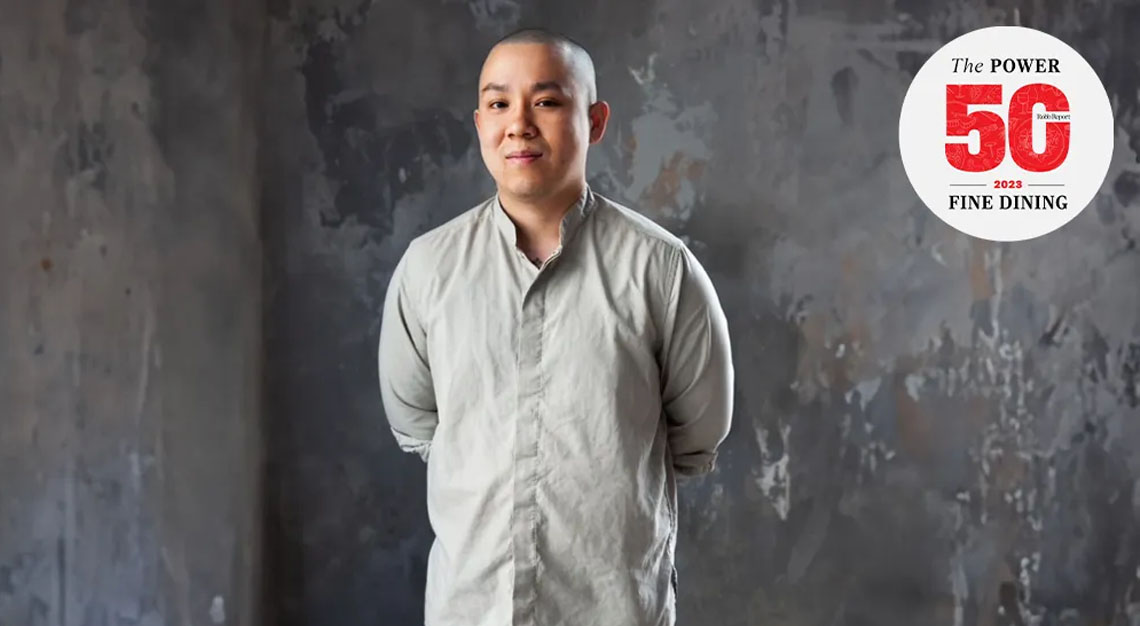 Looking at a landscape of fine dining dominated by French, Italian, and Japanese cuisine, Jon Yao wanted to see his Taiwanese heritage represented at the upper heights of gastronomy, too. His journey began in a cramped West Los Angeles strip mall where he served an affordable tasting menu that was remarkable enough to garner him a Michelin Star and title of the city's best restaurant by the Los Angeles Times—all while operating a tiny kitchen and not having a liquor licence. As years went on, he has further narrowed his focus to creative takes on Taiwanese fare he ate growing up in the San Gabriel Valley. And in 2022, Yao moved his restaurant to a more luxe space in downtown L.A. At Kato 2.0 he keeps pushing, making the kind of creative, expertly executed food he hopes will garner him more than the one Michelin star he has. At a time when many restaurants are moving away from tasting menus, he's part of a young guard still pushing for greatness with the form.
46. Mark and Brian Canlis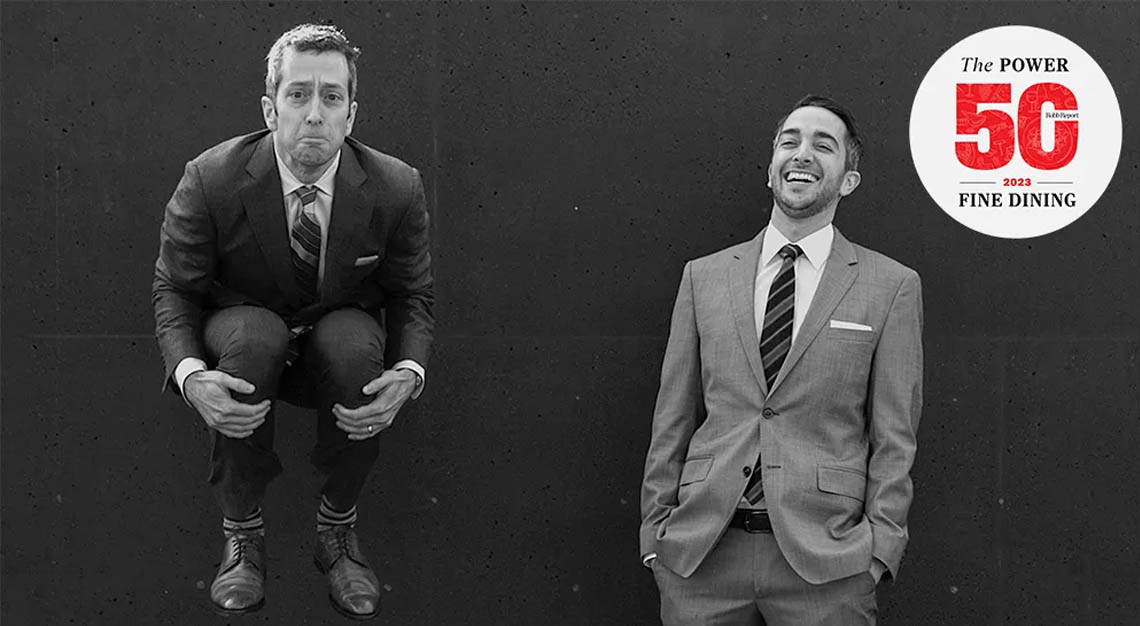 A Seattle fine-dining institution for 73 years, Canlis has been a family affair the entire time. In 2007, brothers Mark and Brian Canlis's parents handed them the reins, becoming the third generation to lead the restaurant. The duo has kept Canlis vital locally, while garnering respect throughout the country for its service and cuisine. Under the brothers' leadership, the restaurant has won Beard Awards for Outstanding Wine Service and Brady Williams (who led the kitchen for six years before opening his own restaurant Tomo) won for Best Chef: Northwest. And during the early months of Covid-19, their influence was evident in how quickly the restaurant was able to pivot to takeout experiences that helped keep it afloat, providing a model to other restaurants around the country.
45. Erick Williams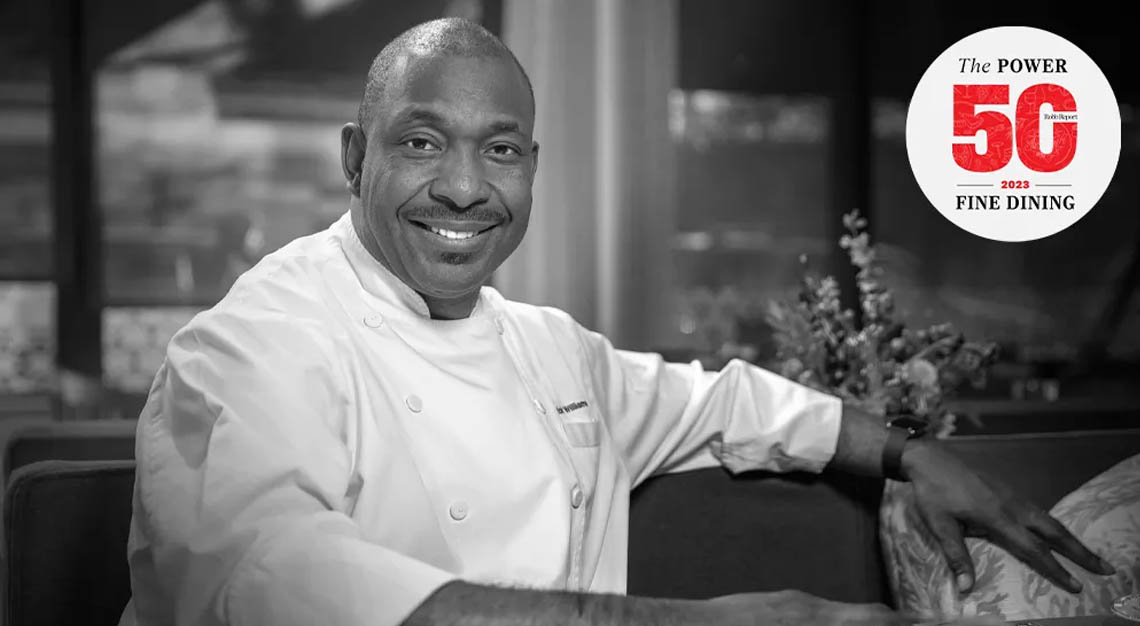 The first Black chef to win the James Beard Award for Best Chef: Great Lakes, Erick Williams has become known for the Southern fine-dining experience he serves up at Chicago's Virtue. Since that restaurant opened five years ago, Williams has been on a tear, launching three new concepts during the pandemic alone: Mustard Seed Kitchen, Daisy's Po-Boy and Tavern, and Top This Mac N' Cheese. The chef has used his skills in the kitchen to do good in his community, too, earning the Chicago mayor's Medal of Honour for feeding frontline workers during the Covid-19 crisis and being a leading voice in the social-justice movement.
44. Donald Link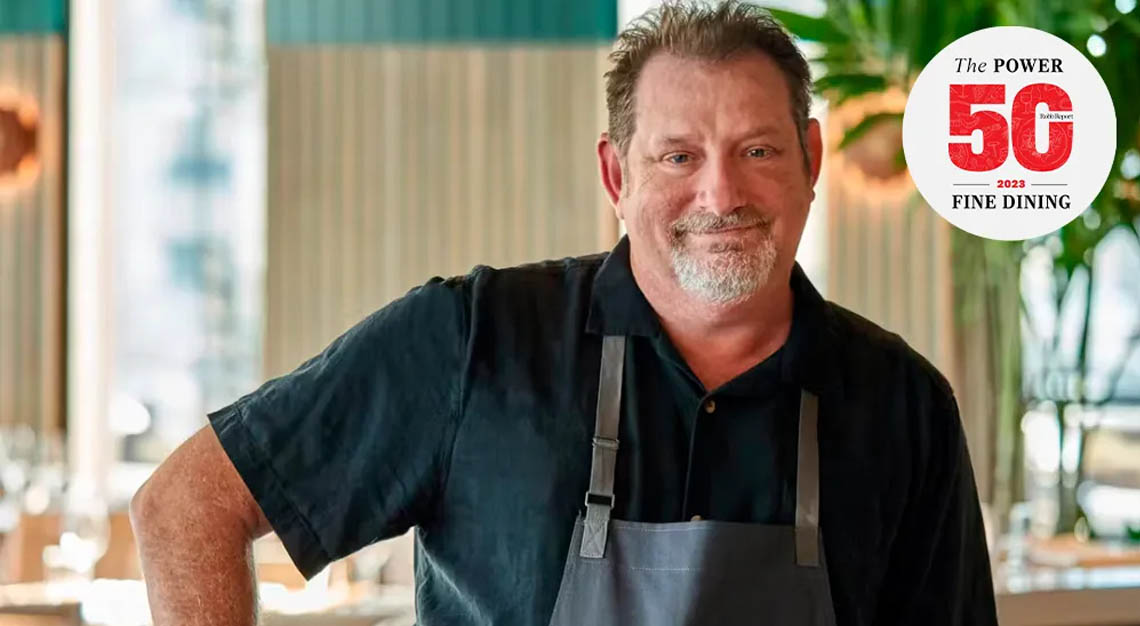 In 2000, Louisiana-born-and-bred chef Donald Link created Herbsaint in New Orleans, a restaurant that merged French and Southern fare with some Italian influence. From there he has built a Big Easy empire, with restaurants rooted in his Cajun heritage from his pork-filled Cochon to his seafood-focused Pêche. There's also his more casual Cochon Butcher and La Boulangerie bakery, as well has his rustic Italian spot Gianna and his steak-centric Chemin à la Mer, which is located inside the Four Seasons New Orleans. With his fellow chef and business partner Stephen Stryjewski, Link founded the Link Stryjewski Foundation, which supports education and job training for underprivileged youth in New Orleans, in 2015, raising more than US$1 million. That's part of the reason why his peers have looked to him for years not only for his expression of his culture and region through cooking, but also for how he has built his restaurant group. As James Beard Award–winning chef Ashley Christensen once told us, "He always has run his business in a way that is healthy and safe and inspires people to want to grow and still be with him."
43. William Bradley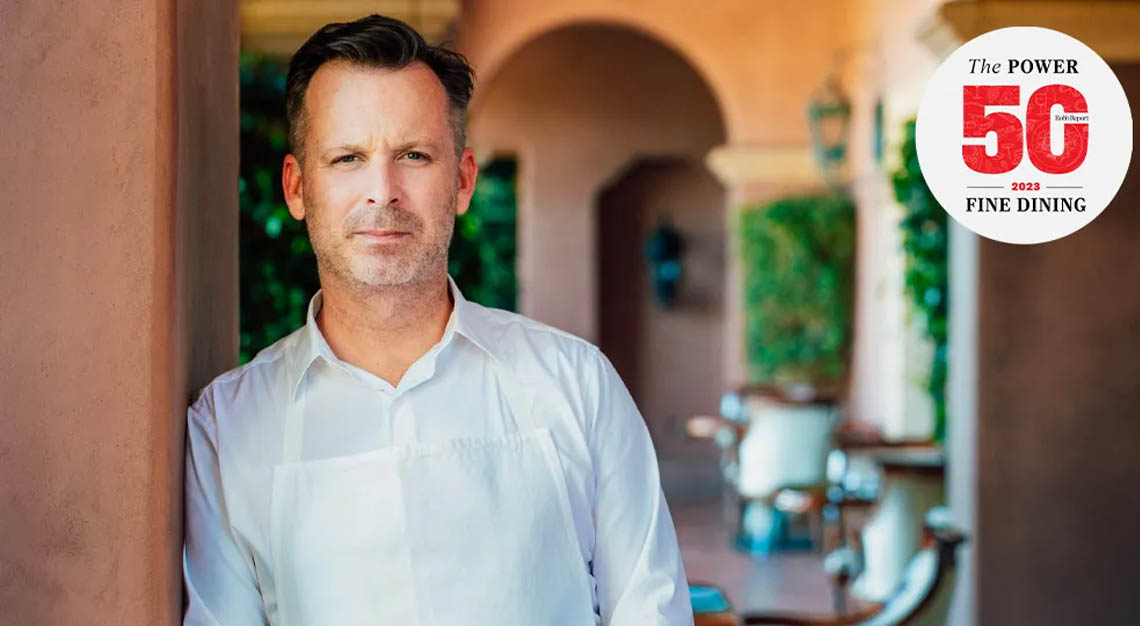 America's newest Michelin three-starred chef isn't an upstart. William Bradley has been leading the kitchen at San Diego's Addison since 2006, for many of those years preparing French-inspired fine dining with a California influence. When Michelin expanded to inspect the entirety of the state in 2019, he had a laser-like focus to have the guide bestow its highest honour on his restaurant. After Addison only received one in the first Golden State edition, he reset creatively, cooking a cuisine he calls "California Gastronomy," where Bradley delves into dishes inspired by the cultures across Southern California. His relentless pursuit has pushed him into the rarefied air of three Michelin stars, which only 12 restaurants in America currently hold.
42. Mashama Bailey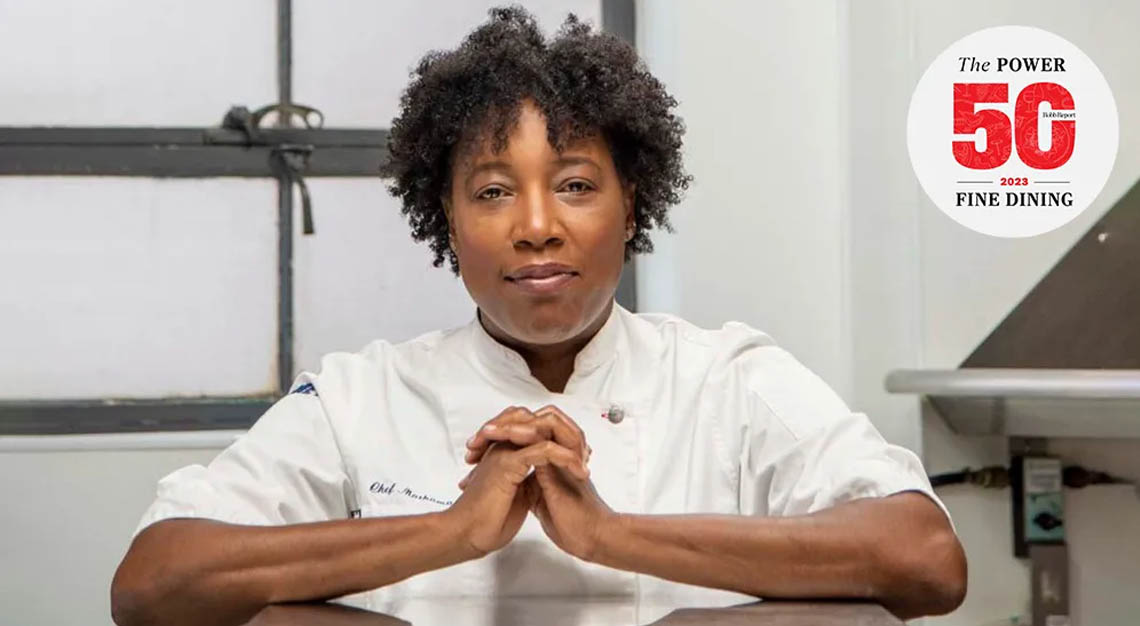 In Savannah, Ga., Mashama Bailey and her business partner Johno Morisano have converted an old Greyhound Station built in the Jim Crow South into the Grey. Inside, Bailey cooks what she calls Port City Southern food, a cuisine that's rooted in Southern ingredients but not closed off from the world that has passed through this old coastal town. Bailey draws on the meals she ate in her grandmother's Georgia kitchen, along with training in New York and France. She has channelled the likes of Edna Lewis and has gone deep into the terroir and ingredients of the land around her. The result is a trip through cultures—like grits topped with foie gras, quail with creole sauce, and the Lowcountry rice dish perloo with okra. And she has become a public face of Southern fare with her own MasterClass and an episode of Chef's Table devoted to her work. But she's not staying just in the Peach State: Bailey has expanded to Austin and will open a restaurant in Paris, too.
41. R.J. Melman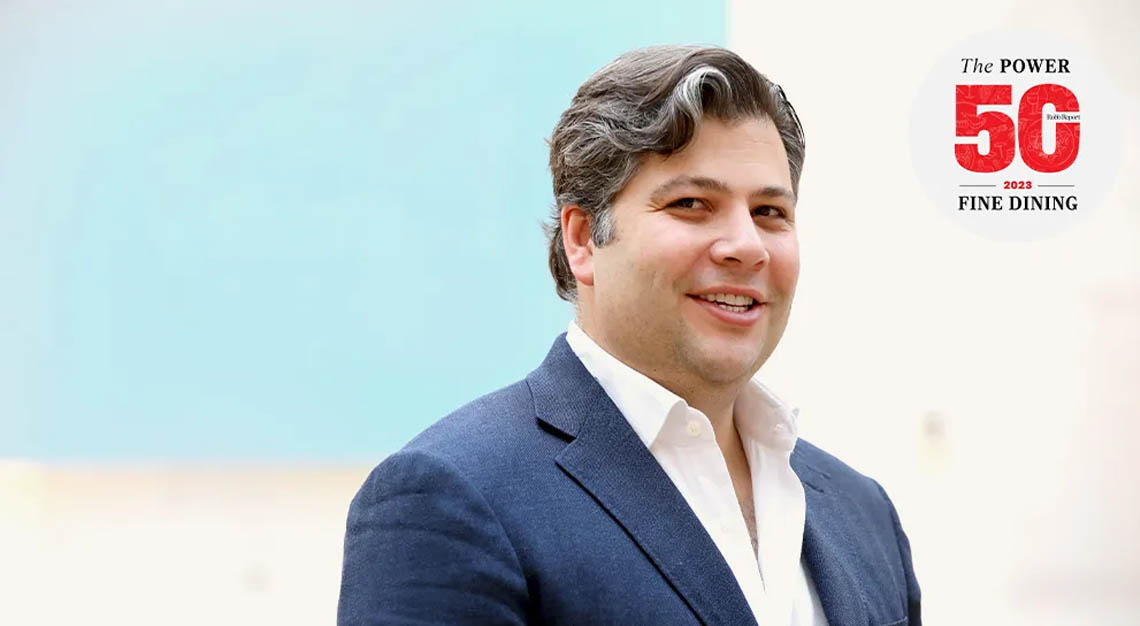 Chicago's largest restaurant group spans well beyond the borders of the Windy City, with R.J. Melman's Lettuce Entertain You currently operating more than 110 restaurants across America. The group has establishments ranging from a pizzeria in Santa Monica to a luxe 10-seat sushi bar in Chicago to a modern Italian restaurant in the nation's capital. The empire was founded by R.J.'s father, Rich, back in 1971, and R.J. assumed the presidency in 2017. The younger Melman has been behind more than 25 of the brand's 60 concepts, including RPM, the restaurant he founded with his siblings, Jerrod and Molly, and Bill and Giuliana Rancic. That eatery now encompasses RPM Italian in Chicago, Washington, D.C., and Las Vegas, as well as RPM Steak and RPM Seafood in the Windy City.
40. Bobby Stuckey
Oenophiles better take note of Bobby Stuckey: A master sommelier since 2004, he has been honoured with some of the most prestigious wine and hospitality awards, including numerous James Beard Award nominations and wins. Since 2004, he has been one of the biggest culinary names in Colorado, working with his partner, chef Lachlan Mackinnon-Patterson, to open the Michelin one-starred Frasca Food and Wine, Pizzeria Locale, Tavernetta, and Sunday Vinyl. The two also have the wine label Scarpetta Wine, which originally produced Friulano whites but has since expanded to several varietals. And when difficult times have struck the industry, Stuckey been unafraid to step into the breach. When the Court of Master Sommeliers had its cheating scandal and subsequent sexual harassment scandal, he was a voice for reform both times. And during Covid-19, he personally lobbied representatives and senators on behalf of independent restaurants to secure vital relief funds.
39. Curtis Duffy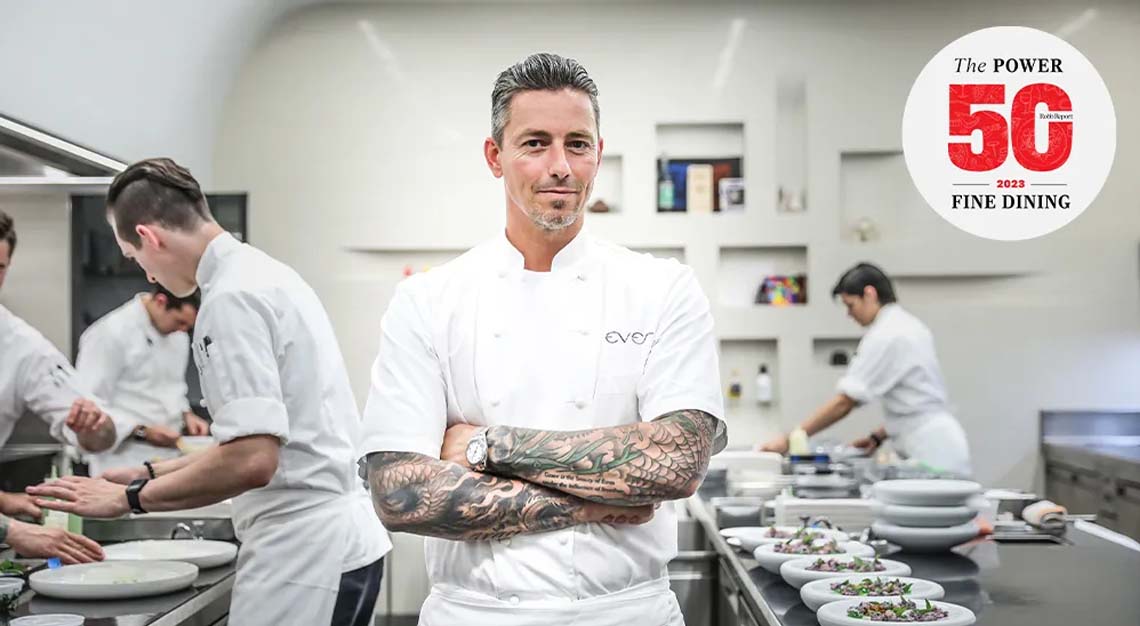 Chicago chef Curtis Duffy has a good deal of Michelin stars under his belt. Earlier in his career, at Avenues at the Peninsula Chicago, he earned two. There, he met Michael Muser, and the duo went on to open Grace, which received two Michelin stars in its first year and three stars every year from 2015 to 2018. After the dramatic ending of that restaurant, the pair opened Ever, which was honoured with two stars in the 2022 Michelin guide. And for fans of The Bear, the restaurant's dining room and kitchen may look familiar, since Ever served as the filming location and ne plus ultra of fine-dining restaurants on the hit FX show.
38. Marc Vetri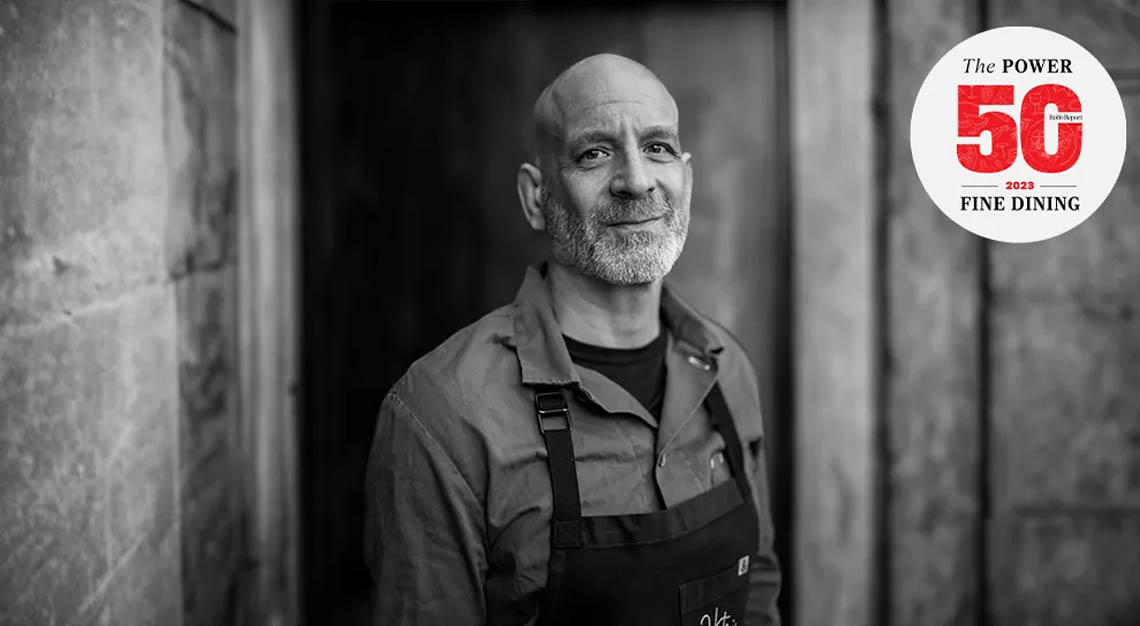 Marc Vetri may be one of the most prolific chefs in his hometown of Philadelphia. Back in 1998, he and his partner, Jeff Benjamin, opened the Italian restaurant Vetri Cucina, and since then the chef has expanded his reach throughout the city, the state, the nation, and even the planet. Back in 2015, Vetri surprised the food world when he sold a bulk of his restaurants to Urban Outfitters for a reported US$20 million. He was able to retain his flagship restaurant, and he has built back up again with several spots in far-reaching locations, including Las Vegas and Kyoto, Japan. Vetri Cucina, however, remains one of the chef's most lauded establishments, earning more than a dozen James Beard Award nominations over the years. The pizza and pasta aficionado has also published a whopping five cookbooks and leads the nutrition-focused Vetri Community Partnership.
37. César Ramirez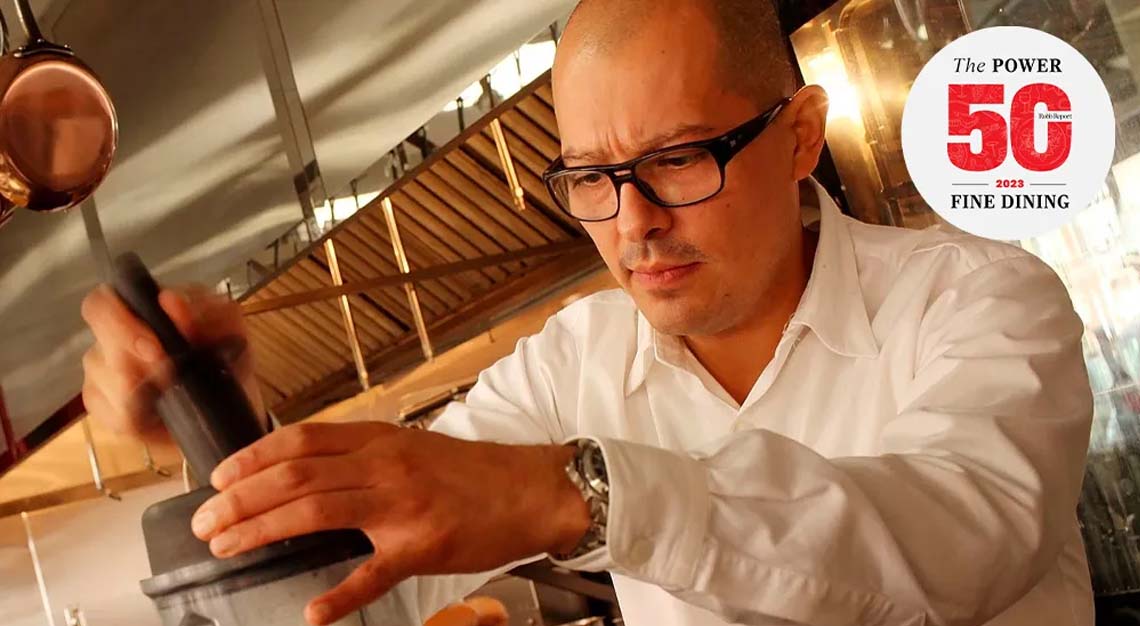 In 2011, Chef's Table at Brooklyn Fare became the first New York City restaurant outside of Manhattan to receive three Michelin stars, a testament to César Ramirez's cuisine. Of course, Brooklyn Fare would eventually move to Manhattan, and now he has moved on from the restaurant. While the chef is no longer associated with the establishment due to legal issues between him and the owner of Chef's Table, Ramirez's impact on the culinary industry is undeniable. A number of chefs who worked under Ramirez have gone on to open their own highly lauded restaurants, and the two new chefs leading Chef's Table previously cooked at the restaurant and look up to Ramirez as a mentor. Ramirez has reportedly signed a lease for a location in Hudson Square, the New York Post reported this summer, but scant details have emerged about his plans there.
36. Stephanie Izard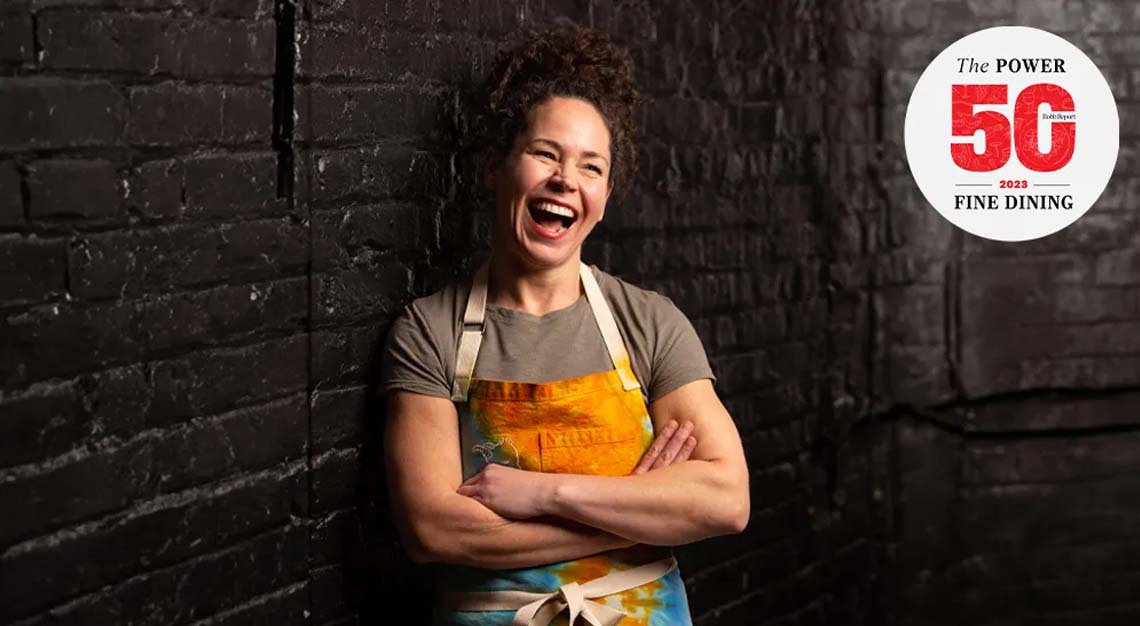 Top Chef fans will be familiar with Stephanie Izard: The Chicago restaurateur was the first female chef to win the famed competition show, and she has long been one of the series's fan-favourite contestants. After prevailing on Season 4, she went on to open the acclaimed Girl & the Goat with Boka Restaurant Group. That was the start of her mini-empire in the Windy City, which expanded to include the diner-style Little Goat, the Chinese-influenced Duck Duck Goat, the Peruvian-inspired Cabra, and the bakery Sugargoat. Back in 2013, Izard won the James Beard Award for Best Chef: Great Lakes, and now she has brought her skills to Los Angeles with outposts of both Girl & the Goat and Cabra, her first restaurants outside Chicago.
35. Simon Kim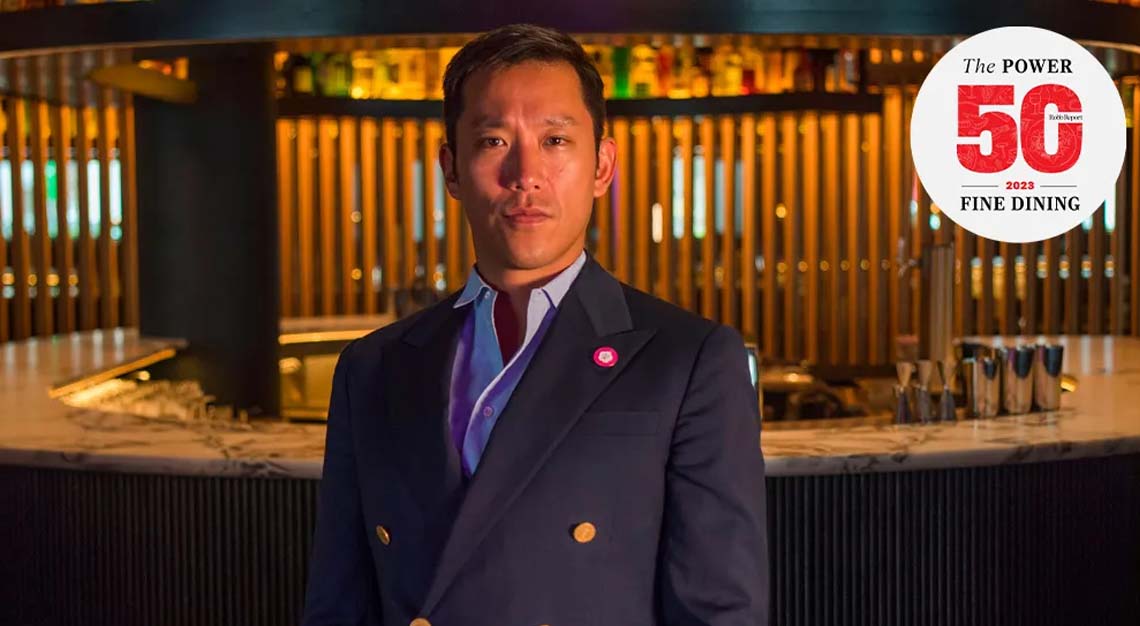 If imitation is the sincerest form of flattery, Simon Kim should be feeling quite flattered these days. With chef David Shim, Kim launched Cote, a restaurant the combines the best of American steakhouses and Korean barbecues, in 2017, and many imitators have popped up around the country since. In fact, there's one restaurant in Texas that has emulated Cote so much so that even the menu's design looks strikingly similar. The copycats haven't matched Kim's success, though. Under the banner of his company Gracious Hospitality Management, Kim has expanded Cote to Miami (which, like the original in New York, is one of the few steakhouses in the world with a Michelin Star) and Singapore and is preparing a fried chicken restaurant in New York. Additionally, Kim has used his clout for good, becoming a board member of City Harvest and the founder of Taste of Asia, which raised more than US$1.4 million charity at its second annual food festival in New York last fall .
34. Michael Mina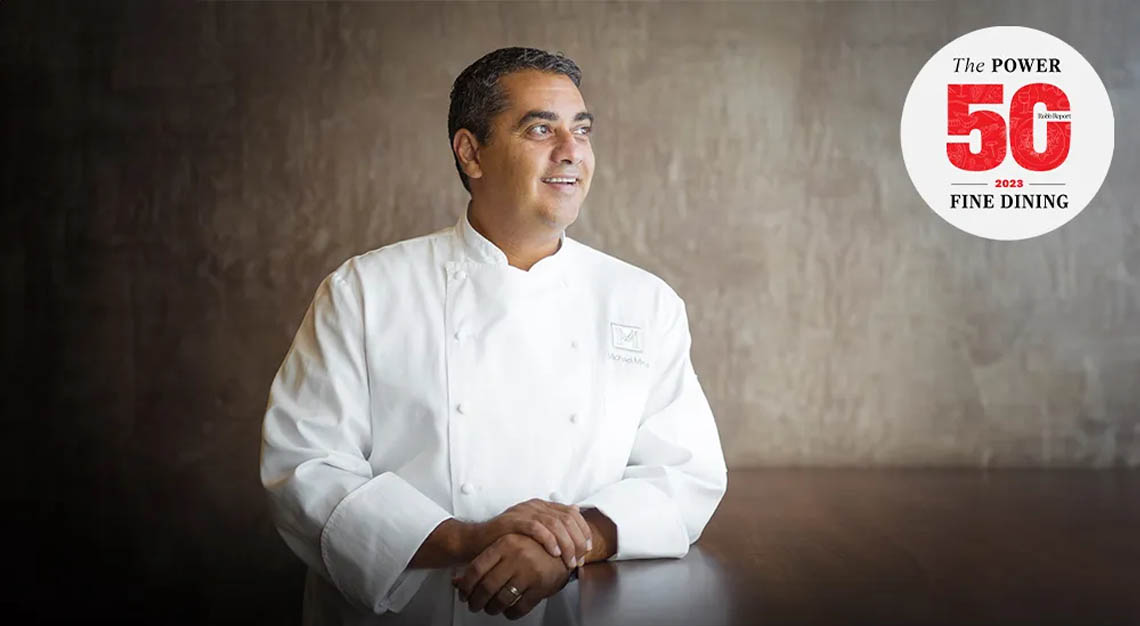 With 25 restaurants under his watchful eye and another seven slated for the future, Michael Mina may be one of the most prolific chefs and restaurateurs in the country. The founder of the Mina Group, he first received national acclaim for his work at San Francisco's Aqua, where he served as executive chef for more than a decade and won the James Beard Award for Best Chef: California in 2002. He then went on to open his namesake restaurant, which at its peak was awarded two Michelin stars but has since closed. Mina's group has moved from the Bay Area to Las Vegas and now oversees dozens of restaurants throughout the United States and even abroad (Mina Brasserie in Dubai). Coming up: a Bourbon Steak outpost in New York City, Mina's return to the Big Apple.
33. Gregory Gourdet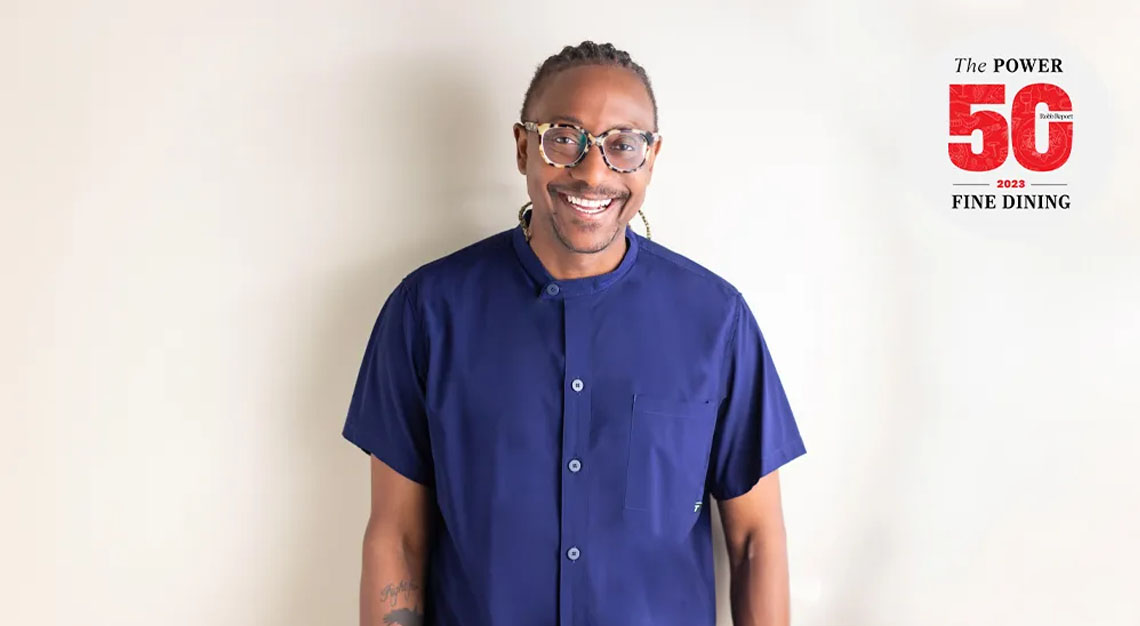 Good luck getting a reservation at Gregory Gourdet's Kann. When the chef's wood-fired Haitian restaurant makes its bookings available, a whole month is snapped up in less than an hour. And for good reason. The restaurant and bar downstairs, Sousòl, have been racking up accolades since opening in 2022. An alum of Jean-Georges Vongerichten's restaurant group, Gourdet marries the technical proficiency he's acquired in his career with flavours of his Haitian heritage. On top of the restaurant's success, the chef has had a star turn as well. With appearances on Top Chef and other food shows, Gourdet has garnered a strong enough national fanbase to reach product-pitchman status; he has been featured in campaigns for dishwasher detergent, sparkling water, utensils, and more. His contemporaries are fans of his, too. He has not only won a James Beard Award for the best new restaurant in the country, but he has also taken home a Beard Award for his cookbook, Everyone's Table.
32. Suzanne Goin and Caroline Styne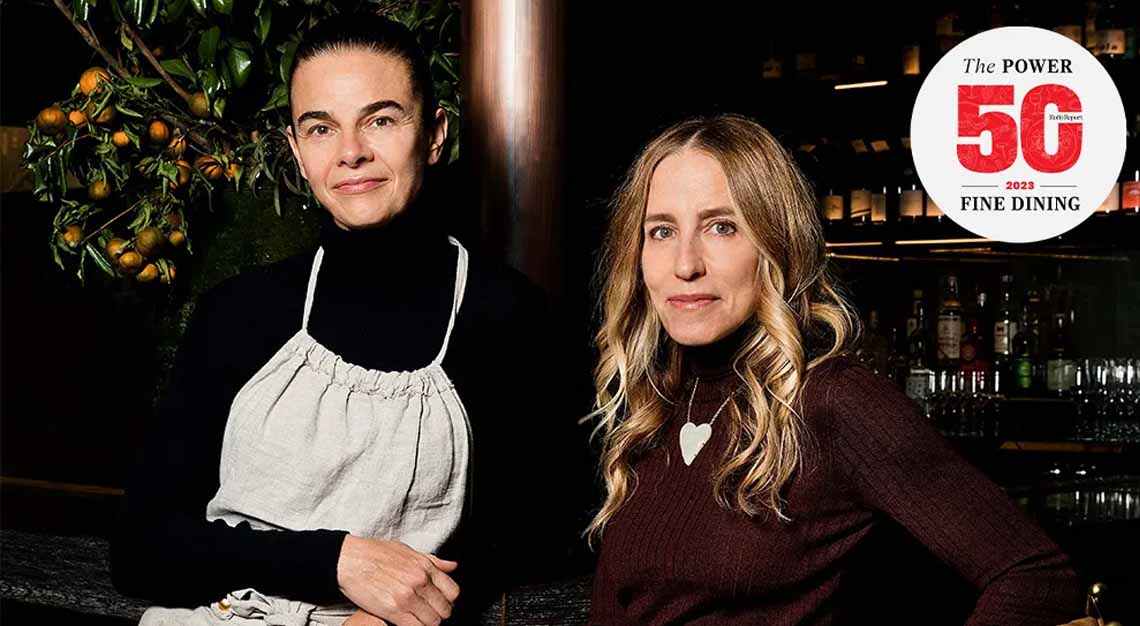 Restaurateur Caroline Styne and Suzanne Goin formed their culinary partnership back when Bill Clinton was still president. Their first restaurant, Lucques, became a hit, catapulting Goin to national acclaim. Since then they've opened multiple locations of A.O.C., which has become a dining room for Los Angeles power players. The duo has collaborated with the Hollywood Bowl to provide the dining options at the venerable performance venue. And when the Proper Hotel opened in Downtown L.A., the property turned to Styne and Goin to develop its food offerings. The pair's annual fundraiser L.A. Loves Alex's Lemonade (which returned this fall after taking a Covid-induced hiatus for a few years) brings in chefs from around America for an event that has raised more than US$9 million in the fight against childhood cancer since 2010.
31. Matthew Kammerer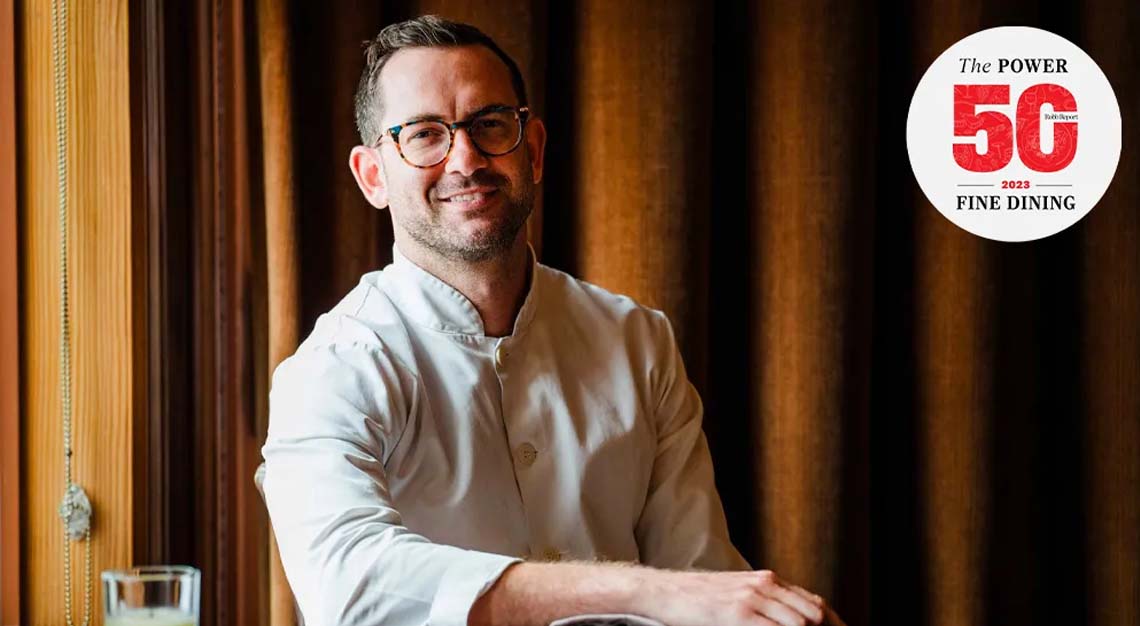 At California's Harbor House Inn, Matthew Kammerer is serving up hyper-local cuisine that's earned him two Michelin stars and a whole host of accolades. Focused on seafood and vegetables that he and his team find within just a few miles of the Mendocino restaurant, Kammerer is one of the most exciting young chefs in the country. He spent three years at the then-Michelin three-starred Saison in San Francisco before decamping up the coast, where he has found his groove with his serene tasting-menu restaurant. He's channelling the flavours of the land and sea around him while also working to sustain that environment. Kammerer's Harbor House was among the first restaurants in California honoured by Michelin with a green star.
30. Michael Cimarusti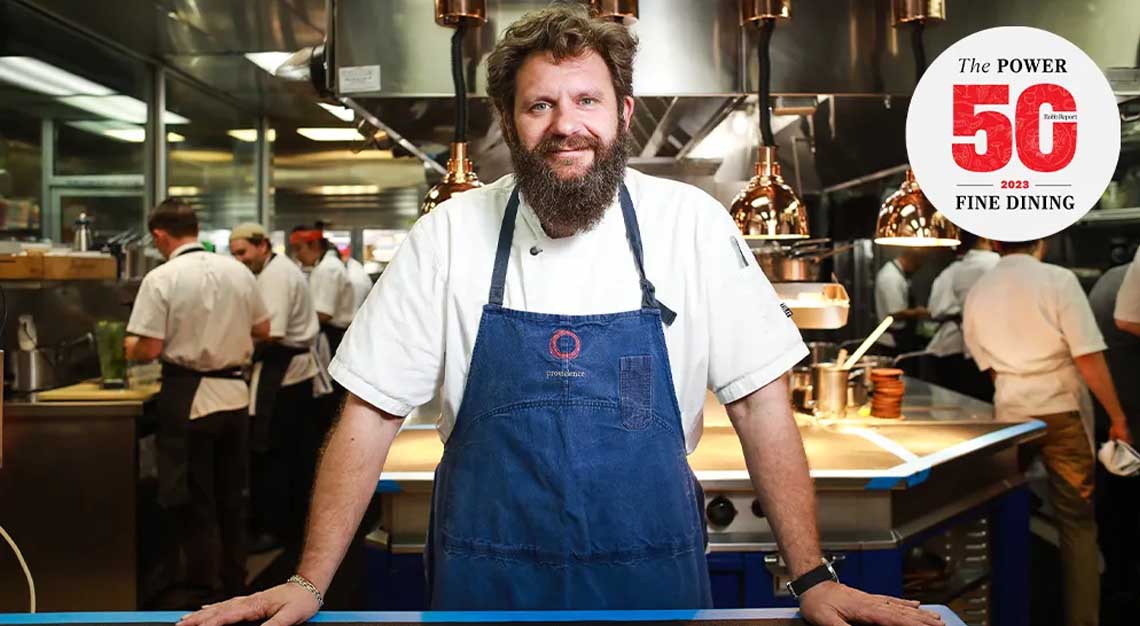 One of the most respected chefs in America's second-largest city, Michael Cimarusti has won over Los Angeles with his commitment to craft and sustainability. During his three decades in the kitchen, he has watch species fade away from overfishing and climate change, and he wants show another way through. He has committed to serving only wild-caught fish at his flagship, Michelin two-starred Providence, and he piloted the restaurant-supported fishery Dock to Dish when it debuted in Southern California in 2015. While he has fewer restaurants now than he did before the pandemic, Cimarusti is still at the helm of Providence and his New England-style seafood spot Connie & Teds; the latter's recent refresh shows he's still pushing hard nearly two decades in.
29. Kevin Boehm and Rob Katz
The cofounders of Boka Restaurant Group, Kevin Boehm and Rob Katz have had a massive impact on Chicago's culinary scene this century. The power duo opened some 36 restaurants, picking up a litany of accolades along the way. That includes 18 James Beard Award nominations (winning for Best Restaurateur in 2019) and 13 consecutive Michelin stars for Boka, the group's namesake restaurant. They've built their empire by partnering with a crop of talented chefs—Stephanie Izard, Lee Wolen, Chris Pandel, Giuseppe Tentori, Gene Kato, and Michael Solomonov—to open concepts ranging from a steakhouse to a diner. The pair was instrumental in the Independent Restaurant Coalition's lobbying for relief funds from Congress, helping secure the Restaurant Revitalisation Fund. And since the pandemic, Boehm and Katz have stretched themselves beyond the Windy City, expanding to Los Angeles with Izard and into New York with Solomonov, aided in part by their close relationship with the Hoxton, operating restaurants in three of the hotel's locations.
28. Kristen Kish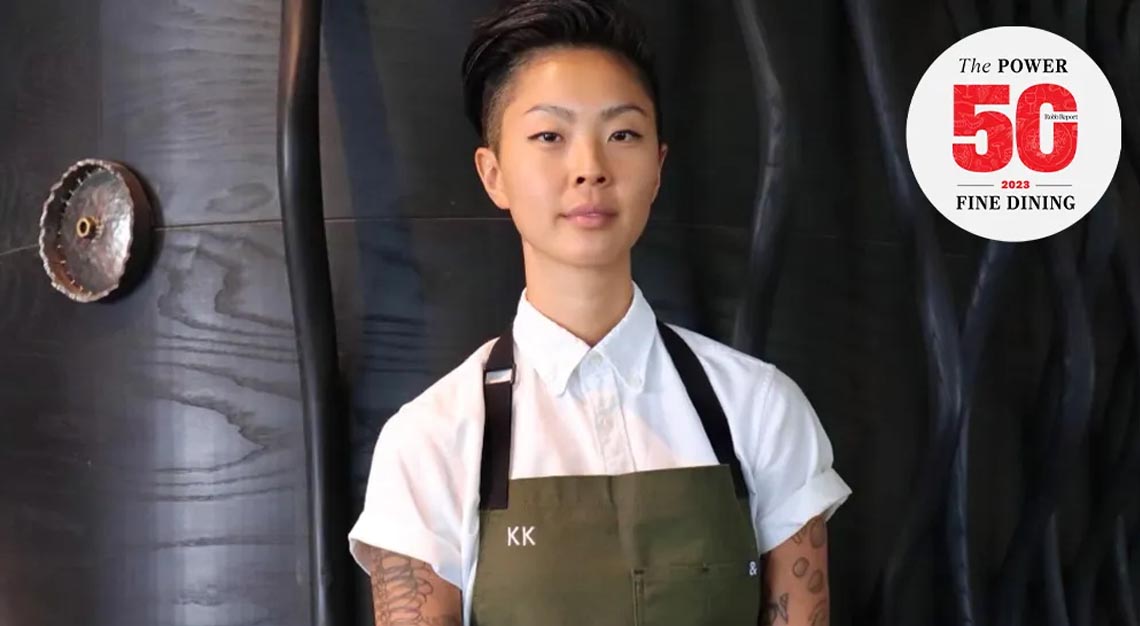 Most people likely know Kristen Kish as the new host of Top Chef, after Padma Lakshmi departed the series following 19 seasons in that role. It's a full circle moment for the chef, who won Season 10 of the show back in 2013. Since that appearance propelled her into the spotlight, Kish has become known for her ability to bring national and international foodways to the screen, hosting shows like 36 Hours on the Travel Channel and Restaurants at the End of the World on National Geographic. "Through her books, shows, and more, she uses her platform to showcase diverse culinary voices and inspire the next generation of chef talent," OpenTable CEO Debby Soo said. As a gay Korean American woman who's talked openly about her experiences with anxiety, Kish is breaking the mould of what many people envision as a powerful chef in the U.S. culinary scene.
27. Kwame Onwuachi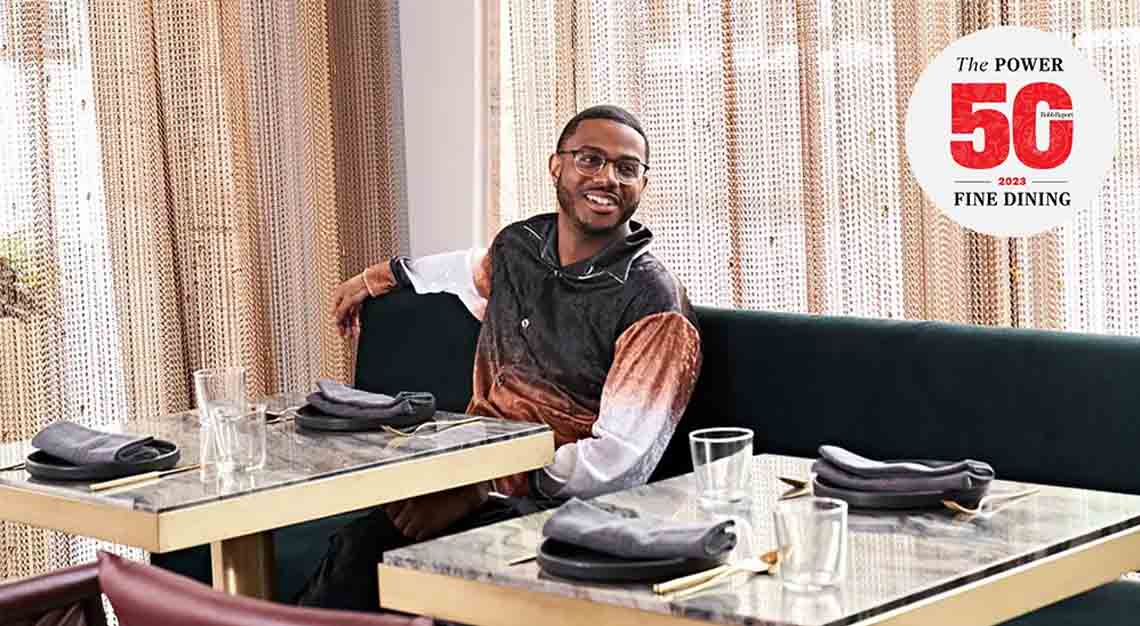 At just 33, Kwame Onwuachi may be one of the youngest people on our list, but then again, most of the people on this list haven't had their hit memoir optioned by A24. Ever since Onwuachi made a star turn on Top Chef, the Per Se and Eleven Madison Park alum has had a spotlight on his career. Of course, the road was rocky early on. His first restaurant, the luxe Shaw Bijou in Washington, D.C., closed after just a few months. He came back strong, though, opening the hit Kith/Kin, a 96-seat restaurant where explored Afro-Caribbean cooking. His work there won him the James Beard Award for Rising Star Chef in 2019, but in the midst of the pandemic, he departed after three years. Eventually Onwuachi would make his way back to New York City where he opened Tatiana at Lincoln Centre, one of the country's most celebrated restaurant openings in the past year. He has charmed the Big Apple, creating a menu that explores the African diaspora while also cooking food that is a playful ode to his upbringing and the city.
26. Pete Wells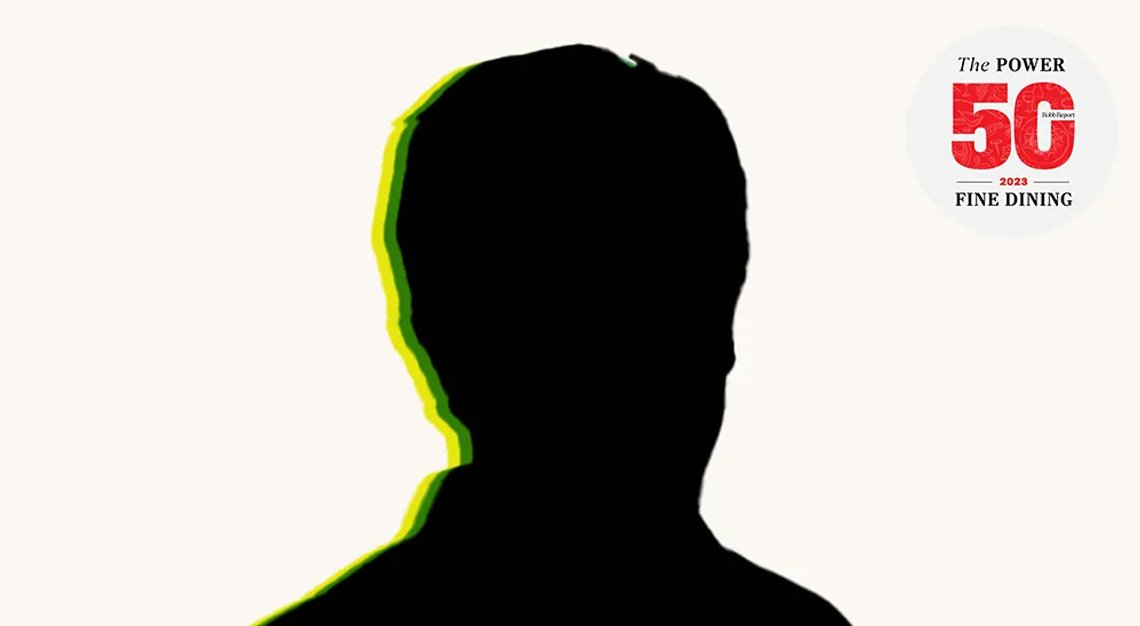 As restaurant critics at daily newspapers around the country have faded away, The New York Times's Pete Wells still holds sway over the industry. The only journalist on this list, the critic at the paper has been able to make headlines himself during his 11 years on the beat with some withering lines and willingness to slaughter sacred cows. His takedown of restaurant was so savage that the spiky-hared chef felt the need to go on the Today show to defend himself; he demoted Thomas Keller's Per Se from four stars to two, writing that a mushroom bouillon was "as murky and appealing as bong water;" and he published a brutal zero-star review of Peter Luger, declaring that the line at the DMV was a block party compared to service at the legendary Brooklyn steakhouse. But it's not all pans from Wells. He's the first Times critic to pen starred reviews in all five boroughs of the city, and Wells has expanded the scope of cuisines covered in the pages of the publication.
25. Nobu Matsuhisa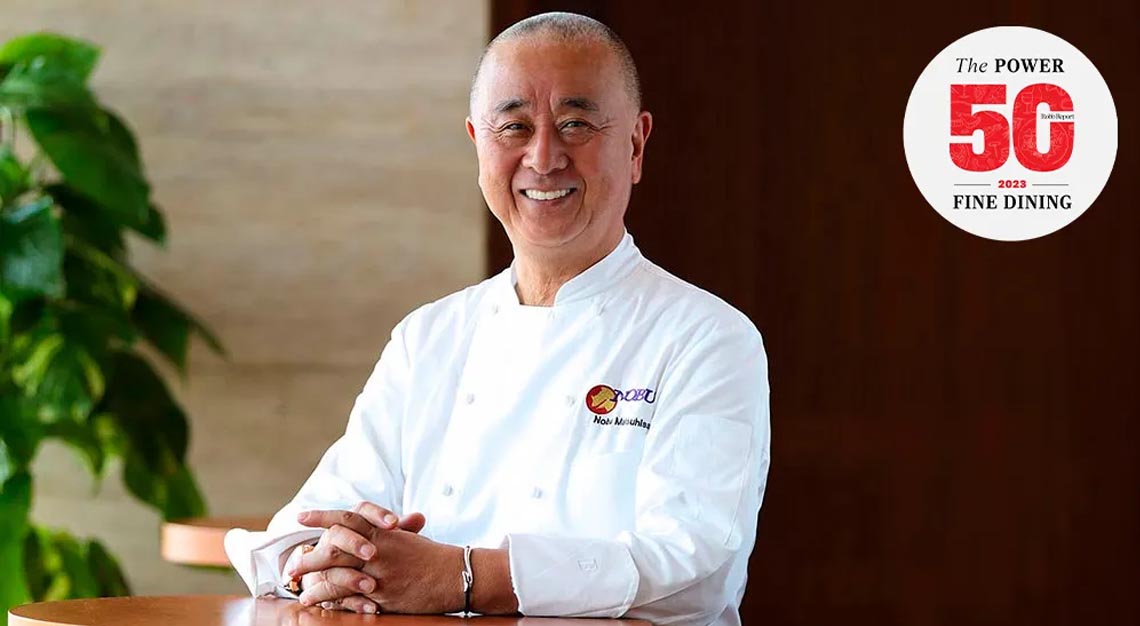 With Robert De Niro and Meir Teper, chef Nobu Matsuhisa has created one of the world's most respected hospitality empires. At its heart is Matsuhisa's cooking, which is rooted in Japanese cuisine but influenced by the time he spent living in Peru, incorporating ingredients such as cilantro and jalapeño to create dishes like his iconic yellowtail sashimi with jalapeño. He has been instrumental in spreading the popularity of sushi in America and has given chefs a model for growing a culinary empire. Along with more than a dozen Nobu hotels, there are now over 50 of his eponymous restaurants around the world. And the trio is far from slowing down. New locations in Toronto, New Orleans, Madrid, Bangkok, and more are on their way.
24. Timothy Flores and Genie Kwon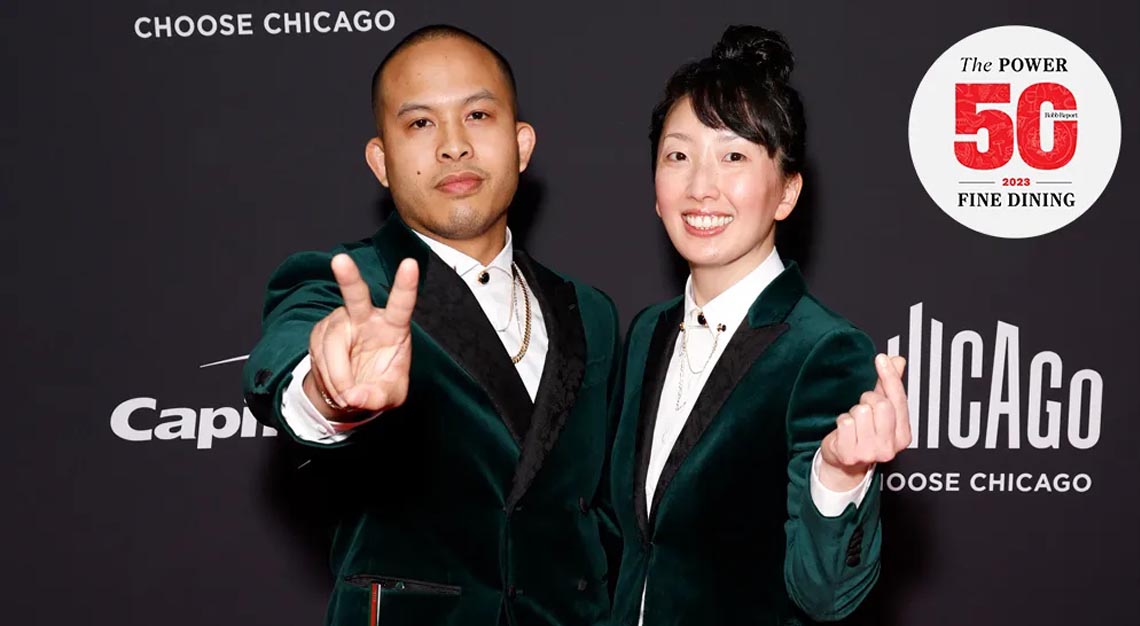 Not only is Kasama in Chicago the first Filipino restaurant in the world to earn a Michelin star, it's also the model of a modern independent restaurant. Husband-wife team Timothy Flores and Genie Kwon have built an establishment that transitions from a packed café during the day to a stunning tasting-menu eatery at night. In the morning, people are lining up around the block for Filipino-influenced fare, including longanisa-sausage breakfast sandwiches, chicken adobo with garlic rice, and an array of Kwon's delectable pastries such as ube-huckleberry Basque cake. This duo's ability to effectively use their space makes the difficult task of owning an independent restaurant these days possible. And they've done it with a creativity that has garnered them numerous accolades, from a James Beard Award to our Chefs of the Year honour in 2022.
23. James Kent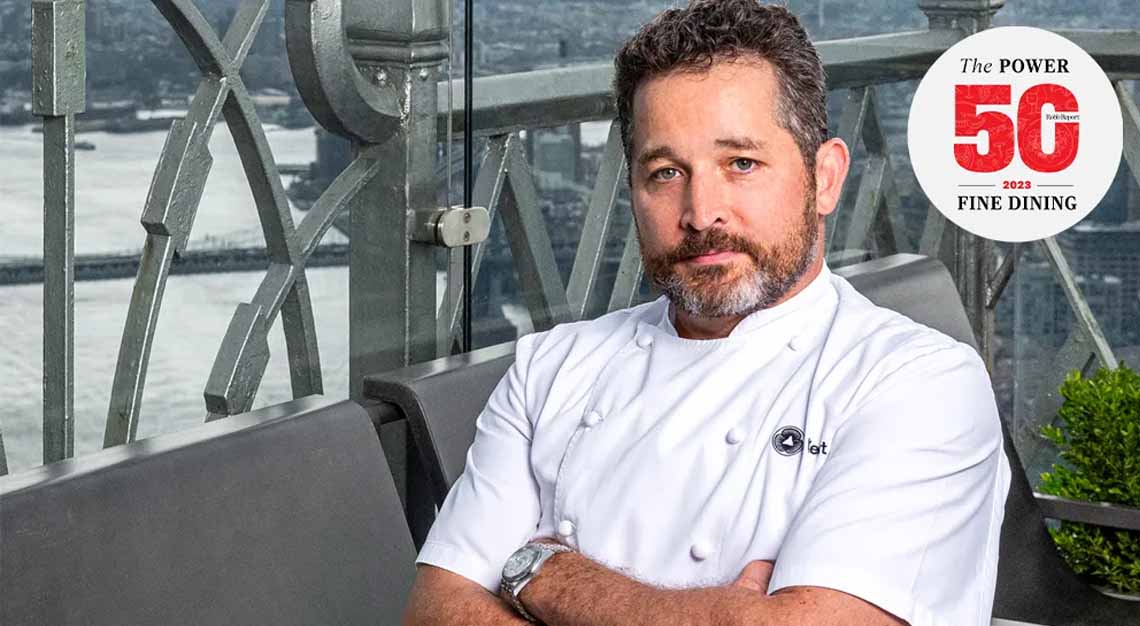 Hailing from some famous New York kitchens, including stints as chef de cuisine of Eleven Madison Park and executive chef of the NoMad, James Kent set out on his own late last decade to make a stunning debut with Crown Shy. The downtown New York born-and-bred Kent earned a Michelin star for the restaurant rooted in European technique and global flavours. Then 63 floors up, Kent created Saga, an intimate tasting-menu restaurant delayed by the pandemic that was quickly award two stars by Michelin. The skyscraper-topping project didn't stop there, with the 64th-floor bar Overstory becoming one of the city's finest cocktail haunts (and No. 17 in the latest ranking of World's Best Bars). Kent wants to be part of a new era of fine dining that's more fun than the restaurants of the past, and he's not done trying to put his stamp on New York City scene, either. Kent is currently planning a seafood-focused restaurant he's hoping to open early next year.
22. Wolfgang Puck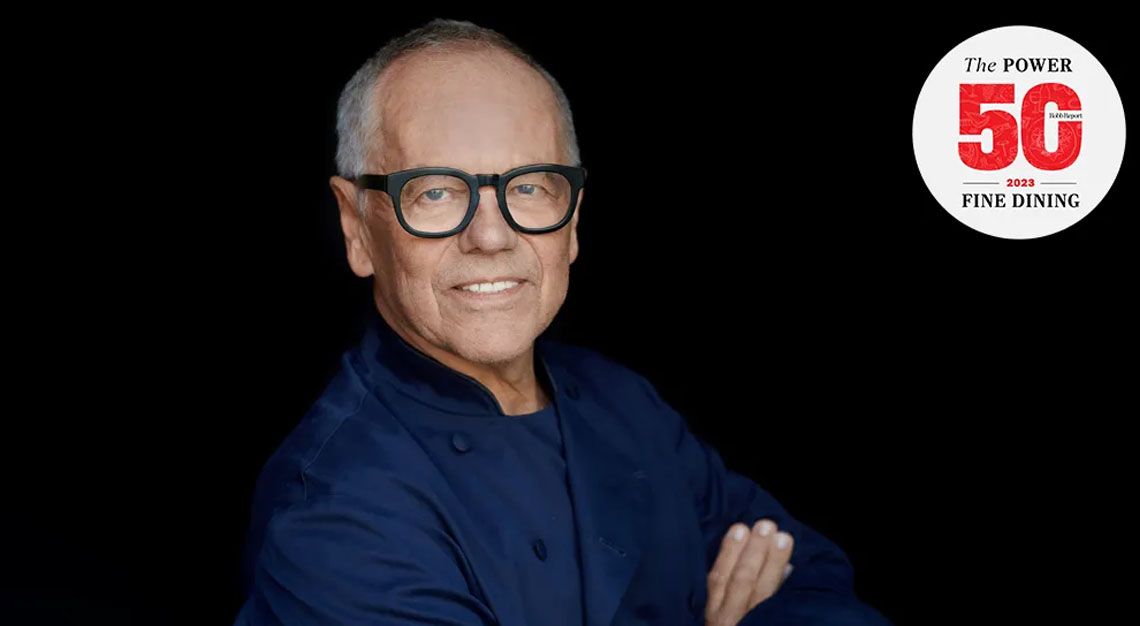 This energetic Austrian emigrant essentially invented the celebrity chef in America. Wolfgang Puck arrived in Los Angeles in 1975, and after making the restaurant Ma Maison a hit, he opened his flagship Spago in 1982. Puck has managed to blend high and low—from the frozen-food aisle to airport terminals to casinos to the Governors Ball at the Oscars to fine-dining restaurants around the world. He has set a standard for building a restaurant empire that the industry still looks to. Despite crossing over into his 70s, he's still pushing hard. It's not uncommon to go to Spago or Cut in Beverly Hills and see Puck still flitting around the kitchen or glad-handing in the dining room.
21. David Chang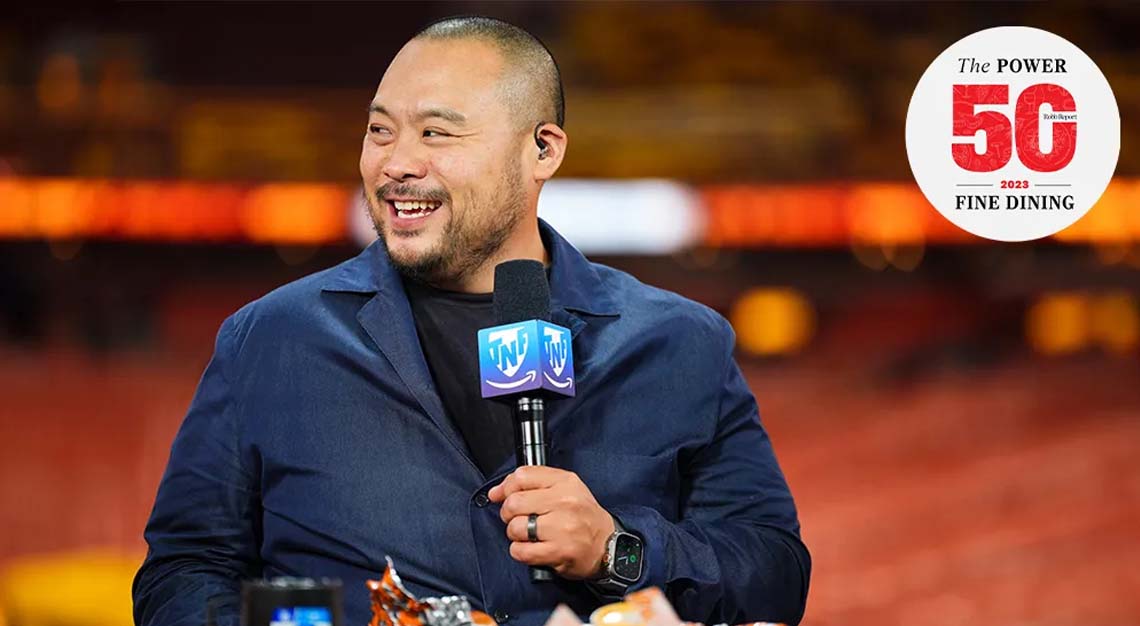 If you talk to David Chang's peers, it's clear he and his Momofuku empire helped define dining in the 2010s. But before the last decade's end, Chang had already stepped away from the day-to-day operations of the restaurant group he founded. Today, he's more of a media figure and packaged-foods impresario than chef. His Michelin two-starred Ko closed last week, not long after he shuttered the second iteration of his beloved Ssam Bar—all in the wake of Covid-19, which led multiple outposts, from D.C. to Sydney to Toronto, to close their doors. And yet, his reach may be bigger now with Majordomo Media. He has his hit eponymous podcast, an acclaimed Netflix series in Ugly Delicious, and a recurring food segment on Amazon Prime's Thursday night NFL broadcast. Plus, he produced the show Secret Chef on Hulu. Chang may not be cooking like he used to, but he's still shaping people's feelings on food.
20. Stephen Starr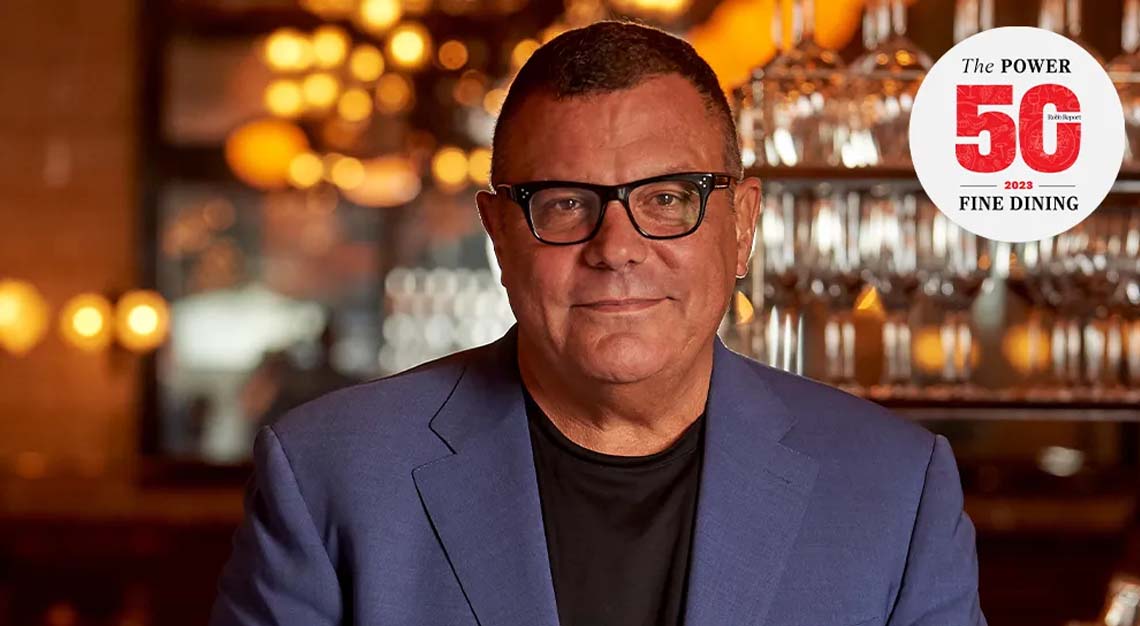 Philadelphia restaurateur Stephen Starr has built an empire that stretches well beyond the City of Brotherly Love. While he has 20 establishments in the city where his Starr Restaurants business began, he has expanded his influence to New York, Florida, and Washington, D.C. In total, the Starr Restaurants group oversees almost 40 spots, ranging from Michelin-starred French to Asian-fusion clubstaurants to a brasserie for the D.C. power set. And he partnered with Keith McNally to revive the beloved Pastis in New York and expand it to Miami, too. Starr is able to pair culinary accolades (Le Coucou in N.Y.C. has a Michelin star and won the James Beard Award for Best New Restaurant in 2017, with Starr taking home Outstanding Restaurateur that same year) while making some serious cash (Buddakan in N.Y.C. and Le Diplomate in D.C. both slotted in the top 25 of Restaurant Businesses' 2022 rankings of the most revenue generated in the year, each earning more than US$21 million).
19. Nick Kokonas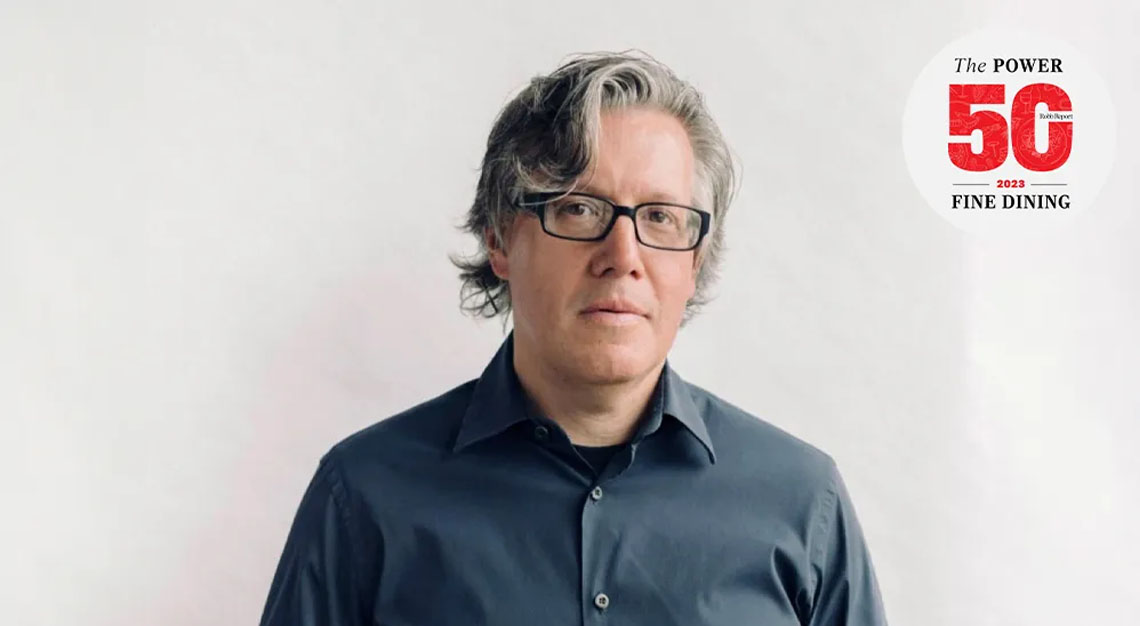 As the co-owner of some of America's best restaurants, including Alinea and Next, Nick Kokonas could have earned his spot on this list just with that résumé line. But he also founded Tock, fine dining's favourite reservation platform. While he worked on Tock at his own restaurants first, early adopters included Thomas Keller, who implemented the system at the French Laundry and Per Se. Now, anytime you dined at one of the top restaurants in the U.S., you probably had to hop on Tock first to snag that table. In 2021, Squarespace acquired Tock for more than US$400 million, and Kokonas left the company in the beginning of 2023. But still, his innovations in both the restaurant and reservation spaces make him one of the most important players in the industry.
18. Alice Waters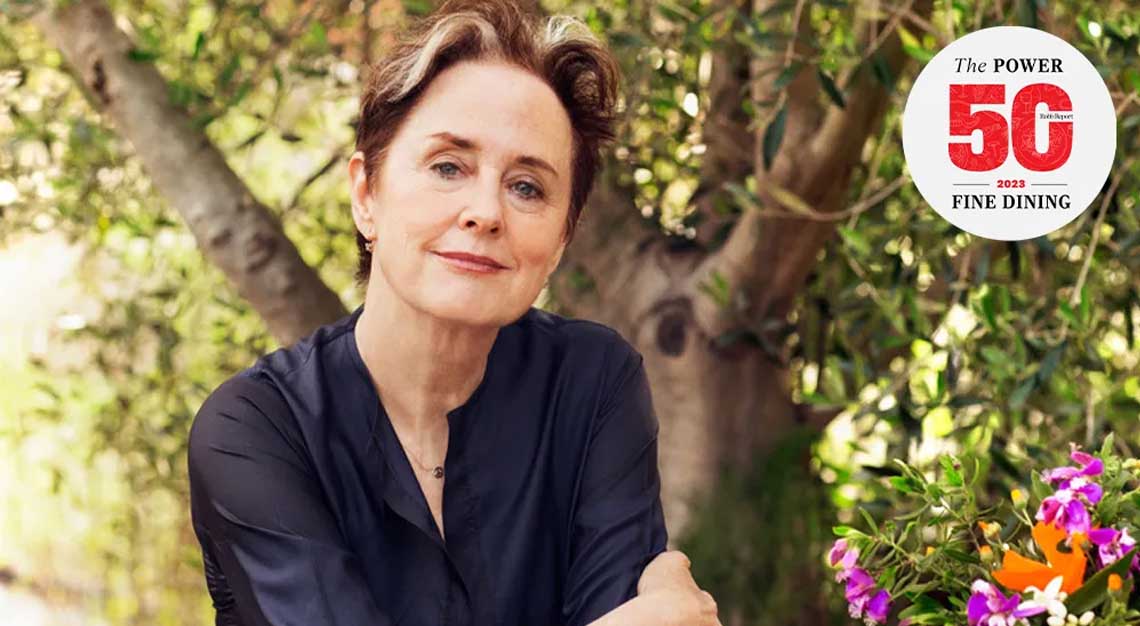 Alice Waters more or less created the farm-to-table movement and California cuisine when she opened her game-changing restaurant Chez Panisse in 1971. As one of the first restaurants in the U.S. to serve simple dishes that placed the spotlight on fresh, local ingredients, the eatery shifted the culinary landscape and is the source from which all other farm-to-table (at this point a cliché phrase in the dining industry) spots flowed. Notable chefs who worked at Chez Panisse earlier in their careers include Dan Barber, Suzanne Goin, and April Bloomfield, and many others have been inspired by Waters without ever working alongside her. Her influence, then, forms one of the backbones of American cooking today.
17. Dan Barber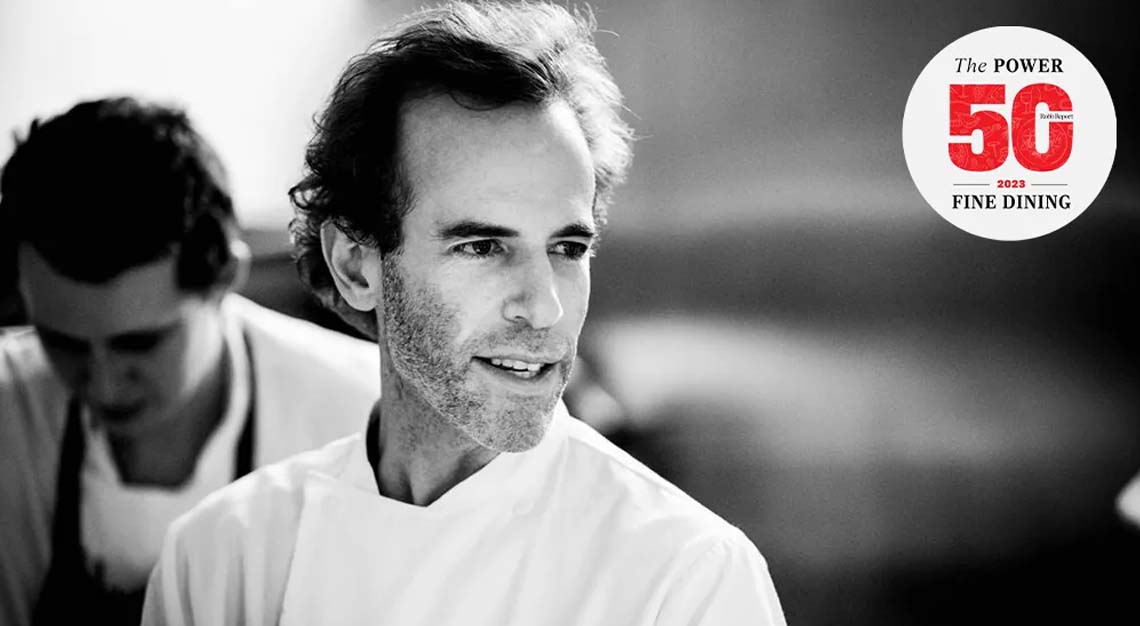 Blue Hill at Stone Barns has long been thought of as one of the best restaurants in America, and it has Dan Barber to thank for that. The chef, who opened the establishment in 2004, emphasises local agriculture in his cooking, particularly items that Blue Hill grows and creates itself on the restaurant's farm. Beyond that, the location serves as an education centre where Barber spreads his gospel about consciousness surrounding food choices, both in terms of what we grow and what we eat. With Row 7 Seed, he has taken his mission even further, working with Michael Mazourek, a plant researcher at Cornell University, to develop new cultivars of vegetables that taste better than what's mass produced at factory farms. Despite allegations of a hostile working environment at the restaurant (which Barber and his team have denied), for many in the culinary industry, Blue Hill remains the pinnacle of what a considered, holistic fine-dining experience can be.
16. Will Guidara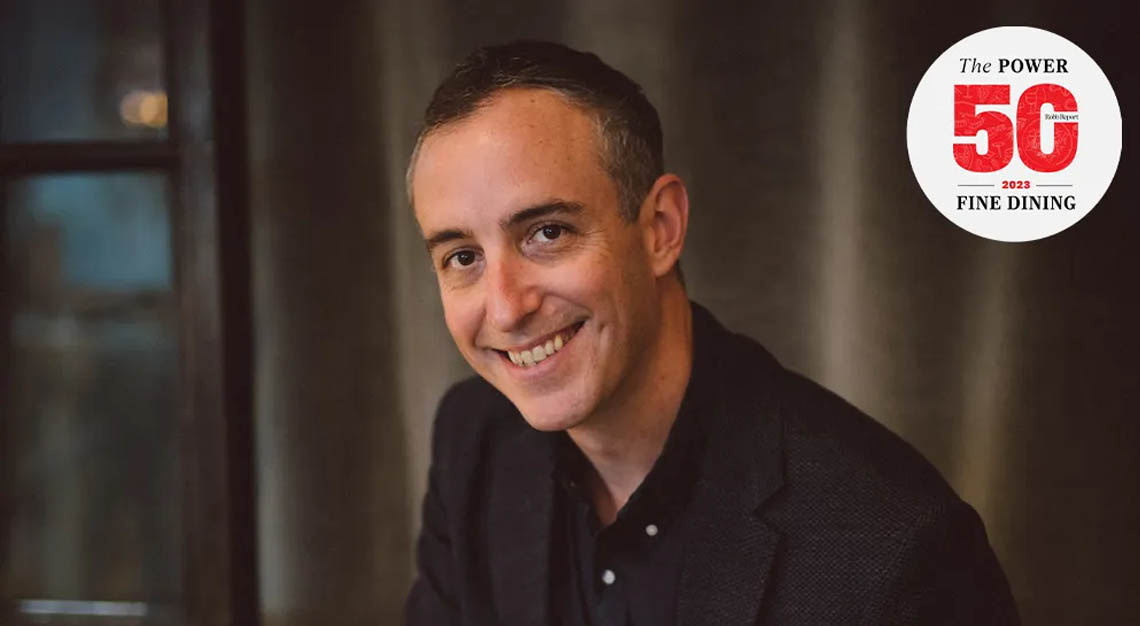 Will Guidara changed the face of hospitality in fine dining. The former co-owner of the Make It Nice restaurant group—which oversees the Michelin three-star Eleven Madison Park (E.M.P.), among other spots—promotes a style of hospitality that aims to elevate everyday interactions between customers and staff into memorable dining experiences. That mindset led E.M.P. to win the James Beard Award for Outstanding Service in 2016 and be crowned World's Best Restaurant a year later. Since ending his partnership with Daniel Humm in 2019, Guidara founded his own hospitality group, Thank You, serves as the host of the influential Welcome hospitality conference, and released Unreasonable Hospitality, a book that outlines his magical thinking when it comes to serving others and ourselves. As OpenTable CEO Debby Soo said, "Will started a movement of giving people more than they expect, inspiring other industry and non-industry folks to join in."
15. Sean Brock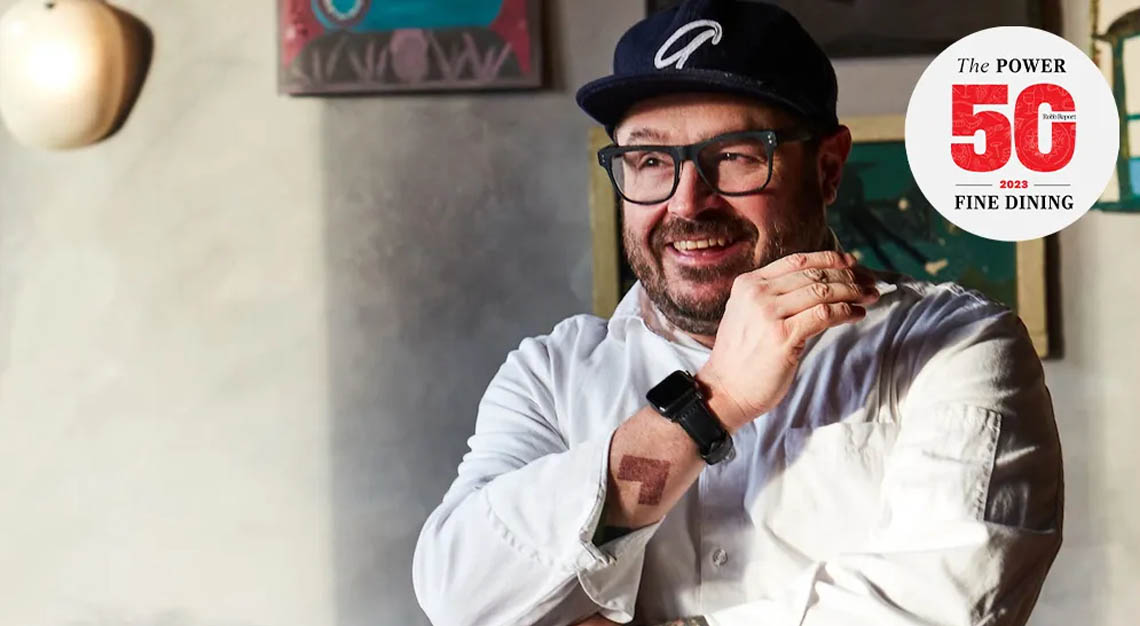 Sean Brock's mission has always been deeper than just cooking at a restaurant. To find inspiration, he becomes a scholar, delving deep into foodways to understand the history and culture surrounding classic dishes while also doing the work to revive heirloom ingredients. At Husk, Brock helped redefine Southern cuisine in America. And now at the beautiful June and Audrey in Nashville, he's connecting with Appalachian fare. While in Music City he's also branching out into other restaurant pursuits with Joyland, his ode to fast food, and Bar Continental, his hi-fi bar with more than 5,000 records that patrons can choose from for their listening pleasure.
14. Nancy Silverton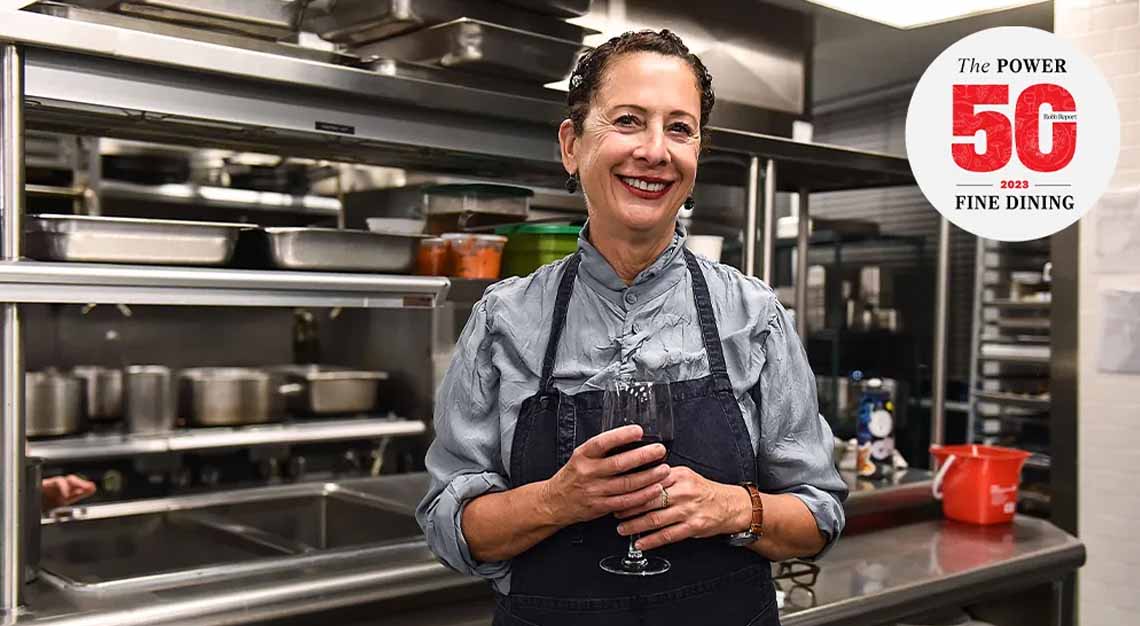 Nancy Silverton has been a mainstay of Los Angeles fine dining for decades: She had stints in the legendary kitchens of Michael's and Spago; she founded the beloved restaurant Campanile as well as La Brea Bakery with her ex-husband, Mark Peel; and she went on to build her international Mozza empire that includes her Michelin-starred flagship in L.A. The iconic status Silverton has built for herself in the industry still carries weight; she is the kind of name that can sell tickets as the headliner of a food festival, and her inclusion will also draw top-notch talent to work that same event. Silverton is undoubtedly the grande dame of L.A. restaurants.
13. Mario Carbone, Jeff Zalaznick, Rich Torrisi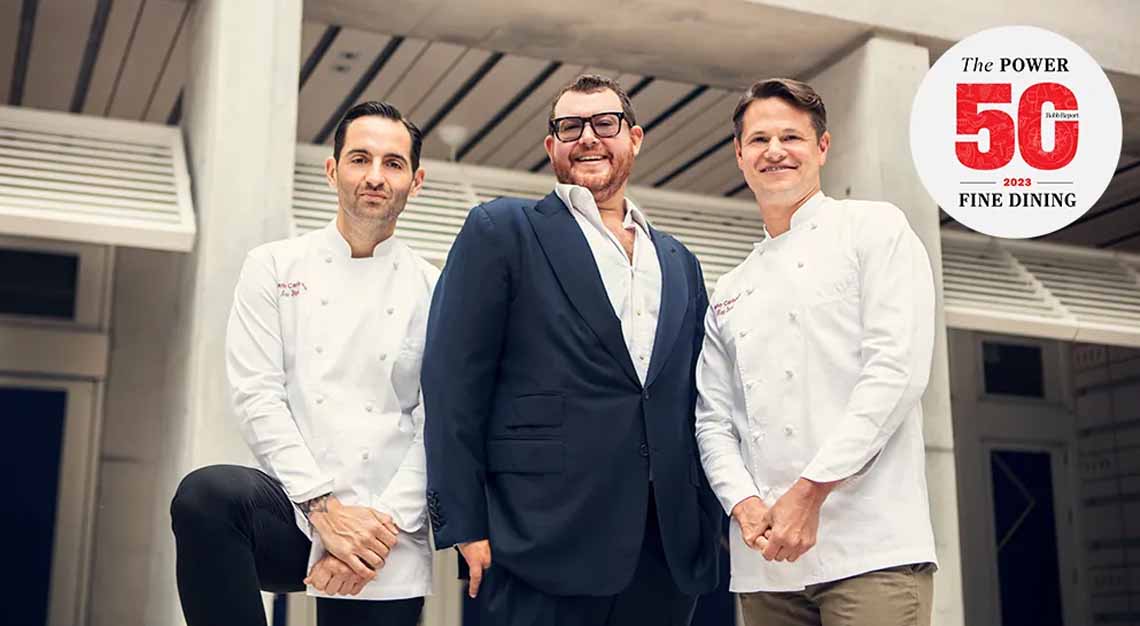 In 2023, we're living in a fine-dining world built in Major Food Group's image. Lushly designed dining rooms, servers dressed in well-tailored suits, tableside preparations, elevated comfort food, à la carte menus, and a flare for the dramatic: That's what Mario Carbone, Rich Torrisi, and Jeff Zalaznick have created and many have emulated. Back in 2018, Mario Carbone laid out the blueprint as he discussed Major Food Group's reimagining of the old Four Seasons space in New York's Seagram Building. "I'm going to come in here, and I'm going to take this place that was literally called a 'cathedral' by Jackie Kennedy and be respectful of it, but I'm here to turn it up a little bit," he told us. That's exactly what they've done—taken the old and familiar but made it louder and more fun, whether that's red-sauce Italian at Carbone, the midcentury chophouse at the Grill, the New York deli at Sadelle's, or modern Italian at Torrisi. But the trio also has had a nose for the best spots to be associated with the wealthy and powerful, from Manhattan to Miami, the Hamptons to Dallas, and Paris to Doha. They've shown an ability to cater to the well-heeled with the kind of luxe experiences the clientele expects that never skips the fun.
12. Kyle and Katina Connaughton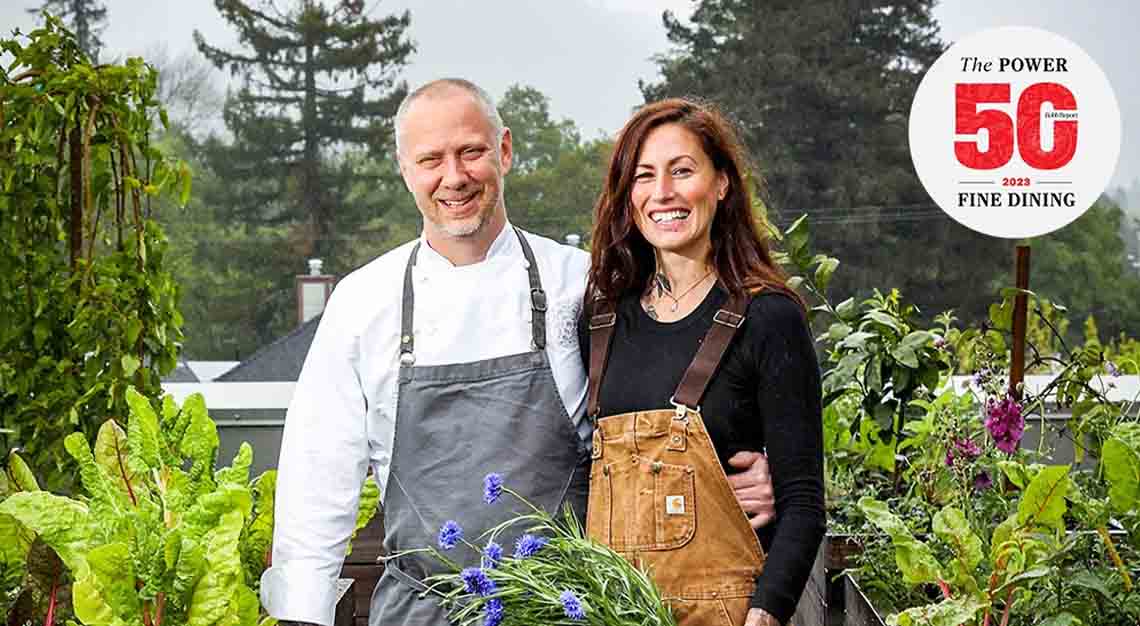 The husband-and-wife duo behind Michelin three-starred SingleThread in Sonoma have created an immersive dining experience that epitomises the ethic of farm to table. Kyle, who has worked for industry greats from Michel Bras to Heston Blumenthal, serves a menu inspired by his time cooking in Japan. Katina, meanwhile, runs the 24-acre farm that supplies the restaurant and operates a Community Supported Agriculture (CSA) programme that allows people to take the bounty home as well. But their connection to the region goes beyond the farm. When the massive Kincade Fire swept through Northern California, forcing 180,000 people from their homes, the Connaughtons showed a different side of their holistic approach to hospitality. They partnered with the nonprofit Sonoma Family Meal to cook for those in need. When Covid-19 struck, they reactivated that relationship so that the restaurant could cook for people in need again. This way, a donation could support an ecosystem of kitchen staffers who would have otherwise been laid off and keep the farm going as well—all while providing free meals to the community.
11. Corey Lee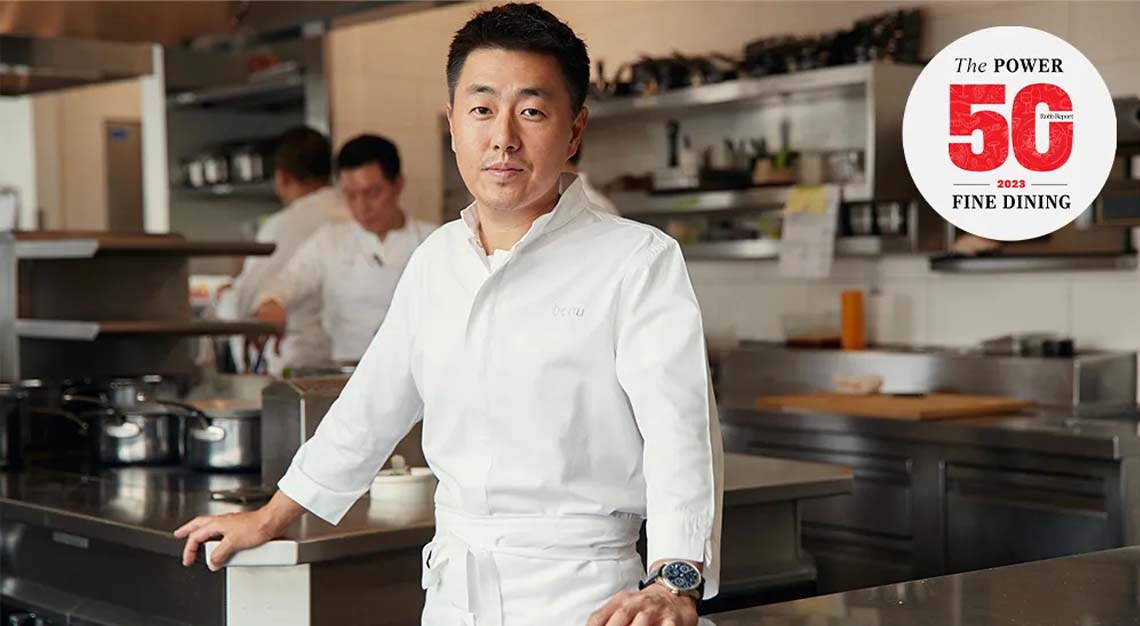 When Corey Lee prepared to open his take on Korean barbecue, San Ho Won in San Francisco, he wasn't just going accept any old charcoal to cook the food. Instead, he imported 15,000 pounds of lychee charcoal from Vietnam that he had made specifically for the restaurant. Such is the care and attention to detail that makes Lee one of the most respected chefs in America. The Korean-born Lee worked at numerous famous kitchens before starting at Thomas Keller's French Laundry in 2001. He rose to the ranks of chef de cuisine and also worked to open Keller's Per Se, being pegged as a wunderkind who won a James Beard Award for Rising Star Chef in 2006. Eventually, Lee left the Keller empire to open his own tasting-menu restaurant, Benu, in 2010. Within a few years, that establishment became the first in San Francisco (along with Saison) to earn three Michelin stars. He has since followed up with his French brasserie Monsieur Benjamin in both San Francisco and Seoul. And when he decided to go more casual with San Ho Won, he and head chef Jeong-In Hwang didn't get lax with the cooking, creating one of the best restaurants to open in America so far this decade. With Lee, the standard is always high.
10. Danny Meyer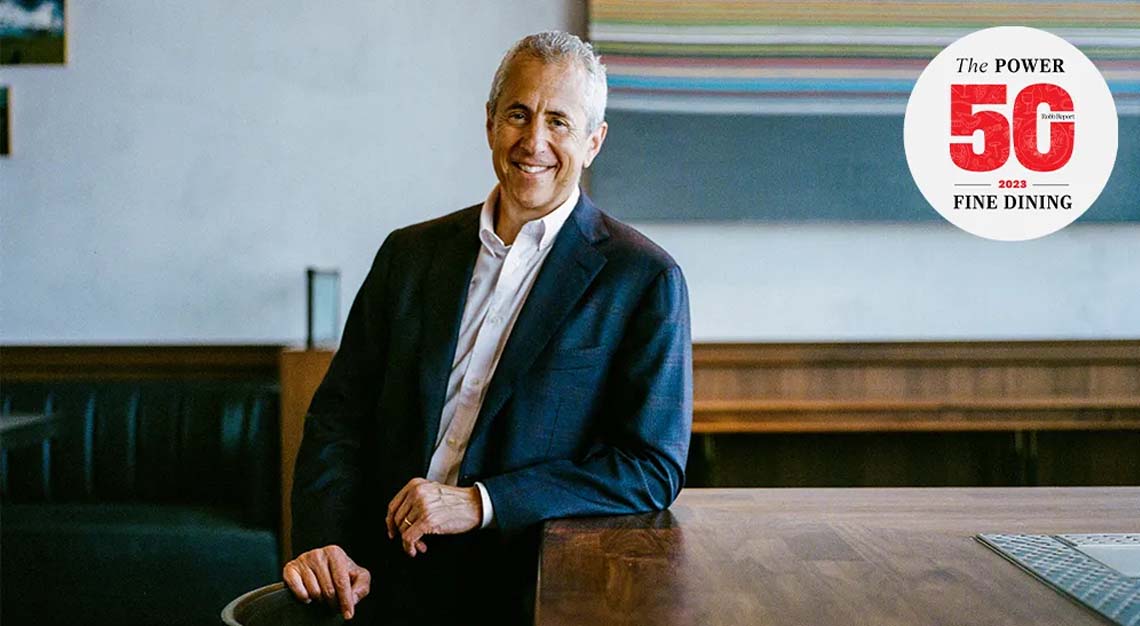 In an era when chefs ascended as the leading stars of the restaurant industry, restaurateur Danny Meyer still managed to shine brighter than most. The founder of Union Square Hospitality Group (USHG), Meyer opened his first restaurant, Union Square Cafe, when he was just 27. From there, the hits kept coming with restaurants such as Gramercy Tavern, the Modern, and Manhatta. And although it's not fine dining, Shake Shack was also Meyer's brainchild. Through it all, the restaurateur and his USHG have won a whopping 28 James Beard Awards over the years.
His approach to service and building a business was codified in the best-selling book Setting the Table, which became a bible to aspiring restaurateurs and also leaders outside the industry. Throughout his career, Meyer has emphasised the well-being of his employees and his customers, promoting a sense of what he calls "enlightened hospitality." And he has been unafraid to buck conventional wisdom in the industry, like when he instituted a groundbreaking no-tipping policy that was ultimately undone during the pandemic.
Although he has stepped down as CEO of USHG, other restaurateurs still look to him as a leader. "Danny Meyer has been influential on so many levels, from pioneering a style of service and hospitality that changed the face of fine dining in New York to inspiring a new kind of corporate leadership focused on employee well-being," restaurateur Caroline Styne told Robb Report. "He is the rare kind of person who can be innovative and hugely successful while also being warm and compassionate."
9. Daniel Humm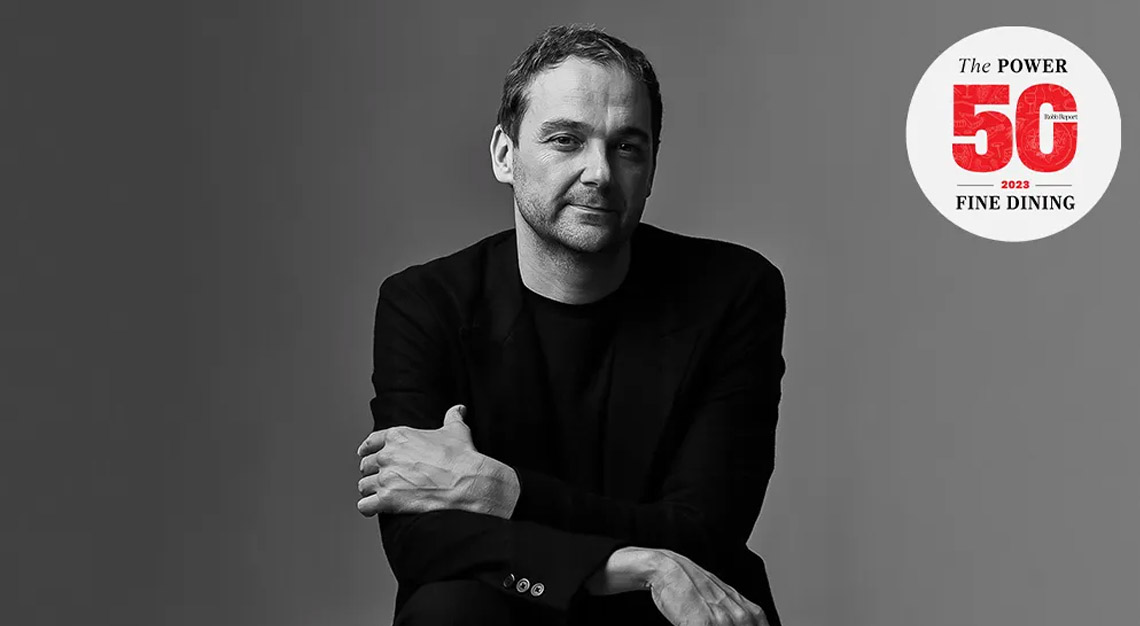 In the two-decade history of the World's 50 Best Restaurants, only two establishments on American soil have topped the list: Thomas Keller's French Laundry and Daniel Humm's Eleven Madison Park (E.M.P.). When Danny Meyer originally opened E.M.P., it was a bustling 400-person-a-night French-American brasserie, but after Humm and Will Guidara purchased the eatery, they transformed it into a temple of gastronomy and a global culinary destination. While also running the nearby NoMad, the duo pushed E.M.P. to three Michelin stars and earned the title of World's Best Restaurant in 2017. In the wake of the honour, they spread NoMad to Los Angeles and Las Vegas while getting into fast-casual restaurants with Made Nice. But in 2019, that fruitful partnership ended, with Guidara and Humm splitting and the chef taking the restaurants with him. He has since broken up with NoMad, too, and shuttered Made Nice. Humm turned his full attention to E.M.P.—where he showed he can still make a big splash.
After shutting down briefly during the pandemic, EMP reopened with a plant-based menu, one of the first tasting-menu restaurants at a three-star level to do so. Retaining a $335-per-person price tag, Humm challenged diners to see vegetable-forward meals as worth the same cost and care as omnivorous ones, and as a more sustainable alternative to Americans' meat-heavy diet. While the revamped menu was not universally beloved by critics, Humm has been able to retain the restaurant's highest Michelin honours. And while he focuses on EMP, many alums of the restaurant have gone on to run their own acclaimed spots, from James Kent to Kwame Onwuachi to Lee Wolen.
8. Eric Ripert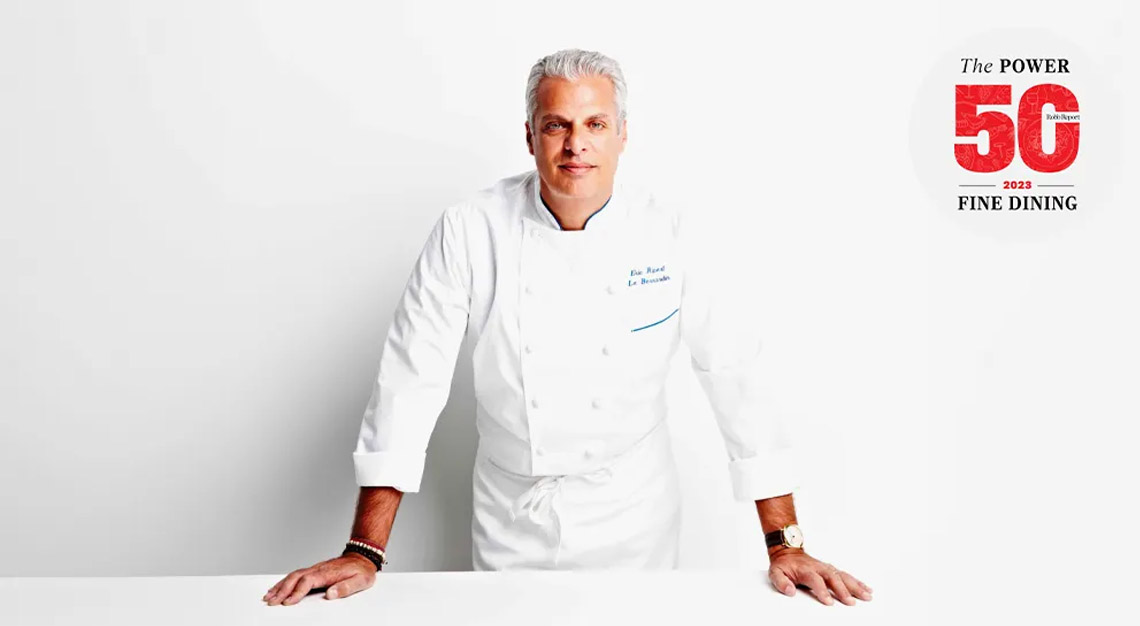 Eric Ripert has been at the top of the culinary world for almost three decades. And staying power hasn't relied on spreading a massive culinary empire around the globe but instead on a devotion to a handful of restaurants with the perennial dining institution Le Bernardin at the core. "Ripert's Le Bernardin is still to this date relevant through his uncanny ability to maintain the highest level of consistency in quality," Noreetuh's Jin Ahn told Robb Report. "It has captured New Yorkers' hearts and wallets for decades without losing relevance."
Maguy and Gilbert Le Coze opened the restaurant in Paris in 1972 before moving it to New York City in 1986. Ripert joined in 1991 and took over the kitchen after Gilbert died of a heart attack. In 1995, when he was just 29, Ripert was honoured with a four-star rating in The New York Times, and he received that ranking four more times over the course of 20 years, plus another rave from Pete Wells in February. As such, Le Bernardin is the only restaurant to receive the paper of record's highest rating for that stretch of time, without ever losing a star. The influential seafood restaurant has racked up plenty of other accolades along the way, maintaining its Michelin three-starred status since 2005, ranking No. 44 on this year's World's 50 Best Restaurants list, and slotting in at No. 1, once again, on La Liste's global ranking of restaurants.
7. Jean-Georges Vongerichten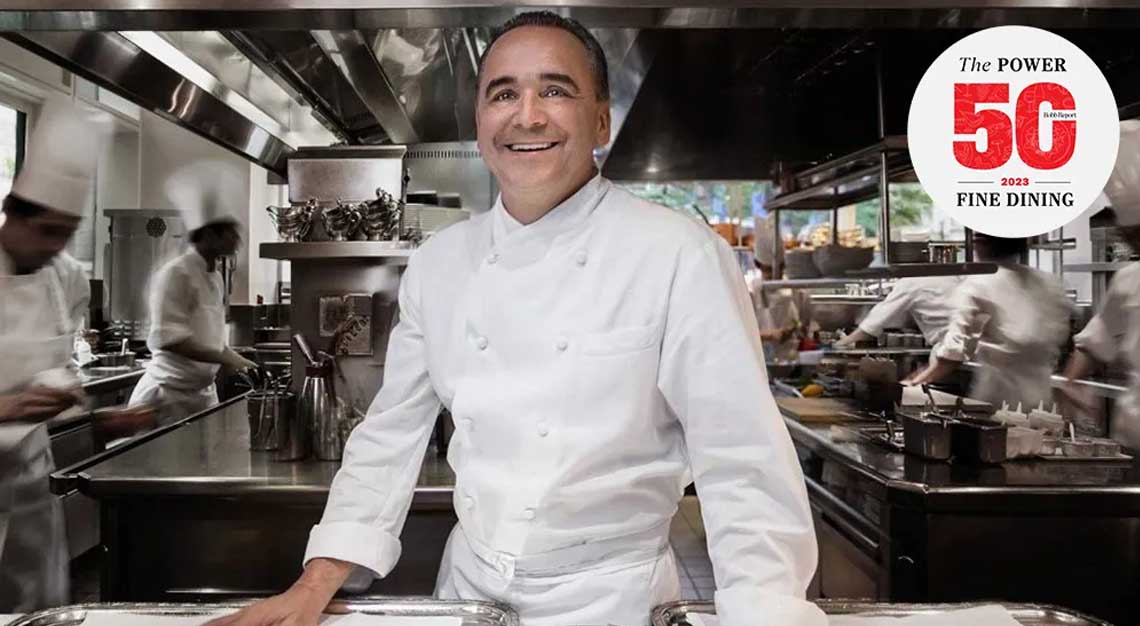 As the visionary behind more than 60 restaurants worldwide, Jean-Georges Vongerichten is quite literally everywhere you look in the culinary industry. That reach, though, hasn't diluted his quality as a chef and restaurateur. "JG's power comes from all those who became part of his empire, lending their passion and energy to execute JG's business acumen," Jin Ahn told Robb Report. "His empire grew without diminishing too much of its quality and not having to be everywhere at the same time. His fine-dining empire is likened to those of a well-oiled multinational corporation."
Vongerichten has, according to some, revolutionised the way we eat by finessing a type of cuisine that turns away from the traditional heaviness of butter and cream and toward lighter ingredients such as vegetables, fruits, and herbs that retain the same depth of flavour. While his namesake New York City restaurant may have been downgraded from three Michelin stars to two in 2017, it's still a feat that someone so prolific can churn out food of the highest quality—not just at one restaurant, but at many.
And after all these decades in the business, he pulled off one of his biggest culinary flexes just last year. Inside the restored historic Tin Building on Manhattan's Seaport Vongerichten has built a massive food hall where he operates retail, fine dining, and fast casual alike. And right after he opened that project, he inked a deal for a two-storey restaurant inside a gleaming Park Avenue office tower. This new restaurant and the Tin Building show that major N.Y.C. developers still look to him to anchor their ambitious projects.
6. José Andrés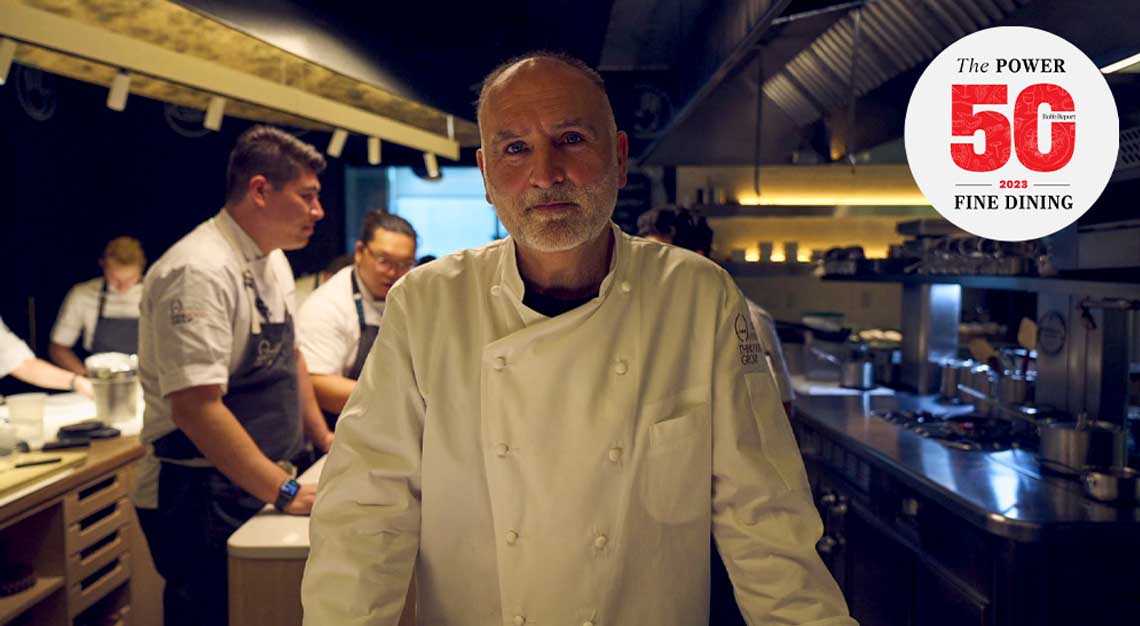 José Andrés oversees a significant restaurant empire that includes his Michelin two-starred flagship in D.C., but it's his work beyond the kitchen that has made him one of the most important figures in the culinary industry. In 2010, the chef founded World Central Kitchen, which provides meals during humanitarian crises around the globe. Andrés and his team have been present at some of the most catastrophic disasters in recent years, including the aftermath of Puerto Rico's Hurricane Maria in 2017 and Russia's ongoing war in Ukraine.
It's this open-heartedness that has won Andrés praise from others in the industry. "Jose Andres is like a superhero," Caroline Styne told Robb Report. "In true superhero style, he responds to emergencies, dropping everything to run towards places and situations that are in turmoil and suffering to help provide food and support to those in need . . . He is a true example of someone who uses his power for good." Or as Cote's Simon Kim put it, "In an industry filled with incredible talent, not only does Chef bring one-of-a-kind dining experiences to life in the most authentic way possible, but his work with World Central Kitchen and unwavering dedication to bettering the world and supporting communities in need is incredibly admirable, heroic, and something I feel personally drawn to."
Few chefs are talked about in this way, and while some may be thought of as culinary heroes, Andrés's impact reaches far beyond the restaurant world. He exemplifies someone who uses his platform to do something bigger than himself, and he does it with humility and graciousness in spades.
5. Junghyun and Ellia Park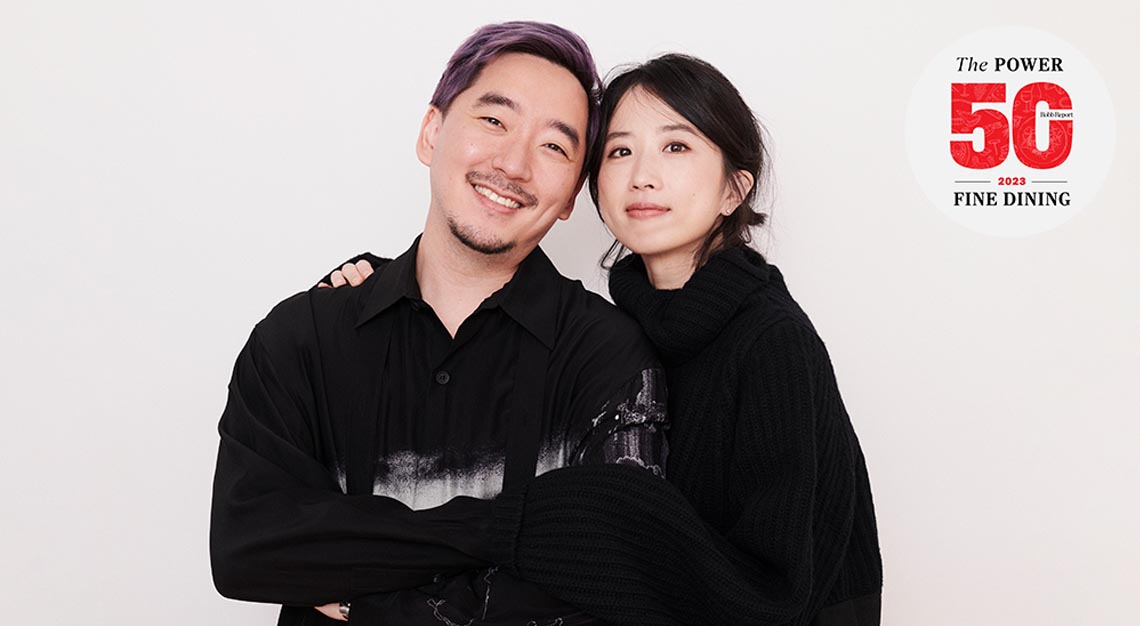 This husband-and-wife team have had a meteoric rise since opening their Korean banchan-inspired restaurant Atoboy in New York's NoMad neighbourhood in 2016. For chef Junghyun and restaurateur Ellia, it was only the beginning. Junghyun came to the States from Korea to cook at the New York outpost of Michelin two-starred Jungsik before setting out on his own. After Atoboy came the couple's big creative swing, the tasting-menu-driven Atomix, which is a loving celebration of Korean culture from the food to the ceramics to the utensils to even the staff uniforms. Atomix has put the duo on the vanguard of a growing Korean fine-dining movement in New York, and the tasting counter shot up the World's 50 Best list to No. 8 this year, making it the highest-ranked restaurant in America.
Last year they opened yet another acclaimed restaurant as part of the massive Rockefeller Centre remodel. Naro serves as their contemporary interpretation of traditional Korean dishes that aren't as well known in America. They're highlighting more subtle fare than most diners are used to and pushing Korean cuisine forward in the U.S. yet again. "In just a few years, this Korean dynamic duo has established itself in the top ranks of the American fine-dining scene," says Rita Jammet, owner of La Caravelle Champagne. "I believe their power emanates from culinary and hospitality excellence as well as the genuineness in representing their Korean identity—and telling their story through the dishes."
4. Grant Achatz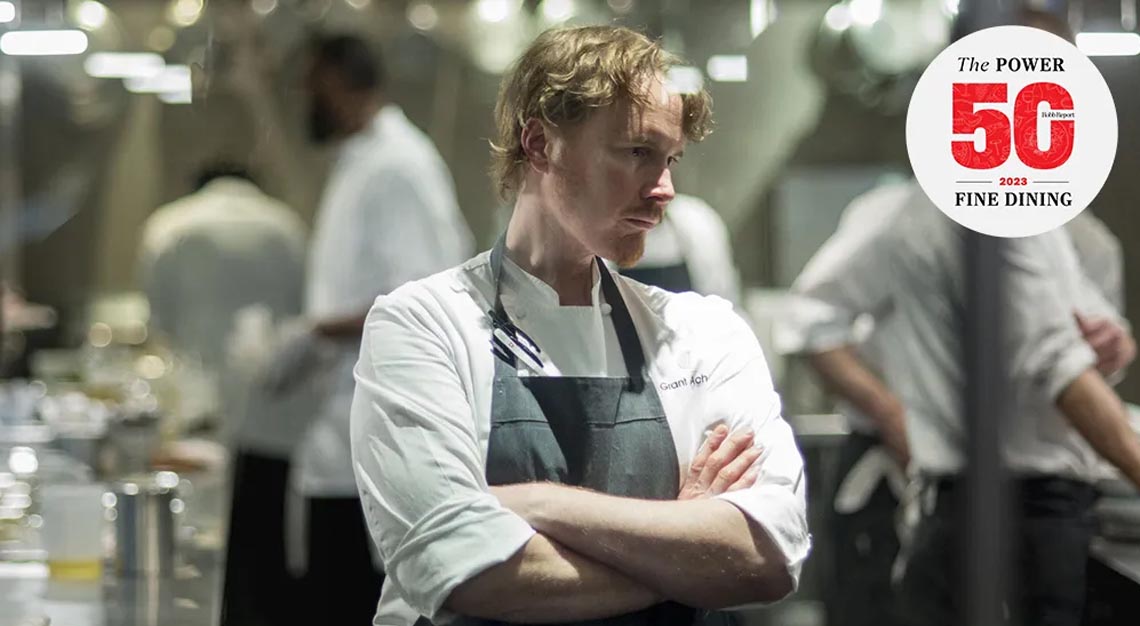 Grant Achatz is one of the most wildly inventive chefs America has produced. His flagship restaurant, Alinea, continues to be a beacon of modernist cuisine nearly two decades after he opened it in Chicago's Lincoln Park neighbourhood. "Grant's power comes from pushing the envelope in showing the fine-dining goers that the weird and different dining can also be fine dining," says Jin Ahn, co-owner of New York's Noreetuh. "He was a pioneer in this genre of fine dining and continued to evolve his operation with another genius in Nick Kokonas to push forward his vision."
Over the years, Alinea Group has grown to encompass a host of restaurants, primarily located in the thriving culinary scene of Chicago's Fulton Market neighbourhood. There's Next, the restaurant that completely reinvents itself every few months; Aviary, the groundbreaking modernist cocktail bar; Roister, the live-fire restaurant where more rustic fare still gets Achatz's exacting treatment; and St. Clair Supper Club, the ode to midcentury prime-rib joints. As Achatz has grown his empire with business partner Kokonas, he has still maintained the respect of his peers. "Chef Achatz is a generational icon for many chefs," says Aitor Zabala, chef-owner of the forthcoming Somni in Los Angeles. "And his contributions to gastronomy are part of our industry today."
3. Dominique Crenn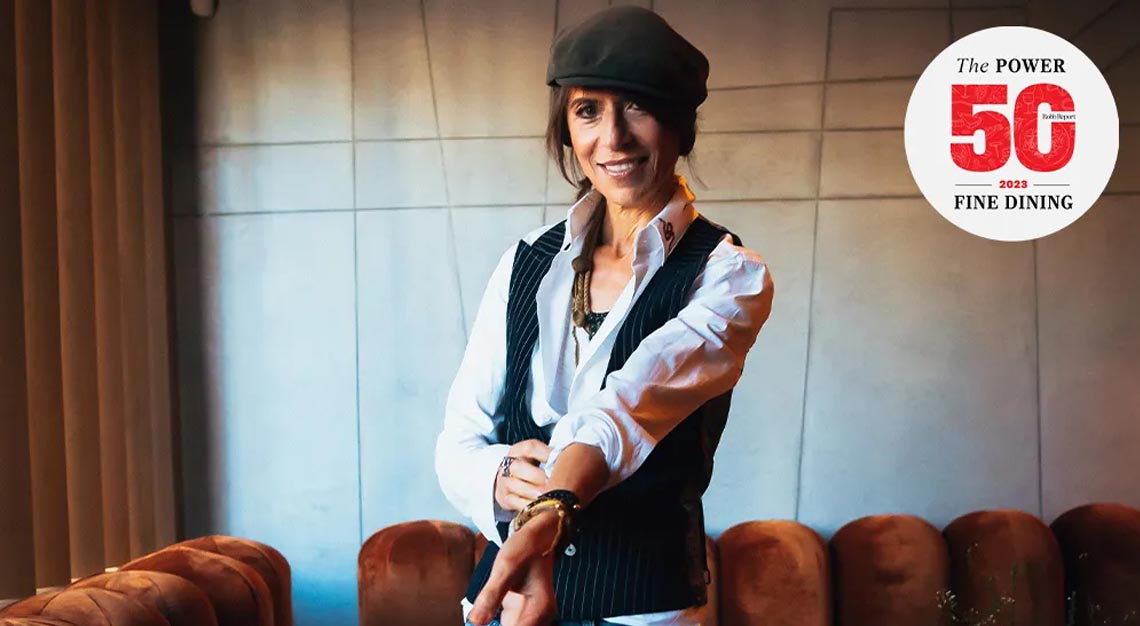 In 2018, Dominique Crenn made history. When Michelin announced its Bay Area guide that year, she became the first woman in America to earn three Michelin stars when Atelier Crenn attained the honour. But her positive influence on the industry was felt well before that. "Dominique has been a great ambassador for American fine dining for over a decade," says James Beard Award–winning chef Vince Nguyen of Berlu in Portland, Ore. "She's proven that you can have the highest culinary ambitions and still smile along the way. A true inspiration."
Her contemporary cuisine at Atelier Crenn is driven by California ingredients, and in 2019, she bolstered her environmentalist bonafides by ditching meat from her menu in the name of sustainability. She did the same at her other hit restaurants as well, embracing pescatarian menus at Bar Crenn and Petit Crenn as well as her new Parisian restaurant Golden Poppy. And her influence has grown outside of the four walls of her restaurants, too: Crenn appeared as an Iron Chef on Netflix's reboot of the show and acted as the chief technical consultant on the 2022 horror film The Menu.
2. Daniel Boulud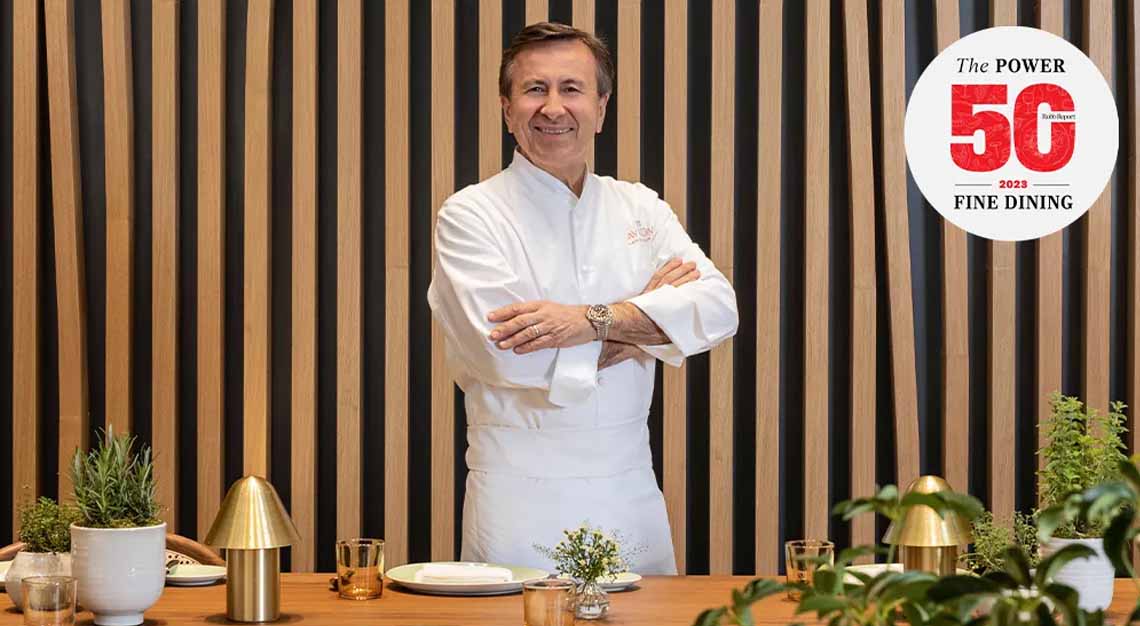 When he arrived in America more than 40 years ago, Daniel Boulud thought he'd only be stateside for a limited stint as an ambassador's private chef. After relocating from D.C. to New York, he decided to stay, eventually building one of America's great fine-dining empires that stretches from his flagship Michelin two-starred Daniel in Manhattan to restaurants around the world.
His acolytes have spread across the country, taking what they learnt under him to open outstanding restaurants of their own. "Working for Daniel Boulud was like getting your masters at the Ivy League of restaurants," says Aaron Bludorn, former executive chef of Café Boulud and current chef-owner of Bludorn and Navy Blue in Houston. "He wanted all of us to be informed about our restaurant as a business and drive it with our daily decisions. Most importantly we learnt about the importance of mentoring by the way he mentored us—door always open and ready to help us tackle any issue big or small."
And all these years in, Boulud is hardly slowing down. He has announced that Café Boulud will return to New York this year, and he's opening his first West Coast restaurant in Beverly Hills. This comes on the heels of him opening the luxe Le Pavillon, which garnered him another Michelin star last year, inside the new supertall skyscraper One Vanderbilt and backing the new 18-seat sushi omakase counter Jōji, which was just awarded a star, too.
1. Thomas Keller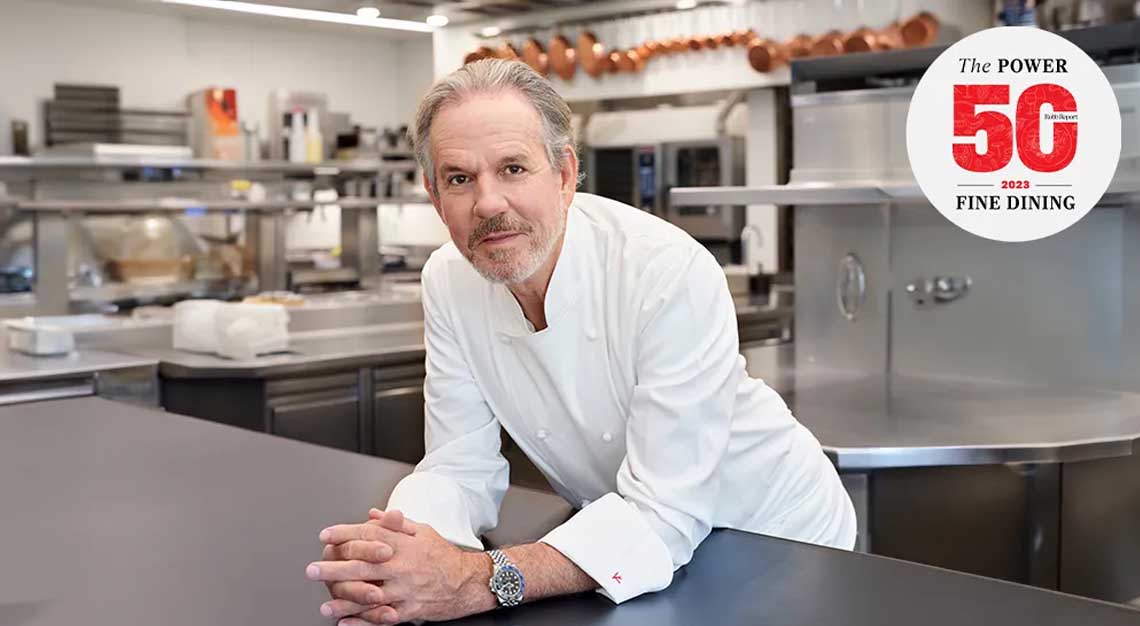 Thomas Keller is undoubtedly the dean of American fine dining: He's the only chef in the States to ever lead two Michelin three-starred restaurants; he has won 10 James Beard Awards; French Laundry topped the World's 50 Best Restaurants list twice; and his six cookbooks have more than 1.5 million copies in circulation. But beyond the accolades, there's the influence he has had on his peers and mentees with his exacting technique, wit, and creativity on the plate and professionalism in the kitchen.
"When Kiss got inducted into the Rock and Roll of fame years ago, Tom Morello claimed they got in on impact, influence, and awesomeness," says James Beard Award–winning restaurateur Kevin Boehm of Boka Group. "Restaurants Hall of Fame criteria could be similar—and French Laundry and chef Keller have killed it on all levels. It's influenced everyone from Corey Lee to Redzepi to Achatz, its impact can be seen in any number of menus and cookbooks across the country, and its awesomeness fills his picturesque dining room every night with guests from around the world."
Through his restaurants, Keller trained a generation of American chefs who have raised the level of food around the country. "You can't go into a kitchen in Napa Valley or even beyond where if you sit there for long enough you won't hear something about a connection to Thomas Keller," says Samantha Rudd, vintner at Rudd Estate and owner of Michelin-Starred Press. "Someone who can continue to motivate people to be the best version of themselves even years after not working for them—that's remarkable."
This story was first published on Robb Report USA