Say hola to some of the best Spanish restaurants in the city
Just like Asian cuisine, Spanish food is known for its complex flavour profile, but at the same time, remains down-to-earth and soul-satisfying. It is hard to get tired of it, and thankfully, there is enough in Singapore to keep those cravings satiated. Here's a quick list of our Iberian favourites across the city.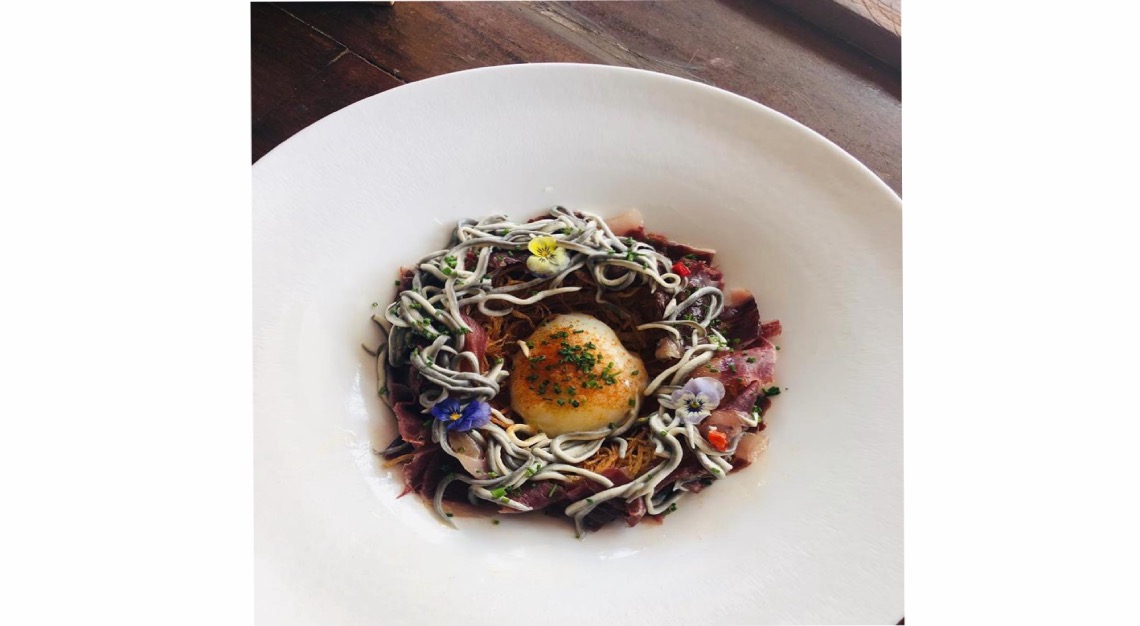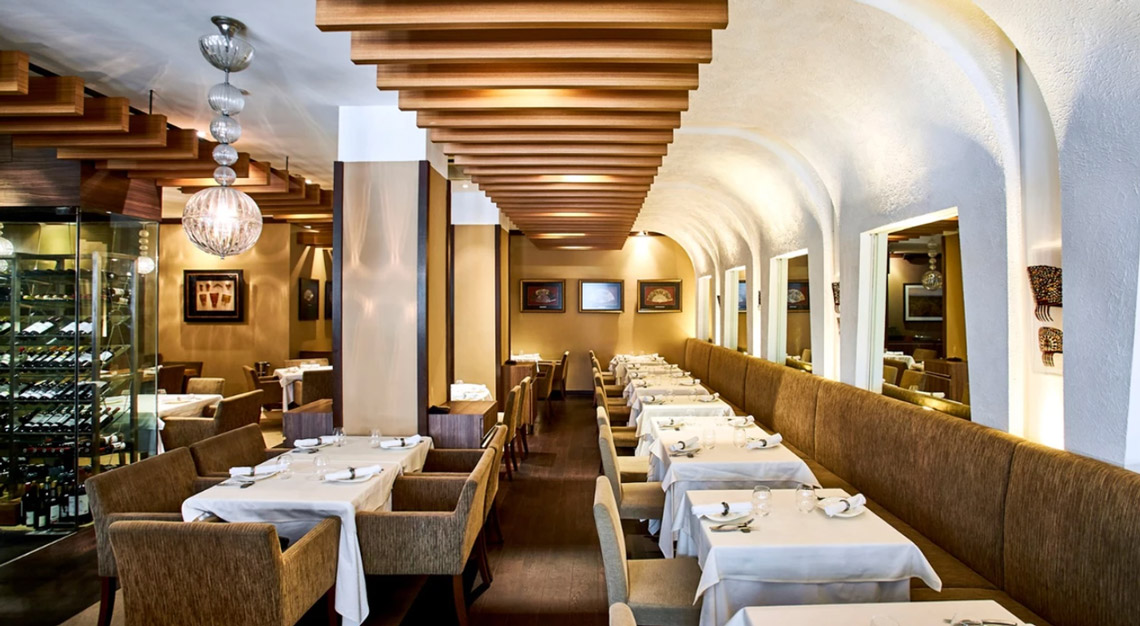 Binomio 
Why go?
Can't decide between a fancy night out or something casual? Binomio, which means "to pair" in Spanish, offers the best of both worlds. Start off with some tapas and pre-drinks at its casual tapas bar while you brace yourself for something bigger (and fancier) inside the fine-dining area, which can comfortably fit 18 guests. The food, cooked under the watch of chef and co-owner Jose Alonso, is authentic, unfussy and just satisfying, and the service, warm and hardly suffocating. Chances are you're not going to leave without making a booking for the next round.      
What to order?
At the bar, opt for a tapas tasting menu or begin with the La Merienda de carne (country style chicken and chorizo pate paired with warm rustic bread) and see where your mood takes you. Then proceed to the fine-dining room for the Squid Ink Paella. Binomio serves the best paella in the country and they know it. 
Binomio
#01-02
20 Craig Road
Craig Place
Singapore 089692
Tel: +65 6557 0547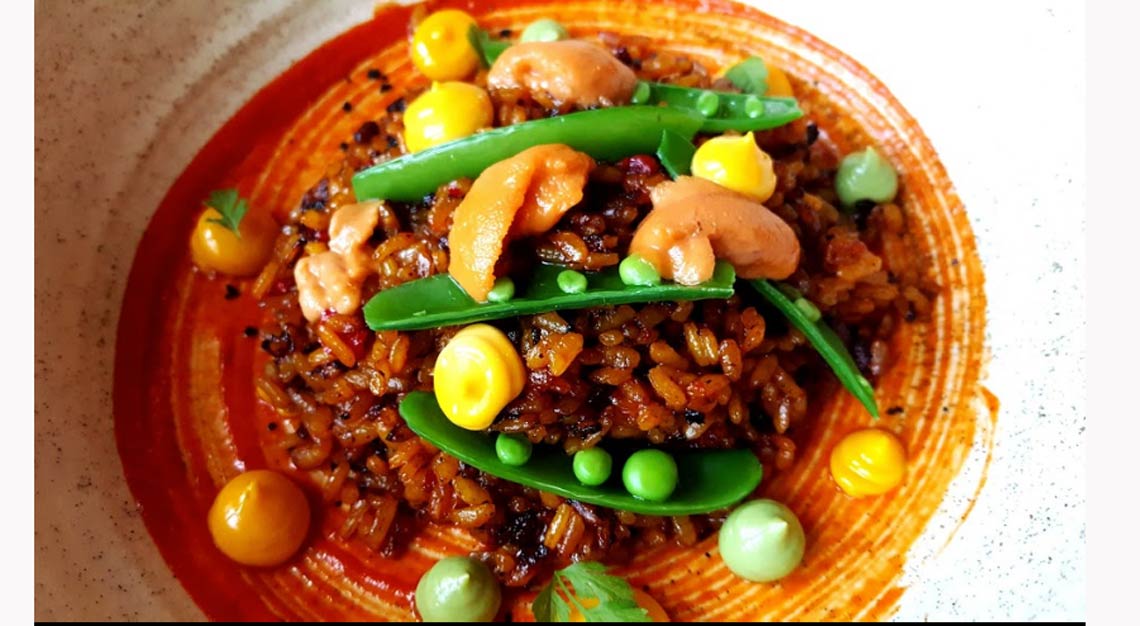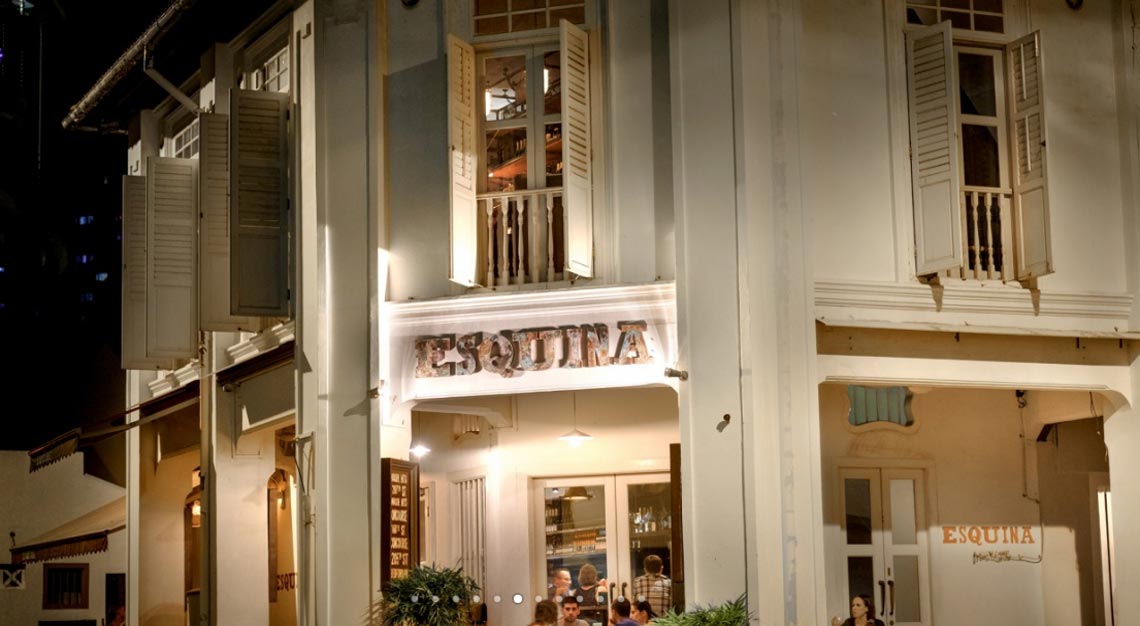 Esquina
Why go?
From red-light district to food haven, the neighbourhood of Keong Saik has gone through quite a change, and we're hoping it stays this way. At one corner of this tiny enclave is Esquina, a popular two-storey shophouse diner filled with an industrial-chic interior and the energy of Carlos Montobbio, the head chef who trained at the Roca brothers' Celler de Can Roca. Having taken over the baton from Andy Walsh (who's now at Cure), the menu has gone from freestyle to a lot more traditional, but executed with just enough creativity.  
What to order?
Must-orders are the Sea Urchin Paella, Grilled Spanish Octopus with sweet corn sauce, chimichurri, chorizo oil and the Zuberoa Cheesecake; burnt Basque cheesecake with sangria sorbet, raspberry.
Esquina
16 Jiak Chuan Road
Singapore 089267
Tel: +65 6222 1616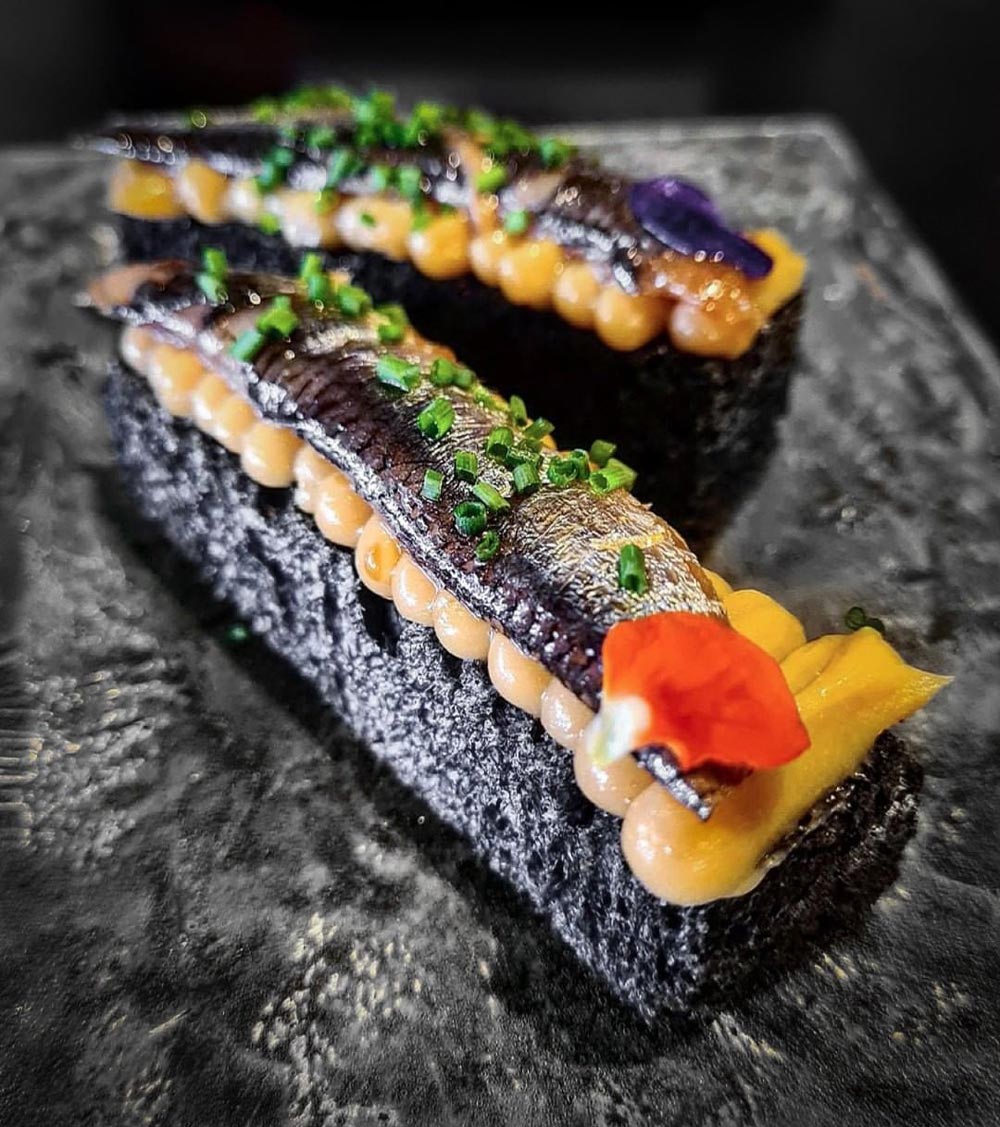 FOC
Why go?
Michelin-starred chef Nandu Jubany's restaurant, FOC (pronounced 'fok', it means 'fire' in Spanish), is here to give you the grand tour of Catalonia, specifically Barcelona. Enter the restaurant and be greeted by a Gigantes y Cabezudos-inspired interior, with these peculiar-looking heads hanging from the ceiling. Its Spanish tapas, while traditionally Catalan, are gussied up with contemporary touches and best washed down by bottles of wines or cocktails. We suggest the latter – there's a lot of good stuff designed by award-winning bartender Dario Knox, whom you'll also see working his magic at The Other Room.
What to order?
Order the famous Patatas Bravas, stacks with thinly sliced potato topped with aioli and salsa brava.
FOC
40 Hongkong Street
Singapore 059679
Tel:  +65 6100 4040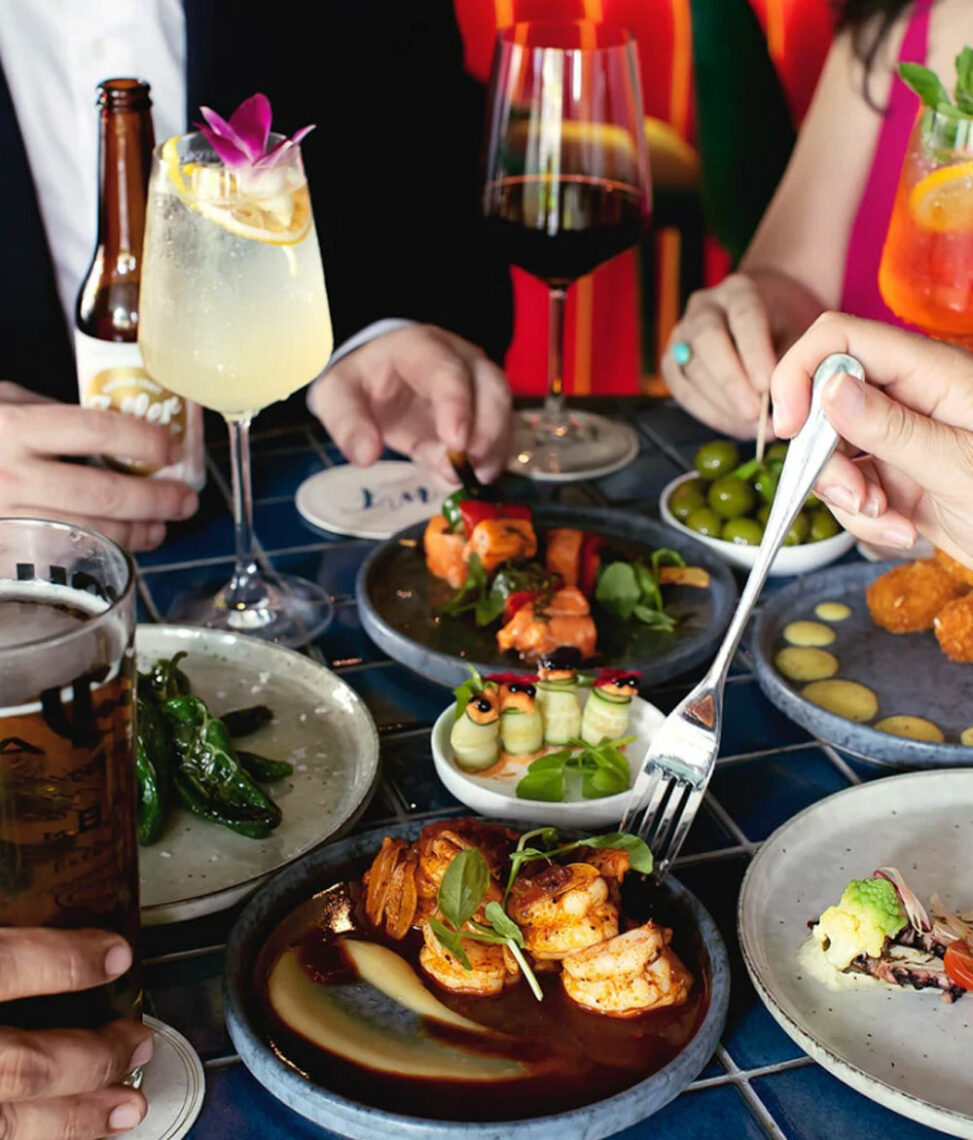 Miss Fitz
Why go?
Our last visit to Miss Fitz Kitchen + Bar warranted a second trip, so we returned to sample the restaurant's new tapas menu. A selection of bite-sized tapas (ranging from S$5 – S$8 in the evenings and only $3 during "Tapas Time!" from 3pm to 6pm daily) has been introduced in celebration of the venue's second year anniversary, focusing on flavours inspired by Mediterranean coastal cuisine. In true pintxo bar style, the tapas items are presented uniquely as canapés on small plates, carefully curated with fresh herbs and quality produce selectively imported from the Mediterranean.
What to order?
We came to a conclusion that the tapas menu here isn't as memorable as the restaurant's dinner offerings; but with that said, the Middle Eastern Crispy Falafel with Mint and Garlic Yoghurt and Prawn Skewer with Aioli turned out to be our ultimate favourite. Another item worth a mention is the Sauteed Artichoke, paired with delicious slivers of crispy chicken.
Miss Fitz
6 Marina Boulevard
#01-17 The Sail at Marina Bay
Singapore 018980
Tel: +65 8129 4617