Enjoy a three-part ballet performance that encompasses sight, sound and movement
There are watches you wear to be on time, and there are watches you wear to escape time. Van Cleef & Arpels' new Lady Arpels Ballerines Musicales clearly belongs to the latter category, and you might even say that time-telling is irrelevant with this magnificent horological triptych.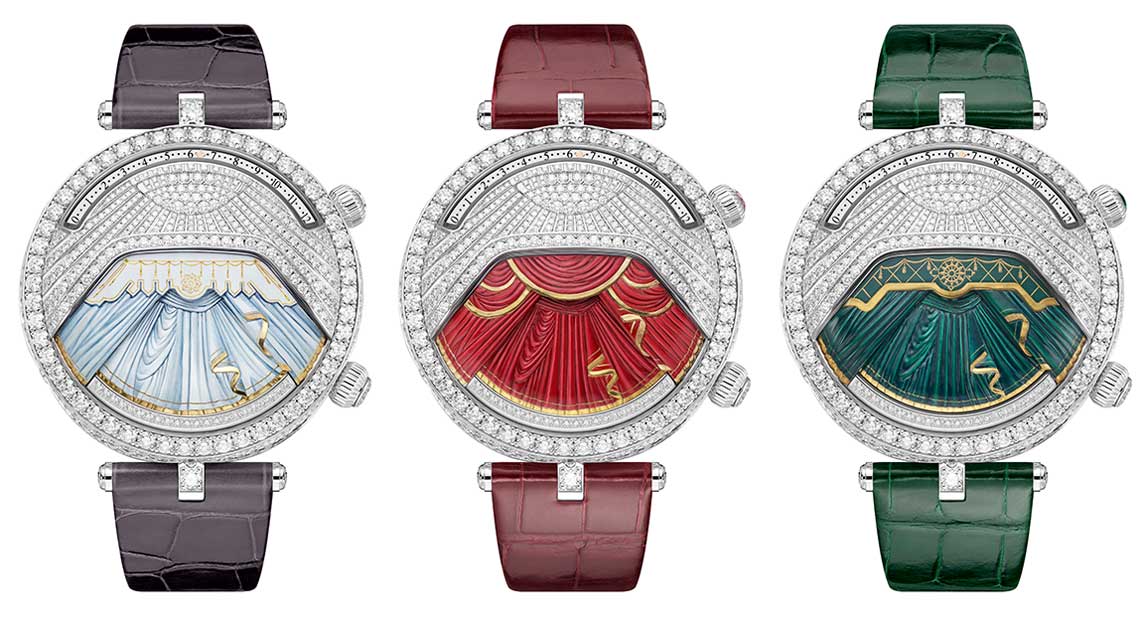 For there is no dial in the conventional sense of the term here, and the only hands you'll find are those of tiny dancers prancing about delightfully in classic ballet moves. The arabesque, petit jeté, penché… It's almost like you're in a box seat, opera glasses in hand, at the Paris Opéra Garnier. Or the Bolshoi Theatre. Or the American Ballet Theatre in New York. And you're about to be amazed by a dazzling show of beauty, colour, music and movement, just as Claude Arpels was at the 1967 performance of George Balanchine's Jewels.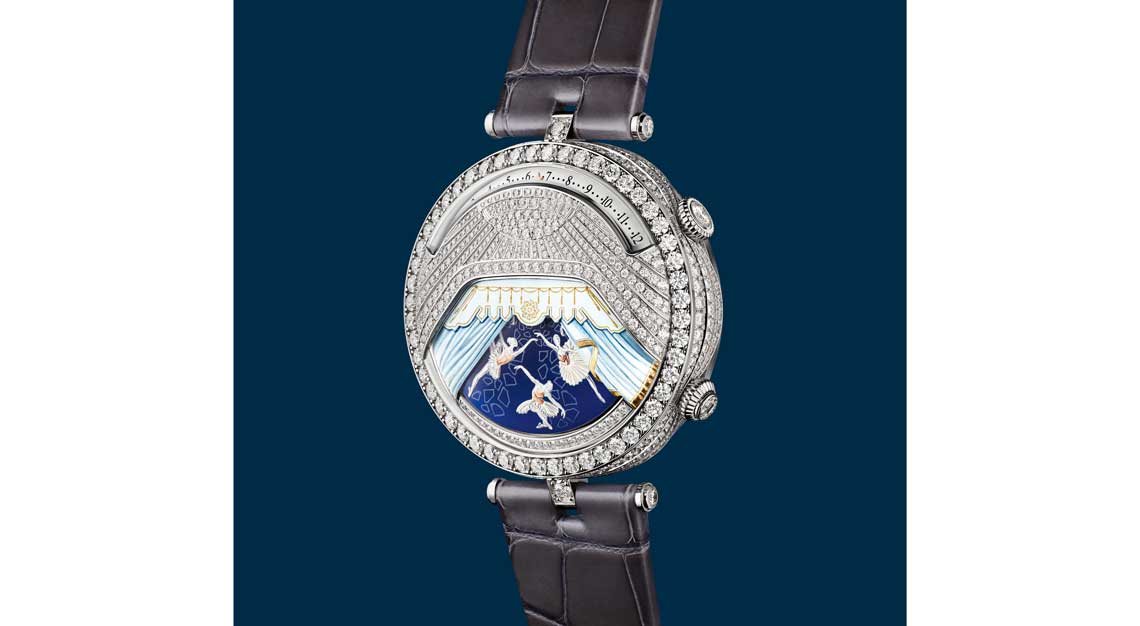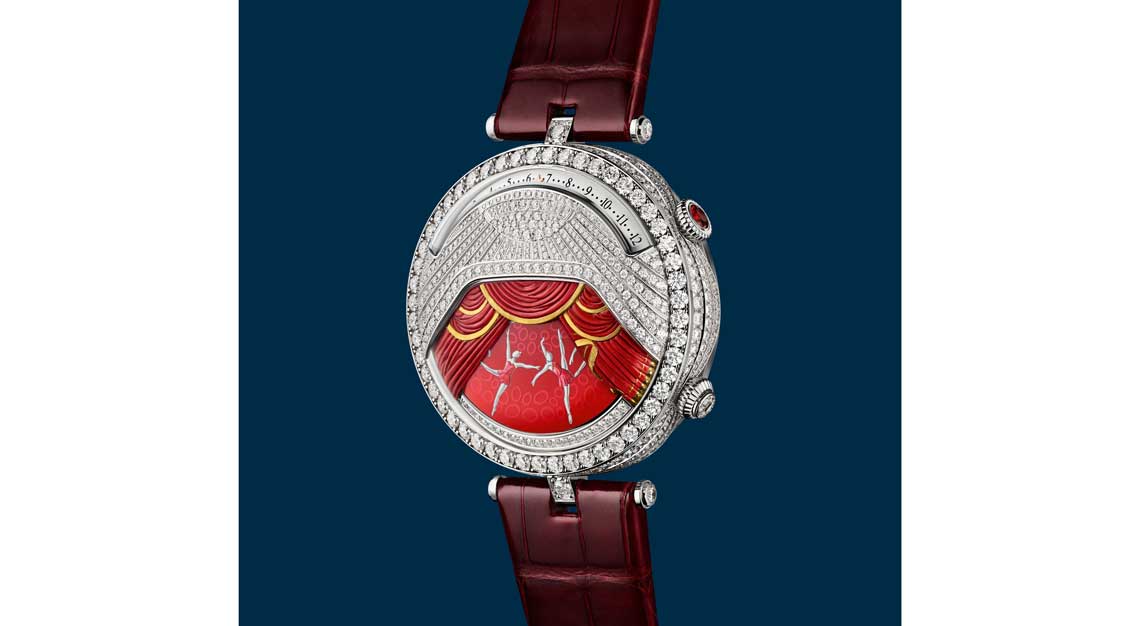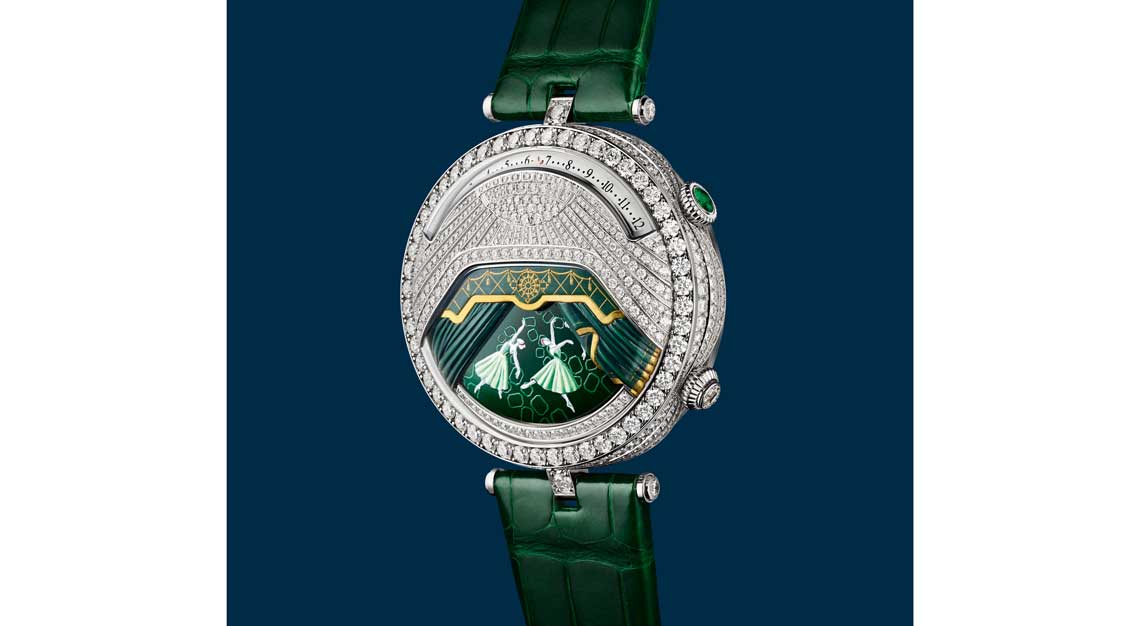 Performed first at the New York State Theatre and now all around the world, Jewels is a non-narrative three-act ballet each themed on a gemstone and a composer. CEO of Van Cleef & Arpels describes it best: "A production that explores through dance what precious stones can inspire." Where Emeralds depicts a romantic medieval French forest to music by Gabriel Fauré, Rubies showcased the vivacity of modern America set to music by Igor Stravinsky; and Diamonds features a wintry white scene in Imperial Russia, with music by Tchaikovsky.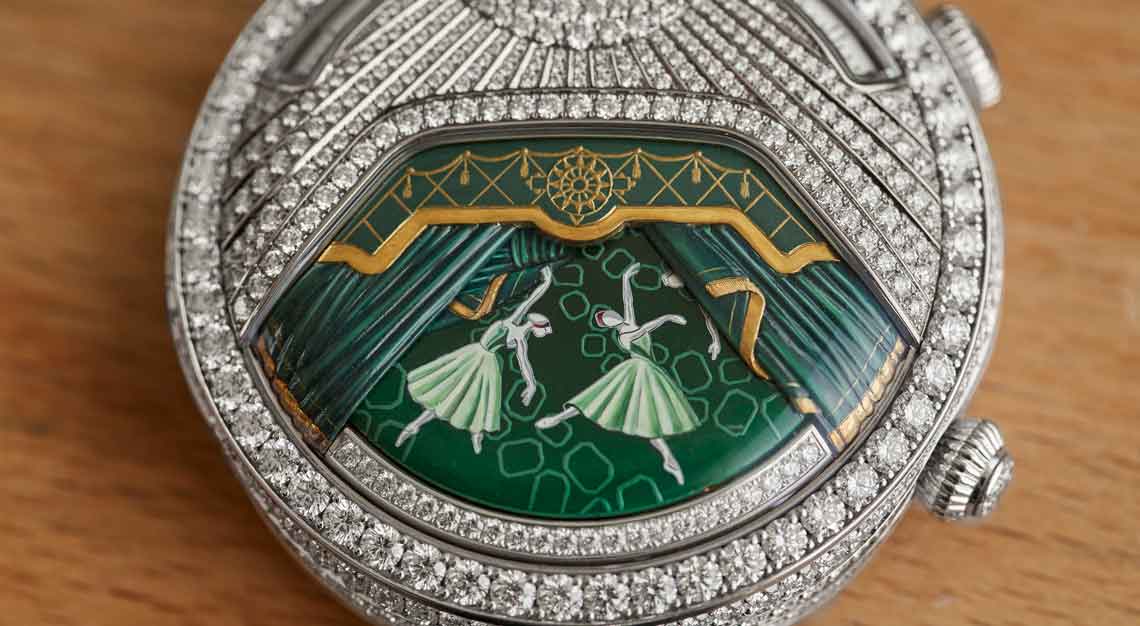 Balanchine, as the story goes, met Arpels in New York in the late '30s. Throughout the '40s, Van Cleef & Arpels' passion for dance was evident in the many danseuse brooches and clips. Featuring a gold or rose-cut diamond face and fitted with elaborate ornaments, these tiny figurines often wore tutus and point shoes as a nod to the Maison's deep fascination with the art of ballet.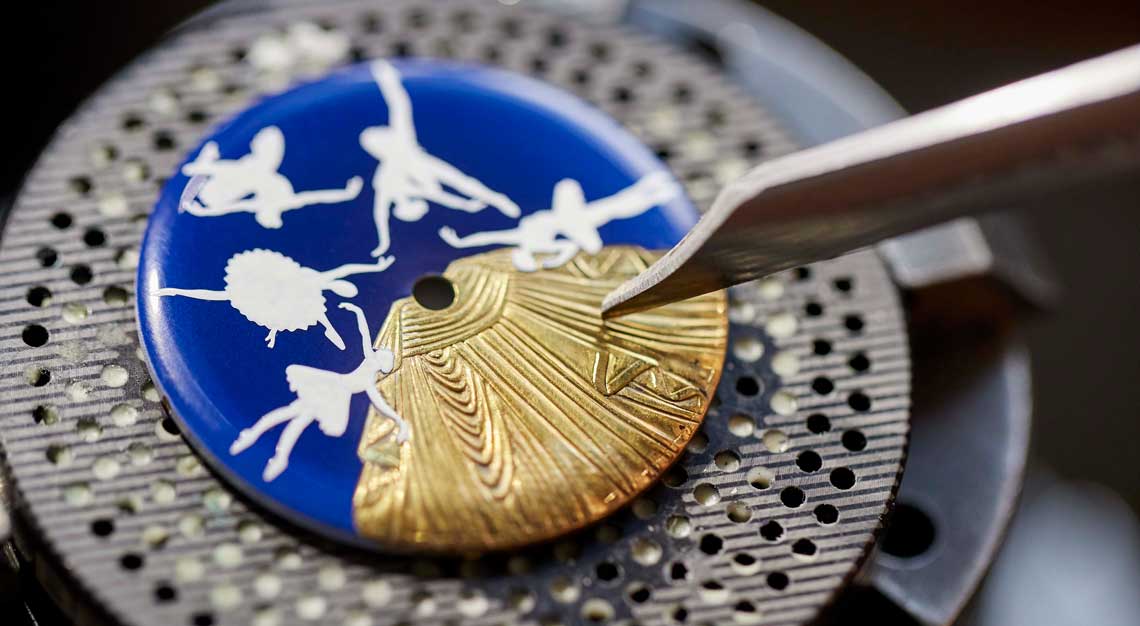 To re-enact Balanchine's glorious ballet performance, and pay it a worthy tribute, Van Cleef & Arpels turned to the world of haute horlogerie. Echoing the choreography and set costumes, the Lady Arpels Ballerines Musicales is a three-piece series, where each timepiece is themed on one of the three gemstones.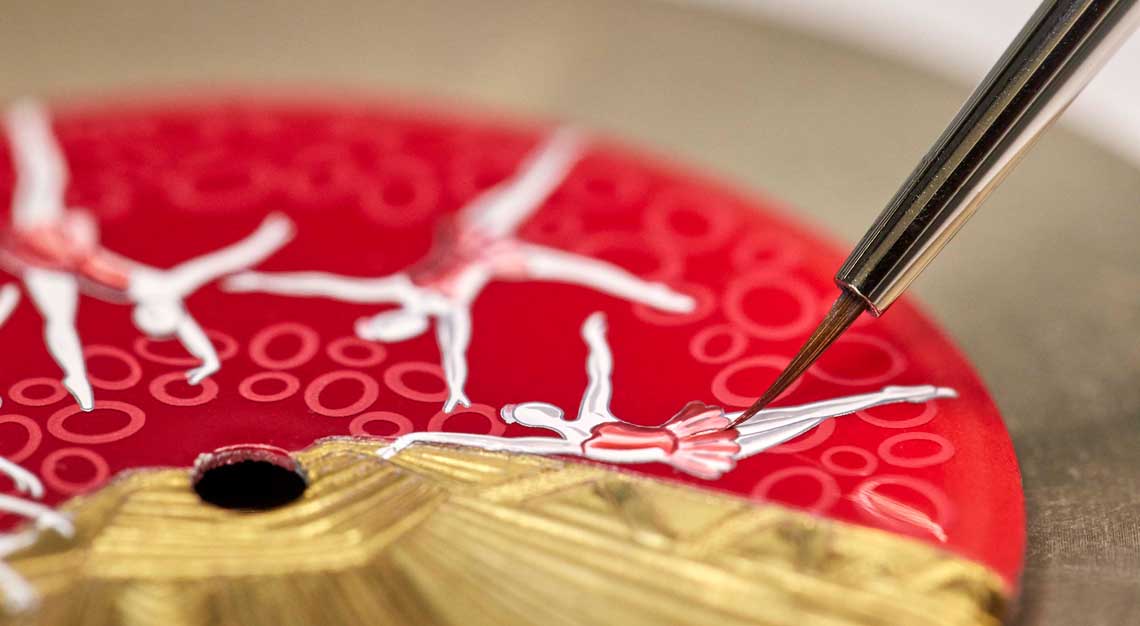 Under a canopy of brilliant white diamonds, thick velvety curtains in green, red or blue are crafted in traditional hand engraving and miniature painting. All is still, like that moment before the curtain finally lifts. And when it does – you could do it by pushing the button at four o'clock – the lower disc rotates, opening the curtains, and the dial becomes a stage.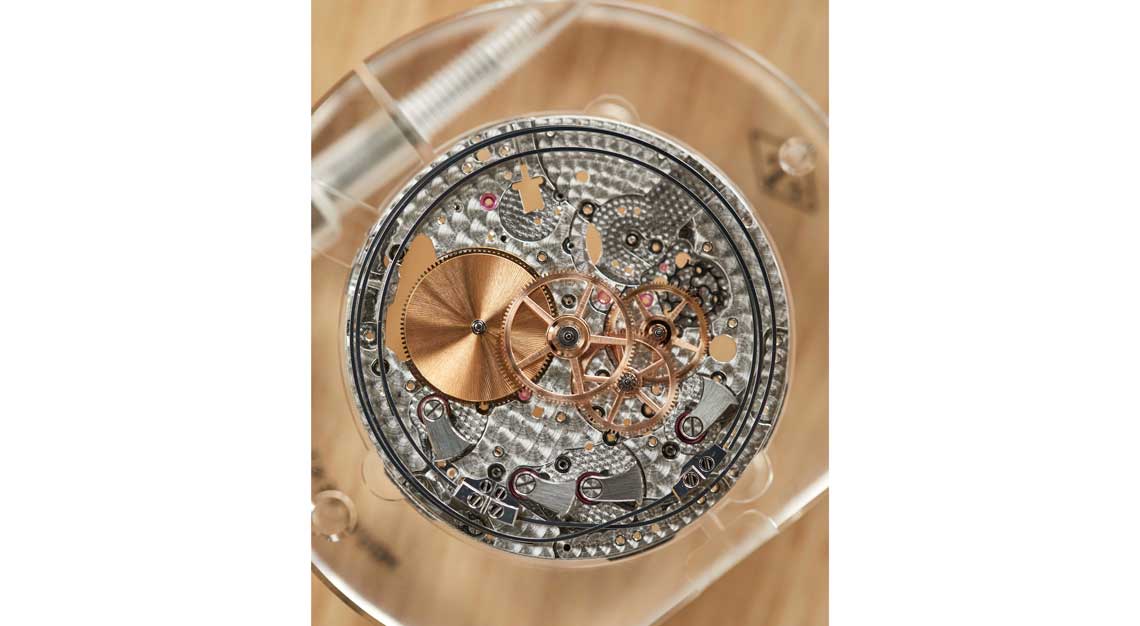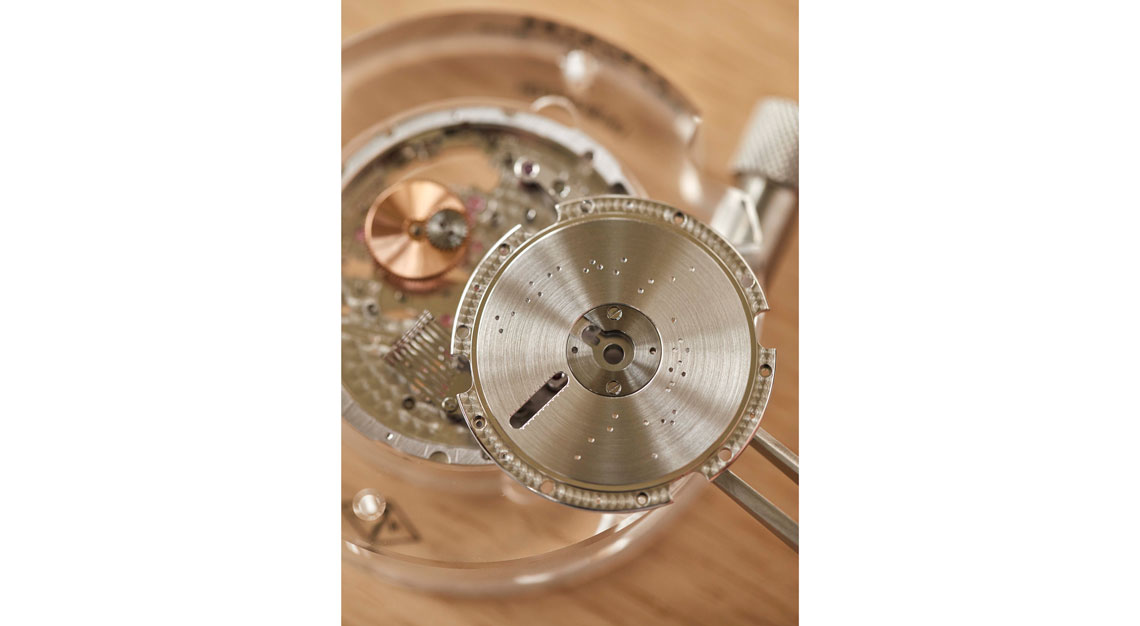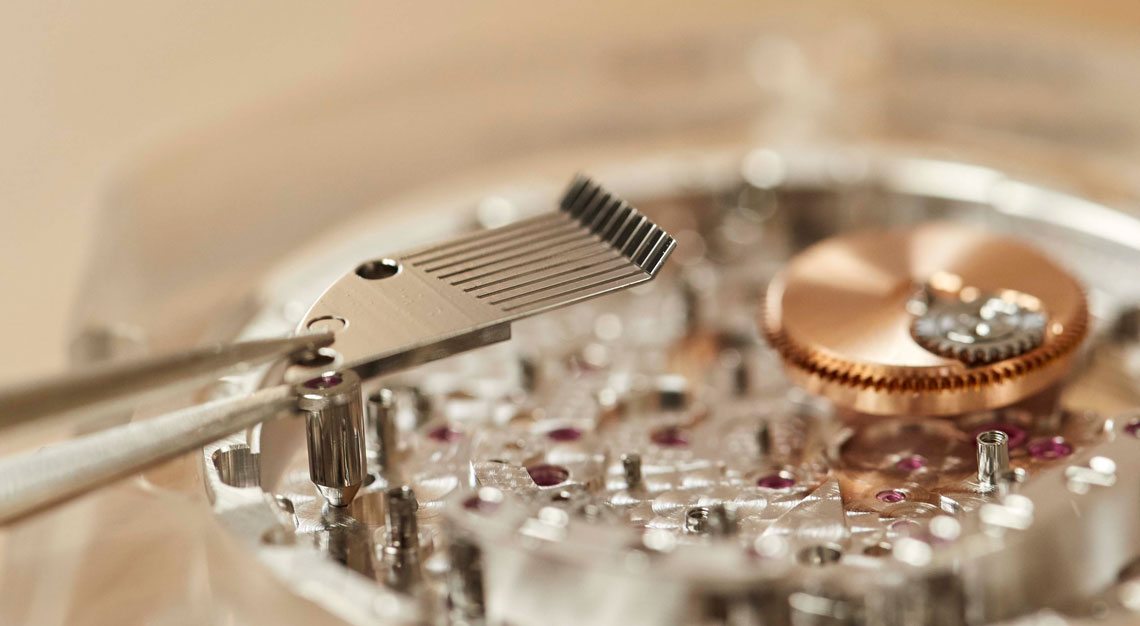 For the next 20 seconds, you'll be enchanted by Balanchine's ingenuity and Van Cleef & Arpels' poetic watchmaking creativity. Providing the music for this stunning visual performance are two different chiming instruments: a 10-blade keyboard and a four-note carillon repeater, both carefully tuned to ensure pitch perfect melodies. For this, Van Cleef & Arpels enlisted the help of Swiss concert musician Michel Tirabosco.
Says Tirabosco, "My job was to select and extract three melodies of 20-25 seconds each, that is, melodies pulled from the classical repertoire namely Tchaikovsky's Symphony No. 3, Stravinsky's Capriccio for Piano and Orchestra, and Fauré's Pelléas et Mélisande. That was the challenge: To say it all in 20 seconds."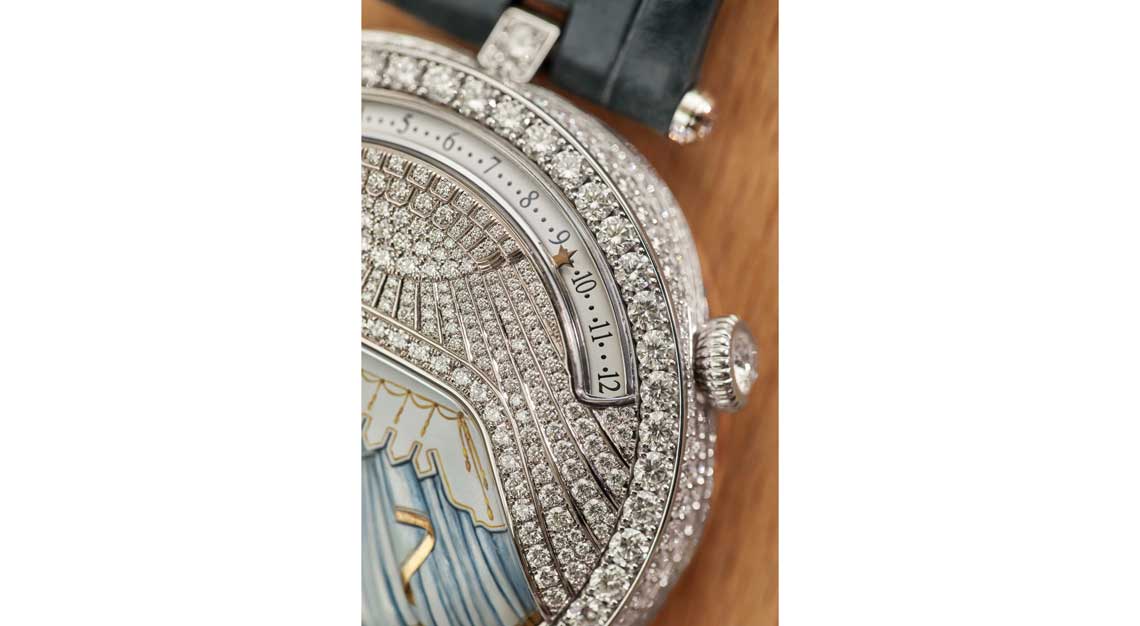 Adds Paulo Da Graca, head of watchmaking workshops at Van Cleef & Arpels, "The goal was to achieve a piece that conveys something more than only sound and melody: the emotion that accompanies it."
A massive undertaking that took 10 years to realise, the pieces are like bejewelled music boxes for the wrist. This was the first time Van Cleef & Arpels used two different instruments playing a melody and a score. For the chosen melodies to be played exactly as if it were on piano, there was no other way but to do so. Needless to say, this internal mechanism is one of the Maison's most complex creations to date, indeed even producing the case was a serious technical feat.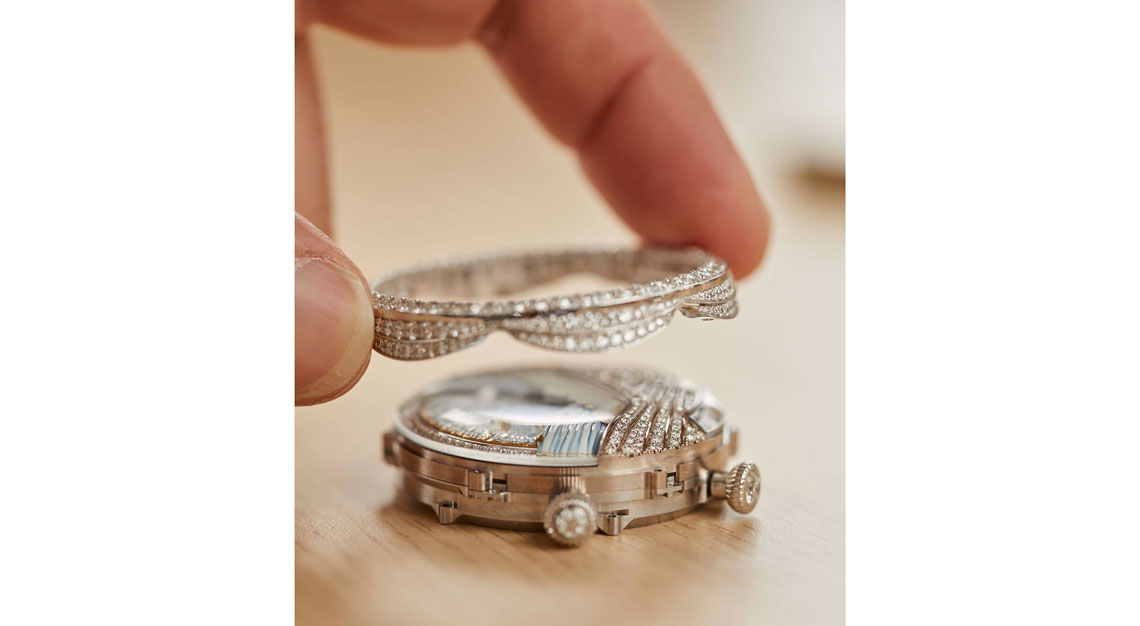 Fully set with diamonds, it is a 125-component multipart and multi-layered case that not only resembles a theatre, but acts like one too. Narrow gaps in the outermost layer called chatonage allow room for sound waves to project forward.
Yet the strange thing is, complexity is the last thing on our minds when we look at the Lady Arpels Ballerines Musicales. Because when not smitten by the sweet melody and ballet dancers, we're busy poring over the exquisite métiers d'arts and stone-setting mastery seen all around the watch, including even the lugs. Yours for S$660,000.