It's difficult to imagine a journey with greater juxtaposition than one between Las Vegas and the Grand Canyon, yet the locations offer similar sensory overload as they tap into our craving for adventure and freedom
Recently, the first Robb Report Dream Machines event was attended by 32 RR1 private club members in search of both. With the Aria Resort & Casino as base camp, where evenings were spent dining with chefs Michael Mina and Jean-Georges Vongerichten, we drove roughly 435km to the South Rim of Grand Canyon National Park and back while field-testing eight of the top SUVs on the market. Along the way, they revealed their own dual nature of comfort and all-terrain capability.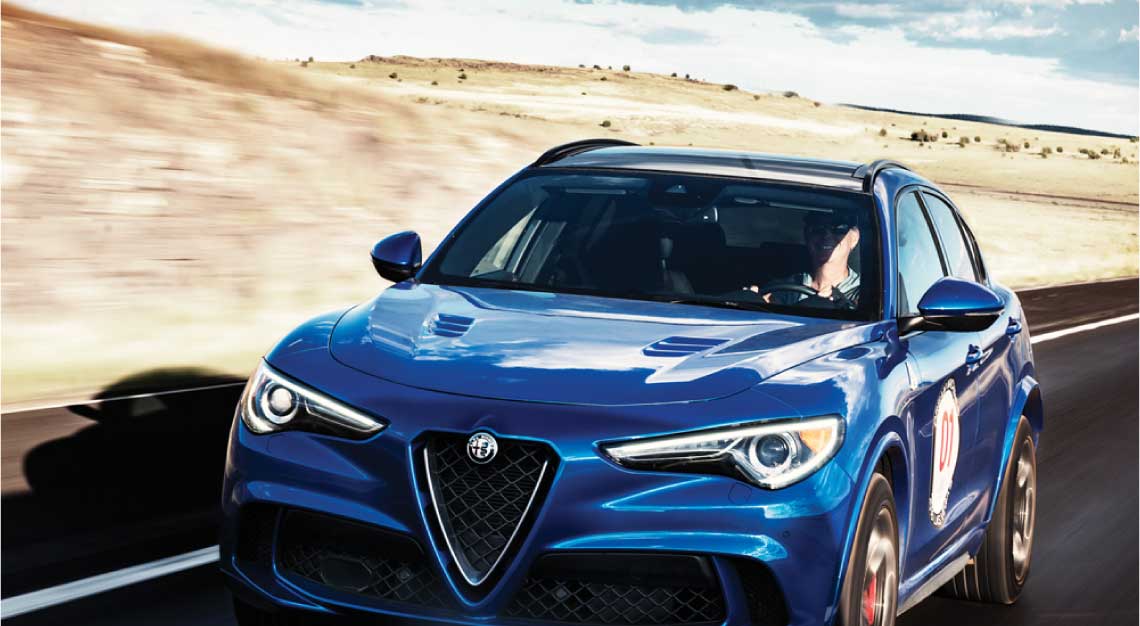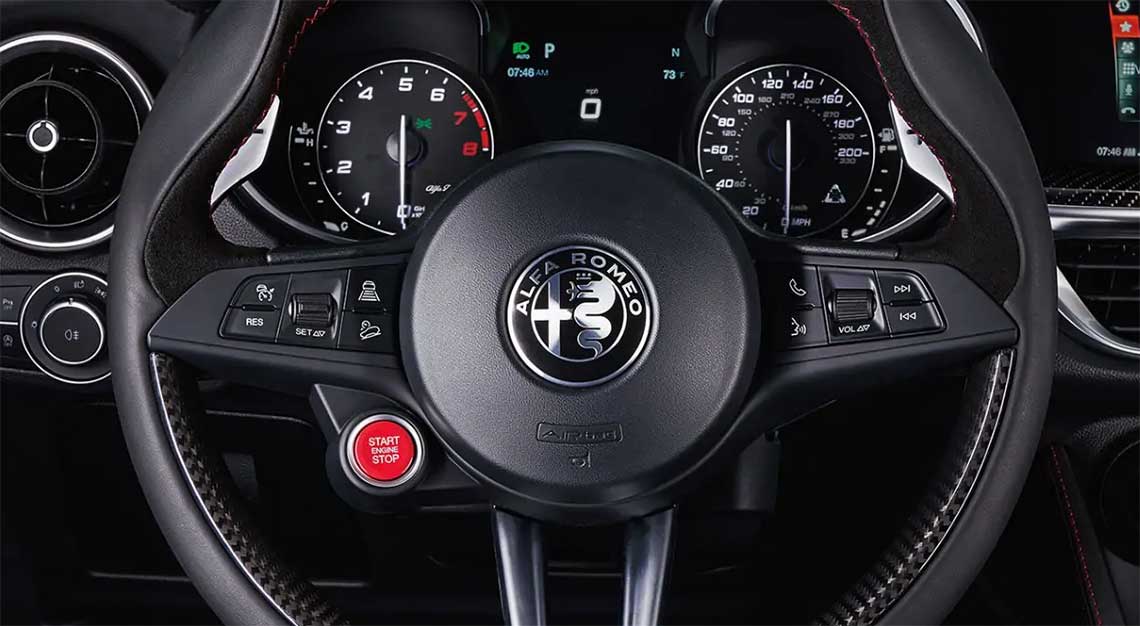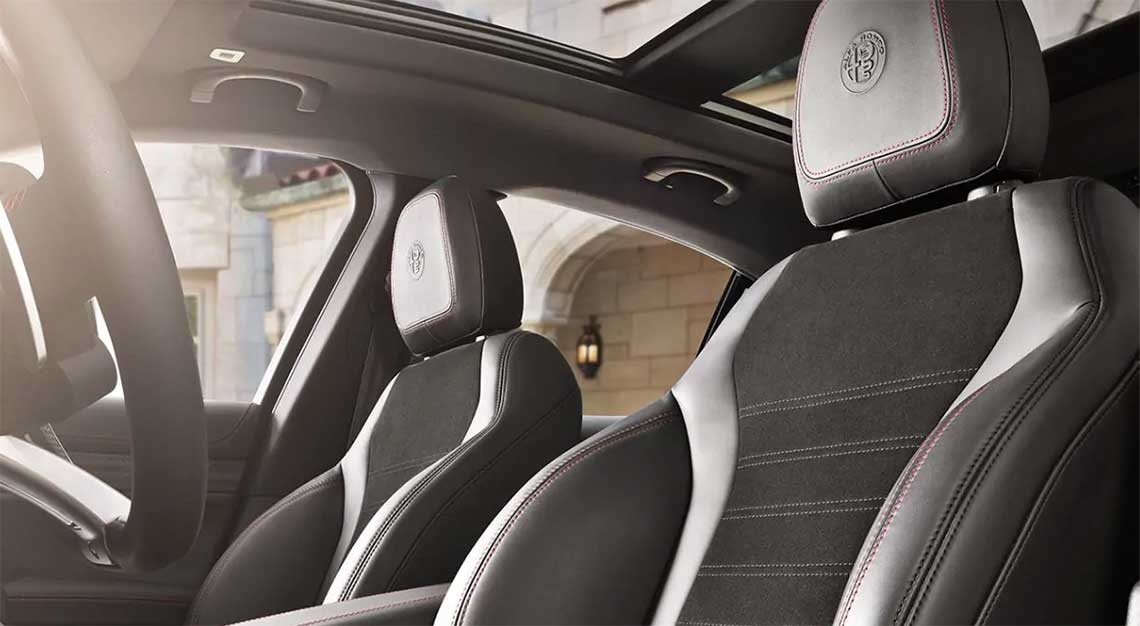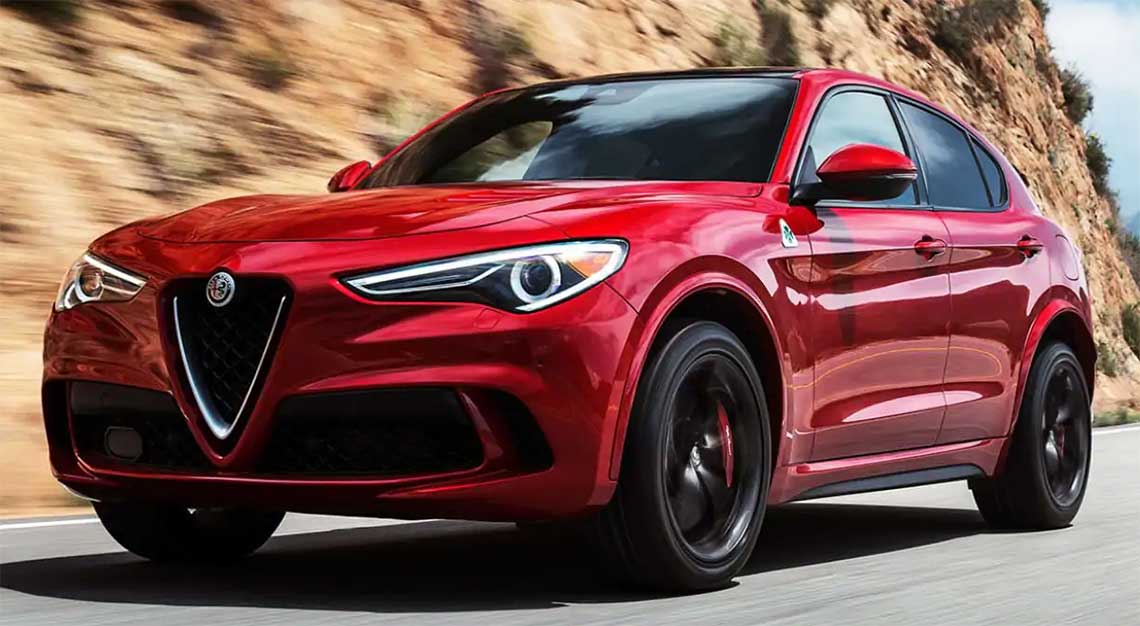 Alfa Romeo Stelvio Quadrifoglio
Remember playing tag as a child? There was always that one small kid with the body weight of a house cat – and just as quick and agile – who gave the bigger players a real run. That was Alfa Romeo's Stelvio Quadrifoglio in our field of four-wheelers. Pushing past perceptions, however, is becoming a mainstay for the marque's top-of-the-line Stelvio variant. After all, it was the Quadrifoglio version that set a lap record at Germany's infamous Nurburgring circuit – the litmus test for speed and performance – by covering the 21km course in 7 minutes and 51.7 seconds to become the fastest production SUV to date. And even though the Lamborghini Urus may soon take away that title, the well-earned bragging rights are a tribute to the competitive legacy of Alfa Romeo, the automaker for which a young Enzo Ferrari once raced prior to debuting his own banner.
Now flying under the flag of Fiat Chrysler Automobiles, Alfa has given its course-crushing crossover the same Giorgio platform shared by its own Giulia sedan. The Quadrifoglio's get-up-and-go is courtesy of its all-aluminium 2.9-litre, biturbo V-6 that kicks out 505hp and 600Nm of torque (delivered between 2,500 and 5,500rpm) teamed with an eight-speed automatic transmission.
The straight stretches of Route 93, outside of Sin City, offered little chance to check out how the torque-vectoring twin-clutch rear differential transfers power for optimal handling on twists and turns, but the clear shot to the horizon line was a temptation to test the 283km/hr top speed. Presence of mind and the presence of state troopers purged the urge. Once off-road, the Q4 Intelligent All-Wheel Drive system was in full gear. Still, the vehicle definitely felt a bit out of its element compared to some of the more purpose-driven all-terrain transports on hand. But then let's see them tear up the track.
Car Specifications
Engine: 2.9-litre biturbo V-6
Max Power: 505hp
Top Speed: 283km/hr
Base Price: US$79,995 (S$108,473)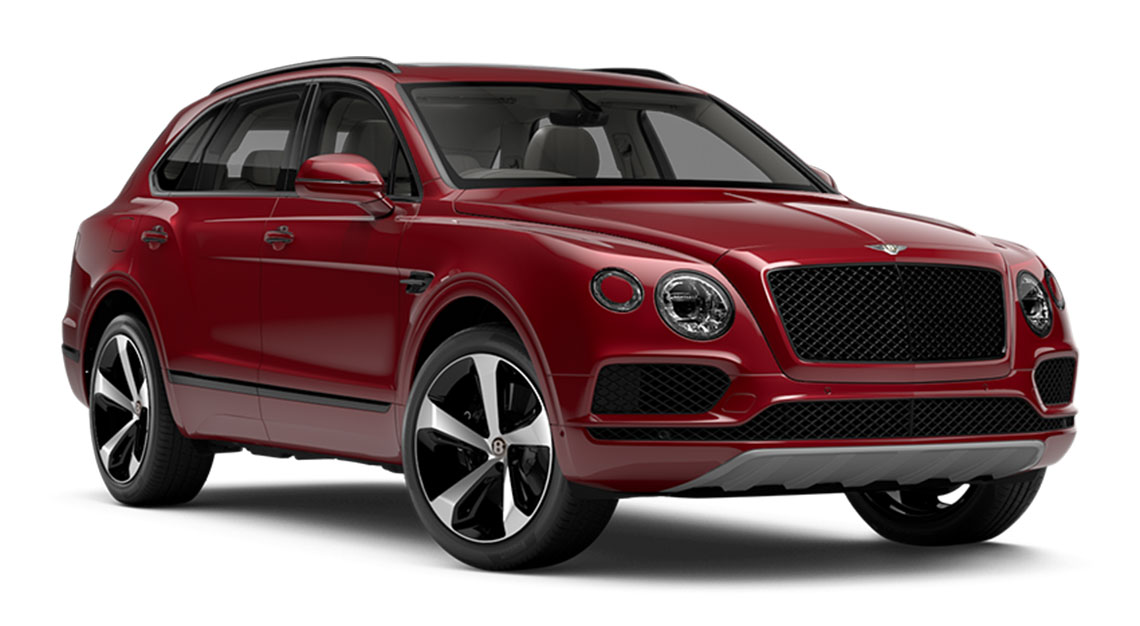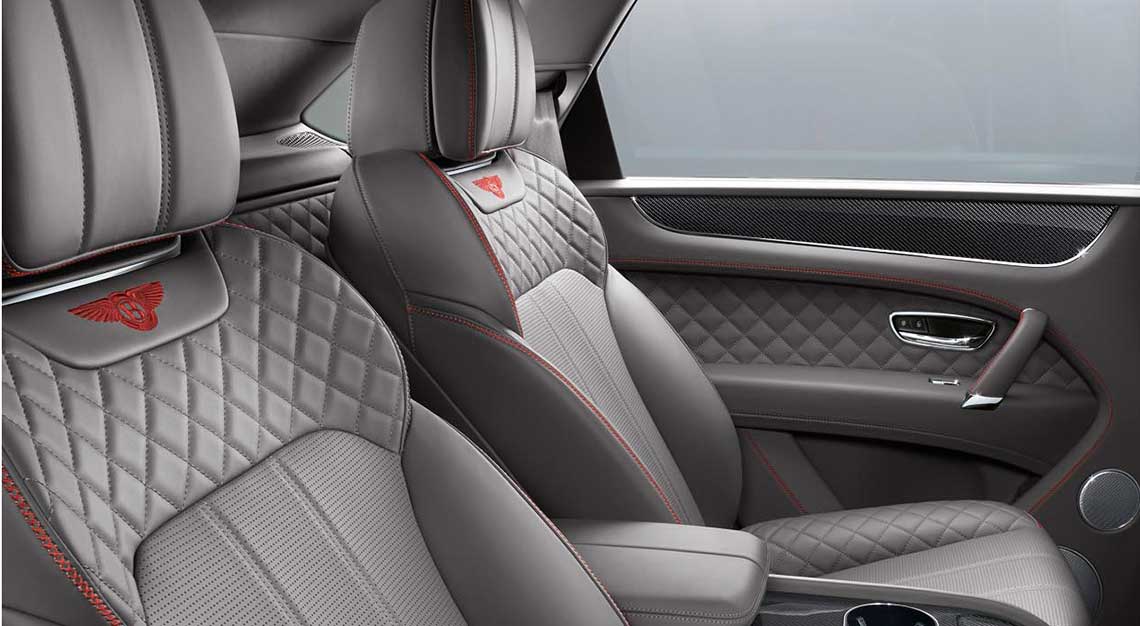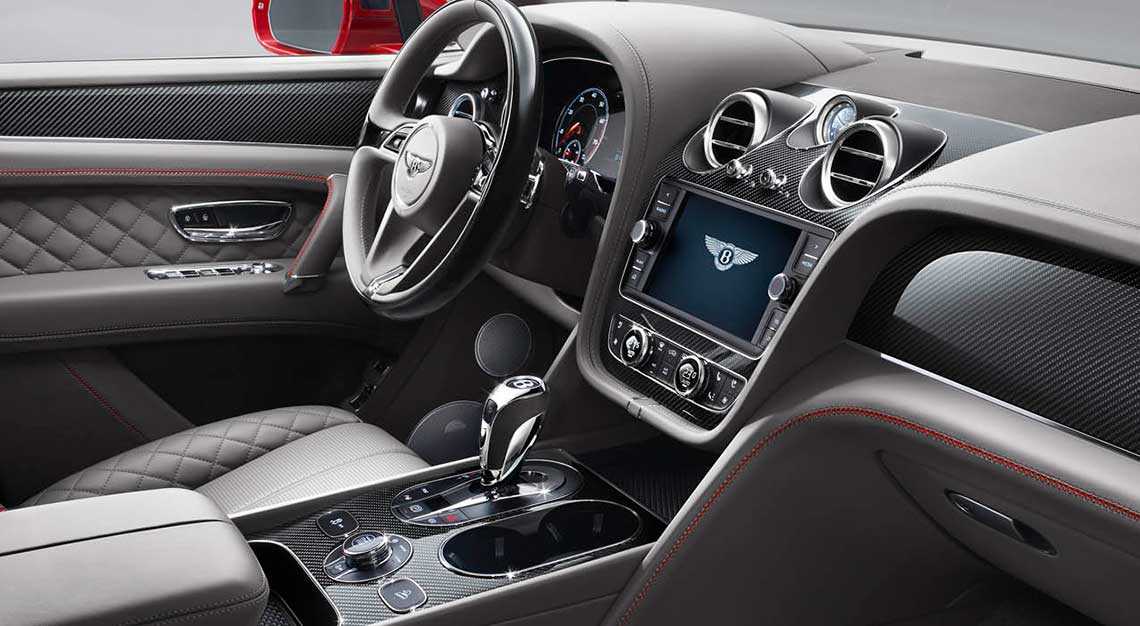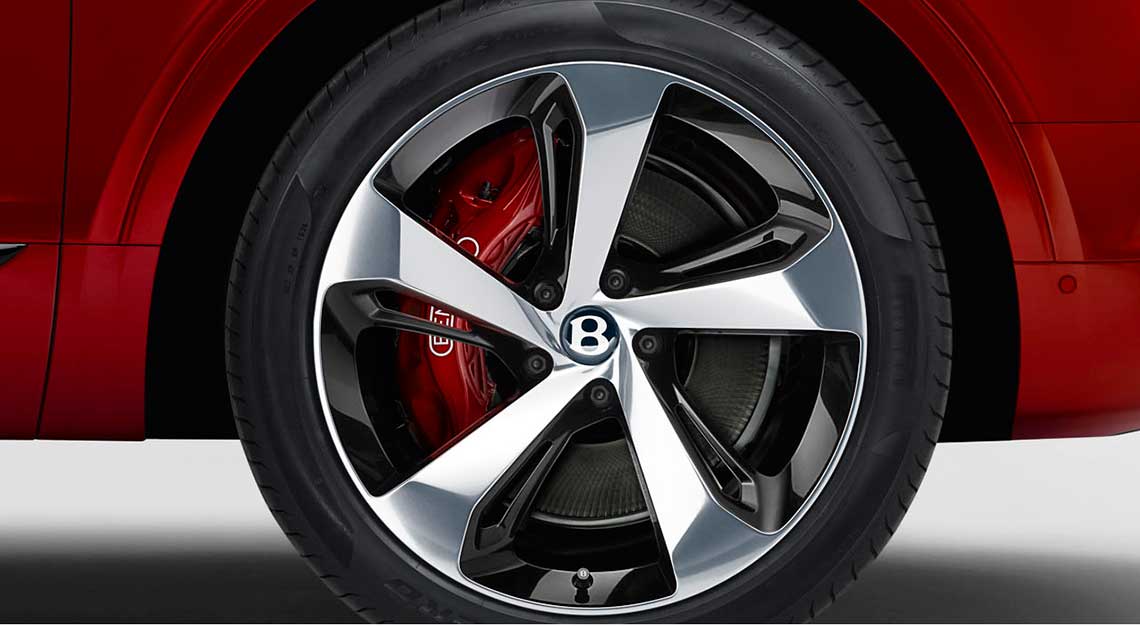 Bentley Bentayga V8
British operatives John Steed and Emma Peel, characters from the cult-classic '60s television show The Avengers, tackled the toughest assignments with pluck and panache, maintaining an air of refinement no matter how rough it got. Had the Bentley Bentayga V8 existed back then, it would have been their vehicle for adventure.
Sibling to the marque's 12-cylinder SUV, the new variant sacrifices very little in the way of sophisticated aesthetic – save for substituting the original model's dash-encased Breitling timepiece for an in-house option – an equally minimal amount when it comes to power and performance. Sure, the four-litre twin-turbocharged V-8 engine means a reduction of 58hp and 130 fewer Nm of torque compared to the W-12 configuration, but the power train propels the Bentley Bentayga V8 from zero to 100km/hr in 4.4 seconds on its way to a top speed of 290km/hr. Put in perspective, that's only 0.4 seconds and 11km/hr slower than the brawnier Bentayga, and at a price that starts at approximately US$64,000 (S$86,784) less than the latter's.
The Bentley Bentayga V8 was a favourite conveyance of the collective on our desert jaunt, and it handled all terrain with ease, thanks to electric active-roll technology that provides optimal response to lateral instability and delivers the most tire contact possible on uneven surfaces. And when our destination was reached, the cabin's leather upholstery – complemented by carbon-fibre trim – made exiting to explore the rim of the Grand Canyon a bit bittersweet. Only a bit, mind you.
Realistically, the most mud this SUV will likely encounter is from the polo club's overflow parking after a rain. When off-road action is on the agenda, however, it's clear that the impeccably appointed Bentley Bentayga V8 is one of the best out of the gate, with a strength and dignity to earn a tip of Steed's bowler.
Car Specifications
Engine: Four-litre, twin-turbocharged V-8
Max Power: 542hp
Top Speed: 290km/hr
Base Price: US$165,000 (S$223,726)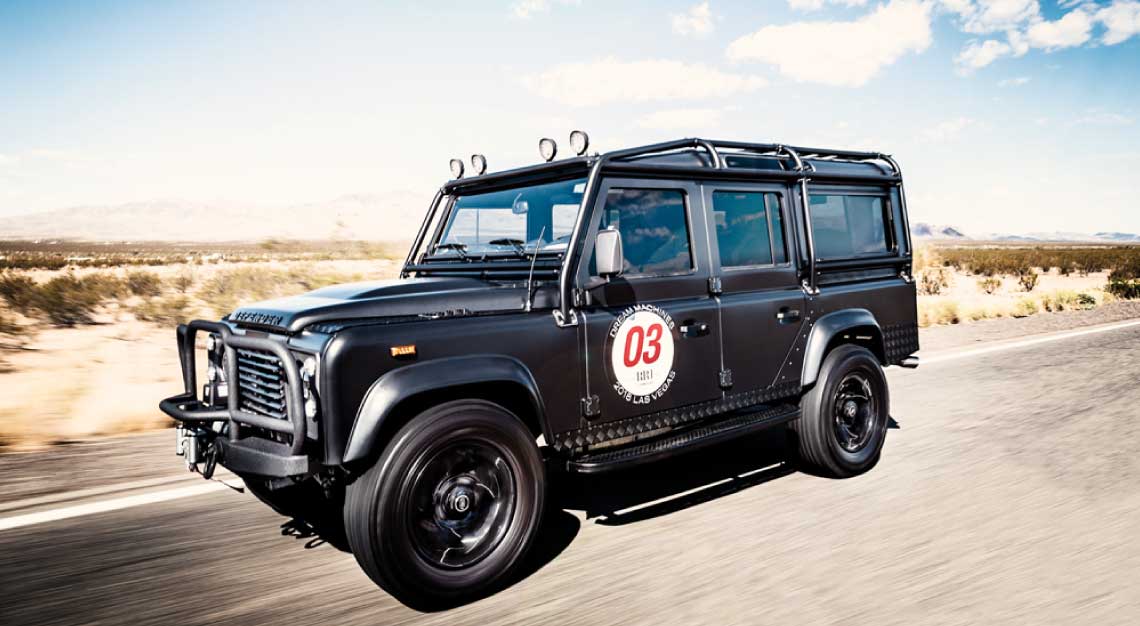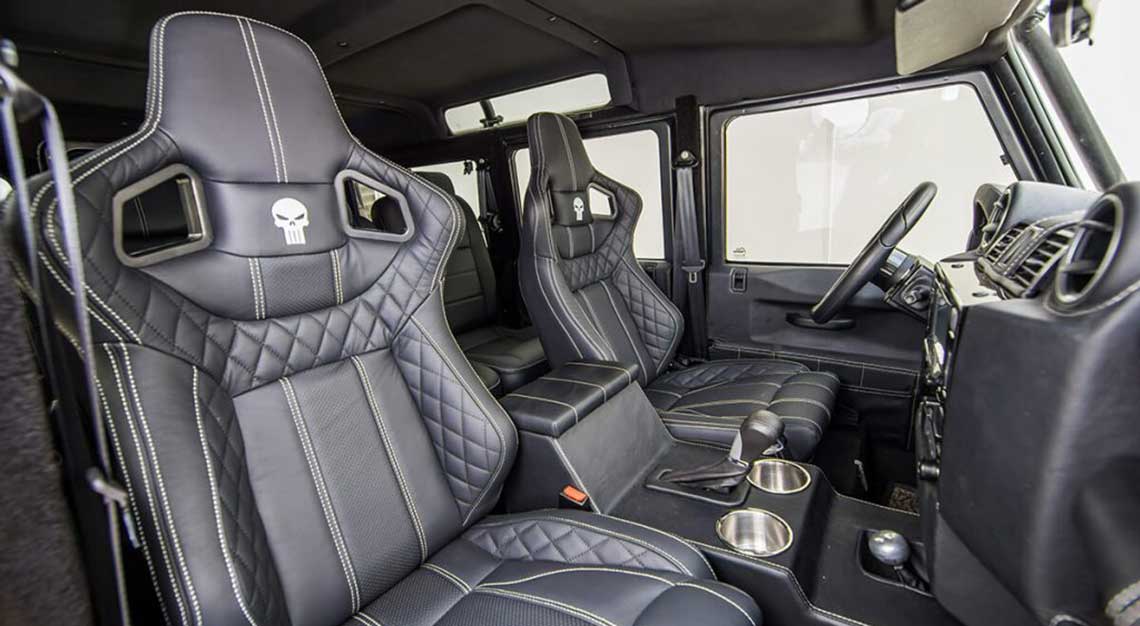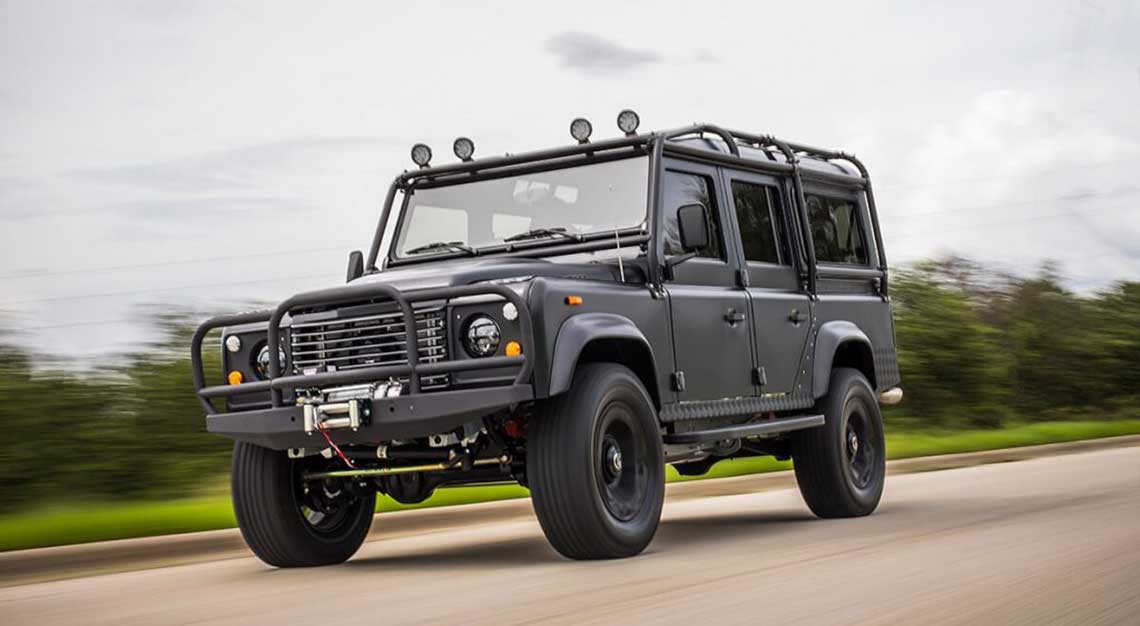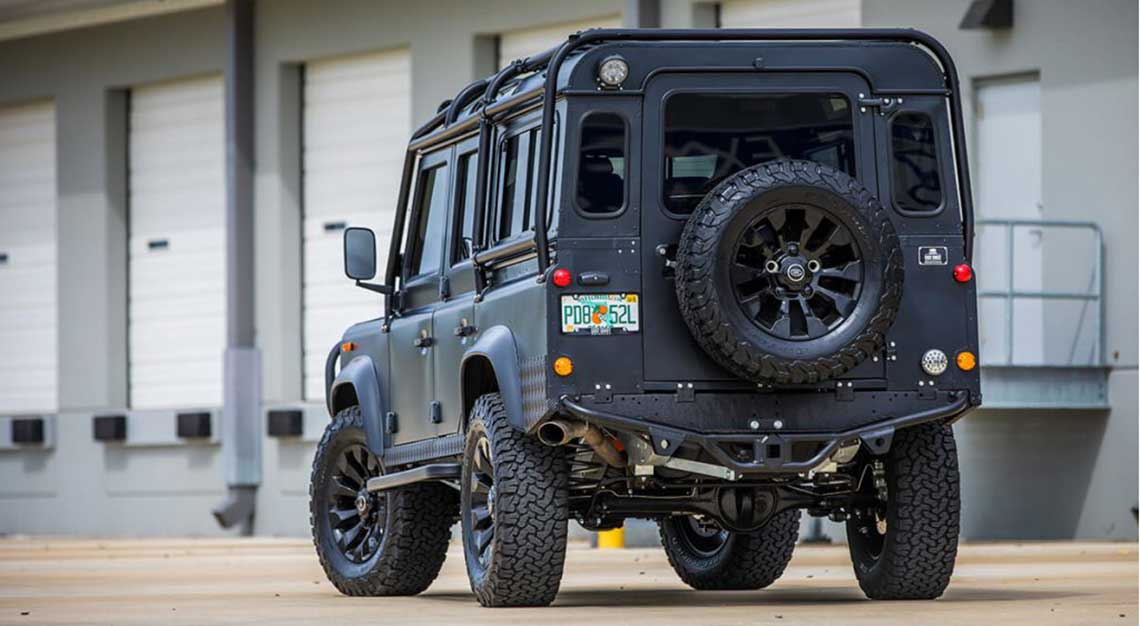 East Coast Defender's Project Punisher
Some vehicles look like they belong in a comic book, with a member of the League of Extraordinary Gentlemen behind the wheel navigating the way to save the day. In the case of the latest from East Coast Defender (ECD) Automotive Design, its inspiration actually comes from the pages of pulp fiction – Marvel's skull-logoed Punisher. And like its personification, ECD's Project Punisher works best when the situation gets uncivilised.
As its name suggests, the Florida-based firm specialises in reimagining the distinctive Defender, Land Rover's renowned off-roader introduced in the early 1980s. The approach is painstaking and at times problematic, but the results have given Defender devotees a raison d'etre. "The challenge is allowing our clients, through a hands-on design process, to create a one-off custom Defender with modern luxury, performance, and technology while retaining as much of the classic DNA as possible," says ECD co-owner Scott Wallace. "Protecting the classic but adding modern comforts can create quite a debate, both internally and with some customers."
For Project Punisher, ECD used a 1988 Defender as donor and gave it a new galvanised chassis, a Safety Devices roll cage with LED spot lamps, 16-inch Sawtooth wheels, a Ron Davis radiator, and a Borla exhaust system, among other enhancements. The power train pairs a 326hp, 5.3-litre Chevrolet LC9 V-8 with a six-speed automatic transmission, which takes the Punisher punch from zero to 60mph in seven seconds and hit 120 mph. Cabin accoutrements include heated leather Corbeau seats (with requisite embroidered skull), a Puma dash, a Momo steering wheel and a Kenwood Infotainment system.
Sadly, even as not all issues of comics have happy endings, our episode saw ECD's example succumb to transmission failure near the Arizona border. Whether due to pilot error or mechanical miscue, the blow took it out of commission. Yet, as its tough-as-nails namesake knows, sometimes bad things just happen.
Car Specifications
Engine: 5.3-litre Chevrolet LC9 V-8
Max Power: 326hp
Top Speed: 120 mph
Base Price: US$160,000 (S$216,995)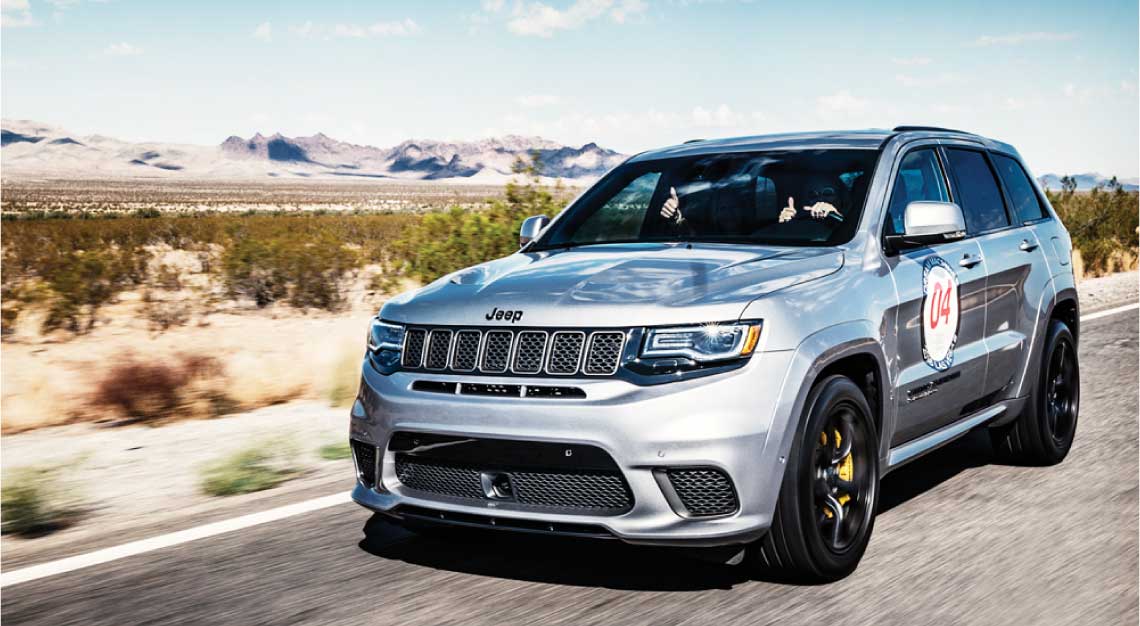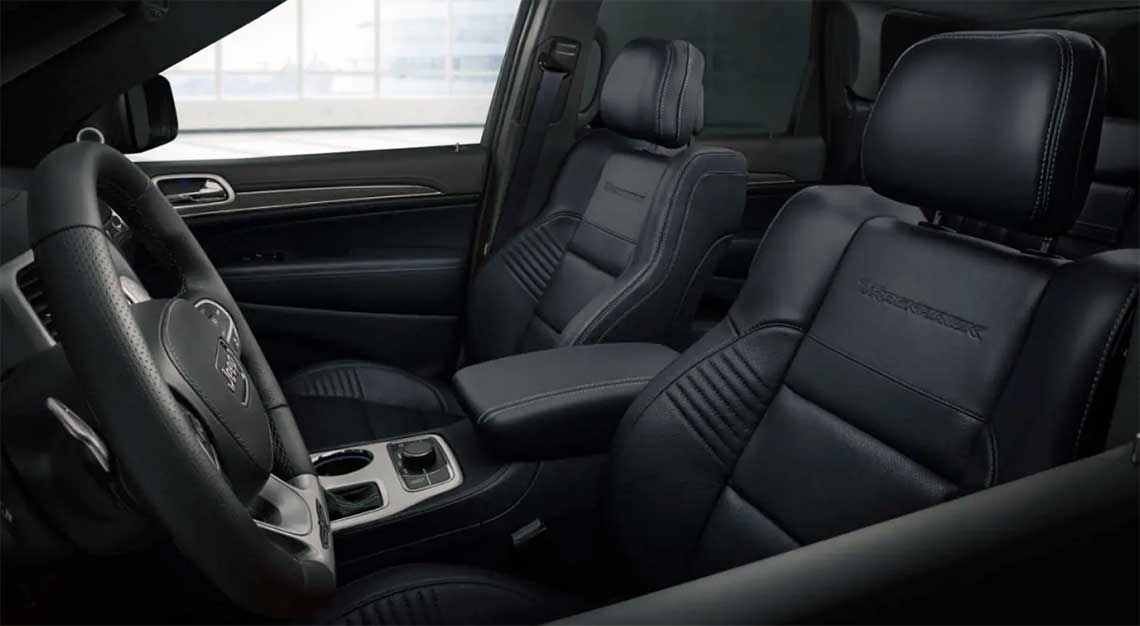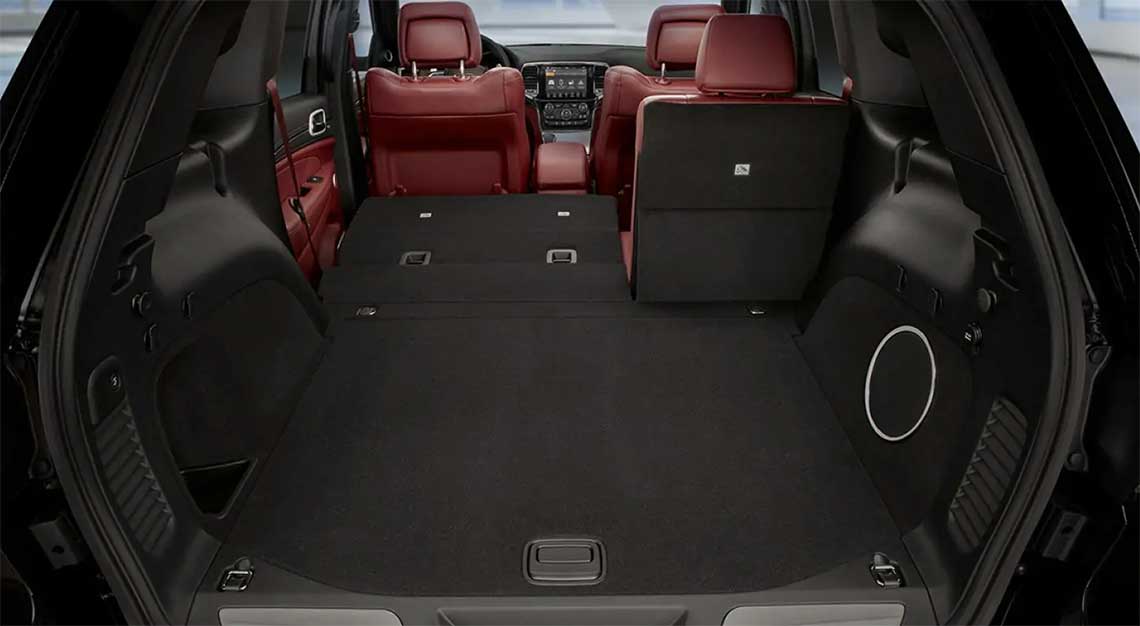 Jeep Grand Cherokee Trackhawk
Pulling in front of the Aria Resort & Casino's North Valet alongside SUVs from Bentley, Mercedes, and Maserati, the Jeep Grand Cherokee Trackhawk looked pedestrian next to its peers. In street-racing parlance, Jeep's entry in the desert drive was a "sleeper," a vehicle that appears unassuming but hides unexpected power.
In this case, the Trackhawk rages with a supercharged 6.2-litre V-8 that churns with 874Nm of torque and 707hp, more power than any of the other high-performance models in our mix. Developed by the Street and Racing Technology (SRT) division of Fiat Chrysler Automobiles, it's the same engine that gives the Dodge Challenger and Charger SRT Hellcats their demonic dispositions. For the Trackhawk, that translates to a top speed of 290km/hr and the ability to fly from zero to 100km/hr in 3.5 seconds. Brembo brakes the front ones are the biggest offered by the brand.
Also part of the power train is the parent company's bolstered TorqueFlite eight-speed automatic transmission that constantly factors in torque gradients, acceleration (both longitudinally and laterally), and variations to the grade of the road for more precise shifting. And when the going gets gritty, the Quadra-Trac on-demand four-wheel-drive configuration features an electronic limited-slip rear differential that adds torque as needed for optimal grip. In other words, this cat keeps its cool even when driven in anger.
Although most of our crew found the acceleration and engine soundtrack exciting, Jeep's fit and finish throughout the cabin left some questioning why the price closes in on six figures. The Grand Cherokee Trackhawk is certainly a top choice for barreling around the backcountry, but a calling card for social status it's not. The question is: What's being sought?
Car Specifications
Engine: Supercharged 6.2-litre V-8
Max Power: 707hp
Top Speed: 290km/hr
Base Price: US$86,200 (S$116,925)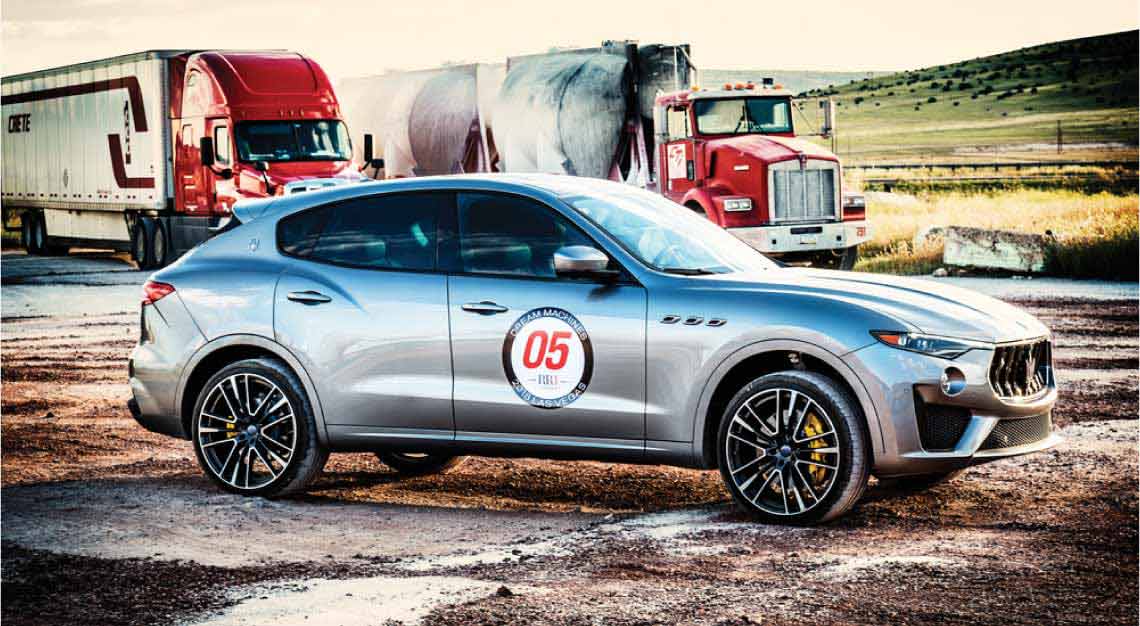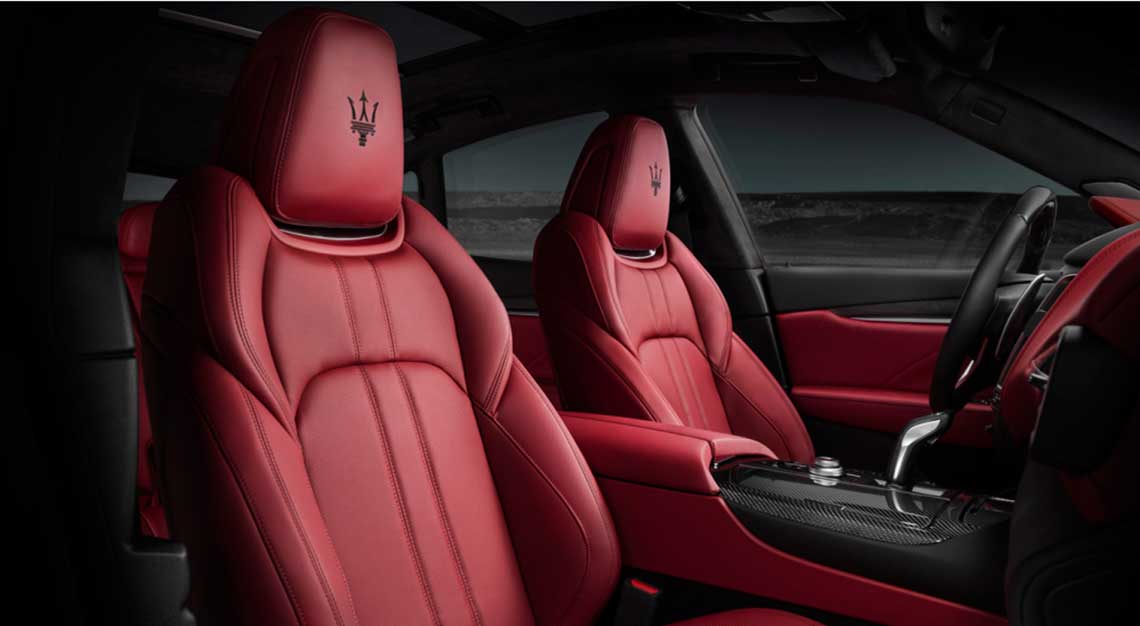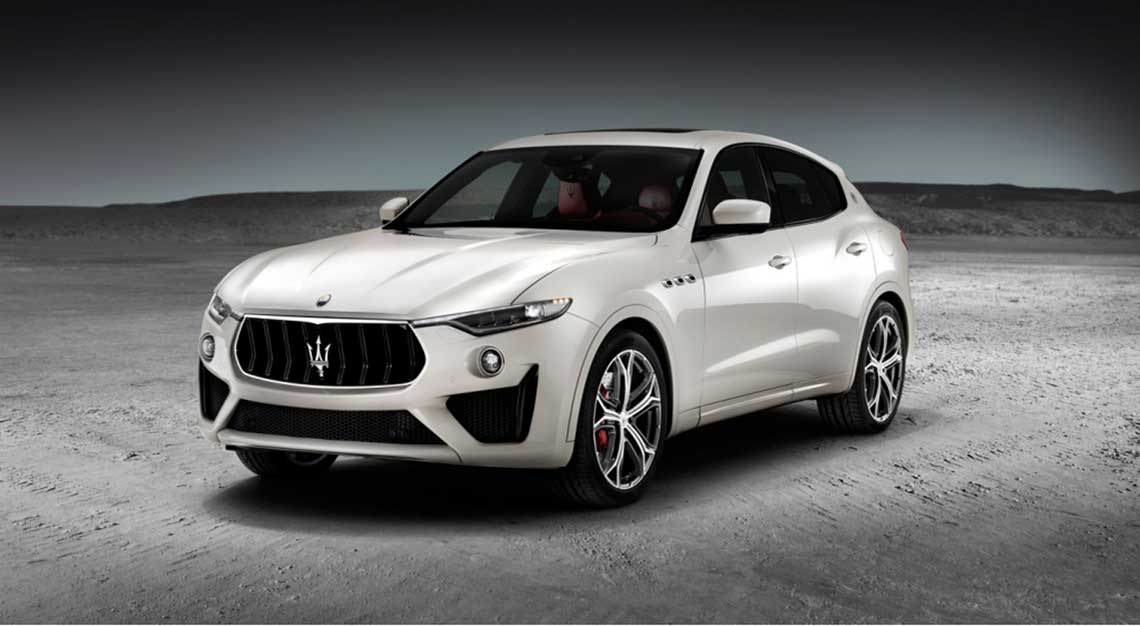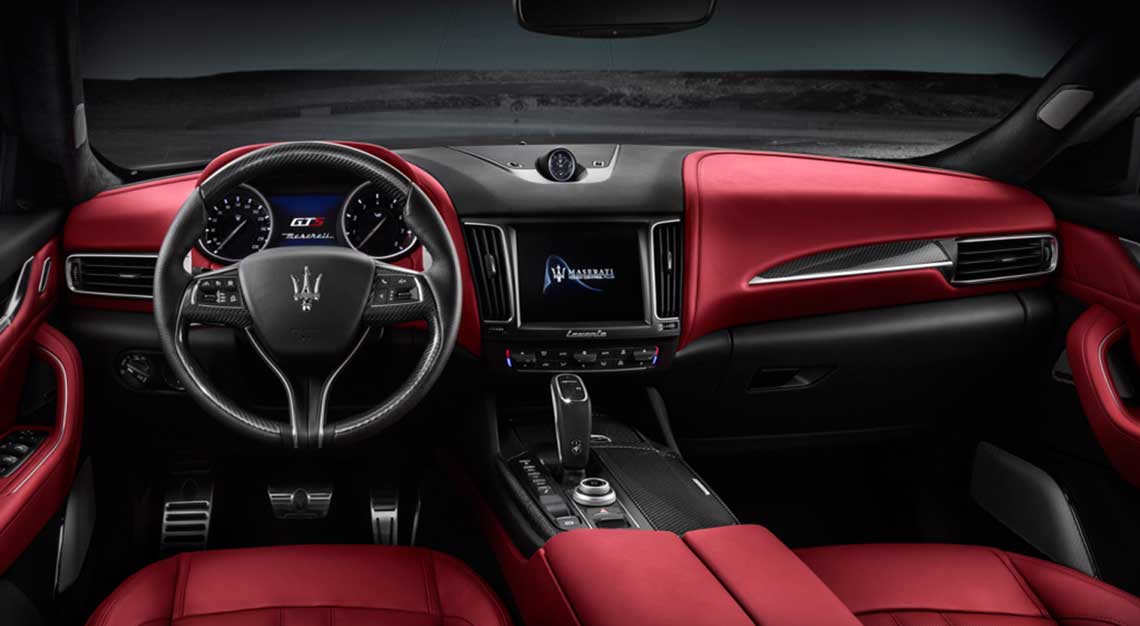 Maserati Levante GTS
When Maserati announced its plans for an SUV, the news was met with incredulity. Why would a prestigious Italian marque muddy itself with a glorified grocery-getter? But when the Maserati Levante was unleashed in 2016, its pedigree of performance and power was more than apparent. It can be argued that the model is an extension of the Maserati brothers' original vision when developing their first car to compete in the 1926 Targa Florio endurance race. They wanted a vehicle that could handle steep, gravelly roads and treacherous turns at speed. The Maserati Levante does that in spades.
Admittedly, the trip from the Las Vegas Strip to the South Gate of the Grand Canyon did not require the skill set of those early drivers, especially since our Levante was the new GranTurismo Sport (GTS) version. The GTS shows the automotive sides of Jekyll and Hyde with the brand's streamlined body style and rakish air paired with the pulse-pumping growl of a re-engineered 3.8-litre, twin-turbocharged V-8 (created in partnership with Ferrari) that hunts with 550hp and 730Nm of torque.
The straightaways of I-40 East and historic Route 66 encouraged rifling through all eight gears of the ZF automatic transmission in manual mode via paddle shifters. And when the elongated ribbons of asphalt became twisted and eventually turned to dust, the Integrated Vehicle Control and Q4 Intelligent All-Wheel Drive altered the driving dynamics (particularly engine speed and braking) and adjusted torque distribution, respectively, for better handling and traction.
The cabin in our crossover came with full-grain Pieno Fiore leather, an Alcantara headliner, carbon-fibre trim, and a 14-speaker Harman Kardon sound system. Despite those details, a few of our drivers felt the overall dress lacked the flair associated with il bel paese and its 104-year-old automaker. Since the GTS would fit in at the Targa Florio and Fashion Week, however, we think it works.
Car Specifications
Engine: 3.8-liter twin-turbocharged V-8
Max Power: 550 hp
Top Speed: 251km/hr
Base Price: US$119,980 (S$162,668)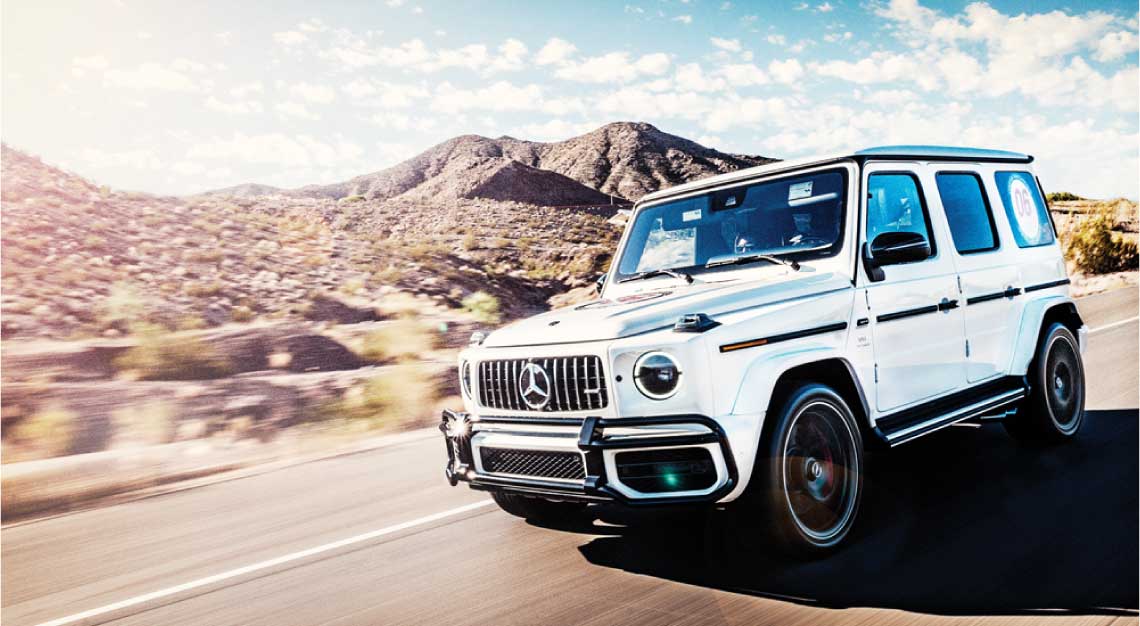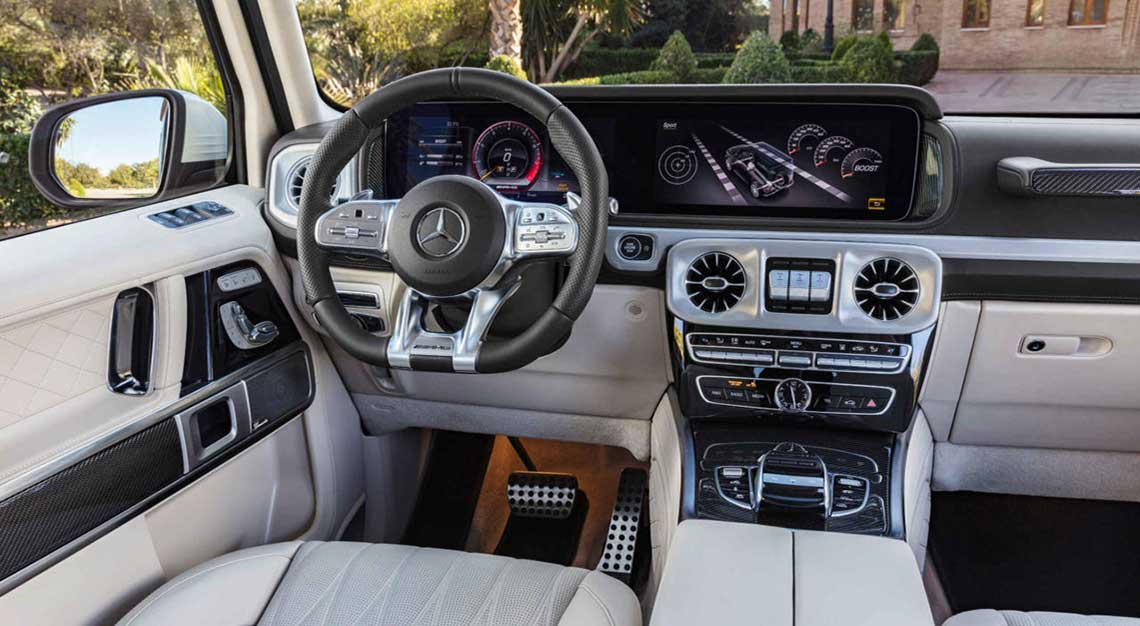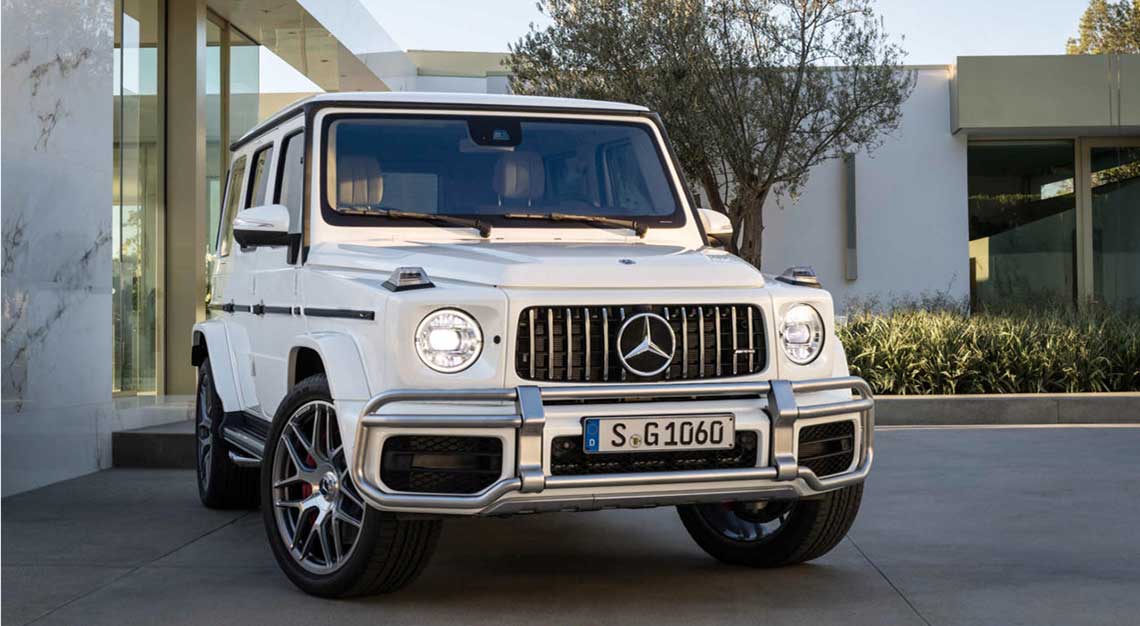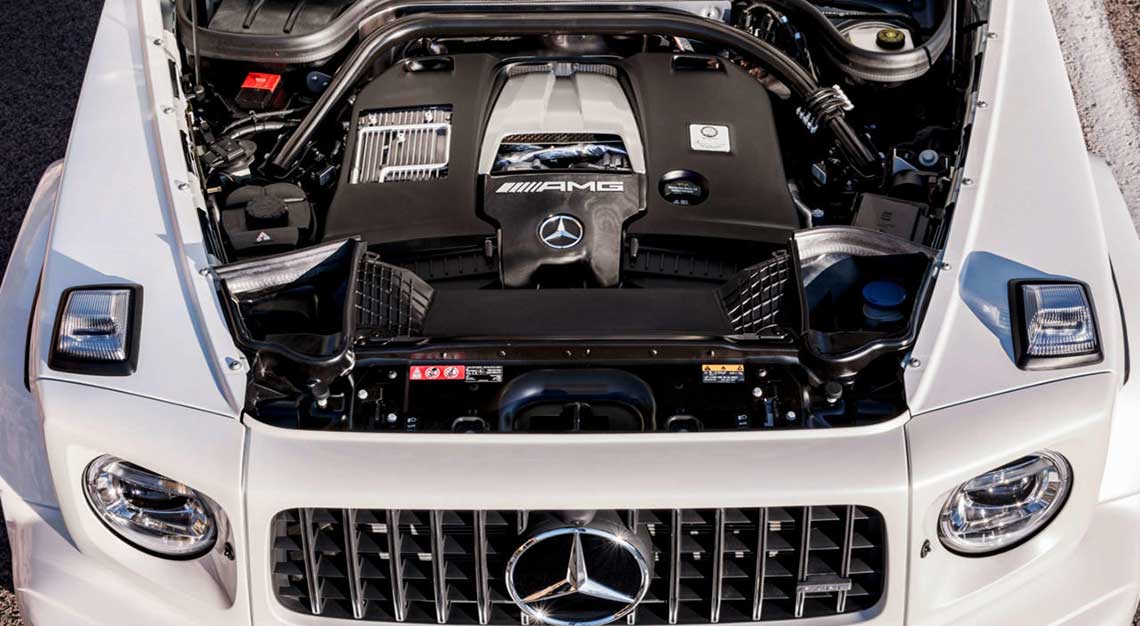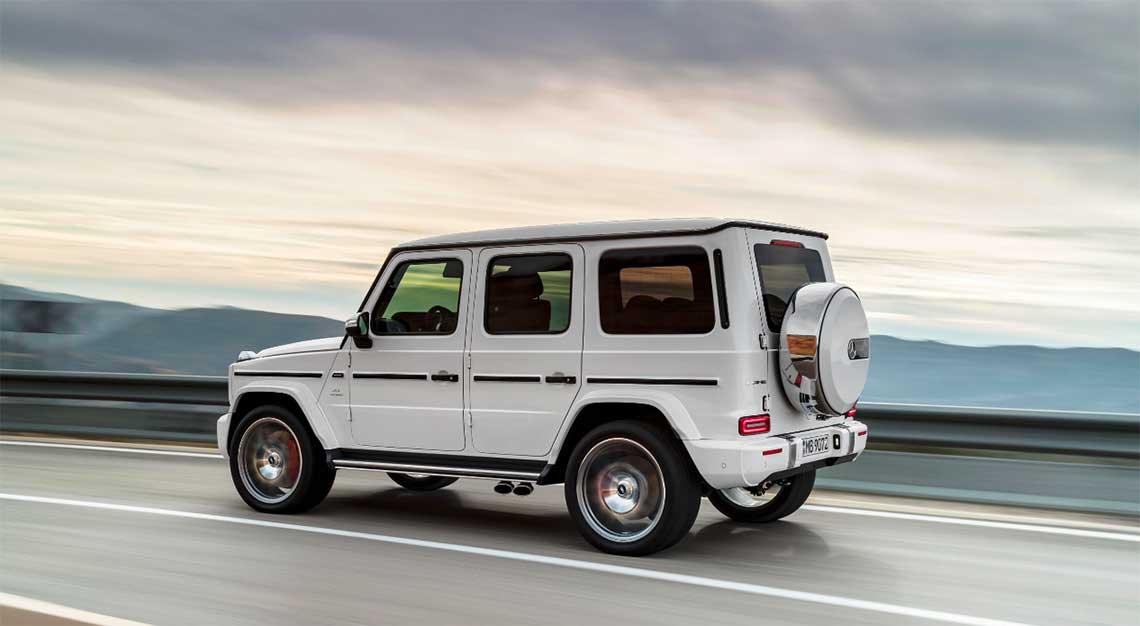 Mercedes-AMG G63
Back in the 1970s, when the Shah of Iran made a request, few refused. Case in point: He petitioned Mercedes-Benz to come up with a military transport – and it did. But unlike other missives from the monarch, the result proved rather popular and was made for the masses in 1979. From the German marque's original Geländewagen, subsequent G-Class iterations have gone on to become de rigueur for well-heeled road warriors.
We enlisted the 2019 Mercedes-AMG G63 for our scenic ride through Nevada and Arizona. It may look like a bread box, and appear just as aerodynamic, but that signature exterior of steel and aluminium cages a ferocious four-litre biturbo V-8 – hand-built by the engineers at AMG – with 577hp and 850Nm of torque. Despite being a more compact engine (the turbochargers have been placed inside the cylinder configuration for faster feedback and reduced emissions), it gives the G63 the ability to jump from zero to 100km/hr in an estimated 4.5 seconds and land at a top speed of 220km/hr with our example's Driver's Package (220km/hr without).
What's notable is how quickly the speedometer springs to triple digits (trust us) thanks to the AMG Speedshift TCT 9G nine-speed transmission, which includes double-clutching and multiple-downshifting functionality dependent on the drive mode selected. On that front, the vehicle offers five on-road options (Comfort, Sport, Sport+, Individual, and Slippery) and three for overland exploration (Sand, Trail, and Rock).
The driver and passengers benefit from an enlarged and elevated perspective due to an increase in the re-envisioned cabin's length, width, and height. The added dimensions contribute to a more commanding view of the road and surroundings. One element that could be considered questionable is the Studio 54-style piping display around the perimeter that, when activated, changes colour more often than a mood ring. The Shah would have shot that idea down.
Car Specifications
Engine: AMG four-litre biturbo V-8
Max Power: 577hp
Top Speed: 220km/hr
Base Price: To be confirmed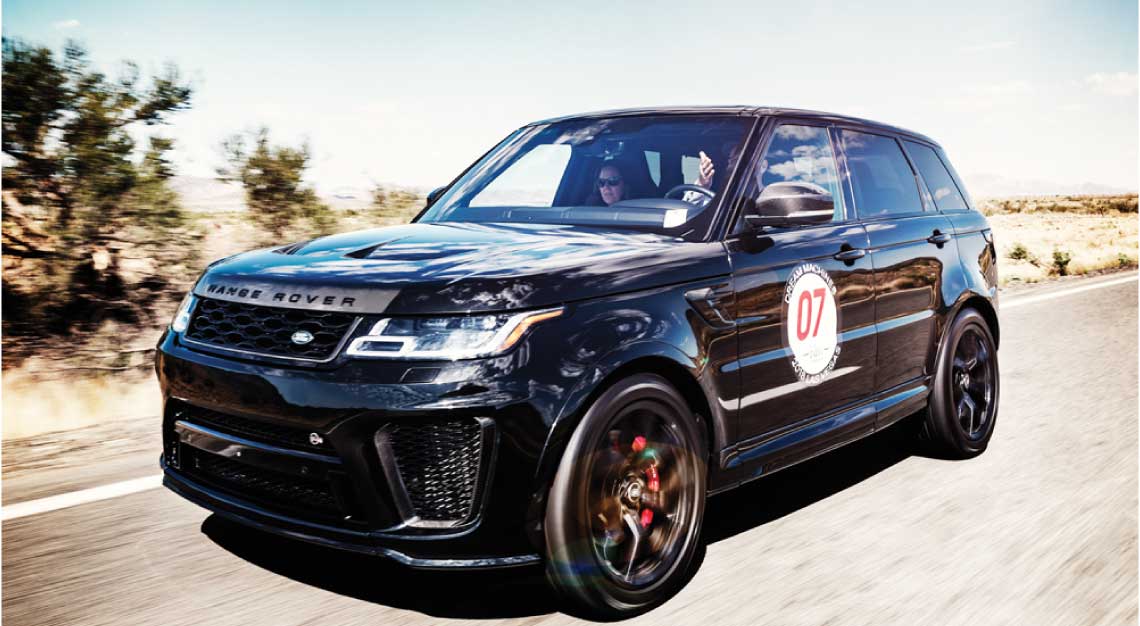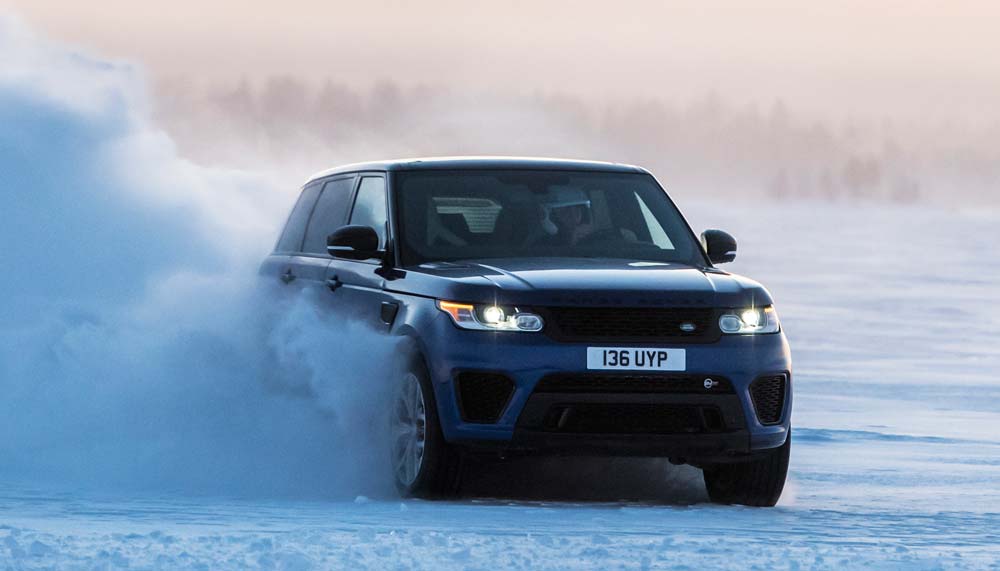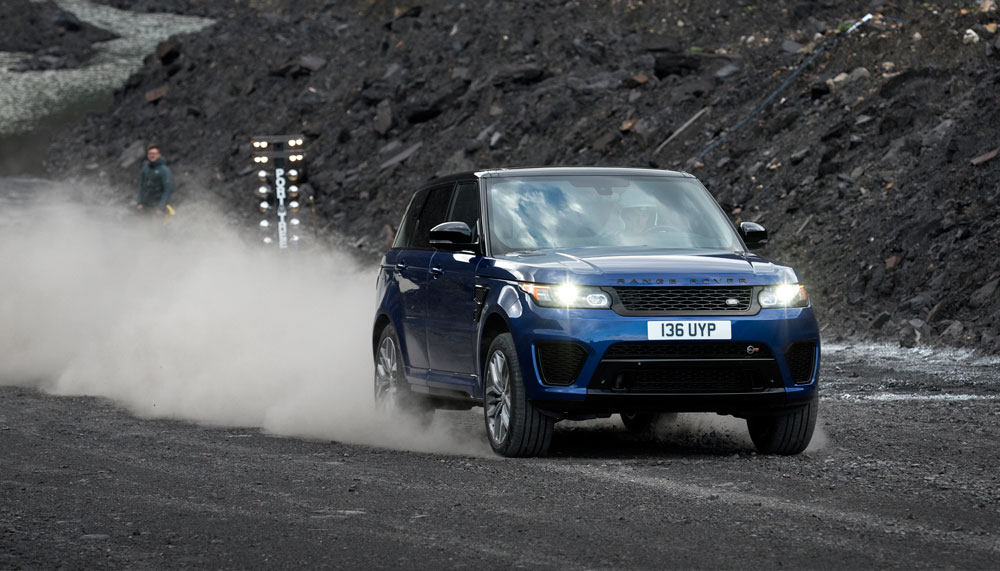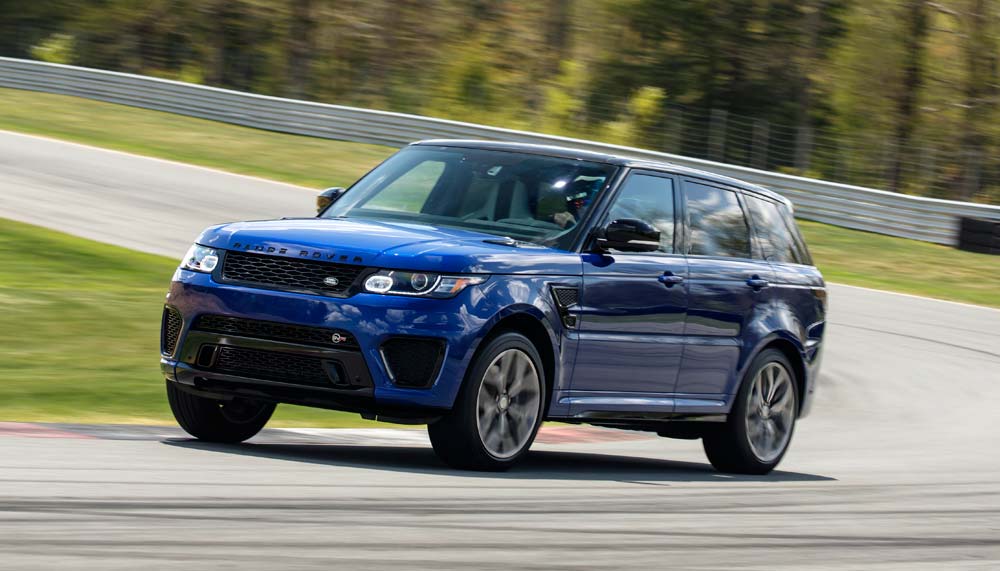 Range Rover Sport SVR
With a cross section of top crossovers and SUVs arrayed at the Aria and available to test, it was a chance for serious gearheads to play Goldilocks. Was the ride too hard or the braking too soft? Handling too hot or cabin trim cold? For some, the Range Rover Sport SVR was just right. While the Bentley could be found too polished for the backcountry and the Jeep underdressed for evenings out, this Range Rover carries the same gravitas on gravel as it does on Rodeo Drive. Our aluminium-bodied example wore the marque's Santorini Black with carbon fibre for the hood and exterior accents, while the inside was elegant in ebony.
Jaguar Land Rover has given the model its Special Vehicle Racing (SVR) designation due to the numerous performance upgrades that make it the fastest in its lineup. The biggest boost comes from a 575hp, five-litre supercharged V-8 – with 700Nm of torque – tempered by a ZF automatic transmission. The combination can cycle through eight speeds quick enough to rocket the Rover from zero to 100km/hr in 4.5 seconds before it maxes out at 283km/hr.
When the time came to slow it down for some off-roading, the Range Rover Sport SVR moved adeptly through all types of topography with help from Land Rover's Terrain Response 2 programming and its surface-specific modes of Grass/Gravel/Snow, Sand, Rock, Mud/Ruts, and, when conditions call for it, Rock Crawl. Even after hours of travel, the drive experience never deteriorated – a testament to the improved chassis and suspension that provide better grip, pitch, and body control over varied terrain. Of course, also adding to the comfort factor are the interior's heated Windsor leather seats, heated steering wheel, and increased rear-passenger legroom – just in case three bears want to ride in the back.
Car Specifications
Engine: Five-litre supercharged V-8
Max Power: 575hp
Top Speed: 283km/hr
Base Price: US$113,600 (S$154,233)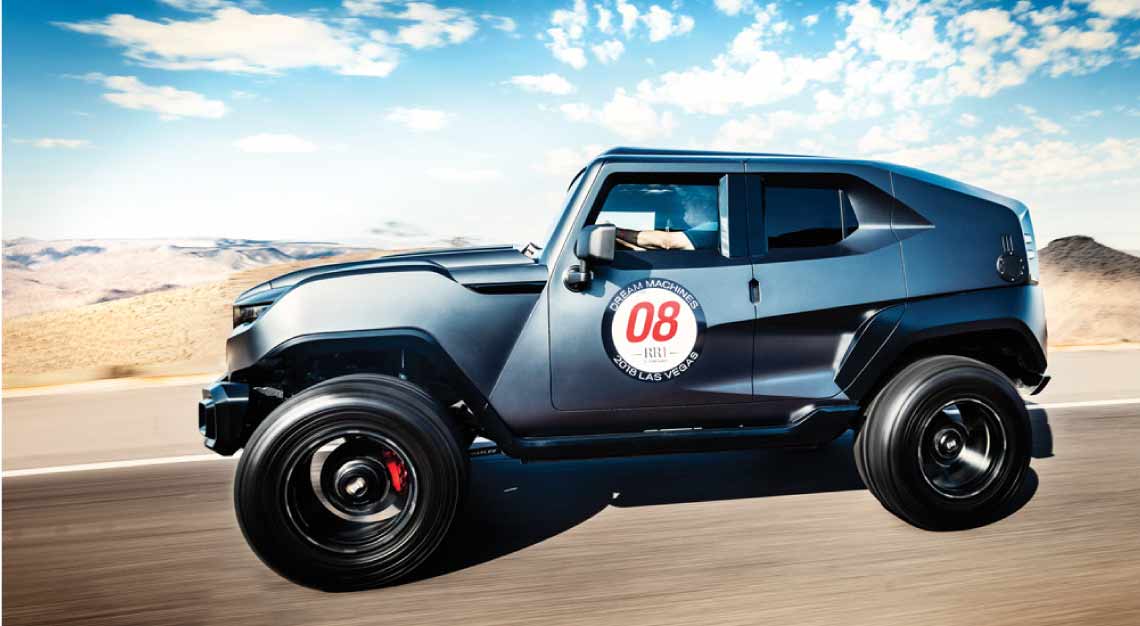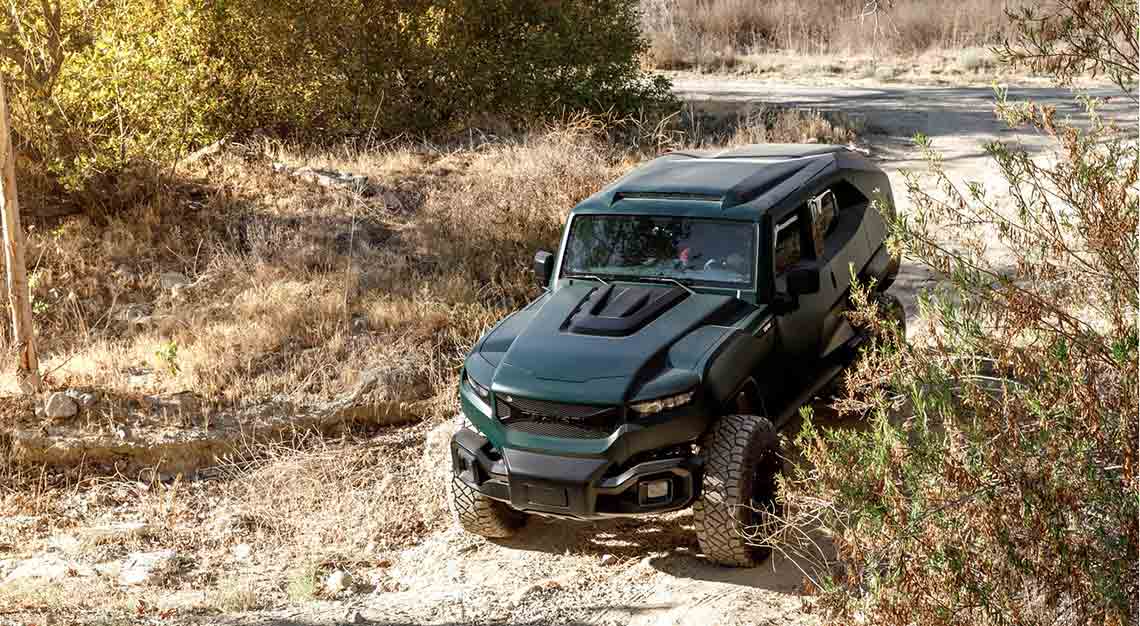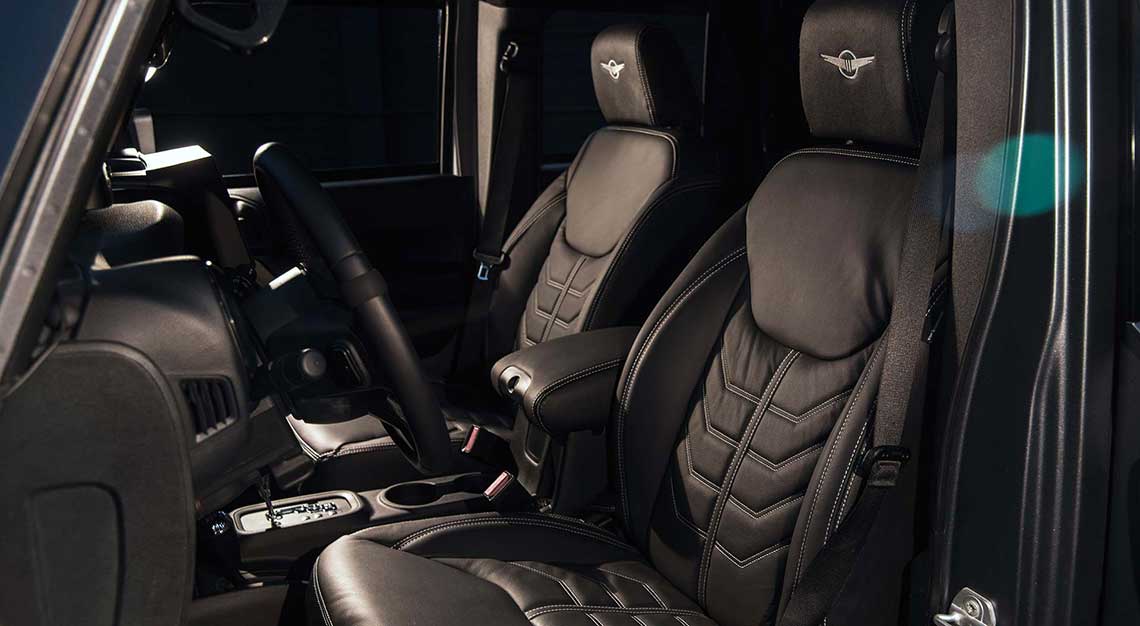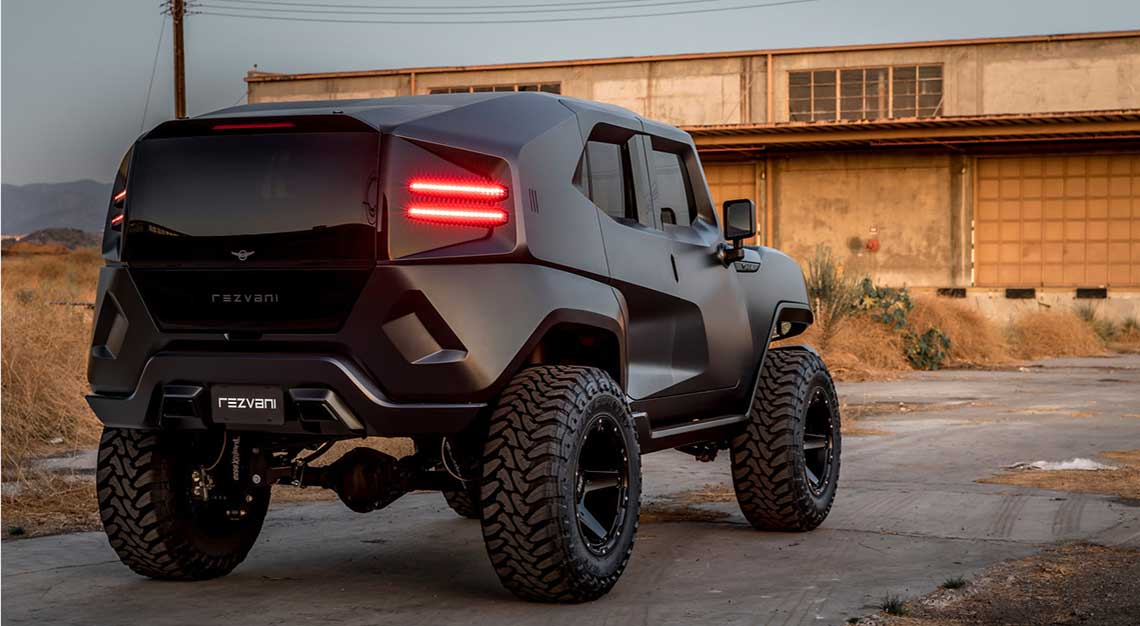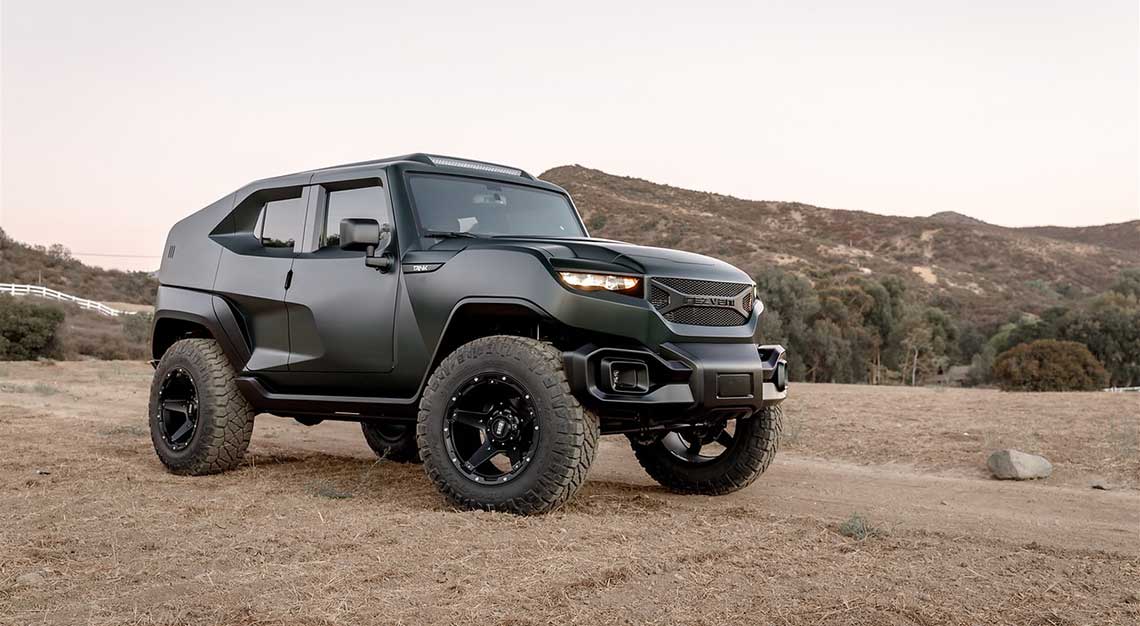 Rezvani Tank
Some parties have a guest that stands out due to their eye-catching physique, style, and innate sense of swagger. At our gathering, that invitee was from Rezvani. With a sci-fi aesthetic that would be worthy of Darth Vader's daily driver, the Rezvani Tank – designed by industry veteran Samir Sadikhov – attacks utility-vehicle convention.
"Rezvani Motors set out to design and build a vehicle that would be a disruptor in the SUV market with its tough military looks – a concept SUV we made a reality," says company founder Ferris Rezvani, who counts actor Jamie Foxx and singer Chris Brown as clients. Built from Jeep Wrangler underpinnings, the Tank touts on-demand four-wheel drive, a thermal night-vision system, and a 6.4-litre Hemi V-8 engine with 500hp and 413 ft lbs of torque. That's enough to fire the 2,041kg, four-door Rezvani Tank from zero to 60 mph in 4.4 seconds and top out at 110 mph.
But based on our predominantly paved road trip, it would be unfair to compare the Rezvani to any of the others that comprised the convoy since it was rolling on 37-by-12.5-inch off-road tires. These were superfluous for the city streets and highway and made the ride rather rough and sluggish – much like running a marathon while wearing a weight vest. Up the rutted and rocky dirt road of Grand Canyon National Park's Shoshone Point trailhead, however, the Tank was a track star. We drove the civilian example, but Rezvani offers one with ballistic body armour, bulletproof glass, defensive measures (including a smoke screen, tacks, and electrified door handles), and the option of a 707hp, 6.2-litre supercharged V-8. The Dark Lord of the Sith would be psyched.
Car Specifications
Engine: 6.4-litre Hemi V-8
Max Power: 500hp
Top Speed: 110mph
Base Price: US$165,000 (S$223,820)