The LF-30 Electrified is, and will forever be, a concept car only. But that's not to say that you can't look forward to a production Lexus EV next month
If the Lexus LF-30 is a sneak peek into the future of what the brand could look like in the year 2030, then it's probably safe to say that future is looking electric. Incidentally, the '30' in its model name could also be a nod to the brand's 30th birthday this year.
The concept car, sized in between an ES and LS, was unveiled today at the ongoing Tokyo Motor Show. It looks to be a pure design study for the moment and there are no plans for production, as if the pillarless construction and massive gull-wing doors weren't enough of a clue. However, the Japanese carmaker will be announcing its first production electric car next month, and by 2025, it aims to have electric variants of every car in its lineup.
It's a hugely ambitious plan for a carmaker that doesn't yet have a full EV in its lineup at the moment, let alone a plug-in hybrid, though Lexus said that's set to change "early in the coming decade". That said, sister brand Toyota has a plug-in hybrid version of its Prius for a couple of years now. 
Fitting, then, that the LF-30 is a hugely ambitious car, with a quartet of electric motors is housed in each wheel. Those motors can measure out power to each wheel individually to the benefit of agility, something Lexus calls 'advanced posture control'.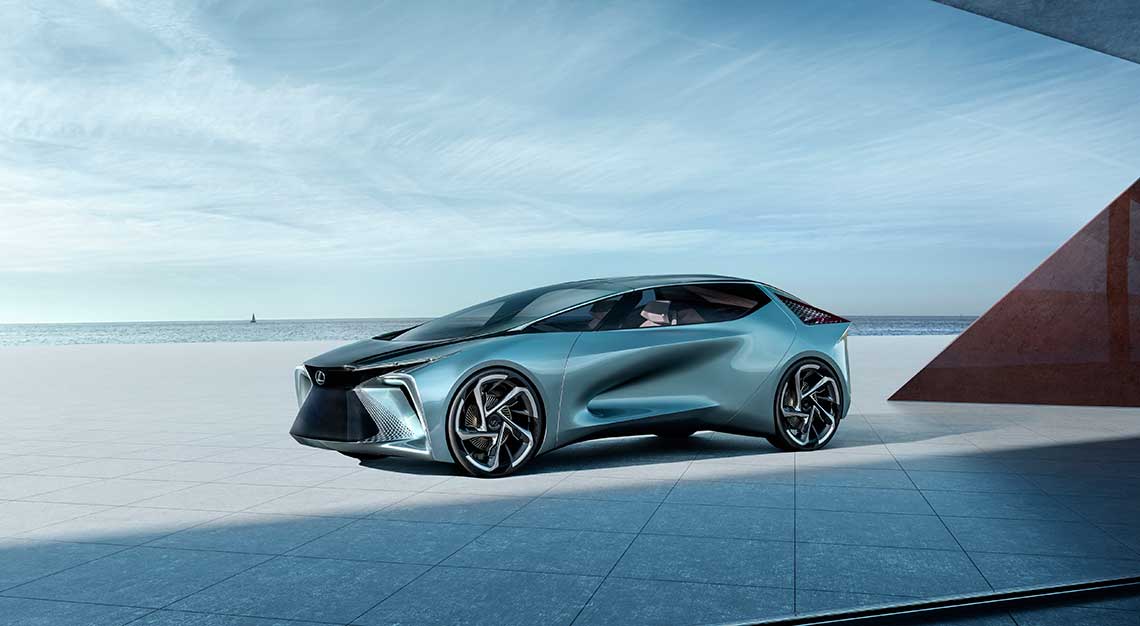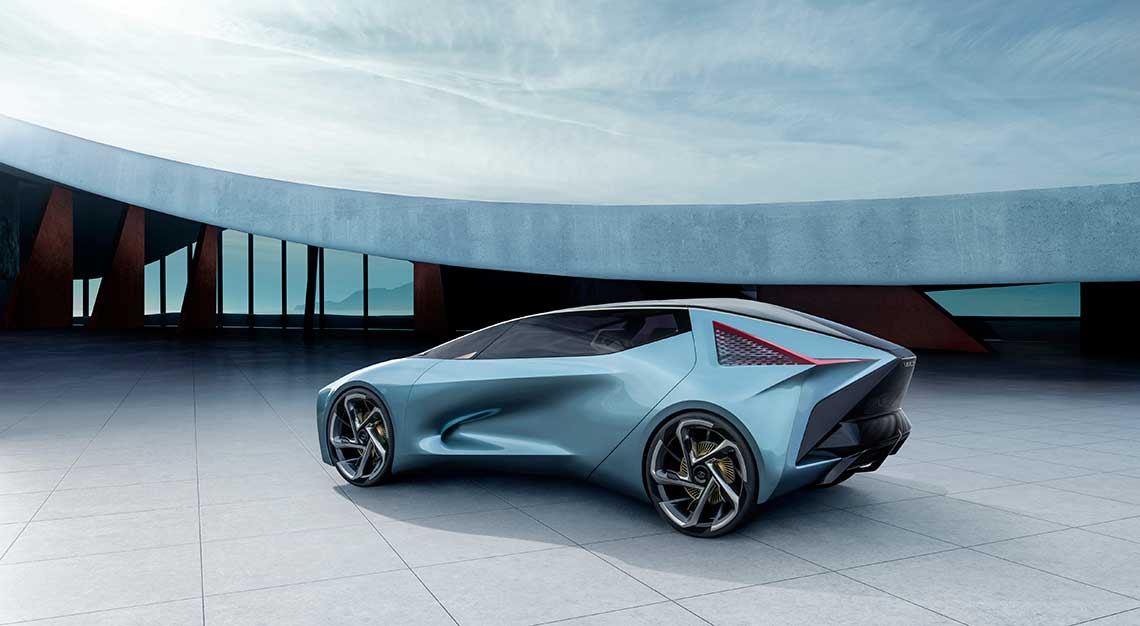 There's currently no production car that employs in-wheel electric motors, though the limited-run Mercedes-Benz SLS AMG Electric Drive did so in 2013. 
In addition to its powertrain, the LF-30's other far-flung future tech also includes a self-parking and pickup function, an augmented reality head-up display, rear seats that mould themselves around their occupants, windows whose opacity can be freely adjusted and the 'Lexus Airporter', an autonomous drone that can pick up/drop off your luggage to and from your home/vehicle.
But the LF-30 isn't all about pie-in-the-sky tech. It also has a few items that could make production in the next few years. It boasts a steer-by-wire system (most recently seen on the Infiniti Q50 in 2014), autonomous driving functionality that retracts the steering wheel out of the way when the car is driving itself and an AI 'concierge'.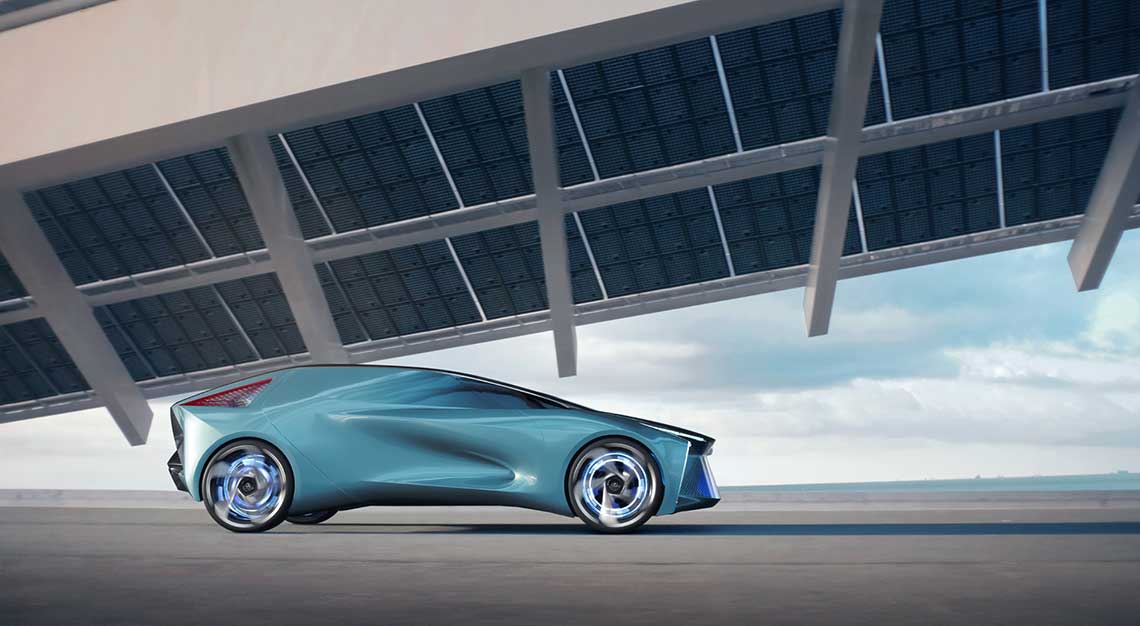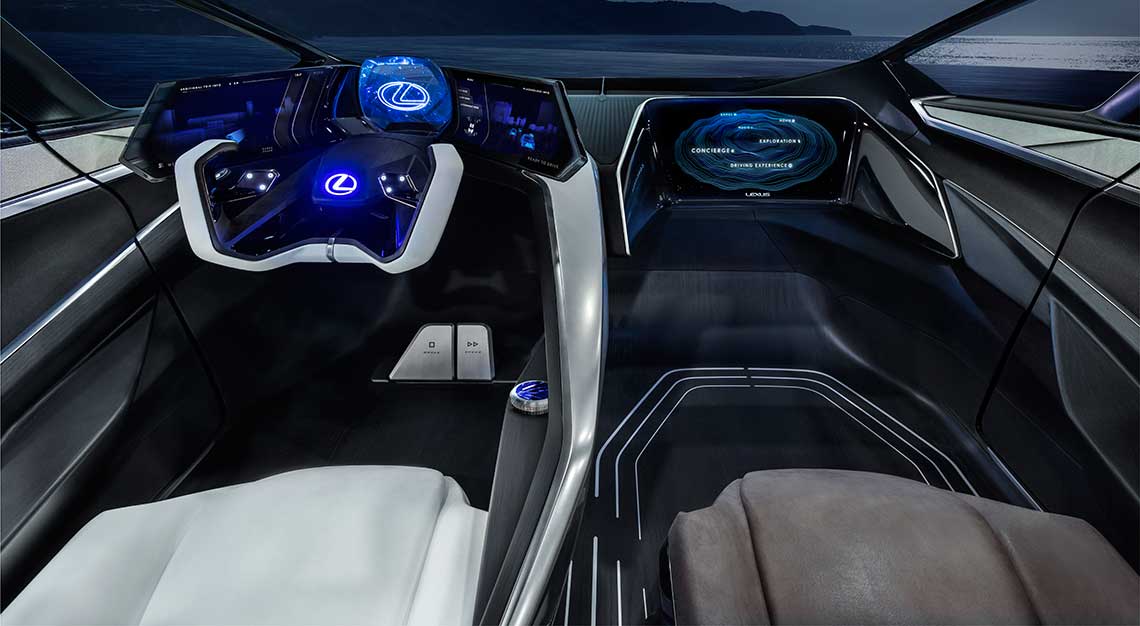 That last feature, keyed to the voices of its users and stored on the LF-30's key, sets up the car and personalises it for them once they get in. For example, a driver's preferred climate control and audio settings, along with most frequently visited destinations, say work or home. This is similar to the way the Google Assistant works on your phone. 
The AI can also vary the drivetrain, steering and suspension settings that's best for the situation at hand. This is much like how some cars use sat-nav data to read the road ahead and choose the best gear to be in and vary the drivetrain / suspension accordingly. 
At any rate, while we won't see those things in a Lexus, or any other car for that matter, it's clear the Japanese carmaker needs an electric car, and it needed one yesterday. Audi will very soon have an entire family of e-tron models; BMW is aggressively electrifying its current model range and the iNext is due in 2021; Mercedes-Benz will have 10 fully electric models by 2022 following on from the EQC; Porsche has just launched the Taycan, and of course, there's Tesla. 
We don't have any idea yet what Lexus' first EV will look like, but our money is on it looking like the LF-1 Limitless concept, a mid-sized crossover-y thing.