The best impact we can make is no impact
The Sistine Chapel and Michelangelo's ceiling fresco; Forbidden City and the artefacts it houses; your great grandmother's solid wood dining table – when it comes to our buildings and interior spaces, we've historically always shown a preference for things that last.
But the future's looking very different. From paper straws to renewable energy, the 21st century obsession is with things that do not leave a permanent impact on the environment. Our homes and buildings seem set to go the same way.
Biodegradable furniture is paving the way for a zero-waste future. But don't worry about the new sofa rotting before your very eyes; makers of these products have claimed that the furniture is only biodegradable when the conditions for decomposition are met. In other words, they are likely to last as long as they are sitting pretty in your living room, shielded from the elements.
Here are five makers of biodegradable furniture who are paving the way to leaving our descendants with nothing.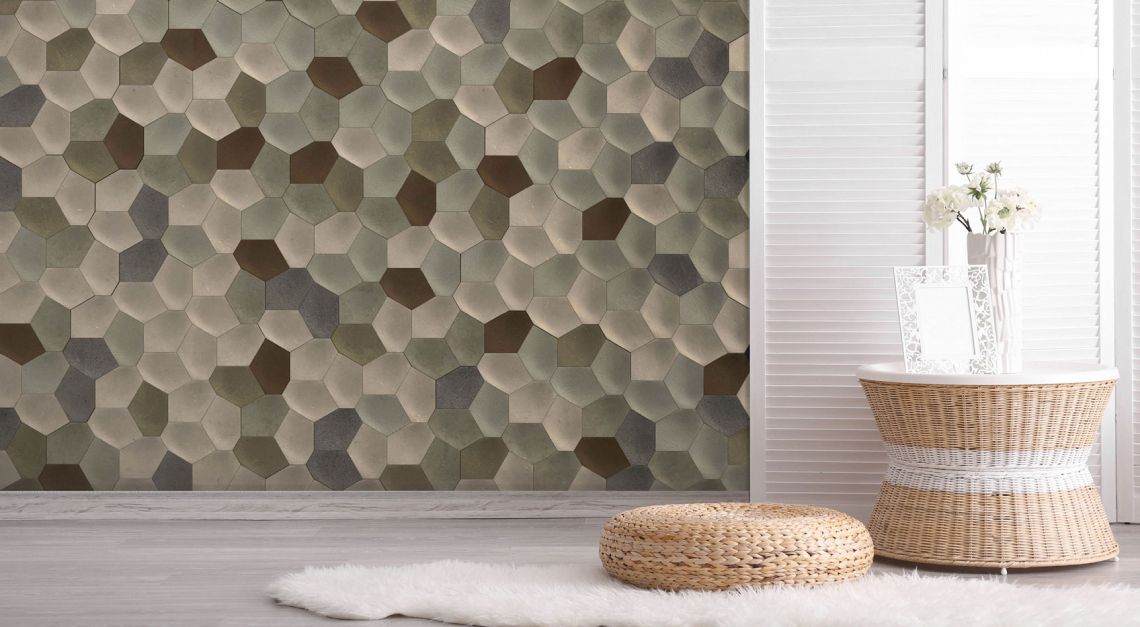 Criaterra
Founder Adital Ela got the inspiration for Criaterra on a trip to India, where, after her very first cup of authentic Indian chai, she was encouraged to do as the locals do and break the cup by tossing it on the ground. Because they were made from sun-dried clay, the cups would eventually become one with the earth again.
Today, Criaterra produces tiles made from a blend of earth and plant fibres taken from agricultural waste. Using a unique compression process that takes inspiration from ancient building methods, the material – unlike ceramics and cement – requires no firing to become as strong as concrete. This not only ensures that the production process requires no energy, but also that once the product is past its useful lifespan, it can simply be discarded to become part of the earth again, without leaving a trace behind.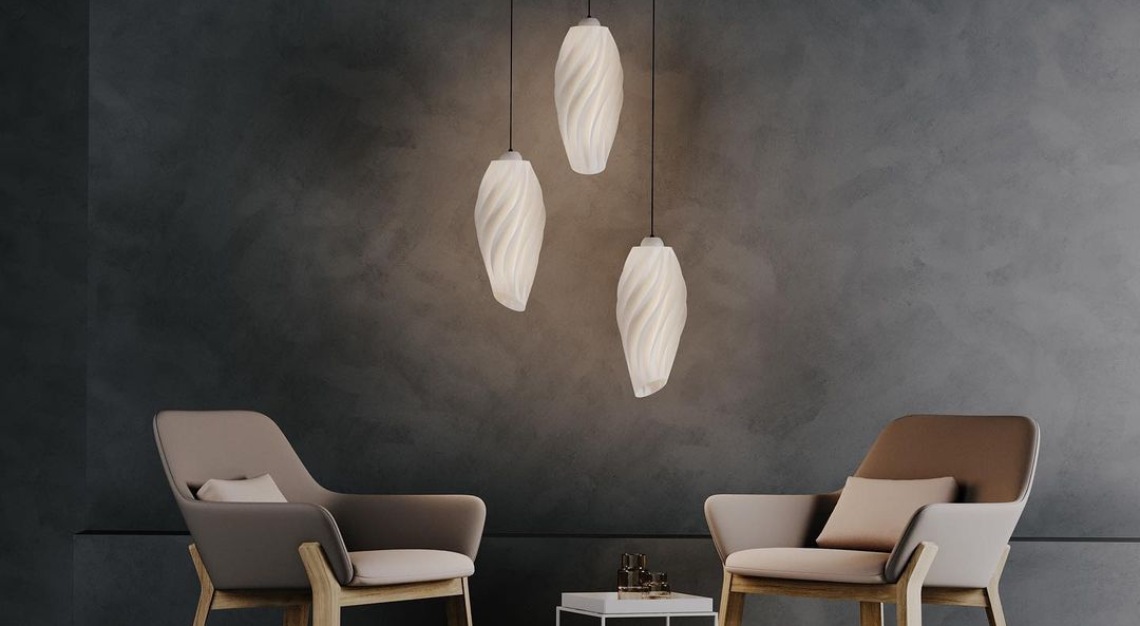 Korn lighting
Felix Fried probably wouldn't be insulted if you call his work corny; that would, after all, be an accurate description. Fried is the founder of Korn, a lighting design brand based in Budapest, Hungary. The firm specialises in biodegradable lamps in Scandinavian-inspired styles, made from corn starch.
Fried's process involves using an additive with the corn starch to turn it into a material that can be 3D printed. Each lamp can take eight hours to two days to make, depending on the size. Korn describes the final material as "akin to a fine textile", but unlike some delicate fabrics, it is sturdy, and can stand up to washing.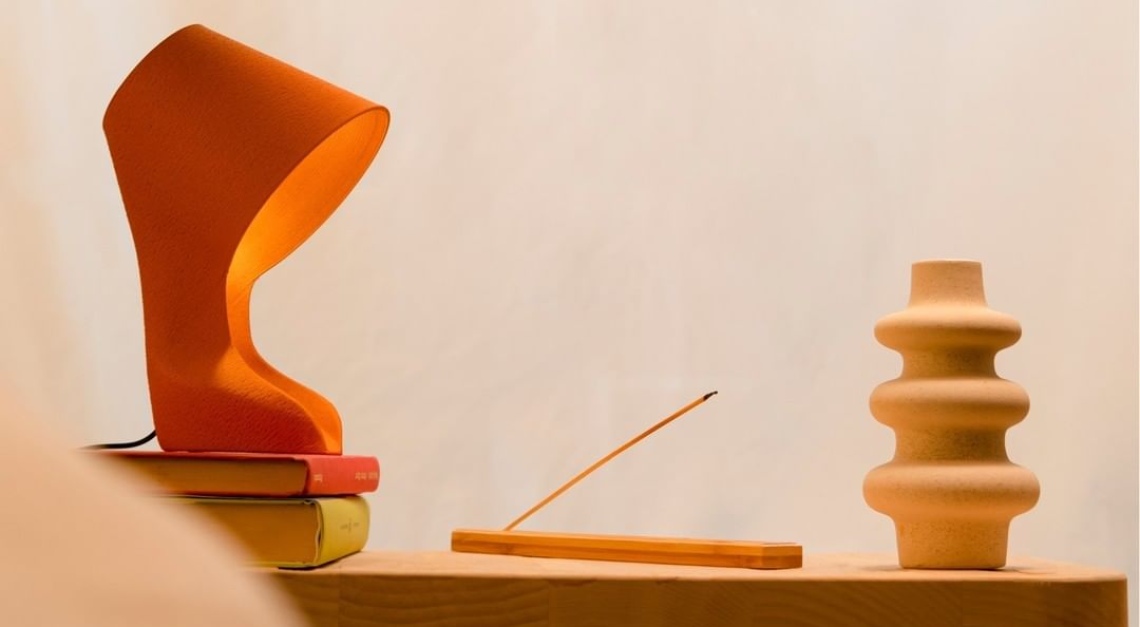 Krill Design
When life gives you lemons, turn it into a fruit bowl. That's what Krill Design, a Milan-based design studio did, and it didn't stop there; there's a wall clock and a magazine rack, too.
Krill design specialises in developing compostable biopolymers that can be used in 3D printing. The abovementioned items, unveiled during Milan Design Week last month, were all made from lemon peels. It's not the first time the studio has turned citrus peels into products. It made headlines last year for the Ohmie lamp, a desk lamp made from the peels of oranges. The lamp is a part of the Ribera Collection, which has since expanded to include a desk organiser and a vase.
According to the studio, each product offsets approximately one kilogram of CO2. Perhaps unsurprisingly, the products also smell good – not like fresh citrus fruits, because the 3D printing process uses heat, which "toasts" the raw material – but like citrus-flavoured baked goods. Krill has likened the scent of the Ohmie lamp to orange cookies.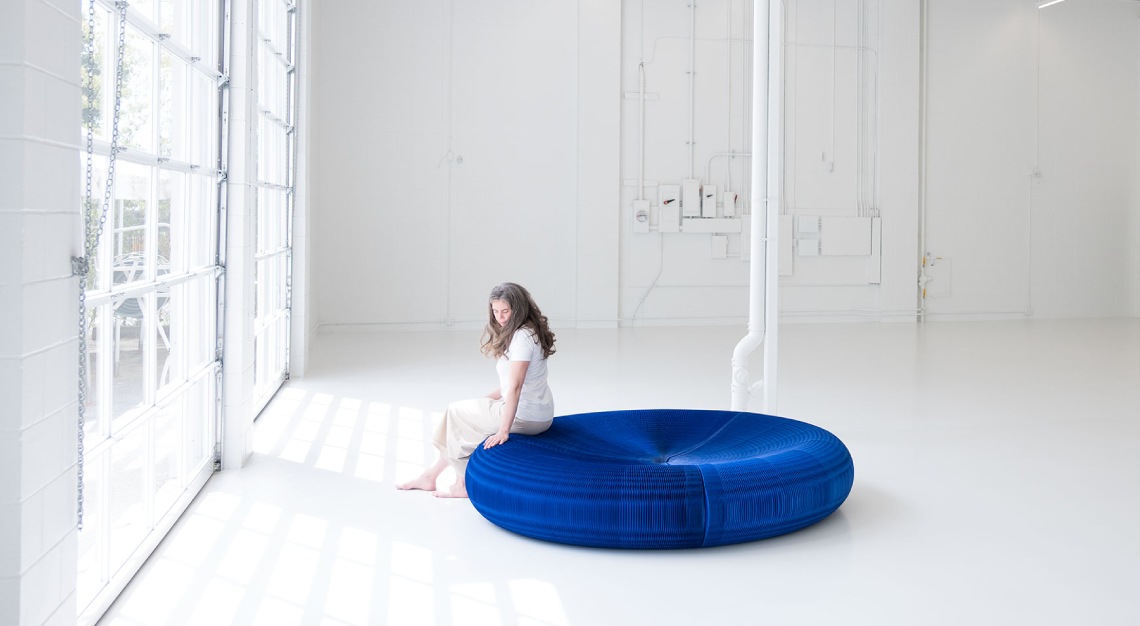 Molo
The creations of Canadian design studio Molo are the grown-up versions of the paper lanterns we used to play with as children. Using similar paper sculpting techniques that allow the final product to be folded or expanded as needed, founders Stephanie Forsythe and Todd MaAllen have developed a line of flexible space partitions, lighting, tables, and chairs.
The duo say that "the collection was developed as a conscientious endeavour to provide sustainable alternatives to traditional, rigid building materials." Flexible designs are inherently more sustainable, as they can be adapted to a space's changing needs and uses over time, negating the need for reconstructions or the purchase of new furniture.
Molo's innovative designs have found fans worldwide, including major corporations and institutions, such as the New York Museum of Modern Art, where some of its items are displayed in a permanent collection, and luxury brand Celine, which used its paper sculptures as a backdrop in a runway show.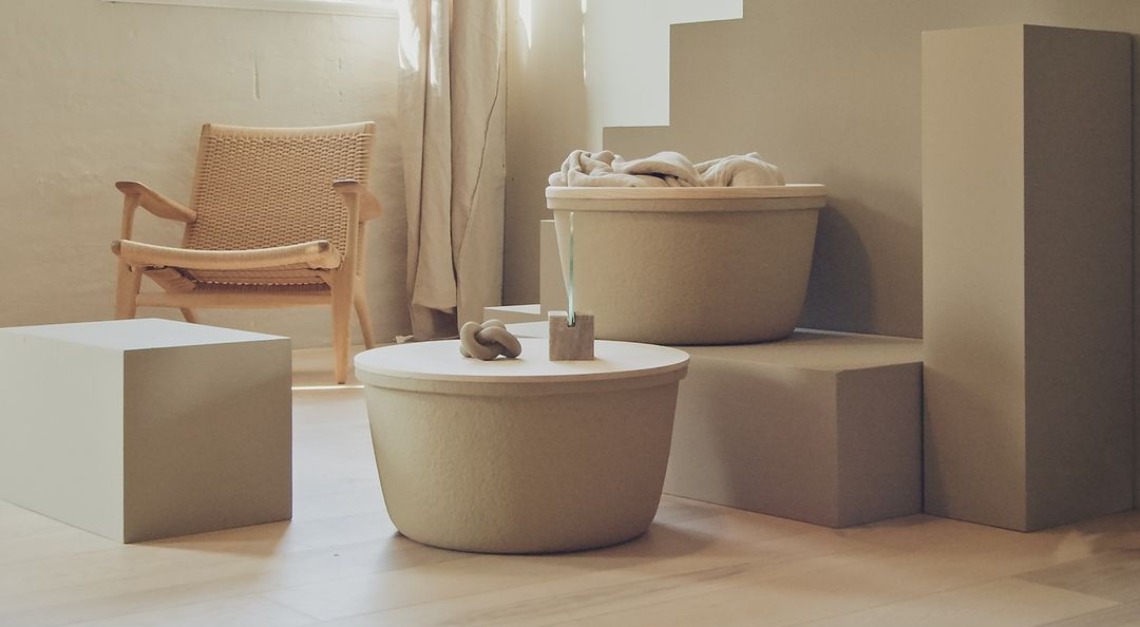 Paper Paste Living
Paper mache is good for more than just schoolroom projects; the key is to put it in hands more skilled than a 10-year-old's. Using recycled paper from Barcelona and working with family-run paper business Pasqual Arnella and graphics arts workshop Grafstil, Paper Paste Living has turned the humble material into a collection of sustainable furniture.
Designed by Danish studio Hans Thyge & Co, the brand's four products – a pouf, basket, side table, and ceiling lamp – are made by mixing paper with water in a blender to form paper pulp. The pulp is then dyed, poured into a mould, and pressed. Once out of the mould, the product is left to dry in the Spanish sun for several days.
The process creates a dense and surprisingly durable material that is water-resistant and, in the case of the pouf, has been tested to hold up to 250kg of weight. The firm however, is careful to caution that water-resistant is not the same as waterproof and that they do not recommend loading the pouf with more than 120kg.