It's an ultra-exclusive collaboration based on an ultra-exclusive timepiece that's supposedly discontinued since April 2021
Up until yesterday, the term 'Tiffany dial' in Patek Philippe's world referred exclusively to the highly collectible models featuring the American jeweller's name printed on the dial. From today, however, it shall possibly refer to the most collectible timepiece ever made for Tiffany & Co. by Patek Philippe.
Celebrating the 170th anniversary of the Swiss watchmaker's partnership with Tiffany & Co., the Nautilus Ref. 5711/1A-018 arrived less than a year after Patek Philippe announced the model's discontinuation. In April 2021, it released two olive green models (one with a bezel paved with baguette diamonds) as the last iterations of this iconic timepiece.
But while the introduction of this Tiffany exclusive might offer a glimmer of hope to those still on the market for a steel Nautilus, don't expect it to be an easy catch. Far from it, because this already rare timepiece is made even rarer with a limited edition run of just 170 pieces. It goes without saying of course that only the best customers of Tiffany's will get a shot at the watch.
Retailing only at Tiffany boutiques in New York, Beverly Hills, and San Francisco, this watch symbolises the strong ties between Patek Philippe and Tiffany & Co. that goes back to 1851. Says Patek Philippe brand president, Thierry Stern, in an interview with the New York Times, "We've been working so long with Tiffany. It's our oldest retailer in the US. I grew up with Tiffany and I'm not even talking about business; it was a part of my family."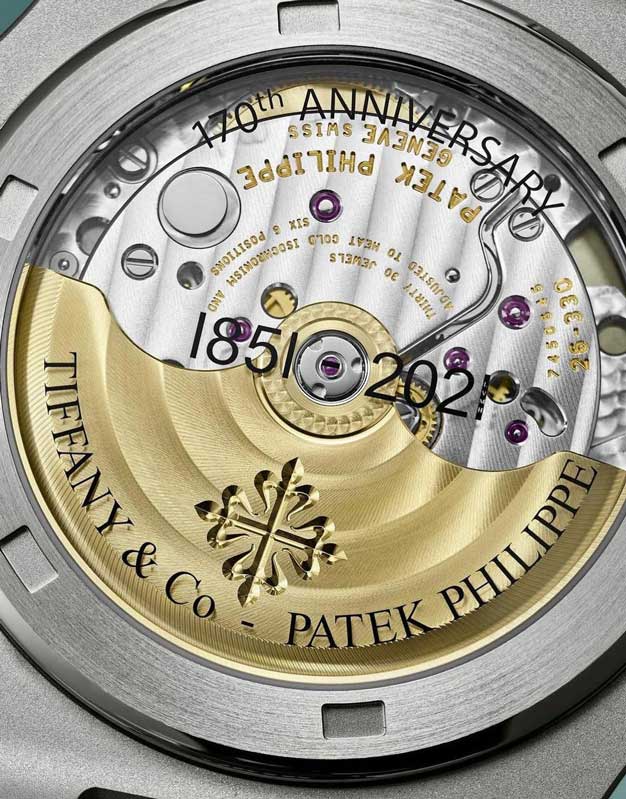 Priced at US$52,635 (S$71,844; compared to US$34,890/S$47,623 for the olive green model), the watch's sapphire case back bears a special imprint marking the 170th anniversary and the names of the two companies. It also includes the time period 1851 to 2021 with a tongue-in-cheek reference to Tiffany & Co.'s parent company. Look closely at the last digit and you'll see the four letters of the LVMH group hiding in plain sight.
Because just as Tiffany & Co. stuck with Patek Philippe when it changed hands in 1932, so did Patek Philippe not stop supporting Tiffany & Co. in 2020 when it was acquired by the LVMH group. This special timepiece ends 2021 on a high for the two companies, both of which have had an epic year to say the least.