Here's looking at Kou, kids. Andrew Leci falls head over 'eels' in like with Sushi Kou and chef Yoshio Sakuta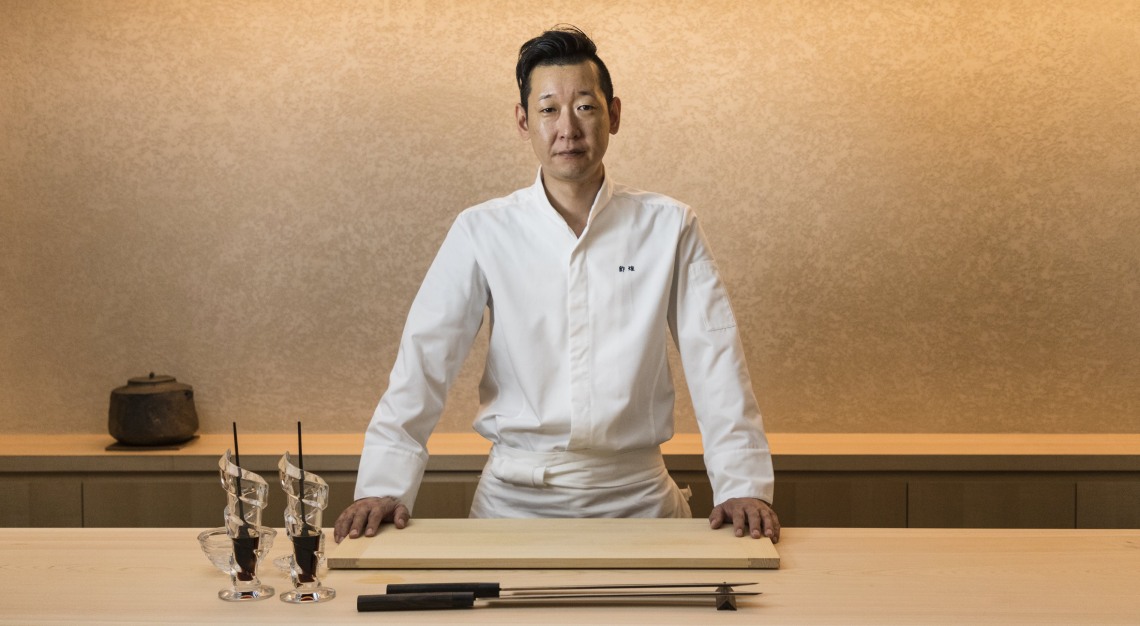 I must confess that after three courses (out of the designated 17) at Sushi Kou, I was almost full and fearing the worst. Omakase menus are supposed to start off with the lightest of touches, right? Before taking you down dark, fulsome, savoury roads that make you feel pleasantly replete by meal's end. Bows and arrows at the start; light artillery in the middle, and big guns towards the end.
Chef Yoshio Sakuta clearly has other ideas. He served up a Chawanmushi with matsutake mushroom, Saw-Edged Perch Shabu Shabu with ponzu sauce and Fatty Tuna with caviar, all before I'd even unfurled my napkin, thought about raw fish, or contemplated ordering some palate-enlivening sake. All I could think of was, help.
I needn't have worried, as Sakuta knows exactly what he is doing. His take on the omakase experience is a bit different to most others, and that's to be lauded. Leave your possible preconceptions at the door, and enter his cypress wood-infused world with an open mind, an empty stomach, and the dream of endless possibilities in the taste department.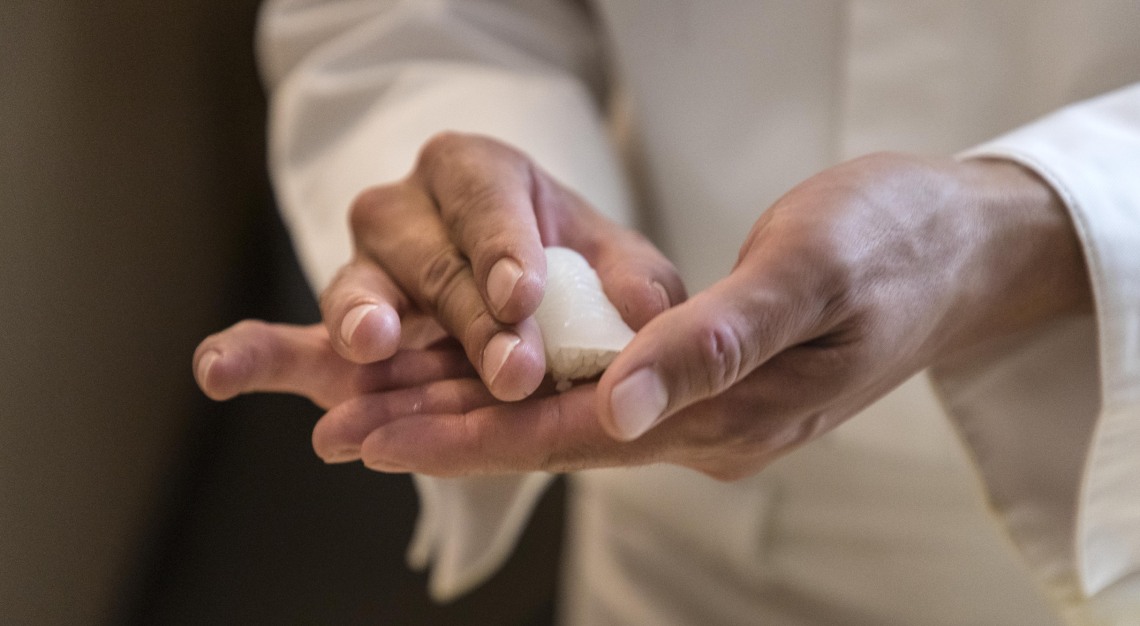 A few quick notes on the first three dishes: Chawanmushi – delicate, possibly too delicate, approaching the bland, but with a remarkable purity of flavour. The mushrooms were earthy and dry, but as you dig into the custard, you get a tad more salinity and each mouthful gets better and better as a sneaky stock comes into play.
And I begin to understand what chef Sakuta is about. This is going to be no ordinary omakase experience. He's trying to redefine it, and he's owning it.
The Saw-Edged Perch Shabu Shabu was sublime. Such a delicate sear; such tension with the other flavours with the inclusion of yuzu pepper, and you start to believe in the confounding of expectations.
As for the Fatty Tuna with caviar… just about perfect. Egg yolk and shoyu; the saltiness of the caviar and the richness of the tuna… Absolutely spot on.
Which brings us back to my opening paragraph. Three dishes in and I'm already overloaded. What could possibly come next? Answer: one of the best dishes I've ever tasted – we're still yet to enter the sushi part of the menu – in wild ocean eel. A pristine flavour in the meaty part of the fish is complemented by a just-charred skin that, when you apply a paste of salt and wasabi (supplied, you can make your own according to taste) brings out a load of seemingly unimaginable essences. It was remarkable.
And we haven't got to the sushi yet. Four dishes in, and we're still tantalising palates and the mystery (and let's face it, the fun) is what's going to happen next.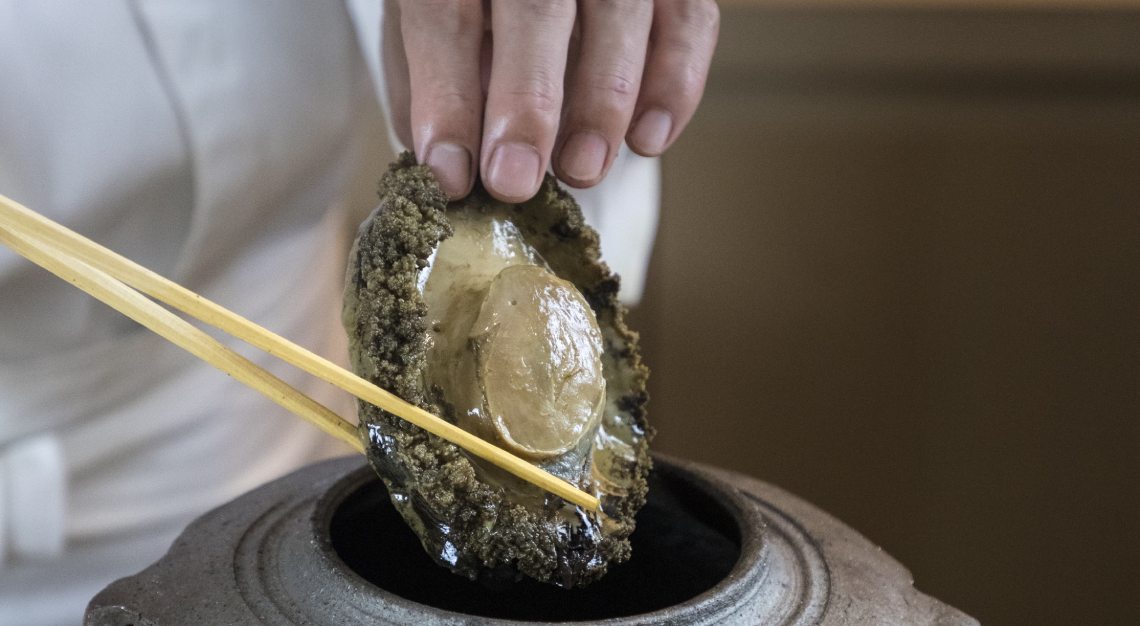 The answer, once again, is surprising. Steamed Abalone with abalone liver sauce. Seriously? This could have been a dish in my final meal, were I ever to find myself on death row (always a possibility) but it wasn't my cup of tea, despite being well executed. I liked the egg, oil and shoyu being turned into an emulsion with the liver, but it didn't add anything to the lack of inherent flavour in the abalone – despite its five-to-six-hour cooking process in sake and kelp. Didn't work for me, that's all I will say.
And finally, we're onto the sushi and I begin to understand what the chef is driving at and what his modus operandi is. I'm receptive again, and so are my taste buds, and we're looking forward to 10 pieces of sushi – some of which astound; some of which inspire; and some of which are just kind of 'meh' until you realise that it's all part of the plan.
Let's do numbers. They're easy. Dishes on this omakase menu from six to 15.
Sea Bream – simple, clean, perfect. Needs nothing.
Marbled Flounder – needs a tiny squeeze of lime to bring out the flavours. Gets it. Perfect.
Goldeneye Snapper – upping the ante; a rise in the flavour stakes; a slightly more tasty fish; delicious.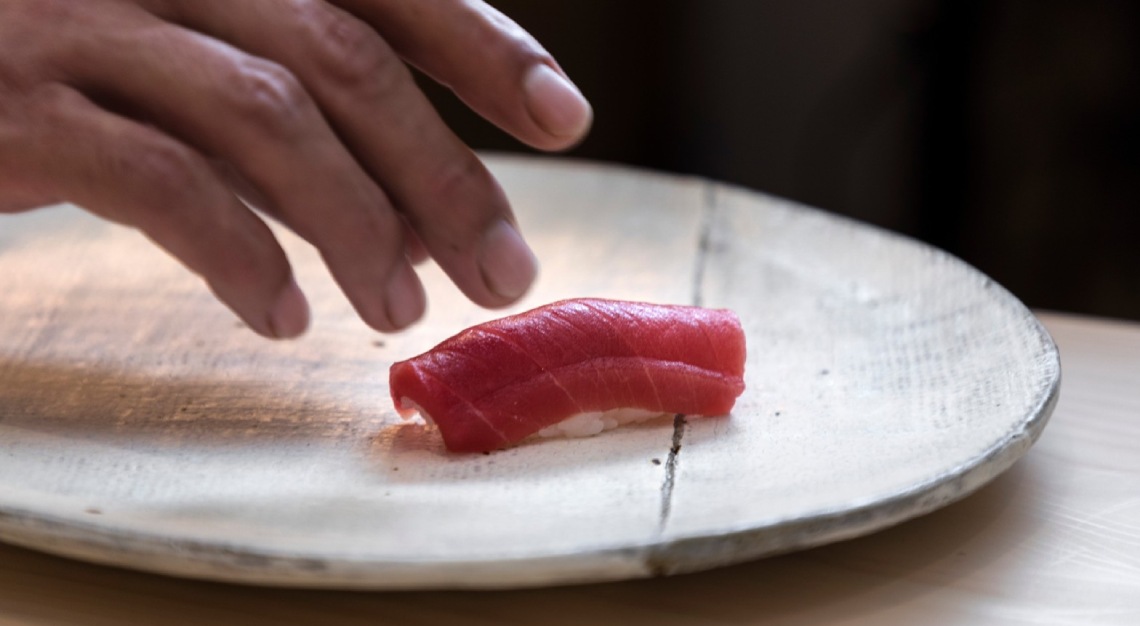 Tuna – wonderfully vivid in colour; another flavour raise and a little more wasabi added? I'm beginning to enjoy this process.
Otoro – superb quality; perfect texture and soy and wasabi administered in such judicious quantities to bring out the very best in a super ingredient.
And then it's time to die. From pleasure. The Sea Urchin (kita-murasaki rather than the ezo-bafun variety, if I am correct) is quite stunning, in taste, texture and overall appeal. Bafun is soft and mild and creamy and delicious, but the murasaki enters a different landscape when it comes to flavour. That iodine, chemical, oceanic splendour of it comes to the fore in a mouthful of wonder. It's going to be a difficult act to follow.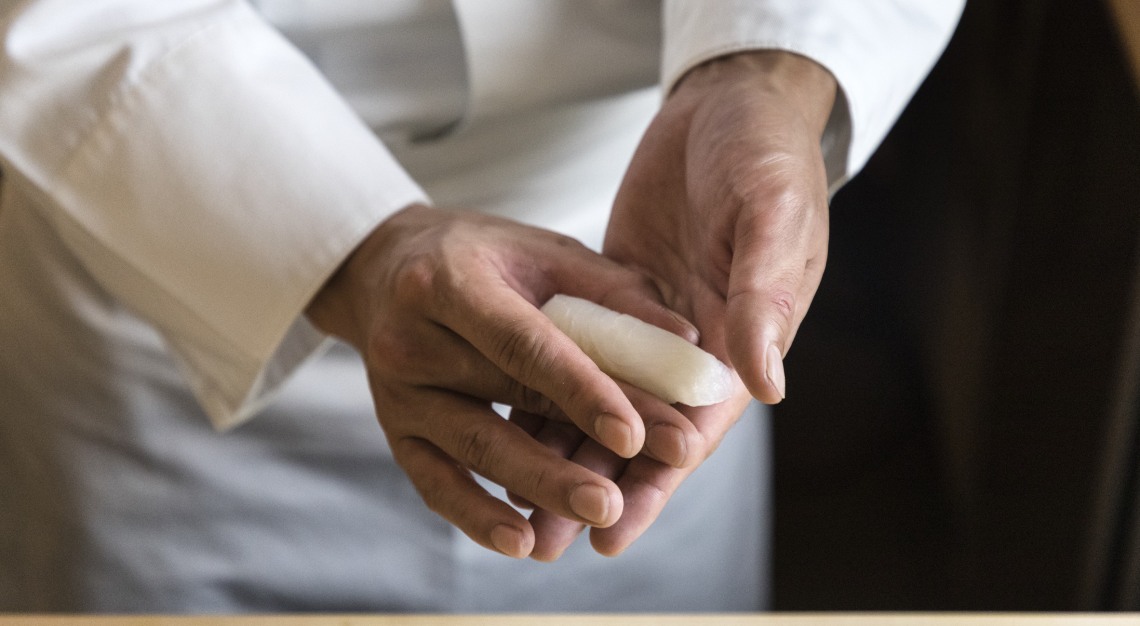 Black Throat Sea Perch in which you have to squeeze down on the fish to release the oil into the rice at the bottom – a really fancy mini donburi – was almost up to the task, but not quite. It's fortunate that it was followed by the…
Pen Shell – which was as big a surprise in its inclusion in a menu of this type (and at this stage of the meal) as it was in the flavours that it exuded. Soft at first bite; crunchy at second; the citrus accompaniment was perfect.
Japanese Tiger Prawn – nothing added, nothing taken away. Simple. Clean. Efficient.
Sea Eel – and we're done. So good.
There was a miso soup, apparently, but I'd long gone past such utilitarian tastes.
And a dessert that was probably the best 'fruit salad' I have ever eaten – with grapes from parts of Japan I had never even heard of, and bits of melon that were eye-wateringly tasty. The dish itself is a fruitarian aesthete's tangy dream.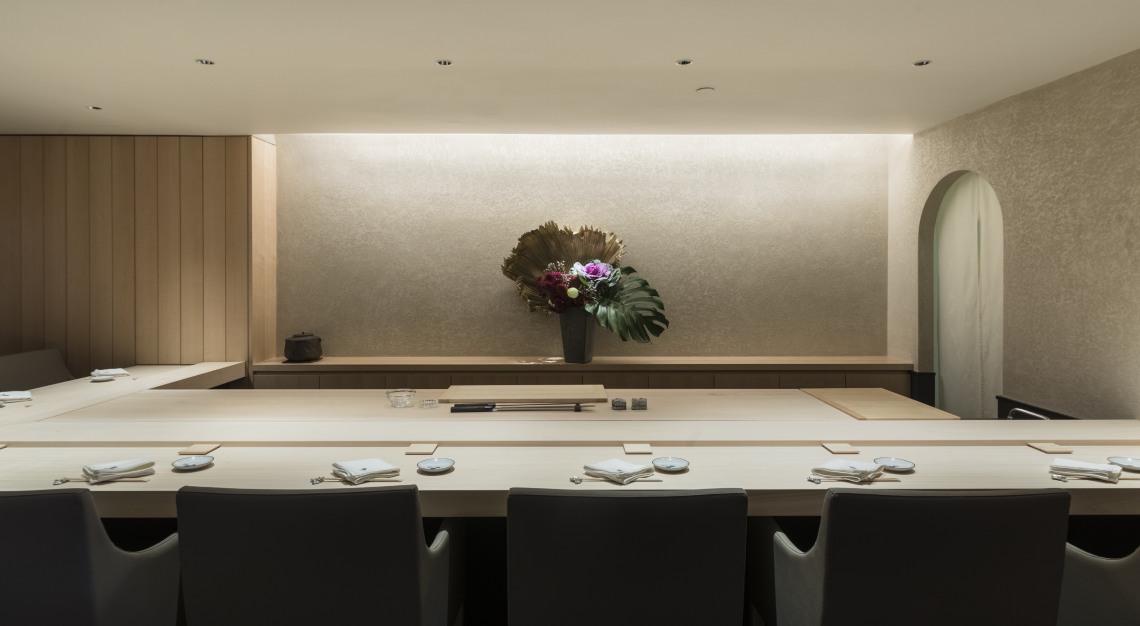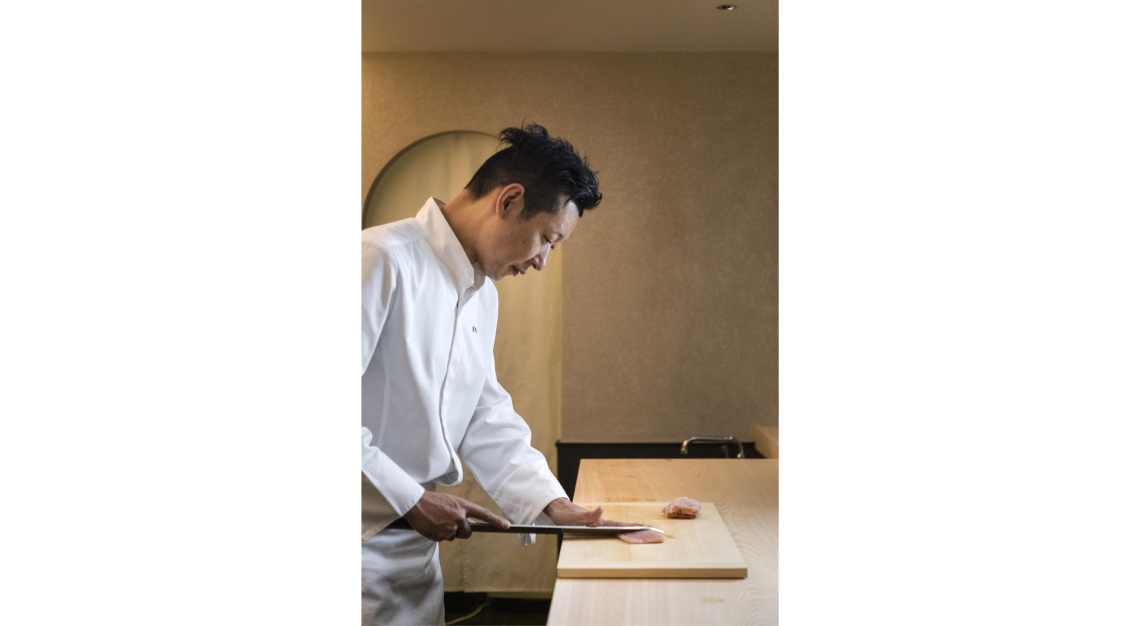 The whole experience led me to believe that chef Sakuta knew (and knows) exactly what he's doing, and quite how he wants to reframe the omakase experience. It's different, and it's bold, and while I had my misgivings after the first few courses of his expertly curated menu, I left feeling richer for the experience, replete but not stuffed, and with admiration for a chef who's doing things differently, but doing them exceptionally well.
To say that Yoshio Sakuta is redefining Edomae-style sushi may be a tad grandiose, but he's certainly putting his own very personal spin on the cuisine. Aficionados will be hoping that it's one that goes round and round perpetually.
Sushi Kou
11 Cavenagh Road
Holiday Inn Singapore Orchard City Centre
01-13/14
Singapore 229616
Tel: +65 6235 5670