Good things come to those who wait, and we've waited long enough.
Koichiro Oshino's solo debut will gladden the heart and steal the show
I may have mentioned that I like going to restaurants where ordering isn't necessary. While I appreciate that perusing a menu is part of the dining experience, there are times – and they're becoming increasingly more frequent – when it's just nice to sit down and be fed.
This is probably why I find the omakase concept so appealing. You perch. Food arrives. You eat it. No decisions are necessary, and you never get into that process of regretting your order when everyone else's food passes you by and looks so much better than what you decided upon – presumably after much soul-searching and weighing up all the options. There are enough important decisions to be made in life without extending the process to meals.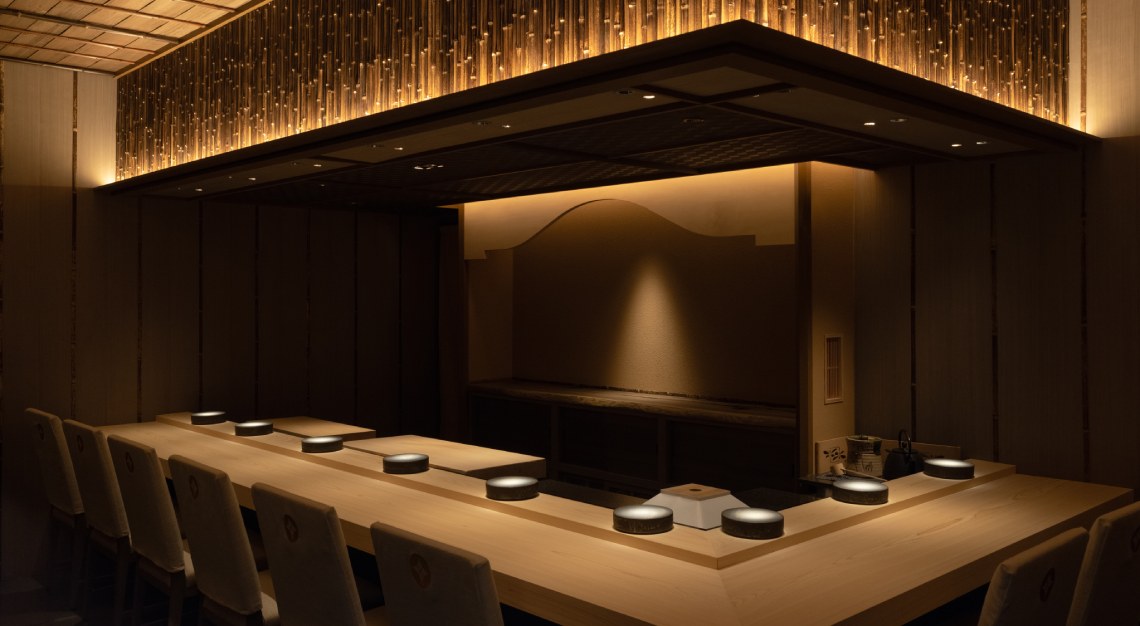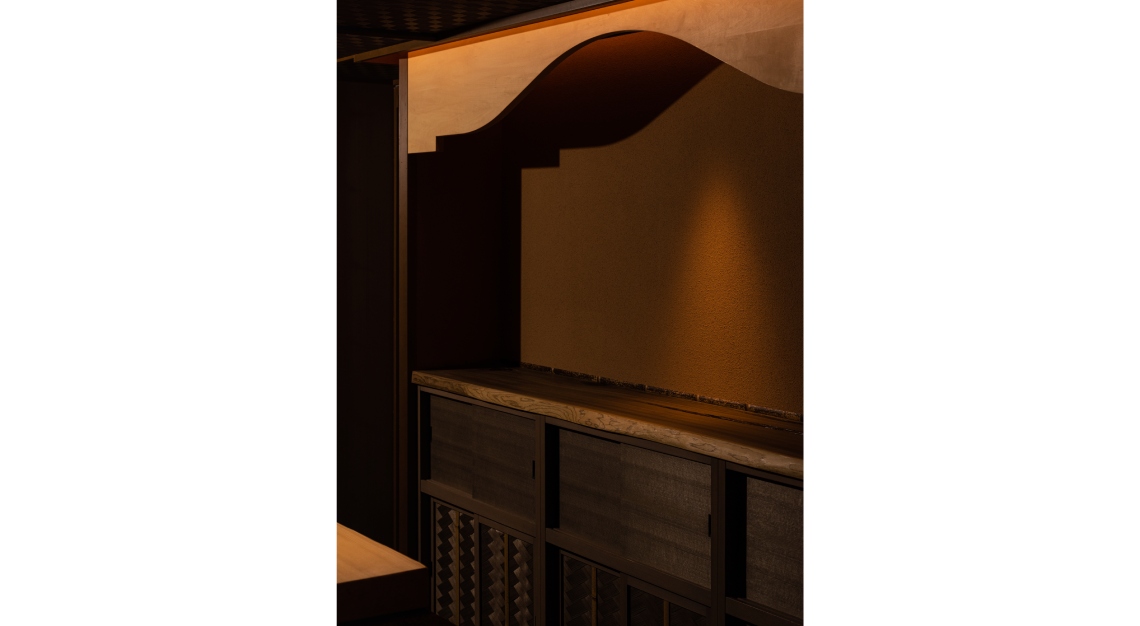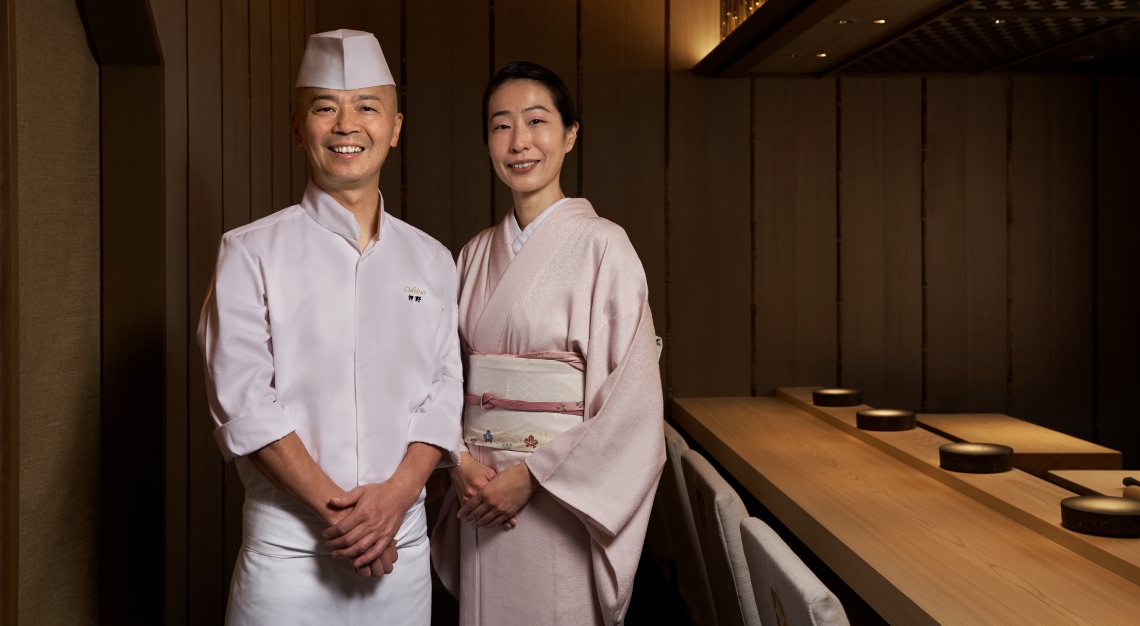 It seems as though we have been waiting for Koichiro Oshino to open his own restaurant for months (if not years). He had earned his spurs and marinated his chops with Shinji by Kanesaka in Singapore (at both the Raffles and Carlton hotels) for a decade, but the man needed his own space and his own place – somewhere to lay his weary knife after a long day in the kitchen. We waited, and we waited, and now it's finally here. For many of us who are prepared to wait, good things will come, and Oshino at the newly renovated and even more splendid than it was before Raffles Hotel, is well worth the wait.
Tiny, intimate, but superbly designed, dining at Oshino is like stepping into a dream – especially if the object of your fantasies is a quite remarkable meal in which every taste bud will be stimulated. The diner will leave the establishment feeling better about being alive, knowing that they have experienced something exceptional that could only have been conceptualised and created by a chef who feels that sharing his love of good food is an existential imperative.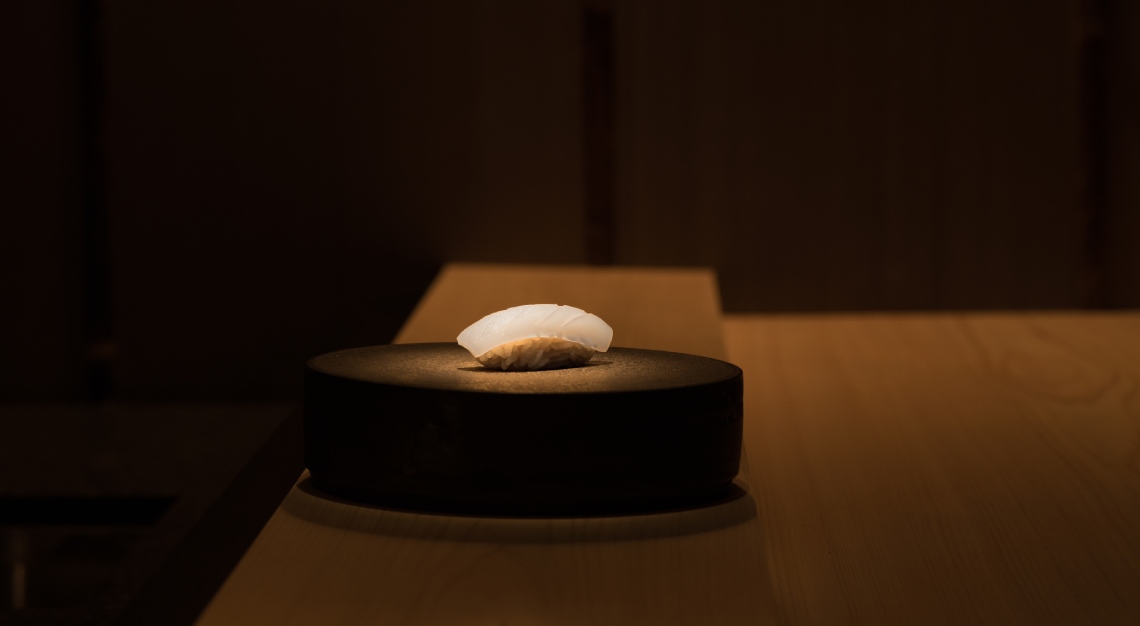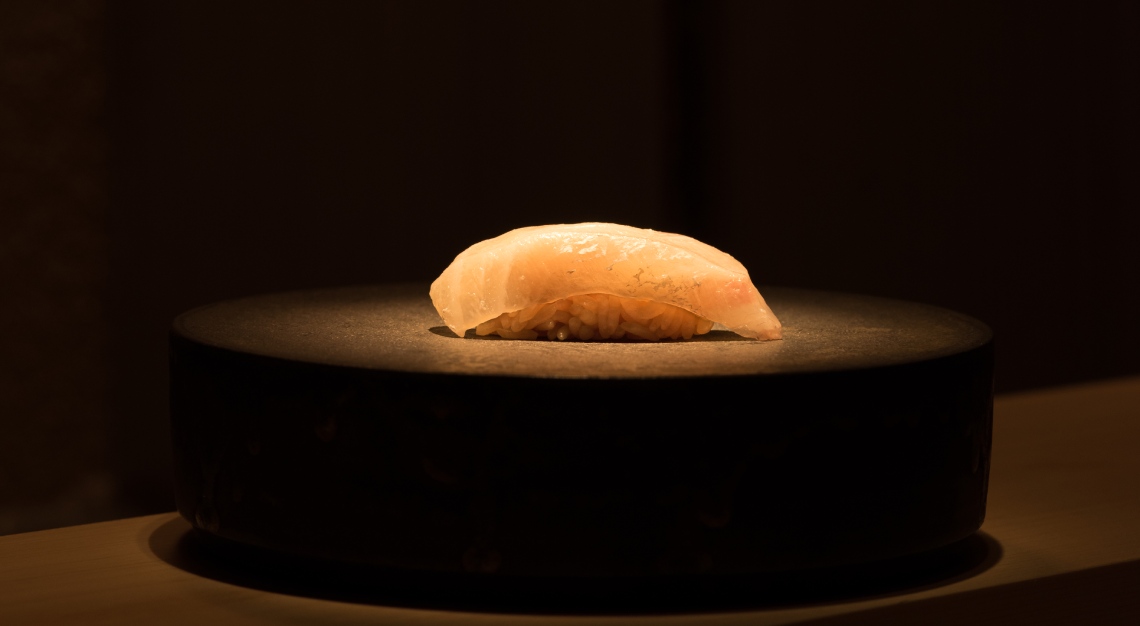 Too grandiose? Perhaps, but the food at Oshino is so good that it makes you want to write poetry – a haiku, obviously; I may even try to compose one* – although it would be difficult to condense the glories of this restaurant into three lines. While it's great not to have to bother about making a selection from the menu, Oshino doesn't even allow you (for most of the time) to compose a mouthful. It's dictated. To some, this is an infringement of civil liberties, but when you trust the chef – as you have to do when hurtling down the omakase road – and that chef is good, the lack of choice becomes an integral part of the pleasure. And chef Koichiro clearly knows what he's doing, having honed his craft over more than 30 years in the business and establishing his credentials as a masterful exponent of Edomae sushi cuisine.
Each course is a tiny masterpiece of carefully composed elements, perfectly honed through years of experience, trial and error. When deciding on which sliver of raw fish to place on which temperature of rice (chef Koichiro has created five to choose from – the process is that sophisticated) and which of the seemingly innumerable grades, textures and variously infused shoyus he deploys, you know that he has thought of everything and married each ingredient to complement the others. It means that every morsel is a near-perfect mouthful – taking the palate through stages of sweet, savoury, umami, sour and fruity. It may sound as though there'll be a battle raging, but it's quite the opposite. Conception is so good, and proportions so judicious, that were you to be given the list of ingredients, it would be almost impossible to imagine any way in which they could be better combined.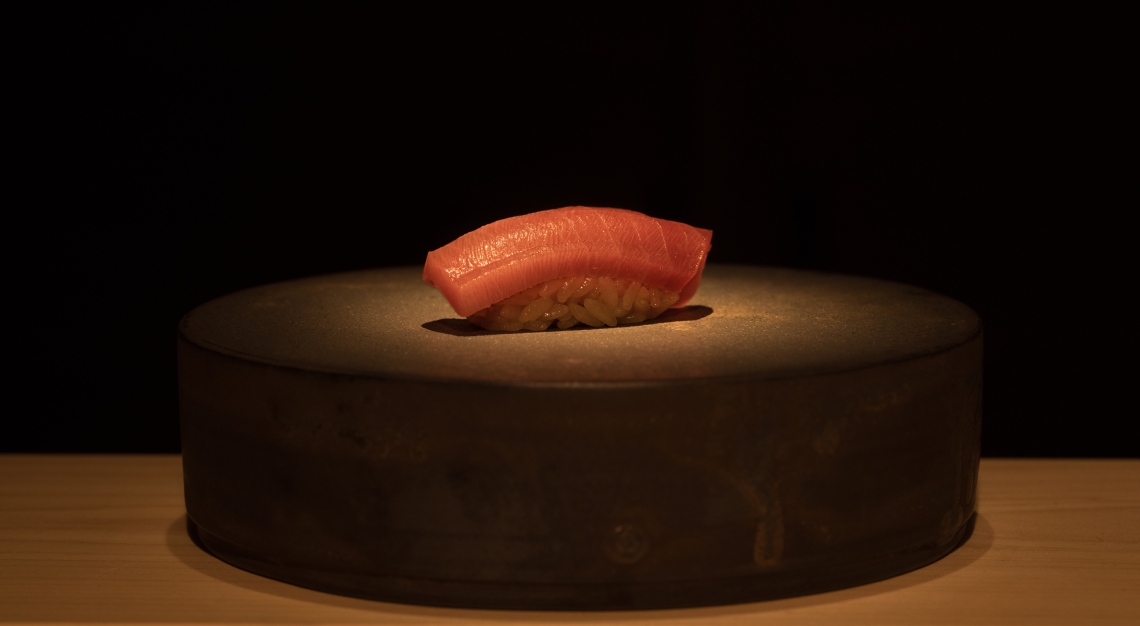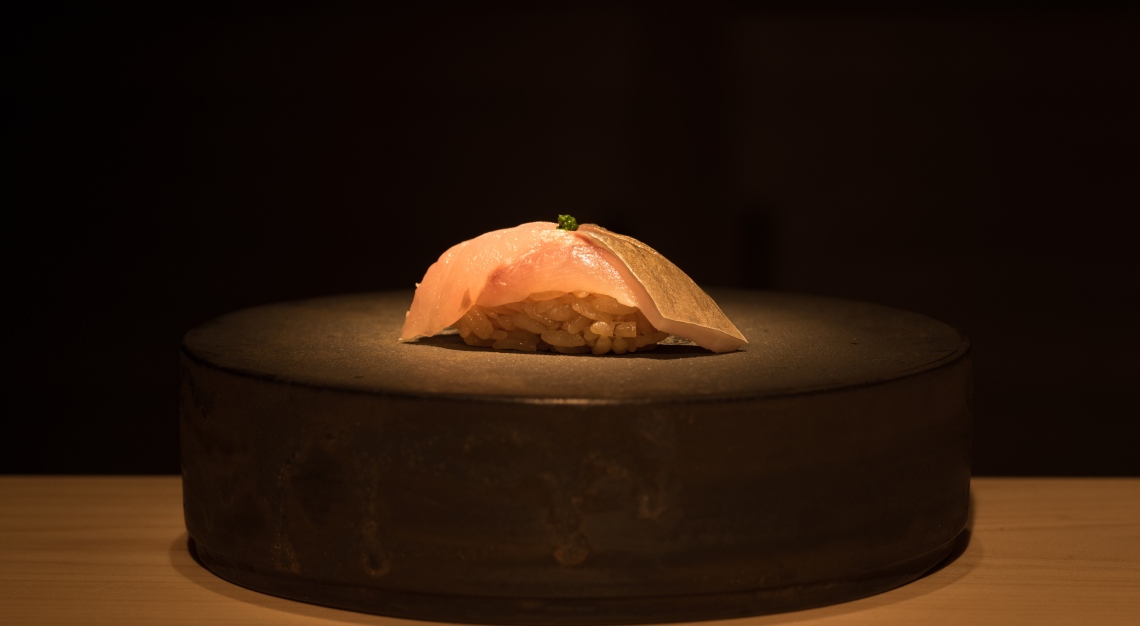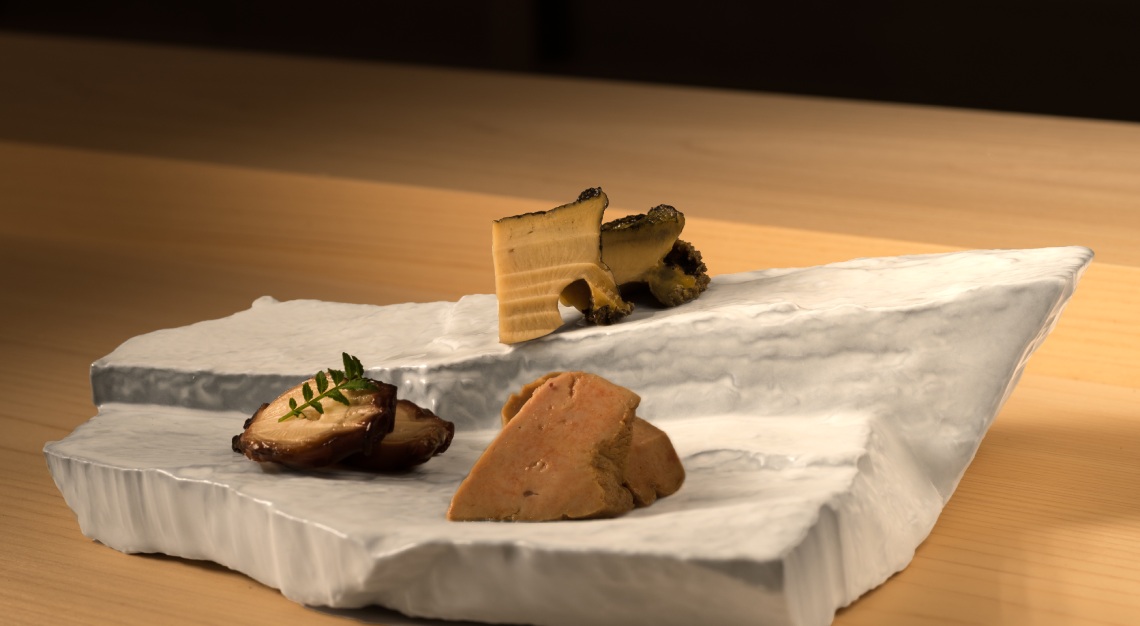 Whether it's the absolutely delightful horse mackerel with a spring onion-infused shoyu, or the silver whiting with a hint of yuzu, or the flounder marinated in pressed seaweed, every dish – and there will be many – is just so thoughtfully mapped out and expertly executed that the palate becomes ever more receptive to subsequent dishes rather than becoming tired from wave after wave (a veritable tsunami) of food.
When dining at Oshino, I became fascinated by the progression. Why, for example, would chef Koichiro stick in a black abalone (steamed for five hours) with liver sauce (suffused with butter) after the chutoro and otoro sushi offerings? Everything is explained when the next dish of needle fish, shiso leaf and flower, black pepper and yuzu is trotted out. It turns out to be a very effective palate cleanser, and gets your taste buds back on track for what's to follow – sardines, lobster, yellowjack, ebi, who knows? Whatever is fresh, and whatever works in the mind of a wonderfully creative and dedicated chef.
This is part of the beauty of the Oshino dining experience, along with having front row seats to watch chef Koichiro working his magic. There is imagination and thoughtfulness in everything he does – every finger press, every delicate slash of his ultra-keen knife – that just reeks of passion for his art and the commitment to bringing arguably the best omakase menu to Singapore's diners.
No decisions are necessary. Trust in chef Koichiro and you won't be disappointed.
*My haiku:
No choice is my choice
Breath is taken by the food
Glad I'm not a fish
Oshino
1 Beach Road
01-11
Singapore 189768
Tel: +65 9012 3938