Not only are they Zoom-presentable, throw on a jacket and you'll be ready for a casual work lunch
For several seasons now, the ubiquitous T-shirt has been reimagined by luxury brands as a decidedly more polished garment. These knit tees are fully fashioned — meaning they're constructed as one piece, like a sweater — for an unquestionably more elegant, sophisticated alternative to the standard cut-and-sew iteration.
As Mr Porter's style director Olie Arnold explains, this evolution can be traced to the fact that "men have become more comfortable dressing casually for dressier occasions, and that there's an increased appetite for elevated basics." Indeed, the knitted T-shirt's rise is symptomatic of the relaxing of dress codes. But how does one wear this novel hybrid? Arnold has a few thoughts: "Knitted T-shirts are as natural to incorporate into one's wardrobe as an elevated t-shirt. Think of them as such, just with a bit more character — and responsibility of care." In plainer terms, wear them anywhere and everywhere you might opt for a tee that can't be mistaken for workout gear.
As to Arnold's point about care, the knitted cultivars upgrade tees from a material context, too. At the premium end of the spectrum, Connolly offers a wonderful blend of silk and cashmere that's almost dangerously delicate (but not too delicate for a cold cycle with Woolite, or the dry cleaner). If you'd prefer something of a more robust handle, options are aplenty. British knitwear specialist John Smedley recently unveiled its 'Lorca' model in a 30 gauge Sea Island cotton. Tom Stubbs, the celebrity stylist and Savile Row attaché, is more than a fan. "It's about the Lorca. The Sea Island cotton is just the right weight and effectively matte-looking with a good link into the wide neckband. It fits well and it's not snug—it's a real coup," he tells us.
Another heritage purveyor of British knitwear is Johnstons of Elgin, which has the added bonus of a brand new Scottish knitwear factory with state-of-the-art machinery. Alan Scott, the brand's creative director, explains that the 'Murray' T-shirt is "knitted using Shima Seiki 3-D technology on a 15 gauge machine. It's therefore seamless, which improves comfort and wearability and it is a whole garment, meaning it is made as a complete piece. This ensures consistency and quality in sizing and fit."
One of the most interesting evolutions of the knit T-shirt has to be The Anthology's cropped iteration, which allows high-rise trousers to sing properly. Co-founder Buzz Tang explains that "in consideration of how our tailored trousers style normally sits with a mid to high rise, we figured having a shorter length done with a slightly extended ribbed end that hugs around the waist firmly would offer that drape-y look." Cut from organic cotton with a silk-like texture, they're available in five different colours that afford ample options for stylistic play.
Particularly during this time of anything goes dress codes—whether you're at the office or working the #WFH beat—knit tees strike an ideal balance between comfort and chic. Here are our favourites.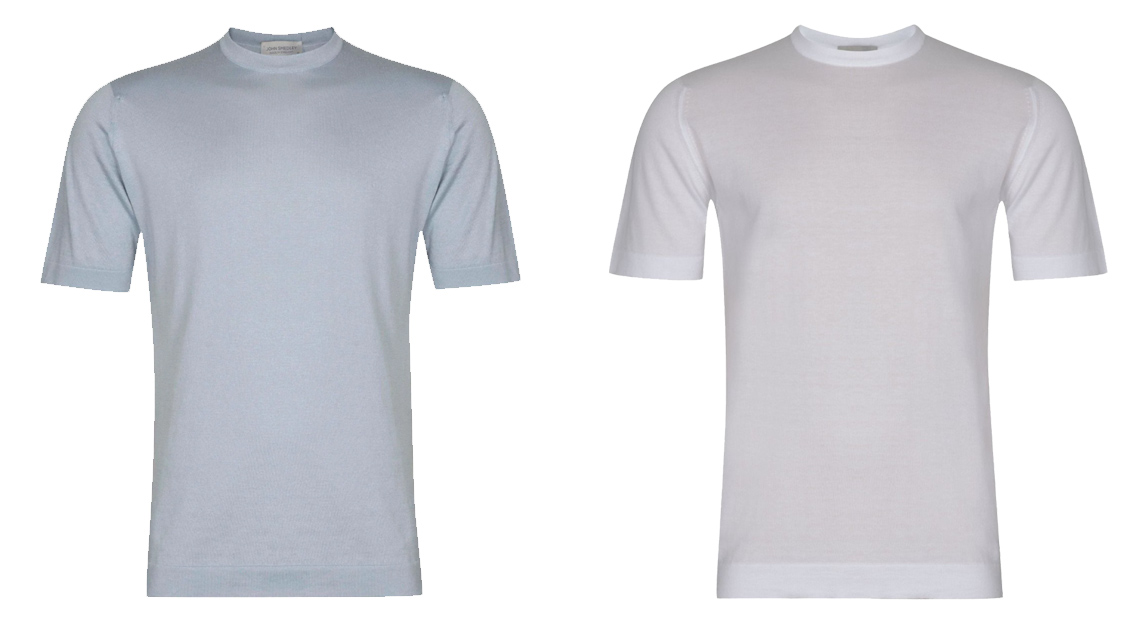 Classic Lorca, John Smedley
Price: US$185 (S$253)
Why we love it: A stalwart among British knitwear makers, Smedley's prowess is displayed in this T-shirt made from lightweight Sea Island cotton (the rarest cotton in the world) and features a flattering neckline with ribbed cuffs and hem. Four colours are available, including a pastel coast blue.
Purchase it at: John Smedley. Free shipping to Singapore via DHL International.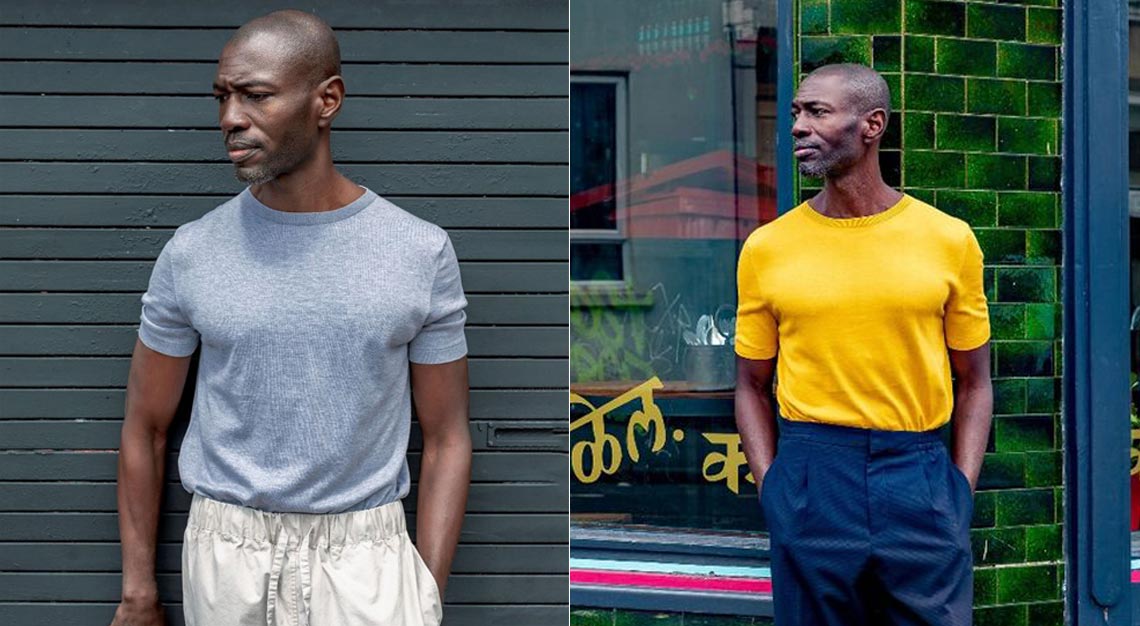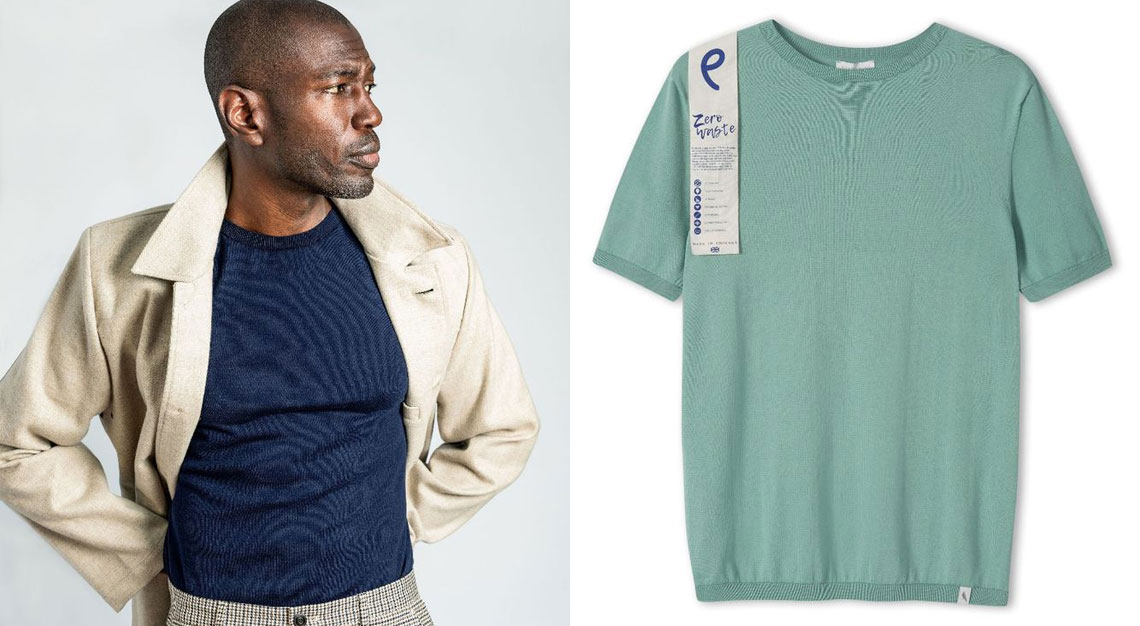 Zero Waste Knitted T-shirt, Peregrine
Price: £95 (S$166)
Why we love it: Peregrine is a family-owned knitwear specialist based outside of Manchester, England and its seamless Zero Waste collection is made from organic Egyptian cotton by the Better Cotton Initiative (BCI), which promotes sustainable practices that minimise damage to the environment and support fair pay for farmers.
Purchase it at: Peregrine. Shipping to Singapore is at a flat-rate of £17.99 (S$31).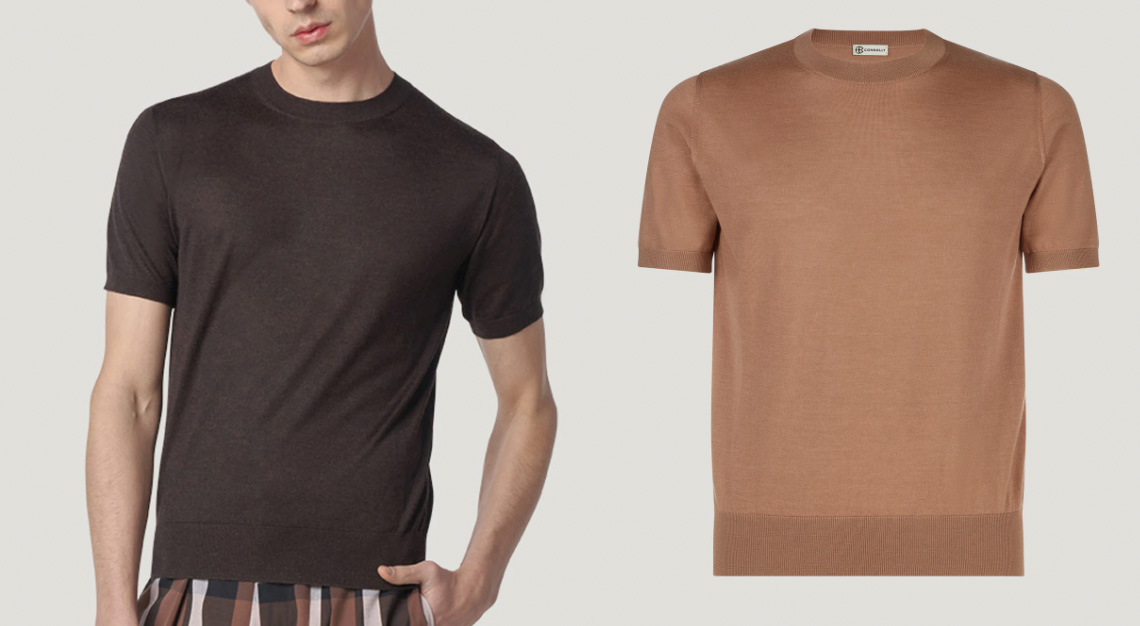 Classic Cashmere Silk T-Shirt, Connolly
Price: £395 ($692)
Why we love it: Connolly is best known for its luxurious leather, but the house's textiles are equally sublime. This take on the knitted T-shirt features a decadently soft blend of cashmere and silk, and features quite a number of 'fun' colours, including muted pink, silver and gold (above, right).
Purchase it at: Connolly. You'll enjoy VAT-free shopping here; shipping to Singapore costs £35 (S$61).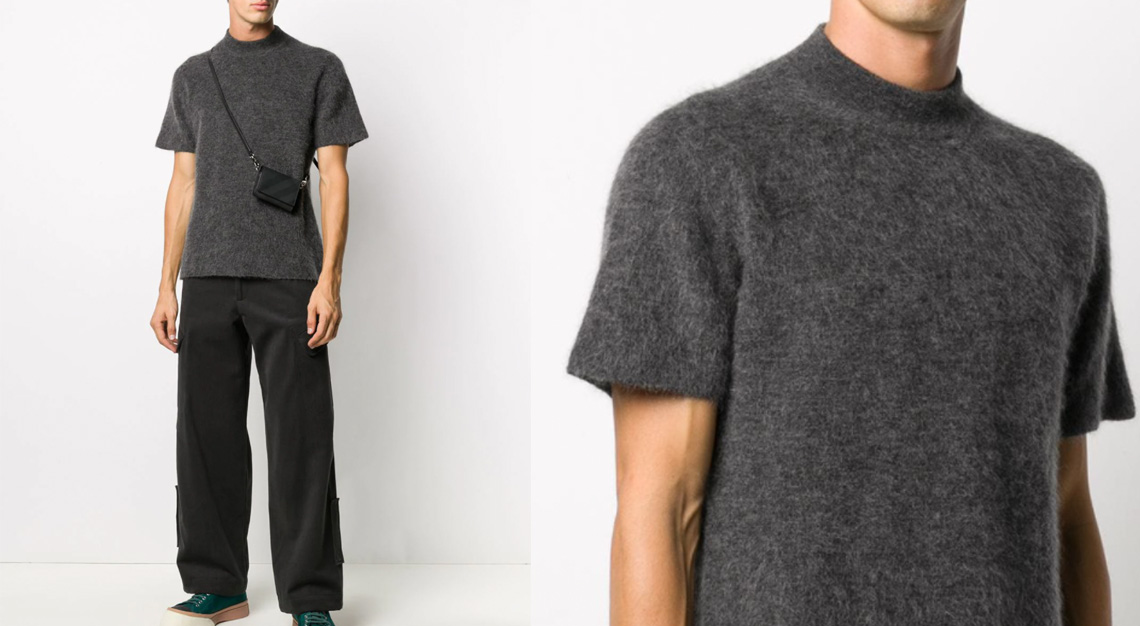 Brushed Knit T-Shirt, Jacquemus
Price: £356 (S$621)
Why we love it: For a more wintery take on the knit T-shirt, look to this model from French fashion favourite Jacquemus. It's knit from a blend of mohair and wool for a cozy, slightly shaggy texture that'll easily add some visual interest to any outfit. One would be slightly short of crazy to wear this in Singapore's weather, it's better suited for when you're travelling to a place with a cooler climate
Purchase it at: Farfetch. Shipping to Singapore costs £5 (S$8).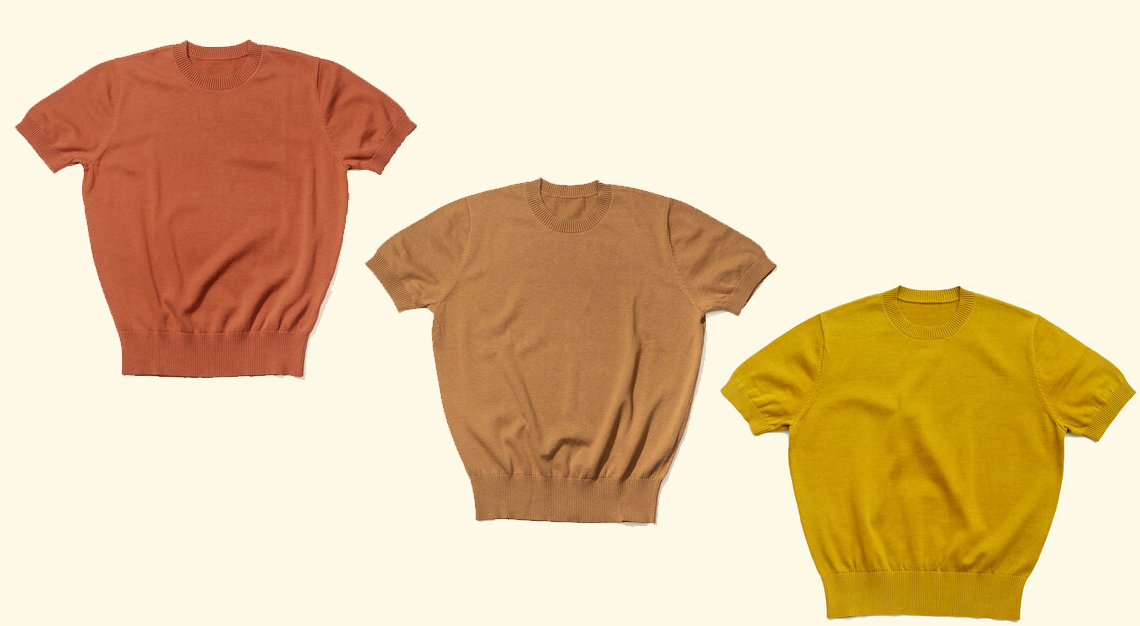 Knitted T-Shirt by The Anthology
Price: US$90 (S$123)
Why we love it: In an autumnal rust tone made from organic cotton, The Anthology's knit T-shirt is shorter in the body to accommodate high-rise trousers. It'll also look dapper when layered beneath a blazer. Colours are slightly more playful here, with ecru, caramel, mustard, navy and rust. Have your eyes on rust, but not sure what goes along with it? The Anthology suggests pairing it with blue, brown, grey and white. For the eco-conscious, the brand states that the product is made from organic cotton sourced from a sustainably-grown cotton farm in Xinjiang province.
Purchase it at: Anthology. Shipping to Singapore costs US$18 (S$24).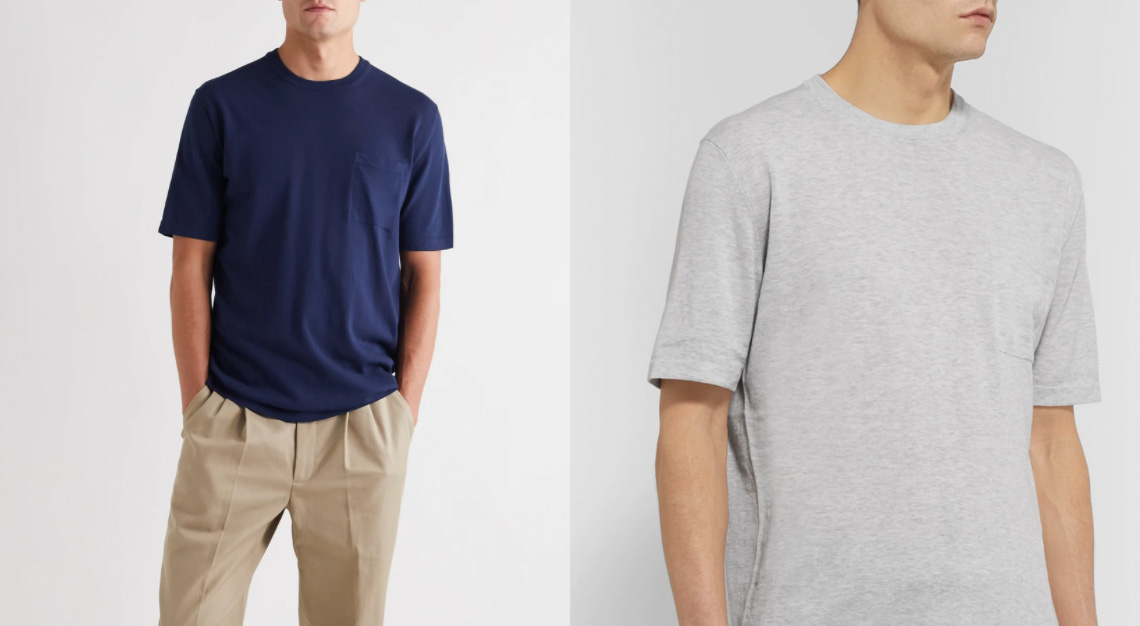 Mr P by Mr Porter
Price: £65 (S$113)
What about: Mr Porter's in-house collection has added the knitted tee to its roster of elevated wardrobe staples. This is a more relaxed vision of the style, with seamed shoulders and the addition of a small breast pocket for your sunglasses.
Purchase it at: Mr Porter. Shipping to Singapore is free.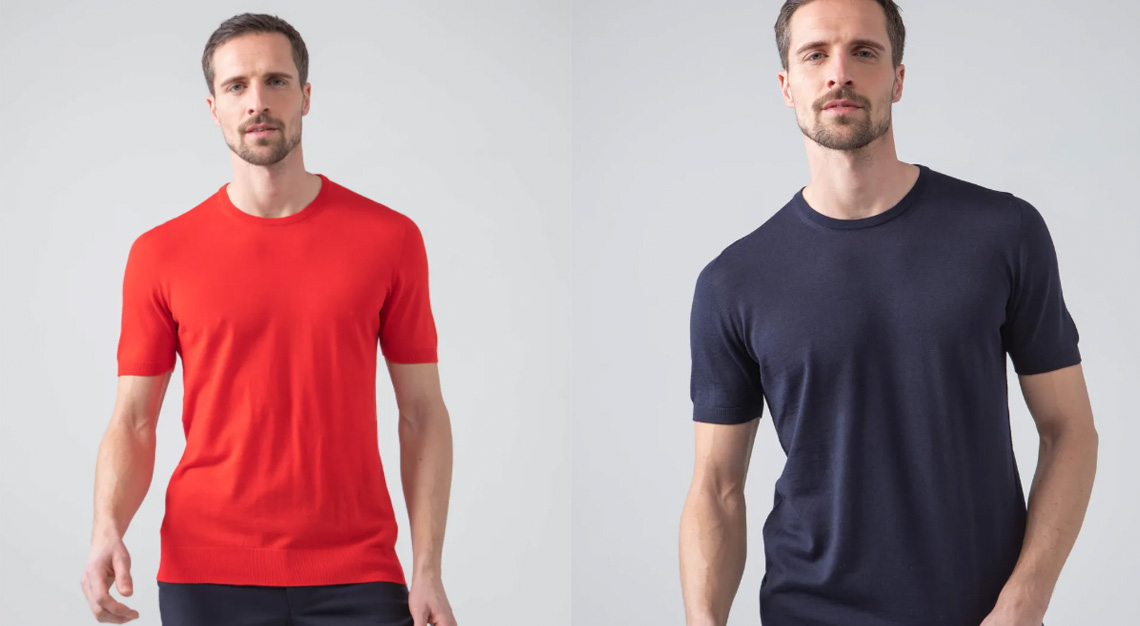 Murray Superfine Merino T-Shirt by Johnstons of Elgin
Price: US$380 (S$519)
What about: At its factory in Hawick, Scotland, Johnstons of Elgin uses cutting-edge machinery from Japan to craft this version in vivid red worsted wool. Note that you shouldn't follow the model's presentation (pictured above) – the ribbed bottom should sit at the top of your waistband, not the hips.
Purchase it at: Johnstons of Elgin. Shipping to Singapore is free.
This story first appeared on Robb Report US