Hermès is rewriting the codes of menswear with its spring/summer 2019 collection. And it works like a charm, with credit going to Hermès men's artistic director Véronique Nichanian
Three years ago, American company JP Morgan circulated a memo to its 200,000-plus employees, stating that it would embrace 'business casual' as its daily dress code. It was not the only company to do so, nor was the decision completely out of the left field. In the past two decades, fuelled mainly by Silicon Valley, dress codes have relaxed considerably. 
But what this means is that a completely new style guide is being written for men – suits are giving way to a more 'smart casual' approach. This has had a trickle-up effect on fashion, as traditional menswear designers have had to adapt their aesthetic to reflect the changing needs of today's man. 
For Hermès, this concept of work meets play is not new and it was explored once again its menswear collection for spring/summer 2019. In March, the maison hosted an exclusive Men's Universe event in London. The event, which happens annually or even sometimes biannually in cities around the world, sees the maison host a runway show, book-ended by a plethora of fun activities that offer a glimpse into the whimsical ethos of the maison.
The runway show saw a host of 'real' men walk alongside models to showcase, presumably, that Hermès' ready-to-wear collection is meant to be worn by the man on the street. The likes of ballet principal Edward Watson and creative director Nick Vinson took to the runway, dressed in Hermès threads and proving that men can pull off head-to-toe orange.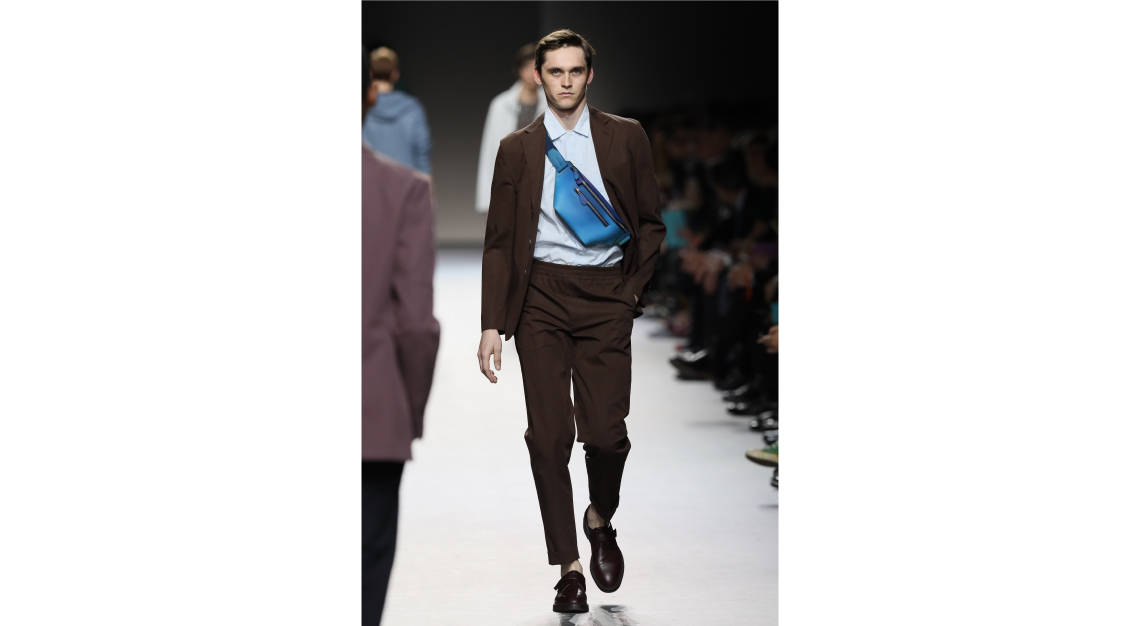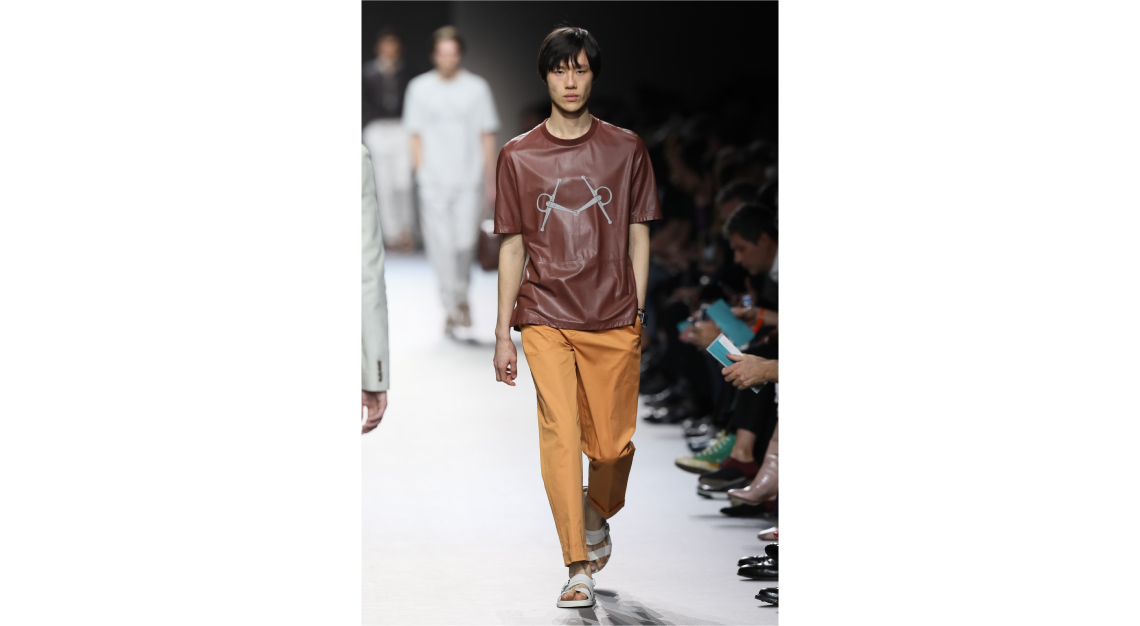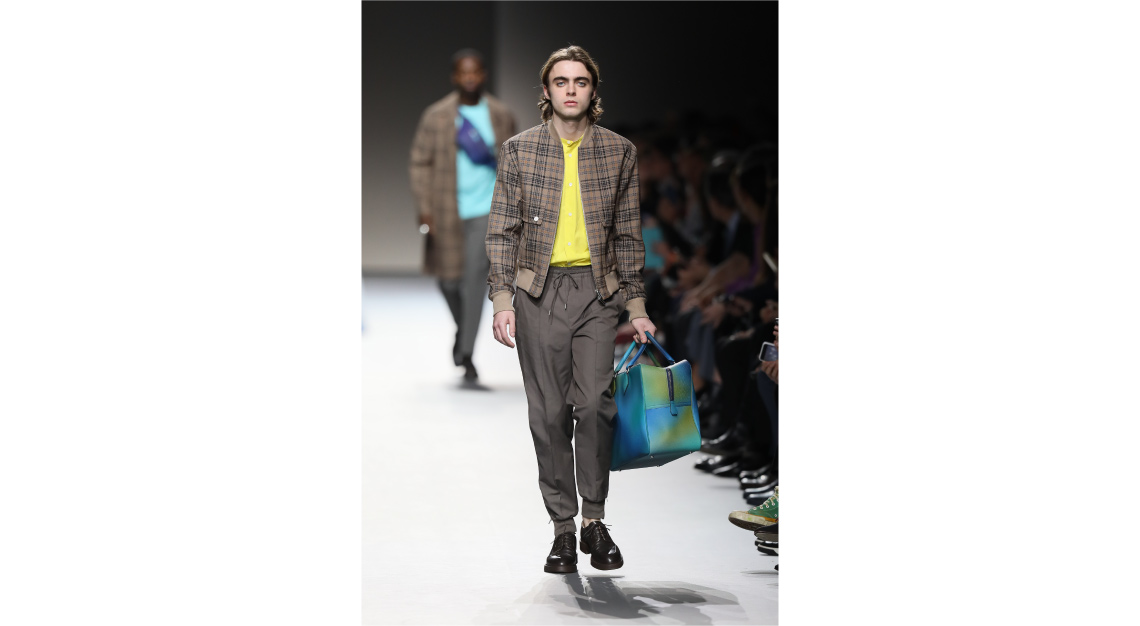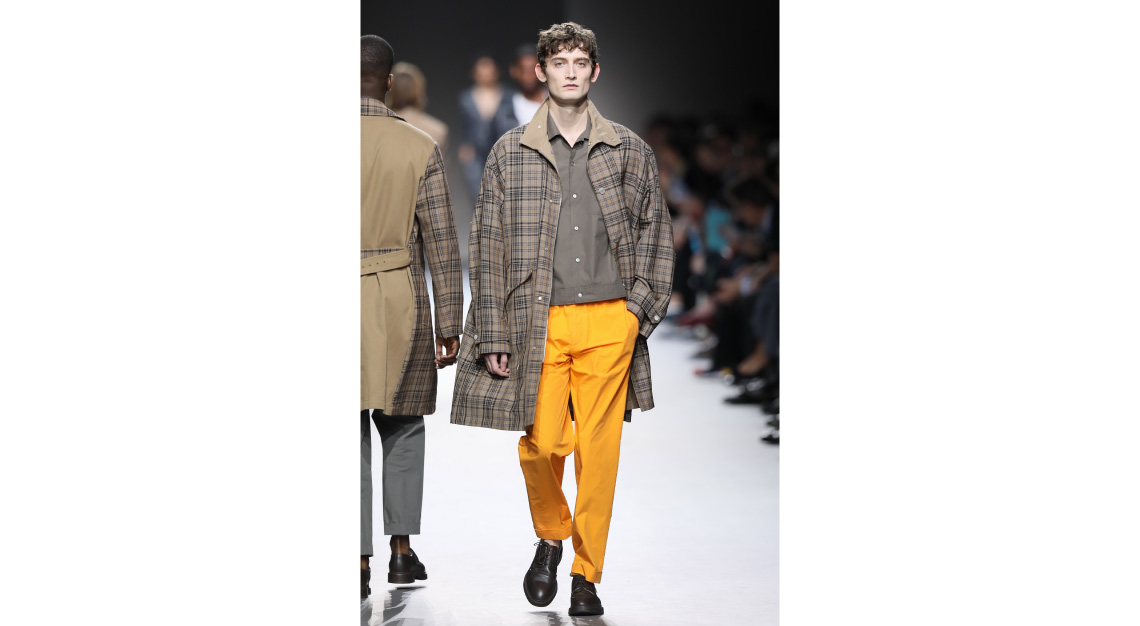 The overall aesthetic, as prescribed by Hermès men's artistic director Véronique Nichanian, exuded a nonchalant vibe. The first look featured a leather bomber jacket in moss green with a relaxed collar and a contrasting zipper, paired insouciantly with a plain white tee and khaki carrot-top trousers. The message was: I'd wear this to work or on the weekend. 
Full leather suits were fitted, but with a certain easy-going appeal that straddled the line between edgy and laid-back. There were plenty of pops of colour, too, from yellow trousers to a geometrically patterned green jumper and trouser combination.
These were far from campy or androgynous – trends that we've repeatedly seen on the runways as lines between men's and women's fashions are blurring – but they were looks for men who can appreciate the fine craftsmanship that Hermès espouses.
Every casual droop of the shoulder was thoughtfully designed, as were the seemingly plain T-shirts that, upon closer inspection, featured tone-on-tone swirling motifs. 
Nichanian, who's been helming menswear at the maison for the past 30 years, recognises the shift in how men dress today, and even formal jackets came paired with unexpected colours – think grey jackets with yellow trousers. But what caught our eye were the oversized Birkins crafted using a gradient technique that skilfully and artistically meshes a medley of colours together. 
This shift in Nichanian's vision is not new, but with each season, she once again proves that she's able to resolve Hermès' playful nature with top-notch skills, resulting in a look that doesn't seem to take itself too seriously – until you look closer, that is.