Designed by UNStudio, the Netherlands headquarters is an architecture marvel and wellness advocate in one building
As gratuitous as working from home is, a sleek yet lively workspace certainly makes heading to the office less of a bane. At the heart of Amsterdam at the Oosterdokseiland sits just that. The Booking.com City Campus is designed to be not just the company's headquarters, but a social hub meant for staff to—in the words of architecture practice UNStudio—meet, inspire, live, work and play.
Cliché as that sounds, you have to give it to their holistic approach. Encompassing 10 factors; air circulation, water, nourishment, daylight, physical movement, thermal comfort, sound, materials, mental wellbeing, and strategies to give back to the Amsterdam community. You're forgiven for thinking that it sounds nothing like a mere corporate office; that's because the mixed-use development also houses public spaces, retail facilities and residential tenants.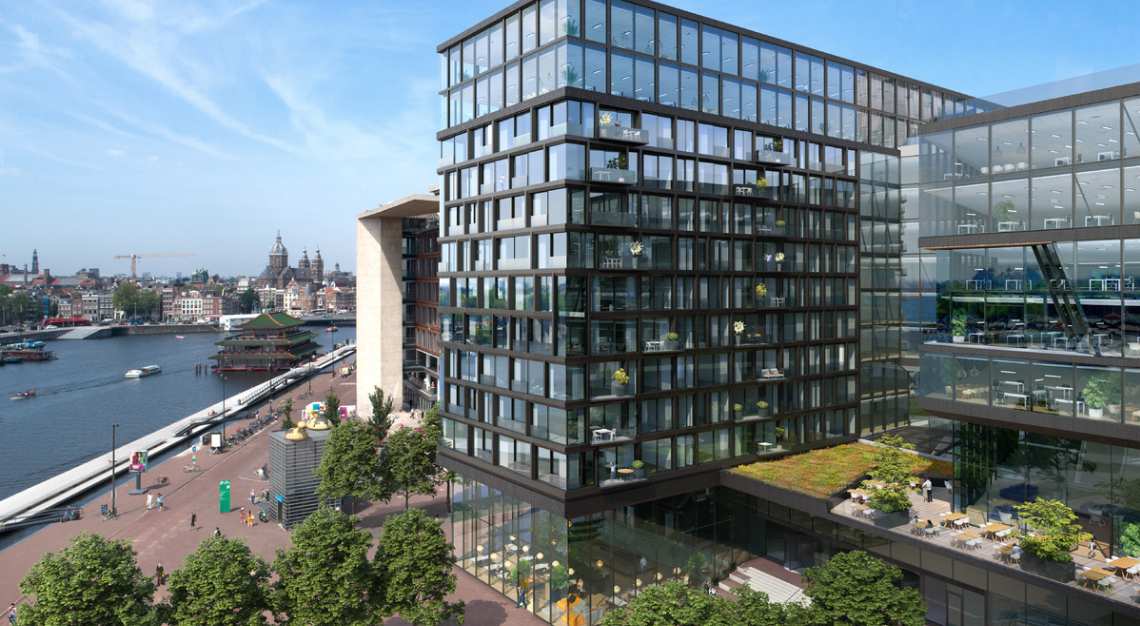 "While the individual interior spaces enjoy a truly international flavour that reflects Booking.com's core business, we wanted the overall concept for the building to serve as a reflection of Amsterdam—its location and the Dutch travel company's homebase since its inception," says Ben van Berkel, Founder and Principal Architect.
"The architecture therefore combines the robust qualities and the industrial history of the harbour, with the detailing of the glass reducing the overall immenseness of the building and gently reflecting the glistening of the water and sky. The organisation of the interior meanwhile, is designed to characterise the vibrancy of Amsterdam's lively central neighbourhoods."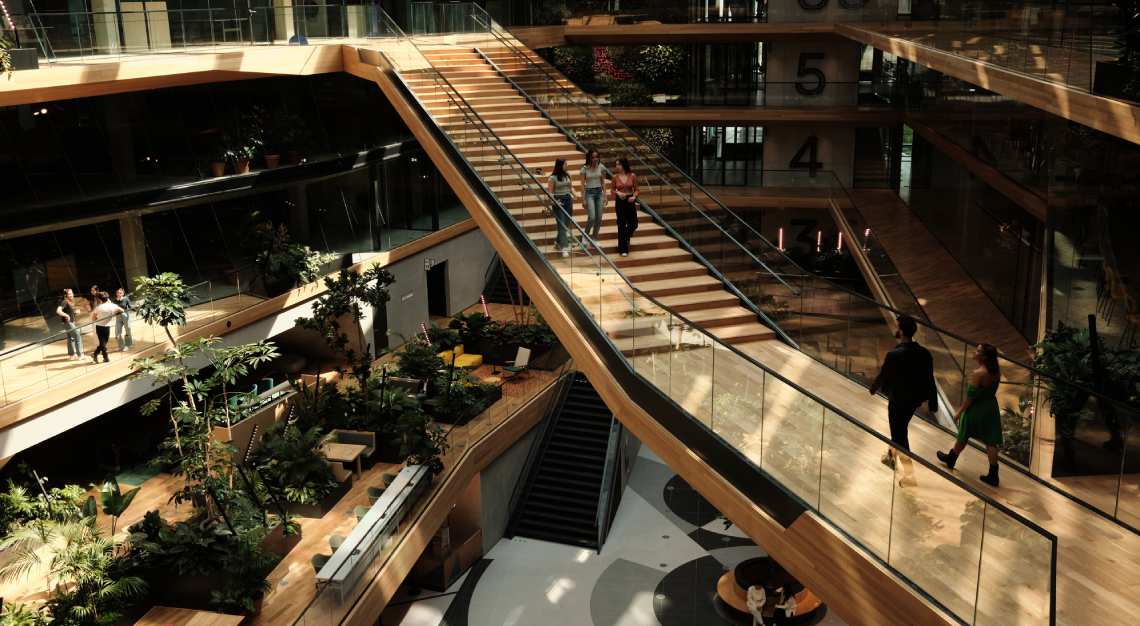 Stairs, bridges and galleries incorporated across all levels nudge movement by employees, making it virtually possible to have walking meetings starting from the ground floor all the way to the rooftop. The goal was to create opportunity to step out of mundane corners and explore new ways of interaction, providing the freedom of choice with the varied array of spaces and amenities.
As one of the largest urban projects in Western Europe, the building harnesses under floor air distribution to allow constant proximity to fresh air, yet using radiant ceilings for comfortable cooling and heating. There's no shortage of beautiful natural daylight, but any artificial light used possess low glare for visual ease. Not forgetting acoustics, which has been specially addressed in both office spaces and the atria. All this while achieving a BREEAM Excellent design certificate for all sustainable solutions utilised. It's hard not to be impressed.
If there's a physical workspace worth sacrificing a decked-out home-office set up, this 72,500 m2 integrated employee playground is easily a strong contender.