Capella Curates takes us down a barely trodden path unknown to seasoned travellers, to discover the secrets of places we think we know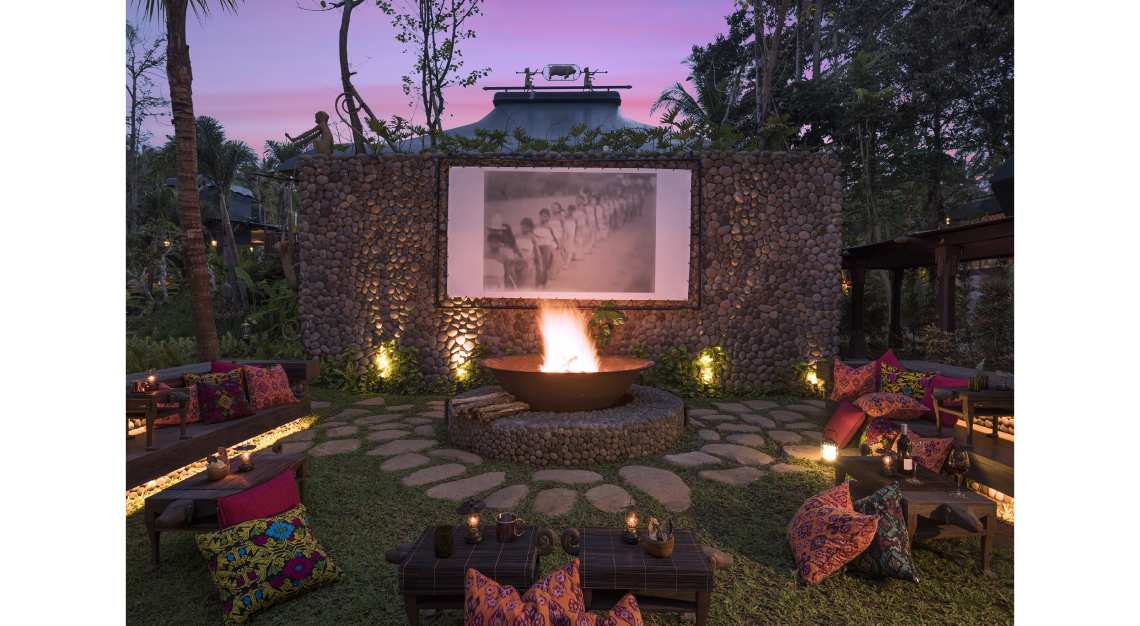 "I was born to be a healer, but I didn't want to do it. I was afraid," says I Ketut Budiasa in a slow, steady voice. "But after I filed my teeth (a rite of passage when Balinese reach adolescence), I became more open to the idea. As a healer, I don't use modern medication to treat others. We use our hearts, energy healing and therapies that have been passed down from our ancestors."
It would be another hour or so before The Camp Fire experience at Capella Ubud ends, as I interject ever so often and pepper Budiasa's stories with questions, while nibbling on my freshly toasted marshmallow. I've visited Bali on no less than seven occasions, but this was the first time I've had the chance to really hear about a local's life.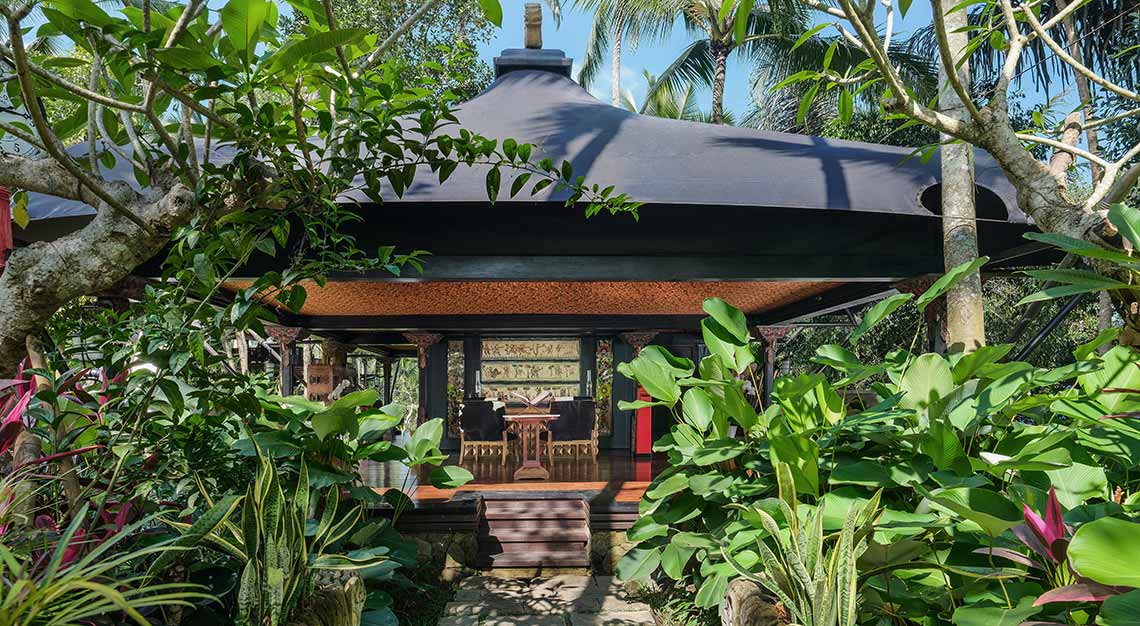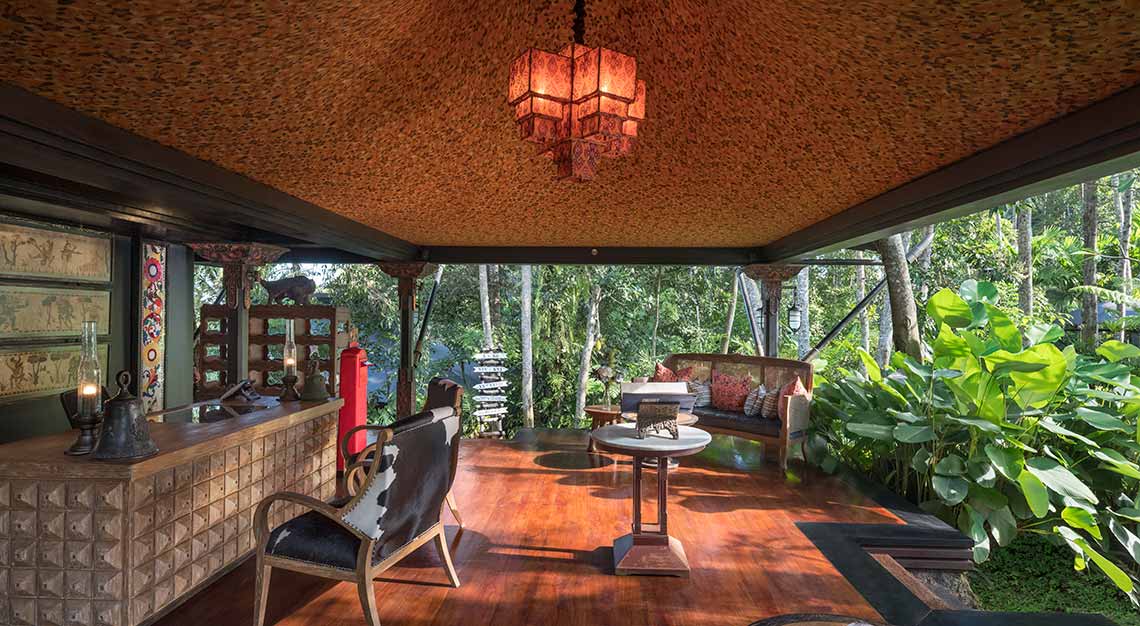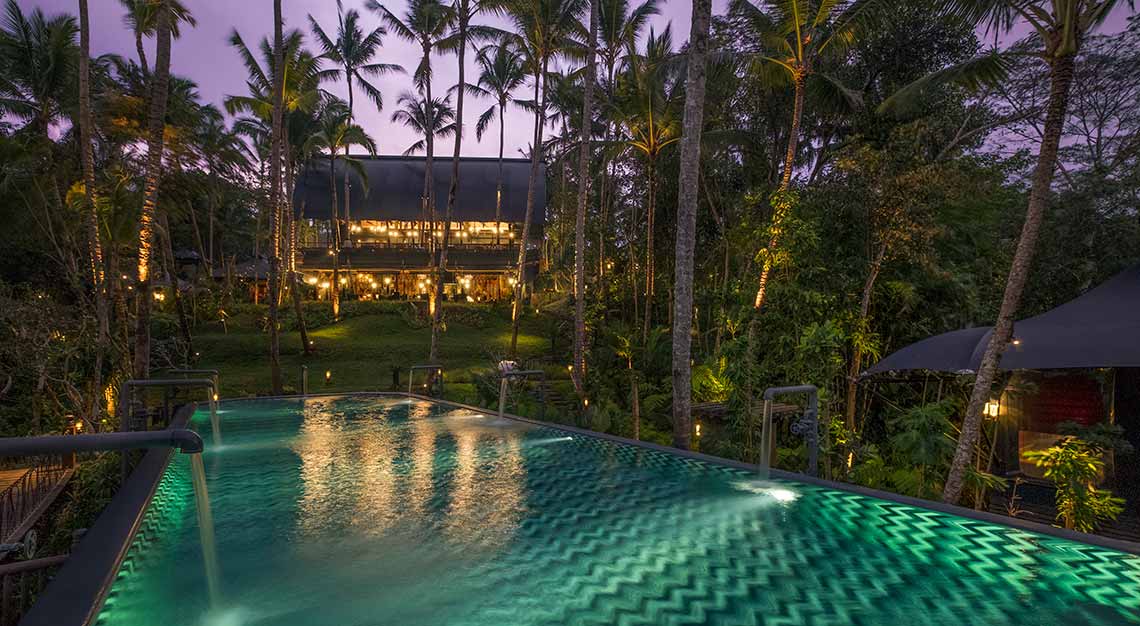 The Camp Fire is just one of the numerous Capella Curates programmes organised by Capella Hotels & Resorts, meant to provide guests with a deeper understanding of local lifestyle and culture of the place they're in. Its culturists – what Capella calls its experience officers – seek for local businesses and families that make a meaningful impact in its communities, and work with them to design unique experiences otherwise not available on other properties.
Another experience worth signing up for is Canvas, Crayon & Paint – Keliki Style. Named after a nearby village known for its miniature painting style, the art style was in danger of dying a slow, painful and inevitable death, till a local artist set up Keliki Art School, teaching village children how to paint. To gain a better sense of what Keliki art is, head to Mads Lange – the open-air tented dining room named after the Danish spice trader – and look at its vaulted ceilings.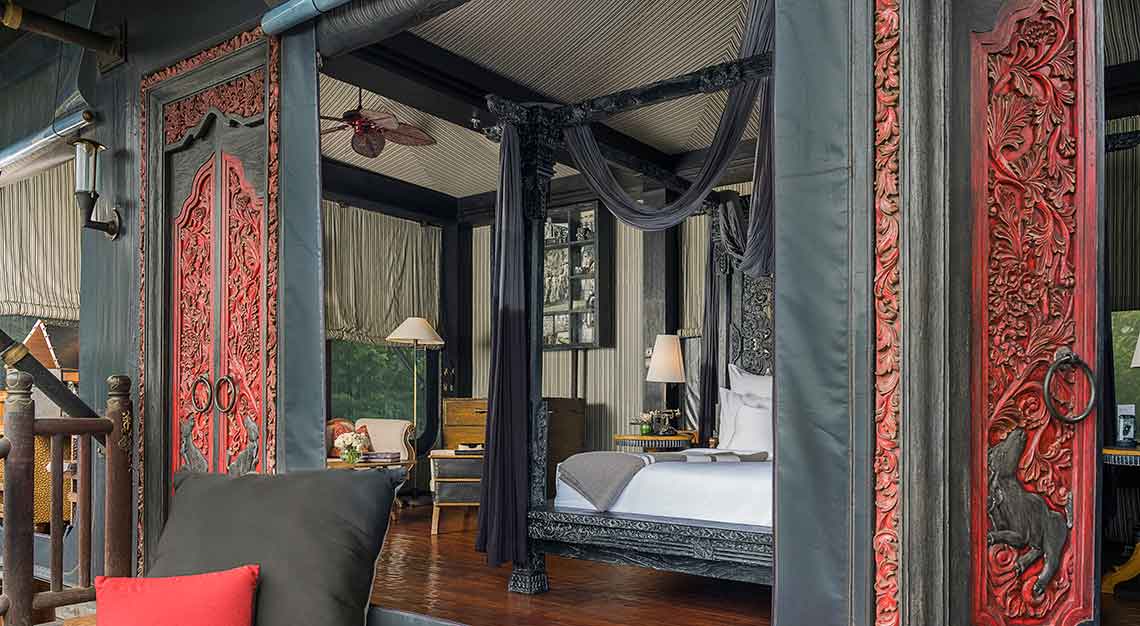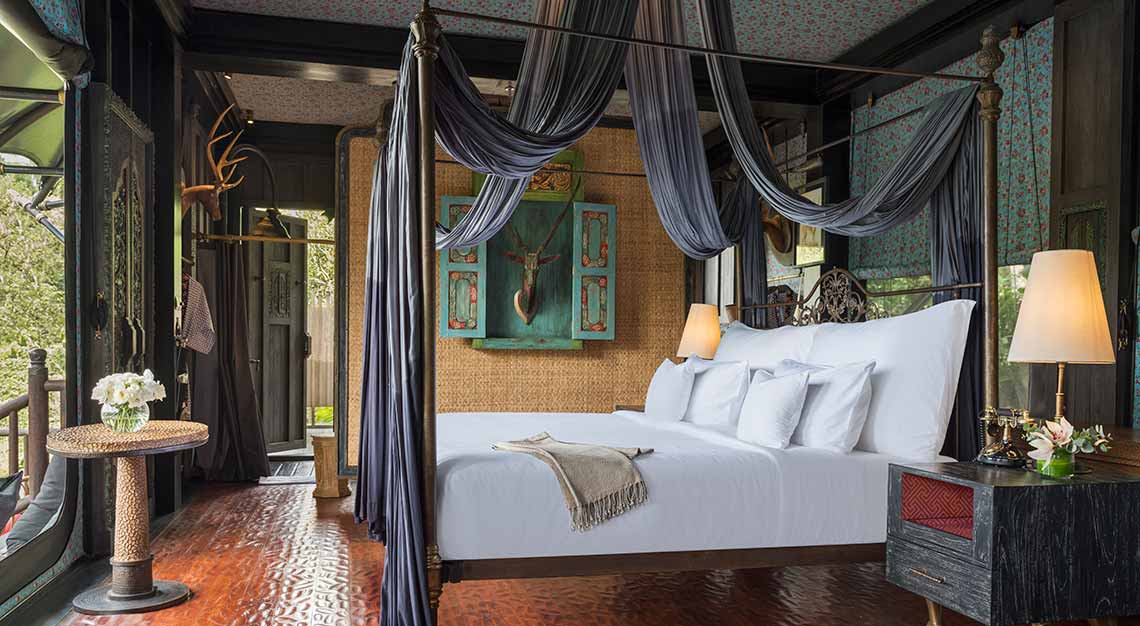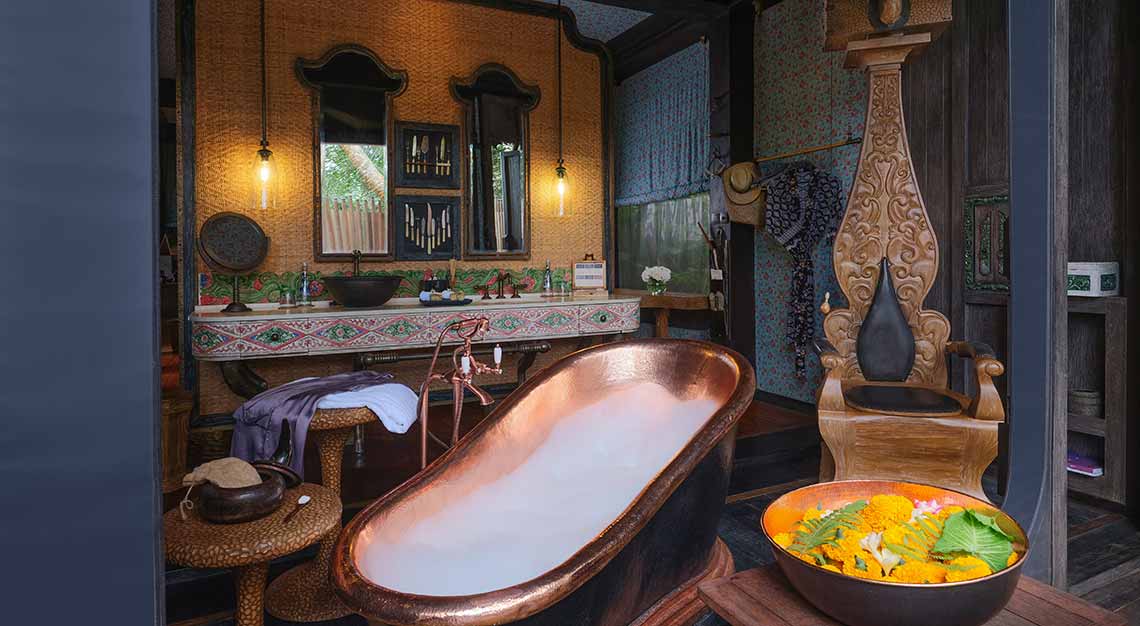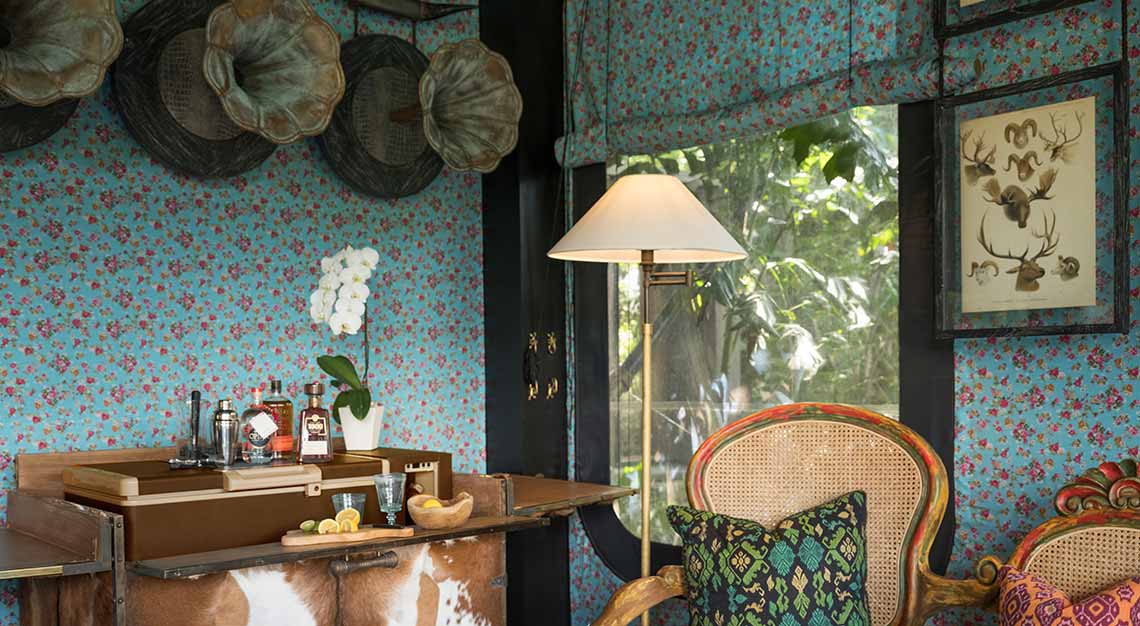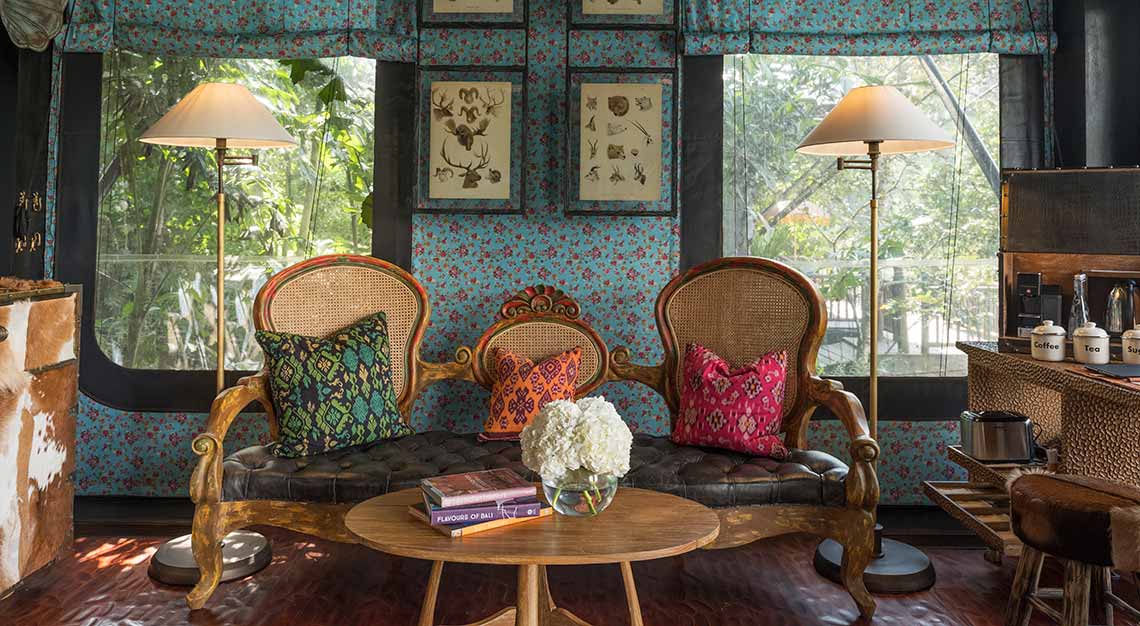 Artwork aside, Capella Ubud, which is just slightly over a year old, is one of the most fascinating properties in Bali. Designed by Bill Bensley, the entire property is a joy to explore. Fans of the celebrated designer's work will enjoy discovering his signature styles on a slightly different canvas. While the Capella brand is synonymous for understated luxury, you'll find things done slightly differently here. In place of villas and villas are luxurious tented camps.
Bensley throws together a wonderful mishmash of fixtures – think suspension bridges that link you from abode to Arcadia, cowhide-printed slipper chairs, batik printed ceiling drapes, tables with hooves for legs and pineapple side tables – ensuring you'll discover something new at every turn.
The best time to arrive is in the still of the night, where temperatures dip to a cool 23 degrees celsius (you are on a mountain), and the lack of light pollution means you'll be welcomed under a blanket of stars. From the moment you arrive, you'll be led down a series of undulating stone paths, and after checking in, follow the Camp Navigators to your tent.
Take note: sensible footwear is a must, and leave heels and slippers at home. There's only one way to get around the resort, and that's by foot via undulating, hilly stone paths. Those who abstain from any form of cardio should seek alternative accommodation options, as the resort has the uncanny ability to take your breath away in more ways than one.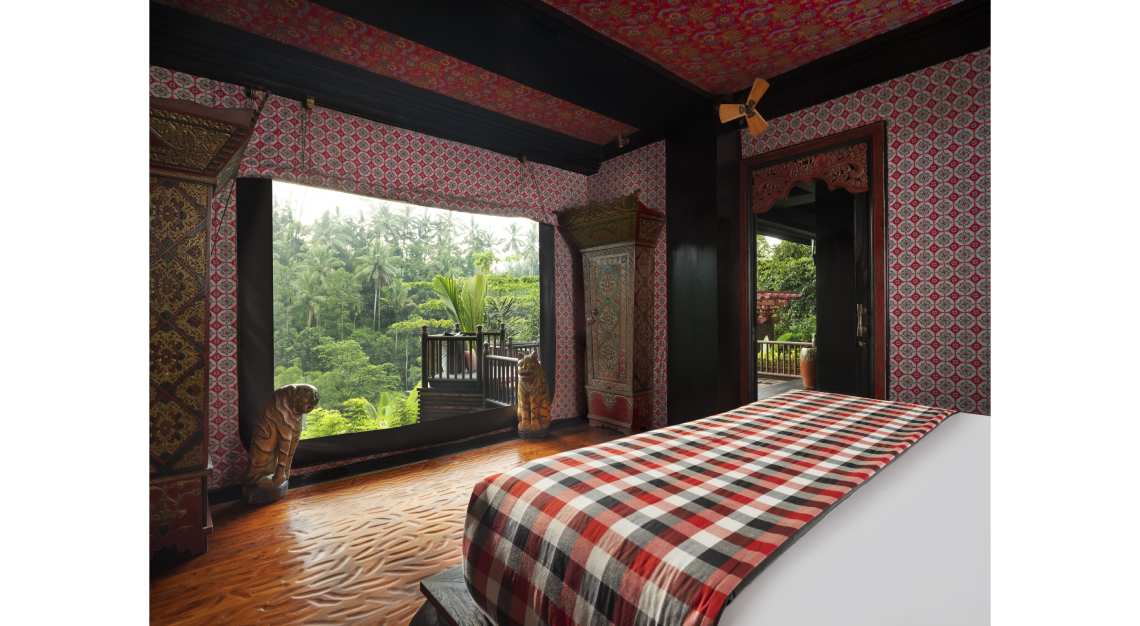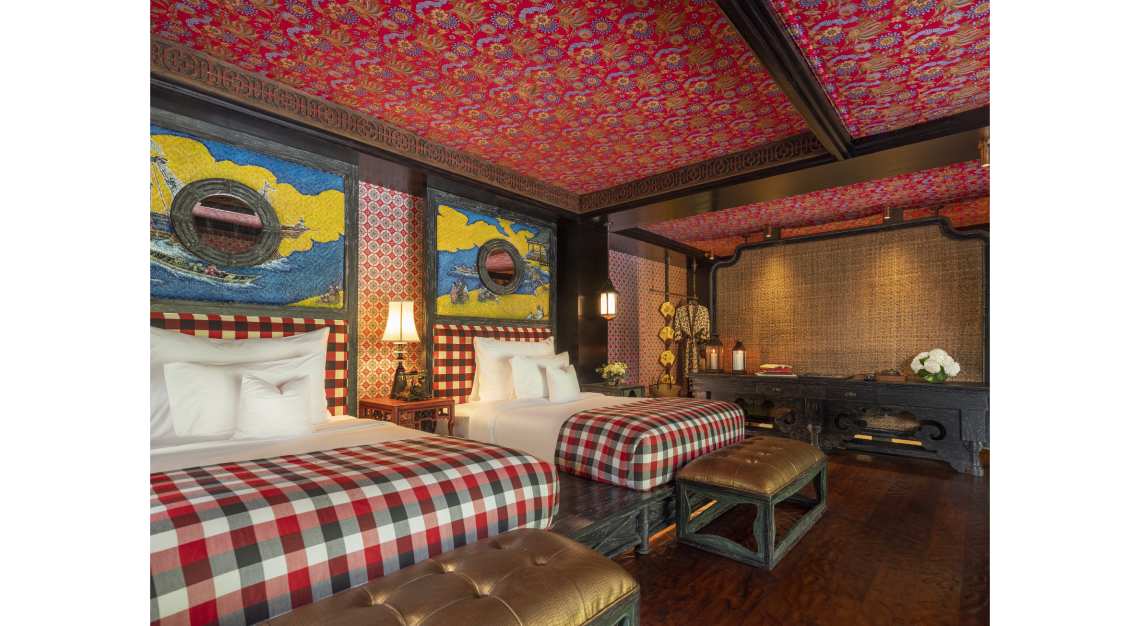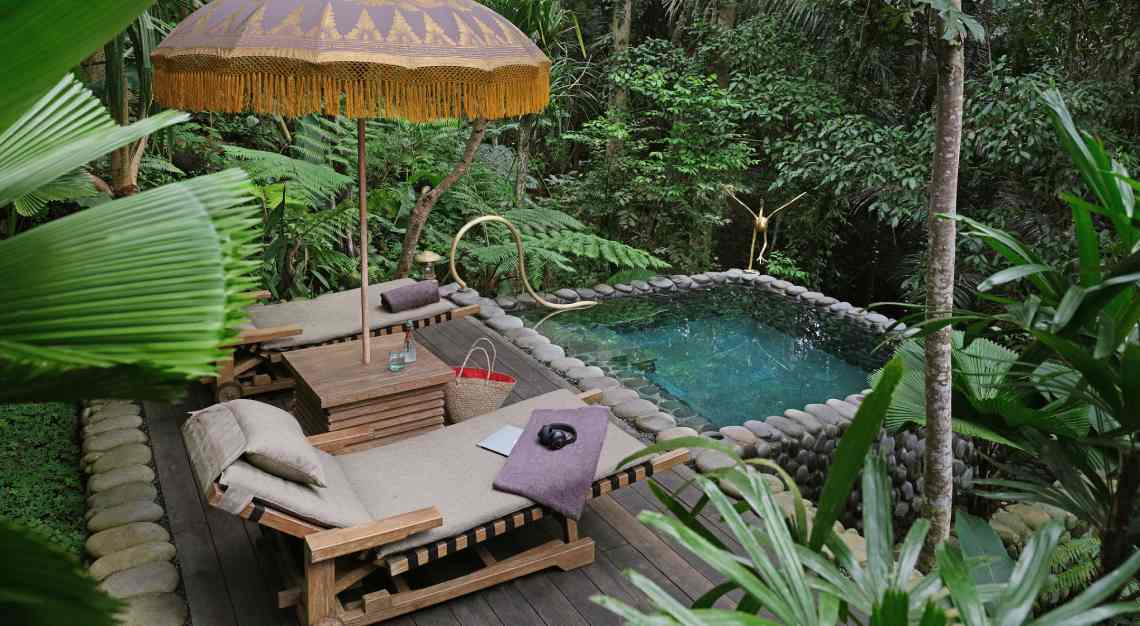 There are just 23 keys on this property, with 22 one-bedroom tents and a lone two-bedroom tent offering views of the rainforest, rice terrace, river or valley. Each is named after a skill the early explorers of Bali came with – such as the carpenter, naturalist, photographer and translator – with the tent's interior decorated to reflect the occupation. Regardless of which you stay in, you'll be greeted by a host of luxurious, handmade amenities, from a treasure chest that hides a mini-bar to the hand-hammered bronze tub and a 'throne' in the bathroom. Outside, you'll enjoy sprawling on the daybed, and taking a dip in the saltwater pool.
There's plenty to do at the resort, such as attending water purification ceremony at the Wos Beji River temple – some 225 steps down stone paths – that sits at the bottom of the resort, and attending a Balinese dance class, which incorporates traditional Balinese movements with yoga.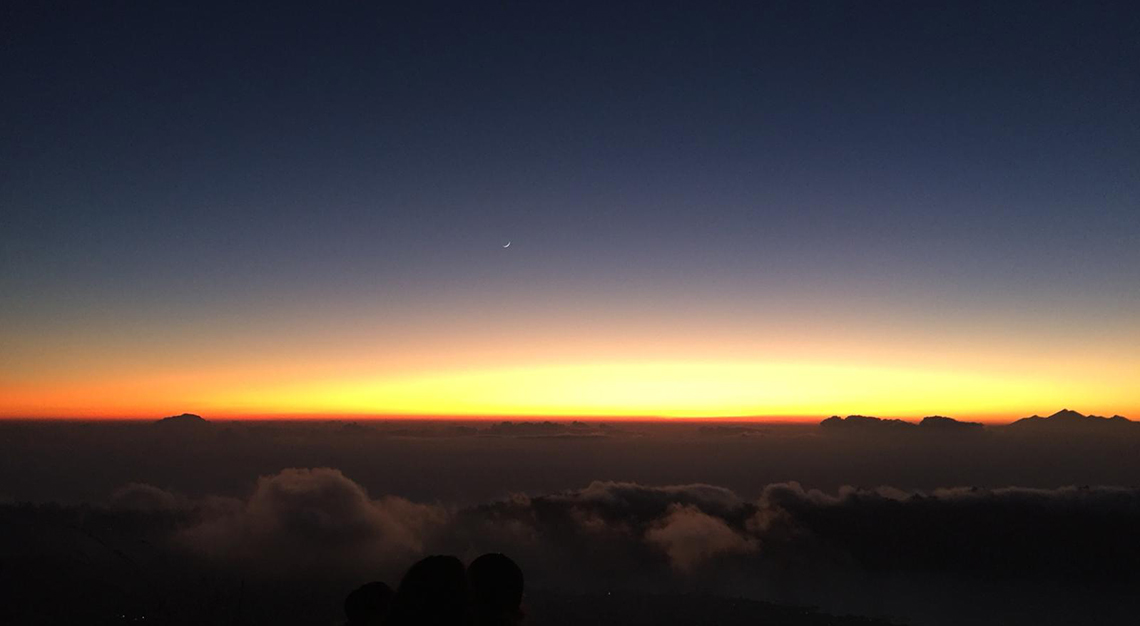 For one that'll truly get your heart racing, sign up for the On The Top of The World experience, which sees you waking up at an ungodly hour to hike up the active volcano that is Mount Batur. The trek back down is equally stunning with views of Batur lake, along with onion, tomato and eggplant plantations at the foot of the mountain. The experience takes around six hours, and you'll arrive back to the resort around 9am, just in time for a hearty – and well-deserved – breakfast.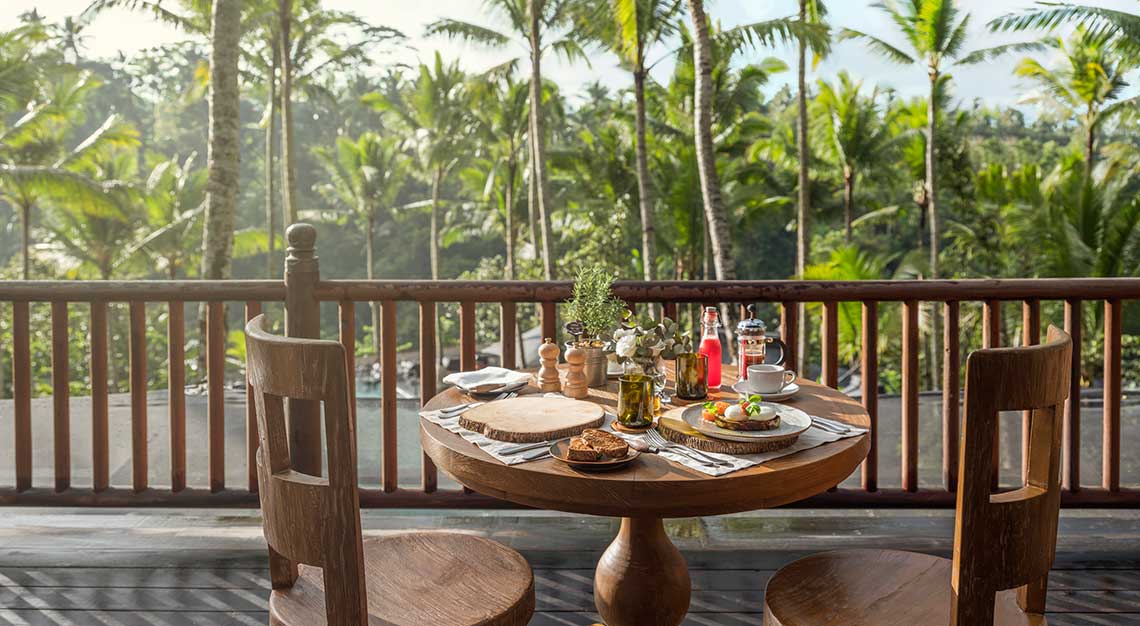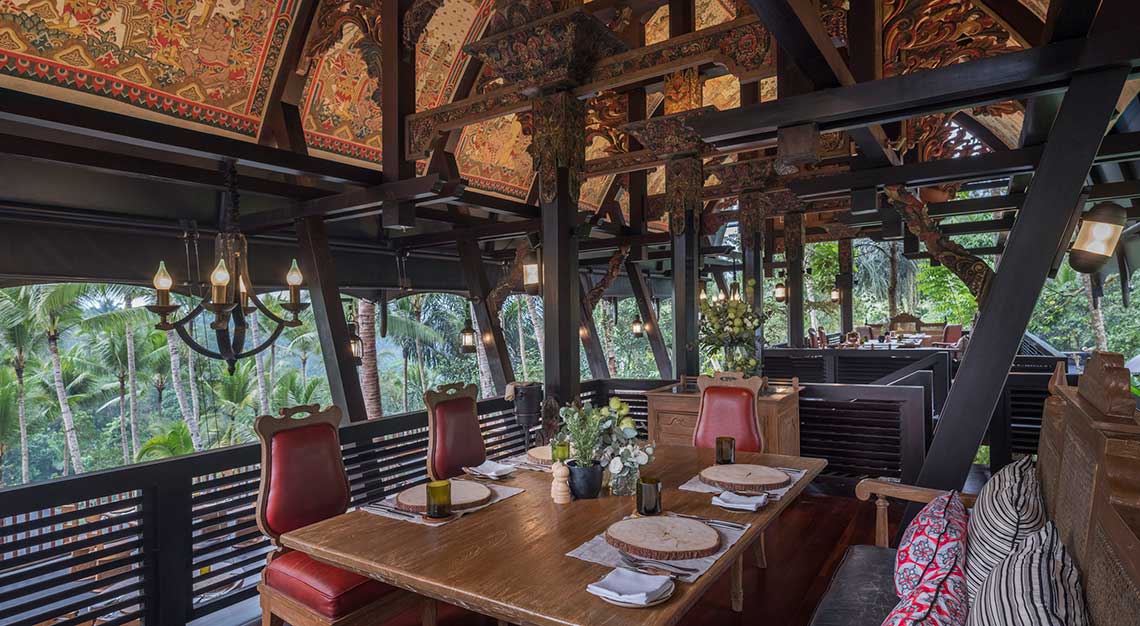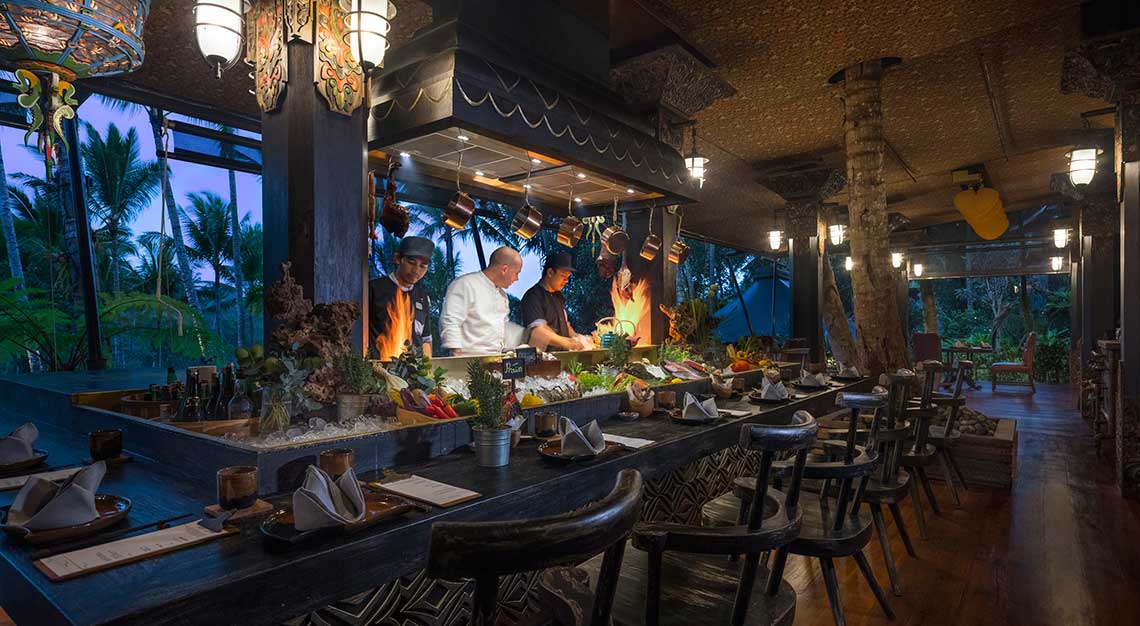 While you may be eating out of tiffin carriers and wooden bowls, the meals at Capella Ubud aren't the least bit campfire-style. Tuck into super bowls of quinoa, brown rice and berry smoothies, or local favourites like Nasi Campur, Martabak and Bakso, all while enjoying a view of the jungle from above.
For dinner, head to Api Jiwa, helmed by Australian chef Matthew McCool, for a meat-and-seafood Asian barbecue served omakase style. Highlights include a Lobster Chawanmushi, Smoked Ice Cream with caviar and a Minced Duck Meatball with a dollop of gochujang.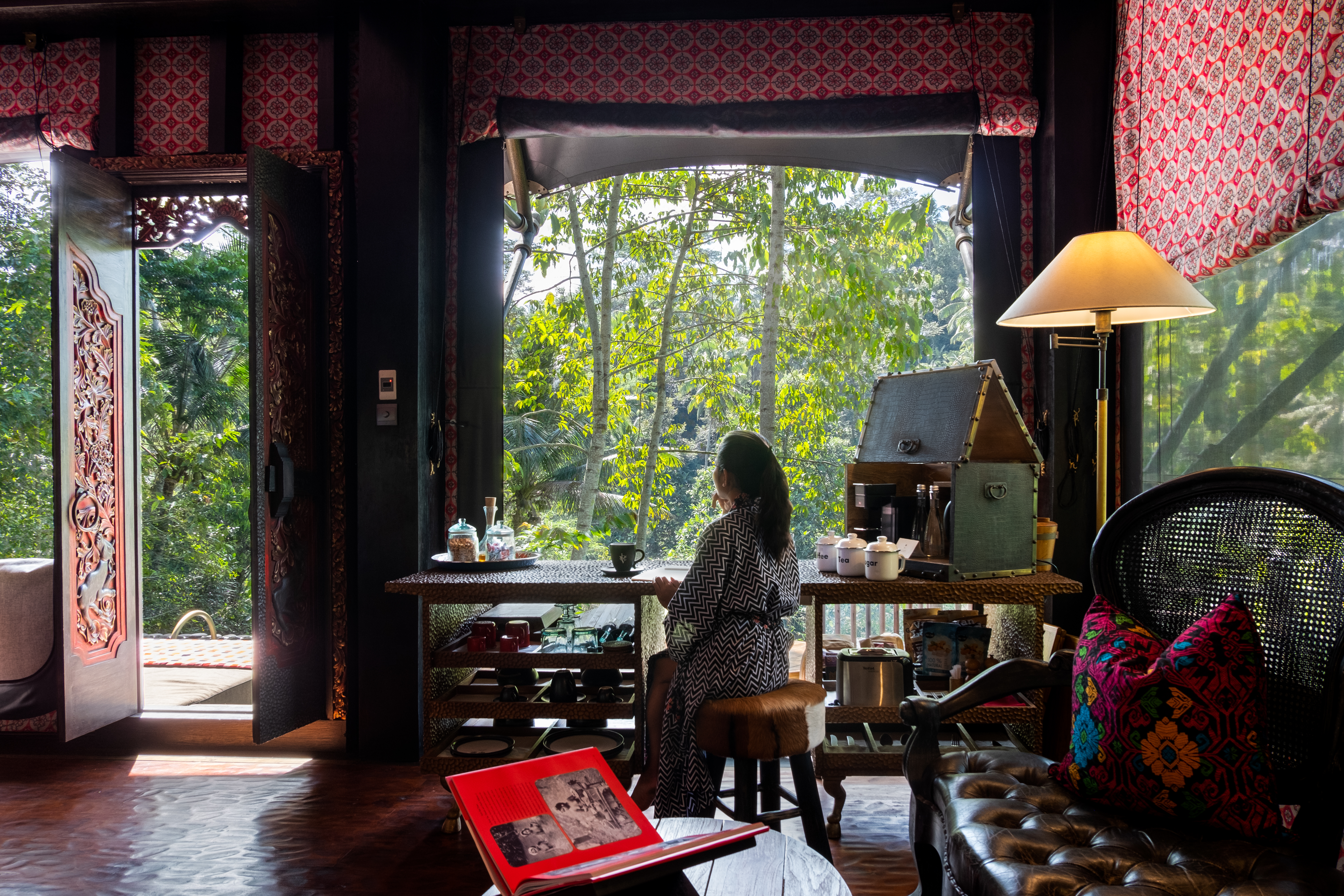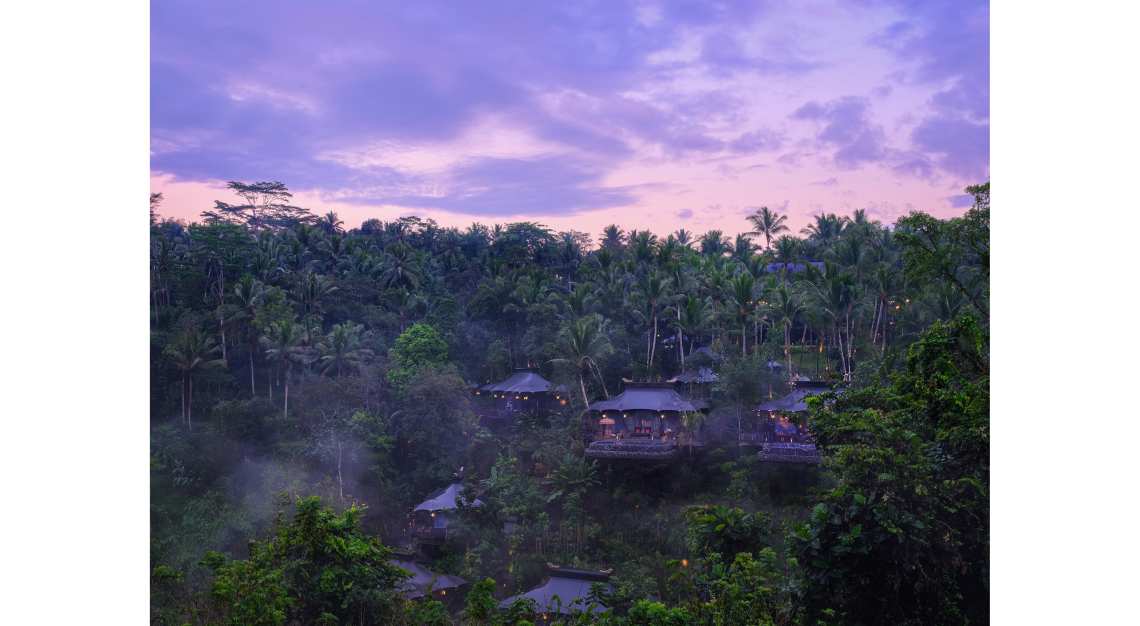 The daily activities may set your mind on overdrive, slightly unideal if your idea of Bali is serenity. You can, of course, sign up for the Confined To Quarters experience. As its name suggests, you'll be 'locked' in your tent from sunrise to sunset, participating in water rituals, breathing exercises and self-healing techniques, while enjoying in-tent massages and a Camp Roast Dinner.
Should the rustic jungle life – no matter how luxurious it is – not be up your alley, perhaps the concrete jungle of Singapore may tempt you instead. At Capella Singapore, a very different set of adventures await.
A Walk with Nature at Singapore Botanic Gardens sees you exploring the 180-year-old site with a guide. You'll get to learn about the origins of the different flora found, and the best time to visit depending on the flowers in season.
A slightly more adrenaline-inducing option comes in the form of Qi & The City, which takes guests around Singapore's city in a sleek, retrofitted sidecar. Put on your helmet, step into your pod, and be whisked away on a journey that sees you stopping at some of Singapore's most iconic landmarks – think the Singapore Flyer, Esplanade, The Arts House and Chijmes. But this isn't your typical city tour. You'll learn that Singapore's architecture is largely built based on feng shui principles, the reasons for certain shapes, building heights and even the direction it faces, all in the belief that it'll make Singapore even more prosperous. Whether you take to it or not, you'll be viewing the Marina Bay Sands Hotel and its casino in a different light.
For a local, both experiences were equally enriching and challenged what I thought I already knew about a country I've lived in for over 20 years. Now imagine how much more fun and meaningful it'll be as a tourist. And with its upcoming opening in Sydney next year, we'll be keeping our eyes peeled for more Capella Curates experiences.