If you want the best of rainforest and beaches without the hassle of long travelling hours in Bali, Villa Ngomfi in Canggu may be the answer
I'm unglamorously riding pillion and my cabin luggage is dangling precariously in the front of a local's motorbike. There is no signage to be found, and we've been navigating in the dark for 10 minutes. We decide to abandon Google Maps and ask the locals for directions.
"[Villa] Ngomfi? Behind [the] blue pillar."
Turns out we're right where we're supposed to be. We ride up an incredibly narrow driveway and pull up onto loose gravel. It's past 7pm, and the staff have been patiently waiting for my arrival since late afternoon. They eagerly hand me cold towels and a glass of water – exactly what I need after a hectic day of rushing about.
Villa Ngomfi is a private villa located in Buwit village, a 20-minute drive from Canggu. Run by The Luxe Nomad – a luxury villa management company with more than a hundred properties in its portfolio and a presence in Niseko, Hakuba, Sydney, Koh Samui and Queenstown in New Zealand – Villa Ngomfi is simply the latest addition to its Bali properties.
And I'm the very first to be welcomed onto its premises. Built more than 10 years ago by Gary Fell of Gfab Architects – the same bright mind who designed Samujana in Koh Samui – the villa was a holiday home before being turned into a commercial stay.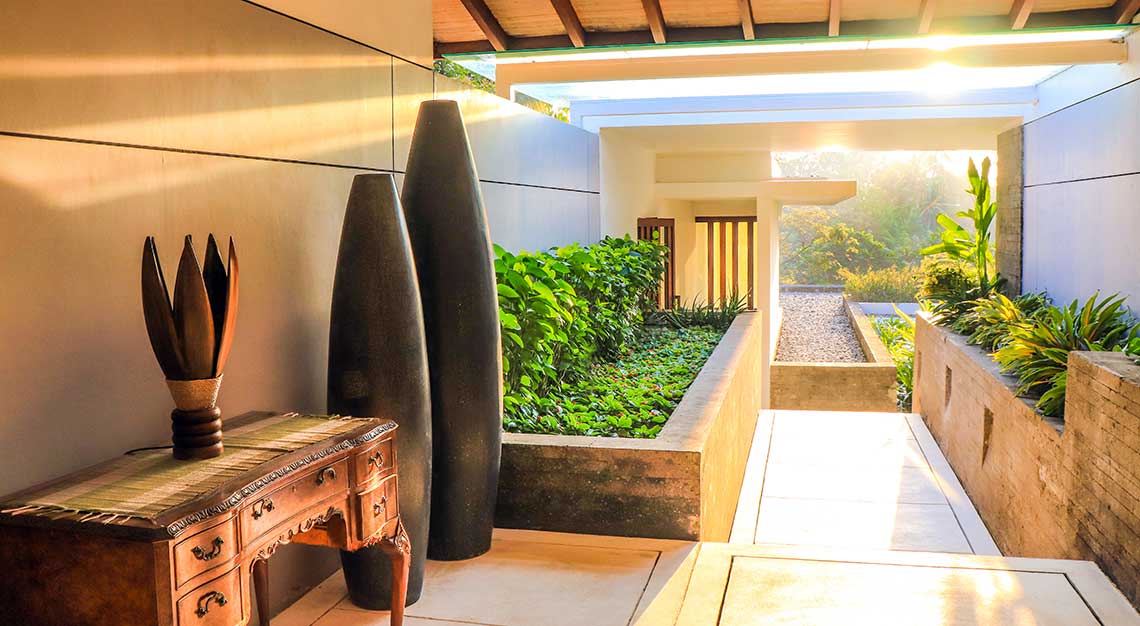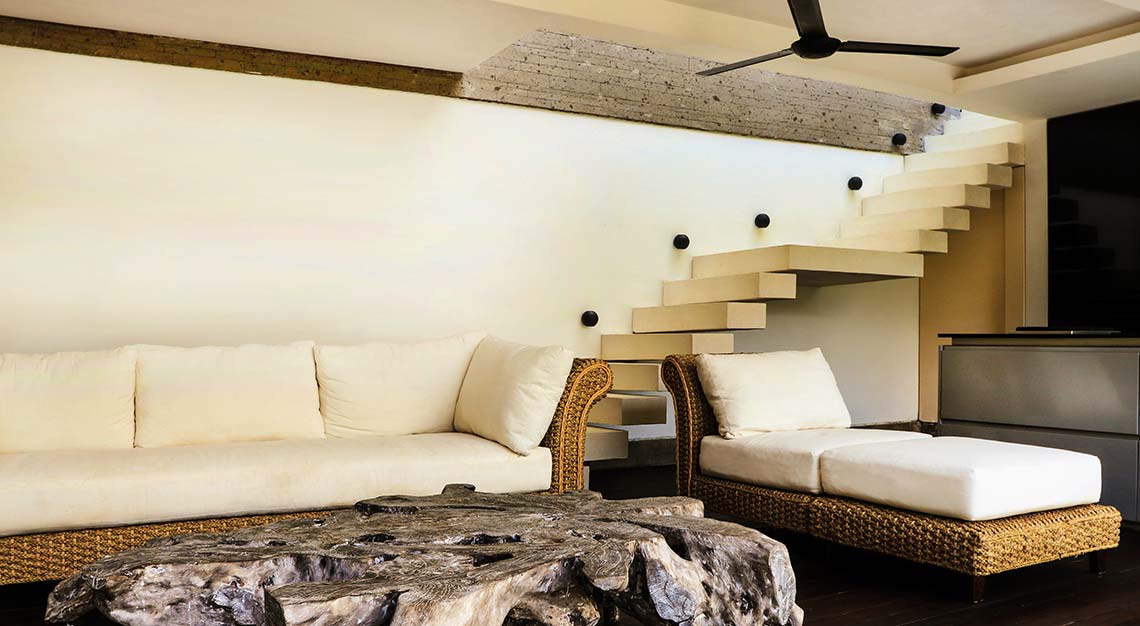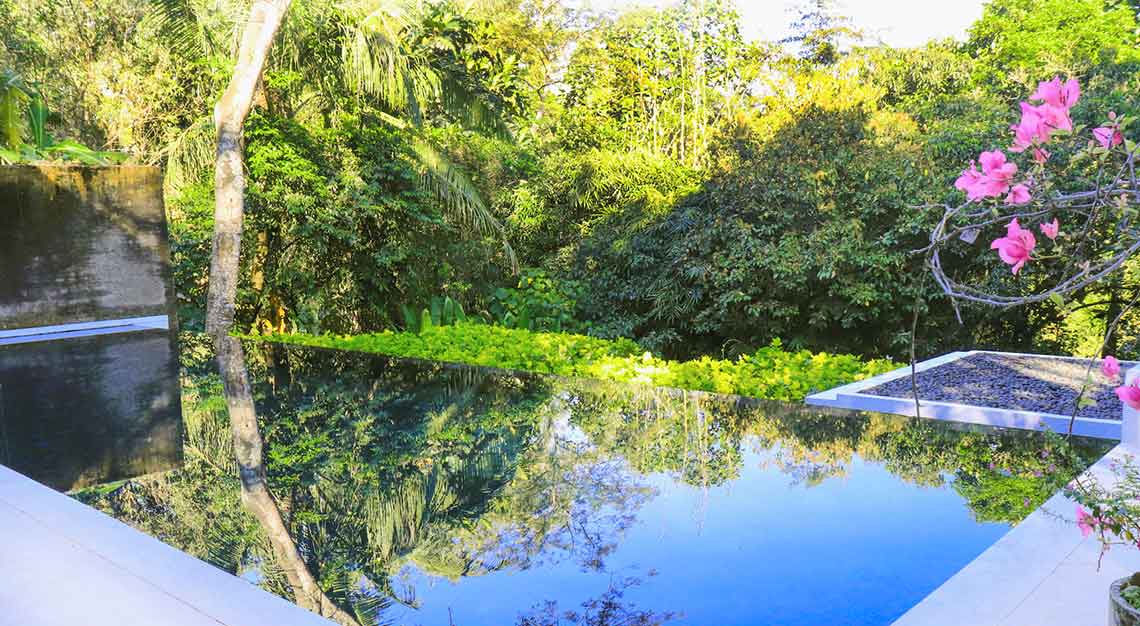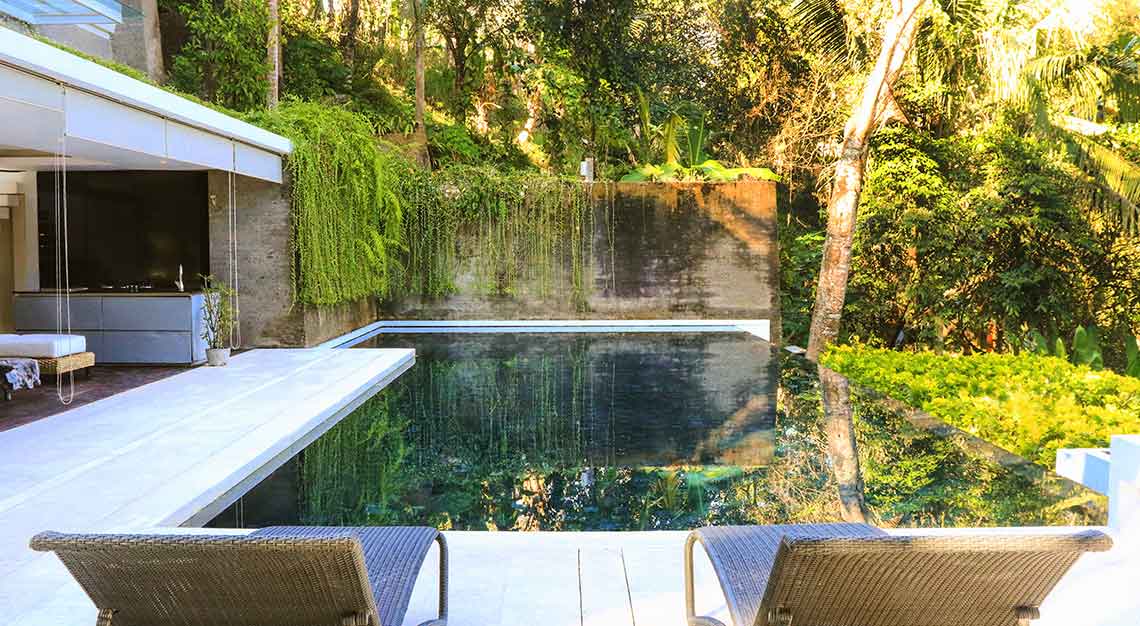 Villa Ngomfi
The entire villa (from USD455++ / SGD631++ per night, with a minimum of two nights during low season) looks out to a forest, giving the impression that you're in Ubud. Three suites are available, with a studio located in a separate part of the compound. The open-concept kitchen-living-dining area is where you'll congregate most evenings, but those who want alone time can head to the reading room (which overlooks the pool) or spa.
There are quite a few flights of stairs, leading to bedrooms, an open-air sheltered living space, and the 15m infinity pool. While this makes Villa Ngomfi perfect for travelling groups of couples (each room is located in a corner for privacy), it wouldn't really work for families with children or the elderly.
Buwit village is also undeveloped, which is a double-edged sword. The surroundings are free from traffic and generally peaceful save for the morning prayers and cockadoodling roosters, which you'll quickly get used to. If you're looking to be in Bali without the jams, crowds and rowdiness, Villa Ngomfi is right up your alley. But if you're looking to explore on foot and eat at nearby restaurants, you're better off at another of The Luxe Nomad's properties.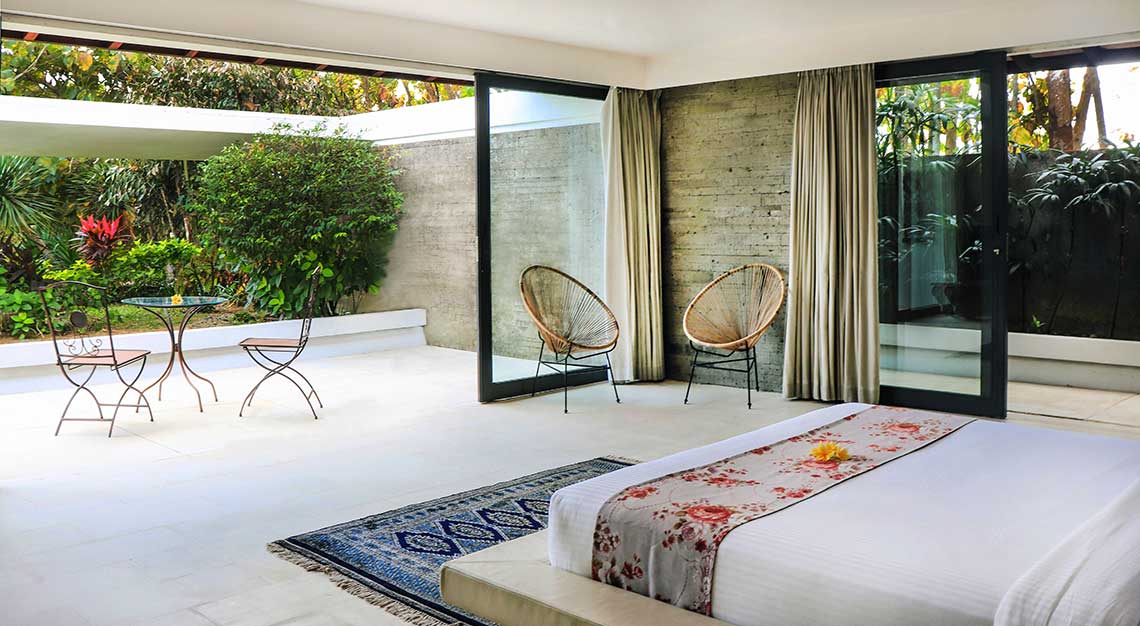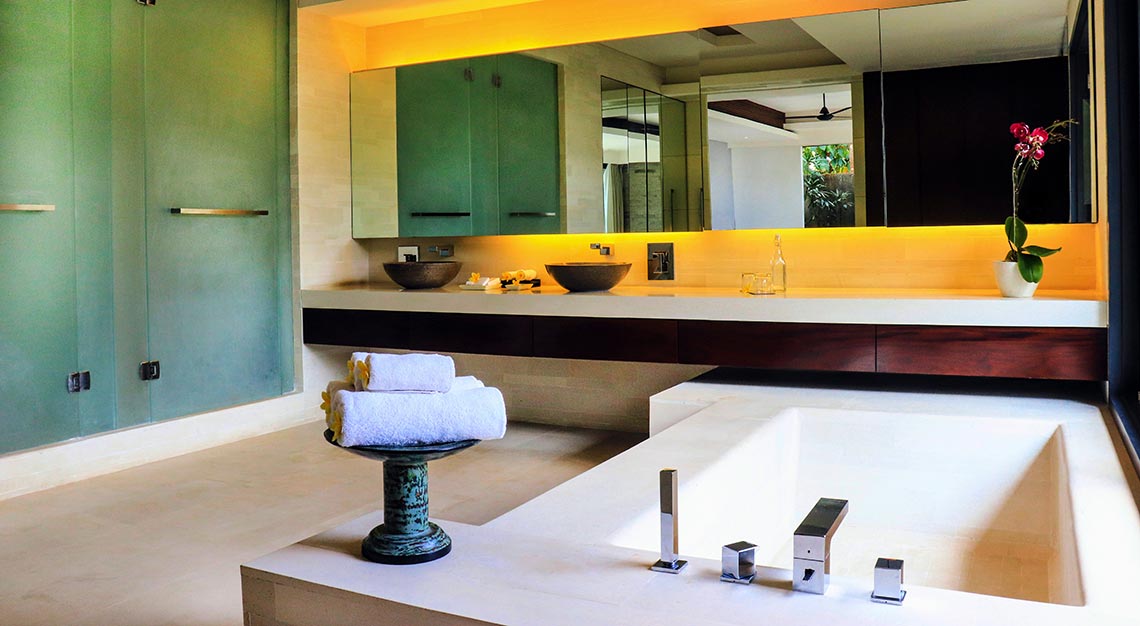 Stay
Each room is generously sized and comes with an ensuite bathroom. Of the four rooms, the studio offers a different kind of ambience; it's a tad quieter and more private, the sort you'd rent for a week of intense novel-writing.
You'll have a hard time choosing between either junior suites. One comes with a delightful outdoor shower (also forest-facing), while the other hides a sanctuary-like, open-concept bathroom behind a pair of closet doors.
The master suite is, of course, my favourite of the lot, and it is the bathroom that seals the deal. Slightly larger than the bedroom, it comes with a tub that comfortably sits four, twin sinks, abundant closet space (including a small walk-in wardrobe), and a dressing area spacious enough to do cartwheels. Not that you'd actually be inclined to do so, but the option is there.
That said, there are still teething problems with the villa. Hot water runs out before the tub is even a fifth full. Also, the room smells slightly damp and it's Russian Roulette with the light switches. Oh, and the Internet is down. These small giveaways are a reflection of the property's age – more than 10 years old and previously a private holiday home before its keys were handed over to The Luxe Nomad – and it is clearly in need of refurbishment before it starts to receive guests.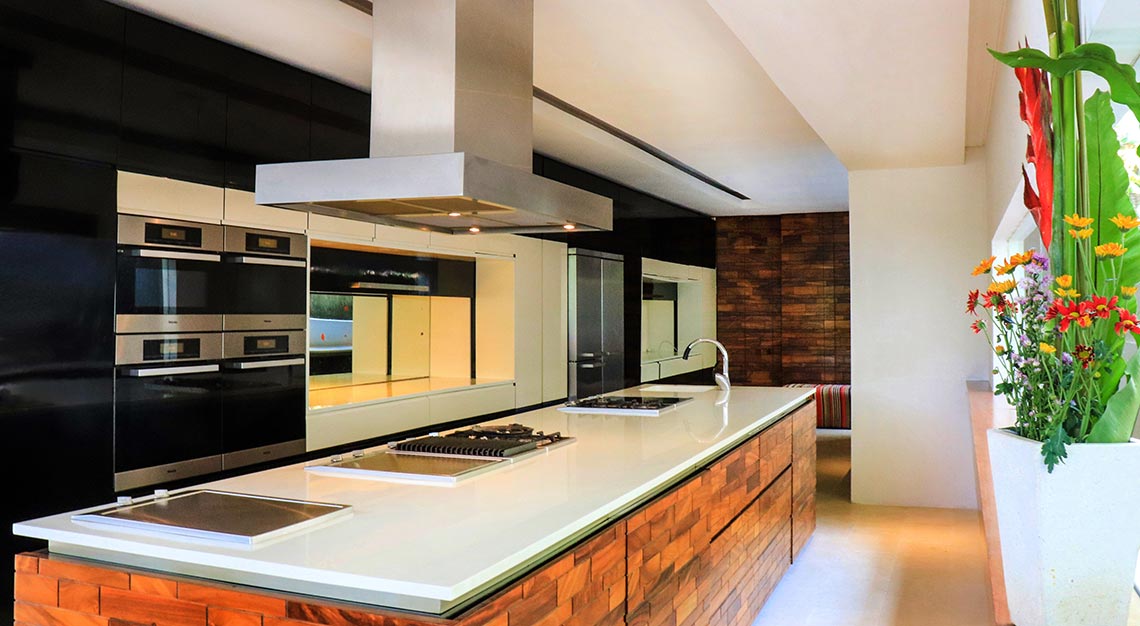 Dine
Breakfast is included in Villa Ngomfi, with husband-and-wife team Yasa and Eka seeing to your every need. Orders are taken each evening, and you'll have your choice of fruit juices and fruit platters, eggs cooked to preference, as well as a selection of cereals and muesli.
You can hire a private chef to whip up meals, but I request for Eka to prepare nasi goreng ayam pedas. What I'm served is a plate of fried rice with diced chicken, along with three skewers of chicken sate that's grilled in-house. Simply delish. I regret not ordering extra portions for takeaway.
Getting Around
Given Villa Ngomfi's seclusion, it's best to hire a private driver for the duration of your stay. The roads are narrow and winding, and the nearest attraction – Tanah Lot – is a 10-minute drive away. It currently takes 1.5 hours to get to Ubud, although Mirko Corbella, general manager of The Luxe Nomad Bali, explains that it'll take just 30 minutes with the completion of the highway.
The Luxe Nomad also offers concierge services, including pick-ups and drop-offs, though my experience undermines it: the third-party transportation company failed to show up, resulting in a scramble to find alternatives (which is why I arrived at the villa at 7pm, instead of 3pm as intended).
Service
Service is at the heart of Villa Ngomfi. Yasa and Eka ensure that all my needs are seen to, regardless of time of day. Heading to the gym? I'm given water and a towel. Arrived home after a day's outing? They're waiting with a glass of water and a smile. For those wary of the remote neighbourhood, The Luxe Nomad hires night guards to patrol the property hourly between 11pm to 7am.
Yasa and Eka stay on the property, which means help is available round the clock. And they go out of their way to make you comfortable, working hard to ensure service standards are kept high. I was informed that after I leave, the property will be closed for a couple of weeks to work out its teething problems. Despite the issues, they remain optimistic that Villa Ngomfi will soon be ready for guests.