A hectic lifestyle becomes effortless and smooth-sailing with a home at Midtown Bay by GuocoLand
Here's another critical takeaway from the pandemic: it has challenged the status quo for office-based companies as work-from-home demand has incessantly burgeoned over the past year. For one, these companies have had to rethink their strategies for office renting as boundaries between work and home become blurred, but here's  where Midtown Bay comes in clutch.
Through Midtown Bay, an up-and-coming residential property at the heart of Beach Road, GuocoLand will herald a new era of 'business homes'. The 33-storey, 219-unit tower forms part of GuocoLand's mega integrated development Guoco Midtown, that spans over an expansive 3.2 hectares of prime land in the CBD, with a 30-storey Premium Grade A office tower,  three retail clusters, a members-only Network Hub, and a second residential development, Midtown Modern. Midtown Bay shines in its breadth of flexibility, housing one- and two-bedroom apartments as well as two- and three-bedroom duplexes that can be recomposed as offices or entertainment spaces. Such a feature has been the driving force behind home purchase decisions in the past pandemic-stricken year. Couples may get the most out of these apartments as their highly adaptive living-dining spaces can be converted to separate work spaces, or even cosy corners to meet with clients, all while keeping their personal living areas private. The duplex units, for instance, could possibly be the most sought-after business homes as they give owners the flexibility to set up an office on the lower level while keeping the upper level as their private quarters.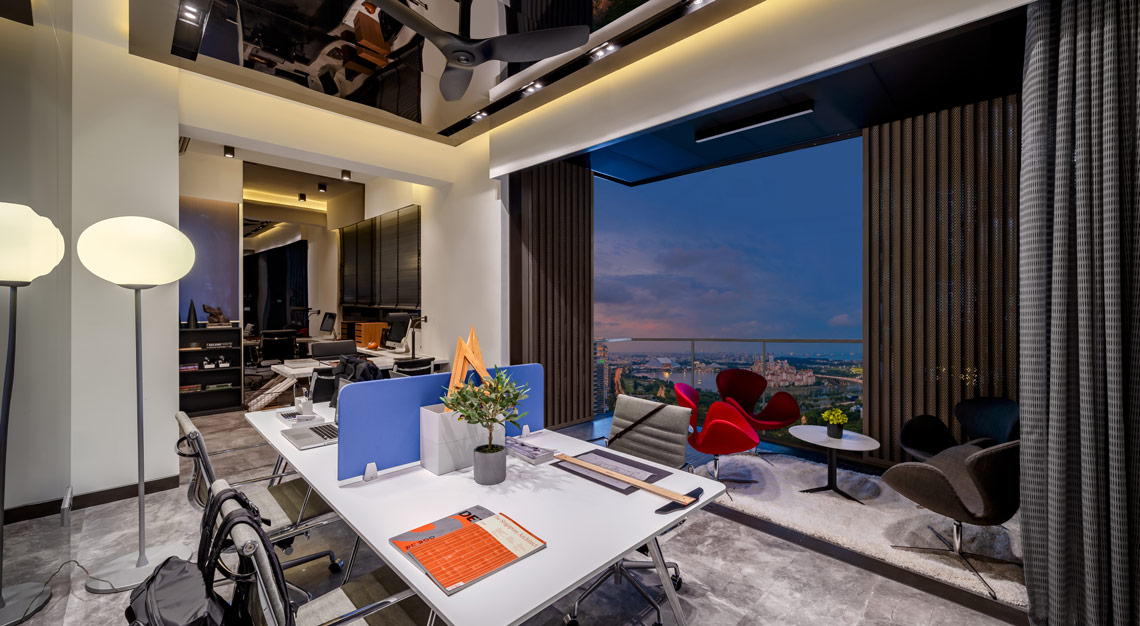 But differentiating Midtown Bay from its industry counterparts is the exclusive access to Network Hub, Guoco Midtown's members-only business and social club. The club comes with all the bells and whistles to meet the needs of C-suite professionals – from a business lounge and meeting rooms to conference facilities for executing presentations and collaborative lounges. And after a day of rubbing shoulders with like-minded industry leaders in these spaces, what better way to relax than to take a dip in the glistening 40m lap pool that crowns the Hub?
A dedicated residential drop-off area emulates the experience of staying in, and for your guests arriving at, a luxury hotel. Within the homes, elegant marble flooring stretches from the living-dining area into the adjacent bedroom. The 3.2m-high ceilings and in-build load-bearing bars in the bedroom cabinetry allow homeowners to set up a platform bed, leaving the area below free as a workstation. The spacious wardrobe with white, reflective sliding doors has a neutral design that makes it look not out of place in an office setting.
Meanwhile, other key parts of each unit are awash with opulence. Kitchens are thoughtfully equipped with premium appliances from V-Zug, a built-in fridge from Liebherr, and washroom fixtures from Axor. The capacious balcony of selected units will allow one to be that proverbial 'hostess with the mostess'; an extension of the living space that has ample space for a dining table for parties or barbecue nights.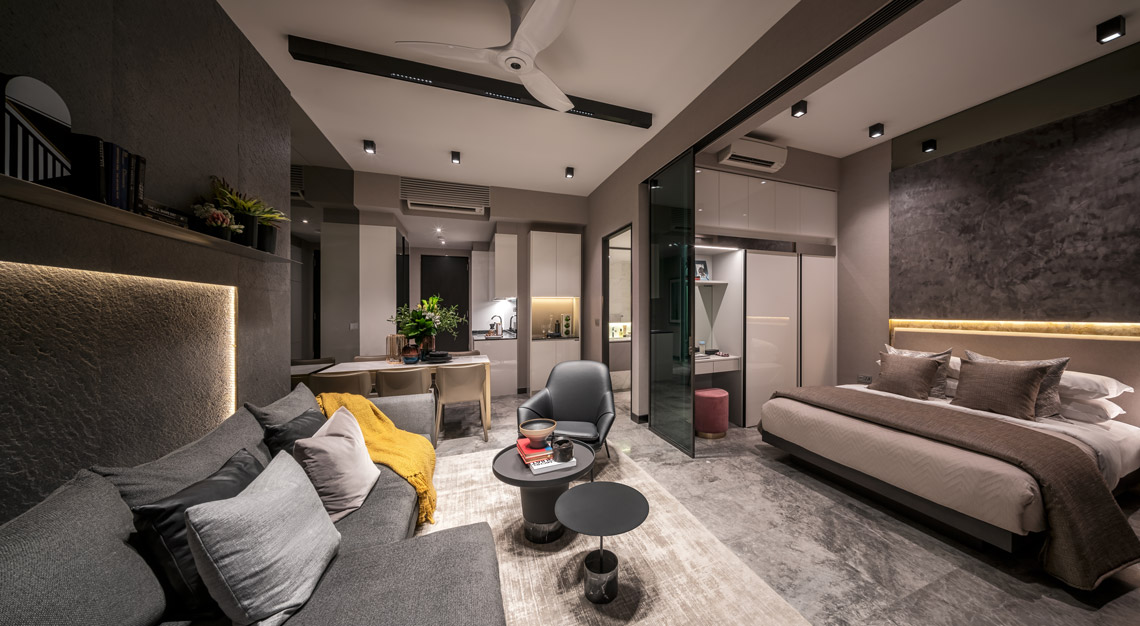 Within Guoco Midtown are three low-rise human-scale retail clusters with multiple gardens and sky terraces that offer a slew of lifestyle and entertainment hotspots for Midtown Bay residents. Each cluster will bear a different character and atmosphere, with distinctive retail and F&B offerings that cater to the needs of Midtown Bay residents – whether for business or leisure. And try to picture this: the total area of gardens and landscaped spaces is equivalent to the size of five football fields.
Midtown Bay is strategically constructed to allow residents to enjoy spectacular views of Marina Bay, Kallang Basin and different aspects of the city skyline from the facility level or even their homes. An MRT access point is conveniently located at street level and links to the Bugis MRT Interchange for the Downtown and East-West lines. It's worth noting that the property's connectivity with surrounding landmarks is utterly unbeatable; a sheltered connection that leads to 5.6 million sq ft of good grade office spaces in Guoco Midtown, Millenia Tower, Centennial Tower, South Beach Tower and others. Make no mistake, Midtown Bay has been designed to make life effortless.
Midtown Bay
Sales gallery located at
Kallang Airport Way
Tel: 6225 9000
WhatsApp: 8125 9625