Cindy Chao, Wendy Yue and Anna Hu: These are just a handful of Chinese designers whose pieces are finding firm footing in with international audiences
Look back through history and three recurring motifs are apparent in jewellery design: serpents, tassels and flowers. These have been around since the earliest days of jewellery, but perhaps the most inspiring and romantic are the floral pieces because of the millions of beautiful species that can be recreated in ravishing gem-set designs.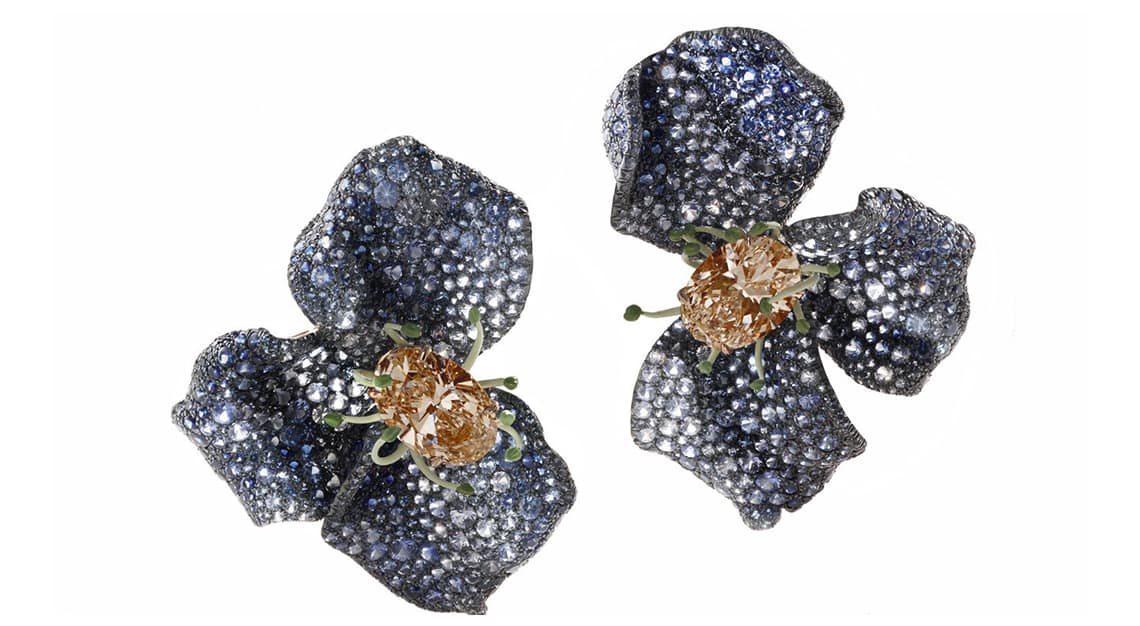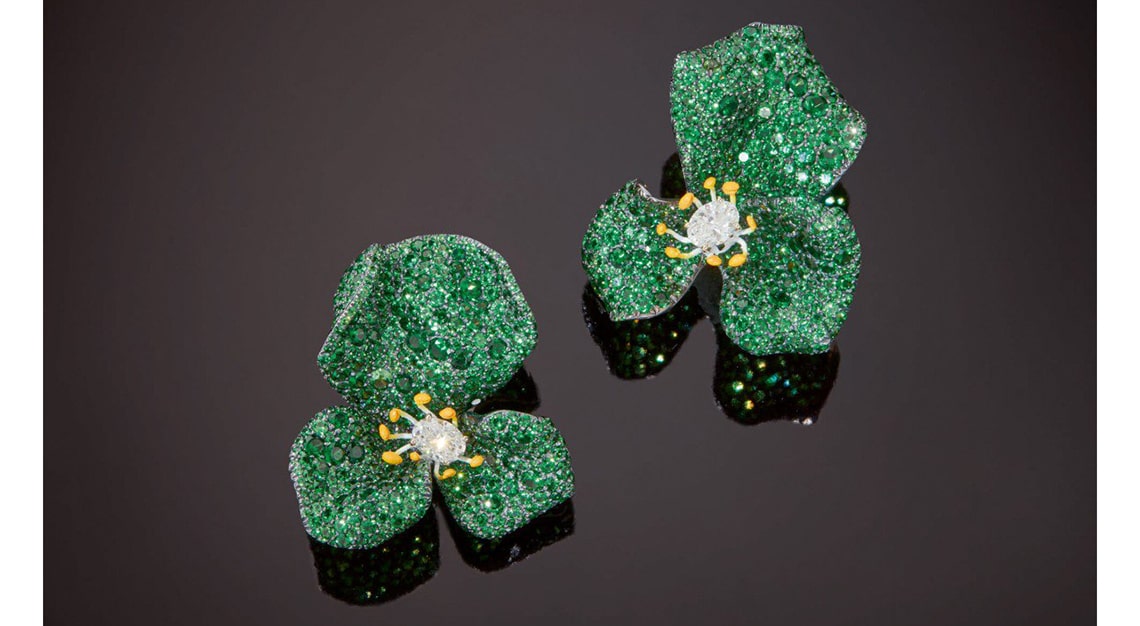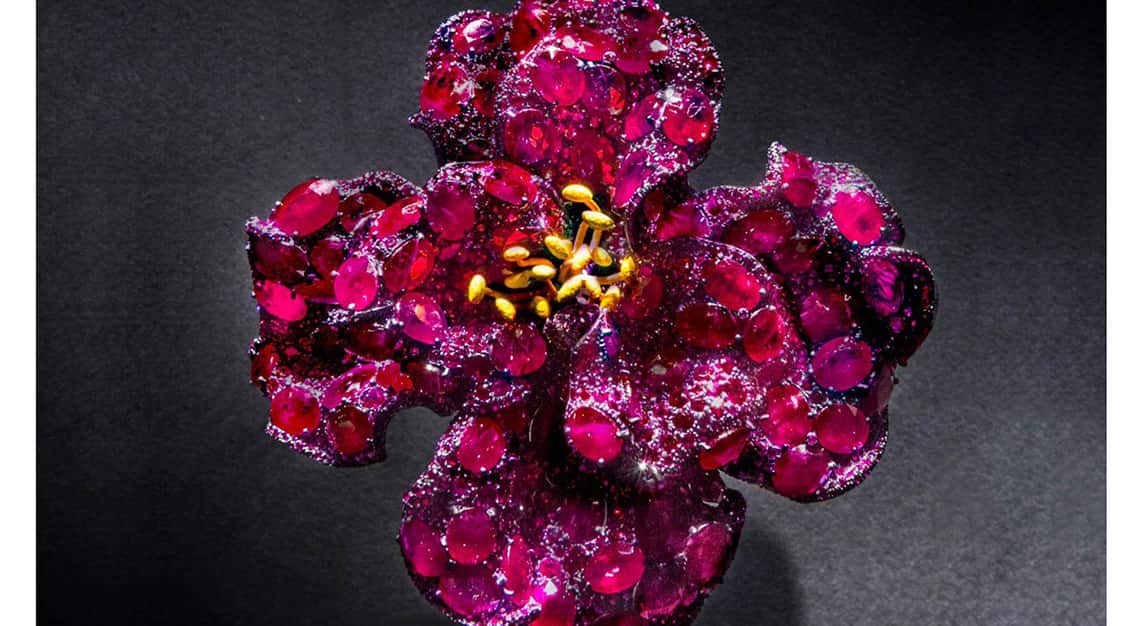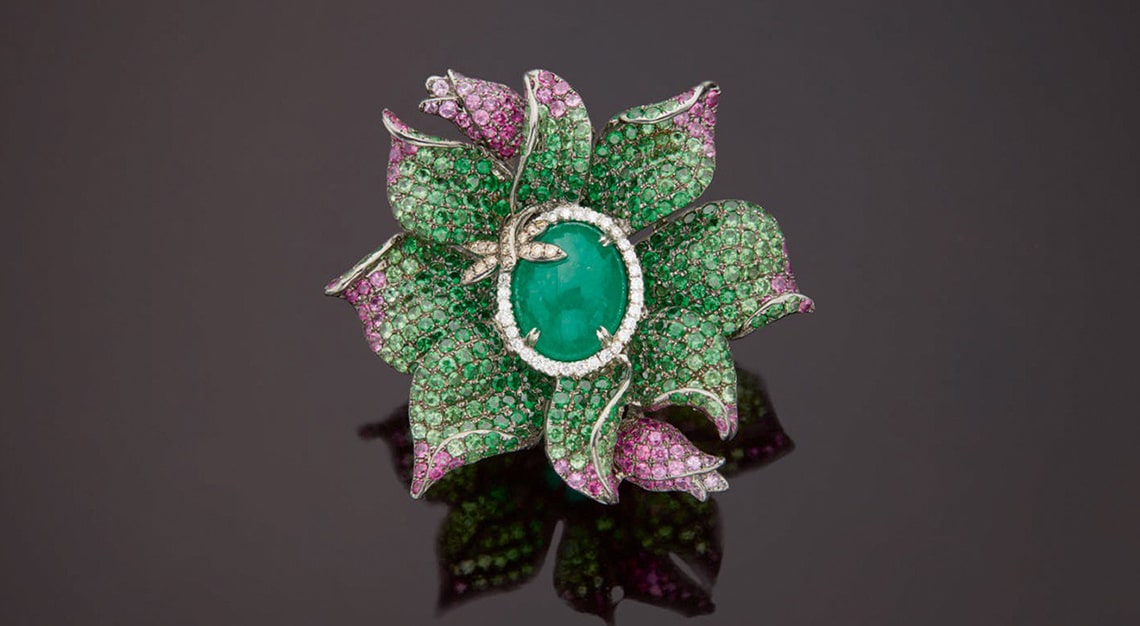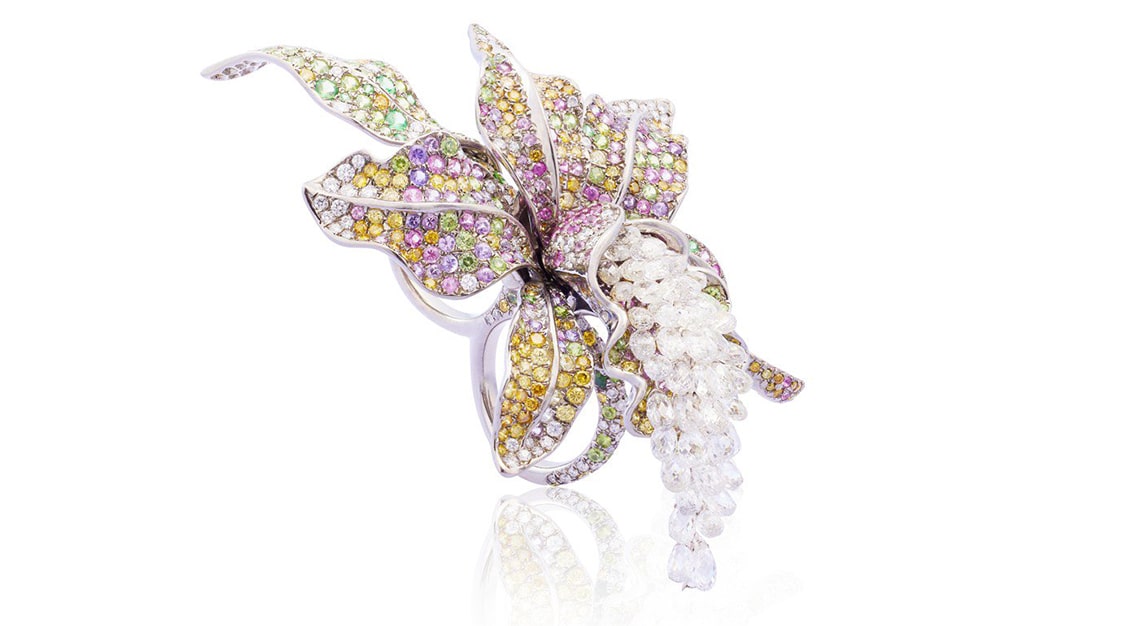 Chinese jewellers have made a particular virtue of working with floral motifs, drawing inspiration from peonies, water lilies, roses, among others, to produce exquisitely feminine jewellery that embodies the beauty of nature.
The Four Seasons collections by Cindy Chao The Art Jewel, which is owned by jewellery designer Cindy Chao, capture brief moments in the cycle of nature through the year – her sculpted designs might feature morning dew on a rose, autumn leaves or frosty winter foliage. At the TEFAF exhibition in Maastricht in March, she unveiled the Marguerite brooch from her Black Label Masterpiece collection, featuring an 84.89-carat cabochon emerald nestling in petals of white and warm-toned diamonds. The brooch is an illustration of her gift for sculpting life and fragility into her jewels.
One of Wendy Yue's latest collections features the exotic hibiscus flower, a symbol of femininity and womanhood, brought to life with a 27.20-carat rubellite and richly coloured with rubies and pink sapphires. Flowers have always been a key motif in Yue's designs. It is because, she says, of "their ability to grow robustly, while their abundance represents fertility and fruitfulness".
Whether she chooses orchids, roses or even hollyhocks, she is captivated by "their own characteristics and colours. I am fascinated with all their variations, each standing out in their own unique way yet in perfect harmony with the flowers growing around them".
It is the artistry with which they depict nature that has caught the eye of Carol Woolton, the jewellery historian and contributing director of jewellery at Vogue (UK), and has led to their inclusion in a selling exhibition of floral jewellery that she is co-curating for Sotheby's in New York in May, called "In Bloom".
"I am so inspired by their work and their take on beauty and nature," says Woolton about Wendy Yue, Cindy Chao and Anna Hu, the celebrated New York-based Taiwanese jeweller who is the third talent from this region selected for this exhibition.
Hu is repeatedly drawn to the world of flowers, creating alluring colour-drenched jewellery. The designs are based on orchids, delphiniums and other exotic blooms, all lavishly set with gemstones. The pieces are bold and intricate, with a sense of rhythm that, perhaps, echoes her past life as a musician. Flowers, Hu believes, best reflect and embody the romantic spirit in her soul, and this has not gone unnoticed.
The concept of "In Bloom" is based on Woolton's book Floral Jewels from the World's Leading Designers. Each jewel selected reflects the roots of the designer, says Woolton, such as Chao's flora from Taipei and Hu's orchid-shaped piece that is transforms into a ring, bangle or brooch.
"They are exotic, and you can tell they are inspired by their region in the sun, because the colours sparkle and pop when you wear them."
While Chinese designers are often drawn to floral and fauna, the motif is found in abundance in high jewellery collections from the West as well. Co-curator Frank Everett, sales director of Sotheby's luxury division, has selected gorgeous 19th- and 20th-century vintage floral pieces from Cartier, Van Cleef & Arpels and Boucheron for "In Bloom".
"Flowers are where jewellery art can shine, and we weren't looking for anything in particular except the prettiest flowers," he explains. "The Chinese make the most beautiful contemporary flower jewellery, with their use of sculpture and colour."
Carol Woolton agrees: "They have a whole new aesthetic and perspective, and I think they just make really beautiful things."
While, for a time, Western jewellers explored dark, masculine themes with motifs such as skulls, Woolton noticed that Chinese designers were more interested in celebrating beauty, and in doing so have triggered a shift to more feminine jewellery.
"It used to be Western design selling in the East," she says. "But now I think we are definitely experiencing really innovative design coming from the East to us."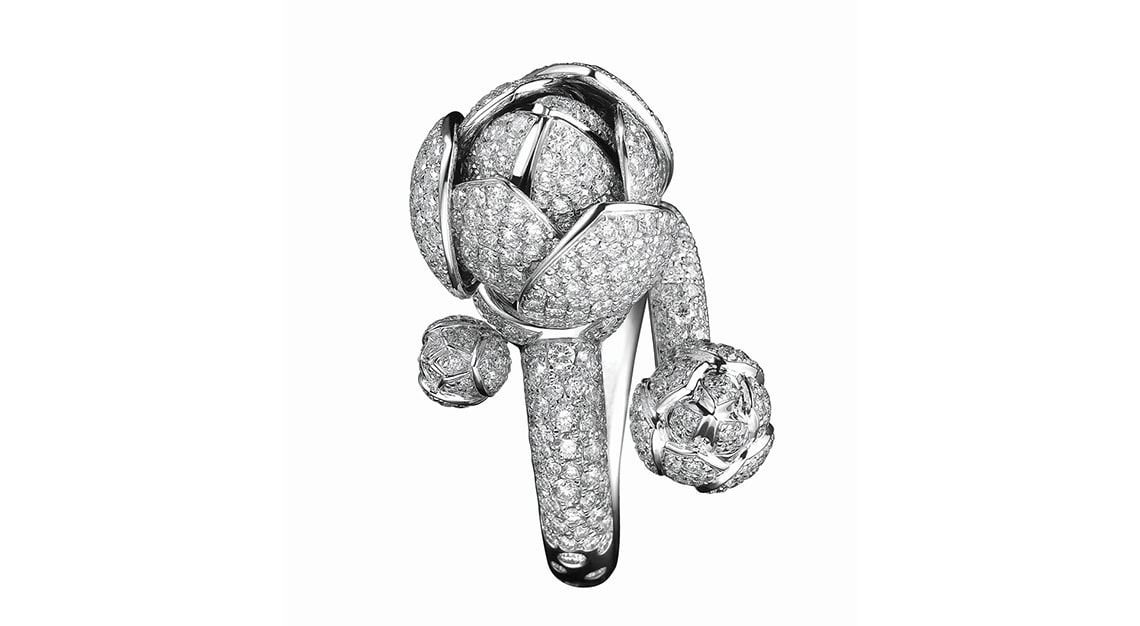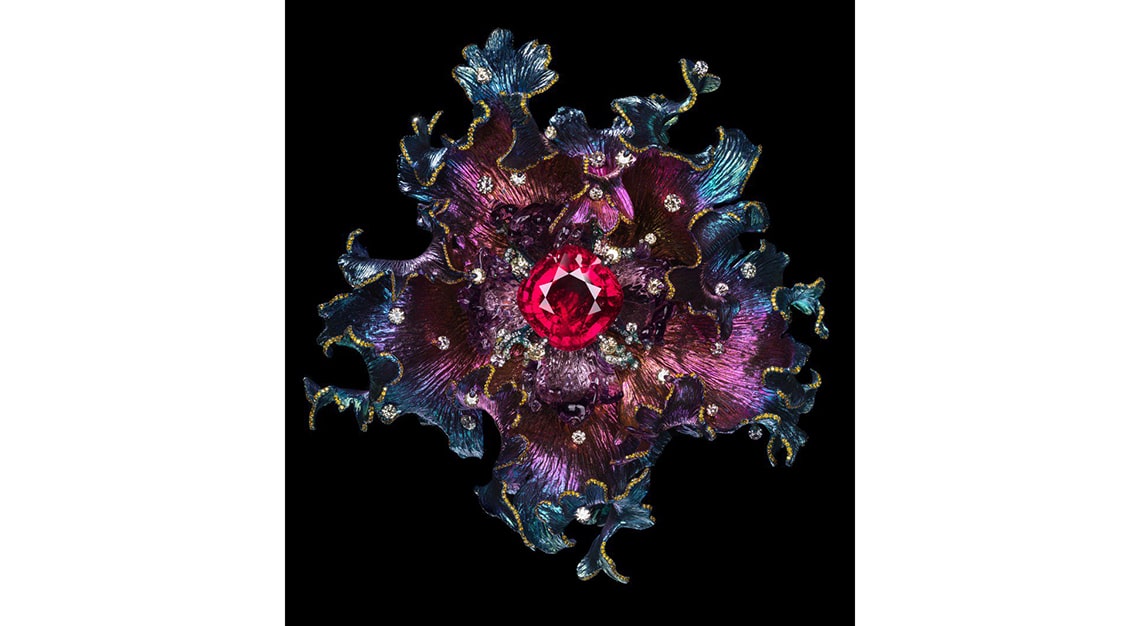 Closer to home, two of Hong Kong's most recognisable jewellery designers also tap into the beauty of the flower in their creations. Dennis Chan of Qeelin, for example, is known for Western interpretations of classical Chinese symbolism.
Beyond his famed Wulu collection is the lotus design, which features a ring covered in diamonds that takes on the shape of a lotus bulb. The petals open to reveal a ruby centre. The design not only highlights the beauty of the flower, but is also an example of how exceptional craftsmanship can bring to life a piece of jewellery.
With a penchant for the whimsical is designer Wallace Chan, who has made a name for himself creating one-of-a-kind pieces for his eponymous brand.
Known for his pioneering spirit, Chan was one of the first designers to use titanium in high jewellery. Making use of the lightweight material, the jewel master is able to create over-the-top, large pieces that are both dramatic but thoroughly wearable.
Brooches seem to be the jewellery favoured by the designer when it comes to floral designs. Colourful and intricate, and packed with precious gemstones, his pieces range from lifelike to abstract.
At his recent retrospective, the designer was able to borrow from the jewellery boxes of his collectors, offering jewel lovers a chance to reflect on and admire his fantastical creations.
This article was first published in Style by South China Morning Post.