You may toss all presumptions out of the window on how Michelin-starred chef Anne-Sophie Pic celebrates autumn
It's fine to walk into La Dame de Pic with high expectations. That's because chef Anne-Sophie Pic is strongly capable of living up to them. But even so, it's discernibly a collective effort; in the Raffles Hotel outpost, a well-rounded army of chefs (including protégé Francesco Di Marzio), waitstaff and sommeliers orchestrate the show for Pic. The local team left their mark during our last three visits, and has no plans to break the streak – if our most recent experience at the French restaurant is anything to go by.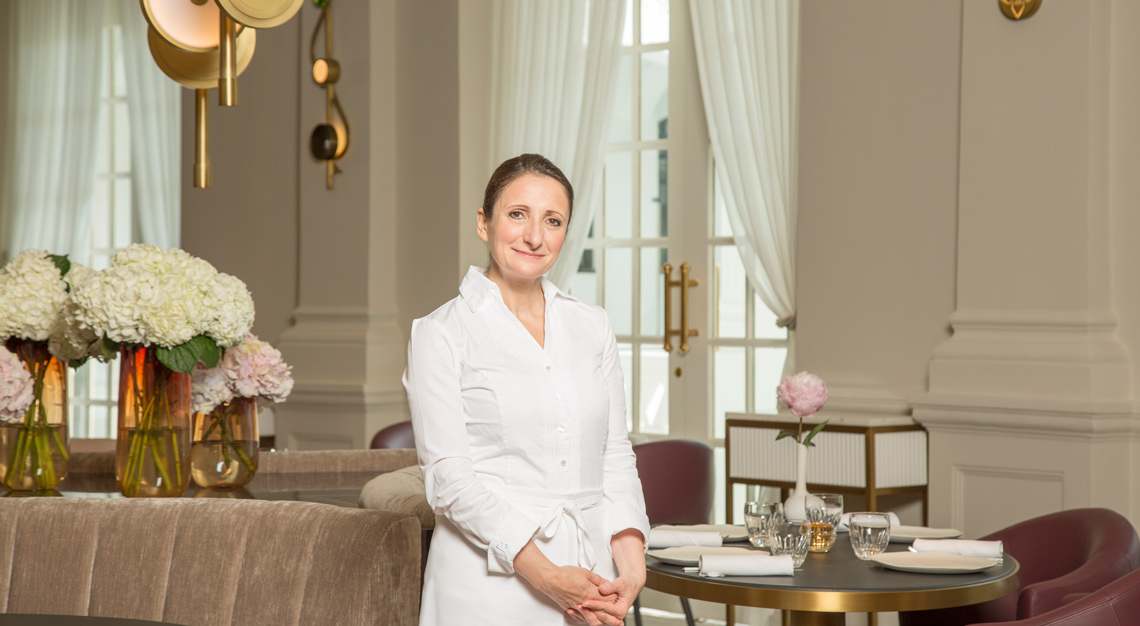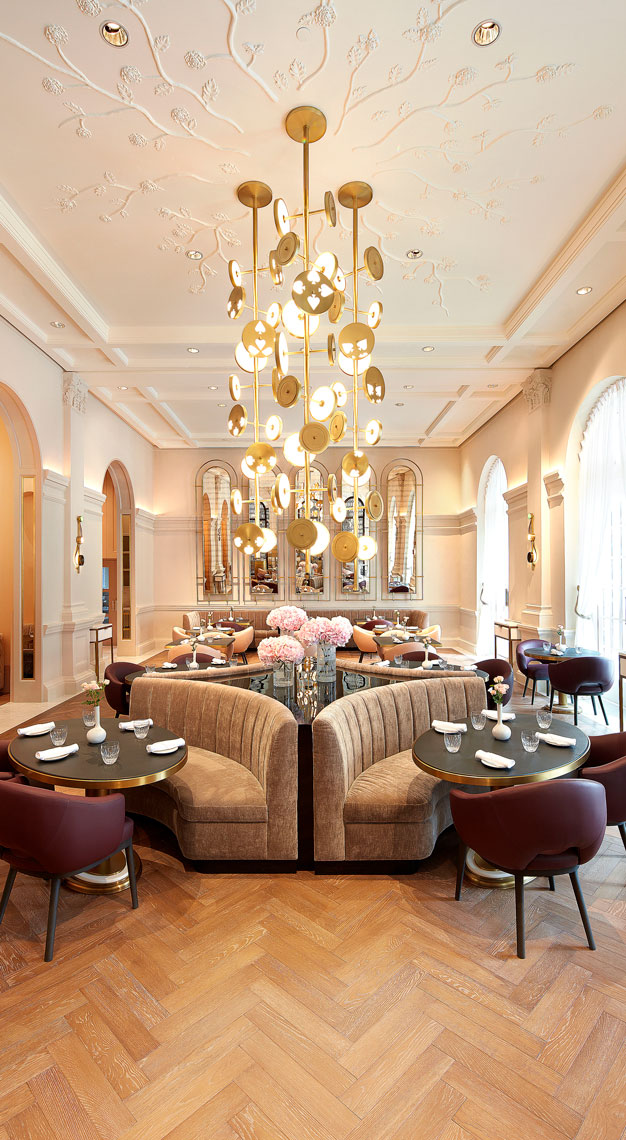 Food and drink
In case you're curious to see the interiors of the restaurant, including its breathtakingly massive height, visit here. Otherwise, most recently, two seasonal menus have been rolled out: the six-course Experience Menu (S$248 per guest) and seven-course Elegance Menu (S$338 per guest). Finding a flaw in Pic's new culinary creations is akin to finding a needle in a haystack – you'd hardly discover one. But if I do have to share a gripe from a recent tasting, these menus turned out to be a little deceptive; diners would be having neither six nor seven courses. With a string of pre-entrée and pre-dessert starters and palate cleansers not shown on the menu, diners can expect to tuck into a bullying 12-course meal after all – and that's the best I can manage by way of criticism.
Amuse bouche takes the form of cherry spheres that cause mini explosions once bitten. And here's a tip to tackle cherry juice splatters like a pro: try popping the entire sphere into your mouth at one go. I personally didn't abide by this rule and faced unsightly repercussions after. Small treats that followed were Chinese crackers with tiny blotches of jelly and Pic's rendition of kueh pie tee – both deliciously crispy and enough to get the ball rolling. The bread department didn't play second fiddle either, especially the porous sourdough, best smeared with a rich herbed butter before eaten.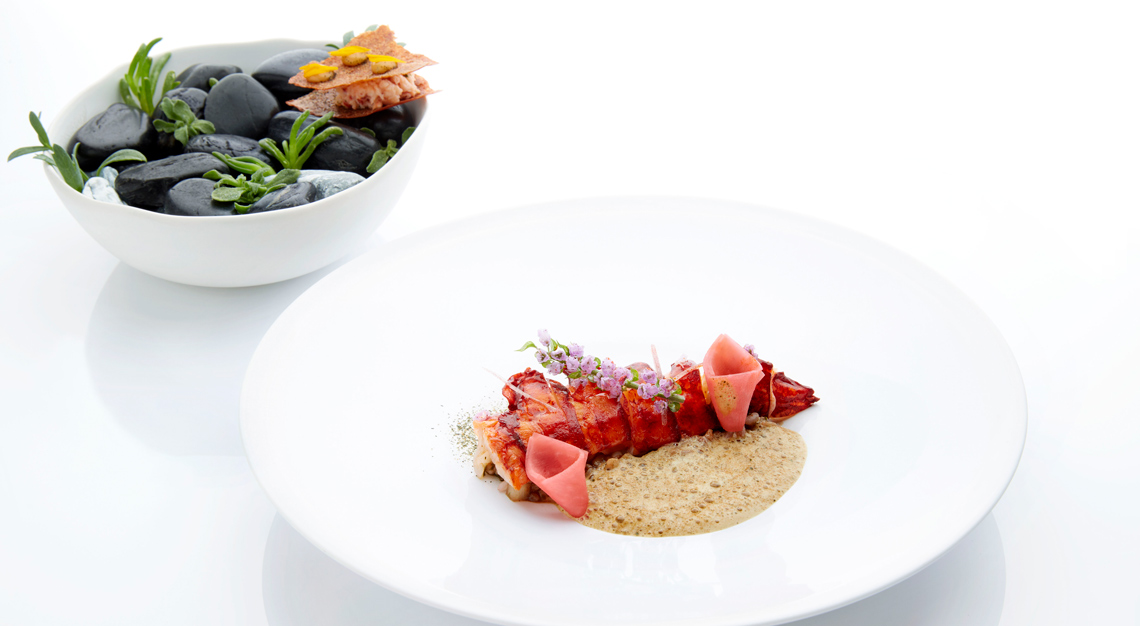 The Matsutake Mushroom cooked "en papillotte" (meaning 'wrapped in a parcel' in English) in a Bourbon Pointu coffee sabayon was nothing short of excellent. Paired with crispy, coffee-infused waffles, the highly prized fungi floated on its own consommé, of which had been infused with juniper and young ginger. This, respectfully, perhaps was Pic's interpretation of a classic mushroom soup and toast pairing – only packing a more robust and sophisticated punch due to the bitterness of the coffee and mushroom. Meanwhile, The Blue Lobster from Brittany, which was cooked over coals, was left to rest atop sushi rice, sencha leaves and yuzu. The entire pile was then submerged in a crustacean bisque mixed with Madras curry, with a gentle dusting of genmaicha on the side. Highly commendable were the tender, juicy lobster tail, along with the bisque, which added a gratifying warmth to the sushi rice.
But what truly brought sighs of happiness to the table were Pic's iconic Berlingots. This time, the pasta parcels were made of salted egg yolk, then filled with French cheese fondue. These little babies, clearly the glorious crowd-pleaser, were doused in a leek dashi infused with green cardamom and matcha. Request for the sommelier to bring you an excellent glass of red wine while at it – the right pairing will delicately cut the richness of the cheese, almost revealing hints of zest in the mouth thereafter.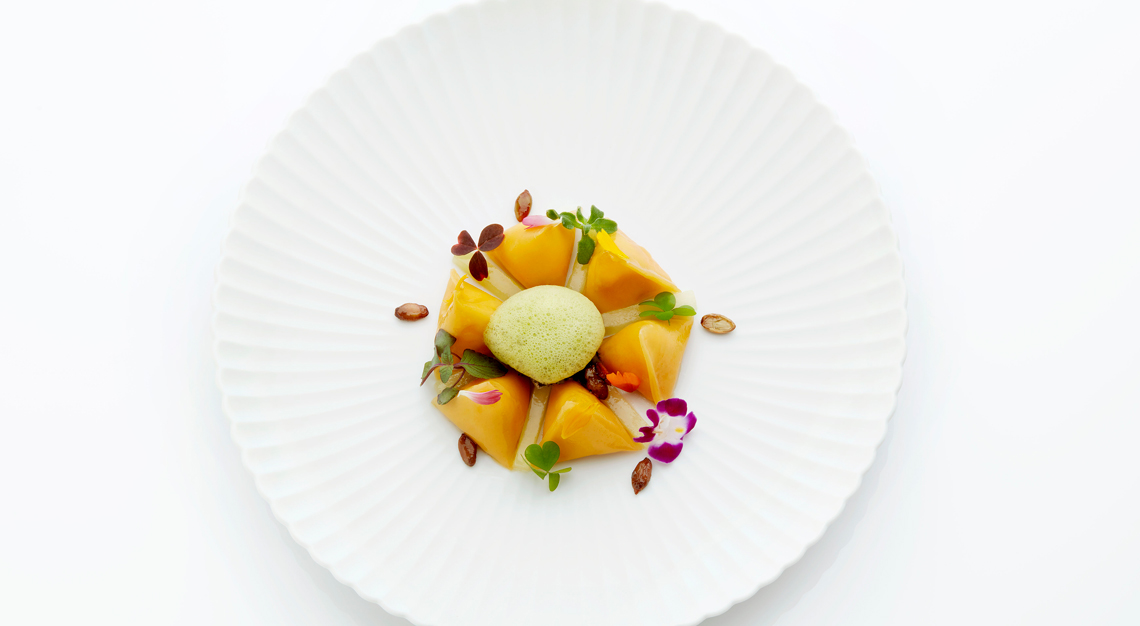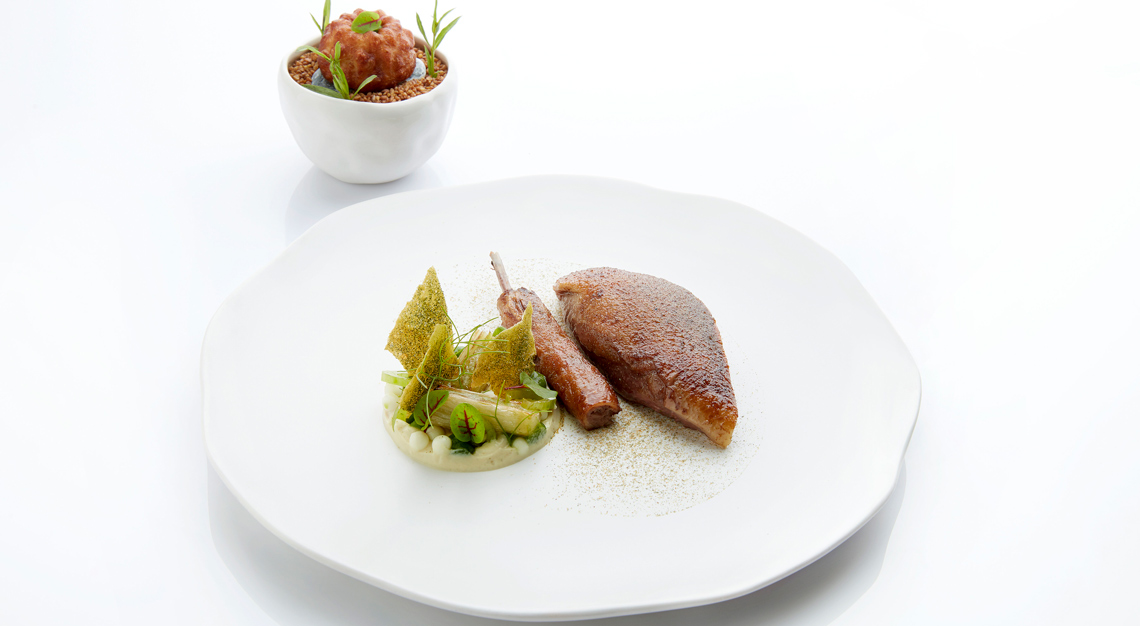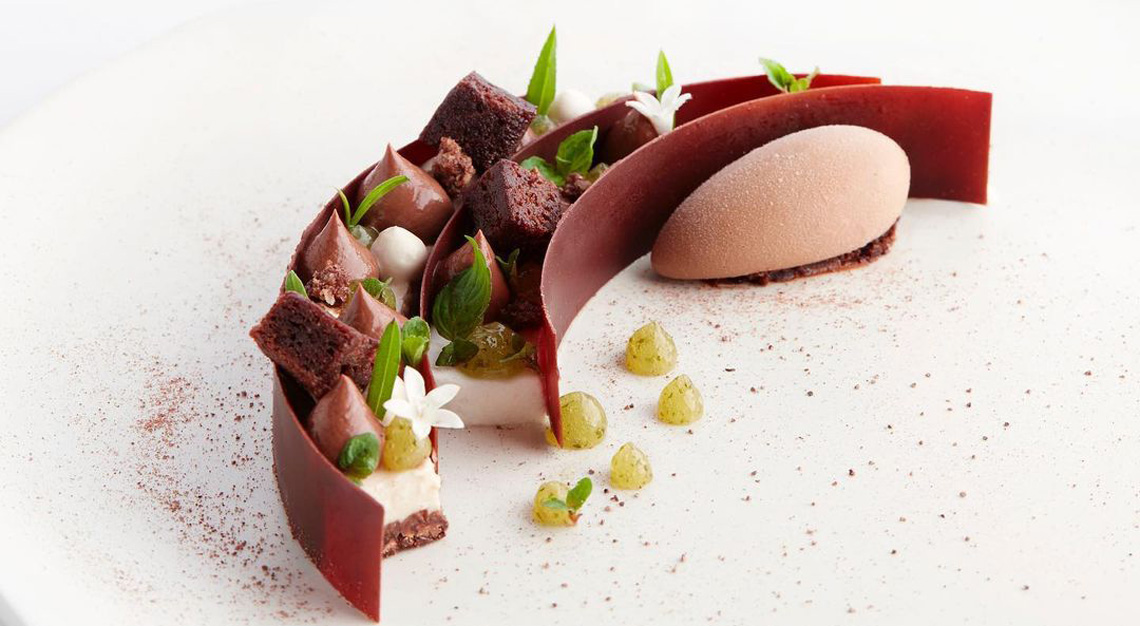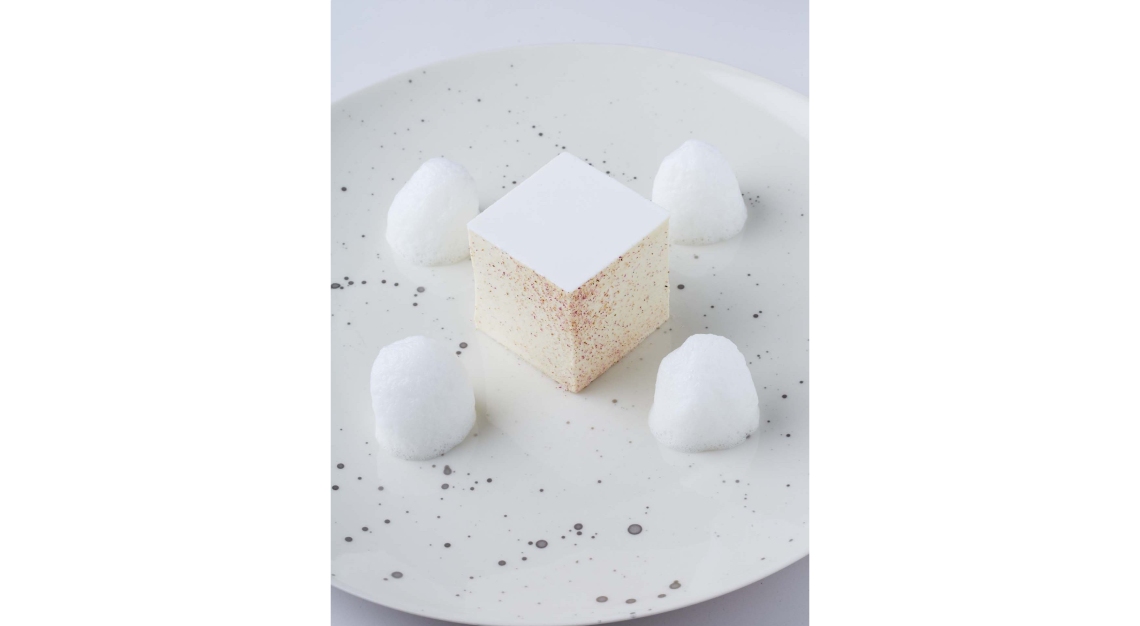 Now onto the big guns. The main entrée went as far as the The Pigeon from Bresse, which was smoked and marinated with gallium odorant and sobacha, dill condiment, Chartreuse and fennel dauphine. I didn't particularly enjoy the texture of the meat as it seemed to have a mild rubbery effect on the tongue, hence the Organic Welsh Lamb won my vote with its almost buttery finish. The latter was marinated with fig, Sakura leaves and even coffee, or if you wish for a beef version, the Kagoshima Wagyu Beef is scrumptiously marinated with laksa leaf and cooked over coals, with a side of glazed baby eggplant, black sesame, black garlic, and lemon.
The restaurant's dessert game has always been ace – especially when the White Mille Feuille retains its spot on the menu. Crack the cube open and you'll find the mille feuille layers revealing themselves with sweet grape confit in between – but nothing overly nectarous. Chocolate enthusiasts, however, are better off with the Tulakalum Chocolate, where green pepper panna cotta is paired with peppermint mouse and shiso with ice cream.
Service
It is ludicrous to think that La Dame de Pic wouldn't prioritise its service as much as what it serves its guests. Expect to be coddled by warm hospitality from the get-go as you arrive at the entrance of the restaurant. Wine service is refreshing, to say the least, with an amicable sommelier and informed waitstaff on hand to make the entire dining experience refined but unintimidating – and these are the very people who will be etched on your mind for a long time.
Prices:
Experience Menu: S$248 per guest
Experience Menu Wine & Sake Pairing: S$158 per guest
Experience Menu Non-alcoholic Pairing: S$68 per guest
Elegance Menu: S$338 per guest
Elegance Menu Wine & Sake Pairing: S$218 per guest
Elegance Menu Non-alcoholic Pairing: S$88 per guest
La Dame de Pic
1 Beach Road
Raffles Hotel Singapore
Singapore 189673
Tel: +65 6337 1886