A selection of the Pop Art icon's work now adorns these whiskey bottles
The art and booze worlds have collided before, specifically in regards to the late, great Jean-Michel Basquiat, whose work appeared on a bottle of Bombay Sapphire gin about a year ago. Now, perhaps more fittingly, Manhattan's only whiskey distillery—Great Jones Distilling Co.—has a new Basquiat collab in the form of a trio of bottles and a popup at the distillery's bar that will run through October.
Great Jones opened in August of 2021, named after a small street in the NoHo neighbourhood where it is located. The distillery is owned by drinks giant Proximo, which also owns a little tequila brand you might have heard of called Jose Cuervo. While Brooklyn has been home to whiskey distilleries for more than a decade, Great Jones is the first to open in Manhattan since Prohibition. The team there is currently producing whiskey on a small scale, but the liquid in the bottles comes from Black Dirt Distilling, an upstate craft distillery that is also owned by Proximo. The core Great Jones lineup consists of a bourbon, four-grain bourbon, and rye whiskey, and now there are three new bottles to try.
Two of the new expressions, Great Jones x Jean Michel Basquiat Dinosaur Edition and Great Jones x Jean Michel Basquiat Skull Edition, consist of the distillery's four-year-old bourbon, each featuring the label artwork specified by the name. The third whiskey is a distillery exclusive—Great Jones x Jean Michel Basquiat Pineau de Charentes Wine Cask-Finished Bourbon. This is a seven-year-old bourbon that was finished for one year and seven months in sweet fortified wine casks from France, bottled at 91 proof, and featuring Basquiat's crown artwork on the label.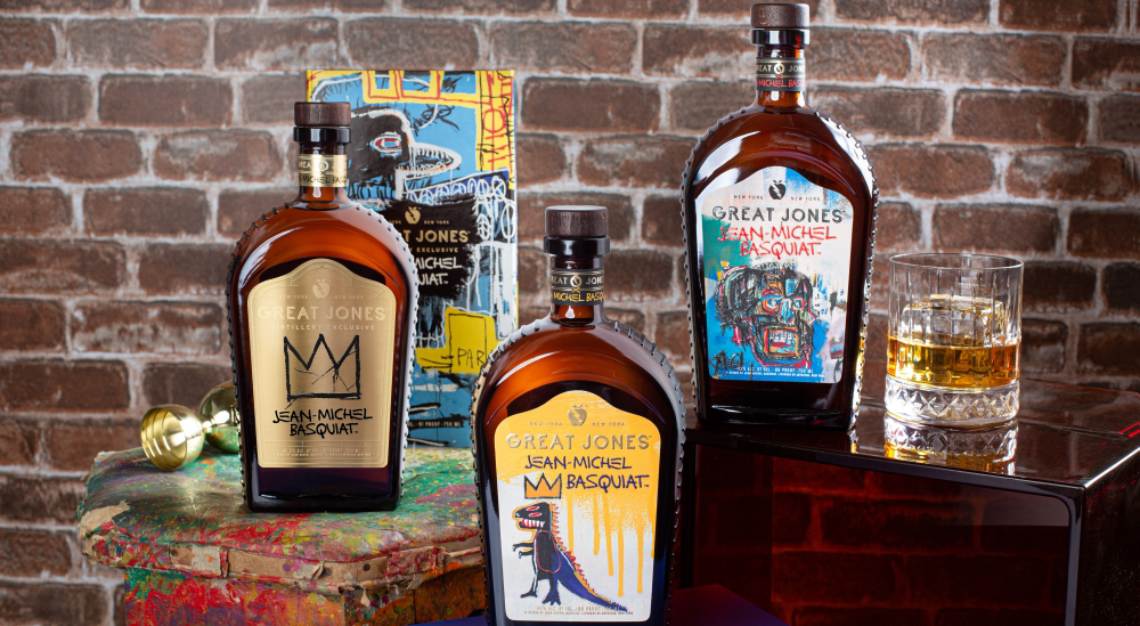 The 600-litre cask used for the finish was selected by Great Jones head distiller Celina Perez. "The French oak used for liqueur casks (in this case the Pineau de Charentes) is typically lighter and more porous than the American oak used for bourbon," she told Robb Report. "This allows more of the bourbon's flavours to come through, while also imparting some of the French oak's own characteristics." We got to try a sample of the whiskey, and it is dramatically different from the core bourbon with a very prominent palate of sweet berry and spice notes followed by a strong tannic finish.
The bar at Great Jones has also been transformed for this partnership into, you guessed it, The Basquiat Bar. The hours are Thursday through Saturday from 6pm to 10pm, and you can find food and drinks for sale that the distillery says were inspired by the artist. Lastly, you can visit "Basquiat's New York" in the barrel room as part of the Distilling New York x Basquiat VIP Tour, where you can sample the cask-finished whiskey and enjoy a cocktail surrounded by art and 1980s New York City paraphernalia.
Check out the distillery's website to purchase the two Basquiat bottles online (SRP US$39) along with hoodies, caps, and t-shirts, but you'll have to visit in person to get the distillery exclusive bourbon (SRP US$150). If you're not going to be in New York City anytime soon, the regular straight bourbon and other whiskeys can be found on websites like Drizly.
This story was first published on Robb Report USA