The new jewellery collection channels Harry Winston's creations and acquisitions that bear royal links
Harry Winston doesn't take its 'King of Diamonds' sobriquet lightly, nor without rightful claim. Although it was conferred the title by a fashion magazine in 1947, the jewellery house's royal provenance goes beyond surface salutations.
Throughout its history, many of Harry Winston's acquisitions and creations have been closely linked with nobility. Among the most famous pieces of jewellery acquired by the company include a 337.1-carat deep-blue sapphire once owned by Catherine the Great, cabochon emerald and diamond anklets from the Maharaja of Baroda, and the Westminster Tiara featuring two perfect pear-shaped diamonds. Known as the Arcots, the stones date back to the times of King George III. Additionally, Harry Winston is also known for crafting bespoke jewellery—fabulous tiaras, necklaces and earrings—for royalty the world over since its inception.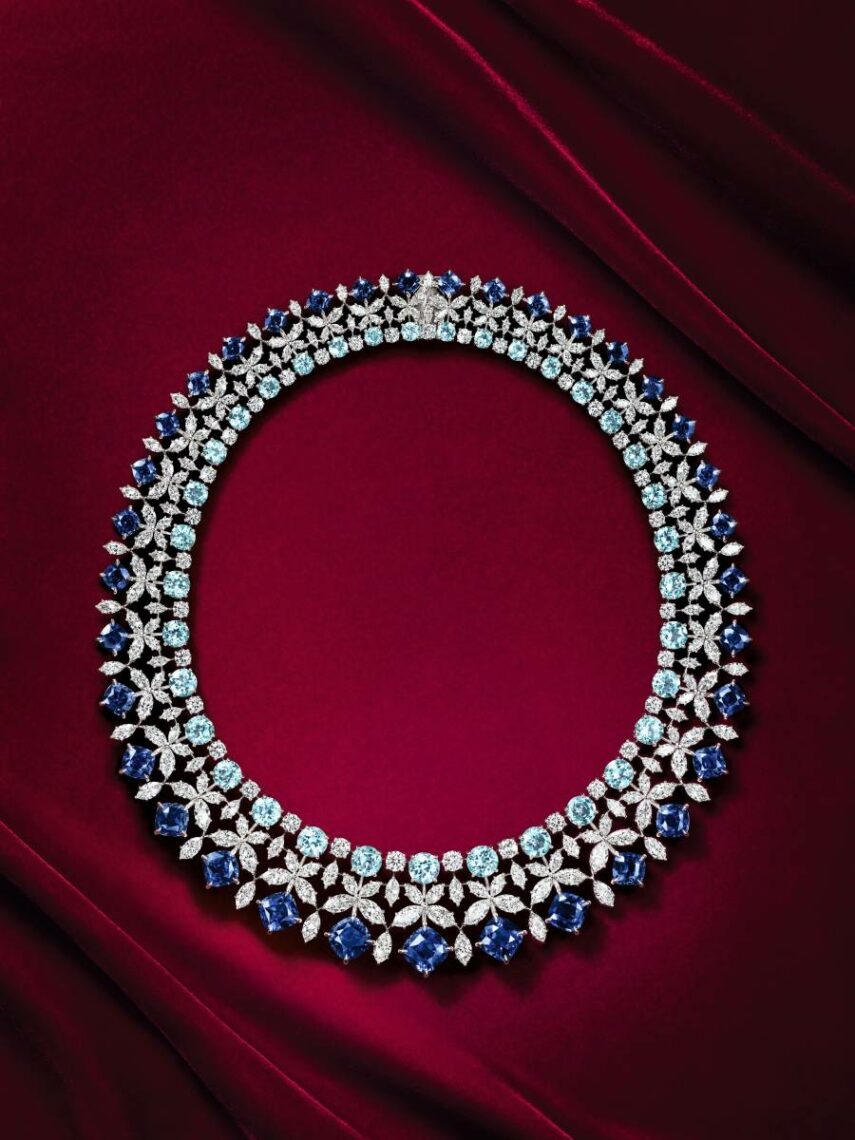 And it is in this spirit of regal resplendence that Harry Winston presents the Royal Adornments. A sumptuous jewellery collection, it comprises extravagant, rainbow-hued suites inspired by the company's links with royalty. Each creation within this assortment of necklaces, earrings, brooches, a ring and a tiara, is rich with a unique backstory. They also brim with bold colour and brilliance; rubies, sapphires, emeralds, Paraiba tourmalines and conch pearls aptly described by Harry Winston as "kings and queens of all gemstones".
A stunning highlight is the Princess Suite. Comprising a multi-strand necklace made of diamonds set in the shape of butterflies, accompanied by cushion-cut sapphires and icy aquamarines, and earrings with diamond butterfly motifs suspended between aquamarine and cushion-cut sapphires, the suite references a custom-order from 1977 for a princess' 16th birthday.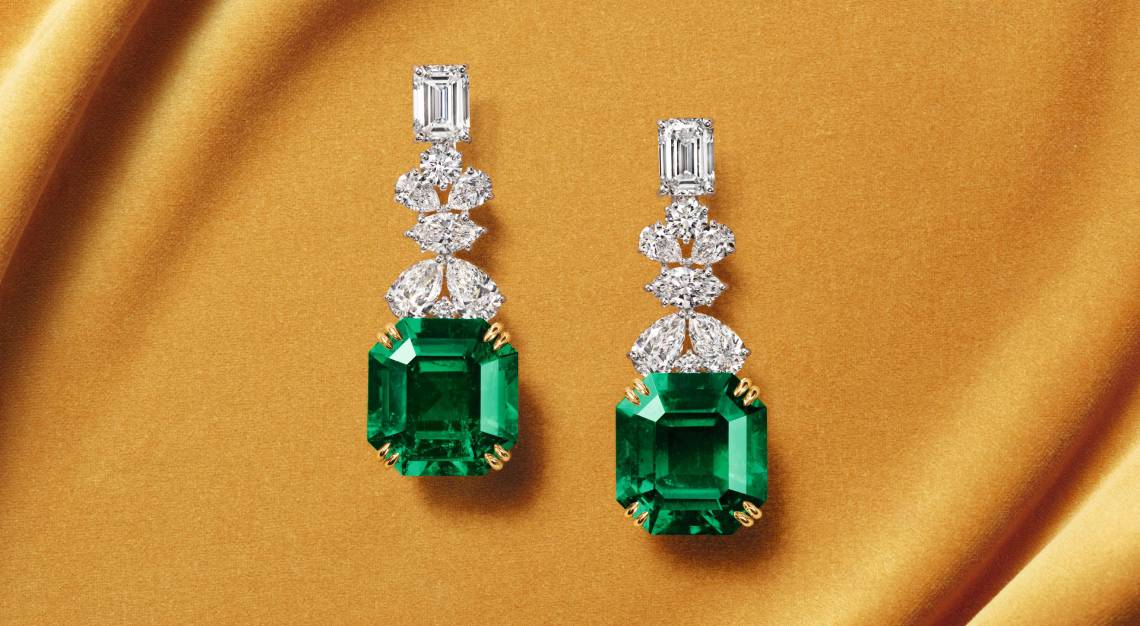 The Court Emerald Earrings, meanwhile, is an inspired take on an emerald necklace that once belonged to the Maharajah of Nawanagar, which Harry Winston bought in 1956. Staying faithful to the eye-catching geometry of its forebear, the earrings feature two near-identical emerald-cut emeralds totalling almost 36.31 carats, surrounded by a bouquet of diamonds in a variety of cuts ranging from pear to marquise-shaped stones.
Last but not least, the Dame Necklace and Earrings take their cue from a set once worn by Elizabeth Taylor—a royalty of the silver screen—which featured extremely rare pink and salmon conch pearls. For the modern iterations, a 41.95-carat pink conch pearl takes centrestage as a pendant on a classic diamond necklace, while the on the earrings, 12 conch pearls in varying shades of pink are complemented by diamond clusters and two oval-shaped rubies.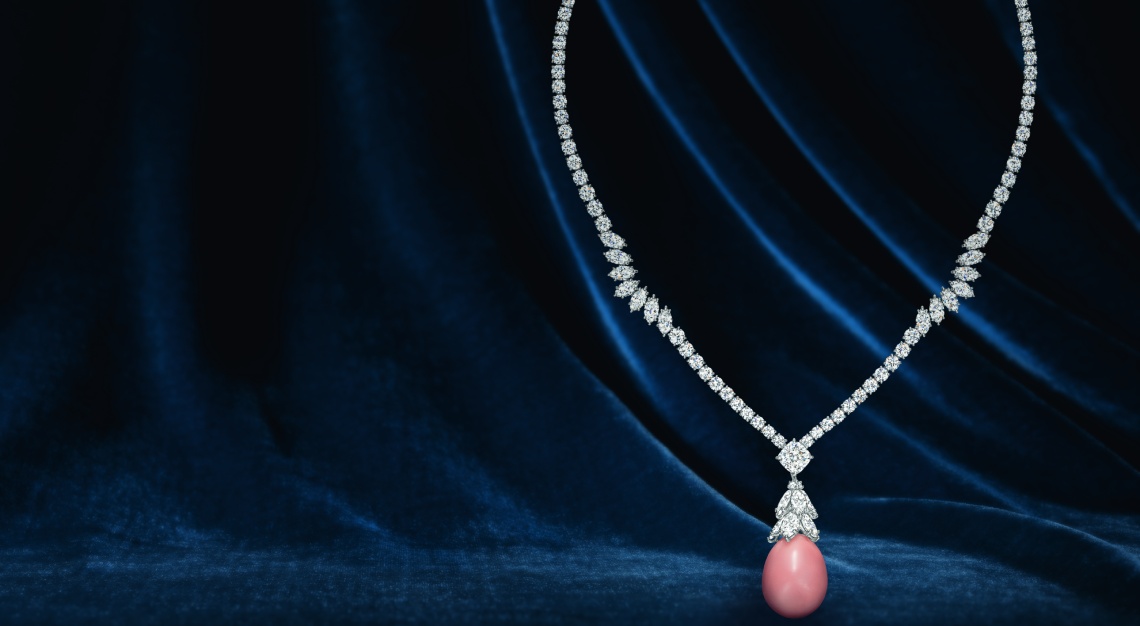 Indeed, throughout the Royal Adornments' unambiguously monikered creations, Harry Winston demonstrates its penchant for forthright flamboyance—and shines even more light on its storied relationships with generations of taste-making royals.