The iconic shirt will go under the hammer with Graham Budd Auctions on 6 and 7 June 2023
In July 1971, Pelé scored his last international goal for the Brazilian national team. Now, the shirt he was wearing when he secured his status as one of the greatest footballers of all time is going under the hammer.
The yellow number 10 jersey that the three-time World Cup winner donned during a friendly match with Austria will be taking bids on June 6 and June 7. On the block with Graham Budd Auctions, the iconic piece of sports memorabilia is currently estimated to fetch anywhere from £100,000 to £150,000. During the game at São Paulo's Morumbí stadium, Pelé would go on to score his final and 77th goal before his country's last face-off against Yugoslavia, which ended in a 2-2 tie. The player passed away in December 2022 at the age of 82.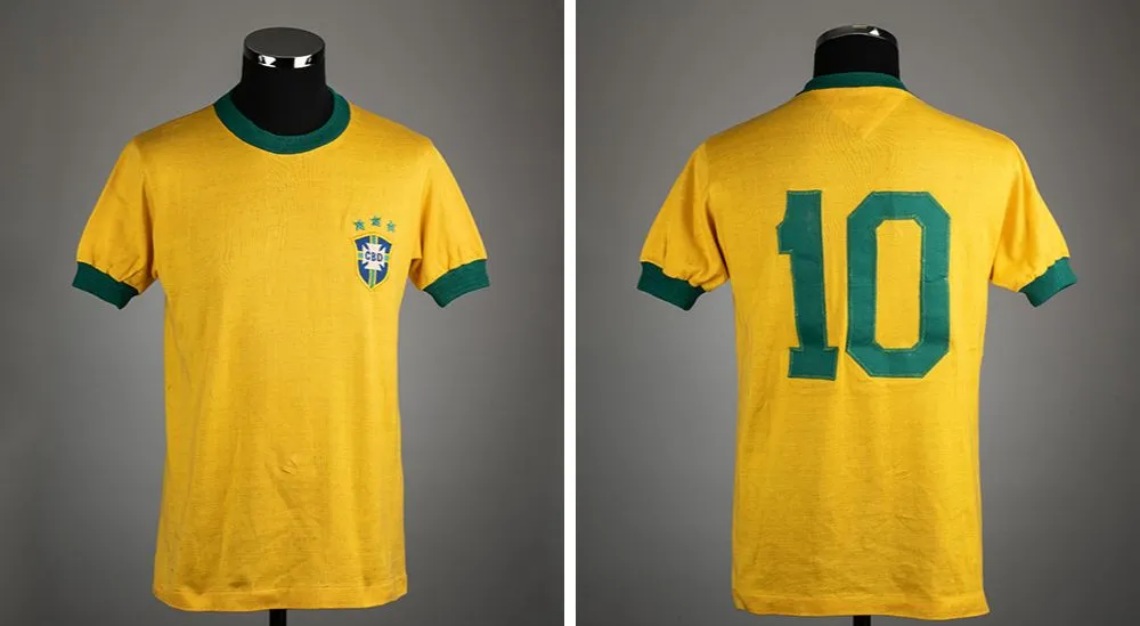 "Since the death of the international football legend, the value of Pelé's match-worn memorabilia has skyrocketed and, as one of the largest collections ever sold, there is a huge amount of anticipation for items, like the match-worn shirt from 1971, to far surpass their estimated prices," David Convery, head of sporting memorabilia at Graham Budd Auctions, says in a press statement.
The short-sleeved, Athleta brand shirt in question features a crew-neck collar and an embroidered cloth badge inscribed "CBD." The one-of-a-kind jersey was previously owned by British comedian David Baddiel, who purchased the garment during the FIFA 100 Charity auction. It was later sold and displayed in the National Football Museum in Manchester. "The history of the shirt makes it an exciting prospect for any Pelé collector, especially considering its extensive paper trail," adds Convery.
Along with the ultra-rare shirt, more than 1,480 additional items will be offered up in the June auction. Most notably, the lot will include the official match ball used in the 2022 Qatar FIFA World Cup, worth anywhere between £160,000 and £200,000.