The zeitgeist's favourite shows about billionaires behaving badly live and die by the details, from watches to wine to yacht design
When HBO's Succession premiered in June 2018, the scathing satire about a powerful family at war with itself got some behavioural tics of its uber-rich New Yorkers completely, obviously wrong, from their outerwear to the table settings at the patriarch's birthday lunch.
"We had people tell us that rich people don't use napkin rings, that rich people don't wear coats when they go out, because they just go straight from the car into the venue," says Mark Mylod, an executive producer and director of the show, which begins airing its fourth and final season on 26 March. So, as filming progressed, the producers quickly recalibrated, compiling a roster of insider tips. "Somewhere there's a whole file of various observations," says Mylod. "For season one, we used it like a bible: the etiquette of how the rich behave in New York City."
In other words, if the fictional lives portrayed on Succession and its growing list of imitators feel awfully familiar, it might be because while you've been watching the shows, they've been watching you.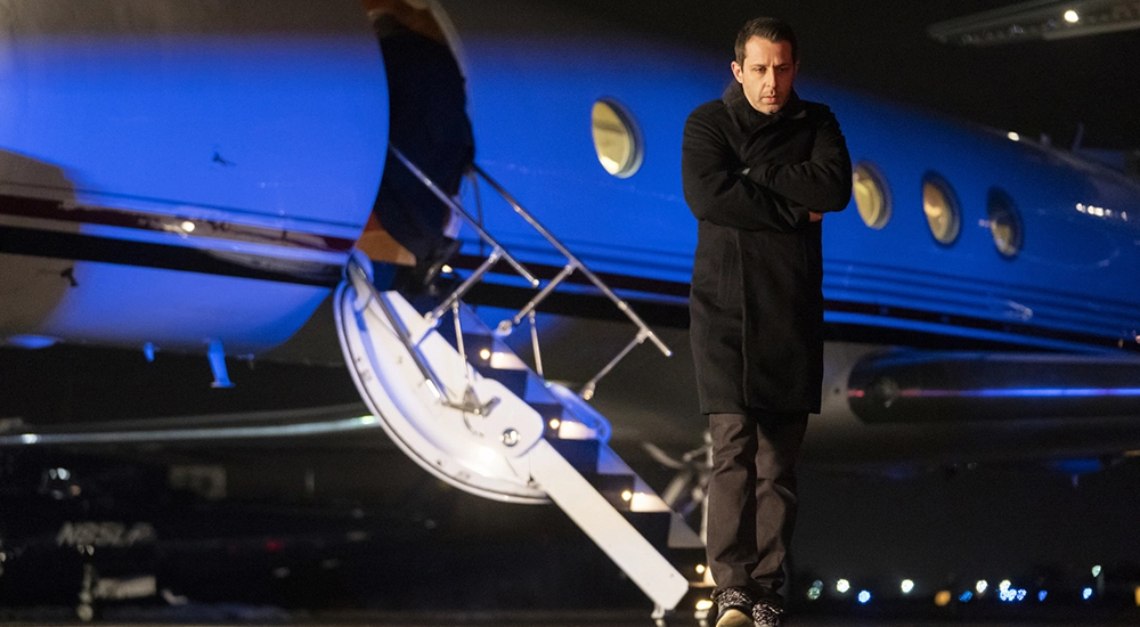 Extreme wealth, more often skewered than celebrated, dominates the chatter about television these days, from masters of the hedge fund universe sparring with federal prosecutors on Billions to the familial power plays on Succession to the vacation foibles of the merely rich on The White Lotus. And the popularity of these shows—a sub-genre that we've termed helipad drama—among the demographic they feature is linked directly to how well the art imitates life.
To create an authentic visual universe for Succession's media mogul Logan Roy, played by Brian Cox, and his fictional brood to inhabit, production designer Stephen Carter pored over publications catering to wealthy readers, including this one. He learnt about the Murdochs and the Bronfmans and other dynasties, about their homes and cars and yachts, as well as the corporate boardrooms they occupied. "I don't run with the billionaire set myself, so there was a lot of education," he says.
Over the years, Carter and his peers have crafted an increasingly convincing and detail-rich look at the private lives of the 0.00001 per cent. The producers, designers, show runners, directors, prop wranglers, wardrobe teams and location scouts have accomplished this feat, in part, by turning to the same people you do—your travel agents, art curators, yacht brokers, event planners, private shoppers, sommeliers and high-end real estate agents—to get the details just right.
Notice: It's not just any wine Cousin Greg (Nicholas Braun) swills during season three of Succession, but a cult bottle of Pingus from Spain's Ribera del Duero region—a magnum from 1998, no less, all but impossible to find. And it's not just any old villa where Aubrey Plaza's Harper and her frenemy Daphne (Meghann Fahy) ditch their spouses for a night in the second season of The White Lotus, but the 16th-century home of a Sicilian count.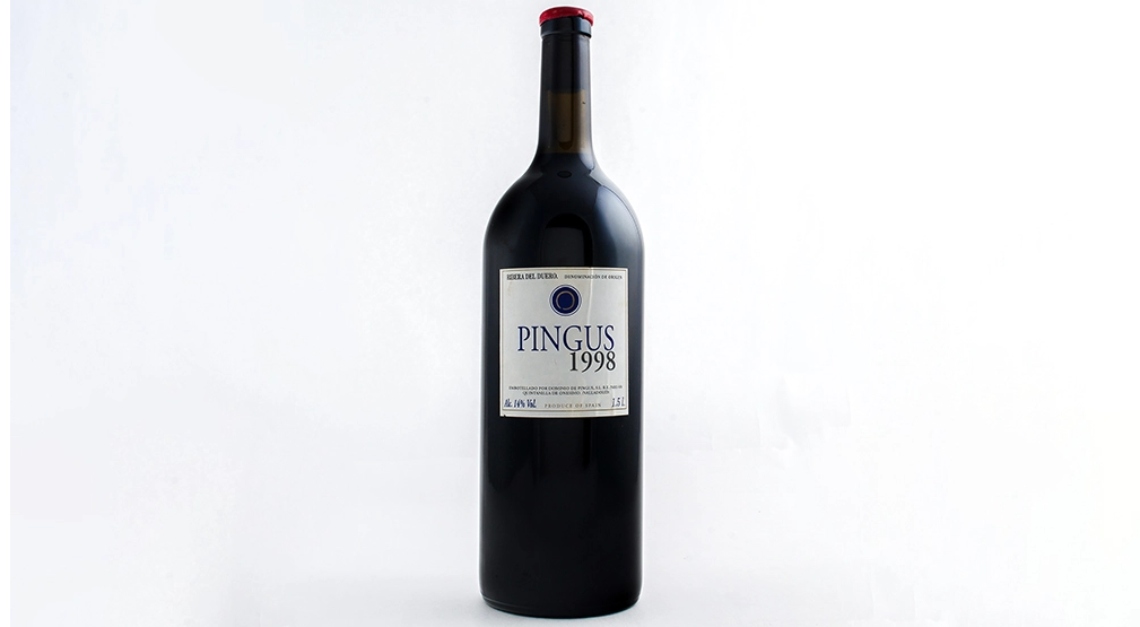 Whine time? Succession's Cousin Greg unwittingly opens a priceless bottle of Pingus in season three
With these shows' binge-ability and viral moments, each visual choice is under a microscope, scrutinised online in single-frame screen grabs, from running tallies of every Aston Martin, Bentley and Ferrari driven by Damian Lewis's Bobby Axelrod on Billions to the many watches worn—and occasionally discarded—on Succession.
"Our props team and wardrobe team and my team are always trying to get the details right," says Carter. "But we also try to keep it fairly subtle, so nothing feels like a big product-placement advertisement. It's a delicate balance between fetishising the products and the wealth they suggest and just sort of having it correct."
The bling is a bit more overt on Billions, to convey just how far Axelrod has come from his humble working-class roots. "It was really about trying to sell the amount of privilege people with extreme wealth have and the access and power that comes with that," says Michael Shaw, production designer on the show's first two seasons. "A lot of rich people can buy really nice wine, but not everybody can buy a football team." Which explains why Mark Cuban, owner of the Dallas Mavericks, makes a cameo in the second season as Axelrod considers buying his own pro franchise.
The particulars get harder to nail—and those outside consultants become more essential—when a production hits the road. "If you do take characters we're familiar with and put them somewhere unfamiliar, you better be sure that new environment, the rules of that world, are still going to work," says Mylod. "It felt risky to us as soon as we left New York for the first time."
Since two episodes were shot in the UK at the end of the first season, far-flung locales have become part of the Succession formula—the Roys will be heading to Norway during season four, chasing Alexander Skarsgård's corporate raider Lukas Matsson to the edge of the Geirangerfjord. "I didn't know how quickly the international travel was going to get baked into the format of the show, but the audience wants it, and we want to show these are people who can kind of go anywhere in the world they want, whenever they want," Carter says. "It quickly went from being the subject of nerves and trepidation to being the thing we most look forward to."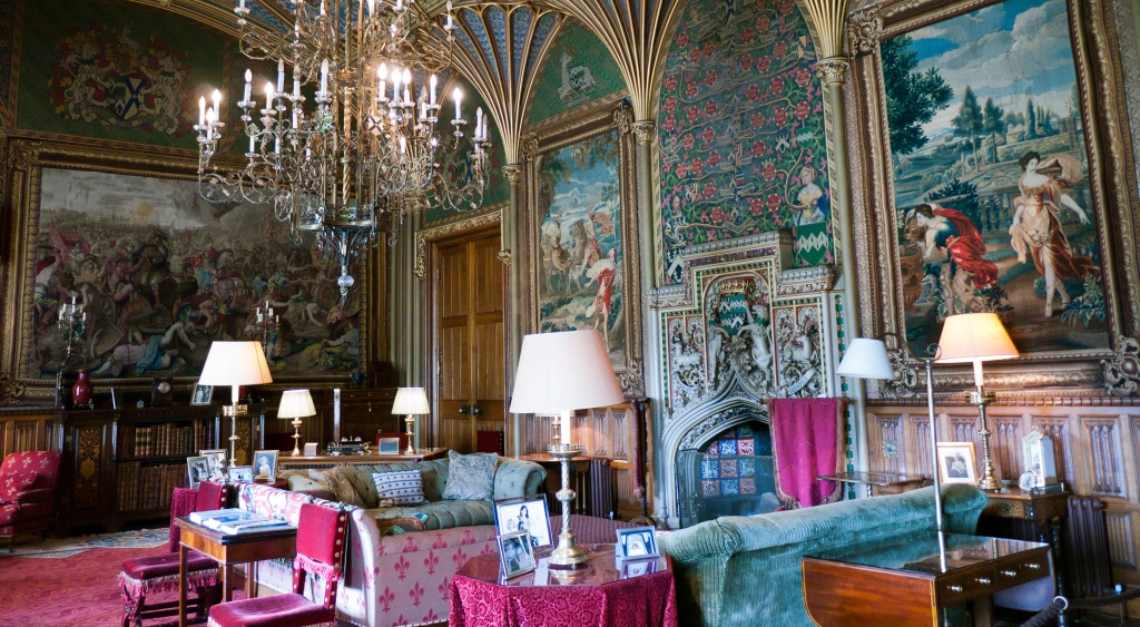 Gothic drawing room by Pugin in Eastnor castle in Britain
When the series moved to Italy for two episodes in the third season, shooting just as pandemic travel restrictions began easing in 2021, the producers turned to British travel and event planner Emily FitzRoy for help. FitzRoy organises high-end Italian vacations through her company, Bellini Travel, booking some of the country's most spectacular villas for her elite clientele. "For the last 25 years, I've essentially been looking after more benevolent versions of the Roy family, in Italy," she says.
FitzRoy introduced the Succession team to La Foce, a 1,400-hectare estate with manicured gardens, south of Siena, and to La Casinella, an eight-bedroom villa reachable only by boat, on the shores of Lake Como, which had never been used for a film shoot. (Want to stay there, too? It's available to rent starting at US$160,000 a week.) Both properties were featured prominently. "Emily got us into some really fantastic locations that I don't think we'd have gotten into otherwise," Carter says.
After the initial scouting trip, the production kept FitzRoy on as a consultant during the Italy shoot. "They said, 'Can you come over and make sure everything looks authentic and true to how this family would travel?'" she recalls. Among other things, she advised on the type of Champagne to serve (Bollinger, though she also pushed "Winston Churchill's favourite, Pol Roger") and whether to use a clipboard or an iPad when checking in guests for a destination wedding (the latter, of course).
That gig opened the doors to more work. Following a referral from Succession producer Frank Rich, FitzRoy helped The White Lotus creator Mike White find villa locations in Sicily, including the Palermo estate, Villa Tasca, owned by her friend Count Giuseppe Tasca. She grew so close with White and his team that she scored a cameo in the final episode of season two, introduced—as herself—at a lavish party just before an orgy breaks out.
The art and antiques that fill the home of the affair's host—Tom Hollander's over-extended expat, Quentin—all came with the property, the seven-bedroom Villa Elena, owned by interior designer Jacques Garcia. More often, works featured on shows such as The White Lotus are chosen by advisers who curate production sets as they would private homes.
Fanny Pereire, who worked on the pilots for Billions and Succession, has a full-time job securing art for TV and film. Her process starts with a wish list of original works. She then secures single-use permission to feature each piece from the copyright holders, generally by paying out fees to artists or estates. The works shown on-screen are mostly very good official copies of sometimes priceless originals, laser-printed on canvas and touched up by the show's art department to add brushstroke texture. After shooting wraps, Pereire usually films herself slashing the approved fakes—she's contractually obligated to destroy or return the works—and sometimes sends them back to the artist in pieces, as proof of destruction.
Those works, often lurking in the background, subtly move the story forward, adding insight into a particular character or scene, whether it's the Basquiat hanging ostentatiously outside Axelrod's office or the giant photo of a melting glacier by Frank Thiel in the boardroom at the Roy family's corporate headquarters.
"We're telling a story, and hopefully if we do our job right, just as the production design or the costumes will tell you something about the character, the art will, too, without being part of the dialogue," says Pereire.
The Mona Lisa may have played a central role in last year's hit Glass Onion: A Knives Out Mystery, but the other art on display in the lair of tech-bro villain Miles Bron (Edward Norton) was selected with equally precise intent. Director Rian Johnson winkingly hung a 1961 Mark Rothko abstraction upside down, as a nod to Bron's bloviating ignorance.
Blue-chip art has been integral to setting the right tone for Billions from the beginning. Before designing the set for Axe Capital, Axelrod's hedge-fund office in Connecticut, Shaw toured some investment firms for inspiration. "It seemed like everybody we would visit would have certain key artworks," he says. "It was almost de rigueur that certain artists were represented—Koons, Basquiat, Warhol—because they conveyed status."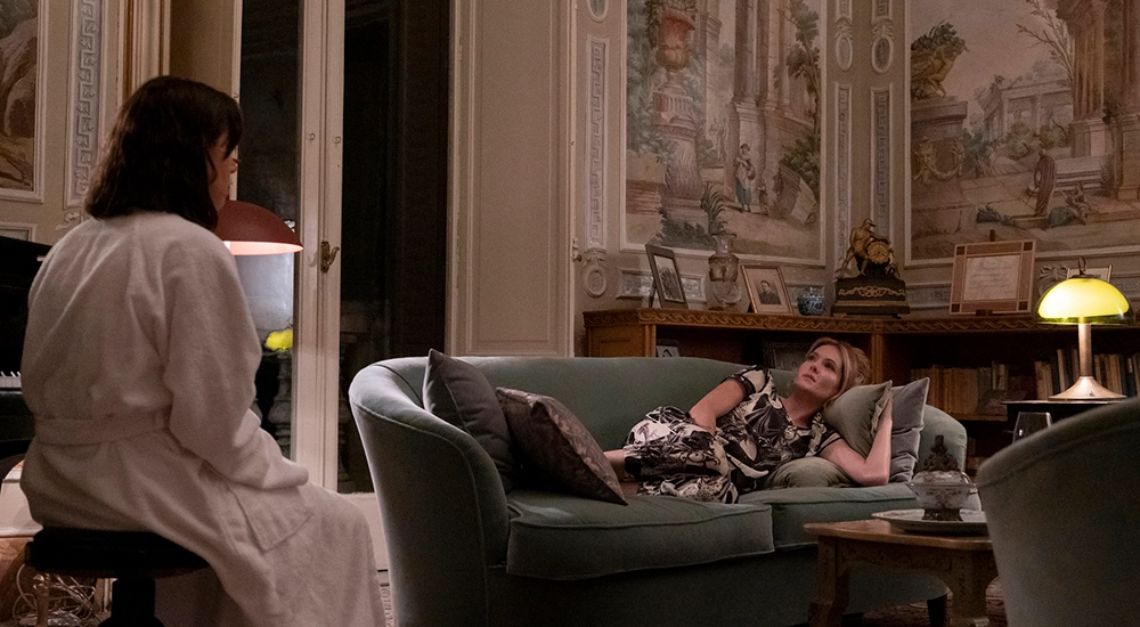 The backdrops for all this art, the homes and offices where the action goes down, are sometimes shot on location or, just as often, on a constructed set. Succession's Waystar Royco offices are a mix of the two, filmed on a vacant floor in New York's 7 World Trade Center.
While the original set for Logan's sprawling Fifth Avenue apartment was designed by Carter and his team at New York's Silvercup Studios, several of the high-end Manhattan digs featured on Succession are real residences awaiting new owners. In the third season, Kendall's ex-wife lives in a condo in the iconic Woolworth building that sold last year for US$19.975 million; younger brother Roman (Kieran Culkin) has lived in an 1,021-square-metre townhouse in Chelsea, recently listed for US$22 million. "We get a deal on these places because they're on the market," says Mylod. "The idea being: If they're on the show, maybe they'll sell more quickly."
A fresh crop of marquee homes and apartments will appear in the new season. Word has it, one is a sprawling penthouse in one of the tallest buildings on New York's Upper West Side and another floats 85 stories in the sky. "There's a lot of good new stuff," Carter says, while remaining tight-lipped on details. "It's going to be a good, wild ride."
The interiors devised by the production-design teams on Succession and Billions often have an intentionally sterile, impersonal quality. "Early on, I wanted things to feel kind of staged," Carter says. "You want to feel these aren't people who have the time or inclination to spend the time actually decorating their own places. They have a team of people who are paid to do it, and they're probably a little scared for their jobs, so they make choices straight out of the magazines everybody's been looking at."
Mobile locations—planes, cars and yachts—come with their own logistic and aesthetic challenges.
"There's a whole world of making a car interior practical for shooting," says Carter. "The cars in the show often are picked not just because they look super cool and stylish, but because they're actually going to be shoot-friendly."
Because a real airplane cabin can be constricting for a long shoot with multiple characters, Carter built his own version in the studio, modelling the Roy family's corporate jet in part after Rupert Murdoch's 737. To get a feel for the fabrics and dimensions, he visited Cabin Crafters, a New Jersey–based company that specialises in private-aircraft interiors. "We were very realistic about it," he says. "I think we maybe tweaked the width of the fuselage by four inches."
Finding a megayacht for maritime scenes shot off the Croatian coast in the second season presented other, unexpected, obstacles. Some of the most impressive vessels, Carter says, were "categorically off the table because, essentially, they're blood-diamond boats. The pedigree is too unpalatable for HBO to be able to say we're going to do business with this owner." Producers eventually settled on the 85-metre Solandge, available to charter for US$1 million a week.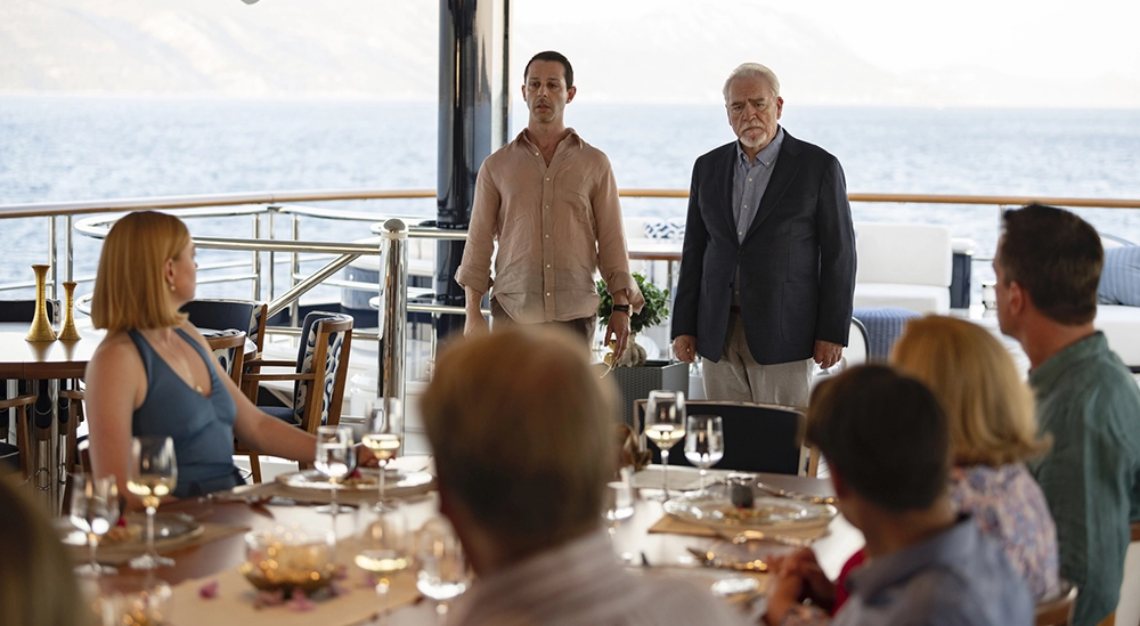 And it's not just the physical trappings of wealth that are steeped in reality on Succession. "I think they do a good job of addressing some of the issues that are faced in this world of people with exorbitant resources," says Clay Cockrell, LCSW, a New York therapist with a slew of wealthy word-of-mouth clients. "Issues of isolation, sometimes guilt, sometimes shame, power struggles between family members, distrust for outsiders."
Even for fans who might recognise a bit of themselves in these shows, there are thrills to be found watching the antiheroes squirm. "Any really good, over-the-top presentation that takes place in a world that you are familiar with can be lots of fun," says Robert Thompson, director of the Bleier Center for Television and Popular Culture at Syracuse University. "Just like many people who had lives in organised crime were really into The Sopranos… sometimes watching your own world burlesqued, made a caricature of, is pleasing just by the fact that your world is important enough to be made fun of."
That's as true of the uniquely luxurious problems faced by these characters—consider when Kendall Roy (Jeremy Strong), travelling by helicopter, is late for a board meeting because the president of the United States is flying through the same airspace—as it is with the financially heightened drama of their interpersonal relationships. Take Kendall's sister, Shiv (Sarah Snook), and Tom (Matthew Macfadyen), who get married at the end of the first season and have the tragic distinction of being the show's longest relationship as well as its most startlingly codependent. (Shiv uses her clout as a Roy scion to get Tom to do her bidding, and Tom uses their relationship to manoeuvre closer to her father and climb the corporate ladder at the family firm.)
Nevertheless, their wedding needed to feel lavish, but with plastic flowers that wouldn't wilt over the course of an extended shoot and inedible canapés that wouldn't turn brown in the sun. Sarah Haywood, an event planner based in London, advised on the festivities, filmed at Eastnor Castle in Herefordshire in the West Midlands of England. "I worked with the writers, who would email me questions about the order of the day," she says. "The timing, the dress, everybody's wedding attire, what sorts of things a couple like that might do for their guests."
And the barely seen details are just as important. "There were things that had nothing to do with the story line at all, were not referenced, were not used—but they were there," Haywood says. Recalling previous wedding-weekend itineraries, Haywood suggested the guests might need waterproof boots in case the weather turned inclement and the grounds muddy, so a Hunter Wellington-boots box appears in the background of one scene.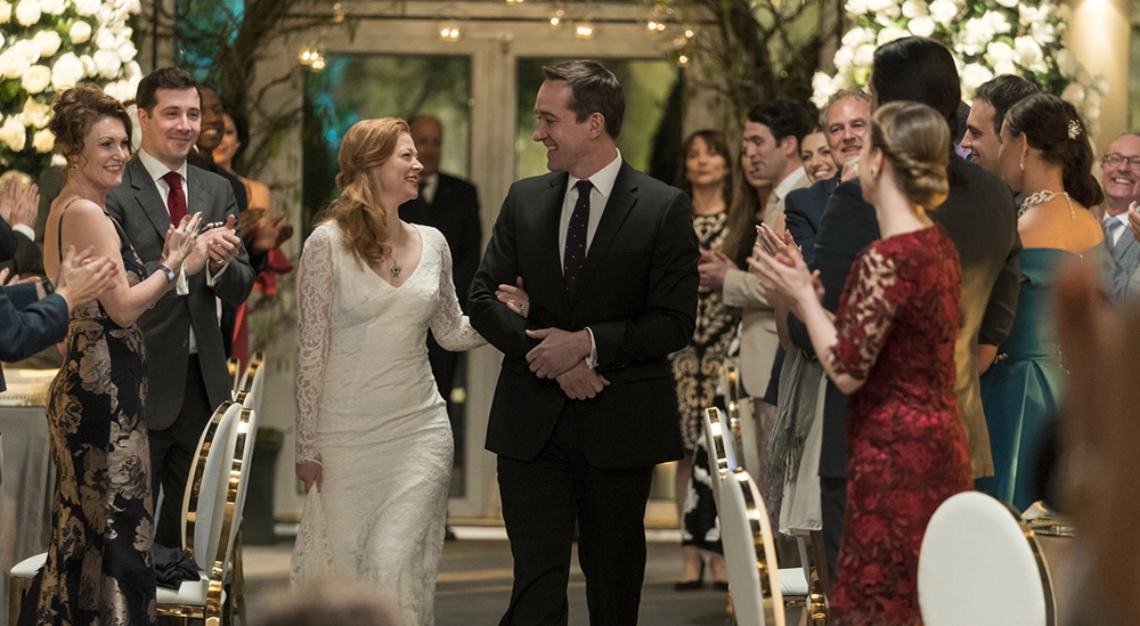 The right food and drink add yet another layer. Both Axelrod and his nemesis, US Attorney Chuck Rhoades (Paul Giamatti), love to dine out in New York, visiting the city's buzziest restaurants (some now shuttered), from Sushi Nakazawa and Momofuku Ko to Del Posto and Daniel. "In the first season, it was really hard to get in anywhere," says Shaw. "After the show came out, the second season everybody wanted us in."
Though the Roys appear less frequently on the restaurant scene, there's plenty of advance work to ensure their dining experiences ring true.
"Whenever we've shot in a restaurant in New York," Mylod says, "the first thing I do is talk to the owner—where's the power table, what would they order?— just to get the basic feng shui of shooting."
On Succession, drinking and dining tend to be weaponised in the service of satire. Meals often veer into the grotesque, such as Tom and Cousin Greg choking down contraband songbirds under cloth napkins—"to mask the shame," as Tom says—and the Roy siblings picking buckshot out of their mother's stew of freshly killed pigeon. A family summit at the clan's summer palace in the Hamptons ends with the staff dumping a whole tray of lobsters into the trash out back. (They order in pizza instead.) "There is great opportunity to sort of point out the excess with the food," says Carter.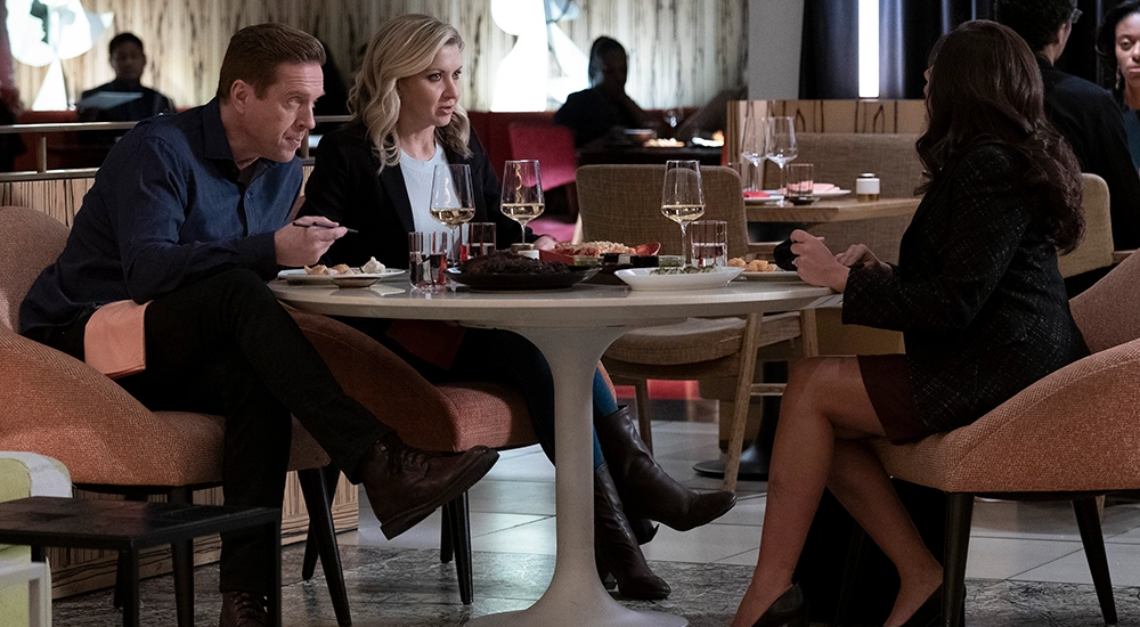 When you're in the business of re-creating worlds with rigour and authenticity, there's perhaps no greater achievement than dreaming up a simulacrum that outstrips reality. Like students surpassing their teacher, the Billions team created such a compelling backdrop when they built the offices of Axe Capital—shot on location in Rockland County, N.Y.—that an investment firm later hired Shaw to consult on its real offices, in Manhattan's shiny Hudson Yards.
"The owners of the company wanted the interior to feel like the Billions world," says Shaw. "That was life really imitating art."
This article was first published on Robb Report USA