Hublot promises to ignite an unprecedented collecting frenzy comprising 13 unique watches and NFTs
Kawaii but make it tech? The digital frontier will not be immune to the cuteness overload—and bidding wars—engineered by Hublot and Takashi Murakami. Collaborating for the fourth time, the Swiss watchmaker and Japanese artist will be marching out 13 unique watches sold with unique NFTs bearing Murakami's iconic cartoon sunflower motif.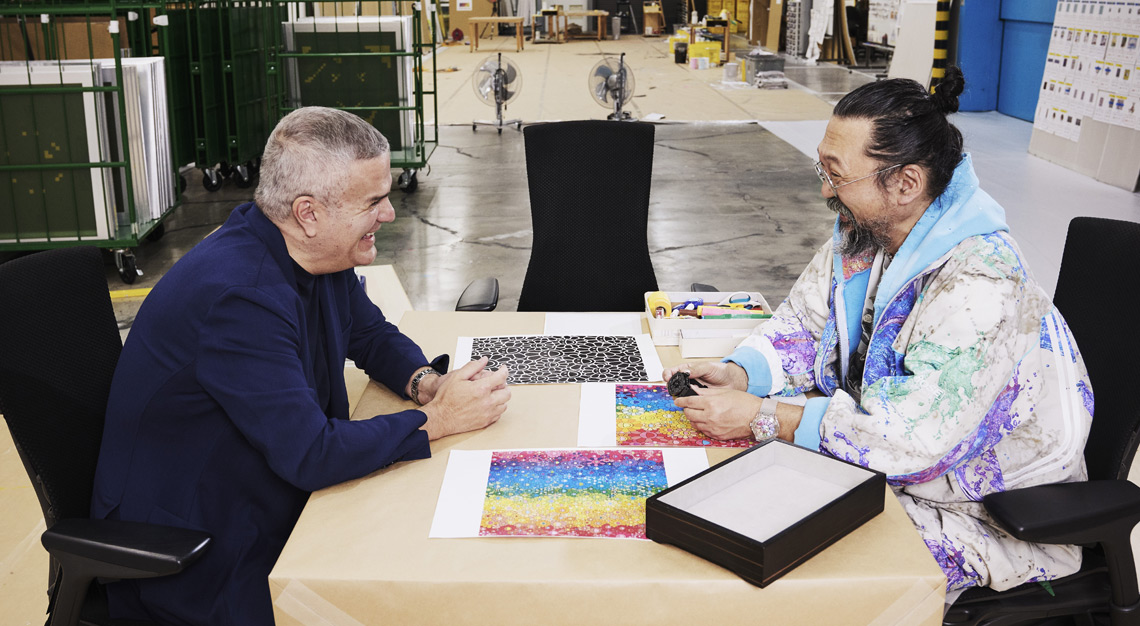 Championing its Art of Fusion motto, Hublot combines the worlds of luxury watchmaking, pop art and digital investment in one fell swoop. The watch company enlists Murakami to create 13 unique NFTs inspired by retro Japanese video games and their Classic Fusion Takashi Murakami All Black watch from 2020. In turn, these NFTs are linked to 13 unique Classic Fusion watches that will be launched at Watches & Wonders 2023 in March.
12 of the 13 watches and their corresponding NFTs will be available for purchase online at hublot.com in April. However, they can only be bought by customers who own at least one of the 324 NFTs that Hublot issued back in April 2022. These 324 NFTs were released as part of its previous collaboration with Murakami in 2022.
And the playing field gets even narrower. The aforementioned 324 NFTs had only been offered to owners of one of the two Hublot x Takashi Murakami watch models—the Classic Fusion Takashi Murakami All Black from 2021, and Classic Fusion Takashi Murakami Sapphire Rainbow from 2022. They had since been allowed to be exchanged on OpenSea, a decentralised NFT trading platform.
The highlight of the 13 watch-NFT collection is the Classic Fusion Takashi Murakami Black Ceramic Rainbow. Unveiled in New York on 2 February 2023, the watch comes in a 45mm black ceramic case with Murakami's famous flower motif set with coloured gemstones. It is everything you'd expect a Hublot x Murakami watch to be—whimsical, fun, and utterly captivating.
However, this model will be the most challenging to purchase. From April 2023 to April 2024, the 12 NFTs that come with the latest limited-edition models can also be traded on OpenSea. Only the collector who has managed to purchase all 12 unique NFTs will be eligible to purchase the Classic Fusion Takashi Murakami Black Ceramic Rainbow.
Hublot's CEO, Ricardo Guadalupe believes that its watch-NFT offering will be a game-changer for the industry. "Hublot is once again first, unique and different in how it rewards its collectors, providing them with privileged access to both ownership of and trade in unique artistic pieces," he says.