Welcome to On The Table, where we feature recipes by Singapore's best chefs and bartenders. In part one of this series, we get behind the brains of Kingston Chin and a buttery, milked-washed whisky cocktail that we love
Hailing from the street food heaven of Ipoh, it comes as no surprise that Kingston Chin, senior team leader at Skai, would develop a love for food. In fact, he had always wanted to be a chef since his college days. "I like cooking a lot. My dream is to open a restaurant and bar near my hometown," he shares.
Chin's mother, who is in the business of hospitality, would often bring him to the hotel she was working at during and after his schooling years. It was an opportunity for him to earn some money whilst at school and to understand what the industry was like. It was during those fateful days that Chin would develop his interest in the F&B side of the hospitality business. But it was also a matter of pragmatism.
"I wanted to explore more outside of cooking because when you open a restaurant, you cannot only just be cooking, right? You need to know how to manage your restaurants and bars," he reasons.
Graduating from Keris College in Ipoh with a diploma in hospitality and tourism, Chin headed to Singapore to become a trainee at Equinox in Swissôtel The Stamford. And it was there that he took an unlikely left turn into the world of bartending.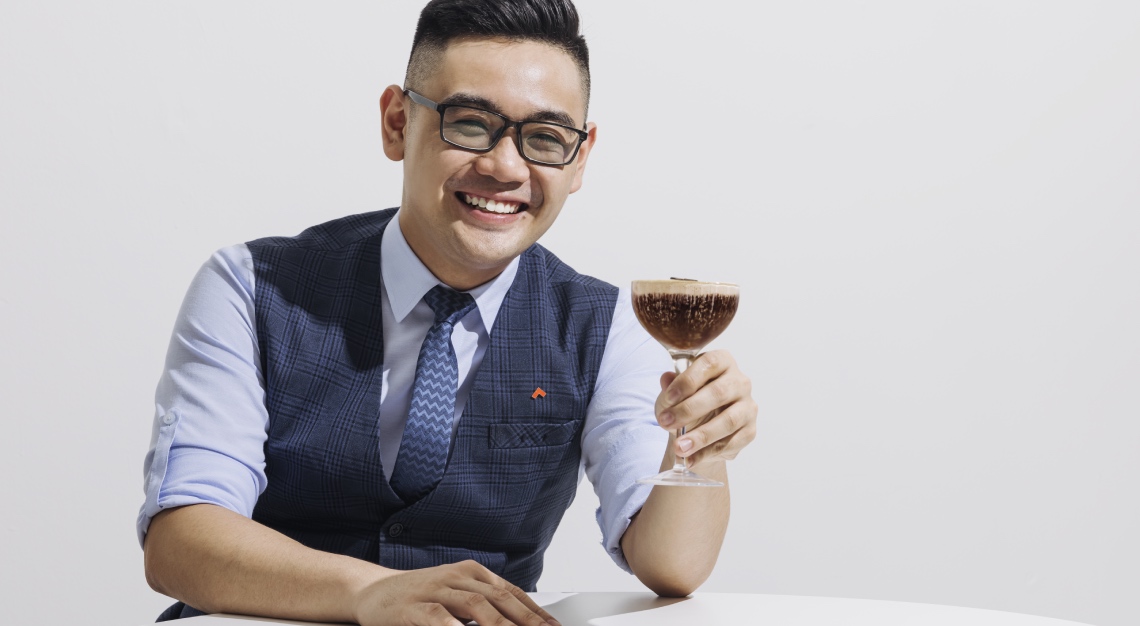 "I think me being adventurous by nature is very aligned to my chosen field of bartending. Bartending allows me to be constantly creative and to have unrestrained imagination," he explains. "The process of being able to create something new is always exciting and fun, almost addictive. I also find it meaningful that what I make can, in turn, help to create memories for others. That to me is really heartwarming and it gives me a sense of accomplishment."
'Balanced' seems like a rather disparaging word to describe someone – a bit like describing someone as 'nice' – but in this day and age of extreme behaviour and views, Chin's unfaltering level-headedness is a comforting throwback of sorts. He respects tradition, but is also game to experiment; he loves his creature comforts, but he is ever so willing to step out of his comfort zone; he is reserved by nature, but loves to belt out tunes unabashedly in his car.
A self-professed introvert who prefers time alone to crowds, Chin shares that he grew into his role by speaking to guests, trying to understand the personality and preferences of his customers, so he could create drinks that would suit them to a tee. "I like to do bespoke drinks because it challenges me to do something new instead of staying in the comfort zone to do classics," he explains.
Chin's concoction to celebrate the recent Smokey Monkey Shoulder launch, Go Home Monkey, is perhaps a perfect example of such a creation. At its heart, it is an Irish coffee and it plays off stout-cured bread perfectly with its coffee notes and Irish roots.
Having tasted Smokey Monkey for the first time, Chin was immediately drawn to coffee. "I imagined a roastery. When you roast coffee beans – it's a little bit smoky, very aromatic, and then you think about a caramel kind of sweetness. Everything leads straight to Ipoh white coffee for me," he beams. And he sure loves his creature comforts, having had as many as five or six servings a day back in his hometown.
Perhaps it's why he took to the story behind Monkey Shoulder, which is a colloquialism for a repetitive strain injury that maltmen suffered from turning malted barley all day. "We work like monkeys every day, so I just want to go home and enjoy a coffee. Hence the name, Go Home Monkey."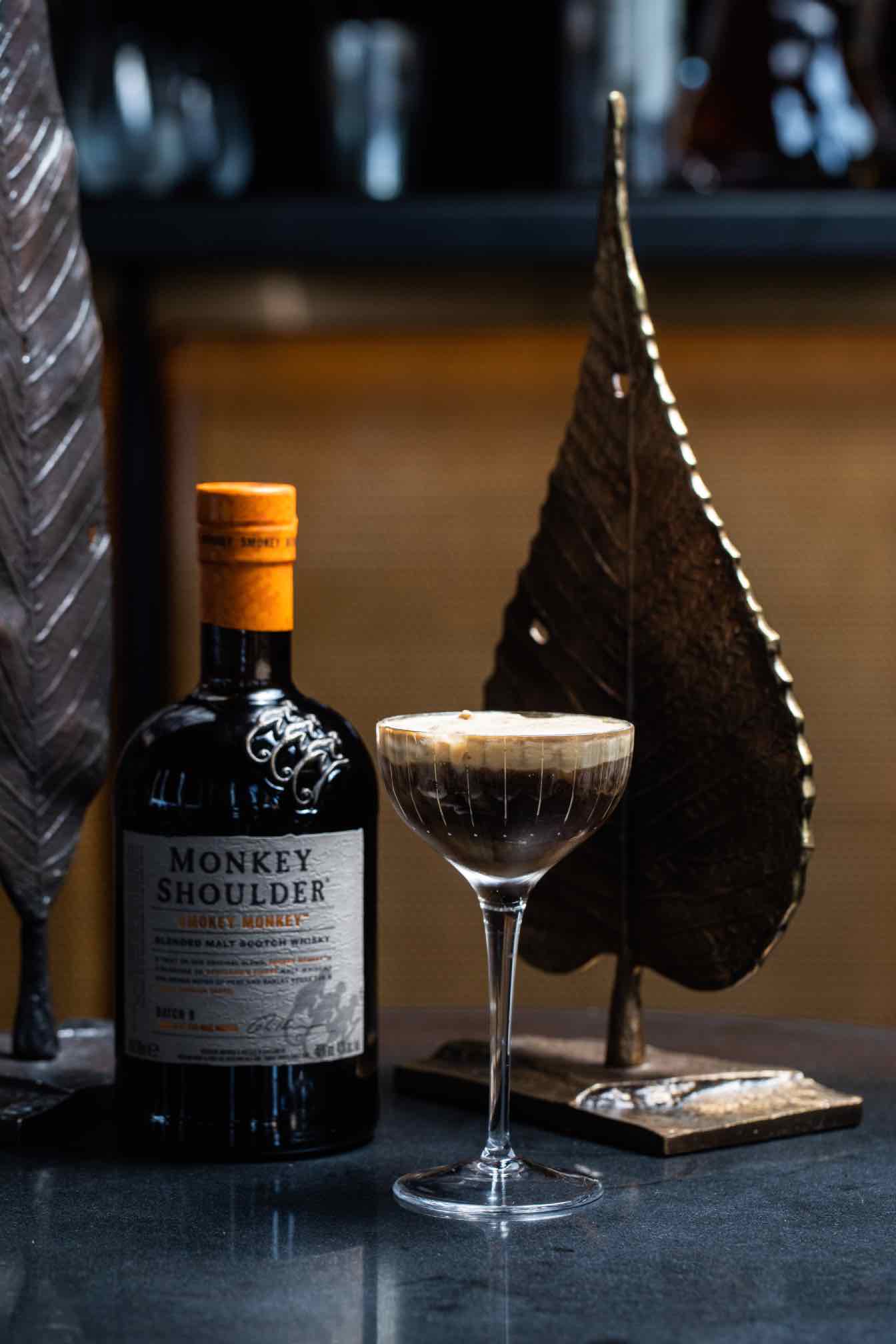 Go Home Monkey
By Kingston Chin
30ml milk-washed Smokey Monkey Shoulder
20ml brown butter coffee liqueur*
10ml caramel
30ml cold brew coffee**
2 dashes coffee bitters
Ipoh white coffee foam***
1 coffee bean, lightly torched
Mix the Smokey Monkey, coffee liqueur, caramel, cold brew coffee and coffee bitters in a chilled mixing glass. Stir well and pour into a Nick & Nora glass. Top with white coffee foam and garnish with the coffee bean.
Milk-washed Smokey Monkey Shoulder
40ml full cream milk
250ml Smokey Monkey
250ml Monkey Shoulder
10ml orange juice
10ml lemon juice
2 slices orange peel
8 cloves
2 sticks cinnamon
Have the milk ready in a jar. Mix the rest of the ingredients in a container and slowly pour them into the jar. Add the spices and leave overnight. Strain the mixture and it is ready to use.
*Brown Butter Coffee Liqueur
200g unsalted butter
700ml Mr Black cold brew coffee liqueur
Cook the unsalted butter in a pan on low heat. Keep stirring until it becomes golden brown. Let it cool before pouring into a jar with the coffee liqueur. Keep in the freezer overnight before straining it.
**Cold Brew Coffee
100g coarse coffee grounds
100ml cold water
Mix the coffee grounds in the cold water. Leave overnight and strain.
***Ipoh White Coffee Foam
30ml fresh espresso
20ml Mr Black cold brew coffee liqueur
15g agar agar powder
400ml heavy cream
20ml caramel
30ml condensed milk
Mix the espresso, coffee liqueur and agar agar powder. Stir until the agar agar powder is well dissolved. Mix the other ingredients and pour into an iSi whip, charged with CO2. Shake lightly and leave in the chiller until needed.
This is a Robb Report Singapore x William Grant & Sons initiative that first appeared in the July 2021 issue. Purchase it as a hard or digital copy, or have luxury delivered to your door by subscribing here