Our guest this week took us to beautiful Sardinia where he talked about competitive sailing, before delving straight into the collaborative Panerai models made for Luna Rossa
The sea is where Panerai is completely in its element. Nowhere else inspires this Italian watch company more. Mare Nostrum, Marina Militare, Black Seal, the Submersible… So many Panerai collections are dedicated to the nautical world, and one in particular was the highlight of our last Happy Hour with Robb Zoom webinar: the Luna Rossa.
Indeed, it was all about sailboats and regattas during our chat with Luna Rossa Prada Pirelli team director and skipper, Max Sirena. But over evening aperitifs – our watches and jewellery editor Celine Yap fuelled up on home-delivered cocktails while Sirena decided to hold out for a bottle of Ferrari Maximum Brut (it was midday in Italy after all) – the Italian yachtsman gave us a fascinating overview of the work he does and how this partnership with Panerai began.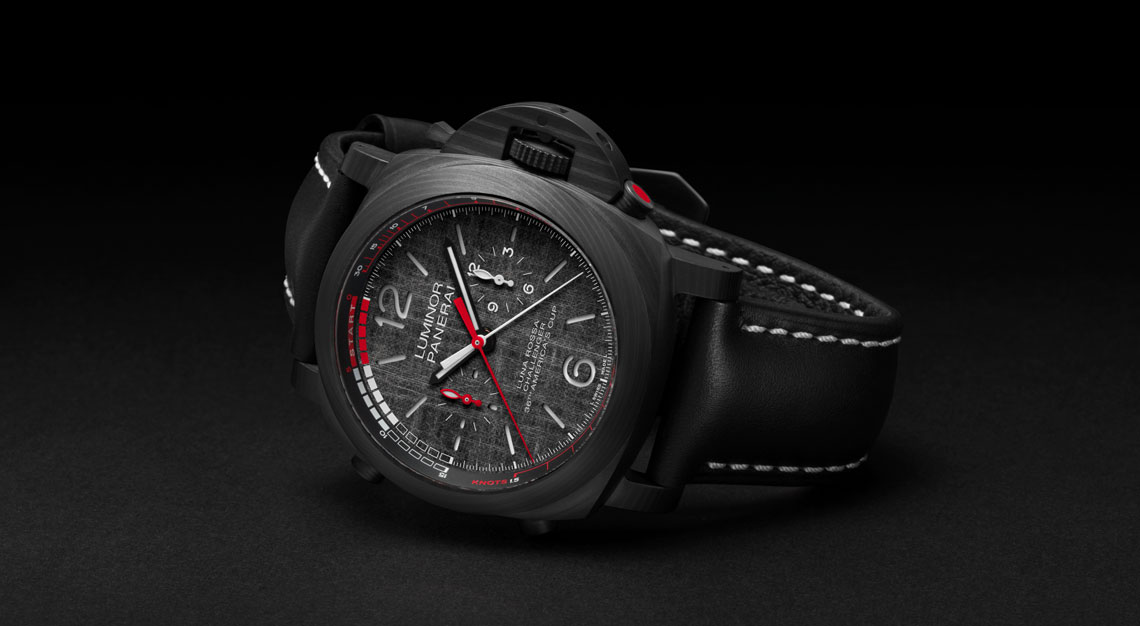 He was, of course, wristed with the limited edition Luna Rossa Panerai Luminor. The watch features a beautiful dial made using the same material as the sailcloth of Luna Rossa's boat, a state-of-the-art AC75 monohull that, in Sirena's own words, "doesn't so much sail as it flies across the water".
Here's what went down that evening.
What drew you into the world of competitive sailing?
I grew up in a place called Rimini on the east coast, with my mother running a resort during the summers, so I spent a lot of time on the beach. There was a sailing school nearby, and my interest began out of curiosity before it became a big part of my life. In my teens, I spent a lot of time in the water, [resulting in a] a career which [gave me] the privilege to work with some of the most famous sailors [around]. I'm really lucky in this sense.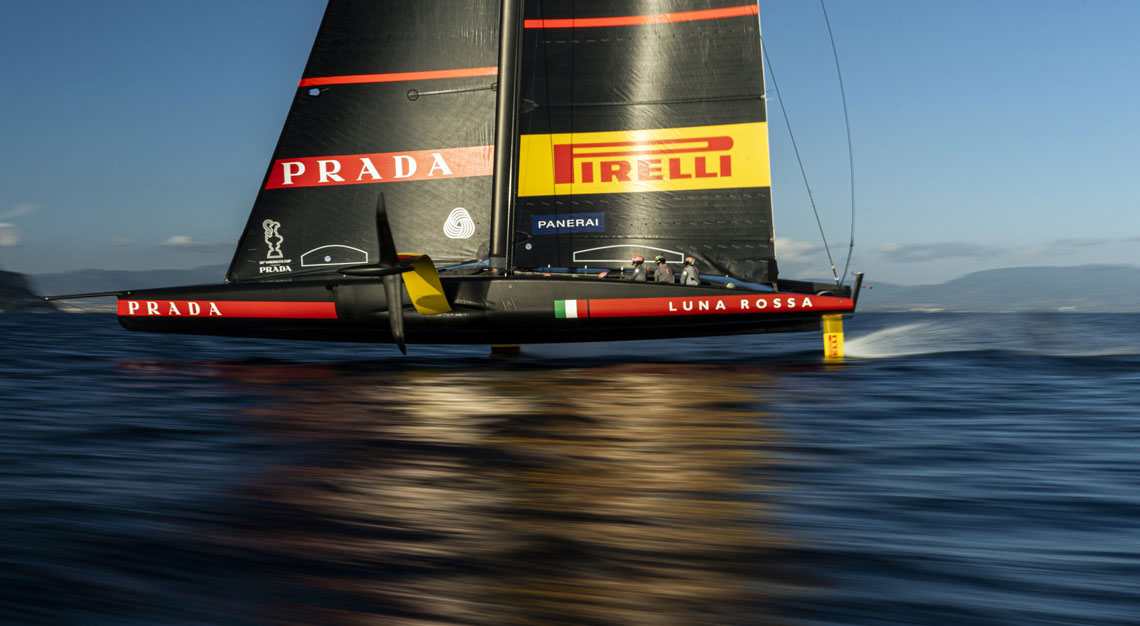 I've always felt that the sea has such a calming and cocooning effect on my state of mind. Being near it always relaxes me. Is it the same for you? Does the sea relax you, or does it stress you out because it reminds you of work?
Yes, but I like to work. I don't like to go to the beach just to relax. Normally, when I go on the water, I like to sail. I'm not the guy to spend an hour under the sun lying down on the beach.
You're such a workaholic! Maybe you should come live in Singapore instead.
I know, but I spend so many hours on a boat sailing, so I really like to be indoors when I can. Also, I give 100 per cent of myself when I'm on the water. This is really important to me. It's my relationship with the ocean. I tell my son the same. I always tell him to appreciate the ocean 100 per cent. Because each time you look at the sea, it's different. You could paint the ocean every day for the rest of your life and get a different picture. You cannot replicate the exact same day or the exact same conditions. And also, the ocean is talking to us, telling us things about the environment. Every day, and every moment you spend in the world, is an opportunity for us to learn and to do something special.
Wow, that's some connection to the sea you've got. As Singaporeans, we live on an island, but I could never have that kind of connection that you do. Bravo! Okay, now about your career as a sailor. So you've been sailing around the world, and competed in many, many different countries. What was your first experience in a regatta like? How old were you and was it a successful one?
I did many, many regattas in my career. But my first real important race started from my home, Rimini, down to Corfu in Greece. It was one of the longest offshore races in the Mediterranean, more than 1,000 miles (1,609km). I was not even 14 years old, so I was actually a refugee on board [because] you're supposed to be at least 16 years old to sail. I was [also] really lucky because we won that race. It was the greatest thing that happened to me then. That race completely changed my mind and influenced my impression of sailing.
Fantastic. So what's the next big event on your calendar?
At the moment, we're almost a month away from the start of the Prada Cup, which is happening on 15 January 2021 in Auckland. Obviously, our goal is to try to win the cup, but before arriving to that point on the first race, there is the Christmas Cup. This race will be [held] in Auckland in December. All our preparation now will happen in phases. We are still in the research and development stage. The next two months are going to be [important] because we're going to make some key decisions relating to our strategy for the Prada Cup.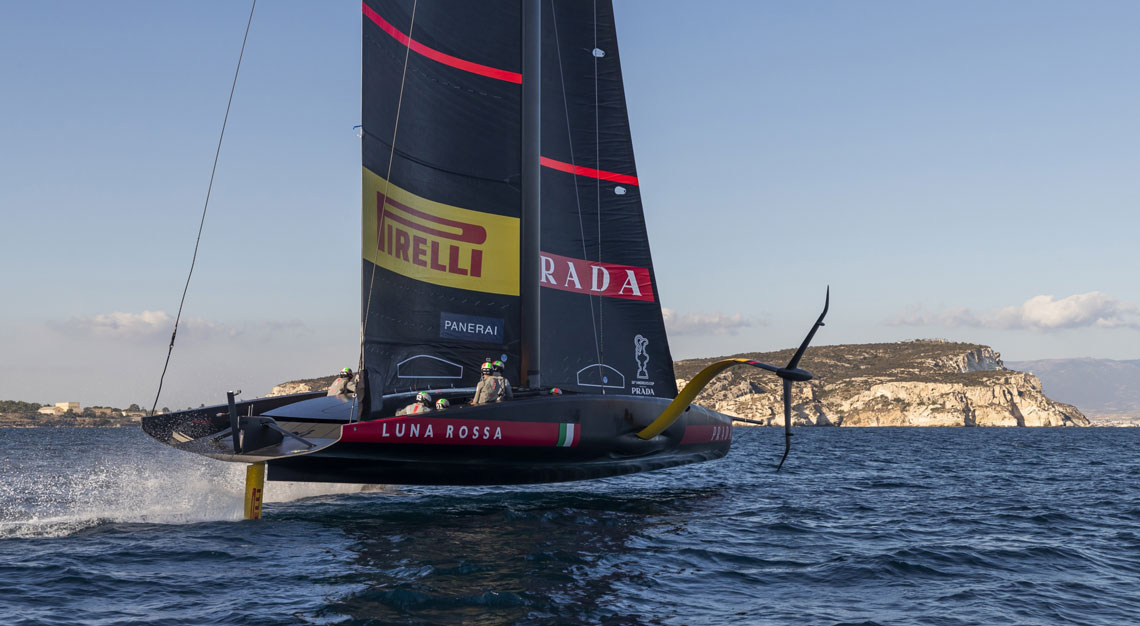 Tell us about your new boat.
It's an AC-certified, 75-foot long (about 23m) boat launched last October. It's a sailing machine, but more like an airplane than a boat because it literally flies above the water. You can reach 40-over knots easily, which is a huge number considering we're talking about a sailboat, not a powerboat. It's really impressive seeing these boats on the water, going so fast without even much wind. It's incredibly complex.
I notice there's a lot of carbon fibre, which is very light, strong and great for competitive yachting, or anything competitive, really. Tell us about the specific features of the boat which will give you a leg up in the races ahead.
There are a lot of composite materials, and most of the boat is made of carbon fibre. At its core, it has a honeycomb structure, and we're using an alloy derived from the aerospace industry. Super light and super strong. We also use a lot of titanium, some components [that] are made of super exotic metal alloys, and 3D-printing. The R&D is an ongoing process that [will] continue until the day before the Cup. Even during the race there will be constant R&D.
What's the reason for that?
It's really important not to have 100 per cent at the beginning of the race. You still want to have 30 per cent of development happen during the race because it means that the boat is going to be even fast as we go along. Most of the technology we're using comes from the aeronautical world.
All of these things you've listed – 3D printing, titanium, carbon fibre, aeronautical materials and composite materials – remind me exactly of what Panerai is doing with its watches. They've got Eco-Titanium, Carbotech, BMG-Tech, and this year they've launched something completely new called Fibratech.
Even the watch I'm wearing now is basically made of carbon composite materials. You see the case, and the quadrant [sic] is made by the sailcloth of our boat.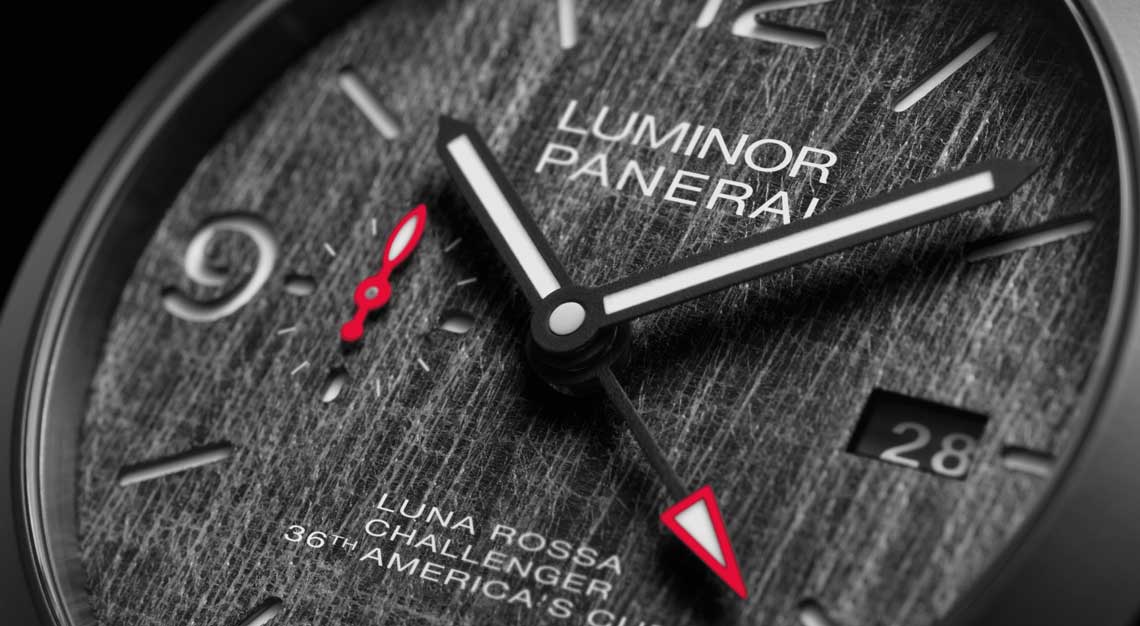 Tell us about that.
When I first met [Panerai CEO] Jean-Marc Pontroué, our conversation was an easy one because after just talking for a few minutes, we were on the same page. We were both looking for the same thing, [and] we wanted to create something together. It's been challenging, too, because there wasn't a lot of time but we ended up with this beauty, using some of the technology from our boat and the technology of Panerai. There are so many similarities between Panerai engineering and Luna Rossa engineering that we basically [speak] the same language.
I love it. Tell us about your first Panerai. Why did you choose it?
When I bought my first Panerai, I was at a pretty good moment in my career. It was in 2020 and I [had] just won my first America's Cup. I was in Valencia, just walking around the city with my wife and a friend, and we stopped by a watch shop and spotted it. I had been looking for that watch for a very long time, [and] it was the perfect reason to get it. So every time I wear it, I'm reminded of that part of my life.