McLaren's Michael Leiters is not about to jump on the electric bandwagon, because "the technology is not there yet"
Editor's note: See other Robb Reader interviews here.
It's been almost a year since Michael Leiters became CEO of McLaren Automotive. The tall, stoic gentleman who hails from Germany, left his position as CTO at Ferrari to lead a 3,000-strong workforce from McLaren's headquarters in Surrey, England. With that, he's taken on a massive responsibility, to bring even more profitability to the brand and make it self-sufficient (the last few years have been a little hard on the brand). He's all about doing right by the brand—to honour heritage without getting overly nostalgic, to serve the organisation with honesty, and to not jump on the electric bandwagon just because.
How do I reflect the brand? The brand is authentic, and I'm quite authentic. I try to be myself always, and very honest. I'm lightweight, too, like the cars. (laughs)
As a leader, it's important to be predictable. People will know that they can rely on you. When you're honest, people will be just as honest, and that's how you earn your credibility.
Our product is very to the point. It gives excellent feedback to the driver and also to the passenger—this strong connection is something unique.
I love the fast life—sports cars and supercars. Apart from that, family is the most important part of my life. I also love sports, whether it's tennis, football and hiking in the mountains.
When I was in Ferrari previously, I considered McLaren the most important benchmark in performance. It's only been around since 2010, and to be recognised as a benchmark for brands like Ferrari and Lamborghini is a big achievement. I like that I get to take over this entrepreneurial responsibility for the organisation.
I want to create a very strong team, not only a leadership team but to future-proof the organisation.
There is so much heritage at McLaren. If you want to understand the future, you have to understand the past. It's important to not get nostalgic, but to use certain elements from the past and translate them in the future. The McLaren Elva is a good example of reinterpreting a car that was made 50 years ago.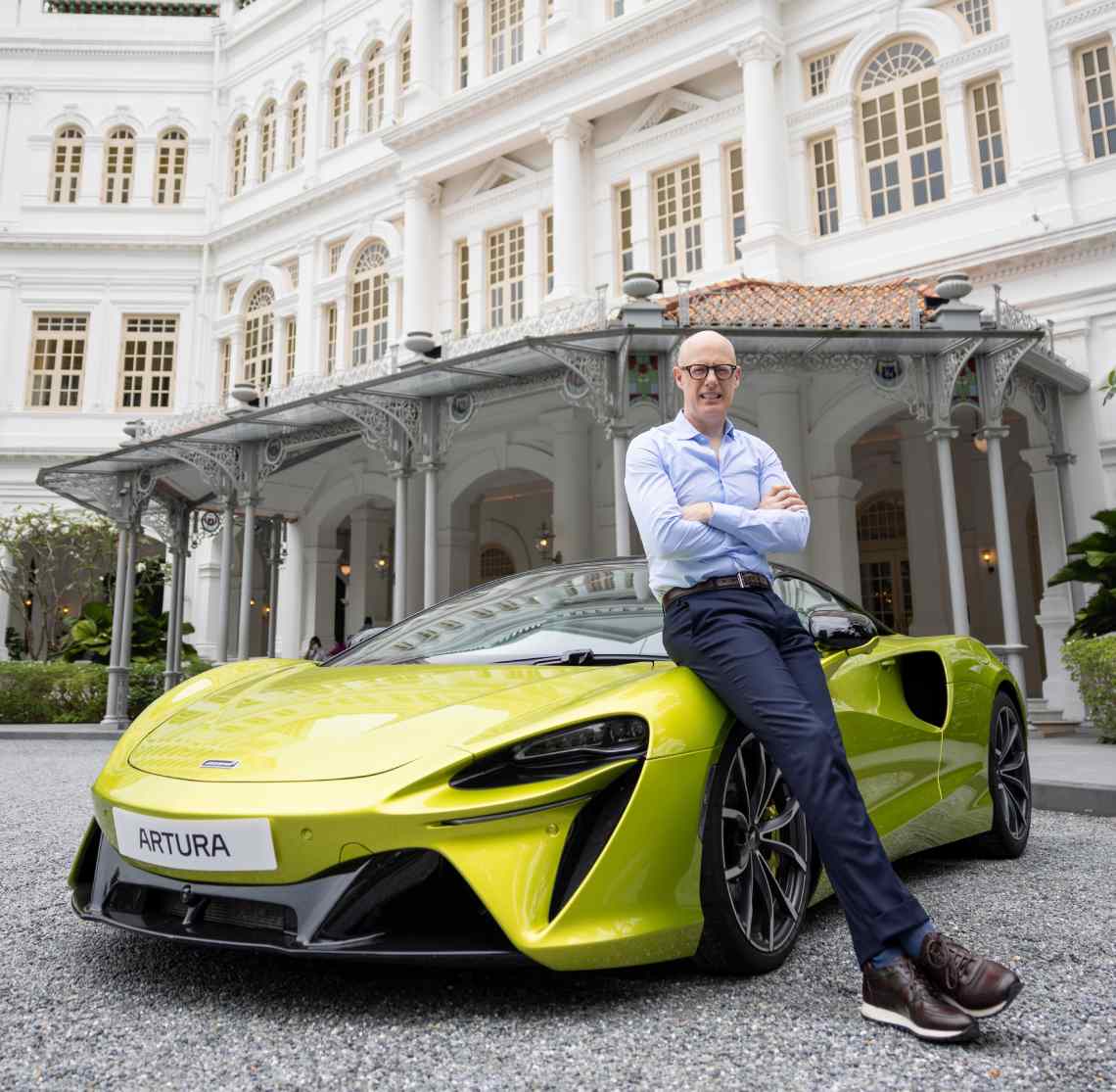 Going hybrid is the best solution for sports cars. Even though there's a strong push for more electrification—and there are some trying to build electric supercars—I think the technology is not mature. There's still too much weight, and being light is very important for supercars. This is what makes McLaren stand out. For now, we will monitor the technology and wait for when the time is right.
Supercars are not just about performance, but also the emotional engagement. How do you perceive the sound, the acceleration or the gearshift? If you go electric, a lot of that isn't there anymore. Sound is important for creating emotion.
The Artura is an example of how new and traditional technology can be combined without losing the emotional engagement. It's also a car that provides a lot of control. It has good visibility and driving it could make you feel like you're inhaling the road.
I think artificial intelligence (AI) can be very helpful in terms of car development and customer experience. You want a car that's connected and cyber-secured. This is actually something I'm still cautious about because a car is a very complex object, and we shouldn't risk anything in this direction. AI can be powerful when used the right way.
The Metaverse is quite interesting. We dropped our first NFT, a picture of the P1, and it was quite successful. The Metaverse is still volatile and needs time to mature, but it is definitely something interesting for the younger consumers. Over the last five years, the average age of the McLaren driver has been decreased by 10 years. It's a lot, but it's very good.
The McLaren driver is what we'd describe as an expert. A McLaren is not just a beautiful ride; one has to understand the mechanics behind driving the car, the steering and vehicle dynamics.